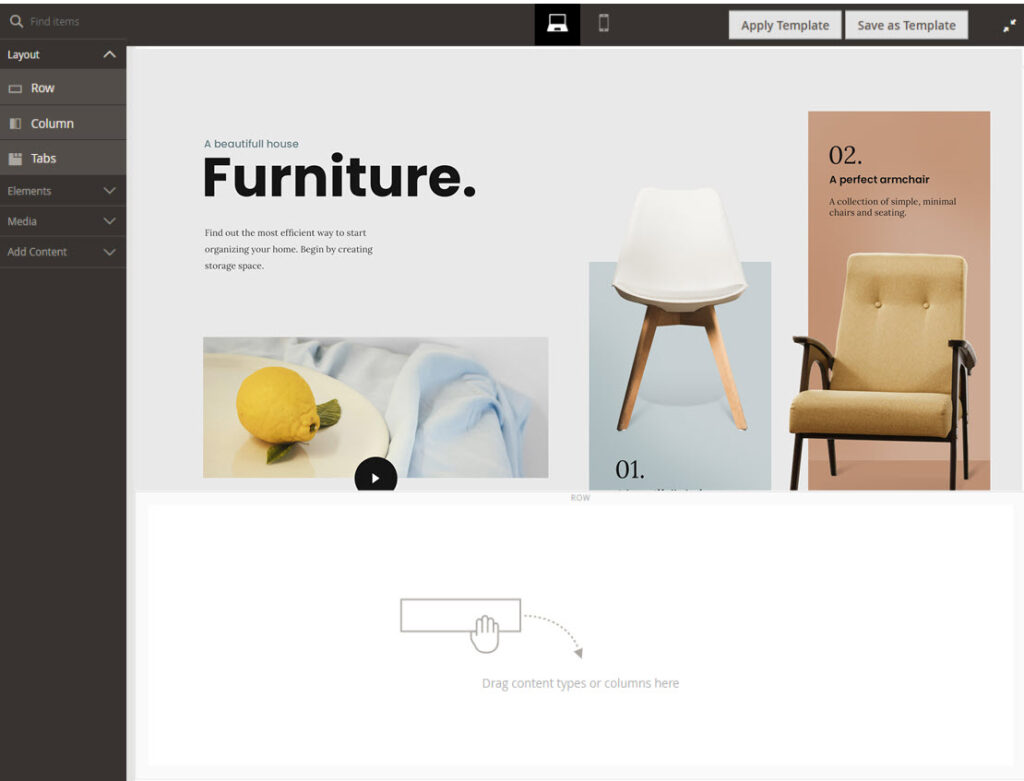 * To learn more about Magento Page Builder Open Source, follow this series.
As more business is running online than ever before, the ability to rapidly develop and deliver content on business websites is now a requirement for success. The WYSIWYG editor of Magento Open Source does not seem to satisfy ambitious store owners. Great news for you: this functionality is available in the latest Magento community version now! This entirely free tool, which is called Magento Page Builder Open Source, spares you the hardship of coding when building a Magento 2 store.
So if you're curious about this builder and wondering whether it is for you, continue reading. This blog will walk you through a brief overview of Magento Page Builder Open Source, explain its working panel, point out some highlighted features, and analyze the pros and cons.
What Is the Magento Page Builder Open Source?
Magento Open Source Page Builder free is a built-in, drag-and-drop content management solution developed by Magento itself. The Page Builder in Magento 2 was first introduced in version 2.3.1 of the Commerce edition in November 2018. And it was not until August 2021 was this functionality factored in version 2.4.3 of the Open Source edition.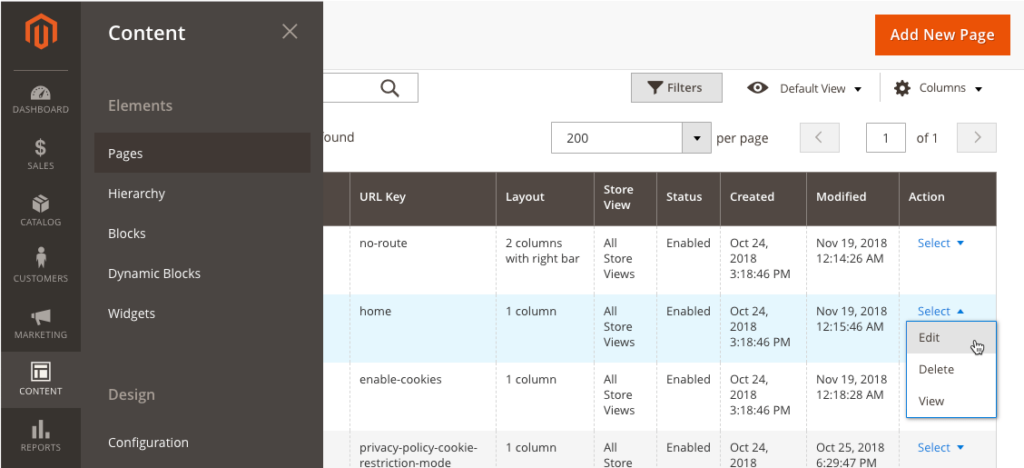 Using a drag-and-drop interface, users can arrange layouts of how they want to create a webpage without the help of programmers. Real-time editing functionality enables them to update any change immediately on the backend of the builder, and they can preview how the content page they build looks at the storefront anytime during their editing process. And building a content-rich page is a no-brainer with Magento Page Builder Open Source – users just need to add and customize content types, such as images, videos, banners, sliders, etc.
Still, certain features will not be available for the Open Source edition and will need a Magento Commerce license. They are:
Dynamic Blocks
Content Staging and Preview
Integration with Commerce exclusive features like Product Recommendations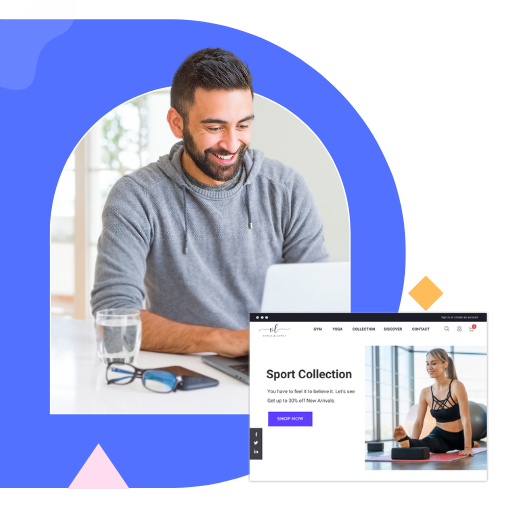 Try FREE Magezon Page Builder!
Easily create beautiful, engaging Magento websites the way you want without relying on developers or designers. Just by drag & drop.
Page Builder Panel: Layout, Elements, Media, and Add Content
When you've entered the Page Builder workspace, you'll see the working panel on the left. The main sections in the panel are Layout, Elements, Media, and Add Content. Let's discover them one by one.
Note: Before we start, I want to ensure you understand some repeated terms in this blog.
First, "content-type." If you already know it, please skip this and continue reading. If not, let's look at this picture: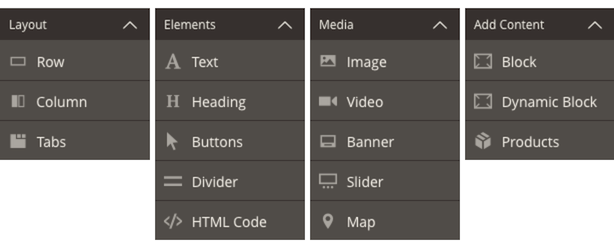 As you can see, "content types" are what is in Page Builder's menu. They are Rows, Columns, Tabs, Text, Headings, Videos, Banners, Blocks, etc.
* To learn more about content types in Magento Page Builder, visit HERE.
Second, "toolbox." Please look at the image below. The box inside the red border is the toolbox.

Now, let's get to know each section in the panel menu.
1. Layout
In the Layout section, admins can add Magento Page Builder Rows, Columns, or Tabs content type to the stage by dragging a content type from the panel to the stage. Once you've started the action, a container shows up with a toolbox to format the content type.

The Magento 2 CMS Page Builder stage is empty by default. When dragging content types from the Layout section to the stage, you can place them anywhere in the layout containers on the page. However, Rows can only be put directly onto the stage.
2. Elements

The elements you can add to any layout container on the stage are Magento Page Builder Text, Headings, Buttons, Dividers, and HTML Code content type. You can open the relevant settings to any content type by using the content type toolbox.
3. Media

From the Media section, admins can add images, videos, banners, sliders, and Google maps to any layout container on the stage of Magento Page Builder Community edition. When you drag a media content type from the panel to the stage, a container with a toolbox also emerges.
4. Add Content

The last section of Magento Page Builder's Open Source panel – Add Content, enables users to add available content, including Block, Dynamic Block, Products, and dotdigital form to the stage. Be noted that to have Dynamic Block and dotdigital form, you need to get a Magento Commerce license.
This section works similarly to the ones mentioned above.
8 Significant Features of the Magento Page Builder Open Source
1. Drag and Drop the Page Building
The Magento Website Builder of Magento appears to be a lifesaver for non-technical users. You need no coding at all to create a website for your own, thanks to the intuitive drag-and-drop functionality. All you have to do is to drag the content from here and drop it there. And you've formed a basic layout for your eCommerce website.
For more powerful Magento drag-and-drop tools like this, you can tour the Magezon Builder extensions. From establishing a landing page to building a mega menu, from designing an email template to creating any form, everything is done in a blink of an eye with Magezon's extensions.
2. Content Capabilities
Content-rich features in Magento 2 Open Source Page Builder allows admins to create and manage dynamic and static content. Its drag-and-drop feature opens up countless possibilities for customized design.
All the layouts such as rows, columns, and grids aid in creating the content for presentation in the most convenient and pleasant-looking way. Content can be enhanced by custom borders, fonts, or text styling. There are many other components available such as buttons, forms, marketing banners, and more.
After building and customizing their stores in the Magento Page Builder Open Source, admins use live preview functionality to view how the content will look on the front end.
3. Static and Dynamic Blocks
Static blocks are specific blocks where information is fixed. For instance, you may want to add a static block of your company's contact details as this kind of information doesn't change very often for any business.
Dynamic blocks, on the other hand, display temporary content to customers. If you run a promotional campaign for Lunar New Year, you'd better show sale details in dynamic blocks, as you won't need it anymore once the campaign ends.
4. Grid System
This is one of the enriched features available in Magento Website Builder. It allows users to add columns of the same or different widths and add different content like images or text into these columns.
Users can also separate any website into various components and segments to display different content on it. They are able to add catalog product links so if any customer clicks on that specific grid, they will be redirected to that product page.
5. Product Page and Category Page Editing
Earlier, users of Magento 2.3.x added and edited product or category pages only with the WYSIWYG editor, which uses TinyMCE. But now, they can choose to switch to the new Magento 2 CMS Page Builder.
In its workspace, users get access to a full-screen editing stage, with the same Page Builder panel on the left-hand side, as mentioned earlier.
It's true that Magento Page Builder Open Source is not used to build product pages and categories as frequently as it is for content pages or landing pages. Still, it's useful to do so as using this tool is a much easier way to manage rich media on them. If the admin wants to add a banner or detailed content area to a PDP, they can do so as long as the Page Builder is in use in that area of the page.
6. Visual Effects
Magento 2 Page Builder is free and includes types of borders for columns and rows. As a user, you can choose various border styles such as dashed borders, dotted borders, groove borders, etc. Besides, there are other options for border setting such as border color, and border-radius.

You can also add padding to rows and columns to create a 3D appearance and enable the parallax background for images. This means the scroll speed of the background can be customized: maybe a little bit slower than your page to trigger an immersion effect.
You can also include maps and design them according to the website theme.
7. Integrations With Other Third-Party Tools
Easily insert product lists to any page on your website, no matter it is the home page, the landing pages, or the blog pages. In the past, programmers had to write complicated codes to import products or product lists on certain pages on your website. But now, you can effortlessly add product lists to our website using Magento Page Builder Open Source.
This Magento 2 CMS Page Builder free also lets you integrate any third-party tools, such as Maps, Youtube, or Vimeo videos into your website pages.
8. Scheduling Content
Have a special sale campaign next week? Create content now and schedule to go live on the day you want. Easy and convenient. That's why scheduling content becomes a widely loved functionality on not only CMS platforms but social networking sites. Lucky for you, it is now available on the Page Builder Magento Open Source.
But you can do more than that. You can schedule and update the landing page to change images, which will only be published on the scheduled date. This excellent feature benefits end users a lot, as it lets staff proactively manage content rather than constantly and manually catch up with the requirements of marketing and product teams.
To schedule an update, use the Schedule New Update button in the upper right corner of the page edit screen. Once the scheduled update is live, it will appear clearly at the top of the page edit screen.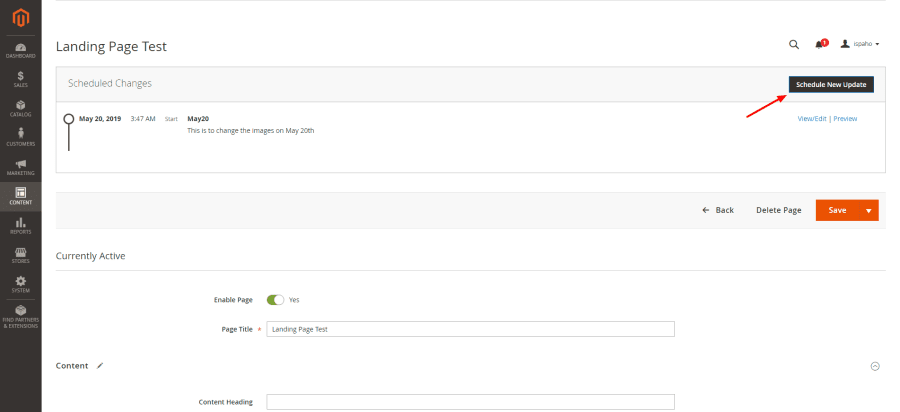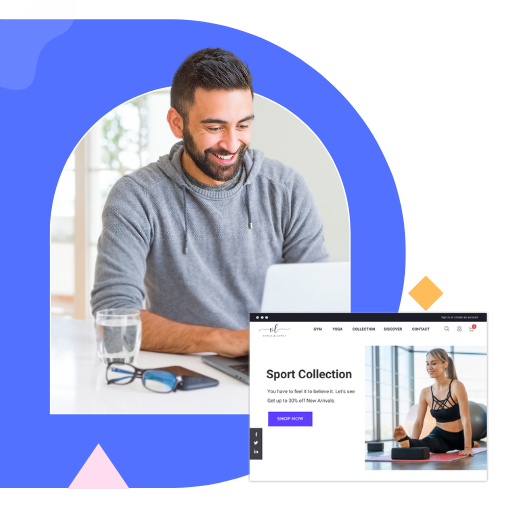 Try FREE Magezon Page Builder!
Easily create beautiful, engaging Magento websites the way you want without relying on developers or designers. Just by drag & drop.
Pros and Cons of Using the Page Builder Magento 2 Open Source
Many people usually sense that if something is free, just grab it, no need to consider it. However, I believe that it's always better to understand something you use well, or in case you want to compare Magento 2 Page Builder Open Source with other third-party page builders, perhaps?
Pros
1. No Coding Needed & User-friendly Interface
Well, I have repeated this so many times throughout this blog that you may find it boring. But trust me, it's true. No coding is a tremendous benefit that Magento Page Builder Open Source offers when you're not a tech-savvy merchant.
And the drag-and-drop interface, needless to say, is as easy as playing games, literally. Just drag it from here and drop it anywhere you want, and it's done! So time-saving and cost-effective.
2. Enhanced Security and Performance
Data has been the most valuable in the digital world, so your website security needs to be ensured every day as you don't know when it would be attacked by hackers. To ensure users' data security, Magento applies Google's reCAPTCHA and two-factor authentication, which layers more protection against suspicious access.
3. Create Responsive Content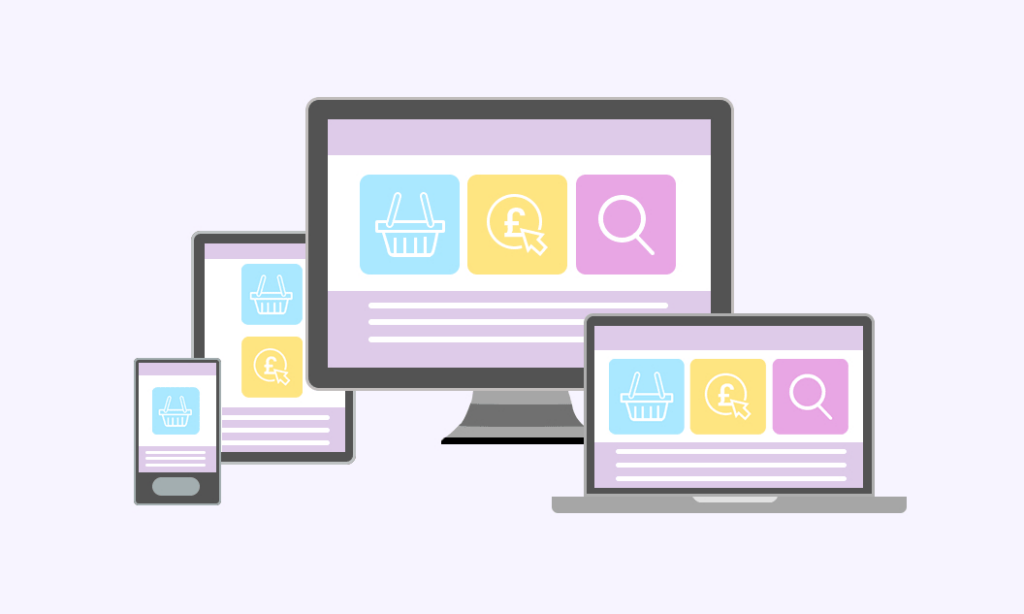 Content responsiveness is the winning factor in the experience-driven ecommerce era. The elements of Magento Website Builder's responsive framework, which are Viewport and Breakpoint features, enable users to generate content that is responsive with both desktop and mobile devices.
4. It's Free
For a free tool, this page builder is a bargain for any Magento Open Source user. Without paying, they can avail themselves of an illustrious functionality that was exclusively in the Commerce edition.
5. Extending Page Builder
Last but not least, one of the best things about Magento 2 Page Builder Community Edition is the ability to extend this tool. It means that developers can broaden its functionality and add new components, such as a NOSTO recommendations block, a form, or even an interactive visual media, a specifically styled type of content area. Though Magento Website Builder isn't a fully-fledged enterprise CMS, this is a big plus for merchants managing plenty of (and advanced) content.
Cons
1. Not All Features Are Free
As stated before, not all features are available without charge. To use Dynamic Blocks, Content Staging, Preview, or Product Recommendations, you must have a Commerce license. However, I personally think that the provided features in Magento Website Builder are enough for simply-built stores. They also possess basic features for building pages and ensuring responsiveness for your site.
2. The Performance Speed Are Not so Fast
This is my personal opinion based on my personal experience. When dragging and dropping elements, as well as writing text and choosing design options, I found that the speed is average, not to say beneath the average level sometimes. So if you are looking for a lightning-fast tool or a tool to use frequently, the Magento Page Builder Open Source might not be your first choice.
3. No Pre-Built Template Was Provided
Using the Magento 2 CMS Page Builder means that you have to build everything on your own from scratch. It offers no ready-made templates like other 3rd-party page builders. However, you can create a template as per your wish right on this Magento 2 CMS Page Builder and save it as a template for later use.

In case you're not so confident about your designing skills, you can download a Magento template free or pay from Magento design providers. Type "Magento templates + [concept]" on the Google search bar and the number of results will wow you immediately.
See Magento templates free and paid – collected and introduced by the Magezon team:
Magento Open Source Page Builder Alternative
There are several providers developing page builders for Magento Open Source. One of the top-quality page builder extensions in the market is Magento Page Builder by Magezon.
This is a perfect alternative to the Open Source Drag And Drop Page Builder of Magento, as it includes not only all basic elements like that free tool but also much more powerful features. Although it's not free, I believe it is worth your money.
Magezon Page Builder offers:
Speedy performance
50+ elements
Outstanding plugins
Various predesigned templates
SEO-friendliness
Responsiveness
Compatibility with all Magento themes
and more.
Great News: Magezon expects to launch the 2nd version of this Page Builder extension this spring. If you are interested, have a look at these sneak peeks of its features, and stay tuned!
Magento Page Builder Open Source FAQs
1. How much does the Page Builder Magento 2 Open Source cost?
It's free as the Magento Open Source is free. However, some features are not provided for you unless you have a Commerce license, such as Dynamic Blocks, Content Staging, Preview, or Product Recommendations.
2. How can I get the Magento Page Builder Open Source?
The first step is to update your Magento to the latest version – which is 2.4.3. After enabling it, go to Content > Elements > Pages to design your web pages using Magento 2 Page Builder free.
3. Is Magento 2 CMS Page Builder easy for beginners to use?
Super easy. Using Page Builder Magento Open Source free is just like playing a game, as I said before. No code is needed and a few IT-specific terms may baffle you. If you are acquainted with layout designing tools or apps, you'll learn to use Magento 2 Open Source Page Builder really quickly. But if you aren't, it'll take you some time to perform actions smoothly on the Page Builder panel. But don't worry, I promise it won't be that hard.
That's All
Above are the most basic and important things to remember when choosing to use Magento Website Builder – one feature of the Magento 2 Community edition features list. Experience it now, as it's free to use, and if you find this tool does not meet your needs, try looking for other page builders by third-party providers.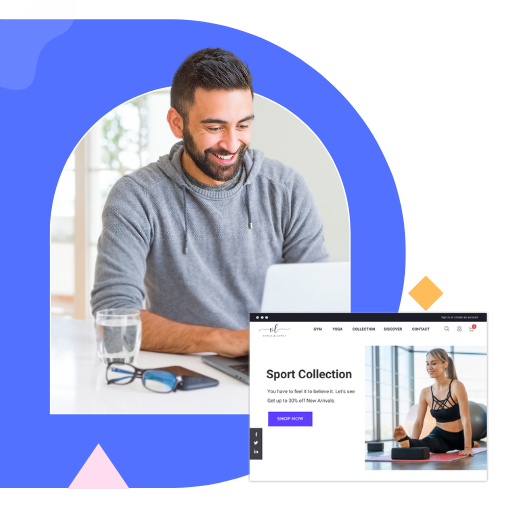 Try FREE Magezon Page Builder!
Easily create beautiful, engaging Magento websites the way you want without relying on developers or designers. Just by drag & drop.