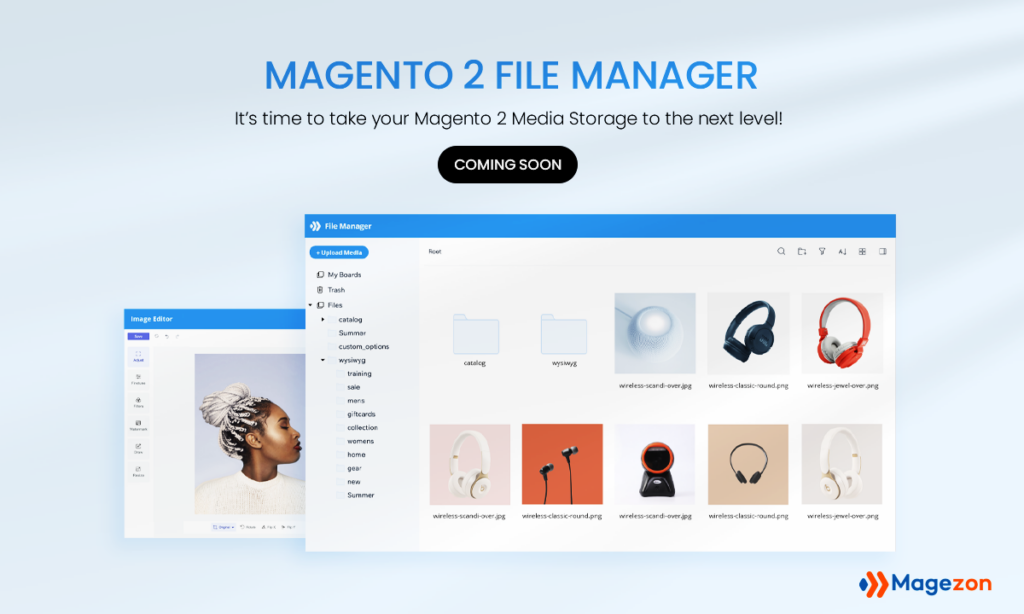 As you're probably already aware, the default Magento Media Storage lags behind the market due to some verdicts, compared to that of WordPress or Wix. One example is that it limits the uploaded file types, provides poor image edit feature, and do not support much in workflow optimization.
So we care; therefore we build. Magento 2 File Manager arose from a desire to create a unique tool that is the perfect combination of Apple-esque and Microsoft Office. With this good helper, you can create, edit, preview, and organize your assets within the Magento backend.
This announcement will dig deeply into the extension's novel features, differentiating Magezon File Manager and Magento's default version. So there we go!
I. Asset Operations
Isn't a media library's ultimate purpose to operate users' files and documents? Using Magezon File Manager, you can create folders and subfolders to group files, rename, delete, and logically arrange your assets. Also, you are able to see asset info and the modification history in just a minute.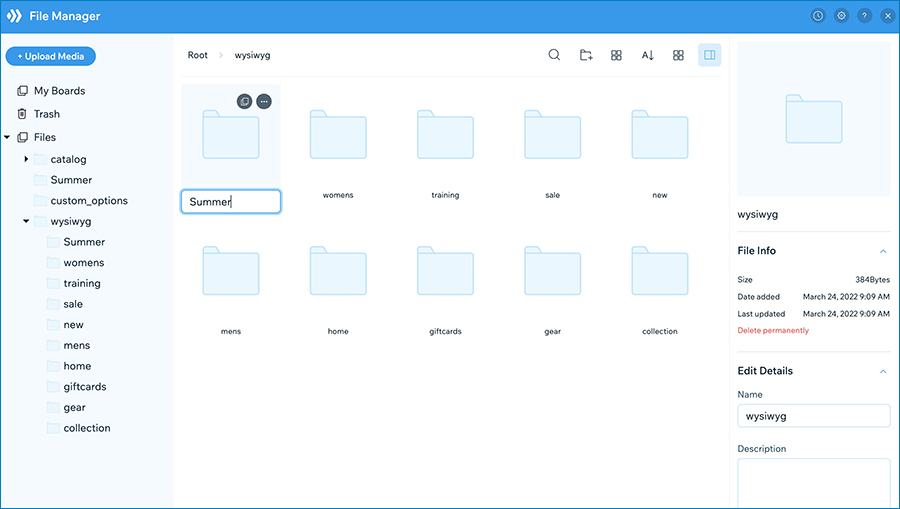 Magento 2 File Manager – Rename your folder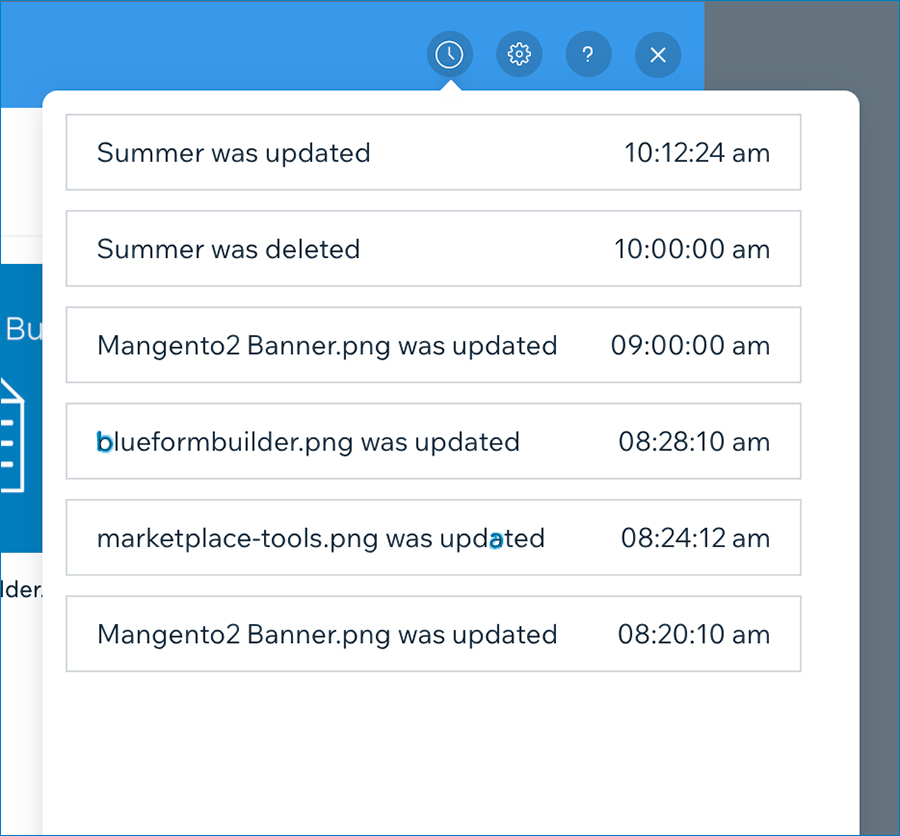 Magento 2 File Manager – Modification history
Drag and drop is now becoming a modern standard. That's why we develop this feature in almost all Magezon products, and Magento 2 File Manager is no exception. Perform the drag and drop gesture to:
Move files and folders to the folder you want.
Resize the left and right sidebar to suit sight.
Upload new files from your computer.
Go figure!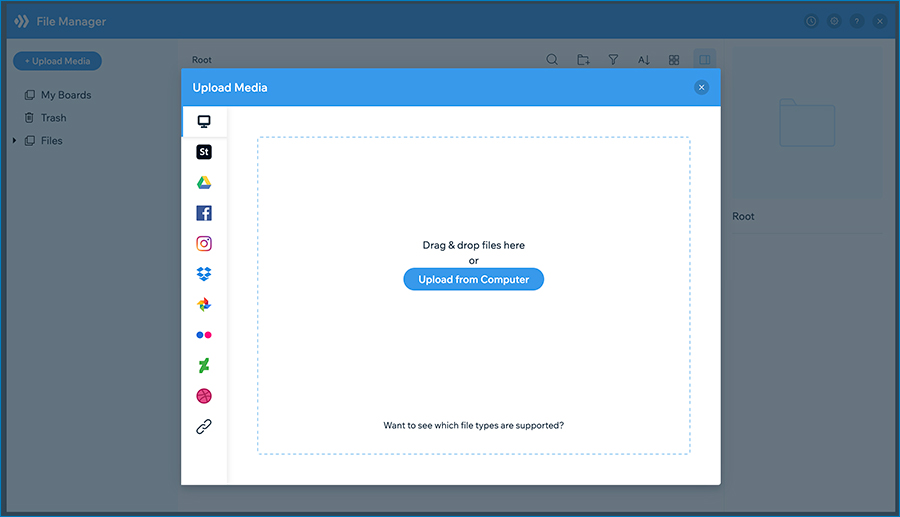 Magento 2 File Manager – Drag-and-drop uploading
Perhaps you may be interested in:
II. Efficient Workflow
Have you ever hopelessly found your content in a sea of directories? In such a case, Magento 2 File Manager from Magezon will save the day. You can search for files and folders using the search box. Sort assets alphabetically or arrange them in ascending/descending order based on the last modified time.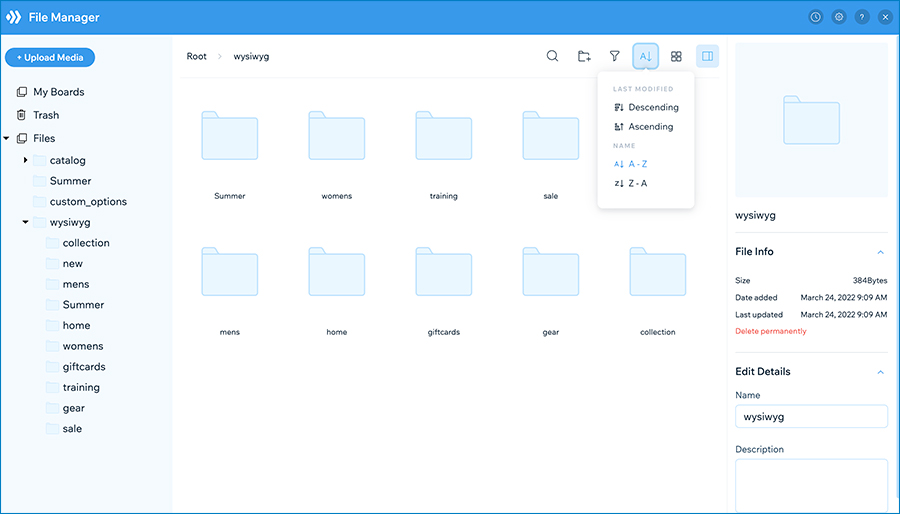 Magento 2 File Manager – Sort items
Filter assets by types including Folders, Images, Videos, Audios, PDFs, Zip, and Others.
Magento 2 File Manager filter items
Moreover, the breadcrumb (at the top of the left sidebar) will let you see the path of your currently selected file/folder. You can create and operate a well-organized media library tailored to your unique needs using these features!
The fuss of repeated tasks may cost you a big chunk of time and effort. Therefore, it's time to reduce the amount of your click by performing multi-select and taking bulk action on your items. It's even more convenient to use the smart context menu (right-click control) consisting of popular actions. Let me explain. For example, you can select multiple assets then open the context menu to delete them instead of moving assets to trash one by one. Suppose you have hundreds of images to delete, so these functions will save you a lot of time.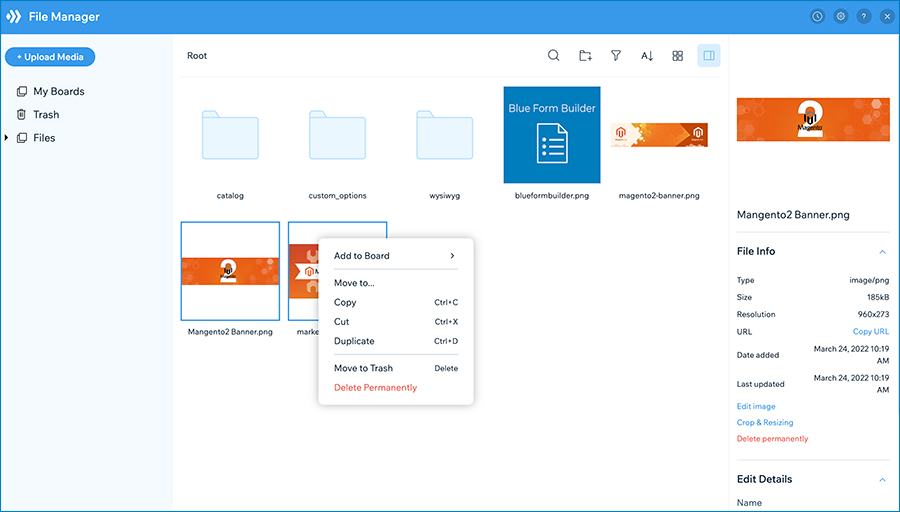 Magento 2 File Manager multi-select & context menu
Another feature that helps speed up your day-to-day task is the keyboard shortcuts. A list of them will be packed with the extension, and you will get used to all shortcuts quickly. For instance, Ctrl (or Cmd) + C to copy files/folders and Ctrl (or Cmd) + V to paste files/folders. Work smarter instead of harder!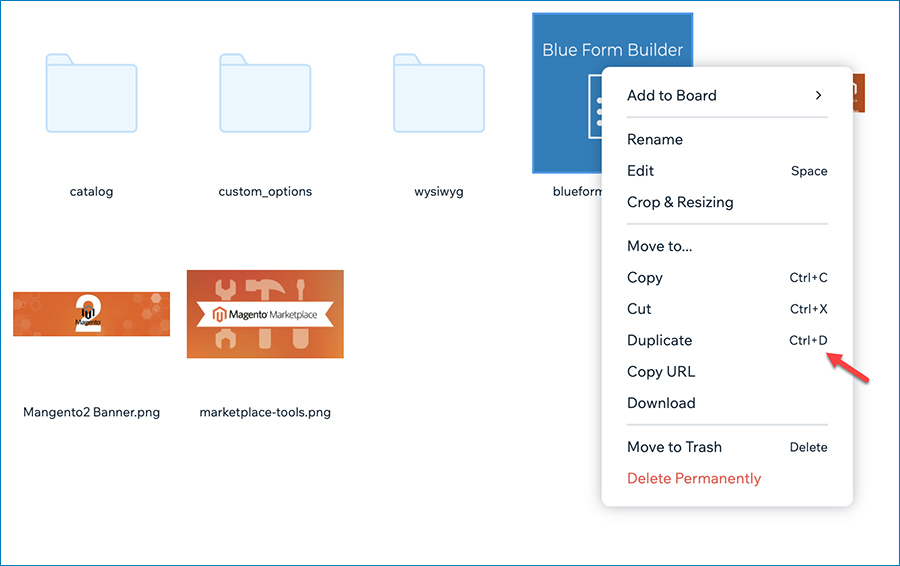 Magento 2 File Manager keyboard shortcuts
III. Support All File Types
Gone are the days when we could only upload images to the library. No video, no audio, no docs, none of that allowed! I have experienced these inconveniences and wished there would have been an alternative solution. When I want to display a video on my page, I first need to upload it to the server. Afterward, I'll retrieve a link and insert it in the page builder editor using the HTML Code element. Time-consuming, right?
Magento 2 File Manager was born to overcome this limitation. Now, it's possible to upload any file type to the library. Plus, a preview model working as a player allows you to preview your media. That means you can watch videos or listen to audio without leaving the comfort of the Magento dashboard ever again!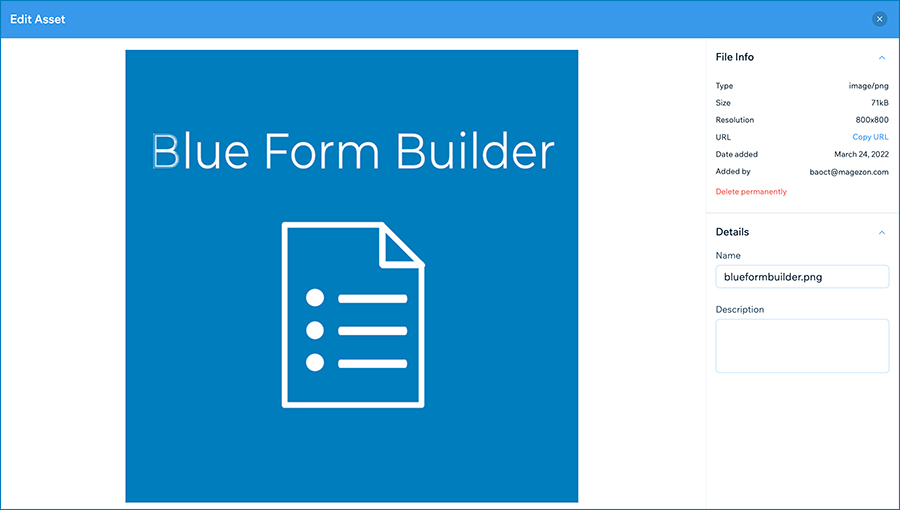 Magento 2 File Manager preview your media
IV. Powerful Image Editing
"I have resized my images using the Magento Media Storage, and I think it's okay" – you may say.
But, actually, our product is way beyond that! Let me tell you the differences.
In the default Magento Media Storage, you can only set the maximum width and height for all images by changing the settings in the Configuration section. And that's all.
What about Magento 2 File Manager? It provides you a powerful built-in image editor with the following features:
Image adjustments: Make adjustments to the colors and tones in your images.
Image effects: Apply special art effects that give your images the appearance of a sketch or impressionistic painting.
Filters: Clean up or retouch your images with available filters.
Image orientation: Rotate and flip your images.
Resize: Reduce image size while preserving details.
Add text: Insert text to your images. Add charm to the text with a lot of styling options.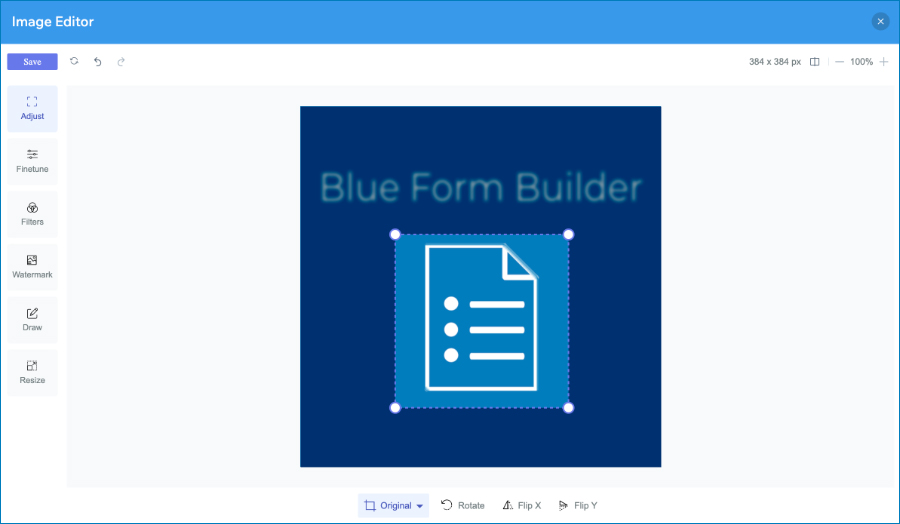 Magezon File Manager image editor
Built-in – hassle-free. Try it once, and you know that I'm not boasting!
V. Create "My Boards"
We know you care about your privacy when sharing mutual media storage with other admins, hence, we allow you to create a "board" inside which only you can see the assets. For example, you create a new board called Summer and move/upload some assets to the board. So the board Summer will be invisible to everyone, except you.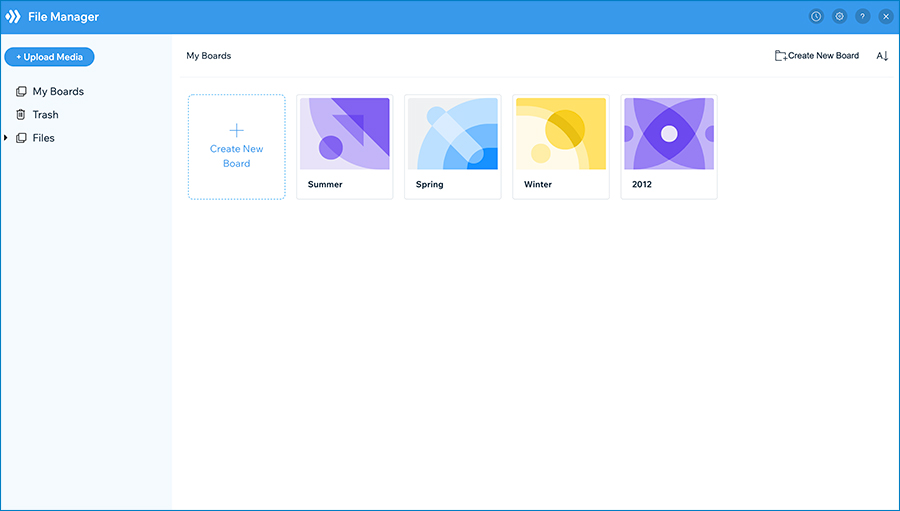 My Boards
VI. User-Friendly Interface
Magento 2 File Manager has a clean and compact UI/UX that makes the editing and transferring of files and folders extra faster.
A multilingual interface: the interface will automatically switch to the language you use in your Magento backend.
Highly customizable sidebar: change the sidebar width using drag and drop gestures.
Two view modes: switch your interface between grid and list view. Everything is up to you.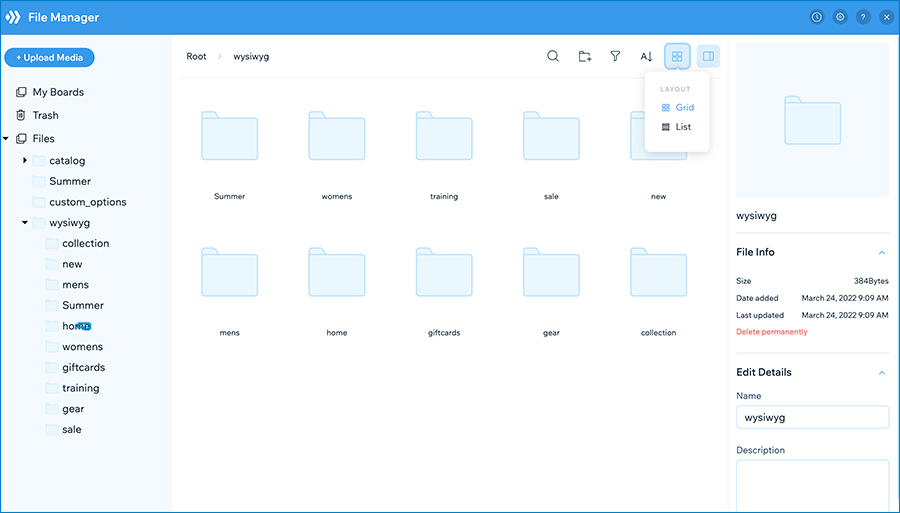 Two view modes
Because its working mechanism and appearance are similar to Google Drive, Windows Office, and many other popular file managers, you will find the interface easy to get to grips with.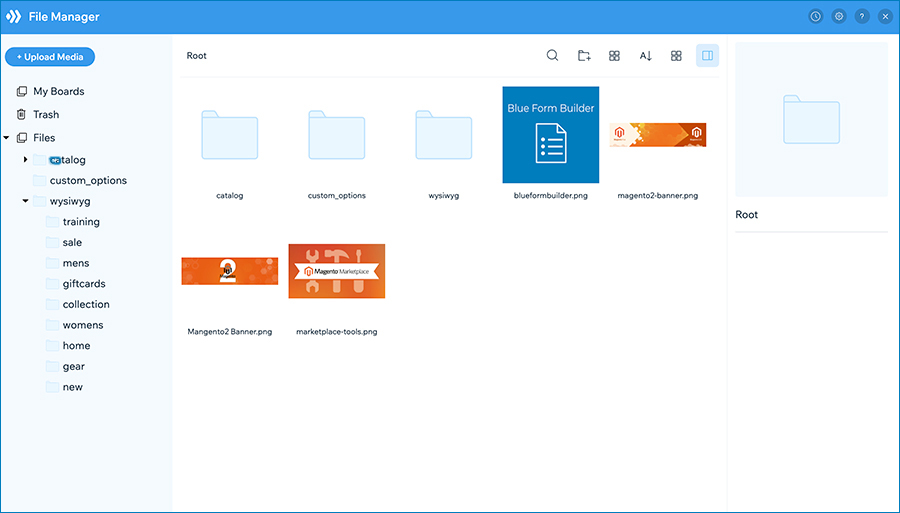 User-friendly interface
VII. Versatile Compatibility & Integration
The extension is fully compatible and integrated with:
WYSIWYG editor and HTML mode: Magento 2 File Manager is a viable alternative to the standard Magento Media Storage. It works seamlessly with the WYSIWYG editor and HTML mode.
Adobe Stock: Integrate the extension with Adobe Stock to find images for any creative project right inside your Magento dashboard.
Social media: Import your media from Facebook, Instagram, Google Drive, Google Photos, Dropbox, Flickr, DeviantArt, and Dribbble to the media library.
Magezon Builder extensions: Magento 2 File Manager is readily built compatible with all Magezon Builder extensions. You can access File Manager to manipulate your assets from any Magezon Builder extensions.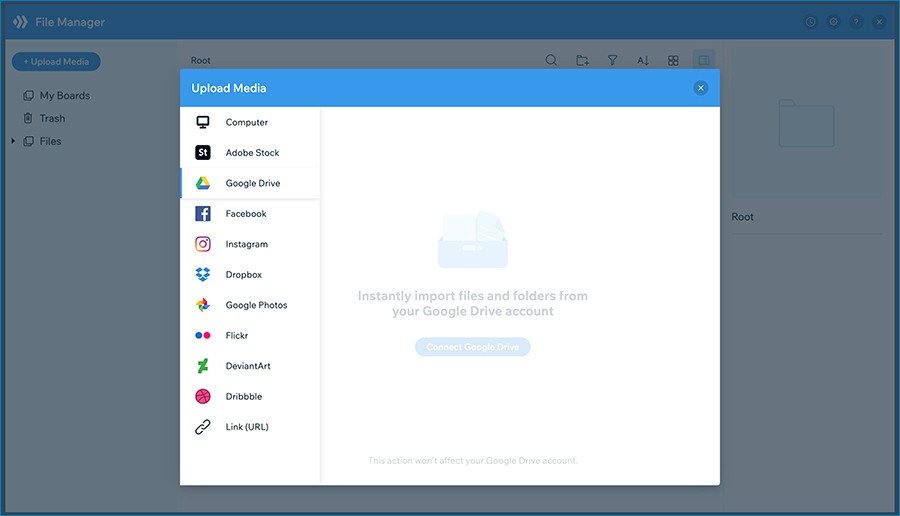 Integrate with socials
So, When Exactly Will We Launch This Product?
To be honest, it's hard to confirm the big day. All we can reveal are:
If everything is on track, this module will be released around the 2nd week of April.
Estimated price: from 129 – 149$.
If you have any questions, be free to leave a comment below. Visit Magezon to explore other fully-fledged Magento 2 extensions from our wholehearted and certified developers. You can also find us on Facebook, Twitter, Instagram, and Youtube.