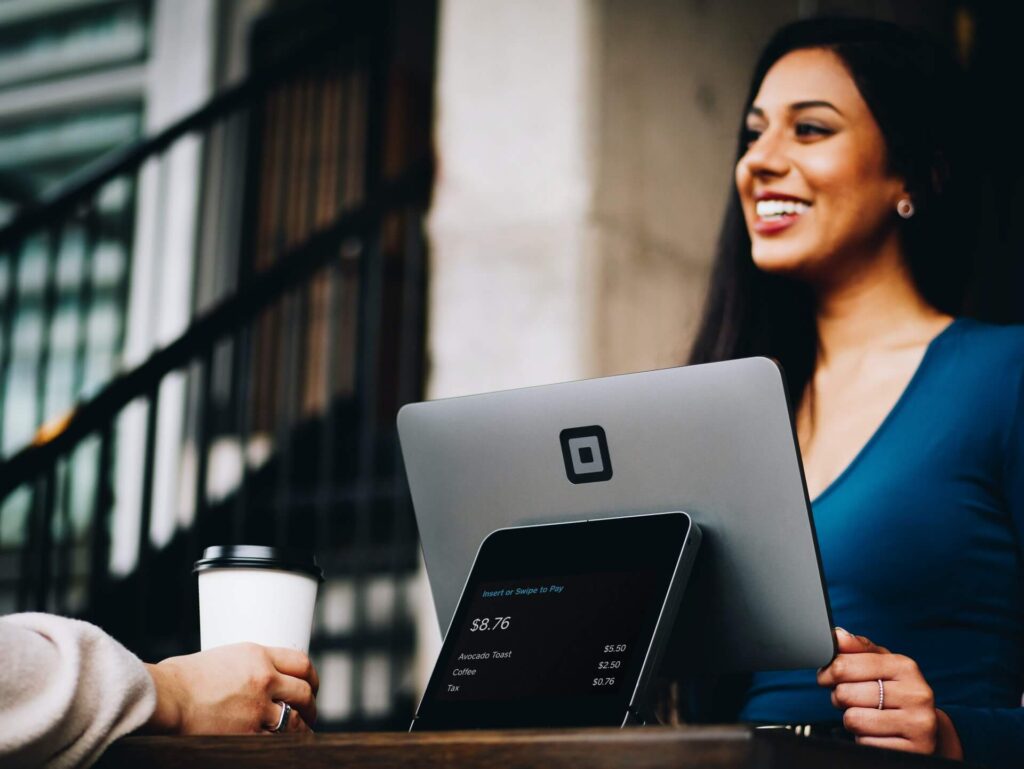 If you're a Magento retailer, having an efficient POS system plays a key role in operating your business and empowering your omnichannel strategy. Here're the ten best Magento POS systems with many key features to boost your retail. Let's explore each of them.
1. Magento 2 POS by Magestore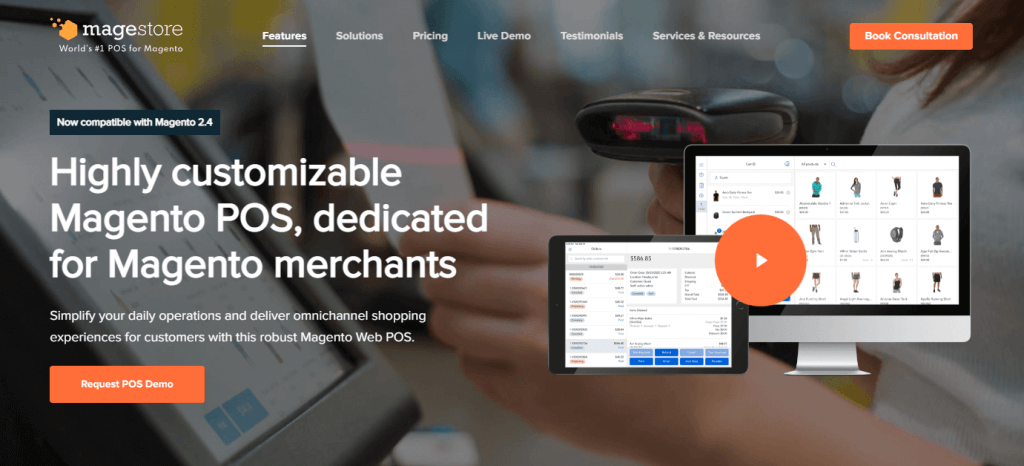 Magento POS by Magestore is presented as the best POS for Magento. It inherits all Magento features and integrates seamlessly with Magento extensions. The system is customized for each business and can be scaled up as you grow. It is compatible with the latest version of Magento, ensuring you're always updated with technology.
Key features:
● Real-time data synchronization for sales, inventory, customers
● Can work in offline mode so your process will never be disrupted
● Multiple payment options, such as cash, cheque, cards, store credits
● Efficient inventory management: create SKUs, track stock flow, lead time, stock turnover rate, etc.
● Create and control loyalty programs like promotions, reward points, gift cards, etc.
● Procurement and supplier management: it can alert you when and which goods should be replenished
● Real-time reports for store, inventory, and employees
Pricing:
Magestore offers a customized solution based on your requirements, how many stores you have, and the level of support. This is a one-time payment, with a 365-day money-back guarantee of refund if you aren't happy with the system. Though the price can be high at the beginning, it brings much more benefits in the long term for retailers who grow omnichannel.
Pros:
● An all-in-one solution for retailers, from managing stocks, procurement, sales, customers, and employees.
● You can add any features and customize them to suit your needs.
● Smoothly connect with Magento and its extensions, therefore limiting bugs and errors.
● Magestore POS run on PWA technology, meaning you can access it from any browser, and any device (PC, tablets, and phones)
Cons:
Since it offers many features and customization options, Magestore POS is complicated with settings.
2. Square POS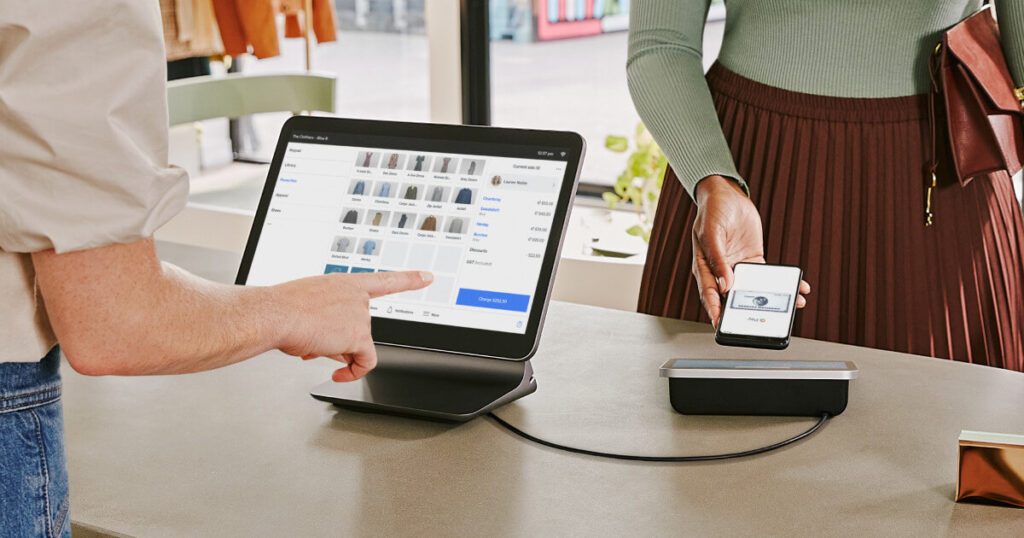 Square is one of the most popular Magento POS systems for merchandise. It offers three different subscription tiers depending on your business size and needs, including a free version suitable for startups.
Key features:
● Synchronize data automatically with inventory level and sales
● Offer text and email marketing to send promotion campaigns to customers
● Various payment options like credit cards, Apple Pay, gift cards, refunds
● Record customer information and purchase history
● Generates reports on sales performance, staff management, inventory management
Pricing:
● Three subscription tiers: Free, Premium ($60 per month), and Enterprise (customer-quoted)
● Processing fee: from 2.6% + 10 cents
● Hardware: from 0$ – 700$
Pros:
● Easy to setup
● Allows integration with your hardware
● Can run in offline mode
● Easy to handle transactions, refunds, voids, and cancellations
Cons:
● The free version provides basic POS features only
● Accepts only one payment processor: Square
● Incompatible with Magento 2.3 and 2.4
3. ConnectPOS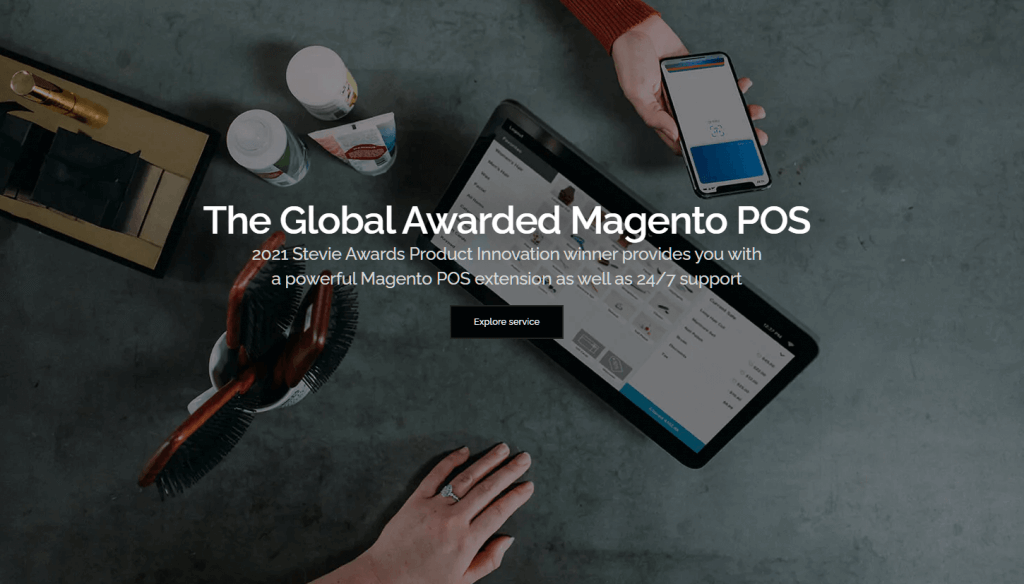 ConnectPOS is always on the top list of the best Magento POS, empowering you with many unique POS features. It won the 2021 Stevie Award Product Innovation, guaranteeing you'll receive a global-trusted POS system for Magento.
Key features:
● Integrate fully with all Magento 2 extensions, including payment gateways, loyalty programs & gift cards
● Automatic synchronization of data
● Control inventory across different warehouses and stores and update stock in real-time
● Smooth international payments
● Add custom products that aren't listed in the inventory
● Can work without Internet
● Various payment options: barcodes, gift cards, store credits, layaway, self-checkout, click and collect, refund, exchange, and multi-method payment
● Self-checkout solution allows customers to scan their QR code and conduct transactions on a ConnectPOS web app.
● Backorder and pre-order functions
● Manage team roles and performance
Pricing: Custom quoted based on your needs
Pros:
● Strong built-in features for order, inventory, customer management, and product management.
● 24/7 worldwide support
Cons:
● Pricing is hidden
4. Consult Mozaic POS

Consultmozaic develops a comprehensive POS solution for Magento users. It allows you to track performance, streamline the payment process, and operate business smoothly with all data at your hand.
Key highlights:
● Real-time inventory management
● Can work in offline mode
● When checkout, it can input custom products that aren't in the inventory list yet
● Connects with various payment methods: Stripe, Paypal, cash, as well as split & partial payment.
● Utilize Magento's loyalty tools for customers like reward points, gift cards, and store credits.
● Assign roles and permissions to each employee
● Track cash flow for each working shift and oversee the store's productivity
Pricing: $299/one-time
Pros:
● A complete list of POS features
● Fully customizable for your retail store
● Reasonable price
Cons:
● Incompatible with Magento 2.3 and 2.4
5. Acid POS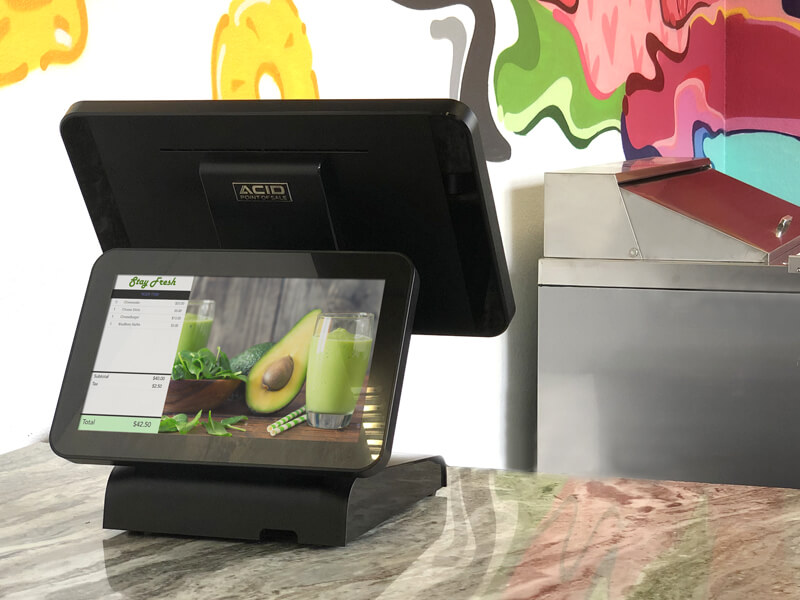 Acid POS delivers an extensive list of features that benefit Magento users in different industries, from retailers, wholesalers to F&B companies.
Key features:
● Sync data automatically among inventories, online stores, and physical stores
● Inventory forecast and out-of-stock alerts
● Track customers' info and view their purchase history
● Manage staff's performance and set permission for different users
● Handle on-hold payments and process them later
● Configure SKUs, manage labels and barcode
● Multiple payment methods, such as cash, check, credit card, store account, gift cards, reward points, point of banking
● Flexible transaction: split payments, discounts, layaway, invoices, in-store pickups, refunds, and exchanges
● Purchase order and supplier management
● Create in-depth reports on payments, suppliers, employees, etc.
Pricing: upon requests
Pros:
● Various features that meet the common and advanced requirements of a POS system
● Multiple payments methods allowed
● Support Magento's wholesale stores by purchase orders, invoices printing, wholesale reports, and more.
Cons:
● Hidden pricing
● Does not work in offline mode
6. Amasty POS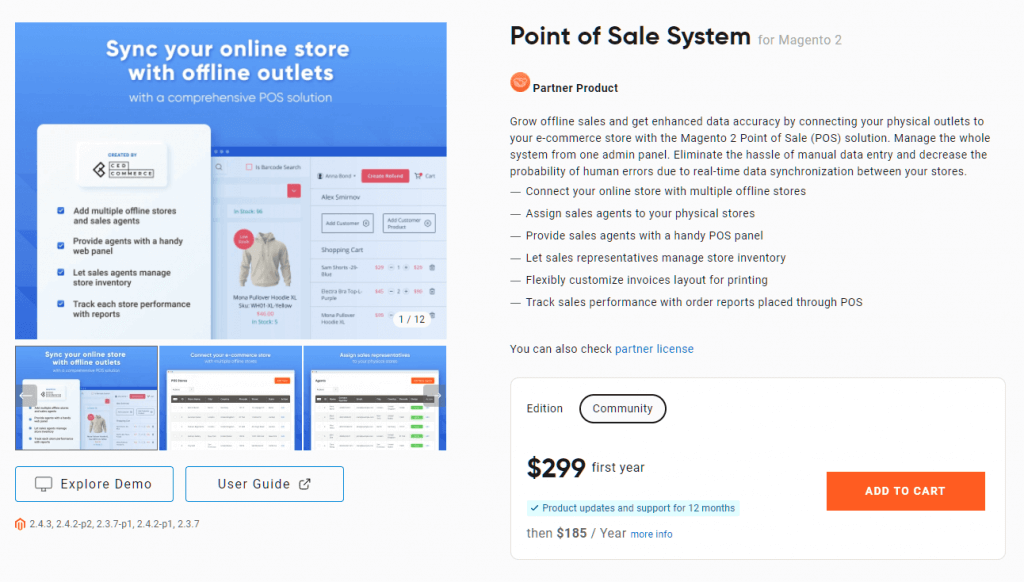 Amasty POS is another great POS system for Magento 2, with many automatic features that help your operation run smoothly and avoid human errors by controlling all product data, sales data, and customer data in one place.
Key features:
● Real-time synchronization of orders and products across stores
● Set up representatives and views for your stores
● Mark items running low on stock or out-of-stock
● Allow checkout with an existing customer account or create a new one
● Input custom products, apply discounts to checkout
● Can apply split payments between cash and card
● Manage products with a SKUs system
● Create reports for inventory and sales performance
Pricing:
● The first year costs $299, and the next year costs $185 per year.
Pros:
● Can create refunds for a complete order or a part of it
● Can deal with several orders at once
Cons:
● Unable to support a variety of payment options
● Lack of some POS functions like offline mode payment and customer loyalty
7. Webkul POS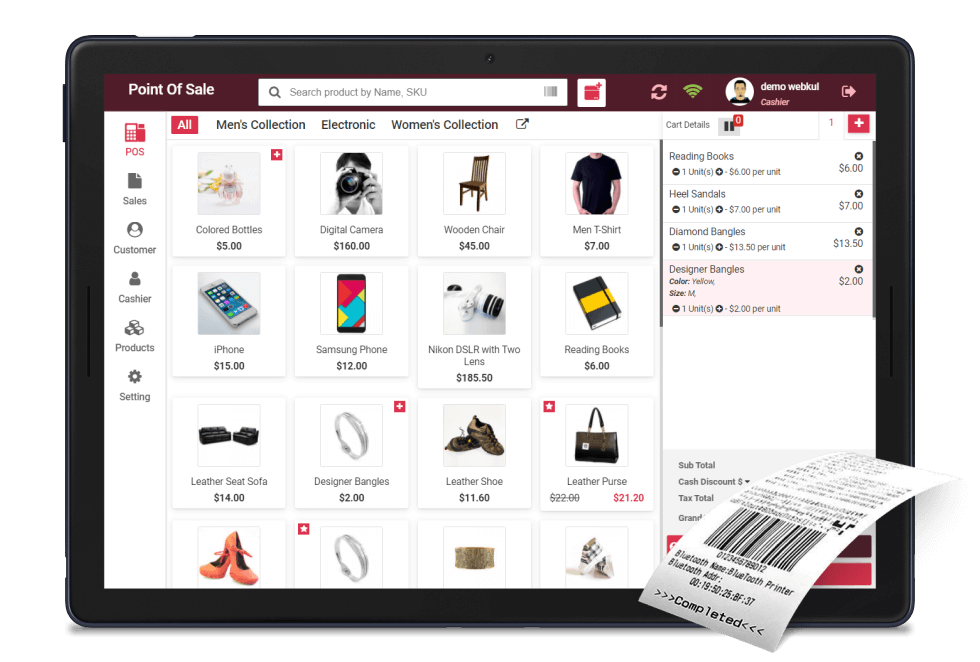 Webkul offers all must-have features of a Magento POS system at an affordable cost. Merchants can proceed with checkout, manage stocks and orders quickly with an intuitive user interface.
Key features:
● Real-time data synchronization
● Track stock status in warehouses and stores
● Work in offline mode
● Assign sales representatives to each physical store
● Search for a customer account or create a new one during checkout
● Hold carts and continue the payment later
● Different payment options like cash, credit/debit card, and split payments
● Generate sales report with data on revenues, tax, profit, etc.
Pricing:
● Webkul's POS: $249
● Installation fee: $39.80
Pros:
● Reasonable and one-time payment
● A 30-day refund guarantee
● Suitable for retailers seeking essential POS features
Cons:
● Complicated setup and high installation cost
● Does not support many payment options
● No integration with Magento's loyalty program
8. Ebizmart POS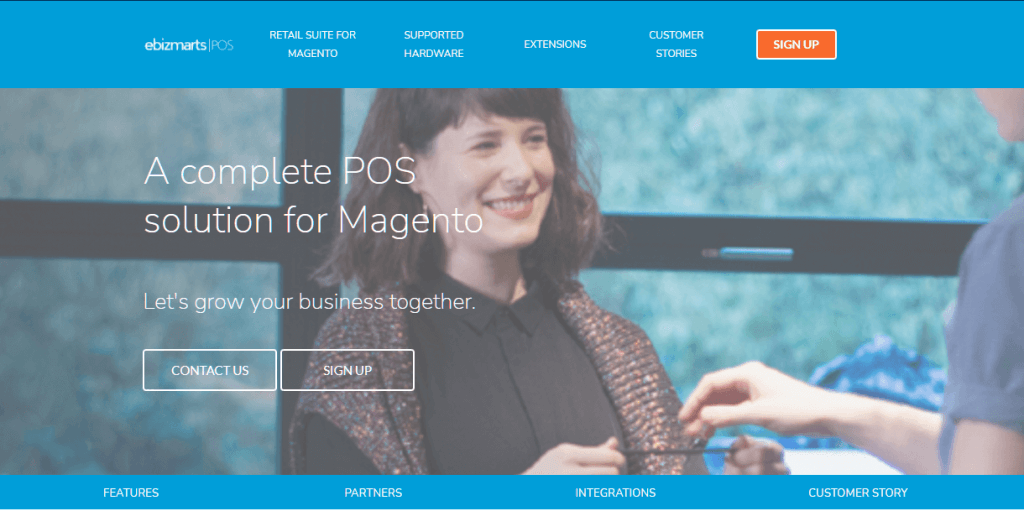 Ebizmart is a reliable POS solution that helps Magento stores go omnichannel and make consumers happy.
Key features:
● Synchronize and manage real-time inventory
● Support several payment methods like Paypal Here, Sage Pay, Ayden, gift cards, and cash.
● Can search products with barcode scanners and search orders with customers' names or order ID
● Configure products, apply discounts, and add order notes during checkout
● Create returns and refunds easily
● Print and email receipts for customers
● Generate many report types like shift reports, stock reports, sales reports, tax reports, etc.
Pricing:
● Enterprise: $350/one-time
● Enterprise +: upon request
Pros:
● Easy to set up and use
● Offer a free test account for experience
● Affordable price with a one-time payment
● Include all basic features in the POS
Cons:
● Compatible withfor iOS devices only
● Support a limited number of payment methods
9. Bindo POS
Another good option for Magento POS is Bindo. The system helps retailers leverage their customer experience in both online and offline channels.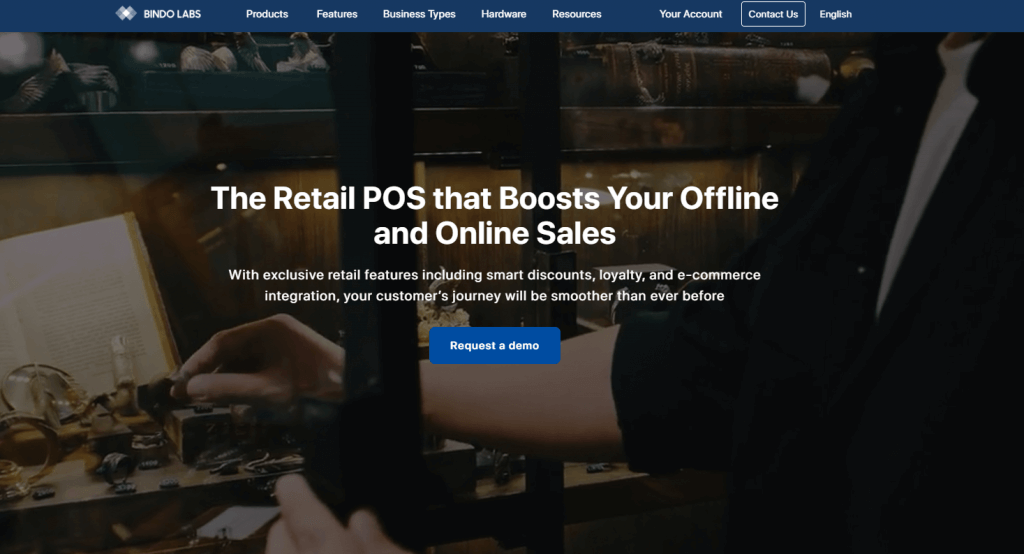 Key features:
● Inventory management: sync all stock data into one dashboard, track stock level, add and search products by QR codes
● Allow "bill now, pay later"
● Support many payment methods: cash, card, mobile payment
● Smart checkout: display customer's data during checkout and suggest personalized products to upsell
● Create custom reports on sales and inventory
● Customer loyalty program: record customer data, gift cards, and store credits
Pricing: Upon request
Pros:
● A full-scale POS solution with many features for retailers to enhance the customer journey and upsell during checkout.
Cons:
● Can be used on iPad only
● Complicated setup that requires the Bindo team to integrate and synchronize the POS with your Magento store
10. AgileCodec POS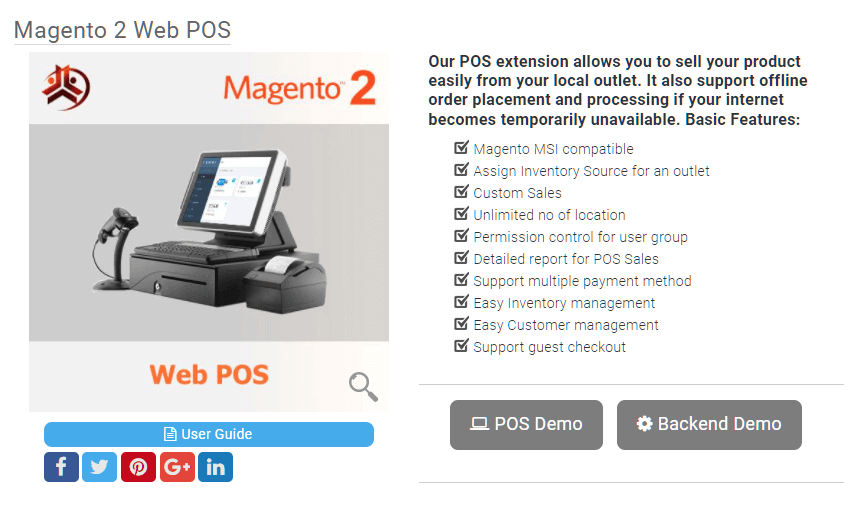 AgileCodec presents a robust Magento 2 POS solution with purchasing flexibility to meet the needs of different customers and level up the checkout experience.
Key features:
● Automatic synchronization between inventory and sales
● Grant roles and permissions to each employee
● Search customers by name, email, phone number, etc.
● Allow checkout as a guest or a registered account
● Can process payment without Internet
● Accept various payment methods like cash, debit/ credit card, slit payment, and allow you to add two more payment methods as you want
● Apply discounts and vouchers
● Generate reports on sales by staff or by store
Pricing:
● POS system: $350
● Installation cost: $12
Pros:
● AgileCodec POS can work in offline mode to process orders and can sync data between your physical stores and online stores smoothly.
● It provides a decent variety of payment options.
Cons:
● Cannot integrate with loyalty program and checkout with rewards points or store credits
● No return and refund features
● Not always updated with the latest version of Magento
So which POS system is best for you?
As a retailer, you need to choose the best Magento POS that is smoothly compatible with your store. The top 10 systems have their strengths and drawbacks that will match different businesses; thus, you need to understand your needs before making the selection.
An efficient POS system will boost your customer experience, as well as your operation inventory and employees, helping you grow faster and supporting your long-term development.
At Magezon, we provide safe, efficient yet affordable Magento extensions that helps you build and optimize your Magento store. Visit Magezon to pick ones for yours!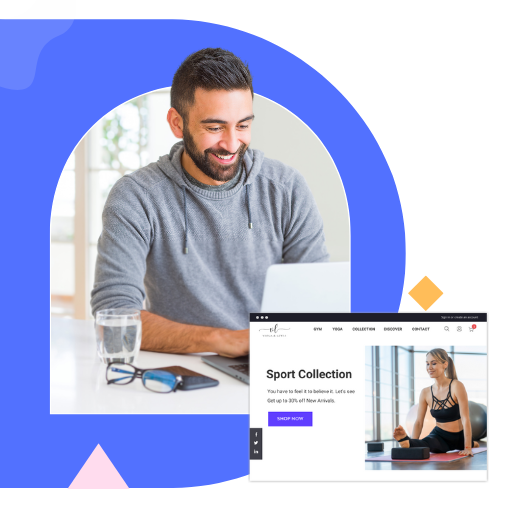 Optimize Your Magento Store With Powerful Extensions
Looking for fast, efficient and well-coded extensions to build or optimize your Magento stores for sales boosting? Then visit Magezon website and grab necessary add-ons for yours today!