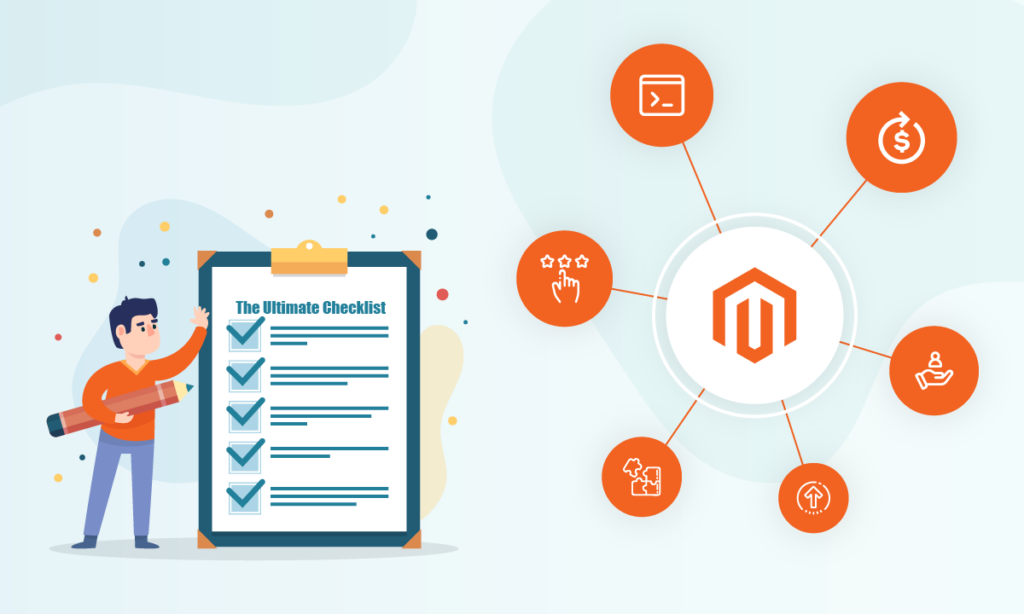 One of the main concerns among Magento users is how to choose the best Magento extensions for e-commerce. Going straight to the Google search bar is what most of us usually do. But the results on Google SERP are both enormous and miscellaneous. Therefore, the quest of finding the best extensions seems to be more arduous than ever.
Understanding this, I decided to gather expertise from our Magento extension development team and share it with you in this blog post. Hope it helps.
Bookmark Magento Marketplace
1. What is Marketplace?
As the official extension store of Magento, Magento Marketplace is like a mini Amazon where you can find 3000+ extensions and themes from third-parties.
Fun fact: Magento's former listing site was called Magento Connect. But on September 15, 2017, it was shut down and permanently redirected to Marketplace. Meanwhile, some obsolete blog posts or forum threads still stick to the word Magento Connect, which may cause confusion to some readers. So I hope this piece of info can clarify for you.
2. Why you should check out Marketplace before buying extensions?
Variety
On Magento Marketplace, there are 3000+ verified extensions. No other site has as many extensions as Marketplace does.
High quality
What helps Magento Marketplace win users' trust is it's Extension Quality Program. Magento created this as a 3-phase review process to ensure all the Marketplace extensions meet the highest Magento standards. These phases are:
Business – ensures that each extension solves a business problem and delivers rich and unique functionality.
Technical – examines code to detect the presence of viruses, malware, and plagiarism.
Marketing – makes sure that marketing descriptions are in line with Magento branding guidelines.
At Magezon, we submit extensions to Marketplace every new release and go through exactly this selection process. It's totally normal that a provider has to submit, adjust, and re-submit their documents several times before their products get published on Magento Marketplace website.
Easy Discovery
Magento Marketplace is designed with a simple, clean layout. It is very easy (just in 1 click, literally) to navigate to 9 extension categories from the homepage:
Accounting & Finance
Customer Support
Sales
Marketing
Payments & Security
Shipping & Fulfillment
Content & Customizations
Reporting & Analytics
Site Optimization
Beside Categories, I find the filters such as Editions, Versions, Price, Partner Types, and Ratings can be very useful in helping sort out extensions that meet users' needs.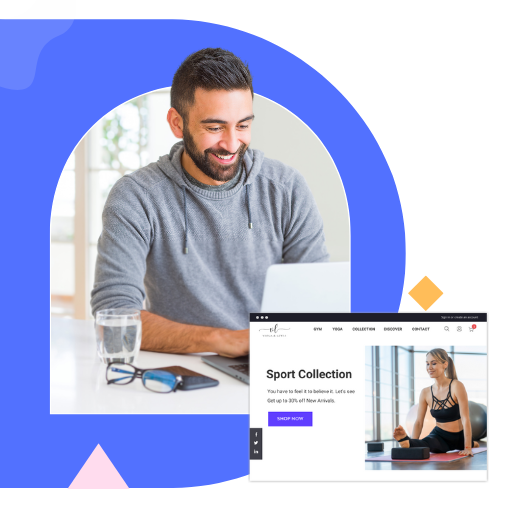 Optimize Your Magento Store With Powerful Extensions
Looking for fast, efficient and well-coded extensions to build or optimize your Magento stores for sales boosting? Then visit Magezon website and grab necessary add-ons for yours today!
Caveat: Don't buy extensions without visiting the website of the extension provider
Even though I completely agree with this guy on Magento Marketplace's homepage,
there are two main reasons why I believe you should still go to provider's websites.
First, it's about the discount. You will find more discounts from vendor's websites than from Marketplace. Personally, I hardly ever see any discounts on Magento Marketplace. It seems that Marketplace focuses more on vetting and introducing top Magento extensions to Magento users than selling. Meanwhile, vendors, just like any other e-commerce business, create new discount programs for customers every other week, including campaigns for special occasions such as Black Friday, and other up-sell, cross-sell programs such as Buy more – pay less, … So if you want to find some good deals, visit the vendor's websites.
Second, no matter how much information Marketplace can provide you about a vendor, you can always find more on their websites such as customer success pages, case studies, blog posts, … All of them helps you get to know more about vendors as well as their extensions.
The ultimate checklist for how to choose the best Magento 2 extension for e-commerce
How can you find the best Magento 2 extensions among thousands of them in the market? To narrow down the choices, there are a number of factors you should always take under consideration. They are listed below:
| | |
| --- | --- |
| Technical factors | Non-technical factors |
| ✔ Features | ✔ Reviews and ratings |
| ✔ Codes | ✔ Price + Money back guarantee |
| ✔ Upgrade status | ✔ Support |
The ultimate checklist for best Magento 2 extension
Technical factors
Features
Many of us automatically assume that the more fetaures an extension has, the better it is. However, this isn't the case. Instead of a feature-crammed extension, look for the one that suits your needs. Start by addressing these questions:
What will you use this extension for?
Don't buy a new extension unless you can adequately explain this to yourself. First, have a goal. Second, list down several expected core features. This practice helps you steer clear of unnecessary purchases and as a result, you can allocate your precious cash into extensions with great value.
For example, suppose that you are running Blue Form Builder on your site. Besides its main purpose which is to build forms, this extension also allows you to create simple pop-ups. If you only need basic popups for your e-commerce site, instead of Magento 2 Popup Builder, Blue Form Builder is a good choice.
Are you sure Magento 2 Open Source doesn't provide this feature?
It's a waste of money when you spend on an extension that has the exact features available in Magento Open Source. This mistake actually happens a lot. I have a real case here. Many vendors provide Login as customer extension in the market because in Magento 2.3 Open Source, this feature was not supported. However, Magento 2.4 Open Source integrates this feature. So if you are looking for Login As Customer, consider updating to Magento 2.4.
To stay away from this scenario, you should look for online tutorials and talk to an expert to make sure you only buy an extension that isn't initially provided by your Magento version.
How exactly does each feature work?
Sometimes, a stunning marketing video can be ambiguous or even misleading. That's why trying the demo to see how the extension works is a must. You can do it easily as most Magento vendors provide a demo link on their product pages. Remember to test both the frontend and backend, spend time to discover each function. Check related documents such as installation guide and user guide. If you get any difficulty during the test, just note them down and contact the vendor for an answer.
Magento had a major upgrade to Magento 2.4 in July 2020. Check out the difference between Magento 2.4 vs 2.3 and you can decide whether to go for the latest version.
Codes
Bad codes can negatively affect your whole website's performance. That's why you need to make sure the extension you use is well-coded. Even if you see an extension from Marketplace, which implies its fairly good codings and compliance with Magento standards, checking the code one more time is a necessary step in order to fully evaluate the extension. For the best result, ask the extension provider for a trial version. After that, you'd better reach out to a professional developer so he/she can help you inspect the codes.
Upgrades
There are a number of reasons why an extension needs continuous updates. It doesn't necessarily mean that the original version was badly developed. It is simply because there are many unpredictable scenarios that happen after an extension is installed on a site. From the viewpoint of a developer, they could be:
A new Magento version is released. Therefore, an extension must be updated to be compatible with the latest version.
Extension conflicts with other third-party extensions
Extension causes bugs on a new customer's site.
Extensions slow down website performance because of bad codes.
And the list goes on.
So if you want a bug-free extension and reassure its "smoothness", choose a frequently updated one. Verify that by taking a look at the changelog/release notes. This history not only shows how the latest product version is improved but also is a proof of the developer's dedication in maintaining the quality overtime.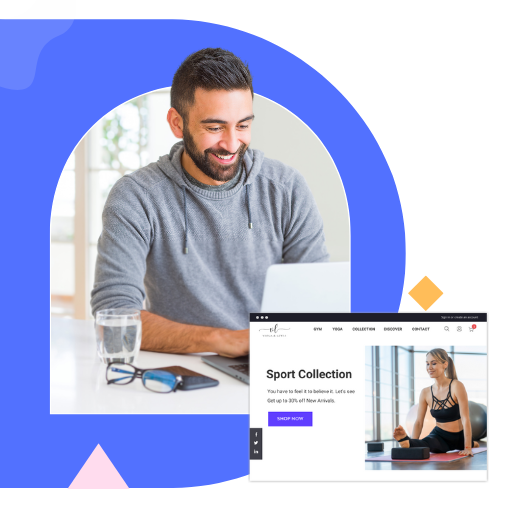 Optimize Your Magento Store With Powerful Extensions
Looking for fast, efficient and well-coded extensions to build or optimize your Magento stores for sales boosting? Then visit Magezon website and grab necessary add-ons for yours today!
Non-technical factors
Reviews and ratings
According to Spiegel Research Centre (2017), 95% of shoppers read reviews before making a purchase. So you are probably already one of them. This fact is easy to understand because we're all craving for social proof, which we can only get from others' reviews. The bad news is that many businesses are manipulating reviews and ratings as a black-hat marketing strategy. This also happens in the Magento extension industry.
But the good news is it's not exactly impossible to sift out real reviews from the hoax. Here are some tips for Magento extension buyers:
Be quantity-skeptical. If you see a Magento extension that has an unusually large amount of reviews, especially when compared to others in the same category, then this could be an indication of fake.
Check the date. If in a very short time, especially just a few days after an extension release, reviews are generated in bulk, there is a high chance they are fabricated.
Seek reviews from verified purchasers. You can tell them apart from anonymous buyers by the "verified buyers badge" displayed next to the reviewers' name, just like ones from Magento Marketplace.
Pay attention to the language. Does it sound natural? If it seems to be an infomercial or too good to be true, it usually is. In other cases, repeated name of Magento extensions (probably for SEO purposes) is a telltale sign of fake reviews.
Look for reviews with particular first-hand experience. Skip the general and vague reviews because they are useless and should never affect your buying decisions.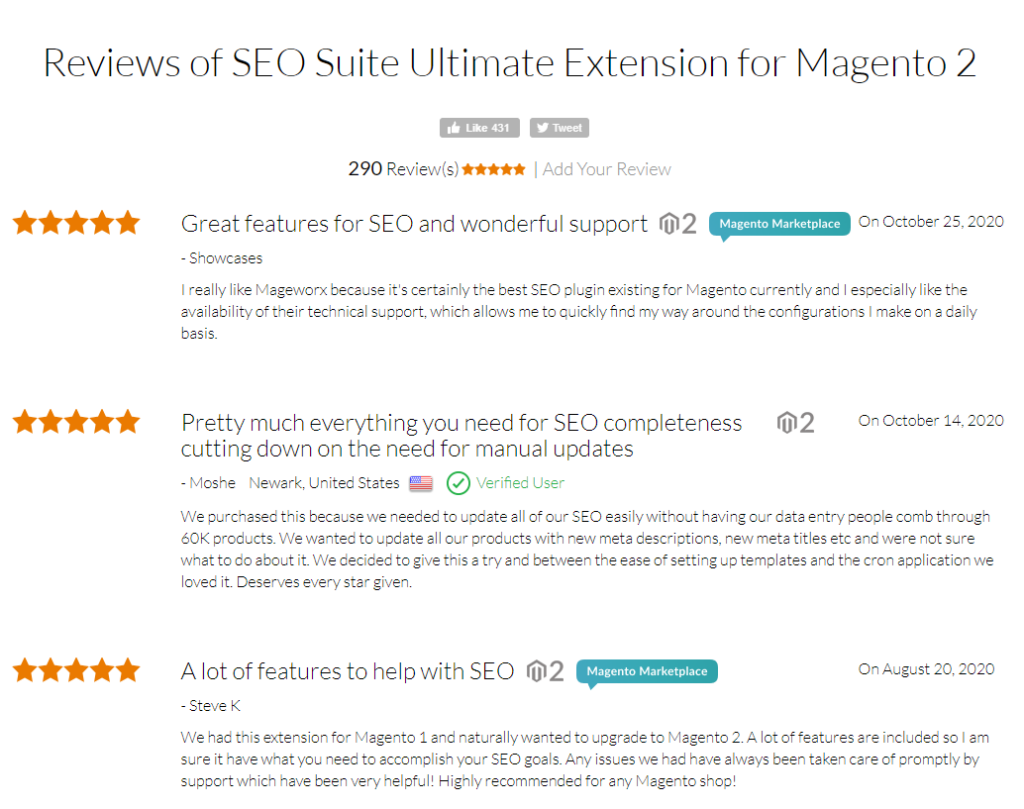 As important as how you read a review is where you read it. Don't simply stop at the product page of an extension. Rather, keep digging deeper by joining online forums and Magento communities, reaching out to the online fellows to make sure you hear from the horse's mouth. Of course, chances are from time to time, you may come across an affiliate guy or a clone account touting their products as the best Magento 2 extensions. But if you want to seek the authentic reviews, a little bit of patience is necessary. Here is a suggestion list of Magento community for you. All of them are highly active with a large pool of members.
Price
Related to price, let me start with a Twitter joke 🙂
You can always find it cheaper. #realmagento pic.twitter.com/FE7U1Egorw

— Mathew Beane (@aepod) September 24, 2020
I guess some of us can relate to this and if so, please comment to share your story.
About price, here are what a smart extension buyer should do:
Invest wisely. Expensiveness isn't equivalent to high quality and vice versa. The point is, investing in good extensions will help you reap benefits in the long run.
Compare the price. There is no such thing as a universal price tag when it comes to Magento extensions. In fact, the price of an extension can vary widely depending on the sellers even if the features are roughly similar. Make sure you do research to avoid any possible rip-off.
Support
Running a Magento extension on your e-commerce store is definitely not a set-it-and-forget-it act because problems may arise all the time. Even the best Magento 2 extensions require ongoing maintenance. There are many cases in which you need support. Some of them are:
Installation related issues
One extension conflicts with products from other providers
Feature configuration issues that you can't find help from the user guide
Updating to the latest version of an extension after a long time
Custom request
When one of these issues happens to your website, it is already a pain. Support service is supposed to kill this pain, not to aggravate it. To prevent any future disappointment, here are some tips for you:
Check support duration. There are vendors that offer you lifetime free support when others offer 3 to 6 months of free support for a new extension before they charge you. In some cases, vendors even don't provide free support at all. So make sure you check the support program of each vendor, specifically their price and duration.
Experience it. It's quite easy to test how a support team reacts to you before you buy your extension. Simply contact them via live chat, if possible, or tickets to see how quickly they respond to you. Ask the pre-sale questions such as support, refund, discount, … By doing so, you can immediately have a quick experience with the support team and then evaluate if they have professionalism or dedication.
Money back guarantee
I recommend you take the money back guarantee program seriously. Even if you are happy with the demo and first-hand experience with the support service, and it seems like a great match with your e-commerce business, nothing can prove that it will work perfectly once it is installed into your store. Prepare for the worst when you regret your purchase by adding money back guarantee into your checklist. Besides, a money back guarantee shows extension providers' high level of confidence in their products.
Money back guarantee is often presented with or in the form of Refund Policy. You can often find it in the footer of a website. Make sure you read it carefully, particularly the timeframe and type of refund. If you find a provider is not very straightforward about their policy (which happens a lot), you can always directly ask them.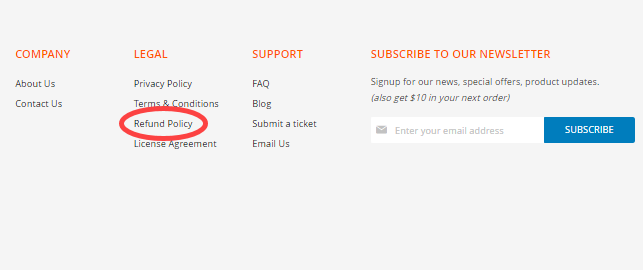 Final thoughts
Choosing the best Magento 2 extensions for your e-commerce can be easier for now. With this checklist in hand, you can prioritize the most important factors and rate the extensions accordingly. If you have any questions or ideas, feel free to comment. I am more than happy to reply.
At Magezon, we provide safe, efficient yet affordable Magento extensions that helps you build and optimize your Magento store. Visit Magezon to pick ones for yours!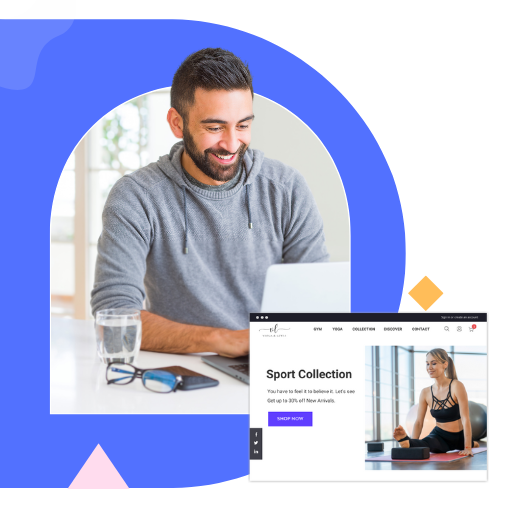 Optimize Your Magento Store With Powerful Extensions
Looking for fast, efficient and well-coded extensions to build or optimize your Magento stores for sales boosting? Then visit Magezon website and grab necessary add-ons for yours today!