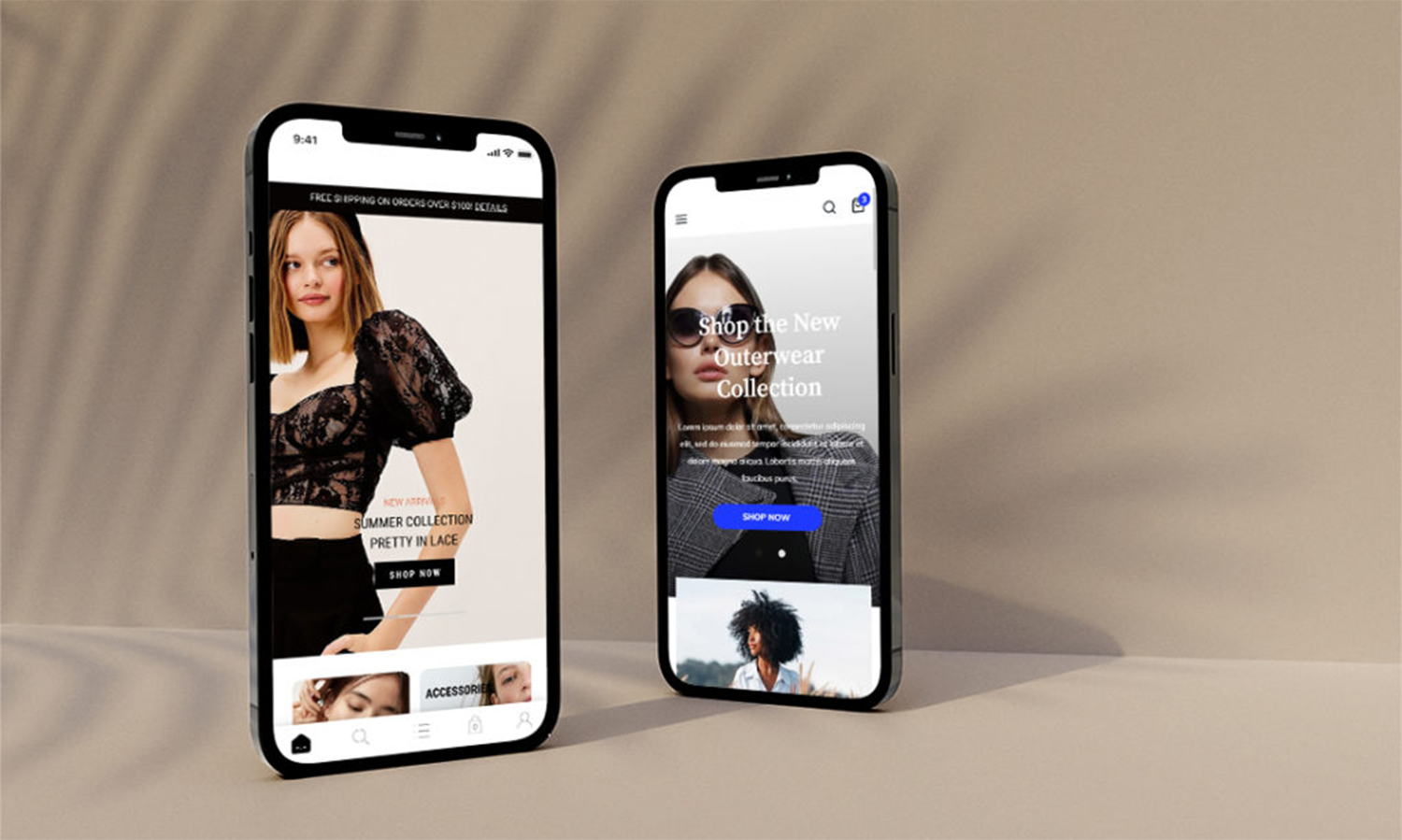 Building a PWA from scratch can be time-consuming and require a significant amount of technical expertise, but Magento 2 PWA themes can help solve all the problems. You can save on development costs and time while providing customers with a fast, simple, and attractive shopping experience.
In this article, you'll get to choose from the top 10 best themes. From pre-made to customized sleek and modern templates, each theme offers unique features and benefits that can help polish your online presence and convert more customers.
First, let's start with some basics about their benefits and tips to choose the most suitable option for you.
8 Benefits of Magento 2 PWA Themes
1. Better UX for B2C
The Magento 2 PWA themes offer a quick and seamless experience with full-screen display, network independence, and background syncing, all while using minimal data. They are designed to optimize performance with features such as
Lazy image loading
CSS and JavaScript file minification
Resource compression to reduce page load times
Caching for faster responsiveness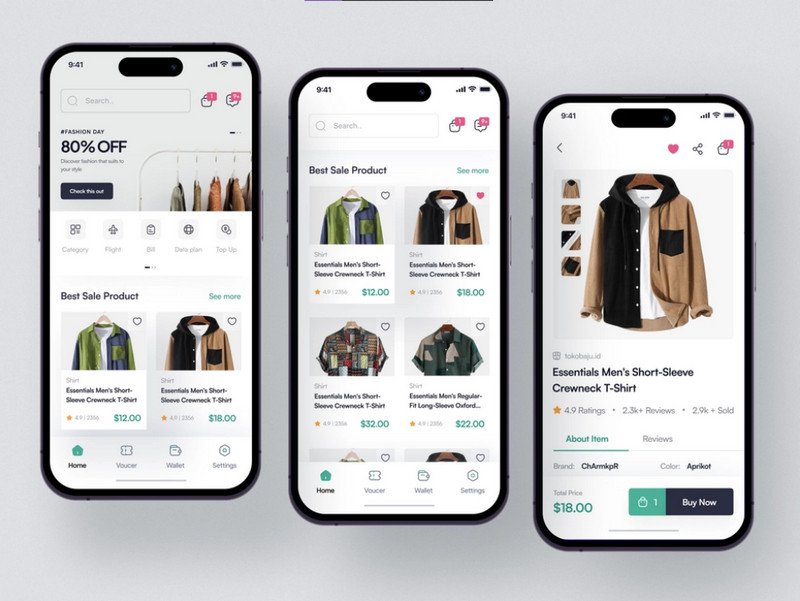 2. Cost-Effective Solution
These themes are built on Magento API to ensure a secure and reliable environment for online purchases. Therefore, they can significantly reduce development times compared to traditional web applications.
If you need to transfer your store to another platform and require technical assistance, it can be both complicated and expensive. Using Magento 2 PWA themes simplifies this process, as you can do it yourself without writing any code. And compared to building separate Android and iOS apps, it's clear that converting your website to a PWA theme for Magento 2 is a much more cost-effective solution.
3. Easy & Effective Re-Engagement
Imagine having a website that offers an experience like a native app, where your customers can easily find what they need and stay engaged. That's exactly what you get with Magento PWA themes. They have a seamless user experience that leads to higher conversion rates and more sales for your eCommerce store.
One of the best things about Magento 2 PWA themes is that they allow you to send push notifications to your customers and inform customers about new products, updates, or special offers. They're quick, convenient, and only appear on your customers' phones without an app or emails. In other words, you don't need any customer personal information to use them.
4. Easy Implementation
Setting up a PWA theme for Magento 2 is a breeze, even if you're not a tech expert. It's pre-built, so you won't need much time or effort to install it.
5. Good for SEO
Magento 2 PWA themes are optimized to load your page faster and reduce the strain on the user's browser. As a result, your website can obtain better visibility and a higher ranking in search engines. With increased outreach, you'll attract more visitors to your site and convert them into customers.
6. Natural & Interactive Like a Native App
With progressive web apps, your users can enjoy an experience similar to that of a native app. Starting with adding an icon for your website to their home screen. All the tasks will be done and performed perfectly like an app, thanks to the pop-up feature, which ensures users don't have to reload the website whenever they want to open a new page.
7. No Slow Internet Issues
Have you ever been in the middle of browsing your favorite online store's app, and suddenly, your internet connection drops? With a progressive web app, you don't have to worry about this interruption. You can still browse, add items to your cart, and even check out, and when your connection is restored, your payment will go through automatically. This means you can enjoy shopping on the go without worrying about internet connectivity issues.
8. Responsive and Dynamic Experience
Magento PWA themes are a great place to start if you want to create a unique and dynamic eCommerce website responsive to all devices. With this technology, your website will be accessible on any browser device, whether a laptop, tablet, or smartphone. They provide faster loading speeds and a top-notch user experience with high-quality visuals. This can improve your search engine ranking and user engagement. By offering easy access to your website, you can turn visitors into loyal customers.
How to Choose the Best PWA Themes for Your Magento Store?
1. Define the Requirement
Before you go ahead and buy a PWA theme for your Magento 2 business, remember to identify what you need from it. To ensure a successful purchase, list all your expectations beforehand. By doing this, you can easily filter out themes that don't align with your requirements and focus on the ones that matter most.
So, grab a pen and paper, and start jotting down the features you want in your PWA theme. Do you need faster page loading, improved navigation, or higher sales? Be as precise as possible about your needs. This way, you'll have a clearer idea of what to look for, and the process will be much easier and more efficient.
2. Assess Budget
Your budget might be a big concern when searching for a Magento PWA template. The price of a PWA theme will depend on the features and functionality you need for your store—the more intricate the theme, the higher the cost. But don't worry – plenty of options are available at varying prices for you to find one that fits your budget.
Be sure to conduct some research and compare themes before making a purchase. This way, you can get the most bang for your buck. Consider a theme built on an open-source platform if you want extra features or customization options. These themes are usually more flexible and can be tailored to your needs.
3. Evaluate Demos
When choosing a Magento PWA theme, it's essential to take the time to check out the demo, to see whether it is user-friendly, easily customizable, and has a responsive design before making a decision. Don't forget to look at the theme's documentation and support resources to help you maximize its effectiveness.
4. Search for a Suitable Magento PWA Theme Design
Finding one that looks good and supports your company's goals is essential. To ensure an optimal user experience, consider your chosen theme supports all the required features, such as:
Responsiveness
Accessibility
SEO-friendliness
Ease of use.
5. Compare Different Theme Options
Have no fear if your current PWA theme isn't delivering the performance your Magento store needs. You don't have to settle for subpar results. The key is to explore and compare different options to find the best fit for your needs.
When comparing PWA themes:
Check which ones offer the fastest page loading times.
Look closely at the themes' design aesthetics and ensure they align with your brand's image and message.
Pay attention to the compatibility with different browsers and the mobile-friendliness of the theme.
Seek a third-party opinion for a fresh perspective to often provide valuable insights that you may have overlooked.
6. Collaborate Directly With the Developer
If you're thrilled with a Magento PWA theme but want to take it to the next level, don't hesitate to ask the developers for some customization. You can get a Magento PWA theme tailored to your store's needs and access unique features and enhancements that will help boost your business's performance. The designers can offer valuable guidance on making the most of your theme to achieve the best results.
7. Understand Post-Purchase Support
Just because a PWA theme looks excellent during a demo doesn't mean it's smooth sailing from there. The truth is, any PWA theme can run into unexpected hiccups. That's why it's crucial to consider the post-purchase support provided by the service provider before making a decision. A reliable service provider will have your back in case of any issues, providing quick and efficient assistance whenever needed.
The last but certainly not least important factor is finding a trustworthy service provider. With so many online options, navigating the sea of providers and ensuring you're not falling victim to fraud can be challenging.
There are several key considerations to remember to protect yourself and your business. First and foremost, check out the provider's website to ensure they are transparent about their pricing and services. A trustworthy and professional theme should include comprehensive documentation, such as user manuals, detailed videos, and live demos, and remember to investigate the company's credentials by reviewing:
Portfolio
Years of experience
Customer testimonials
Case studies
Don't hesitate to consult the company and choose a provider who can provide detailed and precise guidance.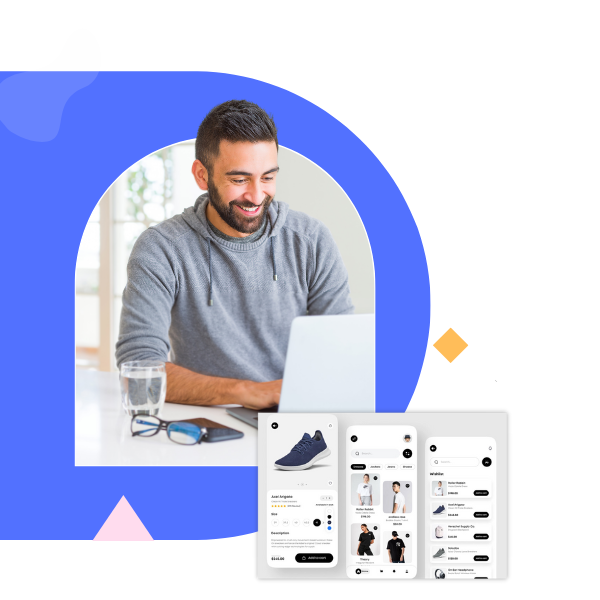 Try FREE Magezon Page Builder!
Easily create your engaging Magento pages in any style whenever you want without relying on developers or designers. Just by drag & drop.
10 Best Magento PWA Themes Free and Paid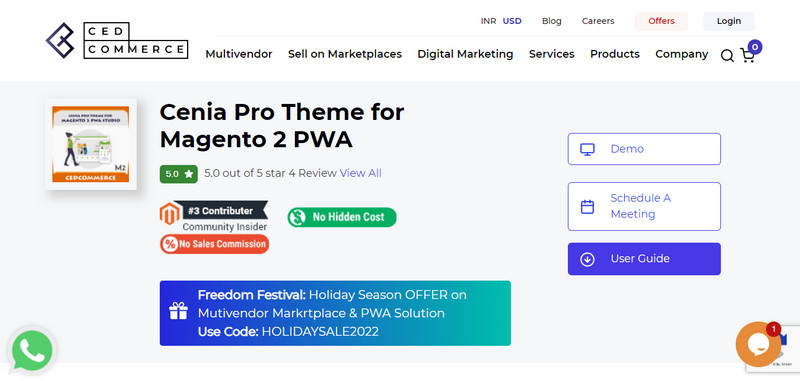 Price:
PWA Cenia Theme: $0
PWA Cenia theme Pro: $299
Compatibility: Magento 2.3.x & 2.4.x
Are you seeking a reliable and speedy PWA integration solution for your eCommerce store? Look no further than the Cenia Magento 2 theme from CedCommerce. This powerful theme harnesses the latest technologies, including Magento 2 PWA Studio, ReactJS, and GraphQL. This aims to create a lightning-fast website with an app-like interface and improved user experience.
With the CedCommerce Cenia Theme, customers can add your PWA to their mobile home screen and enjoy seamless shopping, even with a poor or non-existent Internet connection.
Highlight features:
Automatically updated
High performance at a low cost
Support for various Magento 2 features
Blazing fast loading times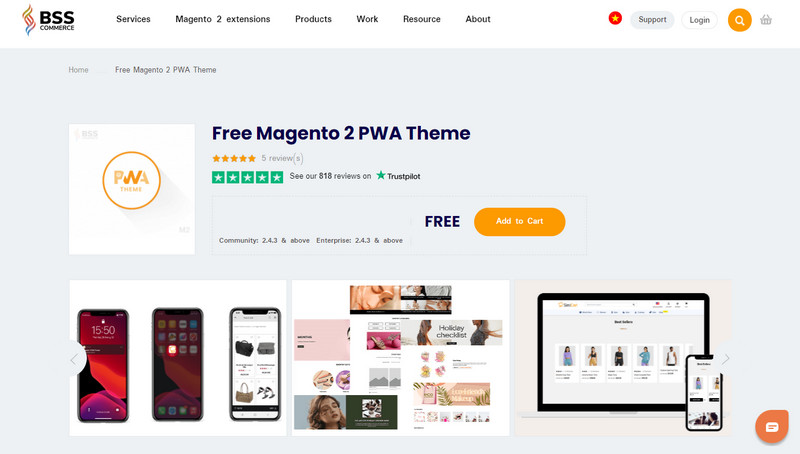 Price: Custom pricing based on specific needs
Compatibility: Magento 2.3.x & 2.4.x
If you are looking for a complete solution to increase traffic and conversions in your Magento 2 store. Then, BSS Commerce Magento 2 PWA theme – SPEEDY, is a great point to touch. As the name suggests, this theme is designed to load quickly, resulting in a 110% faster conversion rate than average.
With SPEEDY, you can enjoy a range of benefits for your Magento PWA site. Boost your SEO results and improve your Google search ranking. It offers a fantastic UX design and provides customers with a smooth and engaging user experience.
Highlight features:
Enhanced SEO capabilities
Lightning-fast loading time
Improved UX design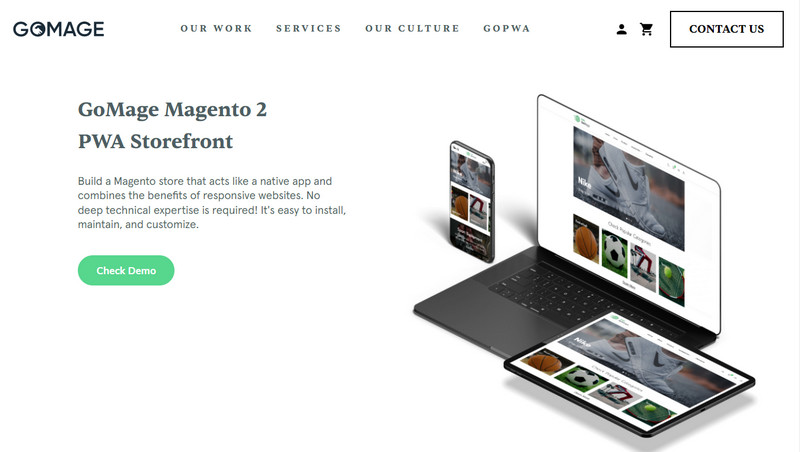 Price:
Open source: $1,799
Commerce: $2,299
Compatibility: Magento 2.3.x & 2.4.x
GoMage Magento 2 PWA theme is the perfect solution for effortlessly building a robust and feature-rich Magento 2 PWA store. You'll get all the benefits of an out-of-the-box theme, including
Superior performance
SEO friendliness
Offline mode support
Cross-platform compatibility
Highlight features:
Customizable theme style options
Simple installation and maintenance process
Intuitive drag-and-drop page builder
Robust online promotion capabilities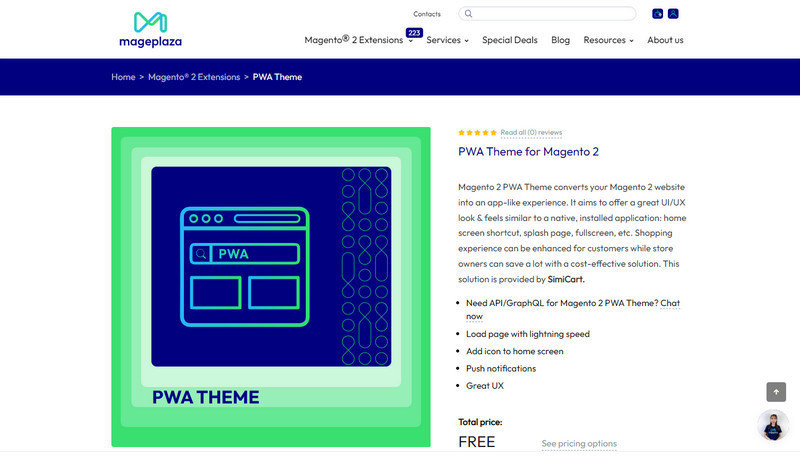 Price: FREE
Compatibility: Magento 2.2.x, 2.3.x, 2.4.x
Mageplaza's Magento 2 PWA theme is specifically designed to help merchants offer their customers a top-notch shopping experience. Customers can easily engage with your website in the same way they would with a native mobile app. The Magento 2 PWA eliminates the restrictions and drawbacks that often come with native apps and improve the customer purchasing experience. You'll be able to take advantage of features like push notifications, automatic updates, and speedy load times essential for boosting visitor engagement, store conversions, and revenue.
Highlighted features
Lightning-fast page loading speeds
App-like browsing experience for your customers
Low storage space and cost requirements
Built-in SEO support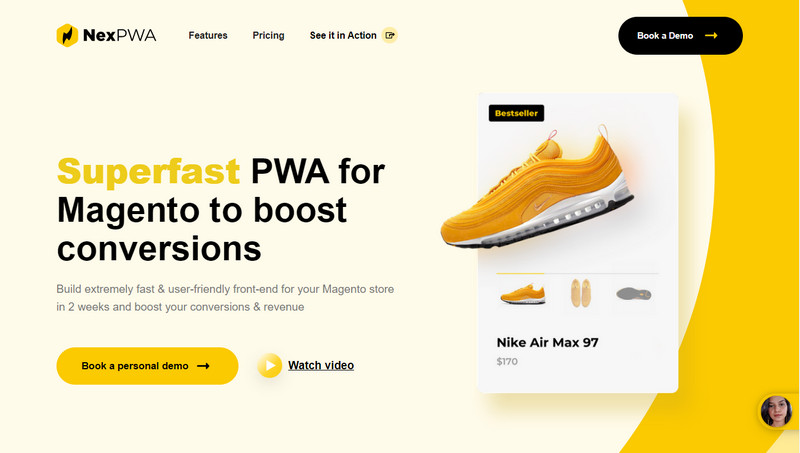 Price: custom pricing
Compatibility: Magento 2.3.x & 2.4.x
Looking for a rapid and easy-to-use PWA solution for Magento? Consider NexPWA, which can be installed on your Magento store in two weeks and has a wide range of production-ready capabilities. With all the standard PWA features, including a native app looks and feel, NexPWA is an excellent option for your Magento PWA theme needs.
Highlight features:
Convenient App-Like Experience
Offline Browsing Capability
Push Notification Functionality
Add-to-Home-Screen Feature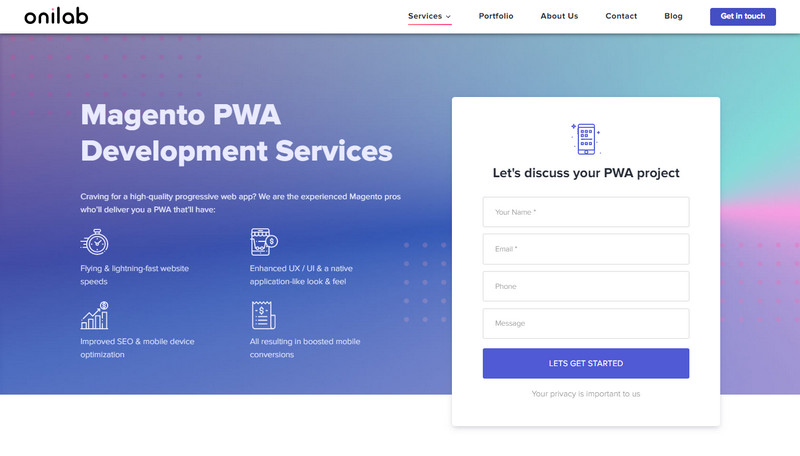 Price: contact for detailed information
Compatibility: Magento 2.3.x & 2.4.x
Onilab, a Magento PWA development company, has successfully developed this PWA theme over ten times. The company provides a customized approach to each project and intimate familiarity with the procedures. The main objective is to produce a top-notch PWA that offers flawless UX/UI, top performance, and a fantastic shopping experience for eCommerce stores.
Highlight features:
Improved SEO
Ability to browse offline
Exceptional UX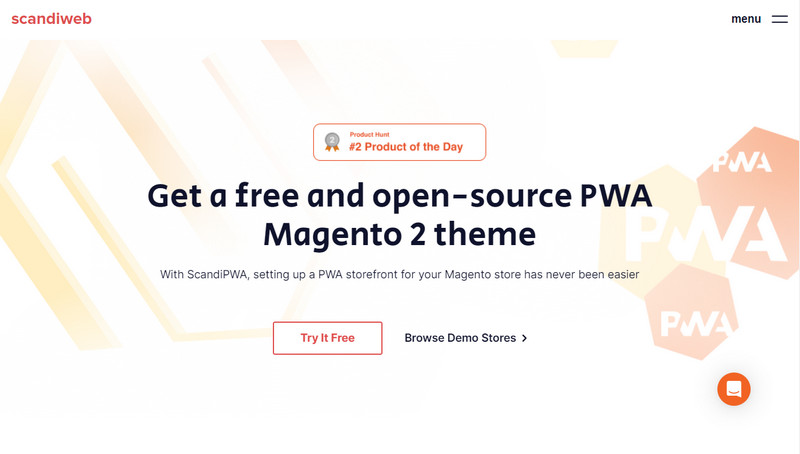 Price: FREE
Compatibility: Magento 2.3.x & 2.4.x
ScandiPWA's Magento 2 theme is a perfect choice, with just three simple commands and no middleware, you can have a fully functional PWA app up and running in under a minute using your standard Magento stack alone. It offers a wide range of Magento features so you won't have to sacrifice any original features and capabilities, including:
Multi-store
Layered navigation configuration
Checkout configuration
CMS pages
All product types
Widgets
Branding
Marketing
Highlight feature:
350+ Magento Feature Support
Rapid, Middleware-free PWA Setup
Flexible and Reusable PWA Extension and Customization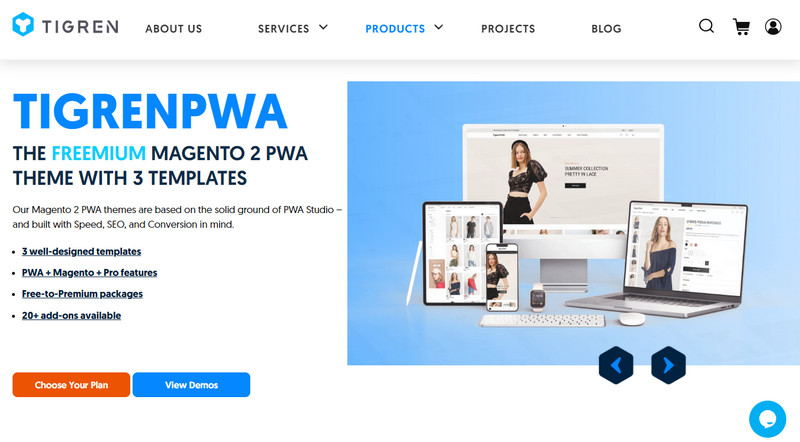 Price:
FREE
Lite: $399
Pro: $799
Premium: from $3,000
Compatibility: Magento 2.3.x & 2.4.x
Tigren's PWA Magento 2 themes prioritize speed, SEO, and conversions, and they are built on the sturdy foundation of PWA Studio. Not only do they offer almost all of Magento's default capabilities, but they also include a variety of advanced eCommerce features, such as
Live Chat
Google Tag Manager
One-Step Checkout
Quick View
Moreover, TigrenPWA is considered one of the top SEO-optimized PWA themes for Magento. This is due to its exceptional speed, image optimization (courtesy of Fastly CDN), improved category and subcategory descriptions, user experience, and design focused on driving conversions.
Highlight features:
Over 20 add-ons for enhanced functionality
Combination of PWA, Magento, and Pro features
Free and premium packages are available
3 distinct storefront designs to choose from
Free lifetime updates for continued improvements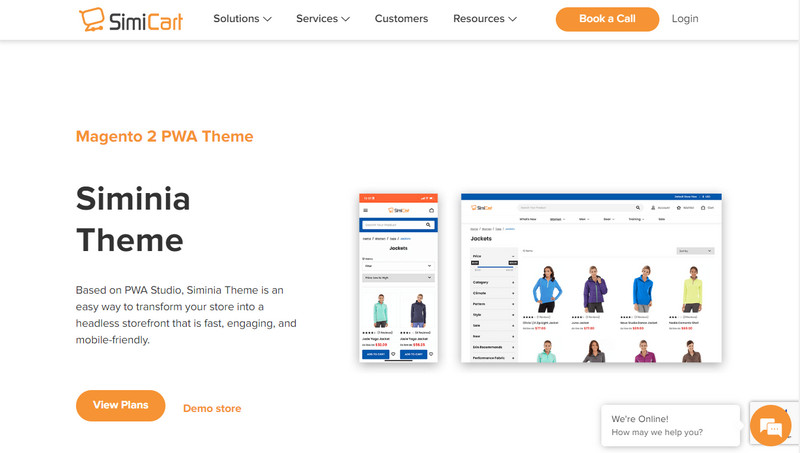 Price: FREE
Compatibility: Magento 2
Simicart's open-source PWA Magento 2 theme is a great way to transform your store into a fast, engaging, mobile-friendly, and headless storefront. It's based on PWA Studio and offers a simple, easy-to-use solution to enhance your customer's online shopping experience.
Highlight features:
Easy editing and publishing
Beautiful UI/UX design
40+ professionally designed templates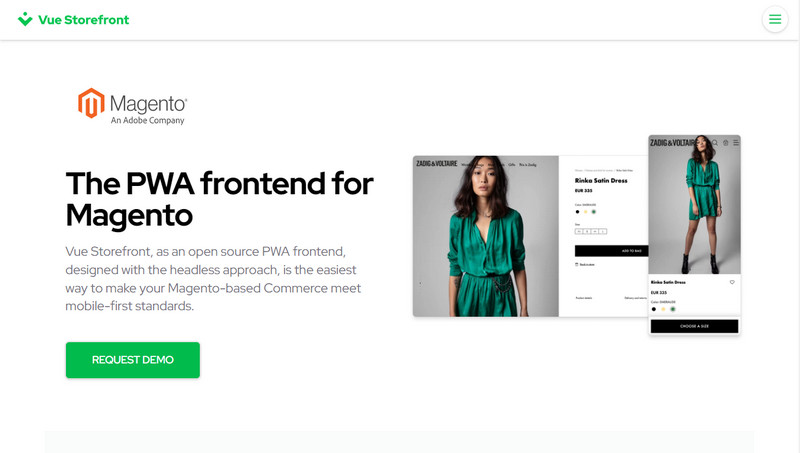 Price: FREE
Compatibility: Magento 1 and Magento 2
Vue Storefront is an open-source PWA framework that's built on Vue.js. It's a versatile core that you can use to create your own theme, much like Magento 2 PWA Studio. However, Vue Storefront also provides a user-friendly interface, and you can try it out with the demo to see how it works.
Highlight features:
Customizable for third-party platforms
Lightning-fast performance
Offline capabilities
Wrapping Up
Magento 2 PWA themes are the ultimate solution for those who want to offer customers a modern and optimized shopping experience while saving time and cost. Though there are plenty of options available on the market, we've successfully compiled the top 10 best options to help you create the perfect online store and drive more sales. Remember to read carefully the tips while choosing the most suitable one and watch your website strive.
Now, if you don't know which Magento extension to easily build your eCommerce website and gain more sales, consider Page Builder from Magezon. As a trusted Adobe partner, we have satisfied thousands of customers with a vast collection of drag-and-drop extensions, helping you create a high-converting and unique store in minutes.
Don't worry if you are not competent at coding, now you can confidently create any necessary page of your website in any style you want at ease.