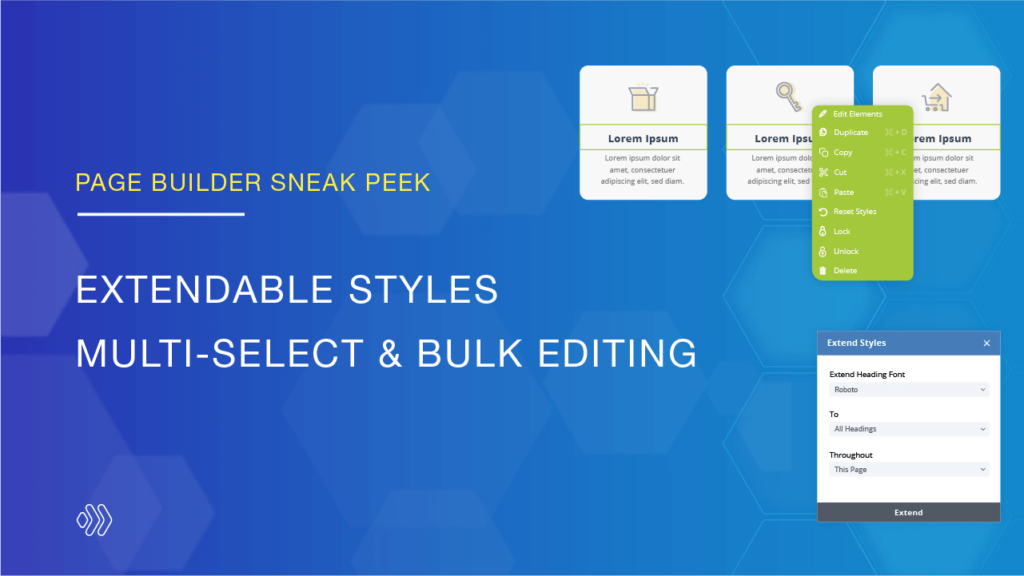 In today's sneak peek, I'm really excited to introduce Extendable Styles and Multi-Select & Bulk Editing, 2 brand new features in the upcoming version of Page Builder. No repetitive and tedious tasks any more. With these features, your content building process will become incredibly faster and more efficient. So keep reading to explore them in detail!
Table of contents
Extendable Styles
Extendable Styles allows you to extend customized styles of an item to other items throughout the page or within specific locations. For example, if you like the style of a row, you can extend that style to all rows across the page. If you like the box shadow of a call to action element, you can extend that box shadow to all call to action elements within the column, row or page. Extending styles can be done in just a few clicks, saving you hours upon hours when updating multiple items at once.
You will be able to extend styles of an entire item (row, column or element), option groups within items or individual options. And the feature can be assessed by right clicking on an entire item, option groups' title or individual groups' title.
When extending styles of an entire row, column or element, you can control where the styles should be extended to. Row styles can be extended to all rows across the page. Column styles can be applied to all columns within a row or on the entire page. Element styles can be extended to all elements in a column, row or page.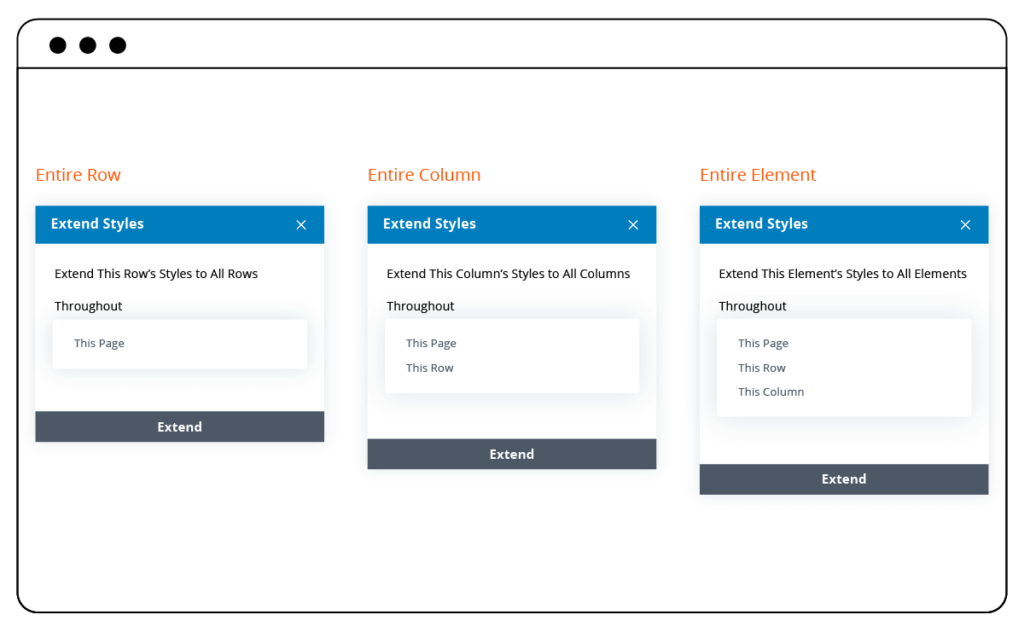 Regarding option groups, you are able to choose which elements within which location the styles will be extended to. Extending styles of individual options is similar to option groups.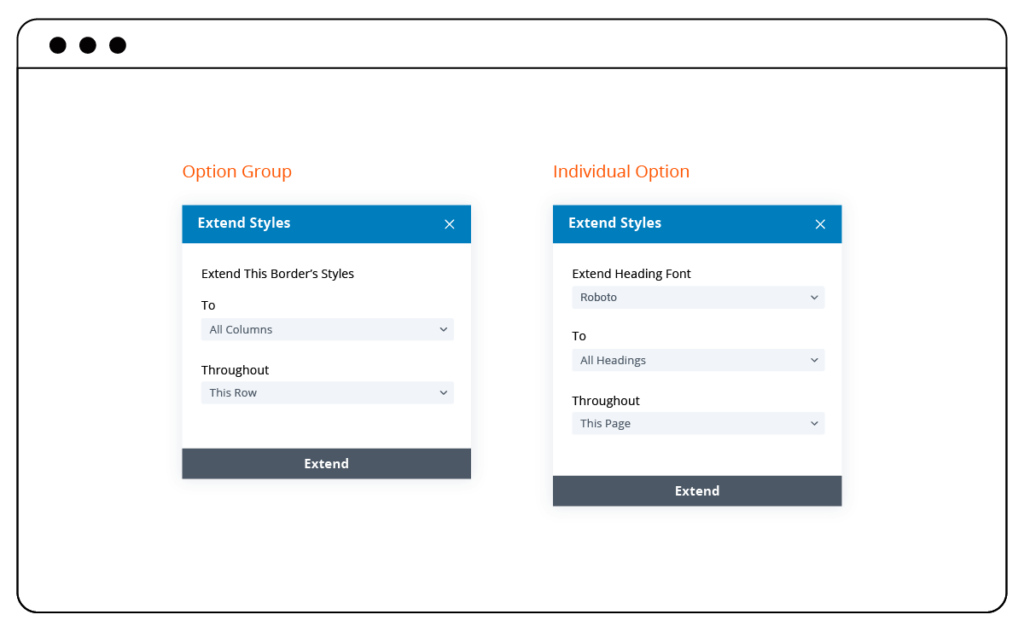 Multi-Select & Bulk Editing
The new Page Builder will give you the ability to select multiple items at the same time and perform bulk actions on them at once. Like Extendable Styles, this feature will save you tons of time as you don't need to make repetitive changes to similar items one by one. Everything will be done with just a couple of clicks.
1. Multi-Select
Press and hold Ctrl or Cmd, then click to select multiple items. You can multi select rows, columns or elements, or even multi select a combination of them.
If you want to select consecutive elements within a column, consecutive columns within a row or consecutive rows on the entire page, click the first item, press Shift and click the last item. All items in between will be selected as well.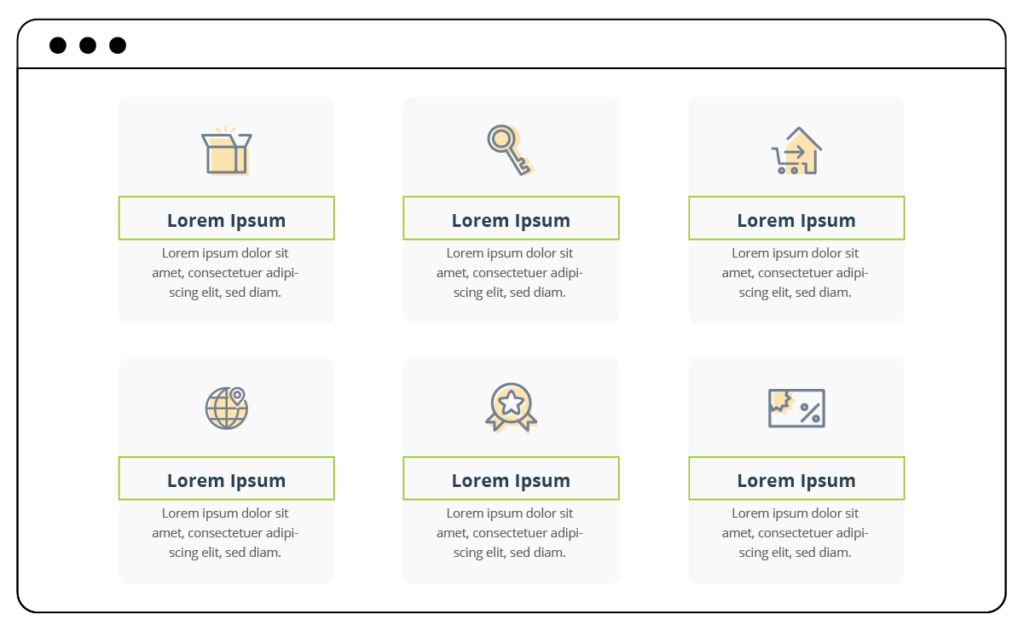 2. Bulk Actions
Once selecting a collection of items, you can take bulk actions on them. And these items will get updated in tandem.
– Bulk edit items with a single settings modal that include their shared settings.
– Move all selected items to a new location using drag & drop. No need to drag & drop them one by one.
– Copy/Cut the items and paste them in a new location.
– Duplicate the items.
– Reset styles of selected items.
– Lock/unlock or delete all selected items simultaneously.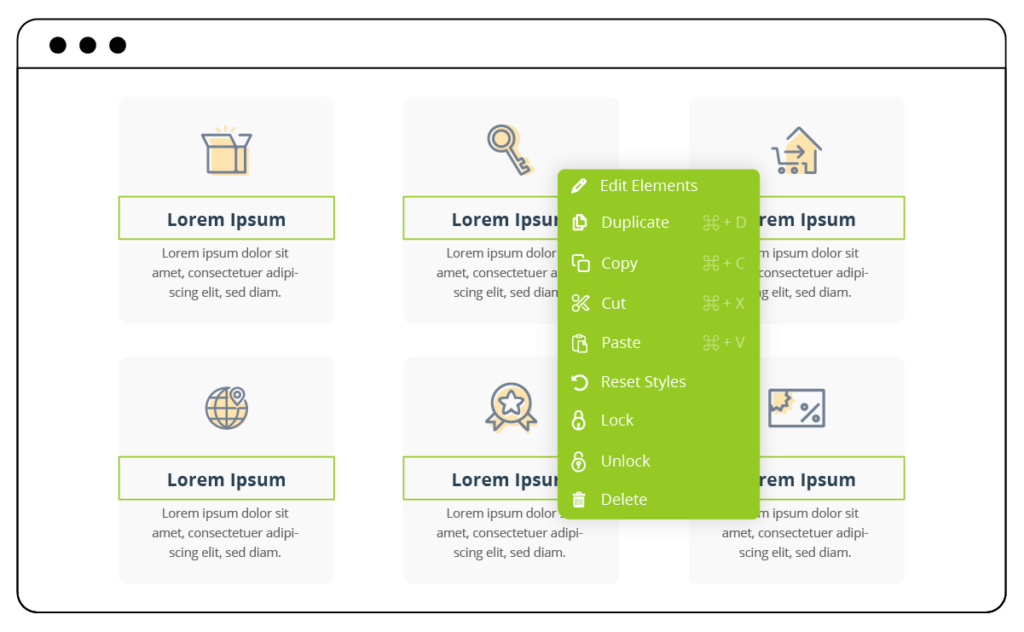 Note: What you see in the sneak peek's illustration images doesn't reflect our final Page Builder that will be published. As the extension is still in development, any change may happen.
Wrap Up
Extendable Styles and Multi-Select & Bulk Editing are game-changing features that will definitely speed up your workflow. They all help you get rid of repetitive tasks and update multiple items at one time.
What do you think about these new features? Let us know by leaving a comment below. We are willing to hear your feedback. And don't forget to stay updated with the latest news on our new Page Builder.