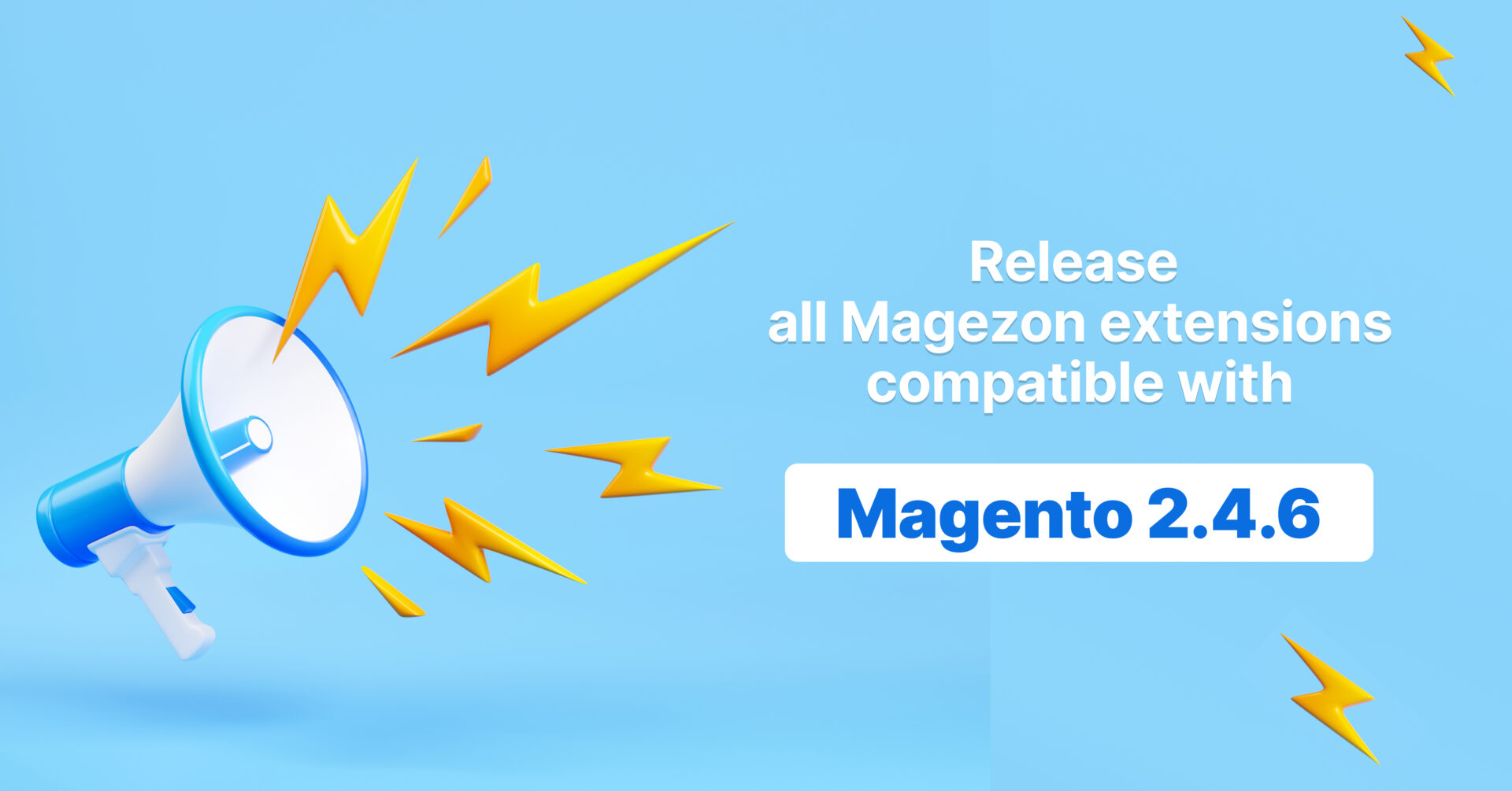 On March 14, 2023, Magento 2.4.6 was released with over 300 quality fixes and significant performance & scalability enhancements. Accordingly, we updated all of our Magento 2 extensions to be compatible with this version. Now you can use our extensions with Magento 2.4.6 without worrying about conflict issues. 
Table of contents
Compatibility With Magento 2.4.6
All of our extensions have been updated and checked carefully to work smoothly with this Magento version.  
If you purchase a new extension, you will get a package that is compatible with Magento 2.4.6.
If you already bought an extension, go to My Downloadable Products and download the extension again to get the latest package working with Magento 2.4.6. The update is FREE. 
* In case any issues happen, feel free to contact us via ticket to get support.
Magento 2.4.6 Highlights
Below is a summary of Magento 2.4.6 release notes:
1. Include eight security fixes and platform security improvements.
2. Introduce support for PHP 8.2. PHP 8.1 support has remained, but PHP 7.4 support has been removed.
3. Enhance performance and scalability:
Improved performance for operations affecting many customer segments.
New system configuration setting for limiting the number of products displayed in the product grid.
Improved import performance (up to 100,000 records per minute).
Improved high-throughput order processing performance through load balancing.
4. Introduce the Adobe Commerce Extension metapackage v1.1.0, which automatically bundles select Adobe Commerce extensions with this core release.
5. Adobe I/O Events for Adobe Commerce captures Commerce events and transfers data from Adobe Commerce to other Adobe systems.
6. Create a storefront experience on Venia (PWA) that is more perceivable, operable, understandable, and robust.
7. Separate adobe-ims, adobe-ims-api, and admin-adobe-ims from the Adobe Commerce 2.4.6 core code and package them a separate metapackage The new adobe-ims-metapackage v2.2.0 is bundled with Adobe Commerce 2.4.6.
8. Introduce two GraphQL schemas: Purchase Order GraphQL schema and Purchase Order Rule GraphQL schema.
9. Improve Braintree payment:
Enable the Pay Later button and banners (messages) for Italy and Spain.
Enable PayLater messaging with PayPal Vault.
Add Fraud Protection and ACH web hooks.
Add LPM (Local Payment Methods) web hook.
10. Enhance GraphQL performance:
Improved response time when querying categories with category permissions enabled.
Optimized performance of category tree rendering.
Reduced bulk cart operations query response times.
Customer query now supports order sorting.
11. Page Builder v.1.7.3 is compatible with Adobe Commerce 2.4.6.
12. PWA Studio v.13.0.x, with various enhancements to improve accessibility, is compatible with Adobe Commerce 2.4.6.
13. Fix hundreds of issues in the Adobe Commerce 2.4.6 core code.