If you are a social media addict, especially on Instagram, have you ever considered making your Instagram account more attractive and interesting to other users? There are several ways, but writing a stunning Instagram biography is one of the best tactics. A creative and unique Instagram bio will improve followers' and audiences' attention, which is undoubtedly necessary for brands, influencers, and even individuals.
In this blog, we would like to give you some helpful advice to assist you in creating an eye-catching Instagram bio. Scrolling down, you cannot move away from the screen with a range of good tips!
What Is an Instagram Bio?
The popularity of Instagram is undeniable, and people make efforts to establish their Instagram accounts by adding pictures, hashtags, content, etc. An Instagram bio is one of the most important things you look at when accessing one account. Simply speaking, an Instagram bio is a small summary and put below username, next to the user's avatar.
For private accounts (individual use), users can write their thoughts, feelings, objectives, achievements, etc. For example, if you are an author, you can refer to the following:
New York Times bestselling author
Top 100 entrepreneur under 30 by Obama
Top 10 marketer by Forbes
Best author in 2021, voted by worldwide readers.
On the other hand, businesses often include short descriptions, contact information, external links, hashtags, emojis, etc. The ideal Instagram bio length would be less than 150 characters for both personal and business accounts. You cannot write a more extended bio.
Because your Instagram bio is the first thing people see of your account, it will significantly impact their decision to follow you. Hence, more and more Instagram users want to know how to write a good Instagram bio and things to put in their Instagram bio.
Tips to Create an Instagram Bio
Tip#1: Use a Cool Font
As you may know, Instagram bio fonts are essential in creating an impressive bio. Professional marketers always know what font to advertise their products best.
If you do not know or want to do some experiment, you can freely try using new custom fonts for upcoming events to observe the reactions of customers. Any special occasions like new announcements, sales, webinars, giving away, and so on would work.
However, you may realize that Instagram does not allow you to choose fonts. So how to write Instagram bio with customized fonts when there is no available choice? The answer is using additional apps. Then, after writing your biography, you can select your favorite font from one of these apps. App developers, of course, know what Instagram users want and provide various tools to satisfy them.
What's more, there are several free Instagram-compatible font generating apps that even offer Instagram bio templates. If you have not known one, try Fonts For Instagram. One thing to note is that you should not choose hard-to-read fonts.
For more details about changing Instagram fonts, click here (Part 2: Step to change the font).
Another consideration when learning how to centre Instagram bio you may have is how to write an Instagram bio in line. That isn't a big deal. To simplify it, you can break down your information with bullets and neatly spacing.
Tip#2: Link to Your Online Website, Youtube Channel, etc.
Consider your Instagram bio as your real estate to optimize it. That is the ideal position for placing any clickable link. You can even add multiple links in your Instagram bio if you like. So take advantage of it and put a link to your online store, Youtube channel, blog page, etc.
Another consideration when you learn how to add a link to your Instagram bio is that your link can be outdated and broken sometimes. Hence, regularly check it to make sure it leads to your latest updated products, services and runs smoothly. Optimizing the images of your products and improving the speed of linking websites also maximize customers' experience.
Tip#3: Use (a) Clearly Chosen Hashtag(s)
Another method for you to learn how to write a business Instagram bio is utilize hashtags. Using hashtags is quite familiar to a brand, especially when conducting a marketing strategy. For example, you may organize a small contest online, asking participants to post pictures with your products.
You can enhance your brand awareness by simply requiring them to put your hashtag on their posts. Other people will see it, like it, remember it, and even join your event. In other words, this method can help promote your business and enable your brand to reach a wider audience. This method will have a more significant impact when the post comes from celebrities or influencers on Instagram.
In the case you do not plan any event or do business, placing a hashtag also helps others know about your interest, belief, ideas, and so on. It is the most innovative way to express yourself through this online platform.
Tip#4: Using Emojis
Using emojis in your Instagram bio would bring fresh and funny feelings to customers while helping your brand stand out from the crowd. Another reason for the appearance of emojis is that despite taking up less space, they can sometimes show more meanings than words.
However, when adding emojis, you should carefully use relevant ones with your message because not every emoji can successfully express your meaning. Without careful use, emojis can even lead to misunderstanding customers. This is the phenomenon that no brand wants to face.
If you have any concerns about using emojis when learning how to write an Instagram bio, click here for more details.
Tip#5: Show Your Personality and Match Your Voice With It
In the modern world, people pay attention to those with unique characteristics. That is also appropriate in the case of business. Especially when you want to serve individuals, creating your brand's personality and communicating it with customers would gain their attention. It is because, nowadays, people do not want standardized products suitable for anyone; they prefer something showing their interests, beliefs, etc.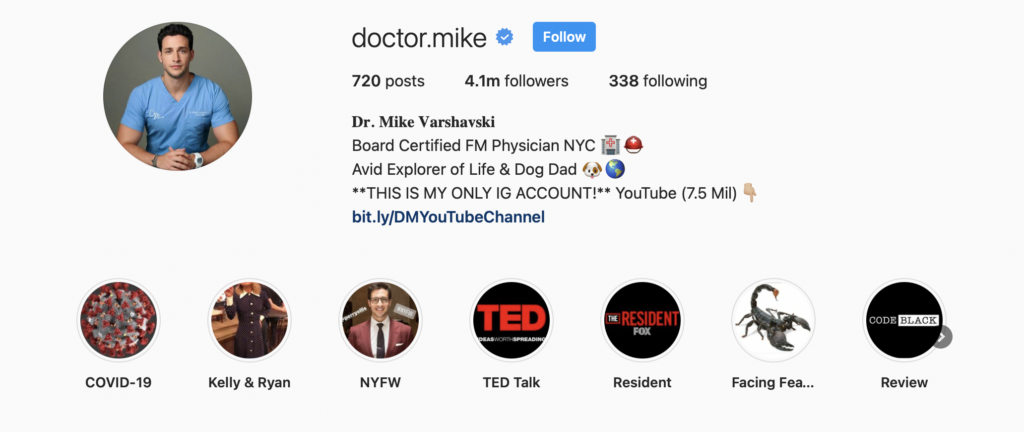 One simple but meaningful way for businesses to apply to their Instagram bio is to match your voice of bio with your personality. This ensures consistency across your social media platforms and help your audience to perceive you instantly. Pay attention to the industry you are serving to choose the right tone.
For example, if you aim at the food and fashion industry, the humorous style in your bio will make you outstanding in the market. But, on the other hand, in a harsh industry like insurance, customers do not want to see your humor and unseriousness.
Tip#6: Add Instagram Quotes
If you are stuck with how to write an excellent Instagram bio, a straightforward way is just adding your favorite quotes to it. Using short sentences that contain special meanings will make you outstanding. Moreover, tricky and intelligent quotes make a good impression on other users when visiting your Instagram account.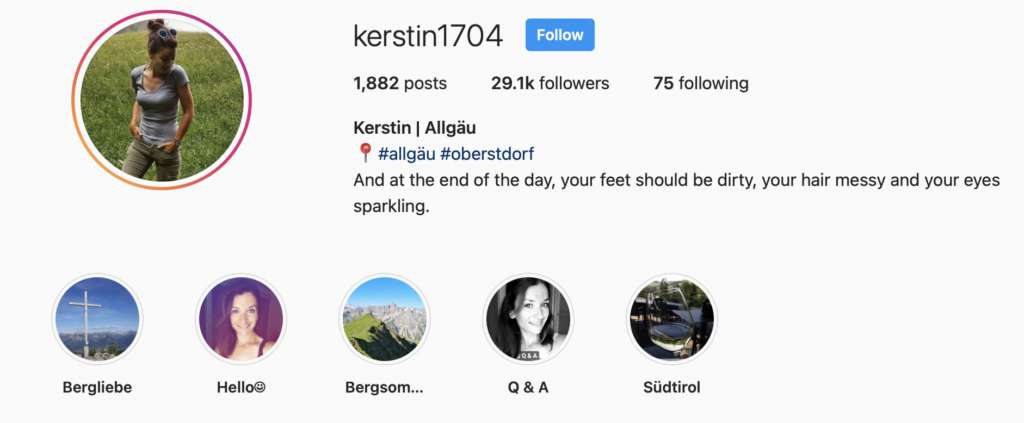 This method is also applicable to a brand with a mysterious image. Brands can display renowned quotes on their bio from time to time, which users might enjoy when they land on their page. Remember that you should carefully choose good quotes to put in your Instagram bio to avoid nonsense. If you do not know any, refer to this link for more ideas.
Tip#7: Call to Action
Instead of writing blogs with CTA (Call to action) sentences, utilize your Instagram bio. Your Instagram bio is the perfect and suitable place for adding a CTA. You can combine the CTA with your brand's links.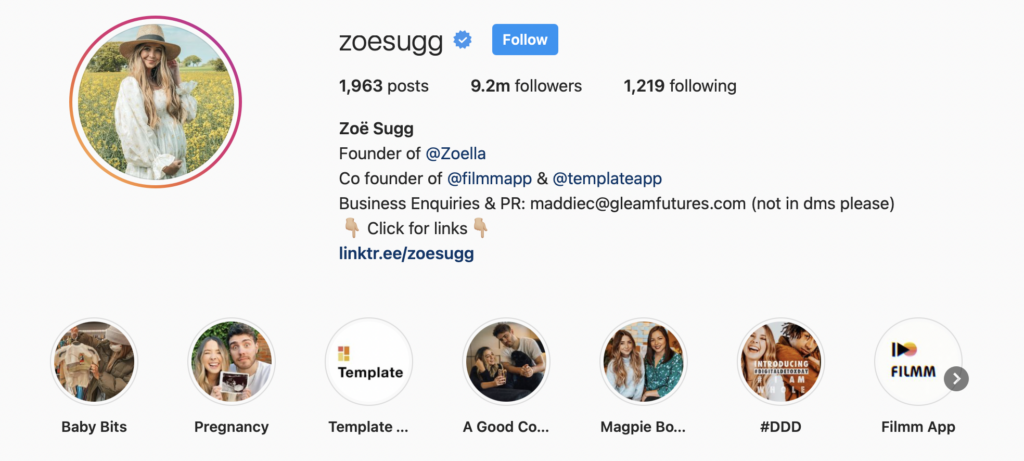 For example, you can add the sentences like "Follow us for more details", "Visit our website here", "Join us now", "Freely contact us," and insert your website link below it. You also can add email, shopping links, and so on. These simple changes in your bio would bring remarkable effects that you can not imagine.
Tip#8: Be Succinct
When searching for how to write an excellent Instagram bio, you can receive numerous ways to do it. Hence, you may want to add various emojis, related links, quotes, and so on to your bio to avoid lacking information. However, remember that the space for writing a bio is so limited and small that if you add so many things in it, others will be overwhelmed and can not know what your purpose is. It's like, you are beating around the bush.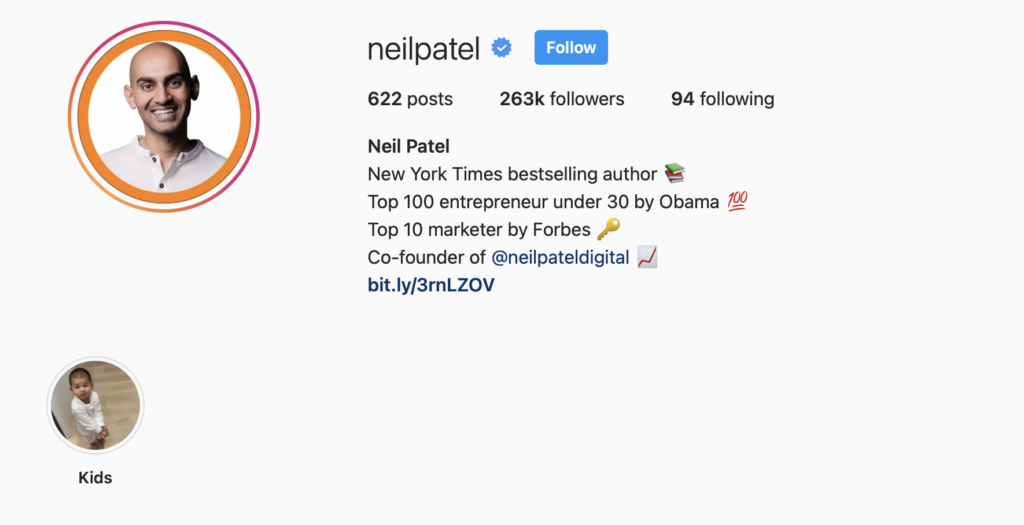 All the tips mentioned earlier are practical. You can choose the tips that suit your purpose best and combine them using illustrated examples below. In the case you are fresher, simply picking one to apply would work.
Top Instagram Bio Examples
ColourPop Cosmetics
This famous brand is a remarkable example that demonstrates a short but informative bio. It also adds branded hashtags and cute emojis. Besides, to catch up with the trend of using Tik Tok among the young generation, Colourpop added its Tik Tok link in bio Instagram where customers can share beauty tips and tricks.
TreeHouse Brewing Co.
You can learn a lot about how to write a killer Instagram bio through Tree House Brewing Co. Only three sentences are used, and this brand can show its value proposition, characteristics, and history. Reading this bio enables customers to assume various information: Tree House pays much attention to its customers and employees and is proud of its roots.
WurkinStiffs

From its Instagram bio, you can quickly know what industry and what type of products Wurkin Stiffs is offering. Because its target customers are men, this brand uses a clear and straightforward voice in the bio.
HubSpot
The Instagram bio of Hubspot is the best for Instagram for many reasons. Firstly, it illustrates exactly what it offers customers with a robust and convincing voice. Secondly, the link leading to its website contains the name of their unique campaign (special edition for birthday celebration). Finally, the repeated appearance of the word "Hubspot" makes a great impression on customers.
Blume
Blume's Instagram bio is one of the most extraordinary Instagram bio ideas for those who like short but concise styles. 4 lines of biography is enough for showing all related hashtags, the website's link for purchasing, and targeted customers. Besides, the way Blume sets the avatar with its impressive visual aesthetic is impressive.
Canva
Canva bio clearly defines its offerings and outstanding features to convince customers to use its products. Moreover, to enhance its brand awareness, Canva encourages audiences to share ideas through a CTA sentence and an attached hashtag.
Bfm agency
There is nothing complicated to dissect here – just a short description of the benefits that company brings to its customers is illustrated. Besides, Bfm agency is also clever when stressing "an age of digital transformation" to remind customers of the necessity of applying technology in today's lives.
Johnny Cupcakes
Johnny Cupcakes takes full advantage of public evaluation to encourage customers to choose their products. As a result, influential words such as "top", "1st", "Boston Globe" are found in its unique Instagram bio. What's more, this brand also shows its sensitivity when combining these business terms with fun emojis to make it become one of the coolest Instagram bio ideas.
FedEX
FedEx is one of the most popular delivery services around the world. They only use four words, "Where now meets next" – their tagline, to express missions of providing progress. Hence, this brand only includes information on the following meetings for anyone concerned with two relevant hashtags.
Shopify
If you can not come up with an effective solution for your bio, refer to Shopify to understand how to write a short but meaningful bio for Instagram. Shopify's bio seems to be inspired by its vision and mission. Hence, you can see it promises to support its customers in many ways fully. That is obviously what its partners – SMEs are concerned about.
Poo-Pourri
Word-play becomes interesting with Poo-Pourri. Using the poo emoji in its bio, this famous brand has successfully illustrated its spirit and sense of humor and created the best bio for Instagram. In addition, Poo-Pourri is smart enough to show the five stars of 20000+ customer reviews in the bio, demonstrating the fact that it has created a satisfying experience for more than 20000 people.
Starbucks
Starbucks' bio only includes its mission, vision, and link to its flagship store to be better efficient. So Starbucks is also a good example to learn how to make your Instagram bio.
Rocky Mountain Soap Company
Focused on creating products with main ingredients from nature, Rocky Mountain Soap Company strongly stresses this advantage to its customers, primarily through its profile. From its bio, customers can see the appearance of nature-inspired emojis and a related Instagram link in the bio. Besides, stories highlight the brand's commitment to sustainability and in-person stores and events.
Oreo
Oreo focuses on customers' experience, and that is the only message the company wants to deliver to customers through its bio. Besides, a short friendly URL is also added to direct customers to its website.
iHeartRaves
As the target customers are young, iHeartRaves presents various funny, cute emojis in its bio. Customers can also find these emojis in the titles of its Stories, which promotes events, product collections, and giveaways.
Love Hair
Love Hair is another example of a brand with a nice Instagram bio. Keep the Instagram bio short and use effective and influential words such as natural, modern, and muse to attract customers concerned about these characteristics. They also insert their distinctive hashtags and a clear CTA sentence.
Manitobah Mukluks
Two emojis of winter flowers, a hashtag, a link, and four characters are enough for Manitobah Mukluks Instagram to create an awesome bio for Instagram. This catchy Instagram bio, along with its avatar and well-designed stories thumbnails, has created a visually aesthetic look for the brand account.
Vans
This famous footwear brand does not try to advertise itself. Instead, look at its Instagram bio; it includes various hashtags that can be later used for other business strategies.
KaiKini Bikinis
Looking at KaiKini Bikinis bio, customers can determine what products and features this brand offers and up-to-date information like the nearest live auction and flash sales items. Besides, a link to its website is also included, moving customers directly to an online purchasing platform with a simple click.
Friskies
Sense of humor is always appreciated, especially in a busy life nowadays. Hence, people must welcome the way the bio developer of Friskies put humor in its bio. However, comedy also has its meaning. This brand stresses that Friskies is an inexpensive alternative to any other cat food brand through these funny sentences in the bio.
Patrick Adair Designs
When looking at its bio, Patrick Adair Designs obviously are experts in using Instagram bio symbols. A short question, a short answer, and a link to its website are well distributed with the appearance of arrow emojis. On the other hand, other product information like its custom, handmade process, is shown in its stories.
Beth Marci
Like Patrick Adair, Beth Macri also uses emojis in intelligent ways to direct customers' eyes to the URL link. In the Instagram bio, there is a CTA to invite consumers to share their content with a brand's hashtag so that Beth Macri can repurpose it for its marketing initiatives.
Master & Dynamic
This may be the simplest Instagram bio because it contains no additional emojis or lengthy words. Only a vision and link to the main website are enough for Master & Dynamic. This brand seems to pay more attention to its stories when illustrating and highlighting products through it.
Quad Lock
Quad Lock has created a striking look by designing black backgrounds and white graphics. Besides, the brand uses emojis to direct users' eyes, including branded hashtags to encourage social sharing. The bio also drives followers to a Linktree landing page by carefully placing it below other information. Quad Lock can be the model bio for you to discover how to write a bio on Instagram.
MoonPie
To illustrate the cleverest example of writing a good bio on Instagram, you can refer to the MoonPie. Based on the characteristics of its current industry, this brand chooses to direct customers to its link by saying ridiculous things to make a long-lasting impression.
Studio Proper
Contrary to Quad Lock, Studio Proper illustrates its stories with a minimal design on white graphics. However, the details inside stories are mostly black also contributes to the simple but impressive design. This brand focuses on a tagline in the bio part, a brief description of products, a website link, and a cross-promotion to its B2B channels.
Zero gravity
Zero gravity has a simple way of approaching its customers. This brand logically chooses information to illustrate and attaches funny emojis to make it familiar to customers. Moreover, this is the first example appearing on the list with its email address. Doing this obviously encourages customers with any concerns to contact them freely.
SeatGeek
You will love SeatGeek's bio for many reasons. Firstly, the way it redefines life to connect it with SeatGeek's products is extremely impressive. Secondly, this is another example of a biography you can't help but remember. Finally, the brand's name's repeated appearance makes customers refer to it when purchasing tickets.
Adobe
This trendy and widely well-known brand has its reason for not showing its products and mission. Instead of doing so, Adobe chooses to let customers know what their missions and visions are.
Wrapping Up
As you can see, learning how to write a bio for Instagram requires several considerations, and it must take time to craft a good one. The distance between excellent and unattractive biography is relatively tiny. However, efforts will bring remarkable results; hopefully, this article will help you a lot with your process. Discovering various options and layouts would guide you to the optimal choice. Let's get started!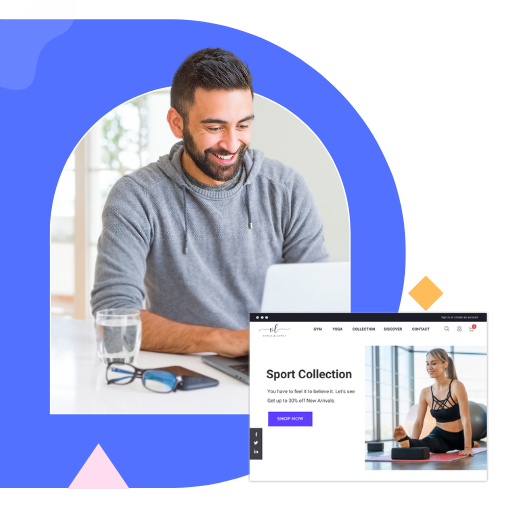 Try FREE Magento Page Builder demo today
Looking for a Magento 2 page builder that helps you create any beautiful page layout with no coding required?
Magezon Page Builder can help!