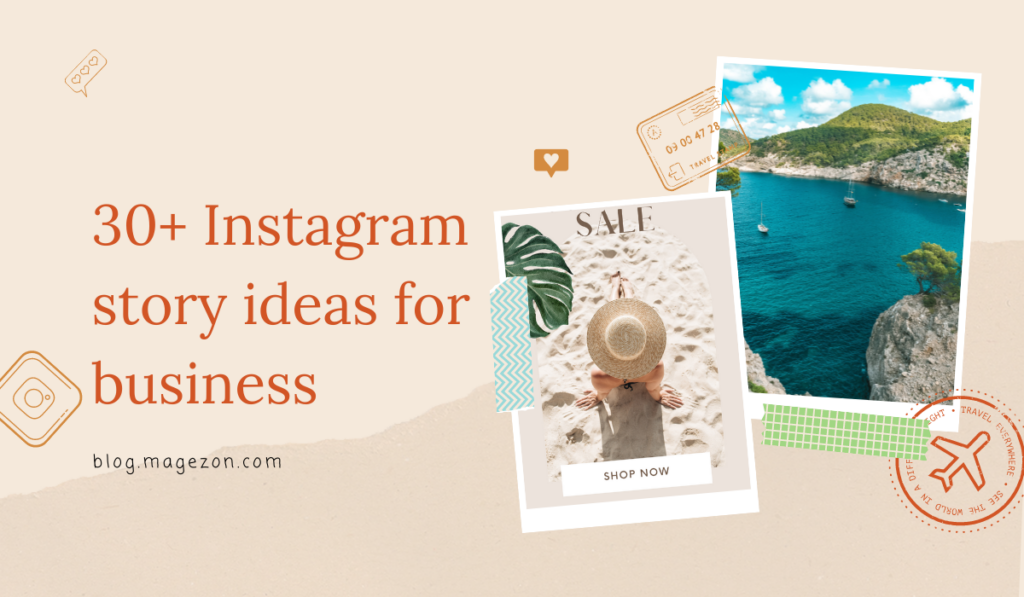 Over 1 billion is the number of Instagram users.
500 million is the number of Instagram Story daily users.
58 is the percentage of people interested in a brand or product after watching it on Instagram Story.
50 is the percentage of people visiting a website after seeing a product or service on Instagram Stories.
86 is the percentage of completion rate that brand stories have.
(Source: Hootsuite)
It is not hyperbole to say that Instagram Story is imperative in growing your online business. But everyone knows that engagement is the holy grail on Instagram and Instastory. So incorporating Instagram Stories into your business marketing requires people's careful creation and considered execution on how they serve their content.
I have searched the internet and compiled +30 tried and actual Instagram story ideas for business. Along with them are the best practices from Instafamous across various industries. Hopefully, they will help skyrocket your account in popularity.
No more further ado…
Let's take a pen and jot them down on your list!
Instagram Story? Why?
To date, the users on this platform are free to generate their content in 5 different formats:
– IGTV (also known as Instagram TV): an Instagram standalone video app allowing you to upload bit-long videos (less than 15 minutes). Creators can also find their IGTV right in their Instagram main feed.
– Instagram photos: a popular format for Instagram users.
– Instagram videos: a 60-second-long short video.
– Reels: if you are a fan of TikTok, you will find the concept familiar (the format is modeled after Tiktok). Instagram Reel is stored for less than 15-second-long videos. There is a built-in video editor in Reels, which IGTV and Instagram Story don't have.
– Instagram Stories: (straight-up copied from Snapchat) photos and videos in this format will "self-destruct" after a day. However, if you want to show your content to followers who have not seen the stories within the limited time set, take the story as a highlight. Your followers then see them right above your regular feed.
While the other formats on Instagram require well-thought-out content and aesthetic media, Instagram Story is a place to showcase your brand's authentic and human angle. So it doesn't matter if the design is not your strong suit. Instead, crafting Instagram stories that pop is about making the most of its features to warm up and build solid connections with your audiences. All you have to do is to fuel your social calendar with an appropriate content strategy.
Creative Instagram Story Ideas for Business
Utilize the Instagram Story features
To compete with other socials, Instagram has constantly kept growing with new features. And the platform has been doing an excellent job. In fact, people can come up with a slew of ideas from Instagram Story features to generate off-the-scale engagement content.
1. Poll Sticker
Instagram Story polls are a surefire way to have fun and unlock your followers' insight. Double win! Besides the two-option poll, a sliding scale poll (usually with a cute emoji) is also a favorite choice of users.
With the help of this feature, crafting Instagram stories was never this fantastic. You lie the power to host a survey, conduct market research, gather customer feedback, and more. Because it is fun and quick (reacting with one tapping/dragging on a mobile screen), you will surely get more eyeballs on your content and gain more engagement gold.
Takeaway:
Let's take a look at the poll story of @thezoereport. While the poll encourages viewers to vote for their choice, the option can only be picked after they swipe up and read the blog. So this content strategy drives traffic to a link off the platform and is an ideal source of their blog reader's feedback, right on the Gram!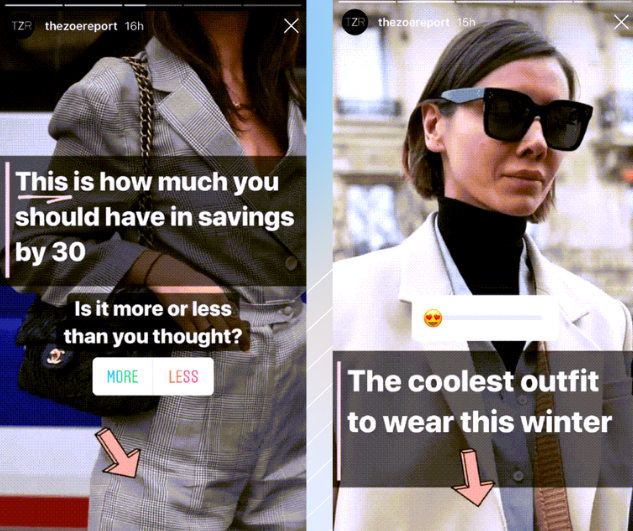 Notice: Every poll leads to a result, and your followers are, by nature, curious. So do not forget to share the result after 24 hours!
2. Highlights
The lifetime of an Instagram Story is only within a day. After that, it will "self-destruct". However, Instagram allows you to save them into your highlights permanently above your regular feed. What prime real estate!
Story highlights are an extension of your bio because they are featured information you want your new followers to see for the first time they visit your profile. Depending on your business niche, you can classify your story highlights into various categories.
Takeaway:
As an environmental organization, @oceana Instagram Story educates its users on everything about the ocean. Each topic is neatly placed in different highlights (BFFPPA, events, partners, donate, animals, petitions, news, giving, shark week) so viewers can easily find and read what they want.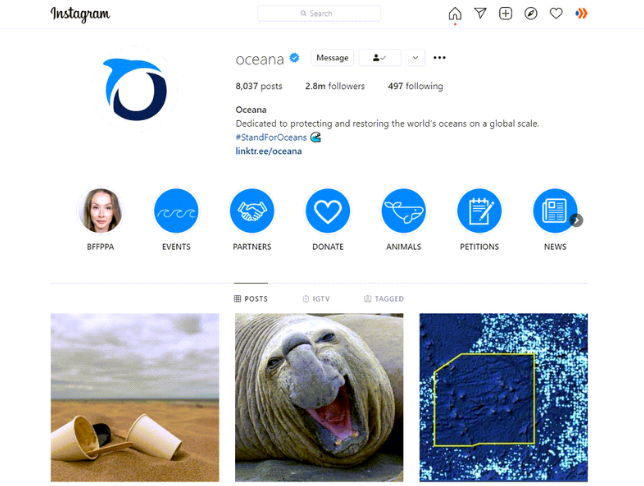 3. Boomerang
Do a boomerang. It's not new, but it continuously gauges people's interest! Because the nature of boomerangs spices up your everyday moments with a bit of fun. A back-and-forth mini-video is much more appealing than a collection of stills.
People have two options to create a boomerang, either from a downloadable app or using the built-in feature of Instagram Story. In addition, the mini clip can be even more fun with a few available effects like SlowMo, Echo, and Duo. So if you want to turbocharge your engagement number, do not miss out on this feature!
Takeaway:
This idea we do not take a boomerang Instagram Story for example, but an account that shows their expertise in creating Instagram boomerangs. Visit @boomerangfrominstagram to take away some creative ideas and make them fit your brand's Instagram presence.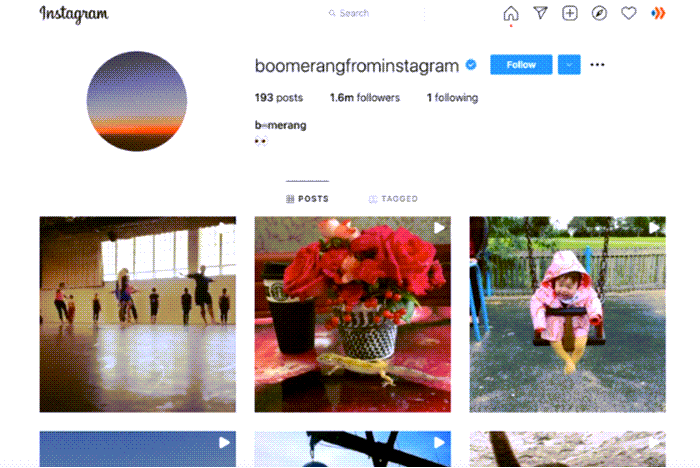 4. Quiz Sticker
Similar to the poll, quizzes are another strong signal on Instagram. While traditional Q&A makes us too lazy to type the answer, the quizzes with some potential options available are kind of irresistible to pick one.
The ideas to leverage quizzes on Instagram are countless. Businesses can quiz their followers with topics that vary depending on their niche. A note to remember here is that the questions you pose should be general knowledge or entertaining.
Takeaway:
A quiz Instagram Story by @chipotle. They were successful in highlighting their dishes and educating viewers as well. You should pay attention to how they make the most of this feature. That is the art of using images and colors to convey messages matching the mood of the brand.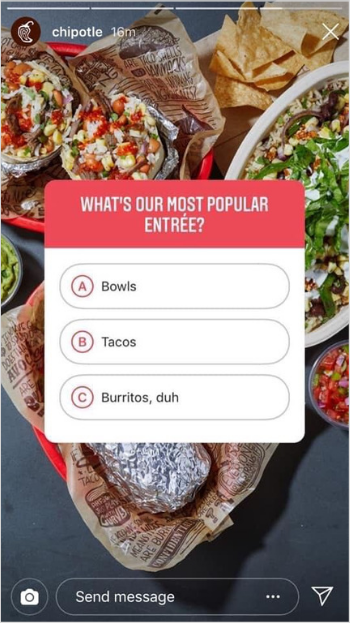 5. Location Sticker
The more you are an Instafamous, the more you want to keep your private life away from the public eye. But sometimes, revealing your current location on social media whenever possible is not a bad idea. For example, it's okay to check in at a coffee shop or a big event you participate in, then tell your viewers how you like it or share further details on the Instagram Story.
Also, this feature increases your discoverability as Instagram allows people (even those who do not follow you yet) to watch stories by location in IG Explore. So here lies an opportunity to explode in popularity on the Gram.
Takeaway:
@heykokomo utilized location stickers on their story to draw attention to their business brick-and-mortar shop. This tactic is also a surefire way for them to get more eyeballs on their stories.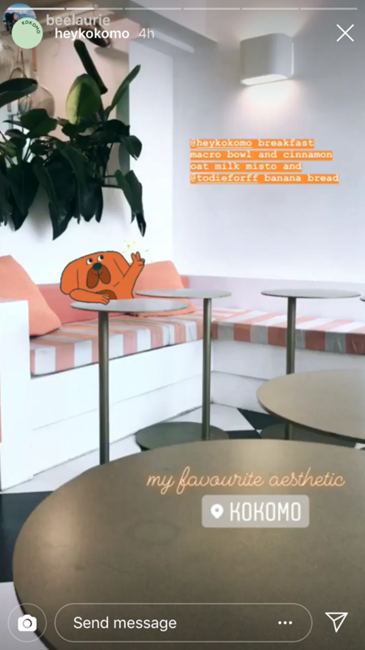 4. Countdowns Sticker
Countdowns (a clock sticker that countdowns to a date and time when your events occur) create a sense of urgency for your viewers. Therefore, it's suitable for time-sensitive campaigns like sales, product launching, and major events.
Instagram enables viewers to subscribe to your promoted events in the countdown stories. Then, when the time is up, it will nudge your followers about the event with a reminder.
That is to say, a countdown sticker is a game-changer that builds anticipation for your upcoming event and piques the viewer's interest in your Instagram Story.
Takeaway:
We have @latermedia, an account specializing in marketing tips and guides for biz on Instagram. They pick the countdown as a reminder to tease their new events. Also, they are an expert in creating and designing eye-catching countdown stories that make the engagement go through the roof!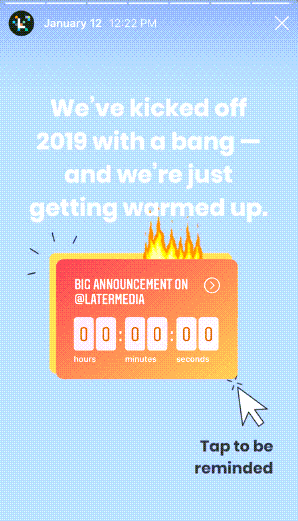 7. Hashtag Sticker
The hashtag is no longer something strange to Instagrammers. However, there is some knowledge about the Instagram Story hashtag you should arm yourself with. Not to mention the nature of allowing people to compile topic-related posts together, a hashtag on your story image/video can be added charm and stylized the way you want.
The bad news is that these images and videos will not be added to the hashtag aggregation.
Nevertheless, the hashtag is still a no-brainer strategy to reach potential viewers and people in your industry or those with similar mindsets on the platform.
Takeaway:
Take the entrepreneur @garyvee's account, for example. The #60secclub is one of his most famous hashtags, which awards followers who like and comment on his post within a minute. Gary also utilizes the hashtag in his Instagram Story to widespread the competition and shout out the winners.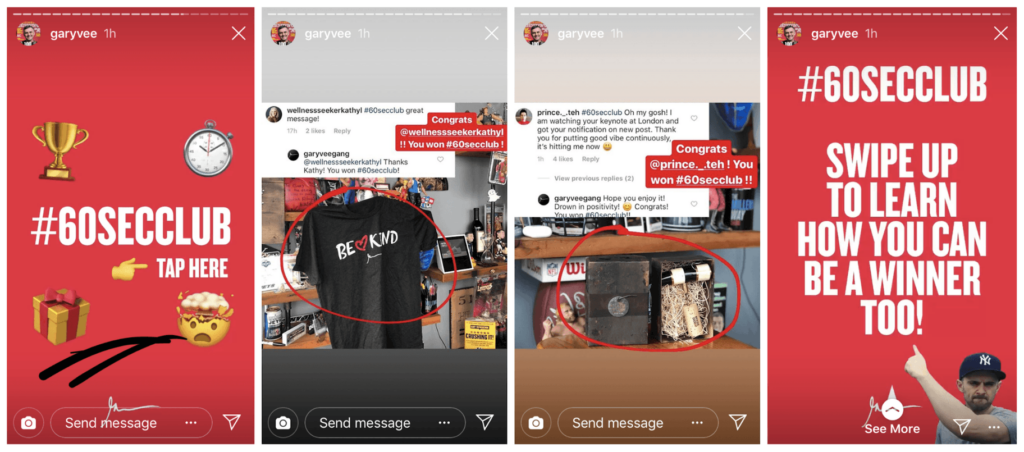 8. Go Live
It's time to go live! There are two reasons you should make the most out of this feature to push your account engagement. First, the platform will notify your followers when you are broadcasting. So it creates the fear of missing out on connecting with you directly. The second is that your live-streaming story will be front-end-center on the story queue. Hence, your visibility will be expanded.
Live streaming is a direct and transparent way for followers to have their questions answered in real time and see the raw angle of your brand. Also, you do not have to devote money and care to craft your clip while still gaining heavy interaction. Just let the streaming save the time-suck.
Takeaway:
@accessbenjamin went live on his Instagram using the invite someone to co-host feature. That idea is so cool to double size the viewer engagement and make your audience wow.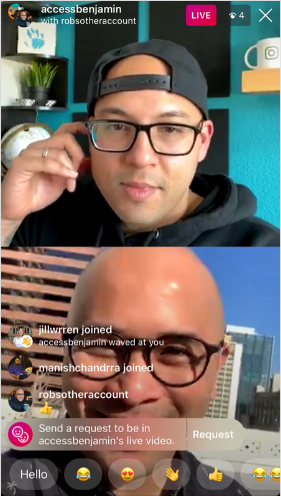 9. Donation Sticker
Instagram allows business accounts to fundraise through the donation sticker on IG stories. Once you sign up for charitable giving tools, you lie the power to encourage Instagrammers to support nonprofits.
Note: The nonprofits you want to raise funds for must be on the charity list. If not, your organization is not eligible to leverage this feature yet.
Another worth mentioning is that 100% of the proceeds will be sent to these organizations without any transaction fee!
Getting philanthropy is not about spreading your exposure on Instagram; it's all about spreading love and humanity to the world! So make your stories Instaworthy!
Takeaway:
Along with asking for help from the community by posting a donation Instagram Story, the non-profit organization account @water also encourages people to use the feature with a short how-to.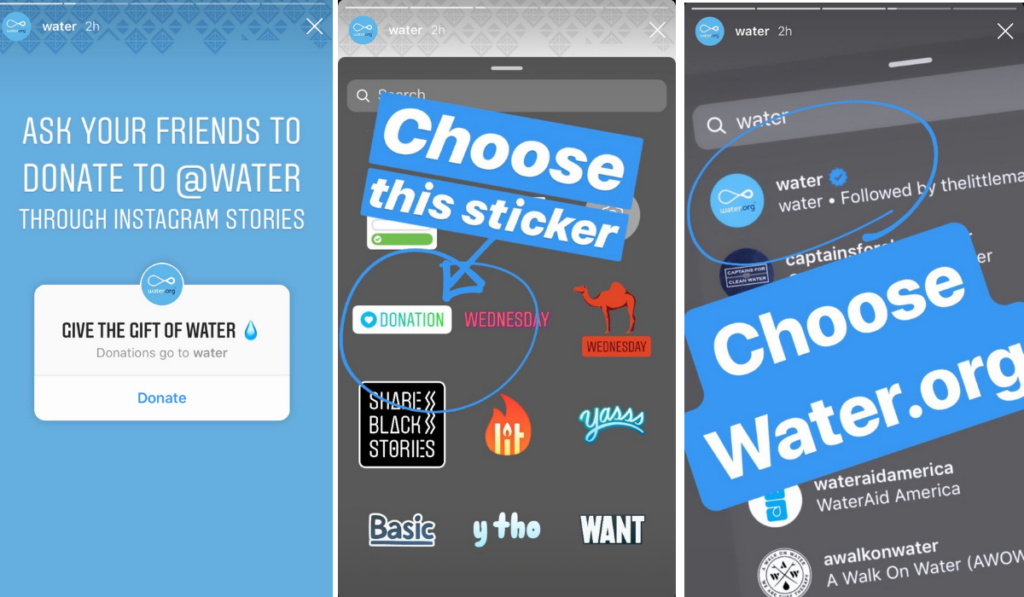 10. Food Delivery & Gift Card sticker
Released in early 2020, Food Delivery & Gift Card stickers have quickly exploded in popularity on Instagram. The stickers are specifically created to support small and medium-sized F&B businesses in the COVID-19 crisis.
On the one hand, by posting a mouth-watering image pinned with the Food Delivery sticker, you have the means to amplify your product and services. On the other hand, the Gift Card sticker is ideal for selling redeemable vouchers from your stories. Your customers can conveniently order food through Caviar, ChowNow, deliver.com, UberEats, GrubHub, Seamless, Postmates, Doordash, and more. Plus, the mechanism to place an order is so simple. Your viewers see your story, and they tap on the screen. Then it will redirect them to your partner sites to complete the order.
Takeaway:
Look at the way @lazyfishsushi crafted their Instagram Story. An image appealing to the sense of taste goes with a solid call to action, colors, and icons. Although this is "salesy" content, the story is so wow to continue swiping past.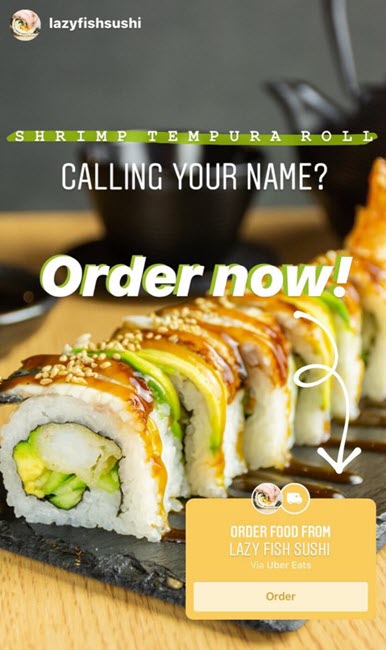 11. Product Sticker
Adding your product details on IG stories is not a bad idea. Still, it can either make or break your Instagram strategies because "salesy" or spammy content may annoy potential customers and get penalized by the algorithm. So instead, you should use the Product sticker – a new feature allowing you to add product details with icons, stickers, and text. It is an organic way to promote your product and drive sales directly without using the "swipe up" feature.
However, to have the eligibility to leverage this feature, you must:
Be on the list of 46 allowed countries.
Connect your business account with your Facebook catalog.
Have products complied with Instagram's merchant agreement and commerce policies.
Note: It's impossible to edit the product name on your story. You should make changes in your inventory or e-commerce platform.
Takeaway:
Aside from encouraging customers to swipe up to land on the product page, @wellmade also added a Product sticker to bring viewers quick and short details about it.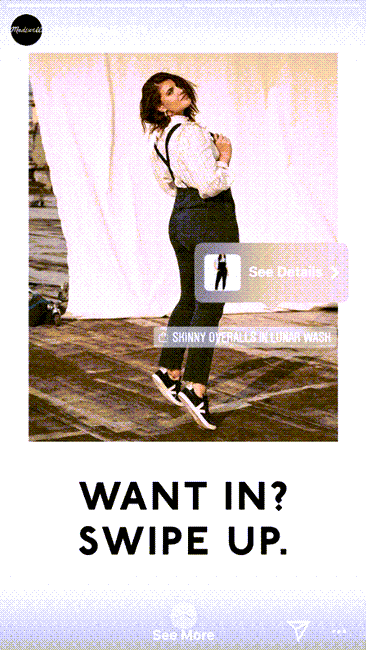 12. Mention Sticker
You are free to give credit to people who contribute to your Instagram Story content with the mentioned stickers. Also, because Instagram will notify people whenever they are tagged, you'll get a high chance of having your post recapped and receiving a thank you from them. Such an easy way to skyrocket your post popularity!
Compared to the traditional way (using text and the @ symbol) that messes up your story, the new feature makes your stories look way better. But the best part is that it's so easy to use. Just tap the @mention in the sticker tray and type a name. Voila, you're all set!
Takeaway:
@stumptowncoffee used the mentioned stickers a lot to highlight their people and partners.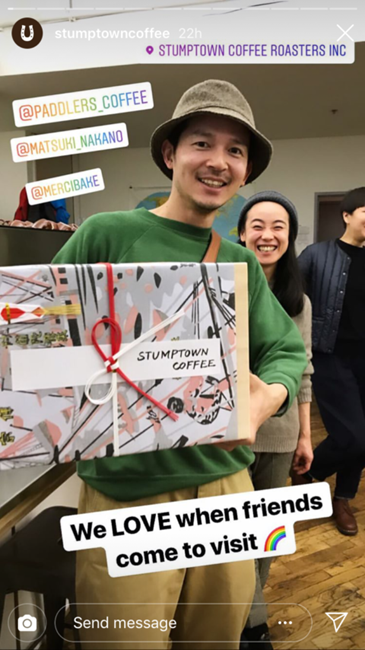 13. GIF Sticker
Driving traffic and sales through IG stories with GIFs is seriously trending now. Since Instagram has teamed up with GIPHY, you can now use thousands of available GIFs in the library and create your own branded GIF that is cohesive with your brand aesthetic.
The GIF sticker allows you to decorate your image/video with a collage-like effect and create a solid call to action for your story.
Takeaway:
Showcasing a series of images combined with GIF and the "swipe up" feature is a brilliant way to keep your viewers tuning in for more and increase your conversion rate like @away did!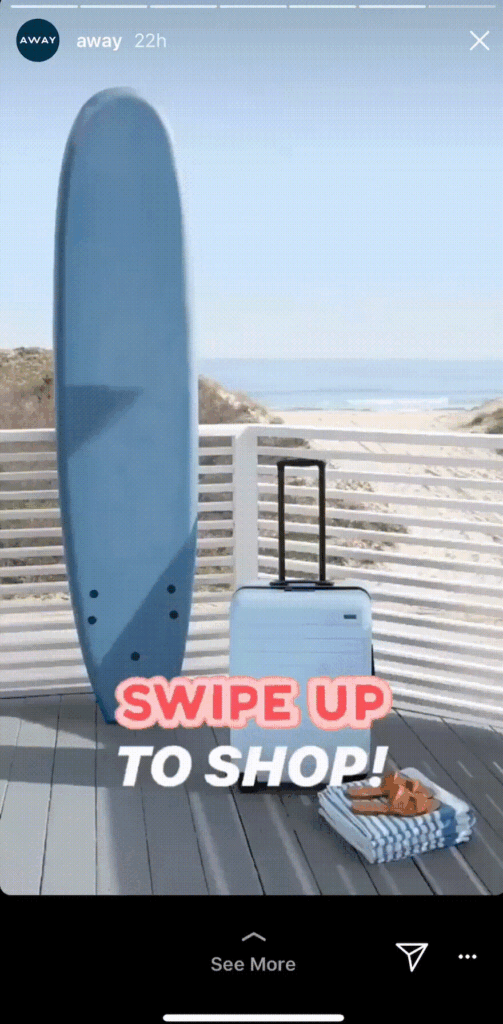 14. Question Sticker
Introduced in 2018, the Question sticker has proved that Instagram is a potential conversational platform giving you and your customer space to interact more. While poll and quiz stickers require viewers to answer, the question sticker grants viewers a sense of control. Plus, it shows that you are approachable and ready to serve the content types your followers love.
There is a slew of formats you can take advantage of when posing a question, such as getting your customer's feedback, doing market research, doing a survey, hosting a competition, and getting advice from others. But, of course, the best part is that only you can see how many people react to your post and their answers.
Takeaway:
Start a conversation with something like "ask me anything," as @thepouf did, you will wake up your viewer's curiosity and gain more engagement gold.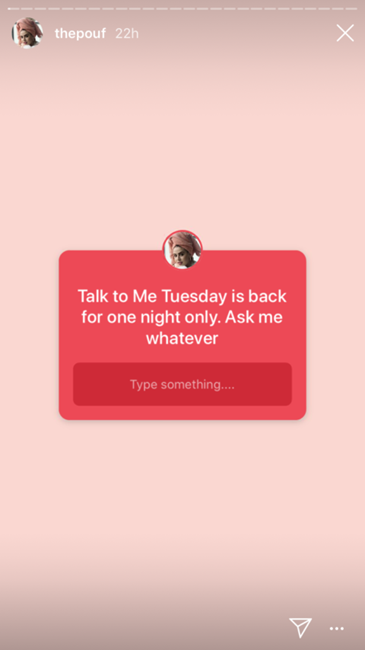 15. Swipe Up
The good news is that the release of the "swipe up" feature is such a lifesaver on Instagram, where there is no way to insert a link to our posts/stories.
But the bad news is the feature is only activated for business accounts with more than 10k followers. So if your business is small, you should use other strategies like adding the Product sticker.
Bonus tips:
– The feature is also available to an account with a blue tick (verified account).
– Although only +10k follow business accounts can use the feature, all other accounts can add an IGTV video link to their story image. The steps are:
Create an IGTV video telling people to tap on the video's title to get the link.
In your IGTV caption, add the link.
Post the video on your IGTV.
Create a story, and click on the link icon on your screen.
Add the video by selecting +IGTV Video.
Because the percentage of exposure and reach on Instagram is far higher than on other socials (compared to Facebook and Twitter), encouraging followers to swipe up and read the content of the platform is a smart move to execute your link-building plan.
Takeaway:
To hype up their blog, @the_newsette teased a screenshot of the author and their new blog post. The viewers hence can continue reading by swiping up the story.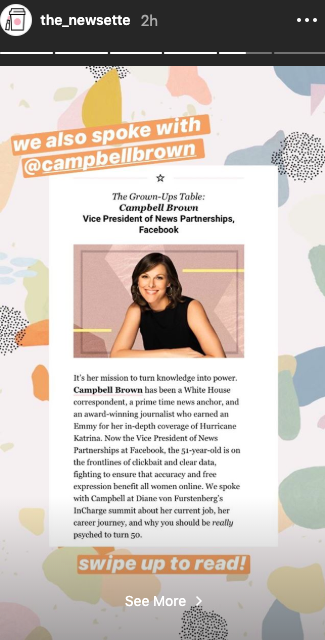 Creative Content Ideas
16. Encourage Followers to Screenshot Your Content
How? Humans love everything short and sweet. So post something aesthetic, then people can take it for personal use, like branded wallpapers. If the design is your strong suit, craft multiple wallpapers and schedule them for your post. If not, look for the help of a third party or use an online design tool like Canva, for example.
Another material that most Instagrammers have a thing for is easy-to-digest content. Therefore, why not sprinkle in tips or recipes to pique the interest of your audience.
Note: The list should be brief and straight to the point.
Takeaway:
@garyvee has done an excellent job sharing a series of wallpapers for his viewers to screenshot. He put a notification on the first slide so viewers could get ready to take a shot in the second.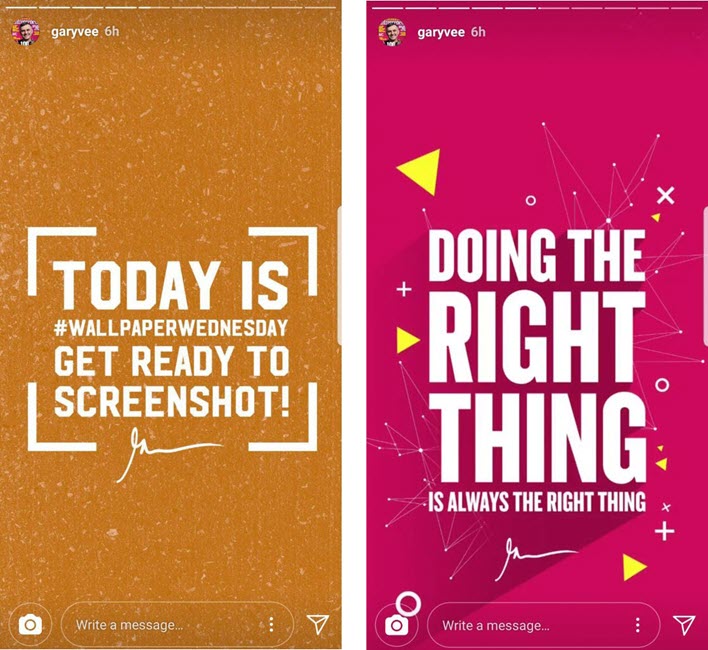 17. How-to Series
Gone are the days of boring tutorial posts requiring the audience to battle a wall of text. Instead, creating bite-sized educational content on Instagram Story is exactly what trending now. It's a surefire way to show off your expertise in your niche and insert your product details without aggressive promotion.
Bonus tips for creating a playful and attention-grabbing how-to on Instagram Story:
Signal to viewers what your stories will cover on the first slide.
A video format isn't always a must. It, instead, is a collection of stills with text, animated GIFs, bite-sized clips, and even a boomerang.
Break up your tutorials into multiple stories slides to avoid being overwhelmed.
The tutorials should be easy-to-follow and doable across your follower board, no matter their knowledge level.
Takeaway:
Some products lend themselves a tutorial. That's why skincare brands like @clinique gave their viewers guides on applying their products to everyday life.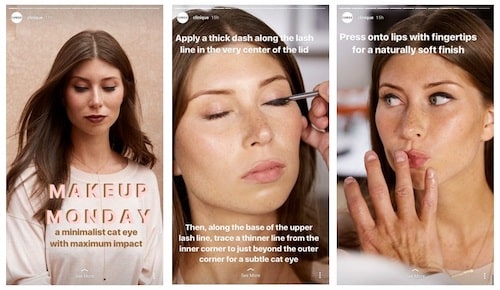 18. Tease an Upcoming Product
Keeping your followers in the loop about what your brand is up to may help gain copious potential customers. Aside from utilizing the countdown sticker in your Instagram Story, you have the flexibility to make the most out of other creative ideas.
If your editorial calendar is one post per day, you should double the frequency to twice per day. That means other than the regular content, as usual, you'll craft a story using different features to tease your upcoming products, for instance, a countdown to the launching day, branded hashtag of your upcoming products, give your audience a mental break with quizzes, etc. The well of content is endless, you know. In this way, you get your audience thrilled about what is coming, which helps remind them of the product launching day.
Takeaway:
With an open-ended question like "guess what" go with a hashtag, @imen_art created a sense of urgency for viewers curious about what's happening there and hence, visit their feed.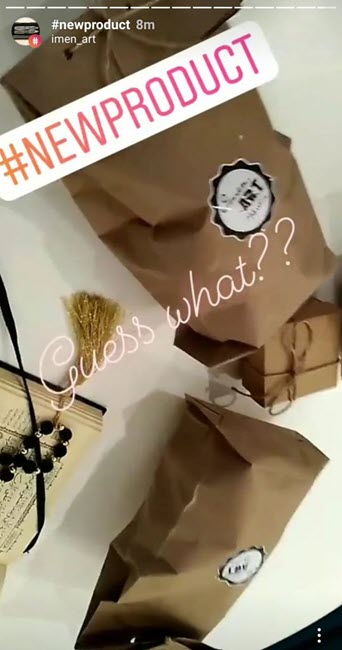 19. Promote a Live Event
Before you go live, it's crucial to keep followers informed about the event. Therefore, it's vital to post a notification giving details like the time, topic, keynote speakers, unique gifts/offers for those who watch your live stream, etc.
Also, do not forget to pose follow-up questions after the broadcast to unlock viewers' insights about what they love for the next streaming (using poll/quiz/question features).
Takeaway:
You do not have to deliver your message straightforwardly. Instead, it's easier to upload a picture of your famous keynote speakers/guests with some words like, " guess who we'll be chatting with tomorrow?".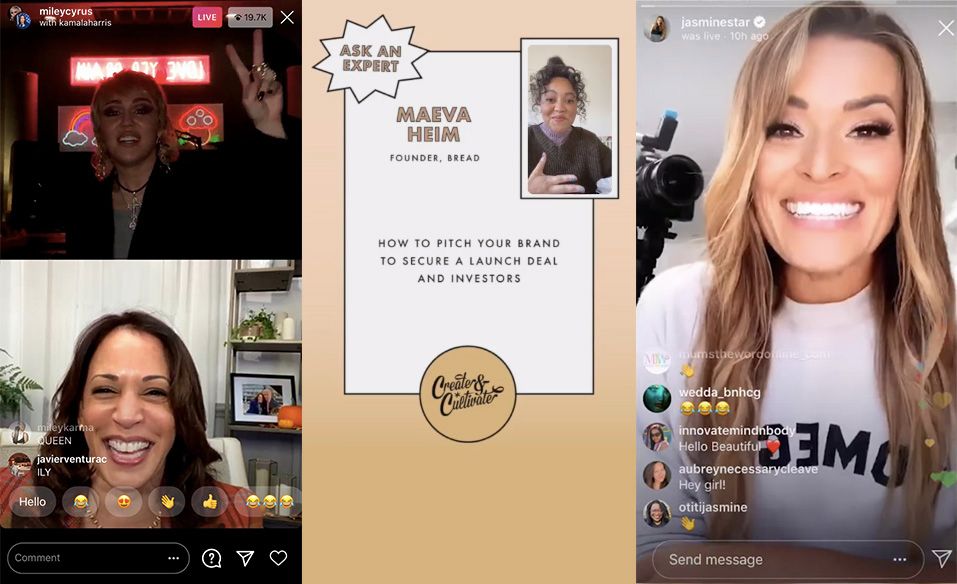 20. Quote
Visual appeal and aesthetic pleasing are what Instagram is all about. So "filler content" like quotes may mess up your feed style, considering your image and caption. But what about posting them on your story?
This strategy is so easy to execute. All you need to do is to compile a collection of quotes that fits your brand message. However, something besides the point also doesn't matter if finding inspirational quotes that work is a total drag.
Note: whatever you post, your quotes should be short, sharp, and, most importantly, shareable.
The most common formats of a quote on an Instagram Story are a screenshot from Twitter or a graphic design. Both are acceptable as long as they deliver inspirational/appeal to emotional content and match the aesthetic.
Takeaway:
Posting a quote is the common strategy people see on @Garyvee's account, both on his IG main feed and story.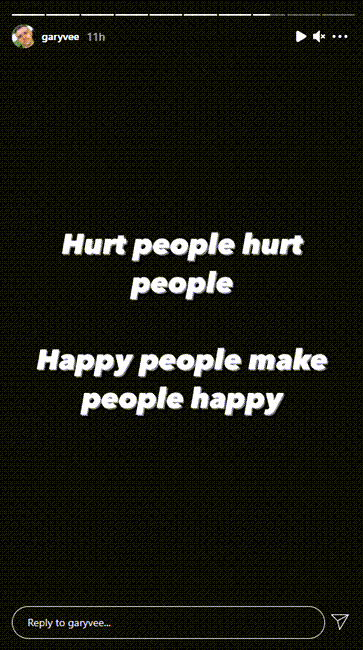 21. Promote a Blog
The roadblock from your Instagram-to-website traffic is that the platform doesn't allow users to insert links, but rather ones in IGTV and one in bio. However, people always get creative to beat the algorithm! Apart from using the "swipe up" feature mentioned above, there are plenty of other ideas to promote your blog on your Instagram Story.
Tips to hype up your blog on Instagram Story:
Craft the content into the various story frames. Each frame has its own story that hooks the audience's interest.
Then notice people who can find the link of your entire content in your bio with a solid call to action/text design/GIFs (depending on your brand Instagram's presence).
Tag yourself so that people can easily tap to access your profile and see the link in your bio.
Note: This strategy can be applied to any idea, not just this one.
Takeaway:
You can learn how @chloealysse uses the "swipe up" feature to drive traffic for their new blog post.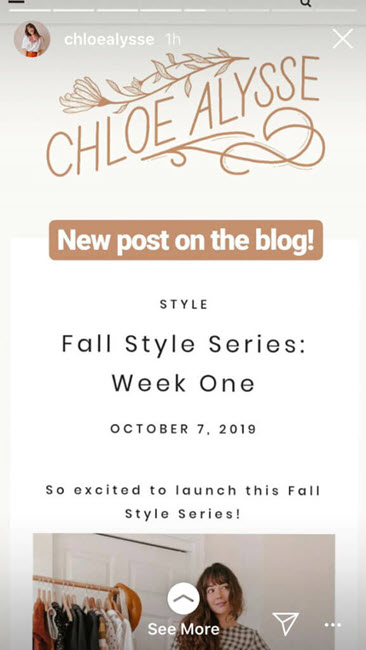 22. Host a Contest
Sound interesting, but is it feasible? If you do it wrong, the result may be nothing but like-bait posts. However, the question is not if you should host a contest on your Instagram Story, but how.
To get the most bang for your buck, take a look at my below competition format:
Be the quickest response to your story/follow your account to win.
Tell people to visit your main feed, like, and comment on your latest post to win.
Publish a story reviewing your products. Do not forget to ask them to mention your account because this makes the posts visible to take a screenshot.
Utilize features like questions, quizzes, and polls to challenge your viewers.
And many more. Get creative. The sky's the limit!
Note:
Choosing a winner sometimes is difficult, so seek help from third-party apps to ensure the transparency and fairness of the sweepstakes.
Shout out the winner after each contest on your story, which builds people's trust and encourages them to continue participating the next time.
Whenever you notify a contest through your Instagram Story, remember to tag yourself so that the viewers can easily navigate to your profile.
Takeaway:
@happystick runs a giveaway in their main feed and uses the Instagram Story to spread the word.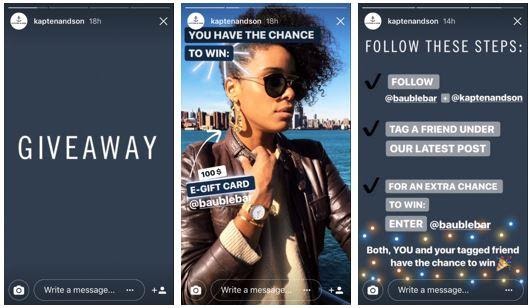 >> You may be interested in 20+ best Facebook giveaway ideas to increase likes
23. Behind the Scenes
Curiosity killed the cat, but it's human nature. Sometimes, giving your viewers a sneak peek of your inner workings "backstage" is brilliant.
Let me explain why. The audience eyeball craves the unique and extra-human element behind your social account. This type of content is always fun and hilarious. People, maybe, are nosy about your workspace, the juicy part to film the video, or what you and your teammates look like. So whatever industry you are in, utilize this tactic to show off your business culture. Another reason is that revealing what is considered a little secret makes people feel privy to the latest information.
The ideas for this strategy are endless, for example, a preview of upcoming products, a virtual office tour, or a boomerang of products in the making. So now it's your turn to execute!
Takeaway:
@sephoraeuropepro revealed a glimpse into what is going on in their video shoot on the Instagram Story that indeed hooked their followers.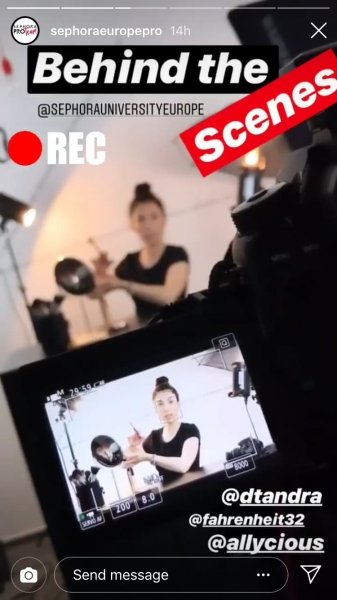 24. Instagram Story Takeover
For those who may not know, a takeover means giving someone temporary control of your account. That's a brilliant opportunity to share with your followers a fresh perspective behind you.
The people to take over can be anyone, for example, a star, an influencer, your partner, your staff, or even your fan. By executing this tactic, you can also expose that person's followers and vice versa. Such a win-win collaboration!
However, the Instagram takeover raises a question about the confidentiality of your account because you have to share the login credentials with others. Also, it's essential to decide the level of access, whether you give that person full acceptance to your account or need to confirm before posting anything.
Takeaway:
@lornaluxe lets other people take over the account for a day and show off how they use their products. Delivering content from 3rd party endorsement is a great way to hype up your products while still being authentic and engaging.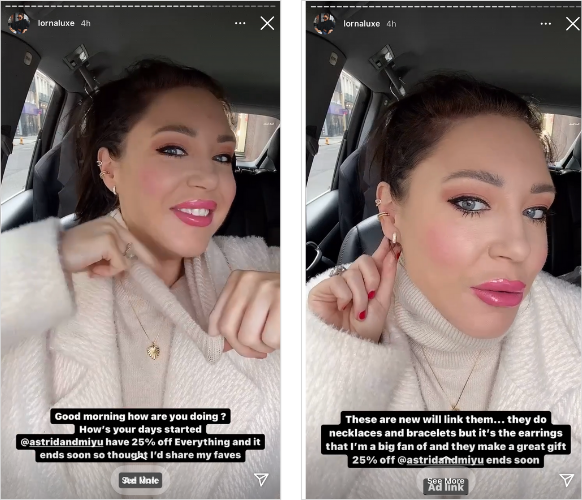 25. Customer spotlight
Instastory is the prime real estate for you to spotlight your customers – an excellent way to market your business without aggressively promoting your products. The most common ways people leverage this idea are:
Testimonials: according to BrightLocal, 87% of online users read product reviews before making a purchase. Therefore, customer testimonials play a pivotal role in your marketing toolbox. So what about sharing customer reviews on your Instagram Story, either a screenshot or a video.
Shoutout to customers: because of a big order, their loyalty, support, any reason you feel thankful for.
Note: You can design a template only used for customer spotlight sections. Also, do not forget to use the mentioned sticker to tag the people you give credit to.
Takeaway:
@airyindonesia shares a customer review that added the swipe-up feature, that's undoubtedly an intelligent strategy to win over followers to themselves.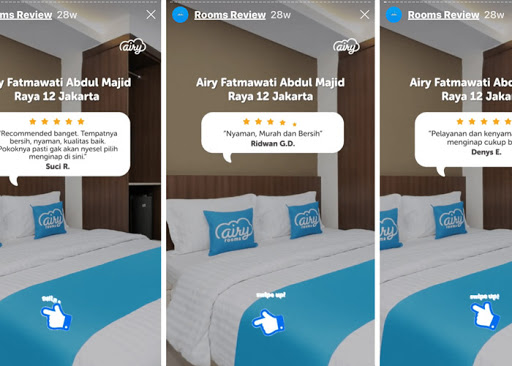 26. Repurpose Old Content
Because we can not put a link to direct followers anywhere off the platform, why not spice up content from other channels and post it on Instagram Story? For example, think about heavy content or content performing well on your blog, Facebook, and Youtube. The idea is quite similar to "promoting a blog". That means you can craft a bite-sized clip and then encourage people to click the link on your bio for more details.
Take a look at the below. I hope you'll find something helpful:
Summarize long-form content into a talking-head clip that highlights the bullet points.
Resize a Youtube video, and trim the best part (15 seconds) that you think is most engaging and attention-grabbing.
Screenshot your tweet/Facebook/Instagram post
Takeaway:
@socialinsider.io did a great job applying this strategy to their IG stories.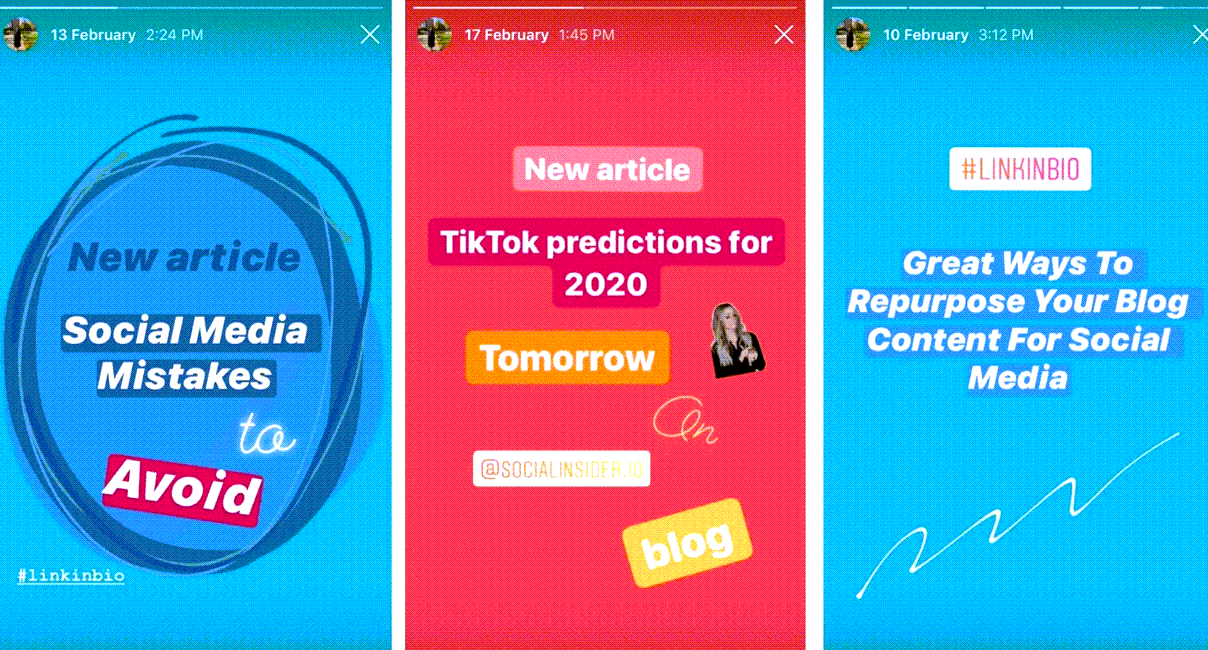 27. Show Your Mood
If you are exhausted, show it to people. If you are happy enjoying your cup of coffee, show it to people. Just show your brand's raw and human angle to your followers as you are. In this case, content that is on the fly and unfiltered is the best choice.
"Authenticity beats perfectionism," that's the key! So it doesn't matter if you can not take a photo or edit a video like a pro. Also, no worry that they will mess up your aesthetic home grid because everything on your Instagram Story will "self-destruct" after a day. All you need to do is show your account's raw and most human angle. That will attract your audience a lot!
Takeaway:
Take a look at the Instagram Story from @likemindltd. Their everyday moments are simple but sweet to those who see them randomly.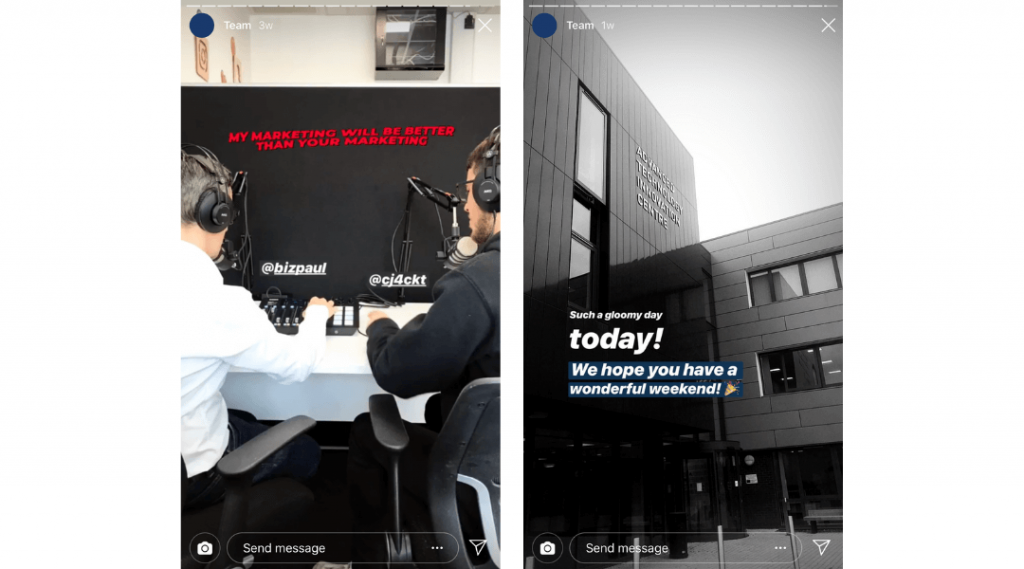 28. Team Introduction
You have an excellent crew, and you can not wait to boast this to the world. It's time to meet the team on your Instagram Story! Introducing the team to your followers helps close up your customers and employees and is the secret of retaining your most talented workers. Furthermore, a potential partner will have ideas about who might work with them from watching your stories.
The ideas to craft this content are various, from posting a happy birthday story to shouting out the excellent members of the year/month.
Takeaway:
Instead of merely promoting their drinks, @starbucks instead highlights the human element of their brand, which makes a genuine connection between them and their customers.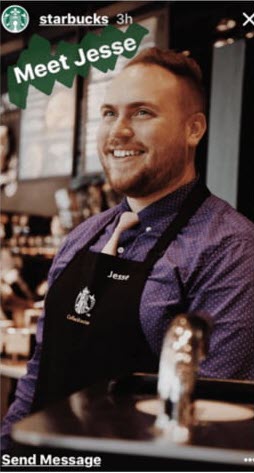 29. Product Demo
What better way to show off your products and market your brand than posting a product demo on Instagram Story? Whether you are selling intangible or physical products, just get creative and show off to people how good your products are.
For example, a photo of customers or influencers using your products is not bad. Other than that, host a mini-game, and the prizes are a free trial of your products. Everything depends on you.
Takeaway:
Sometimes, people need a mid-afternoon drink. What would they do if they passed by a story like that from @starbucks? That's the way the brand promotes its products on its Instagram Story.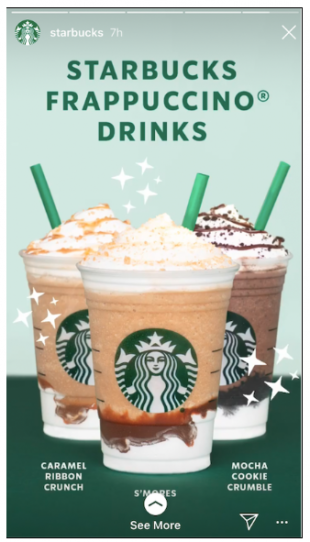 30. Reintroduce Yourself
The more followers you gain, the more critical it is to re-introduce yourself every once in a while. Because newcomers may not know who you are. This type of content will not take you much time. Besides, the advice is that you should not do it so straightforwardly. Here are some ideas to reintroduce yourself on the Instagram Story:
A short video clip introducing who you are and what you do
Use the question stickers and let people ask you if the topic is anything about you.
Require people to make an assumption about you using the poll sticker.
Quiz sticker with the topic about you and let people pick up one, do not forget to share the result publicly.
Note: You should save the stories into your highlight section, and new followers can find them to see whenever you want without requiring you to re-create this kind of content a lot.
Takeaway:
As the number of followers grows, @humboldt.finest.tea utilizes Instagram Story features to educate people about themselves in an informative and entertaining way.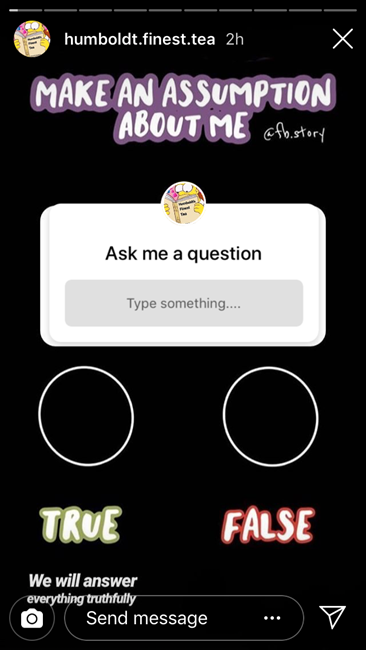 31. Share and Link to CSR Campaigns
Today's consumers highly regard your responsibility to society and business ethics. So why not let people see your social impact and the willingness to respond to other issues.
Do not forget to tag the related people, organizations, and locations to spread your post. If the campaign has its own branded hashtag, use it.
Takeaway:
See how @starbucks gives space for their highlight stories to provide users with their attitude to social impact and sustainability approach. Their topics are broad, for example, transgender, education, culture, and environment.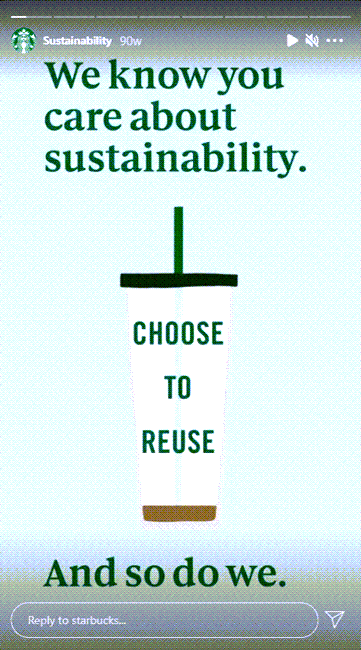 Over to You
Marketing your business on Instagram Story is a journey requiring you to engage on the fly and keep up to date to beat the ever-changing algorithm. However, it's undeniable that if you do it right, the feature is a huge leap in helping your business roll out globally.
Hopefully, you've taken away some creative ideas and will soon drive sales directly from your Instagram Story by using them. Feel free to leave some questions if there is anything you are stuck with!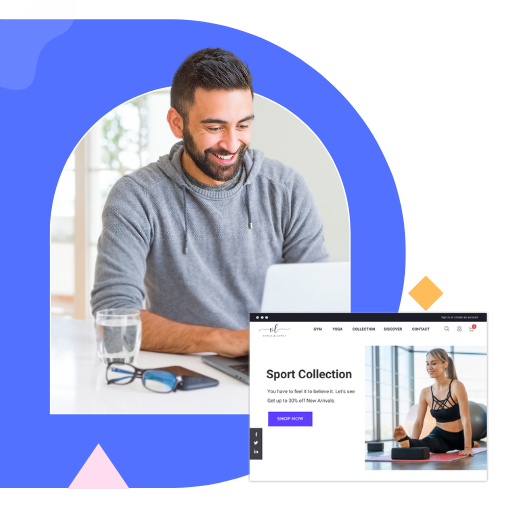 Try FREE Magento Page Builder demo today
Looking for a Magento 2 page builder that helps you create any beautiful page layout with no coding required?
Magezon Page Builder can help!