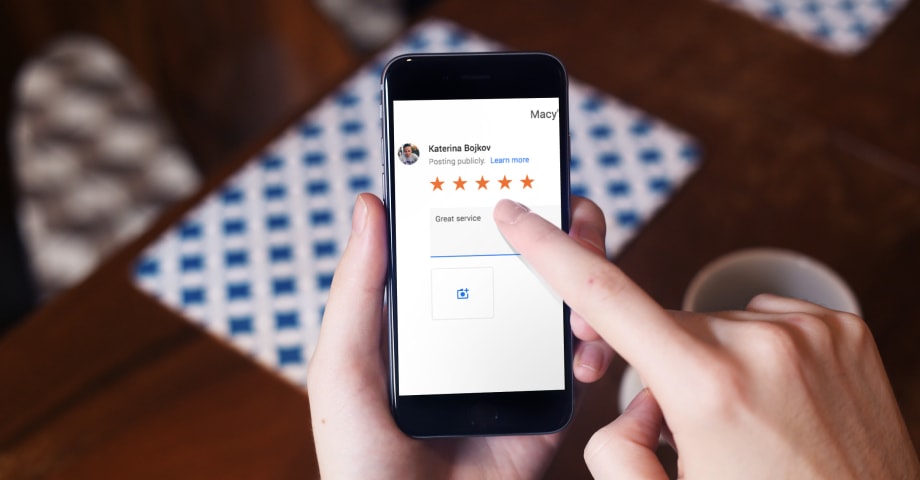 These days, advertising products and services through customers' experiences and reviews are one of the best marketing solutions. It is easy for organizations to brag about the quality of products and services. Although writing interesting copy, shooting professional product images, or even producing stunning product videos can attract attention to your brands, customer testimonials are likely to gain the trust of new ones. In this blog post, we will explore the testimonial page, a list of examples of testimonials, and how to add testimonials to the website.
What Is a Testimonial?
A testimonial is a third-party statement that comments on and reviews the organization. These usually come from customers and colleagues who have experienced your services and products. Sometimes, it comes from press releases.
Many testimonials formats can be effective marketing tools, such as short quotes, videos, case studies, or press releases. Big Commerce: "92% of customers read online reviews before buying." Therefore, shining a light on customer testimonials is an intelligent solution for revenue increase.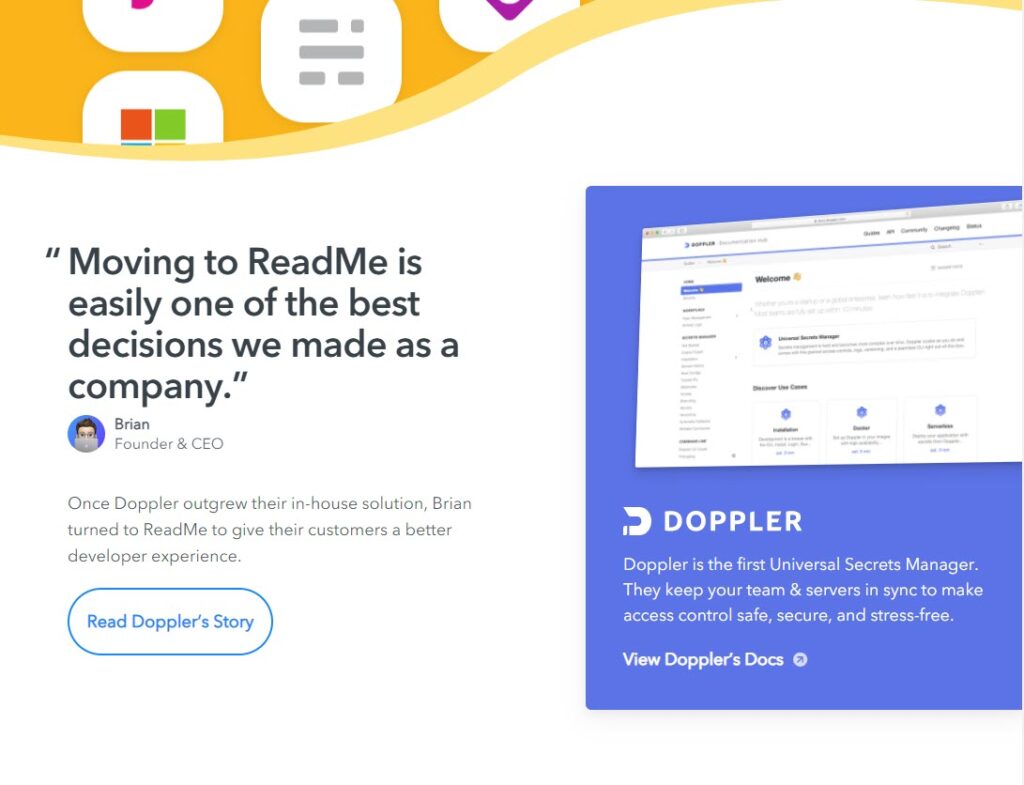 We can usually see the reviews at the bottom of the pages. However, store owners can design a reserved testimonial page for customers, partners, and the press with a more professional site.
Benefits of Using Testimonial Pages on Your Website
Testimonial Pages bring many benefits to the brand that can help them sell more products than ever before. I will summarize these advantages into six specific things.
1. Great Testimonial Pages Build Trust
Without a doubt, a reviews page can foster trust in the business. Customer testimonials effectively prove your claims about accreditations, awards, and years in business. In addition, they provide reviews and comments about experiences and qualities. Thus, new customers can easily consider and decide to purchase.
2. Client Pages Can Improve Customer Relationships
Asking customers for feedback is one of the best ways to communicate with them. In addition, customers might feel cared for and appreciated when their opinions are placed in an essential position on your website.
3. Customers Whose Testimonials Are Elicited Are More Likely to Repeat Purchases
Once customers tell a story about your business, it will remind them of the images and experiences, forcing them to buy again. Therefore, asking for testimonials is also an effective customer service solution that shoppers should maintain. Customers who interact with reviews are 58% more likely to buy (Big Commerce)
4. User Testimonial Pages Are Good for Business Development
Much to be learned from testimonials that have both positive and negative aspects. Critical and constructive feedback will give valuable information for you to know how good or bad your product is and fix the problem effectively.
5. Testimonials Can Be Motivation for Staff From Unbiased Strangers Leaving Their Honest Opinions
Testimonials can boost employee morale, which in turn helps improve productivity, service delivery, and customer relationships. In addition, employees can receive positive feedback from customers, which is a motivation for them. Besides, they can find out what they should improve for their services or products from customers' complaints.
6. A Business Profile Is Boosted
Testimonials increase the sense of public accountability for your company. The business becomes more credible, authentic, and grounded in tangible experience. Social media, in particular, is an excellent tool for propagating a reputation in this way. Regular customer testimonials generate approximately 62% more revenue (Strategic Factory).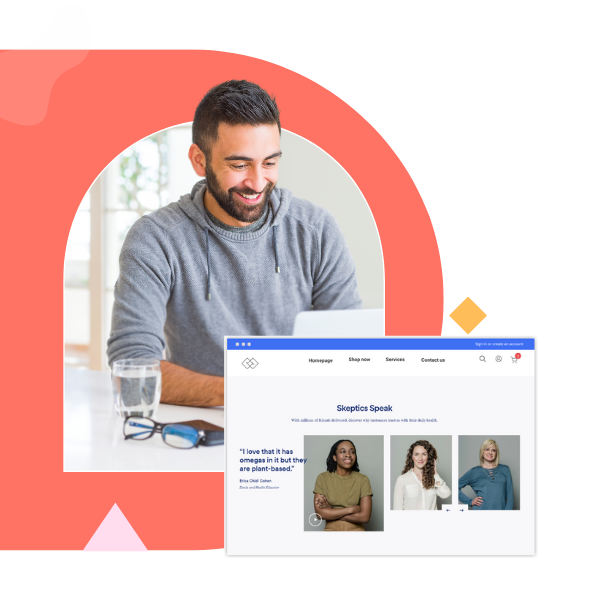 Try FREE Magezon Page Builder demo today
Easily create your engaging Magento testimonial pages in any style whenever you want without relying on developers or designers. Just by drag & drop.
Types of Testimonial Pages
Many different types of testimonials can show off customers' reviews. Your mission is to determine which format and medium might be the most effective. In this post, I will list the ten specific types of testimonials you should know.
1. Quote Text
A quote testimonial accompanied by a testimonial picture of the person who provided it is typical in digital marketing strategies nowadays. In many cases, a testimonial image of a customer can increase conversions because the personal brand is trustworthy.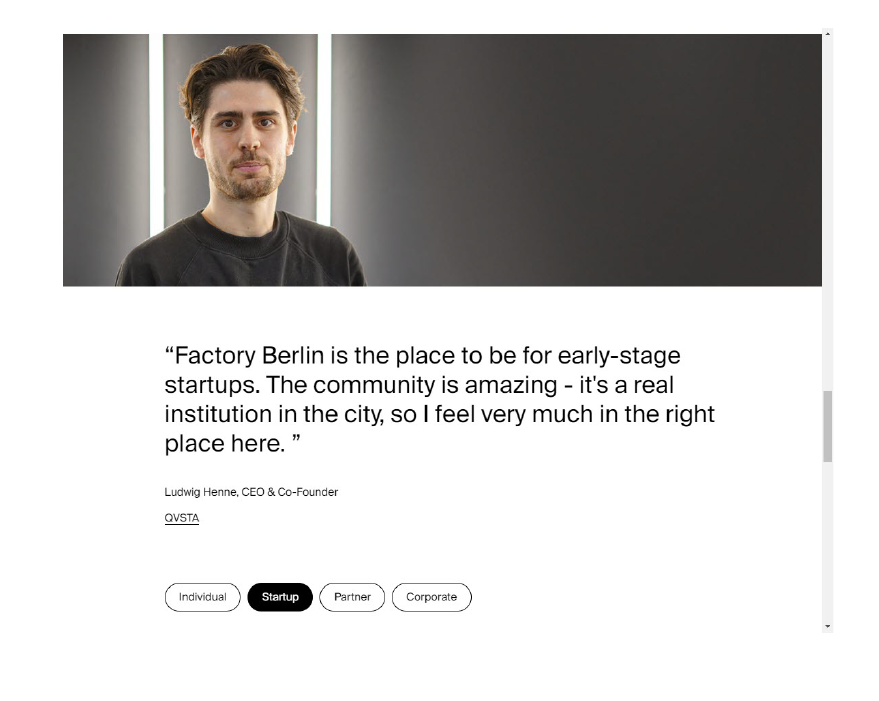 2. Review Video
Video attracts both the visual and auditory senses of the customers and tells a fascinating story of the brand that motivates viewers to buy.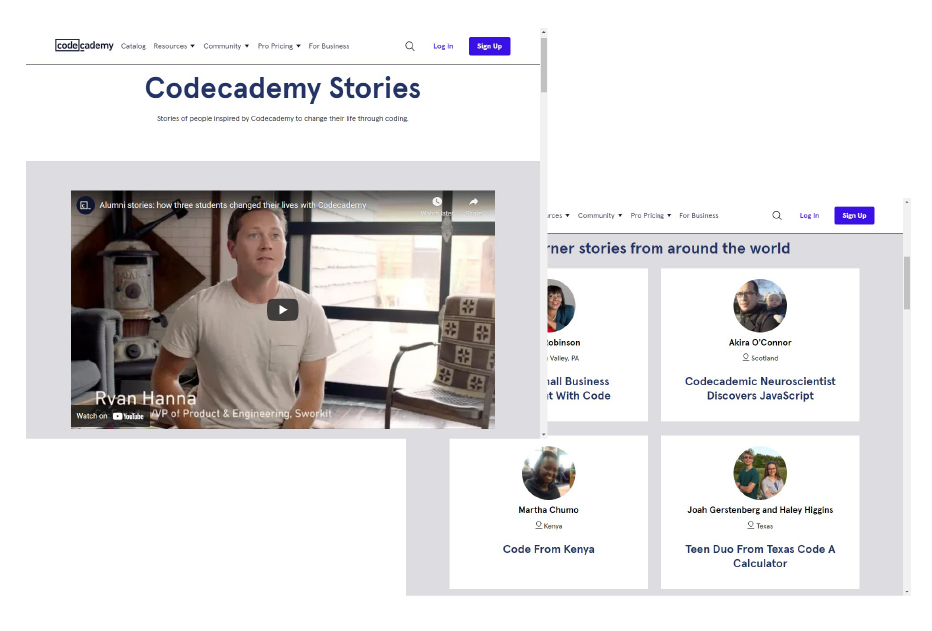 3. Review Audio
An audio testimonial is a more economical solution than a video testimonial. You only need to record the customer's voice and add it to the video with some images. One of the advantages of audio testimonials is their effective distribution and consumption by customers.
4. Case Study
A case study is a testimonial that tells a complete story about their customers and colleagues. This is great for B2B companies trying to convince an entire business to buy their product or service.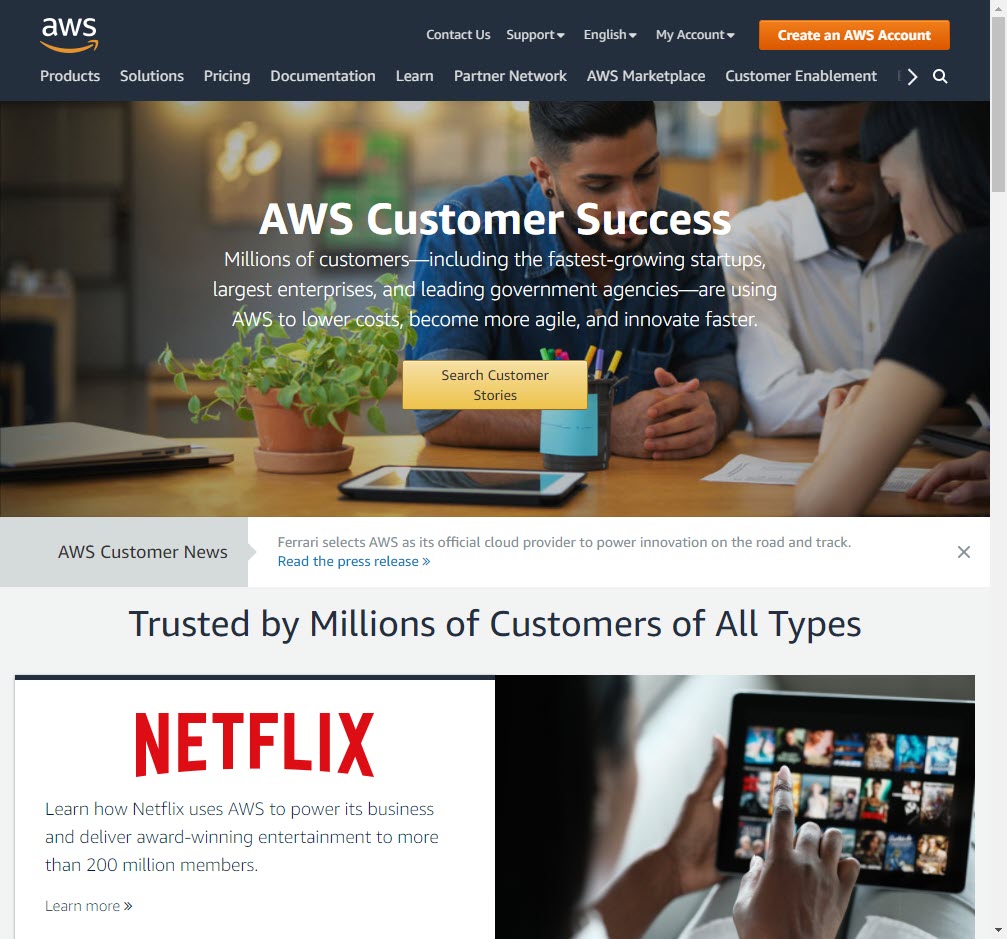 5. Social Media
Social media testimonials like Facebook, Twitter, LinkedIn, and Instagram customers are also effective ways to advertise a product. Depending on your customer's social following, that review could influence millions.
6. Customer Interviews
Customer interviews can be an excellent way for your business to ask customers about specific aspects of your business and how they played a role in its success. There are many formats of customer interviews, such as a video, an audio recording, or even an interview transcript. Companies will choose one of these methods to publish the testimonials.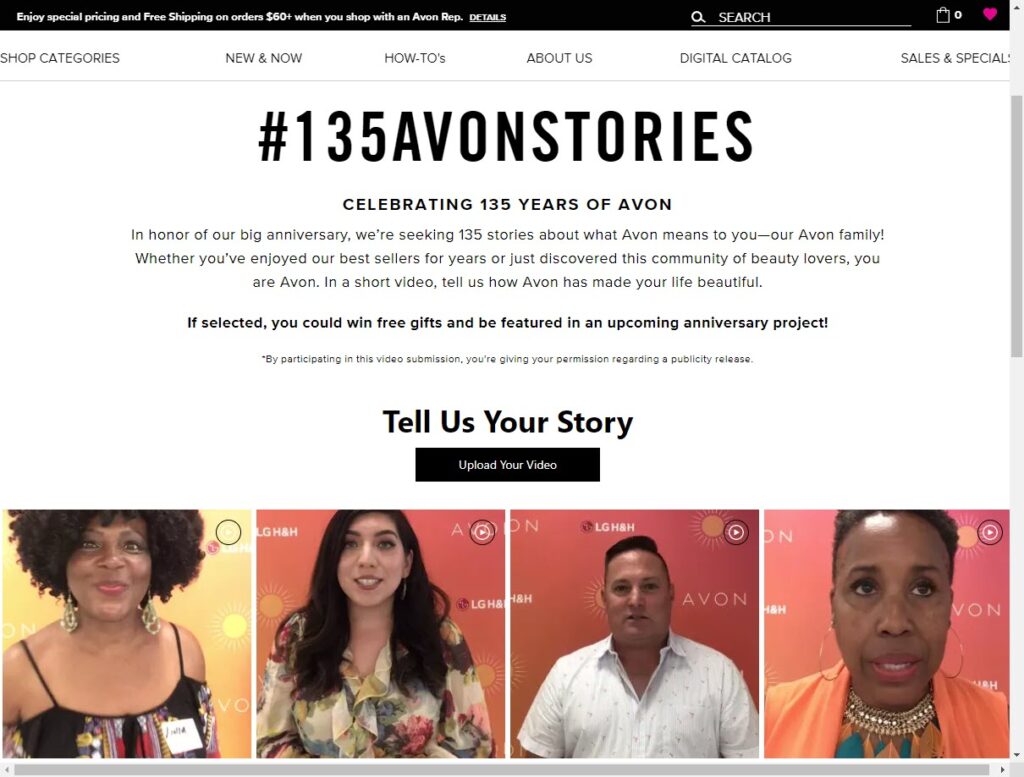 7. Authority
Testimonials from a celebrity or famous organization tend to be more credible than normal customers. The most effective spokespeople are the ones that share the core values of the business and deeply connect with the target audience.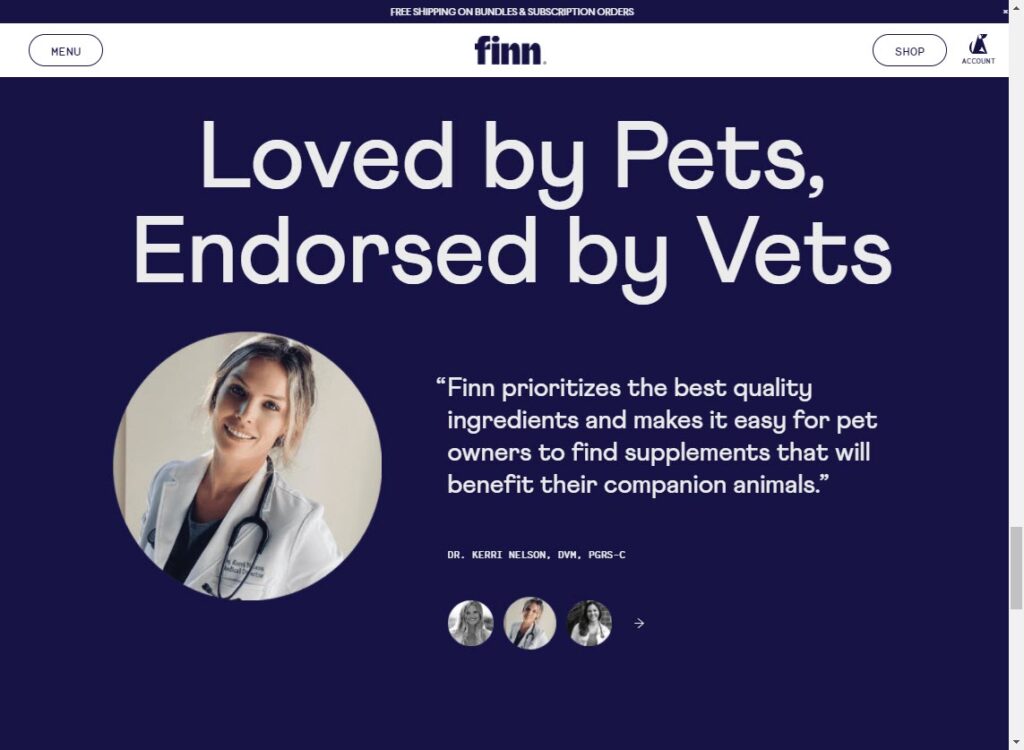 8. Peer Review
Peer reviews are from customers who have bought your products or services. They can leave feedback after the orders without asking or allowing it. Studies show that 52% of consumers will only buy from a business if they have four or more stars on a review site. This is because the feedback left on these sites is from unbiased strangers leaving their honest opinions. The format of this review is an excellent solution for product testimonial examples.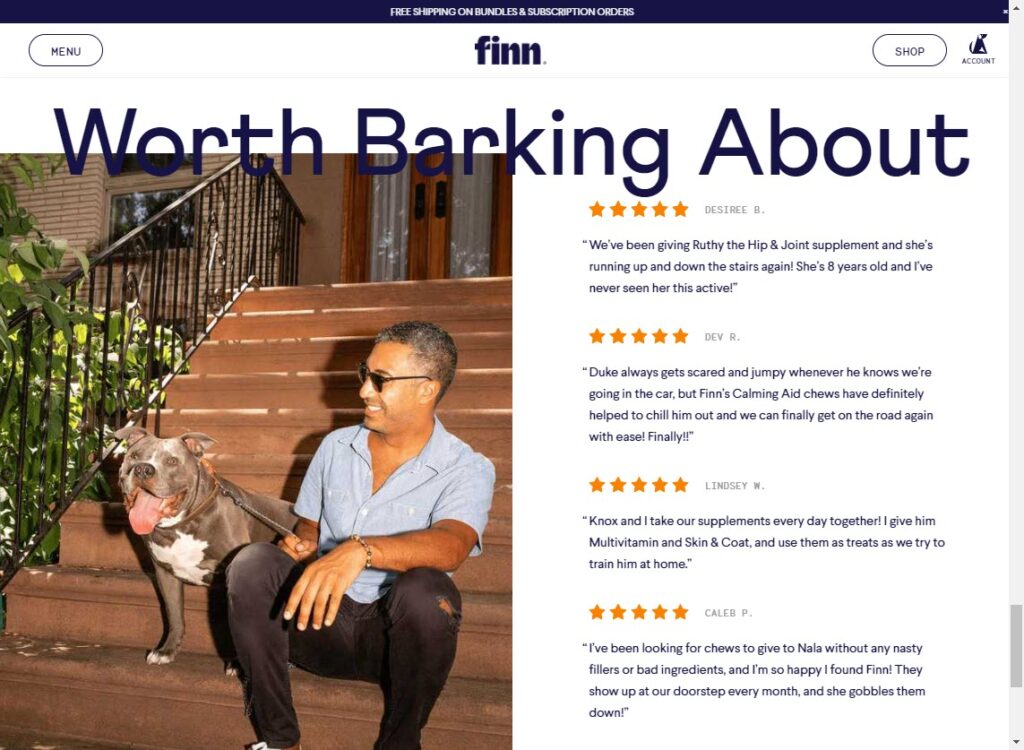 9. Blog Post
Blog post testimonials are the same as case studies. However, there are some differences between them. Blog post allows business to tell the story from their views. Once completed, the post can be shared either on your blog or another blog popular in your industry.
10. Press Review
Getting a review from the press is valuable for your business. As we all know, being on the news nowadays significantly improves brand awareness. If your company is lucky enough to obtain this type of publicity, feed its success by sharing any related content on your website, blog, and social media pages.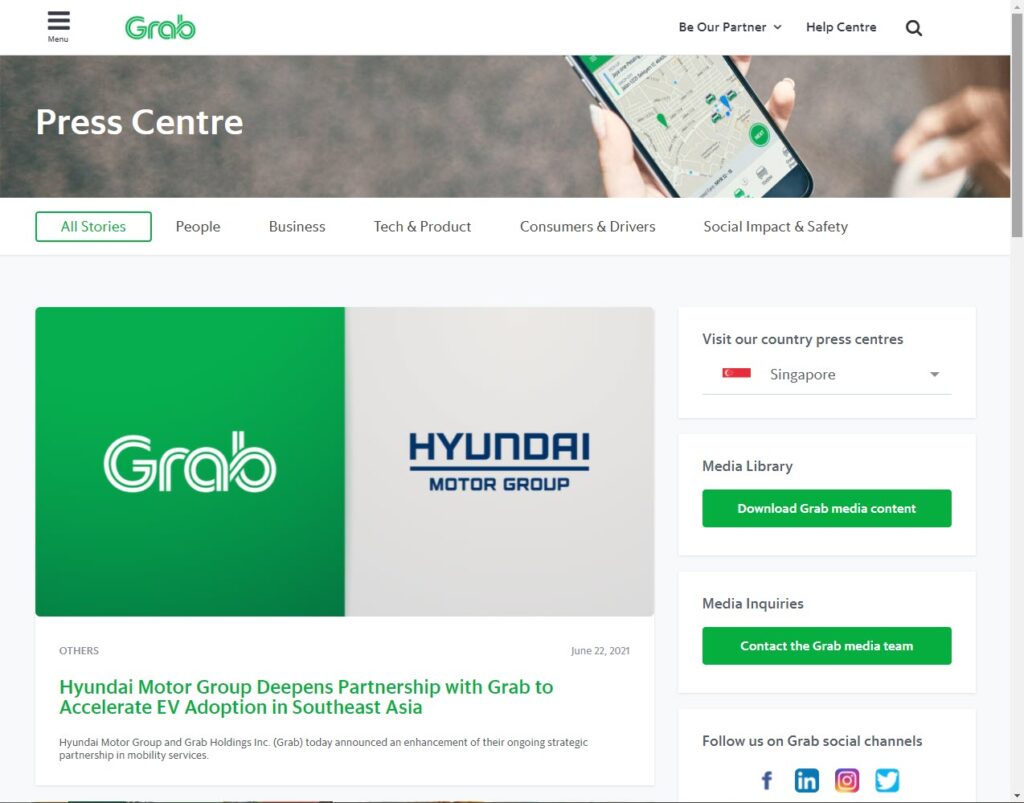 Tips to Make an Effective Testimonial Page
The Best Testimonial Should Be Short
New visitor tends to read short quote and ignore long paragraph. If you have a lengthy testimonial, highlight the main keywords to get visitors' attention in a few seconds.
A Testimonial Should Be Direct
Put the most important statement at the beginning of the testimonial. You should ensure that visitors can quickly get the critical meaning even if they only read the first few words.
A Testimonial Should Be Allowed
Your customers must know that their reviews have been published on your page and allow this to happen. So it will be a problem if a customer comes back and complains that her feedback message is on the internet without her allowance.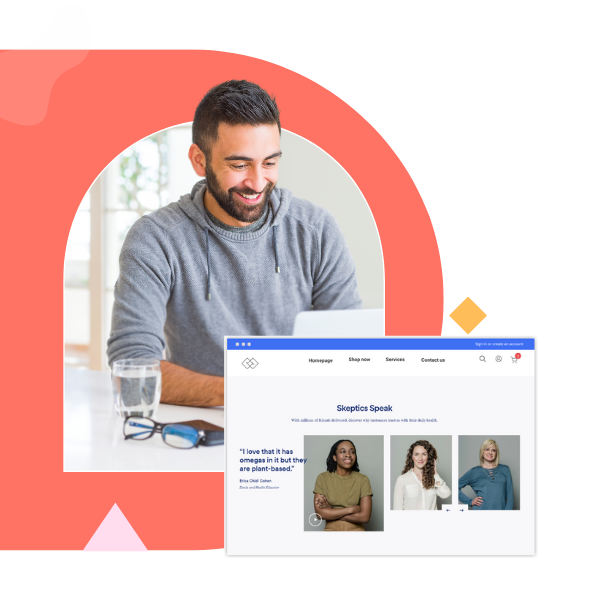 Try FREE Magezon Page Builder demo today
Easily create your engaging Magento testimonial pages in any style whenever you want without relying on developers or designers. Just by drag & drop.
50 Testimonial Page Examples
1. Airbnb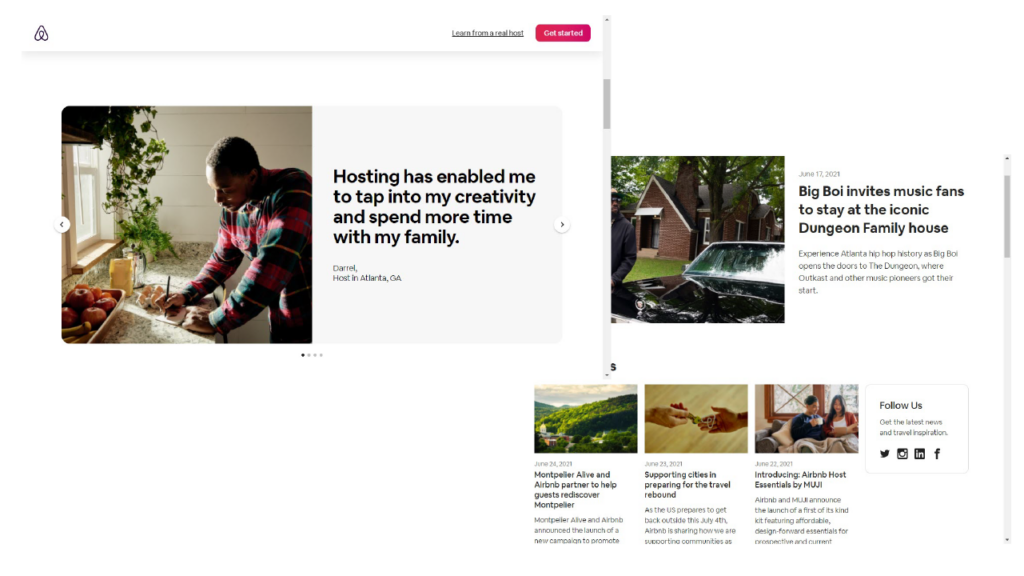 If you are looking for testimonial examples for websites. Airbnb, Inc., an American company that operates an online marketplace for lodging, primarily homestays for vacation rentals and tourism activities, is one of the best examples.
On the homepage, Airbnb showcases short quotes by hosts who used the service as an earning. It is easily seen that Airbnb helps many people make a living in a saving-time way and spend their time with families and personal activities.
2. Typeform
If you are confused about where to put testimonials on your website, you can seek information from Typeform's page. They nailed down customer testimonials that show off many featured quotes and a greater variety of positive reviews about how effectively Typeform products attract users on the homepage. Besides, they have a Customer Success page on another link to display the complete case studies about customer experience.
3. BambooHR
BambooHR puts humans above. They focus on personal opinions. BambooHR displayed customers' reviews on the customer page, who have their own reputation, with their personal pictures to look more trustworthy.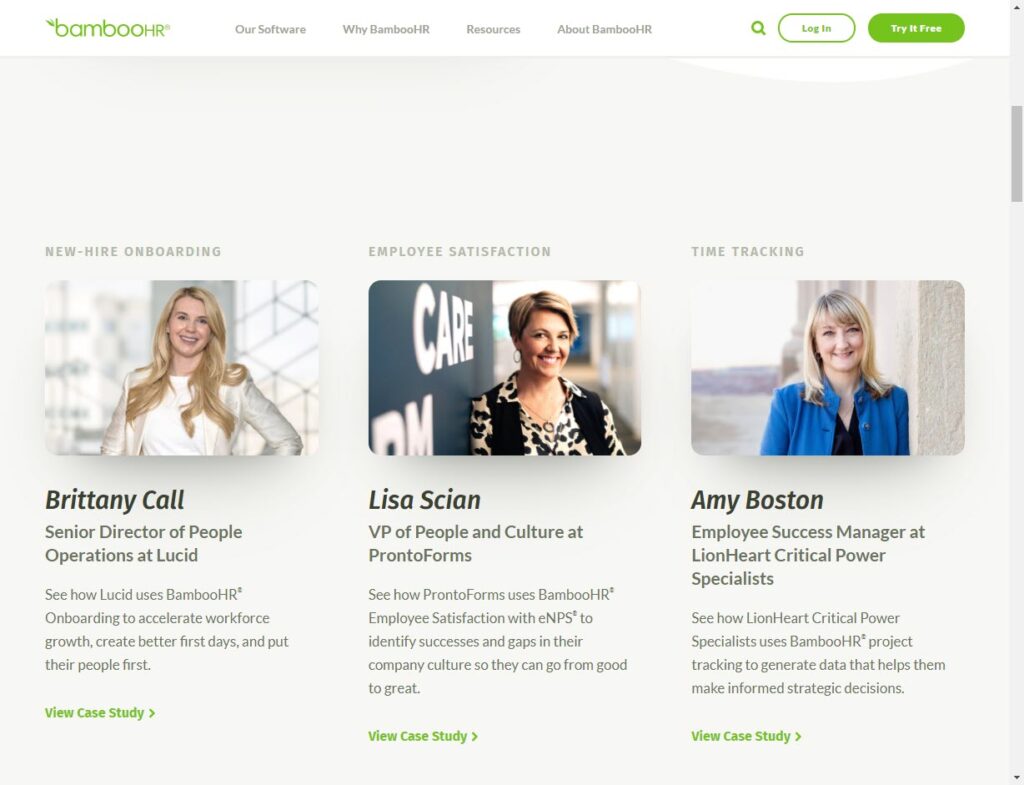 4. Petfinn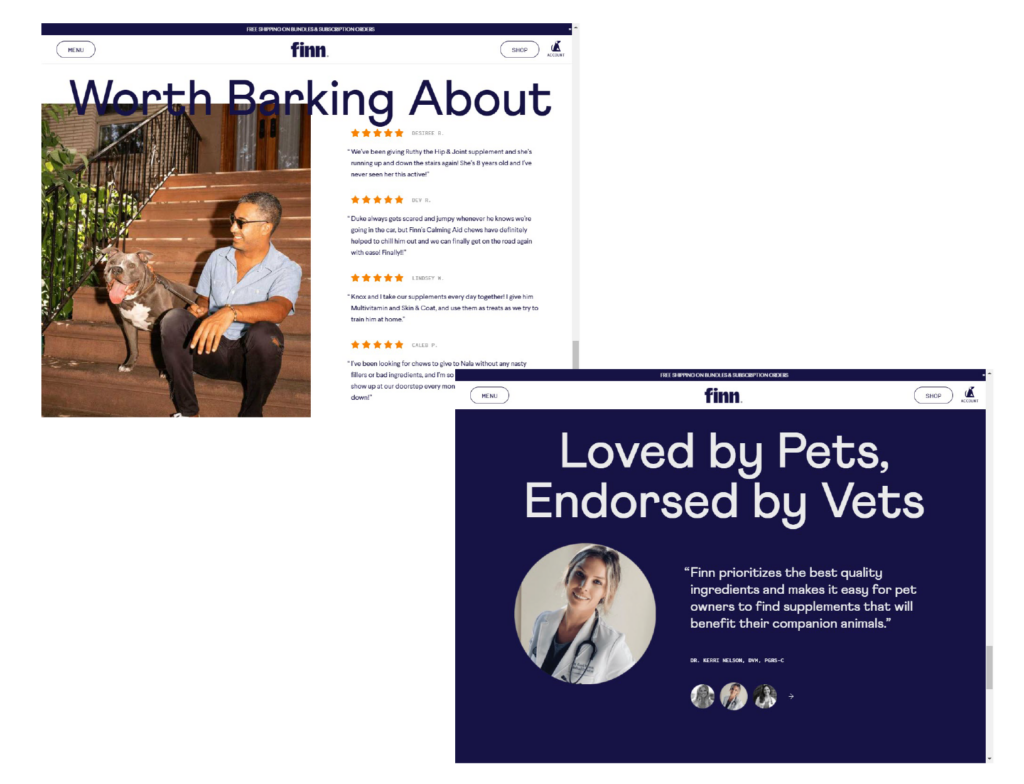 Reviews with customers' scores highly affect the decision of new visitors. Petfinn listed these outstanding comments on their page to make it more trustworthy. Besides peer reviews, Petfinn also shows a testimonials section by Doctors who have credibility.
5. Twist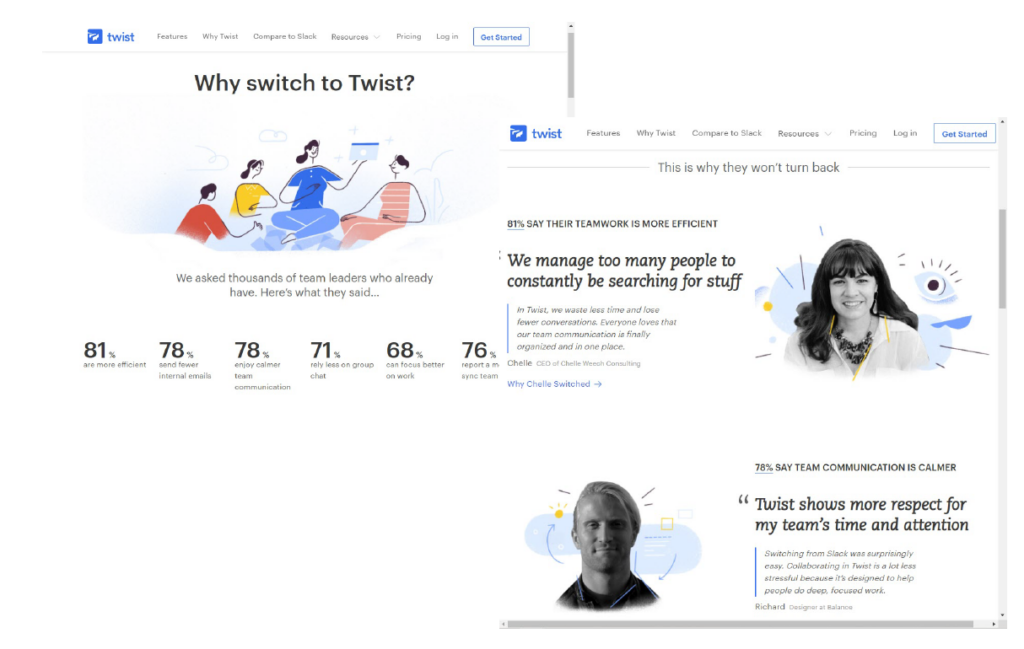 Twist is a communication app by Doist Company that helps teams balance focused work with collaborative conversations. Being a technology company, they have a stunning and modern website with many pages, such as a product page, help center, blog page, about us, and testimonial page.
The testimonials page reveals accurate user data and showcases Twist's opinions by many leaders, CEOs, and business owners. Moreover, they also display company logos of organizations that have used their product to make their brand more trustworthy.
6. Ritual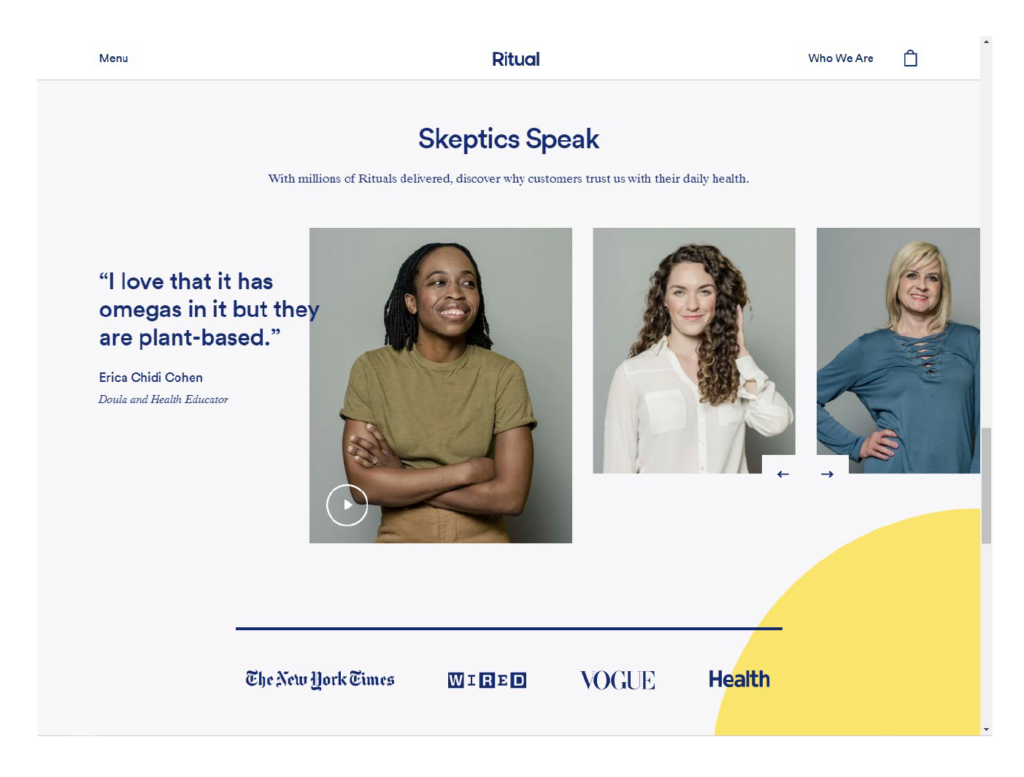 Ritual is a daily health supplement brand committed to creating the purest, most effective formulations for everyday health and sharing every ingredient, source & scientist behind the products.
In the health market, testimonial design examples play a critical role in credibility. Ritual's testimonial page has many reviews from celebrities like nutritionists, nurses, fitness professors, and some who work in the healthcare industry. Ritual combines a short quote with interview videos to make testimonials more natural and lively.
7. Airship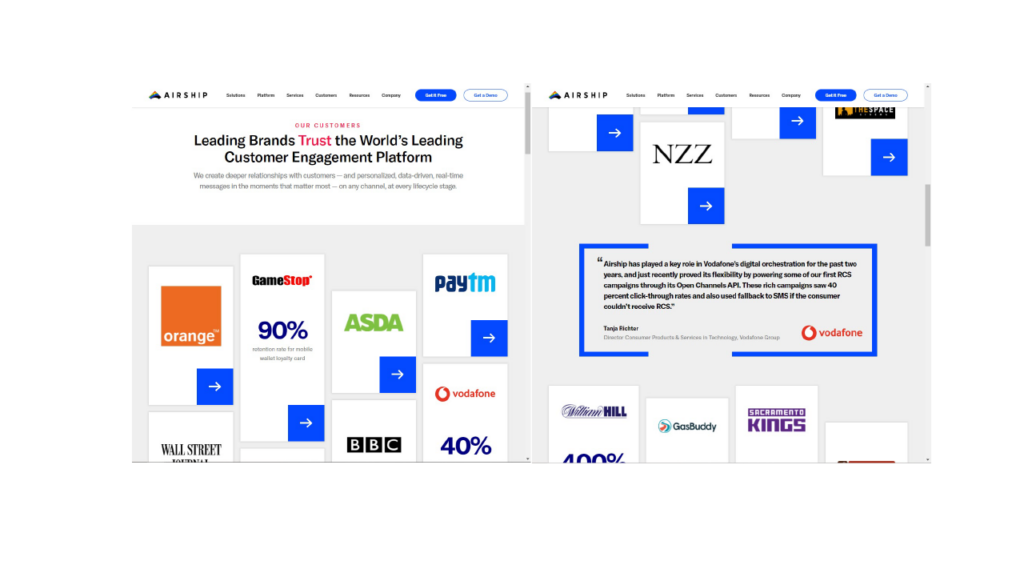 Founded in 2009, Airship is a pioneer in push notifications solutions, providing brands everything they need to create brilliant, orchestrated experiences, building trust, boosting engagement, and growing value.
On the testimonials page of Airship, we can be impressed by the outstanding logo arrangement of many companies with the quote nailed below. In addition, there are lengthy case studies about experiences and achievements with the customer engagement platform inside each logo.
8. Factory Berlin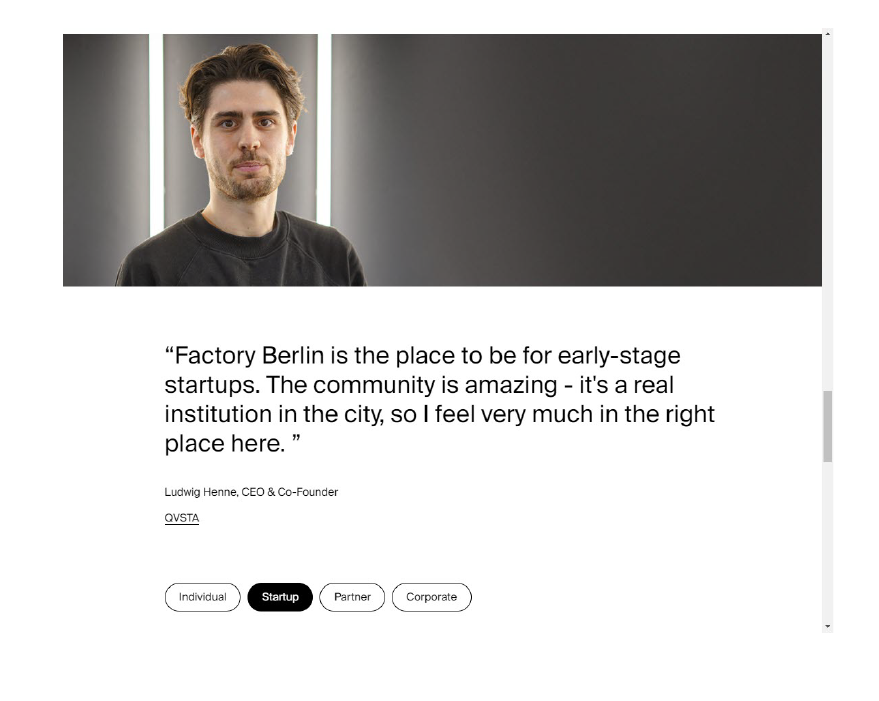 Factory Berlin is the most robust innovation network in Europe: a curated community of 3500+ creators from the world of startups, tech, and corporations. They provide connections and resources for every startup, corporate, and individual to help them do what they do better.
In Factory Berlin, sometimes, testimonials don't have to come from customers. They can come from members or partners. Looking at the Factory Berlin website, we can quickly feel the credibility.
9. Amazon Web Service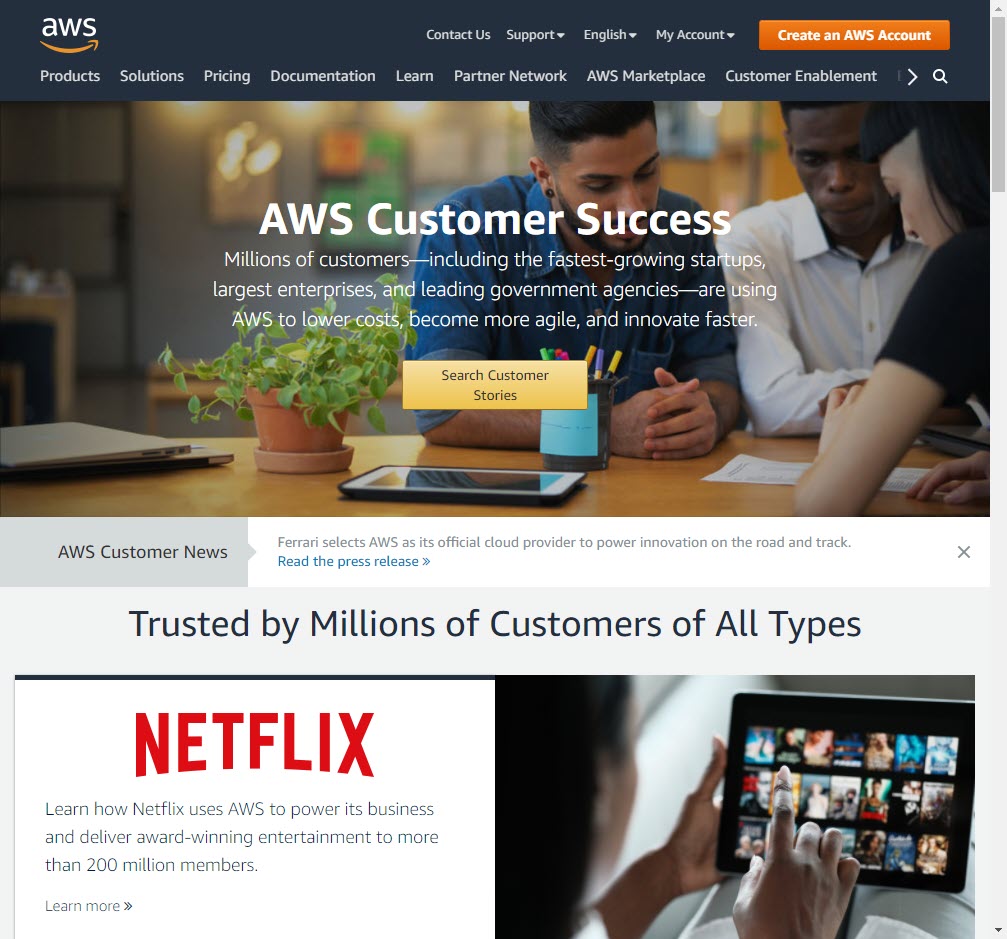 Amazon Web Services is a subsidiary of Amazon providing on-demand cloud computing platforms and APIs to individuals, companies, and governments on a metered pay-as-you-go basis.
On AWS, go to Solutions, then AWS Customer Success; AWS displays many Customer Stories here. Netflix is more prominent above all. Moreover, you can read more detailed information about the case study by clicking on each customer section.
10. Delighted
As you can see, the Delighted testimonial page design has a clear and stunning layout. On the top of the page are famous branding logos for Delighted customers. Below, each section includes the feedback and stories from the leaders of the brands.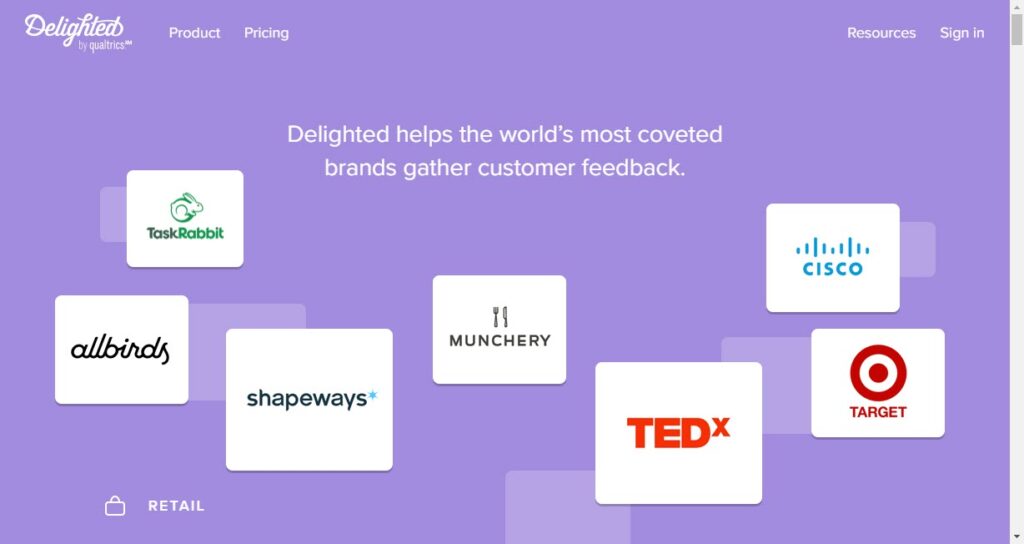 11. Slack

Slack is a proprietary business communication platform developed by the American software company Slack Technologies. It offers many applications; one of them is a chat room. Slack has a professional and stunning testimonial page.
By giving quotes, customers have revealed what improved their business after adopting or using your product. It made a significant difference in communicating your product's value and efficacy. Each customer section will link to the entire case study.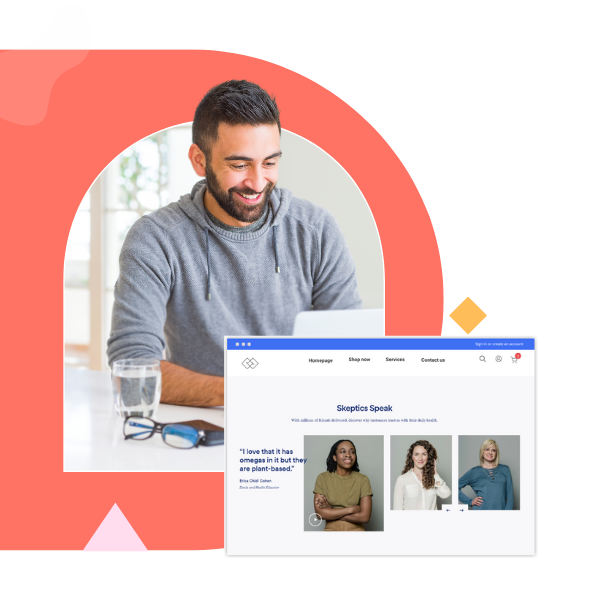 Try FREE Magezon Page Builder demo today
Easily create your engaging Magento testimonial pages in any style whenever you want without relying on developers or designers. Just by drag & drop.
12. SalesForce

Salesforce.com, Inc. is an American cloud-based software company headquartered in San Francisco, California. It provides customer relationship management service and a complementary suite of enterprise applications focused on customer service, marketing automation, analytics, and application development.
Salesforce has stuck the testimonials on their page called "Customer Success." Their testimonial page includes quote text, interviewing videos, and real stories from many famous brands.
13. Codecademy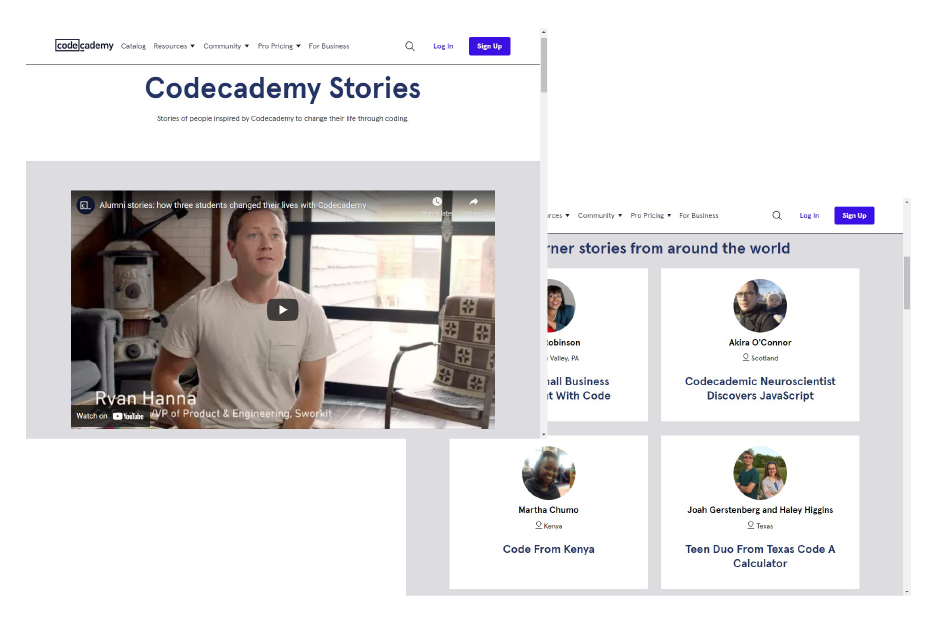 Codecademy is a platform that provides online coding classes in 12 different programming languages like Python, Java, SQL,…
Instead of showing many video testimonials, Codecademy displayed one centralized video at the top of the page. With this method, Codecademy quickly gets attention from visitors to click on the 2-minute video.
14. Applause Lab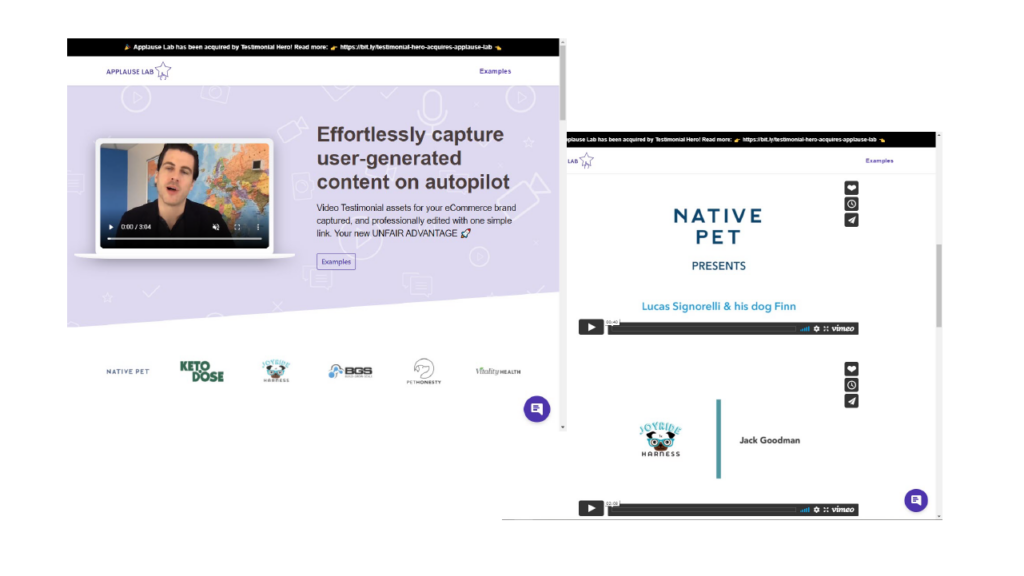 Applause Lab might be called an Agency which produces and edits video testimonials for businesses. Accessing the Applause Lab website will satisfy us with many eye-catching video samples.
15. Zoom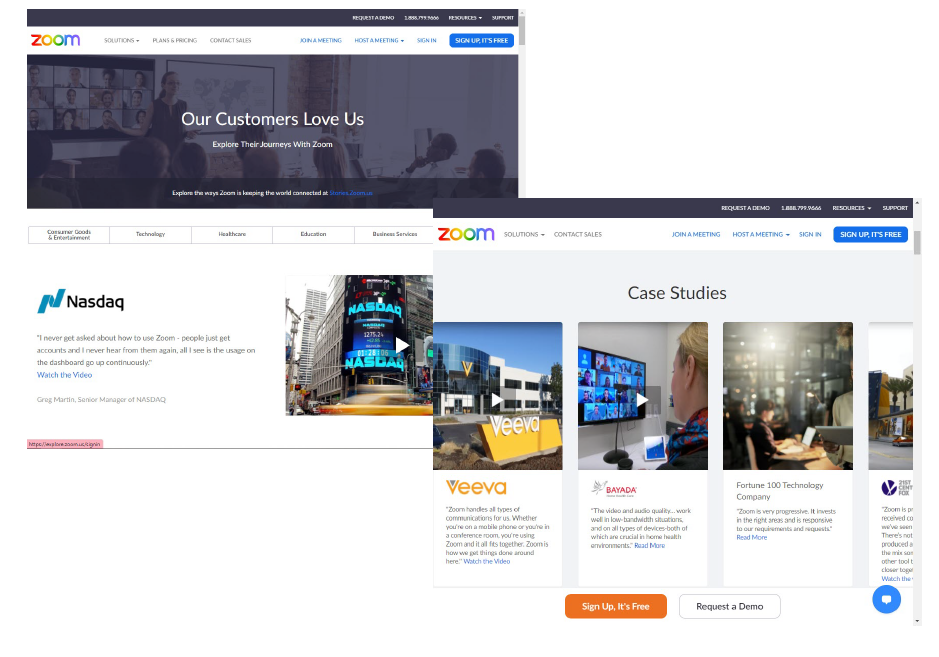 We all know about Zoom, a famous and user-friendly video meeting application. At first sight, we can get the main statement on the customer page that people only get the accounts and use them without questions. Many case studies from well-known companies have video testimonials when scrolling down the page.
16. Grammarly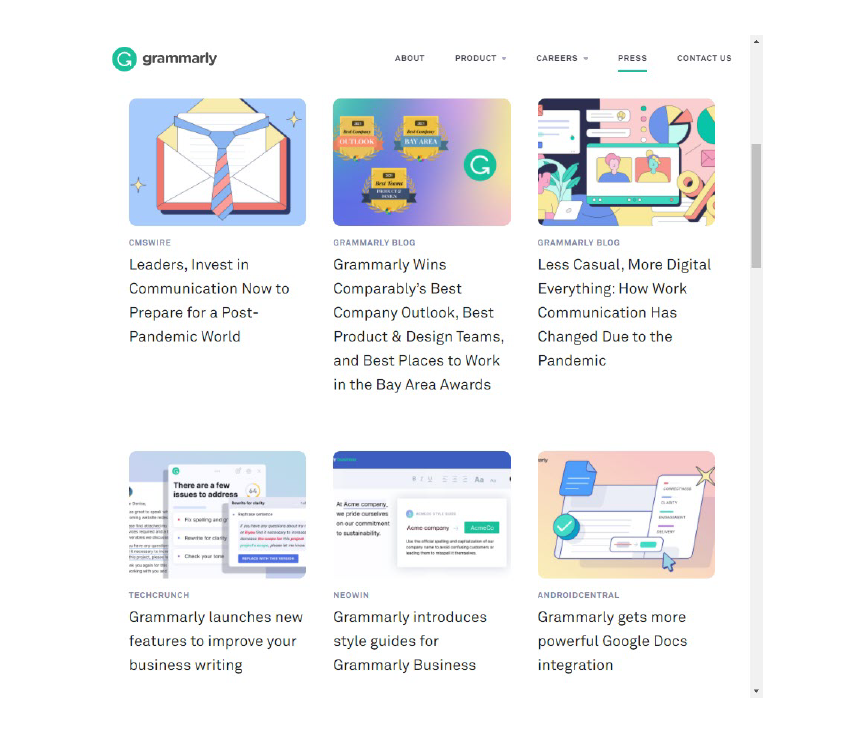 Grammarly is a cross-platform, Cloud-based writing assistant that reviews spelling, grammar, punctuation, clarity, engagement, and delivery mistakes in real time.
Talking about Grammarly's testimonial page, it looks pretty simple. Instead of showing customers' reviews, Grammarly publishes press testimonials on their page. You can click on each section to read the full versions.
17. Odoo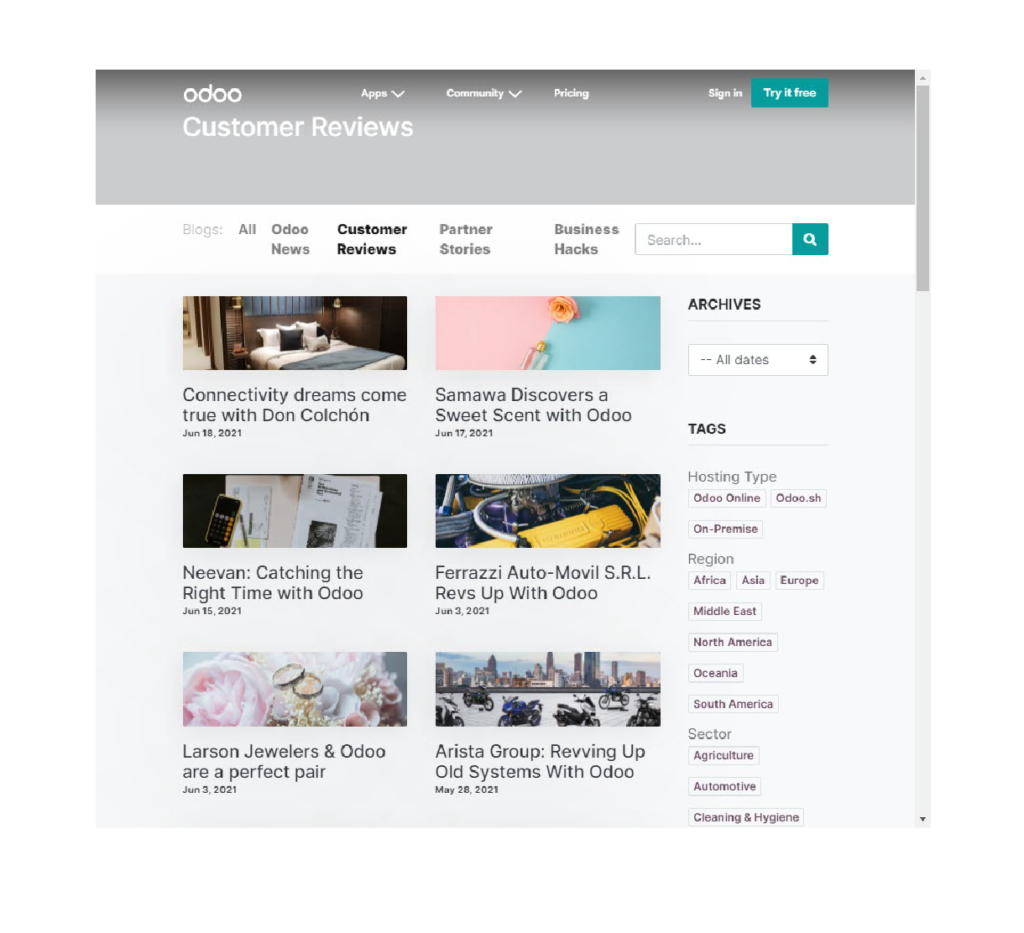 Odoo is a company that provides business management software, such as CRM, e-commerce, billing, accounting, manufacturing, warehouse management, project management, and inventory management.
I love their customer testimonials page because it provides a variety of content formats like Odoo News, Customer Reviews, and Partner Stories.
18. Base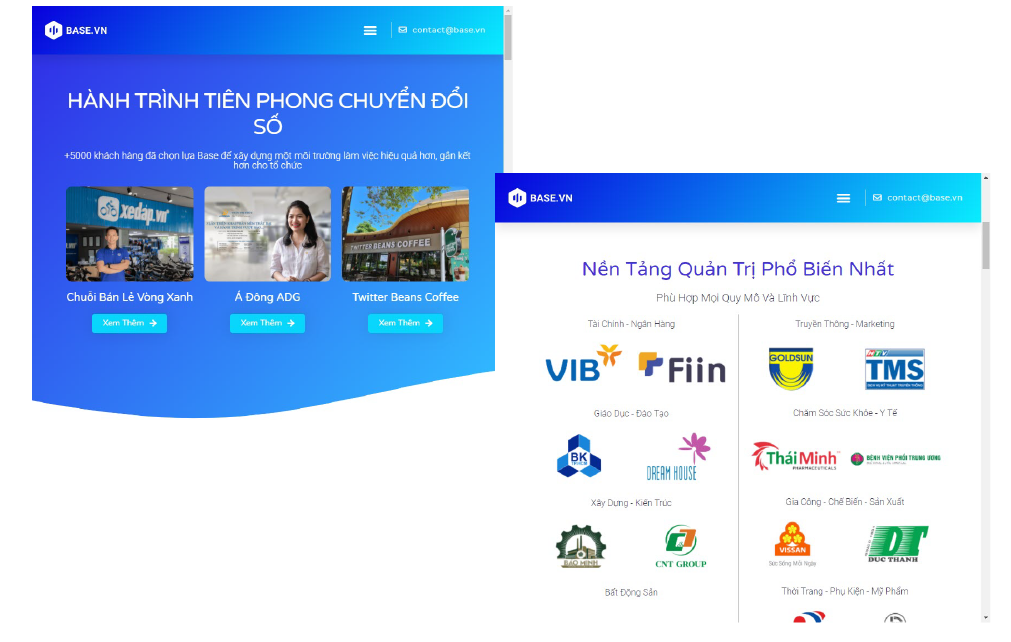 Base.vn is the number one popular business management software in Vietnam. More than 5,000 businesses in many different industries are using this platform.
As you can see, this company leverages its customers to tell the stories of how good its software did, making this page a focal point for its website's main navigation.
19. Asana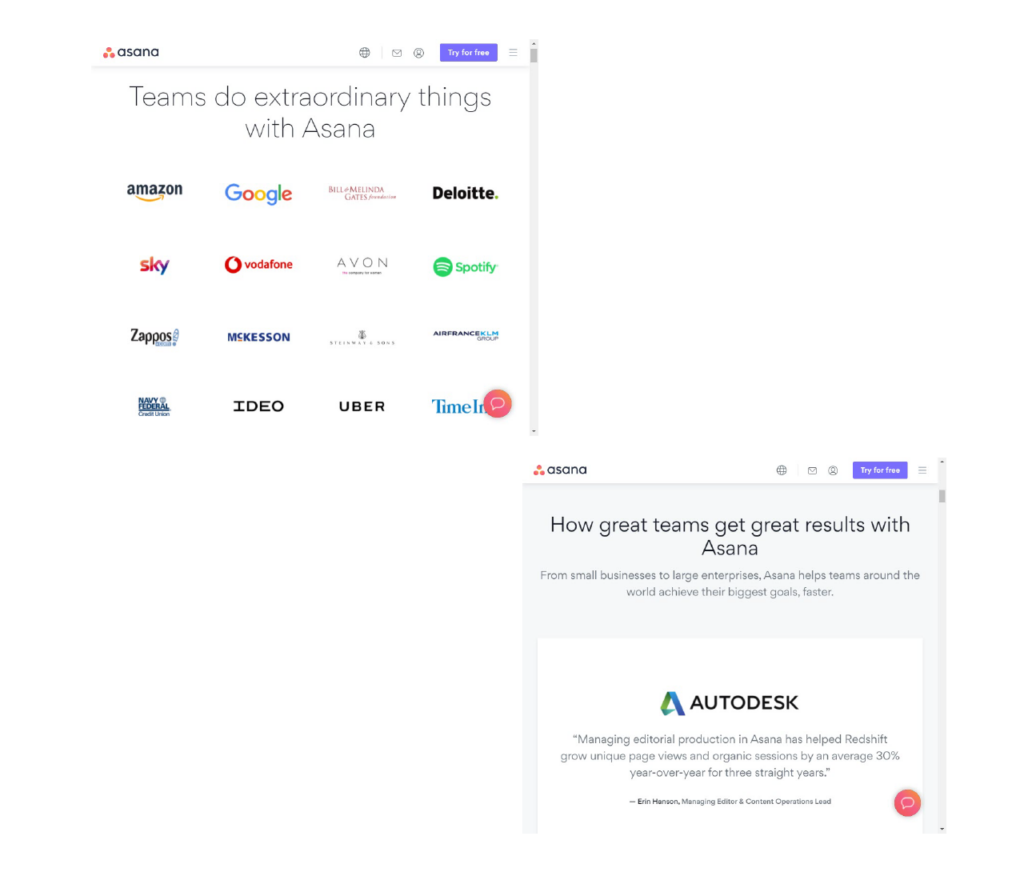 Like the business management platform I mentioned above, Asana is a web and mobile application designed to help teams organize, track, and manage their work.
Asana's testimonial page is beautifully laid out and functional, with a logos menu and thumbnails linking to the full customer stories for various big-name brands. This is a clean and concise way to showcase their happy customers and help prospects gain the assurance they need before investing.
20. Notion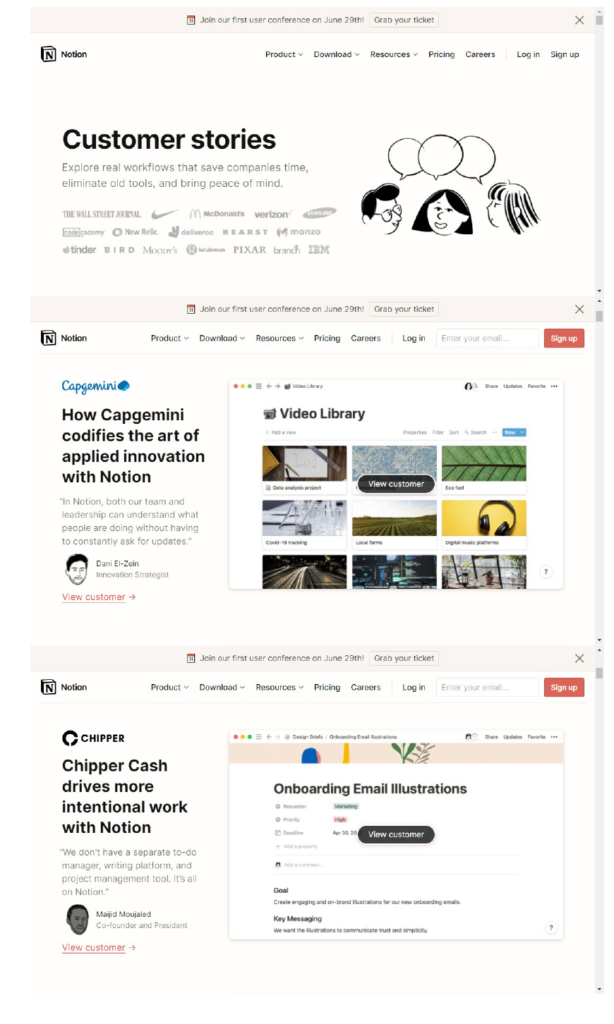 Notion is an application that provides components such as notes, databases, kanban boards, wikis, calendars, and reminders. Users can connect these components to create knowledge management, note-taking, data management, and project management systems. (Wikipedia)
Their customer testimonial page is a powerful way of explaining their mission and workflow. Several students, workers, and businesses are willing to share their stories. They use flexible words and short videos to tell how Notion helped them change their workflow and management completely.
21. Shopify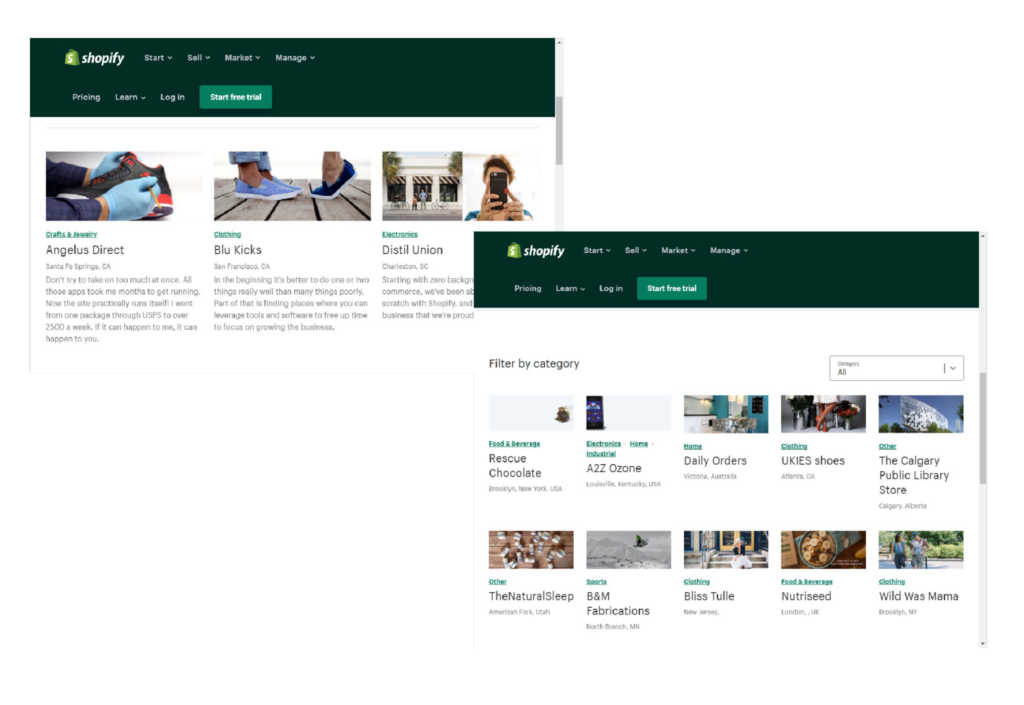 Shopify is a global e-commerce platform from Canada. It is a proprietary e-commerce platform for online stores and retail point-of-sale systems.
Success Stories on Shopify are quite the same as others. However, the unique thing I like on the testimonial page is that there's a prominent call to action that asks Shopify customers to share their stories!
22. McAfee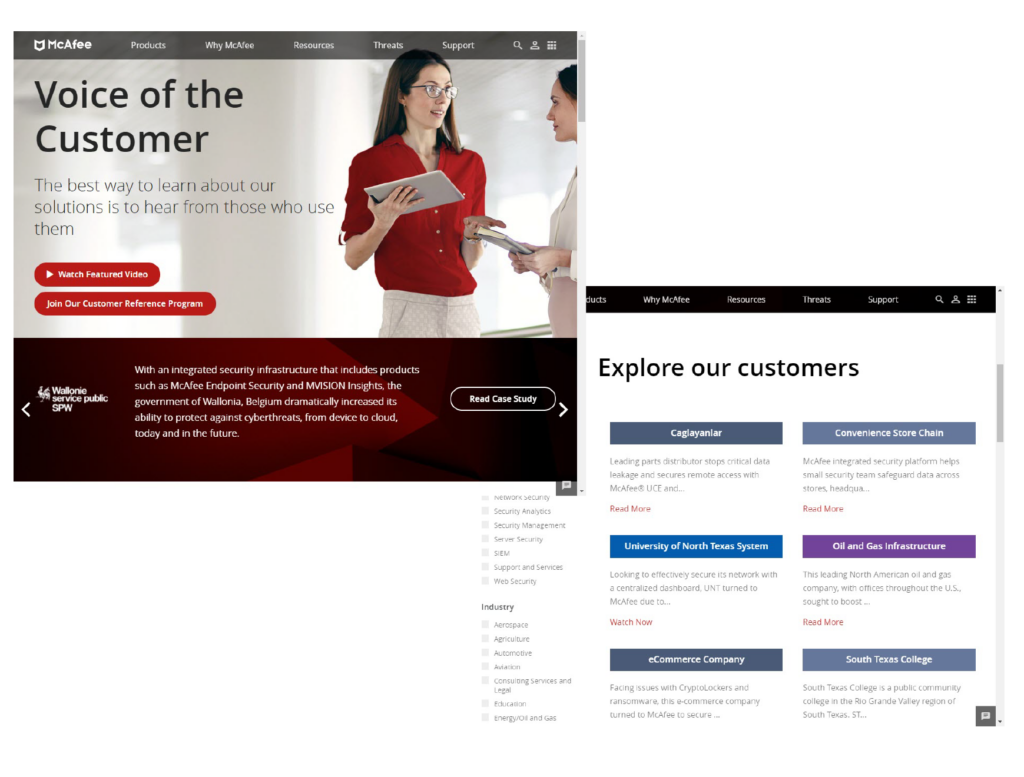 McAfee is a global computer security software company in the USA. It acquired a reputation for its antivirus software.
The testimonial page on McAfee is different from others because of the combination between video testimonials and case studies. Especially instead of showing the video on the page, there is a button for those who want to watch the featured video. If not, they can scroll down to read the case studies and watch other videos below.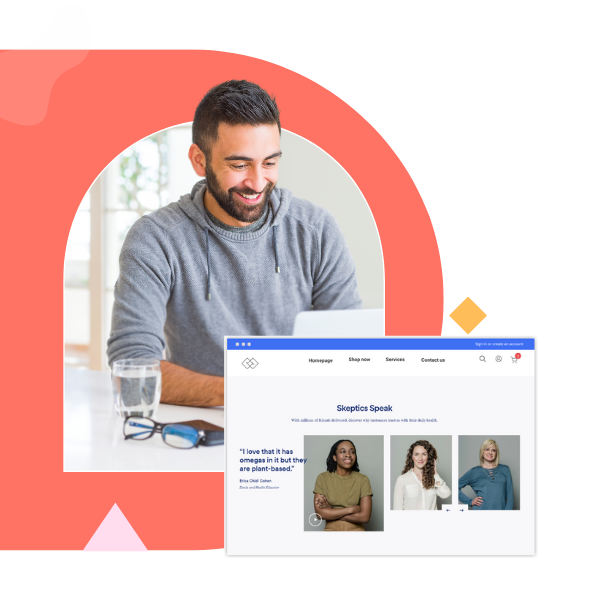 Try FREE Magezon Page Builder demo today
Easily create your engaging Magento testimonial pages in any style whenever you want without relying on developers or designers. Just by drag & drop.
23. Bitdefender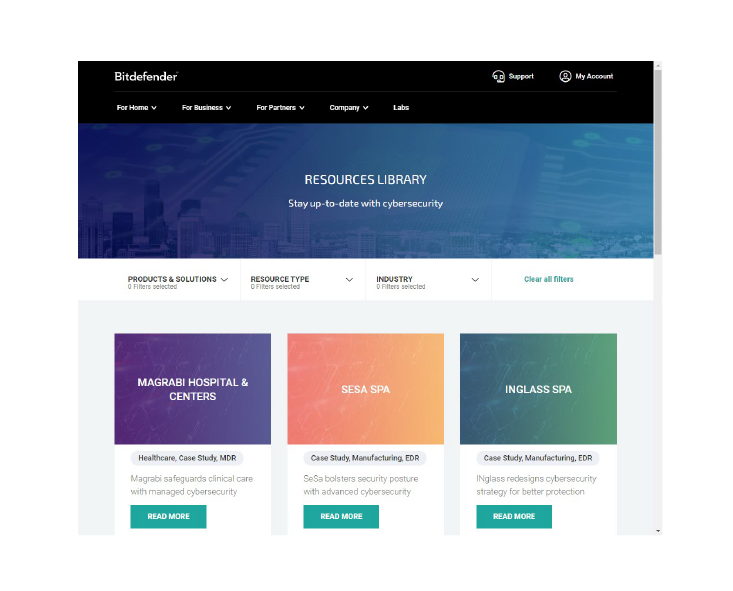 Bitdefender is a Romanian cybersecurity technology company headquartered in Bucharest, Romania, with offices in the United States, Europe, Australia, and the Middle East. It offers cybersecurity services, solutions, and products for individuals and businesses.
Different from others, Bitdefender does not display case studies with colorful thumbnails. Instead, they showcase these with synchronized and simple patterns.
24. Workday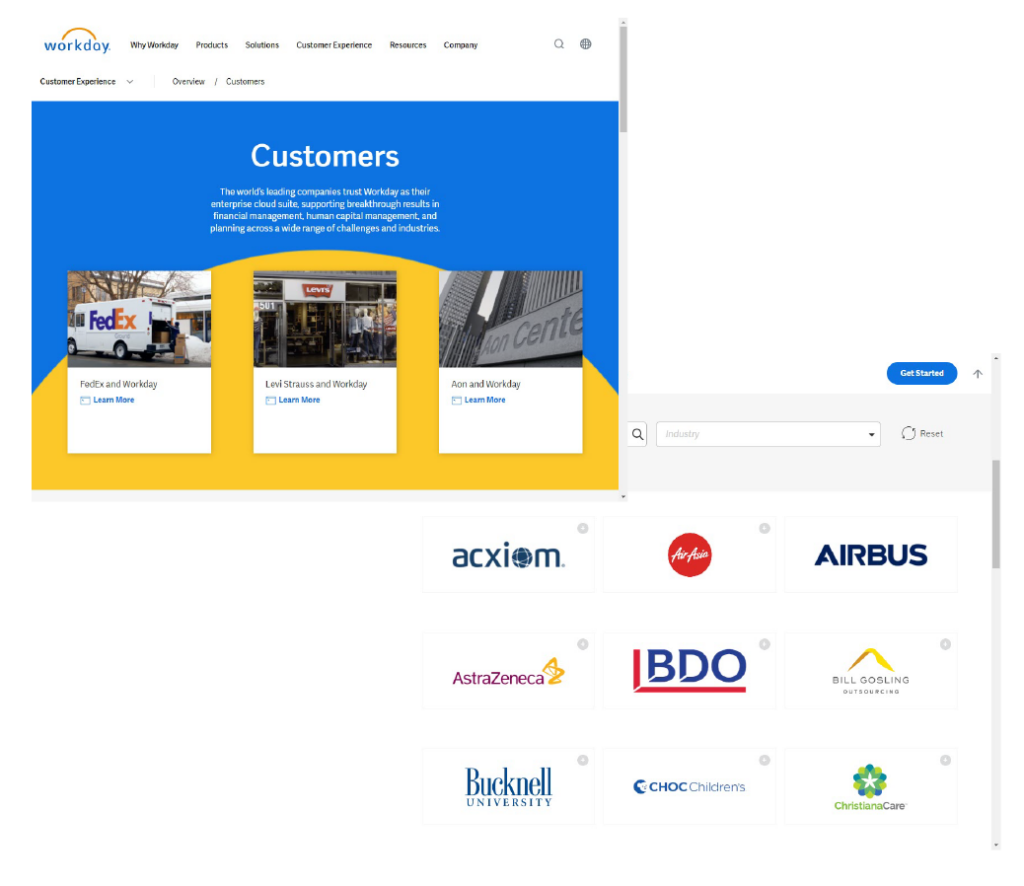 Workday, Inc. is an American on‑demand financial and human capital management software vendor. Workday products are solution software, including Financial Management, Human Capital Management, Expenses, Payroll, Procurement, Time Tracking, and Extend.
Workday succeeded with a stunning testimonial page, one of the examples of good reviews for the business. In addition, they flexibly combined text, logos, and case studies to show what Workday did for customers. Go to each case study section. We might be surprised by the information in many formats, like text, video, and infographics.
25. SAP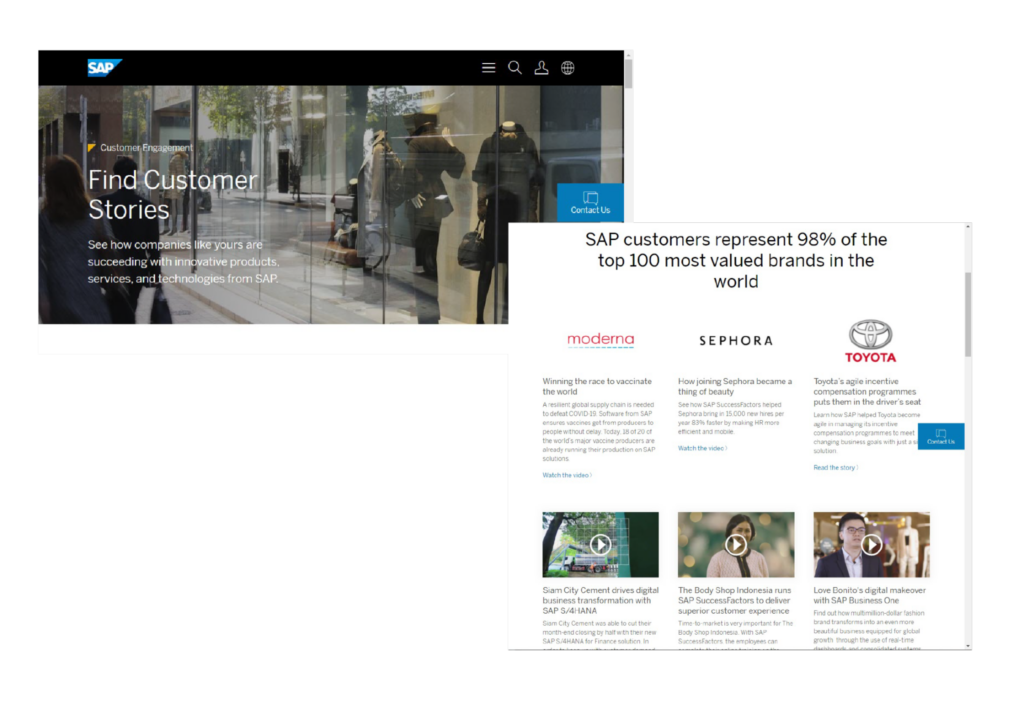 SAP is the market leader in business application software that helps enterprises manage business management, operation, and customer relationships.
SAP not only conveyed the customer testimonial through case studies and videos but also nailed down impressive information about their customers: "SAP customers represent 98% of the top 100 most valued brands in the world." This leaves their mark on new visitors' minds.
26. HES Fintech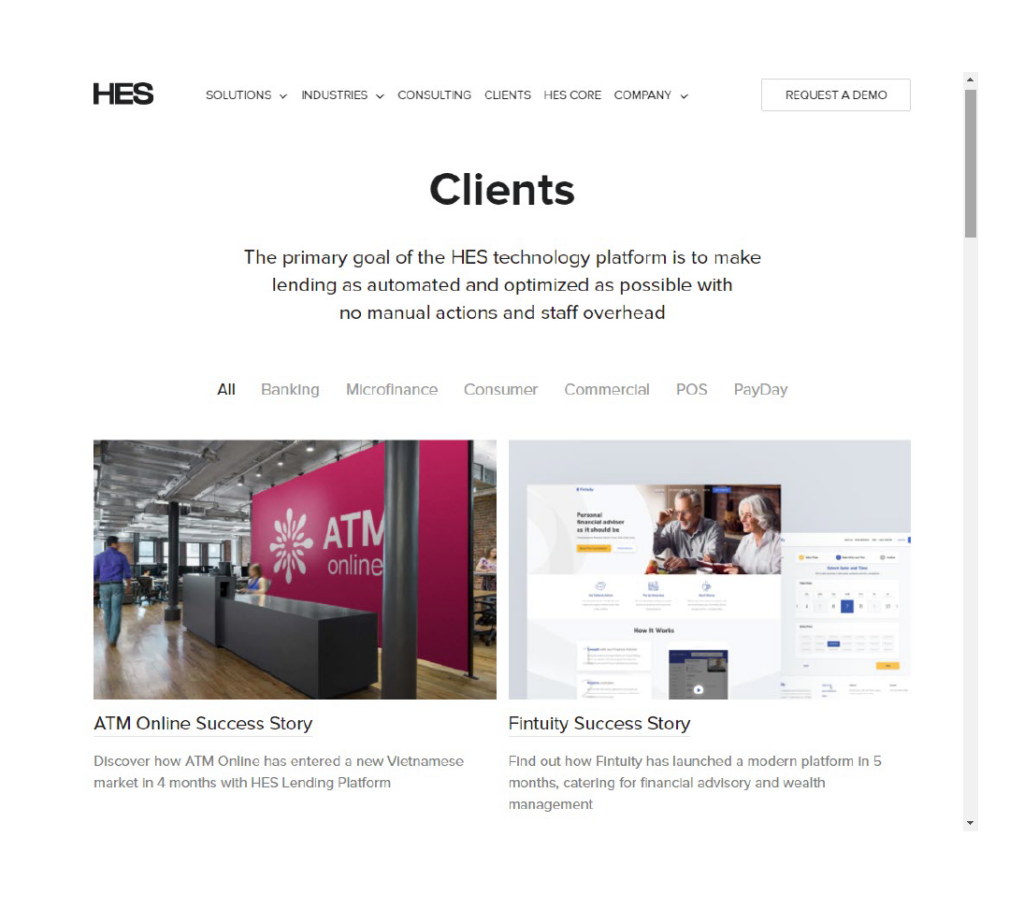 HES Fintech provides loan management software for banks and finance businesses. HES today is a trusted, long-term partner of 115 financial institutions in over 25 countries worldwide (and counting) with their expertise.
Their testimonial page is named "Clients" and arranged into seven subcategories. These are All, Banking, Microfinance, Consumer, Commercial, POS, and PayDay. HES chose the case studies method to convey the testimonials with stunning thumbnails.
27. Rubik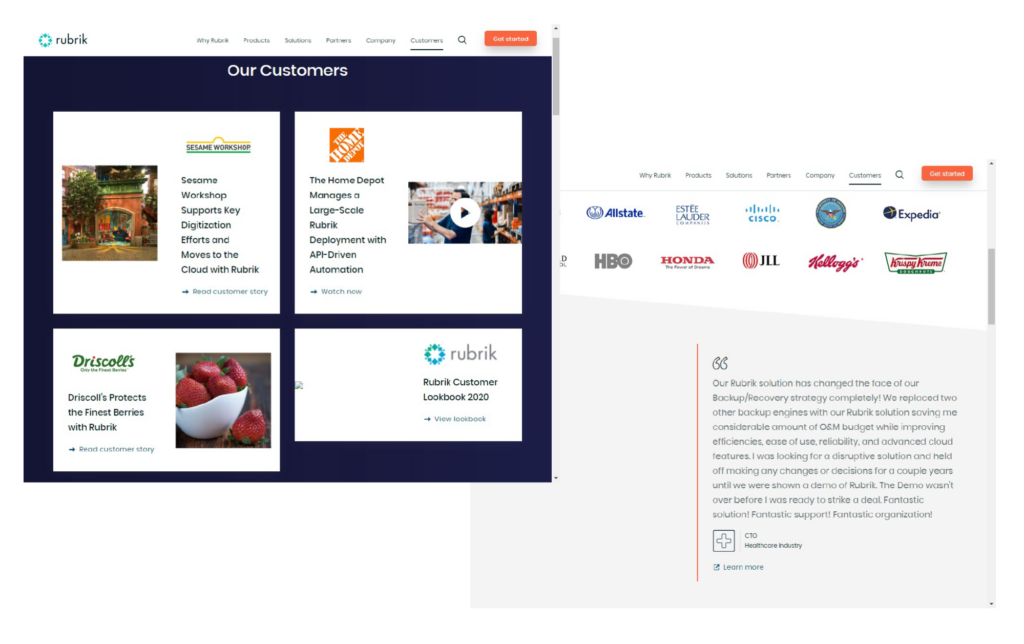 Rubik's "Our Customer" page, a data solution for business, displays testimonials in four clear sections. At the top of the page, they showcased featured case studies. Below are client logos and a review from a famous organization. The final section is a complete list of case studies visitors can look up.
28. Logz.io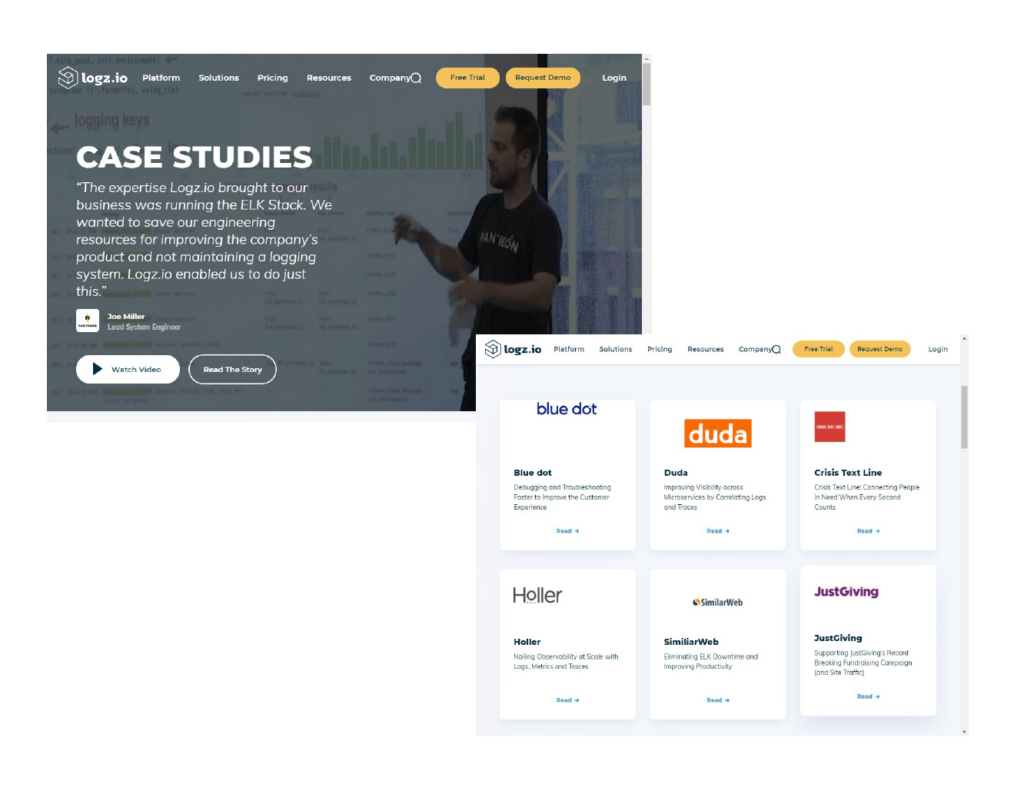 Logz.io is an Israel-based company that provides the best-of-breed open-source monitoring tools on a fully managed cloud service.
On the "Case Studies" Page, they start by sharing a video mashup featuring several of their customers, and as you scroll down the page, you'll see case studies.
29. Stripe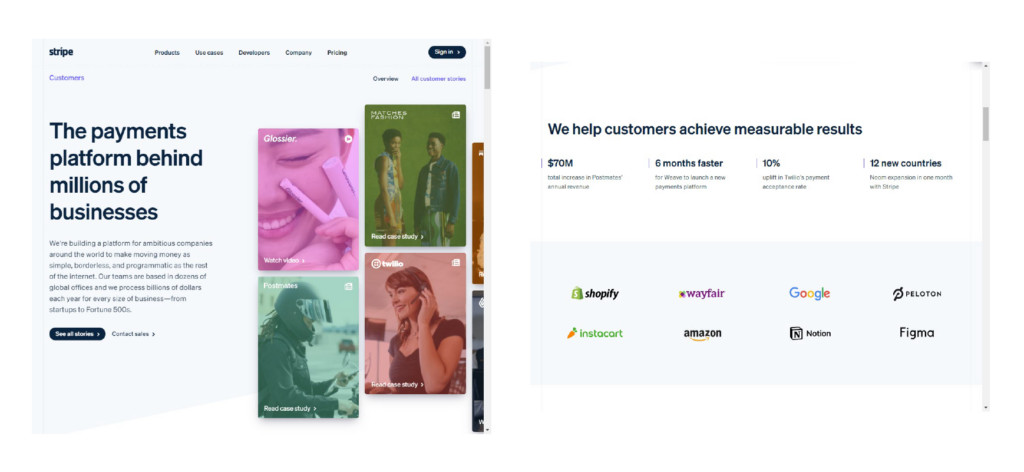 Stripe is an Irish-American financial service and software company dual-headquartered in San Francisco, United States, and Dublin, Ireland. The company primarily offers payment processing software and application programming interfaces for e-commerce websites and mobile applications. (Wikipedia)
Stripe is a testimonial example of services. On the Customer page, they used data to demonstrate the reach and credibility of the business, so shoppers can see that the brand has a broad base of support.
30. Magezon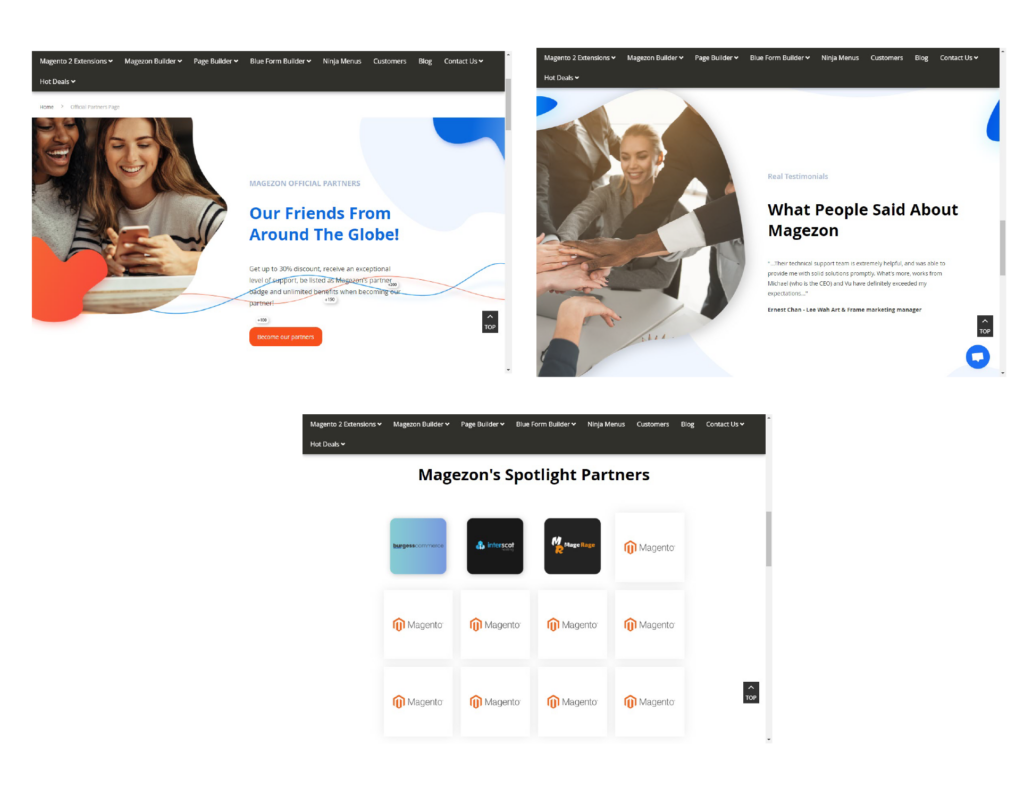 Magezon is a B2B solution company that guarantees you quality and trusted Magento extensions and the best support. All you need to do is deal with waiting for orders from customers.
Magezon's page is one of the short testimonials examples. Magezon highlights big partners to enhance their brand. As a result, they take the spotlight away from many customers and shine it on the partners, who are the market leaders.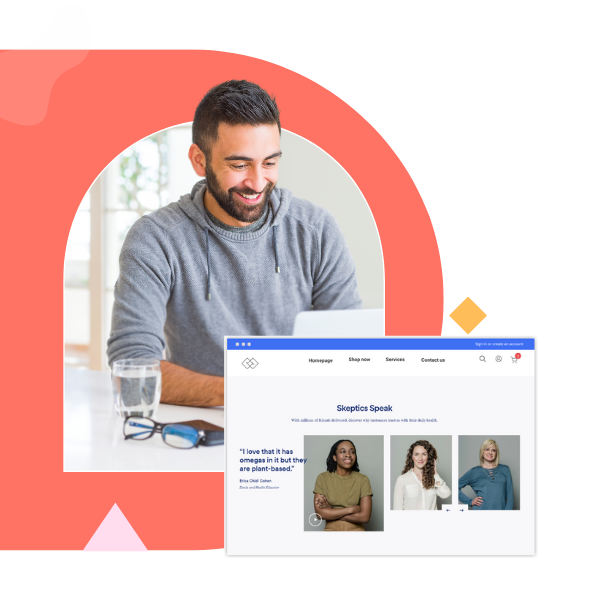 Try FREE Magezon Page Builder demo today
Easily create your engaging Magento testimonial pages in any style whenever you want without relying on developers or designers. Just by drag & drop.
31. Instacard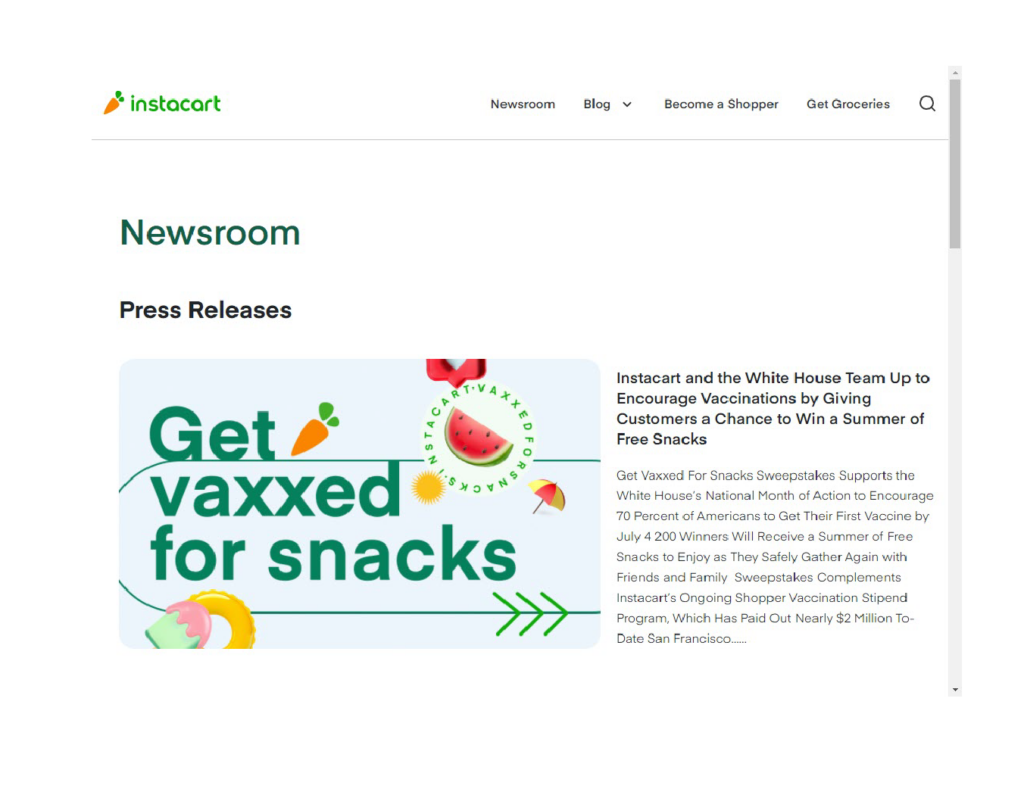 Instacard is an e-commerce store that allows customers to order groceries from participating retailers, with the shopping being done by a personal shopper via a website and mobile app.
Because Instacard has millions of shoppers, they conveyed their testimonials through Press Releases. In addition, they have a simple testimonial page to make visitors catch the vision and mission.
32. Flexport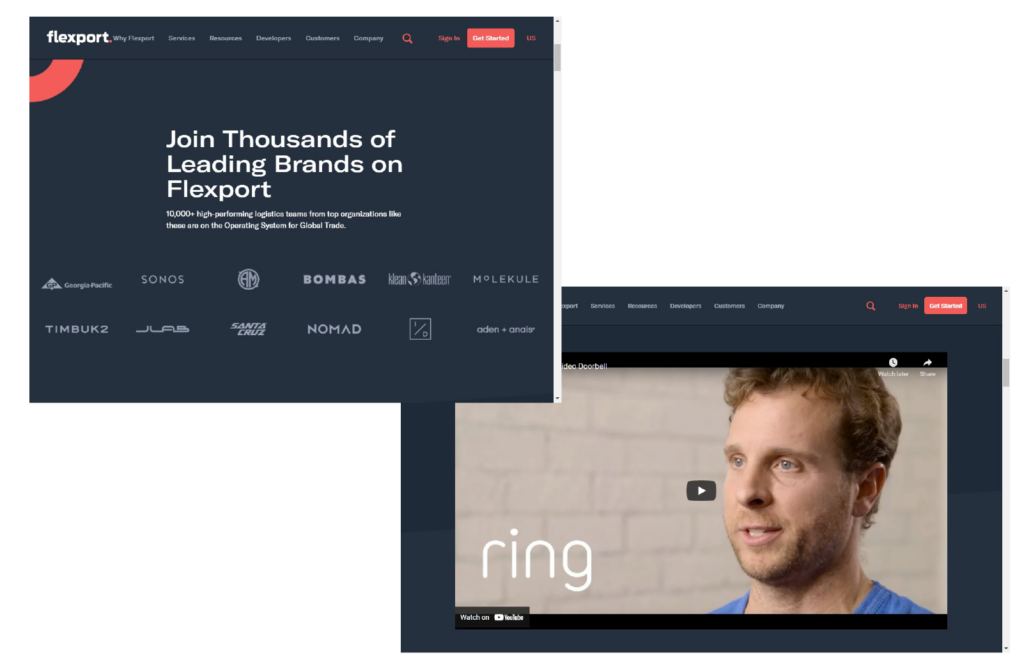 Flexport is a freight forwarding and customs brokerage company based in San Francisco, California. Flexport moves freight globally by air, ocean, rail, and truck for the world's leading brands.
At the top of their testimonial page, the Logistics company highlights how they can help thousands of leading brands by optimizing their freight shipments, digitally transforming operations, and growing their businesses. Like any testimonial page, Flexport showed off video testimonials and case studies to assert the brand in the section below.
33. Peloton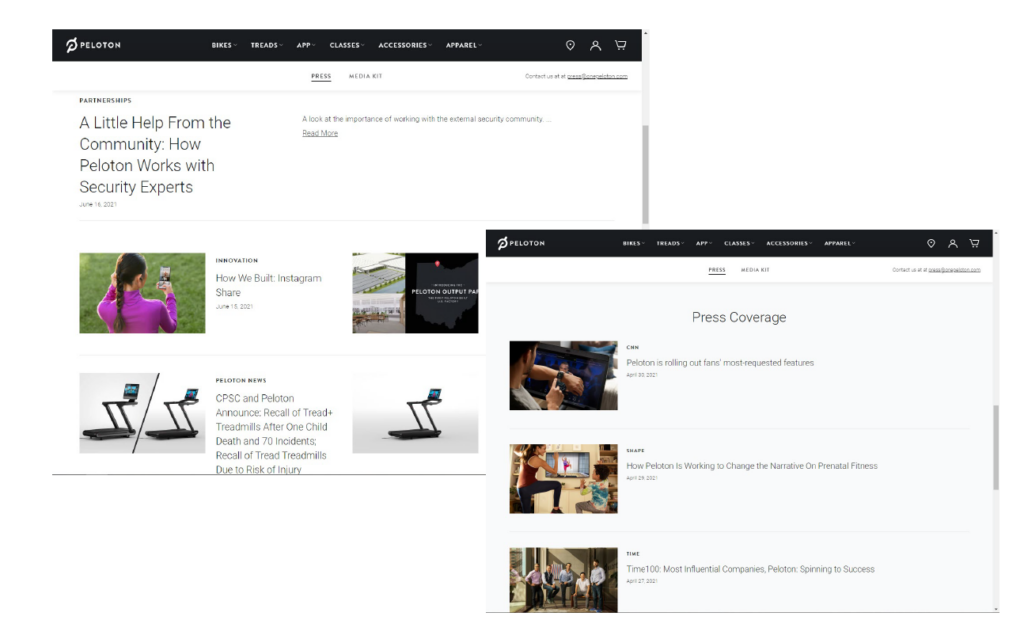 Peloton is an American company that sold exercise equipment, founded in 2012.
Peloton's press page has a classic visual layout that includes great headshots of real stories. These testimonials are presented as case studies and are heavy on the stats.
34. Figma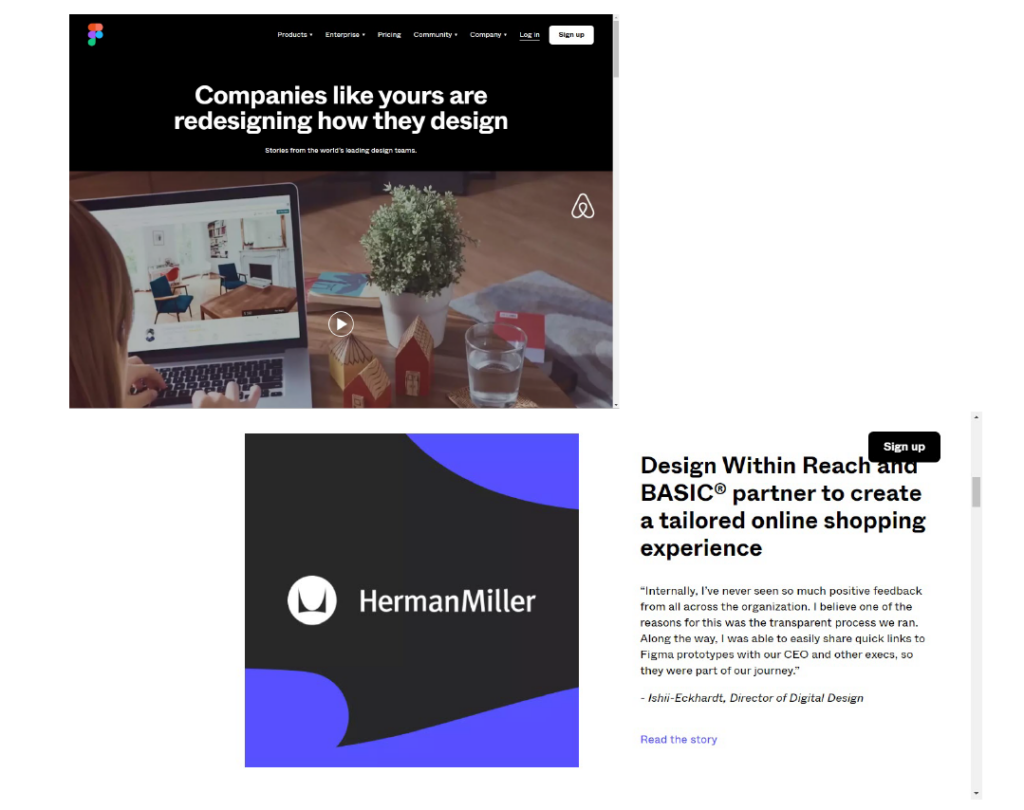 Figma's stories page focuses on people inspired by Figma. Featured above the fold, you'll find a video detailing the experiences of the world's leading design teams who got promoted, built rewarding businesses, and leveled up in their careers thanks to the service. Below the video, visitors can explore over a dozen other learner stories formatted as short interviews.
35. Gusto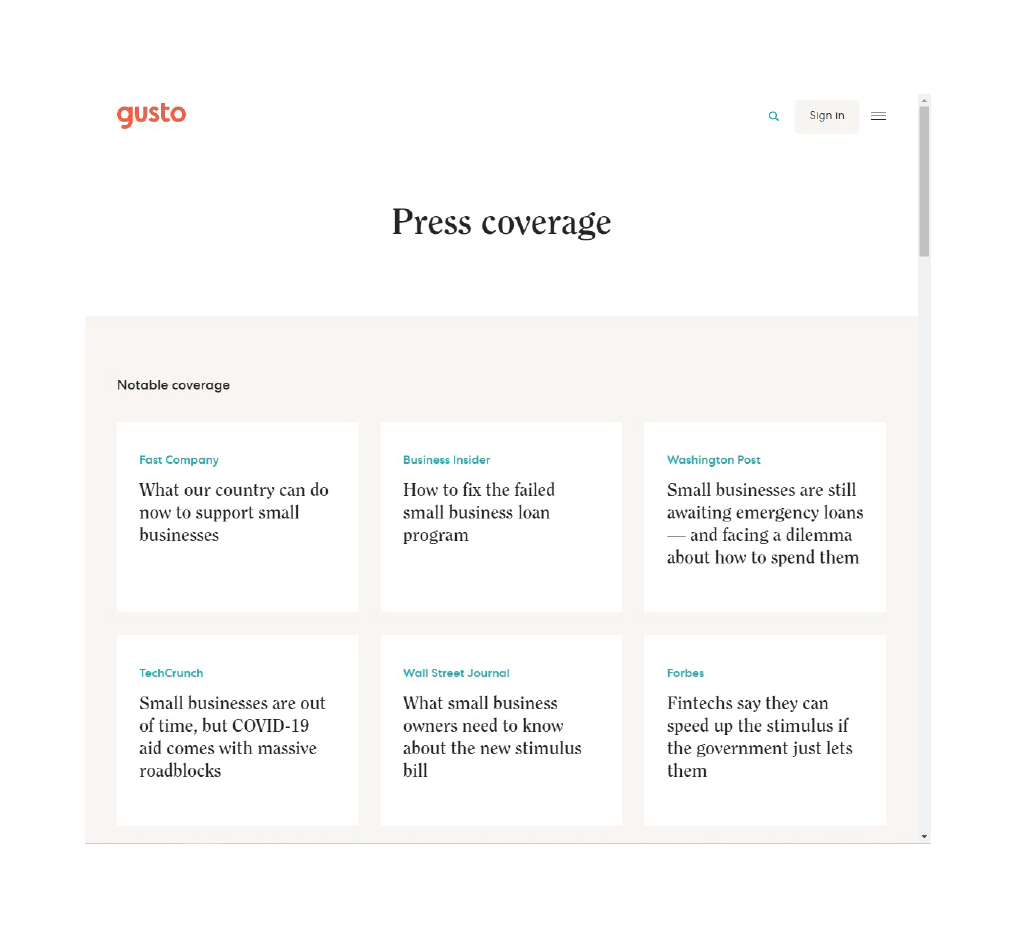 Gusto's Press Page has a classic visual layout that includes great headshots of news articles. They even do not use thumbnails. Instead, they use only impressive and clear titles to get visitors' attention.
36. Deliveroo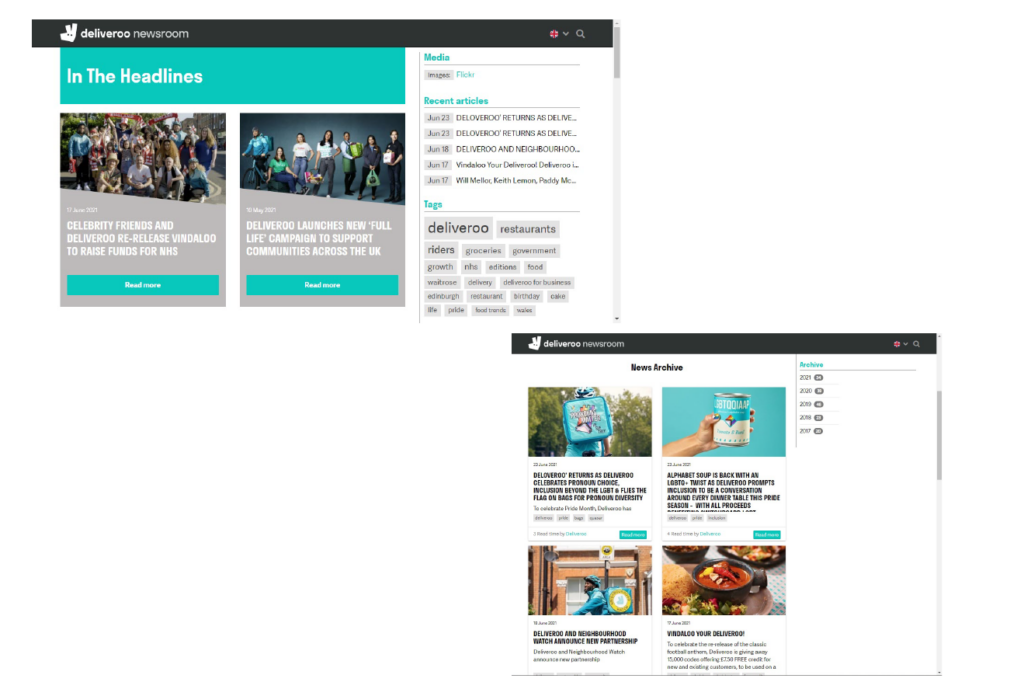 Deliveroo's testimonial page strikes a nice balance between text and visuals. Besides displaying articles with colorful thumbnails, they also add many recent articles, tags, and archives for a better user experience.
37. Travel Perk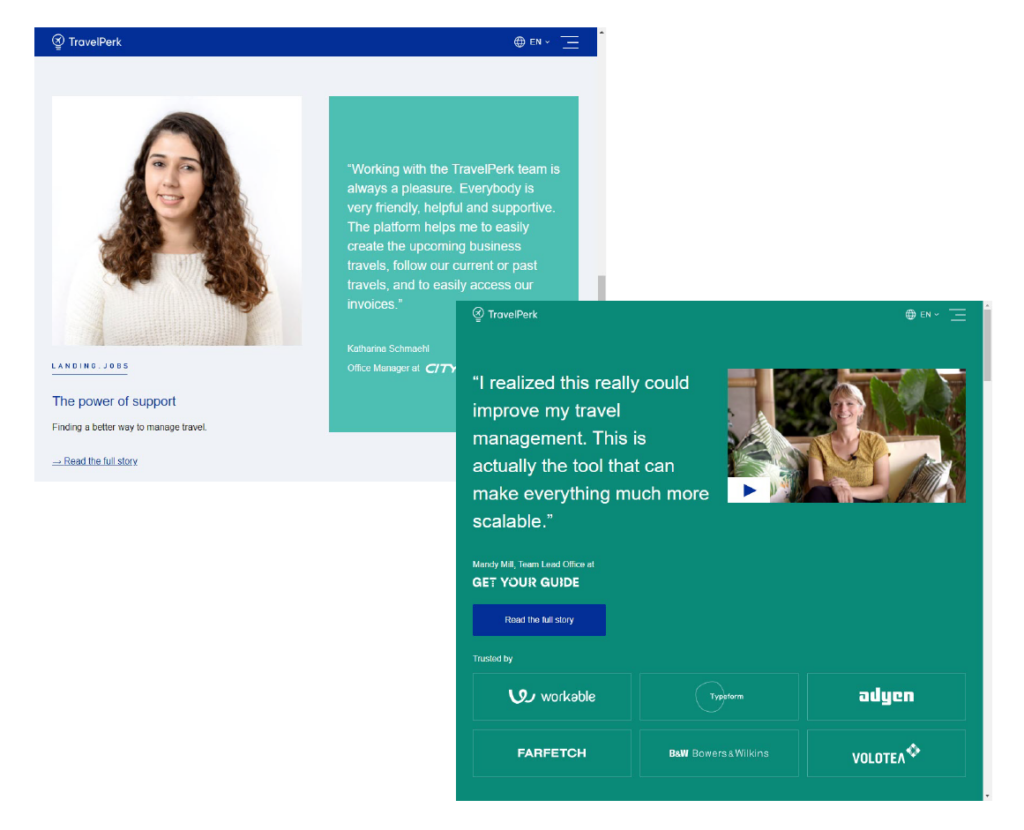 TravelPerk is a travel management company that sells its services to businesses. It provides business travel and expense management services by automating spending limits and travel policies.
Travel Perk has nailed down the testimonials section of its website. It includes a few customer quotes (pictures, names, and locations) linked to the story.
38. Doordash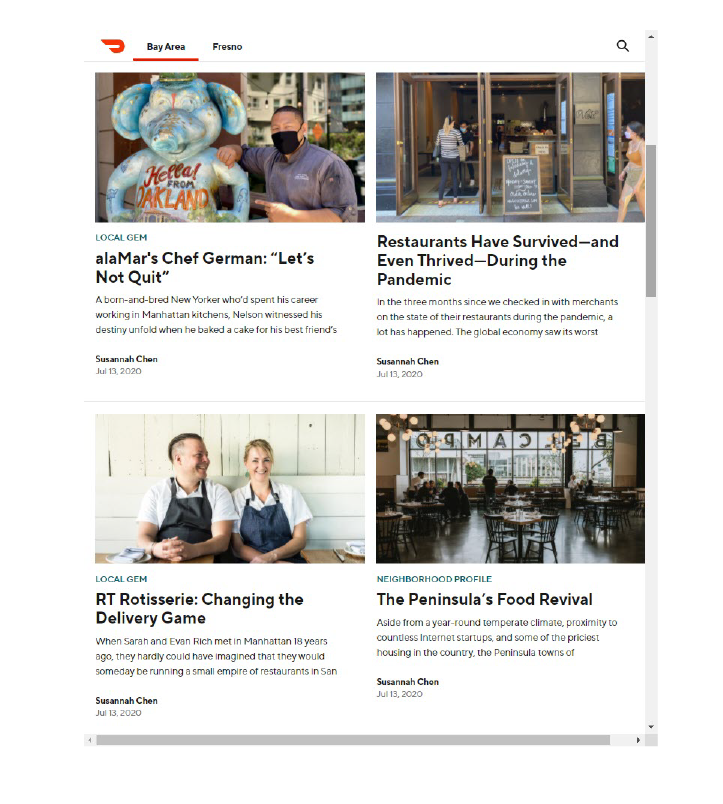 DoorDash, Inc. operates an online food ordering and food delivery platform. It is based in San Francisco. With a 56% market share, it is the largest food delivery company in the United States. It also has a 60% market share in the convenience delivery category. (Wikipedia)
On the Stories page, DoorDash told many successful stories of many restaurants and cuisines that are DoorDash's Partners.
39. Menulog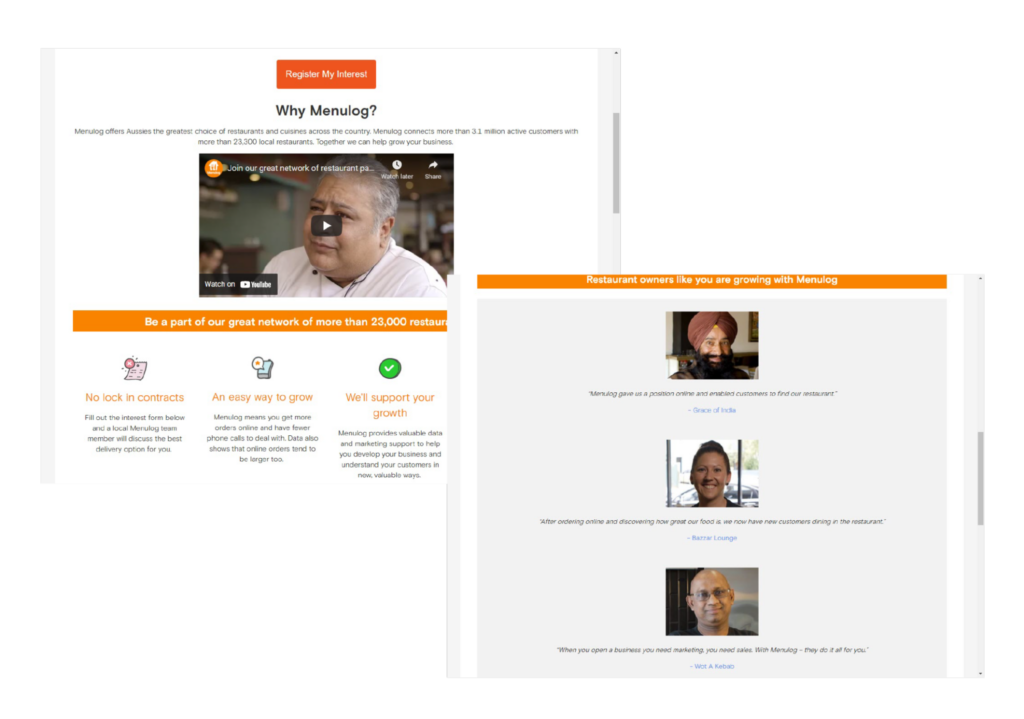 On Menulog, featured above the fold, you'll find a video interviewing many customers who have cooperated with Menulog. Below the video, visitors can explore over
a dozen other feedbacks from many restaurant owners.
40. Grab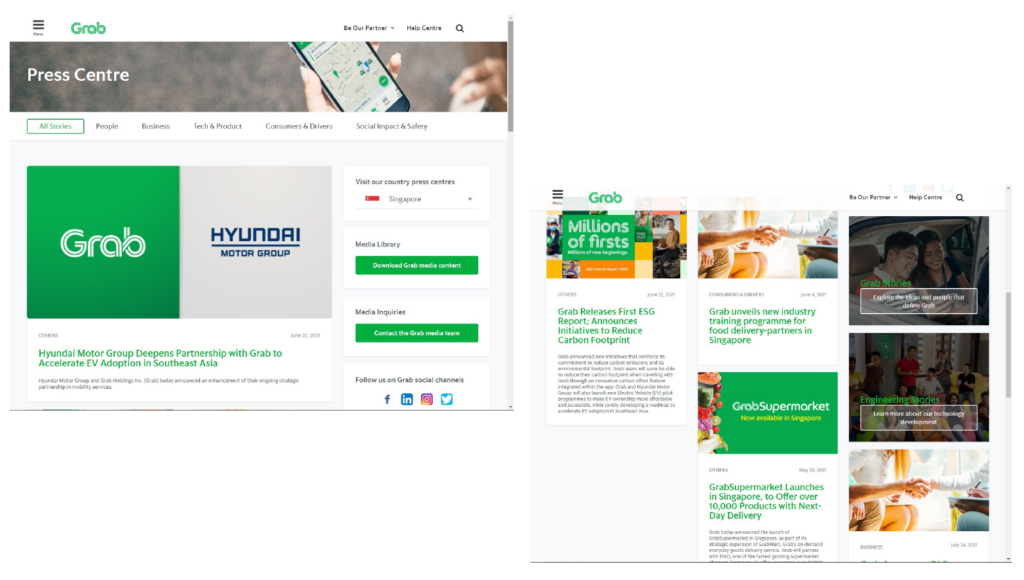 Grab has a Press page divided into five categories: People, Business, Tech & Product, Consumers & Drivers, Social Impact & Safety. Navigating each category, it has different and tempting stories with outstanding green titles. Visitors can click to read more of the stories.
41. Vodafone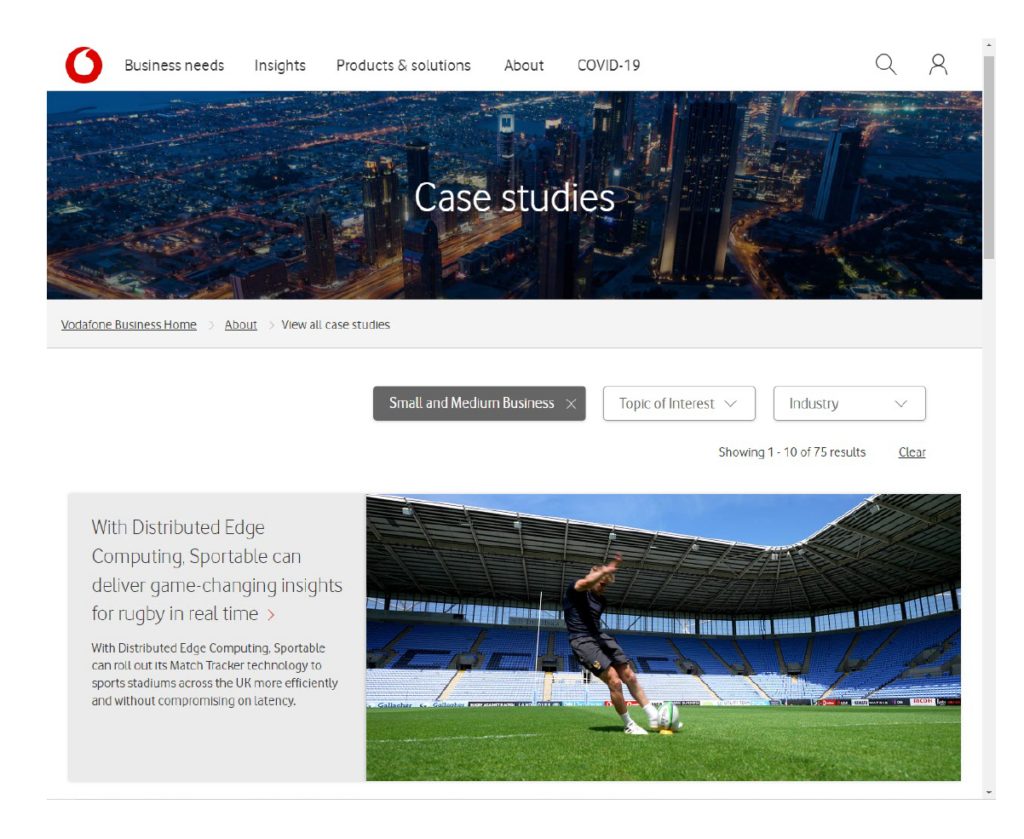 Looking at the Case Studies page of Vodafone, it is not different from a reputable news site, including formal layout, colors, and text font. Perhaps, Vodafone is a multinational telecommunication company. They choose a minimal style for their website.
42. Avon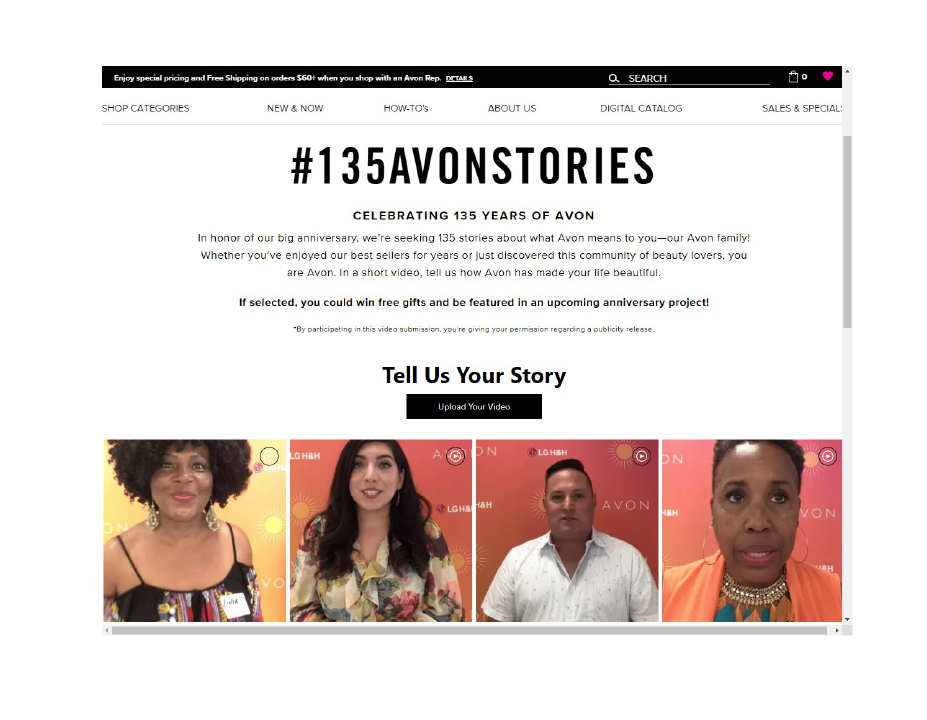 Avon, a multinational cosmetics, skincare, fragrance, and personal care company based in London, chooses the video testimonial method to communicate its brand to everyone. All videos on the testimonial page are simple and recorded by the customers. This makes every testimonial format seem natural, even though they do not look professional.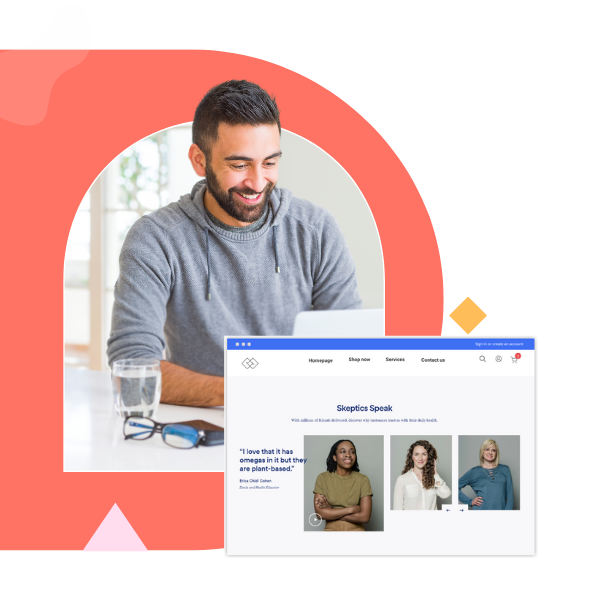 Try FREE Magezon Page Builder demo today
Easily create your engaging Magento testimonial pages in any style whenever you want without relying on developers or designers. Just by drag & drop.
43. Deloitte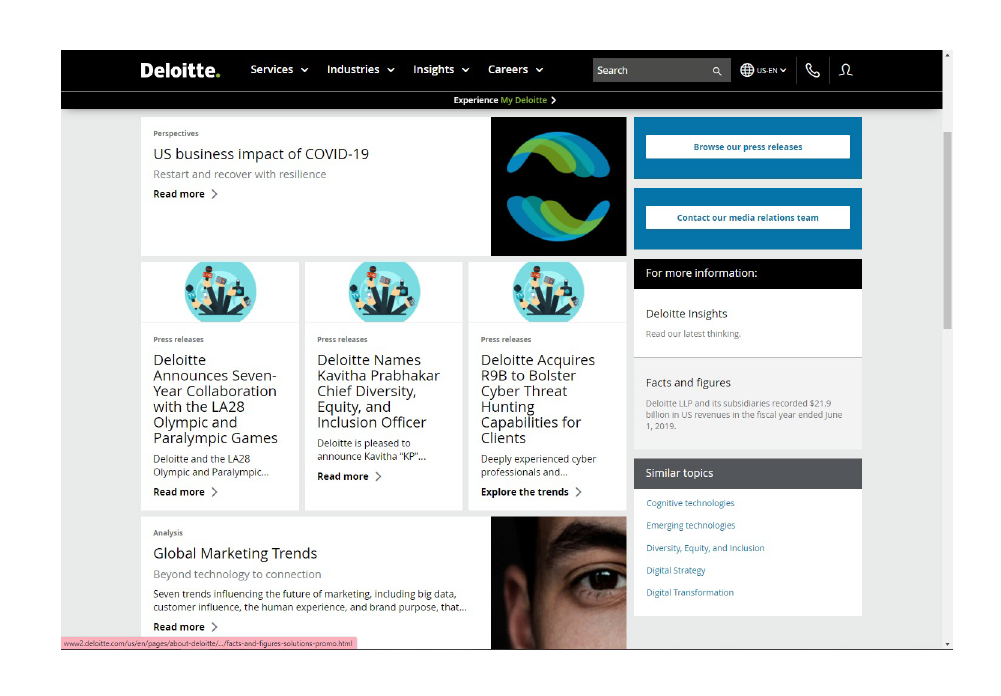 Deloitte provides industry-leading audit, consulting, tax, and advisory services to many of the world's most admired brands.
Because of its professional services network for businesses, Deloitte designed a professional website with dark colors. This makes the page look minimalistic and trustworthy. Without a doubt, it is one of the standard company testimonial examples.
44. Paypal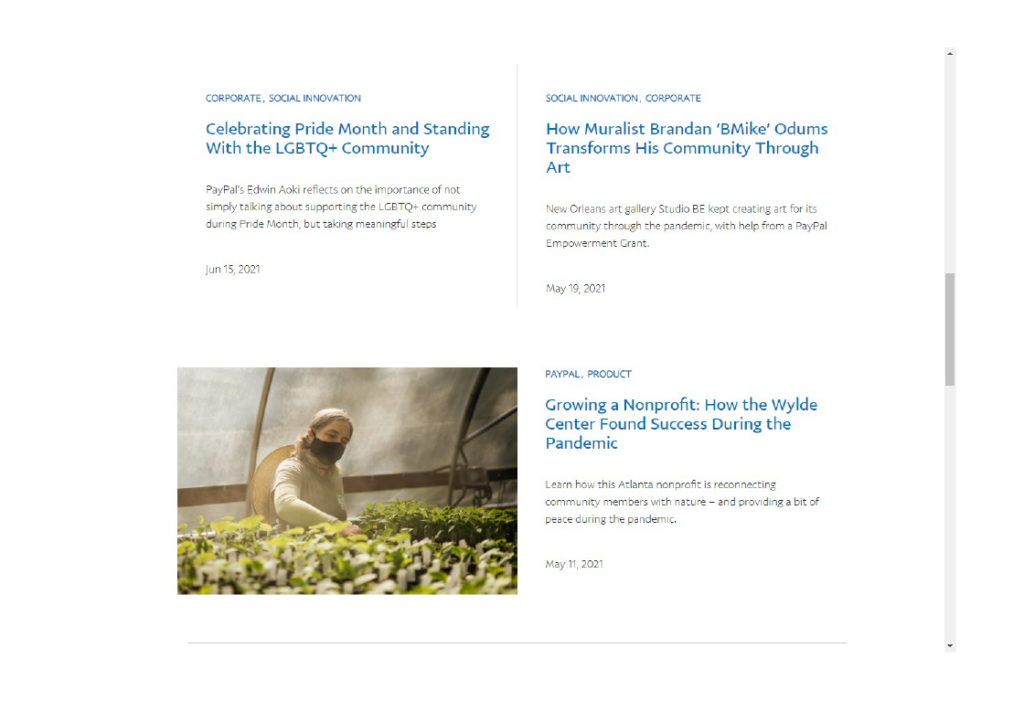 In most countries, PayPal is a popular digital payment system that supports online money transfers and serves as an electronic alternative to traditional paper methods like checks and money orders. Therefore, PayPay chose to create a Newsroom page as a testimonial page. Letting other newspapers about themself demonstrate their credibility seems more practical.
45. Adroll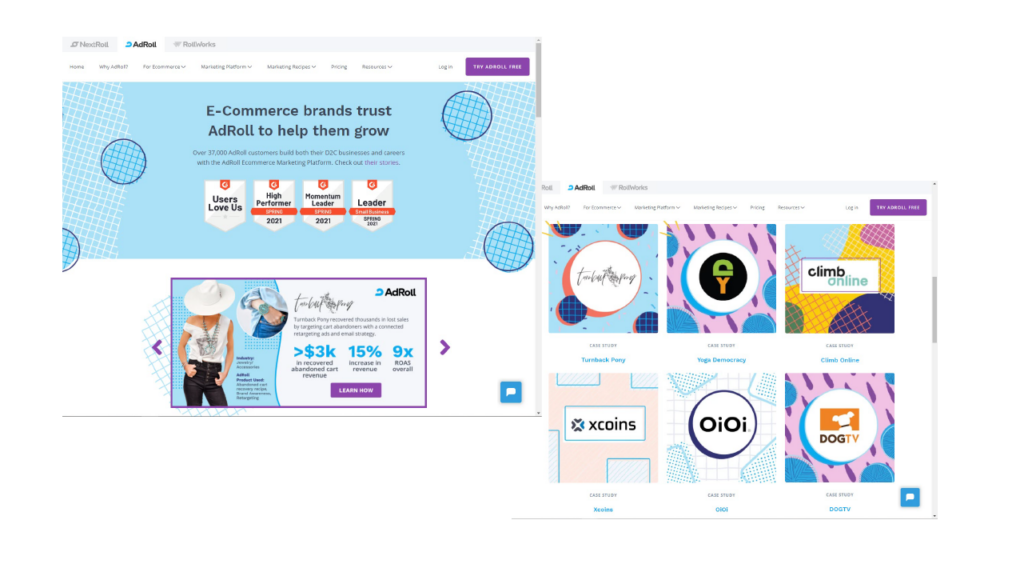 Adroll is a marketing software development company, including audience targeting, cross-channel engagement, advanced measurement, and attribution,…
On the Customer Stories page, Adroll has revealed the statistical data in stunning infographics. Below the numbers, case studies appear in colorful thumbnails.
46. Accenture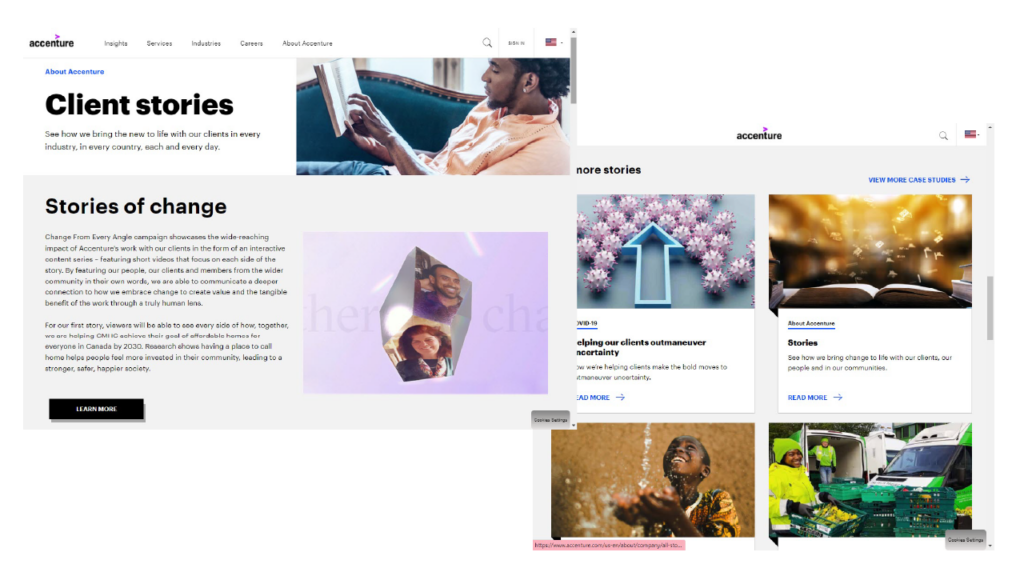 With experience and specialized skills across more than 40 industries, Accenture offers Strategy and Consulting services in digital, cloud, and security. Thus, their Client Stories page has few colors and a simple layout. They present the same stories as a newspaper, making them more trustworthy.
47. Mckesson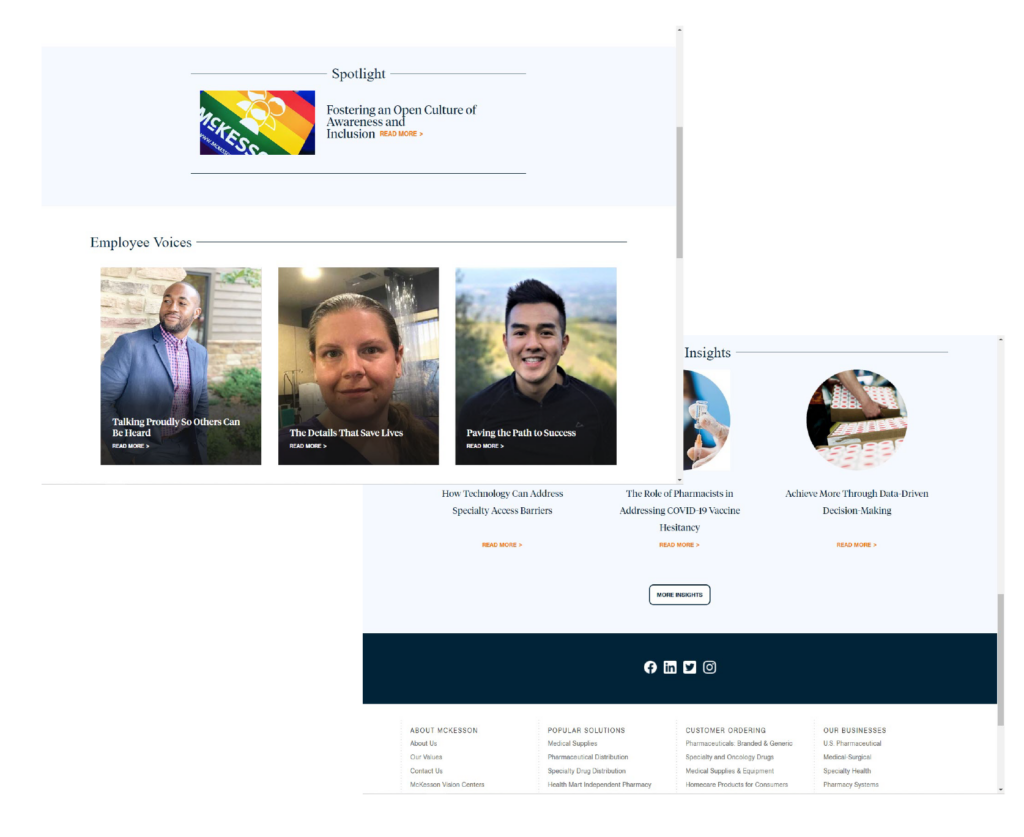 McKesson has a testimonial page design, mixed blue and white as the primary colors, distributing pharmaceuticals and providing health information technology, medical supplies, and care management tools. Besides information from the press, they also showcase employees' images and voices. At the bottom of the page, there are stories from many businesses.
48. Readme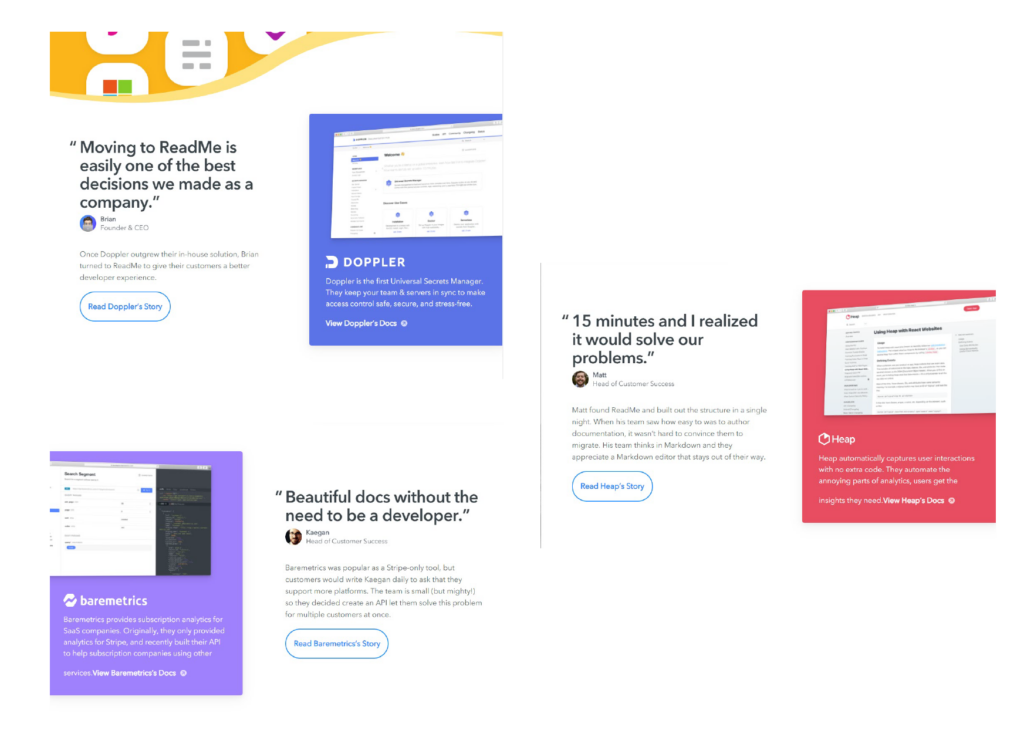 Readme software helps everyone create and manage beautiful, interactive documentation easily. On the Customers page, they nailed down the quote from successful customers. Under the passages, there are some company logos from VIP customers.
49. Global Web Index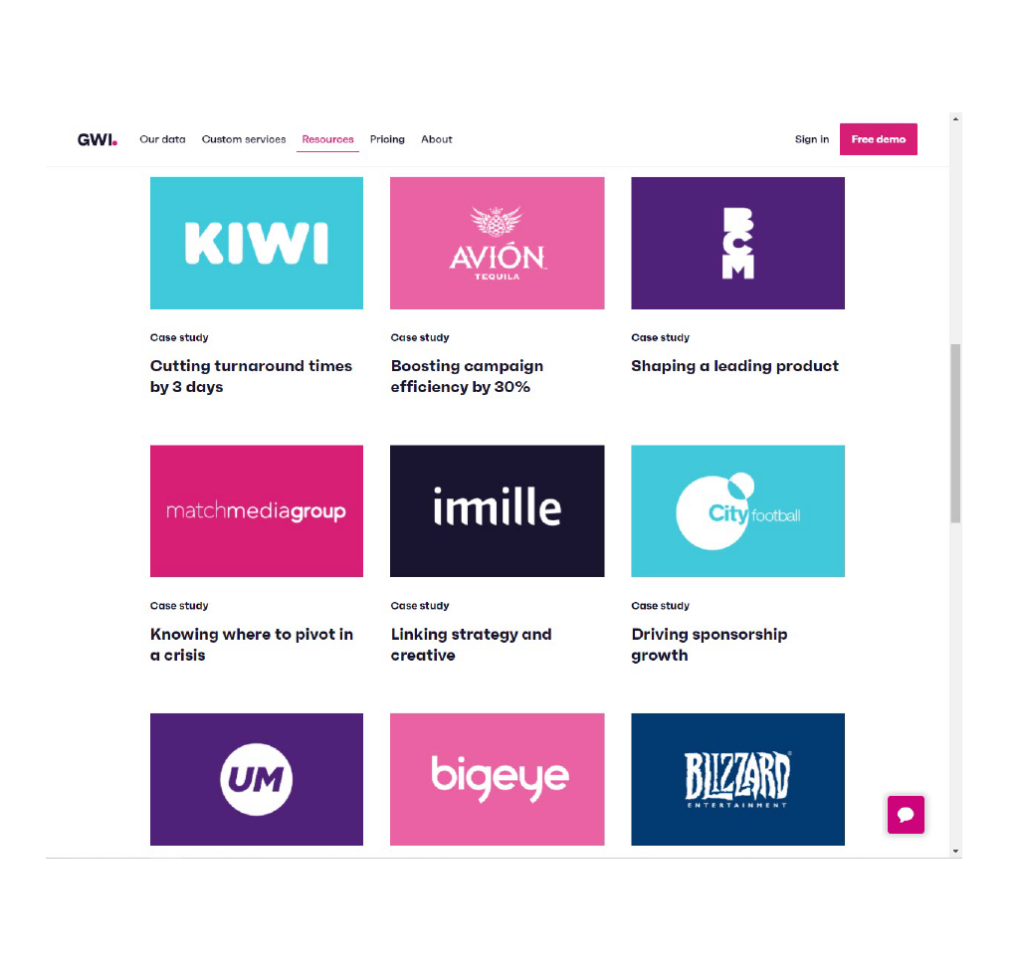 Global Web Index is one of the leaders in data solutions. They provide several innovations to market research, from our easy-to-use, lightning-fast platform to their globally consistent but locally relevant data.
On the Customer Stories page, one of the testimonial examples for business, they use blue as the primary color, meaning calm, trust, and intelligence. However, in each case study, they didn't use the actual picture but the logo as a thumbnail.
50. Box
The box is an internet company focusing on cloud content management and business file-sharing services.
Like Global Web Index, Box uses only three primary colors for review page design: blue, black, and white, meaning trust and accuracy.
Bottom line
Regardless of the type of testimonial you like, letting people know exactly what benefits your product or service can bring them the reviews of people who are (or were) just like them. It is also a surefire way to convince your target market that you're worth their time and money.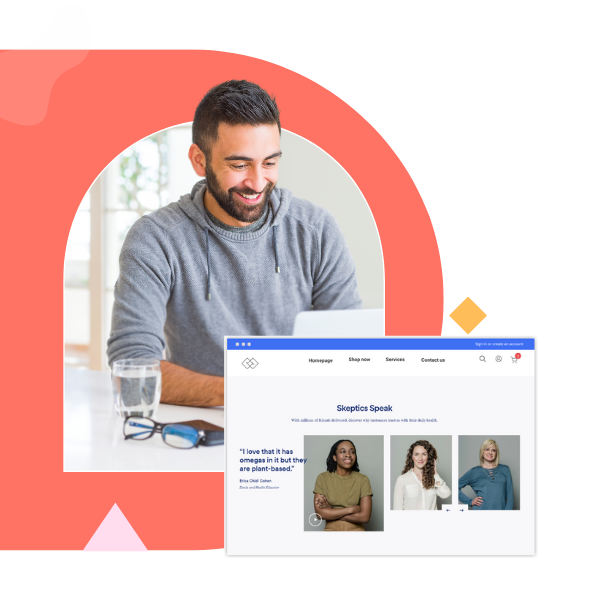 Try FREE Magezon Page Builder demo today
Easily create your engaging Magento testimonial pages in any style whenever you want without relying on developers or designers. Just by drag & drop.