As we all know, Facebook is the world's largest online social networking platform, with more than 2.85 billion users globally. Besides helping people stay connected with their friends and the world, Facebook is indispensable for businesses to reach their potential customers and increase sales. However, appearing on Facebook is not enough; companies must find exceptional ideas to develop their pages.
One thing that businesses can consider is creating Facebook contests and giveaways. Yet, developing unique Facebook giveaway ideas is not easy to keep the audience interested. Continue reading if you want to know some tips and some Facebook contest examples you can learn from to grow your company.
Benefits of Running a Facebook Contest
There are several advantages that businesses can gain when running a Facebook contest. Below are some of the most significant ones:
Build Community and Awareness
With the best Facebook giveaway ideas, you can quickly introduce your product or brand to a wide range of users to build community and increase awareness. People may not have heard about your business until their friends/relatives share the giveaway information with them. With the 'Share' button or 'Tag your friends to be eligible,' the contestants help spread the word about your brand to all of their acquaintances.
In almost every contest, one key element players need to follow to be a winner is subscribing to the business' fan page or email newsletter. Therefore customers will 'voluntarily' follow/ subscribe without a doubt.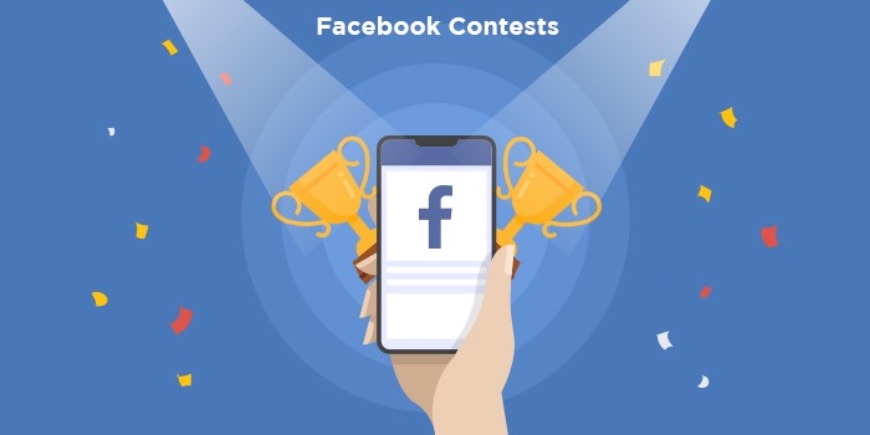 Social media is about two-way communication, and brands have to do anything to keep customers engaged. The engagement data (likes, comments, shares) will increase rapidly in a short period of time, thanks to the Facebook contest.
After all, the core point of all tactics is increasing sales. Through the contest, the winners have a chance to try your products, and if they feel satisfied, those people and their friends will definitely be your loyal customers. In addition, even people who do not win or not participate in your Facebook contest are more likely to make a purchase as trust has been gradually established.
With all the advantages mentioned above, let's find some valuable tips for running a Facebook contest below!
Top 20 Tips for Running a Facebook Contest
Before jumping to some Facebook giveaway ideas, let's discover how to run a contest on Facebook with these helpful tips below!
1. Set a Clear Goal for Your Facebook Giveaway Idea
Before you start advertising, determining what you want to achieve through this Facebook giveaway contest is necessary. You need to consider many things, including: Do you want to increase the number of visits to your website? Do you want more people to subscribe to your newsletter? Or maybe your brand is about to launch a new product, and you want to promote it?
If you do not have a goal, you will not have a clear direction. Keep it in your mind, as it affects all aspects of your distribution.
2. Choose an Exciting and Relevant Prize
You should choose a prize that is related to your brand. Do not simply pick goods from other companies as awards because your existing or potential customers cannot experience your products or services. Besides, the giveaway prize should be appropriate to your business goals and budget.
3. Includes Official Rules and Qualification Information
When creating a contest, one thing that should be taken into account is to follow Facebook's contest rules and local laws. That includes your advertising policies, guidelines, membership requirements, terms, and conditions. In addition, you need to ensure that your ads do not violate the regulations. Otherwise, the contest may be deleted by Facebook.
4. Contest Rules Need to be Very Specific and Detailed
It is compulsory to think carefully about the contest's process and create detailed and accurate regulations. That will prevent any errors or disputes that may occur in the future. As one of the essential tasks of every Facebook contest, it must be done well before the competition is launched.
Furthermore, the rules must be consistent throughout the contest, as changes may discredit your brand.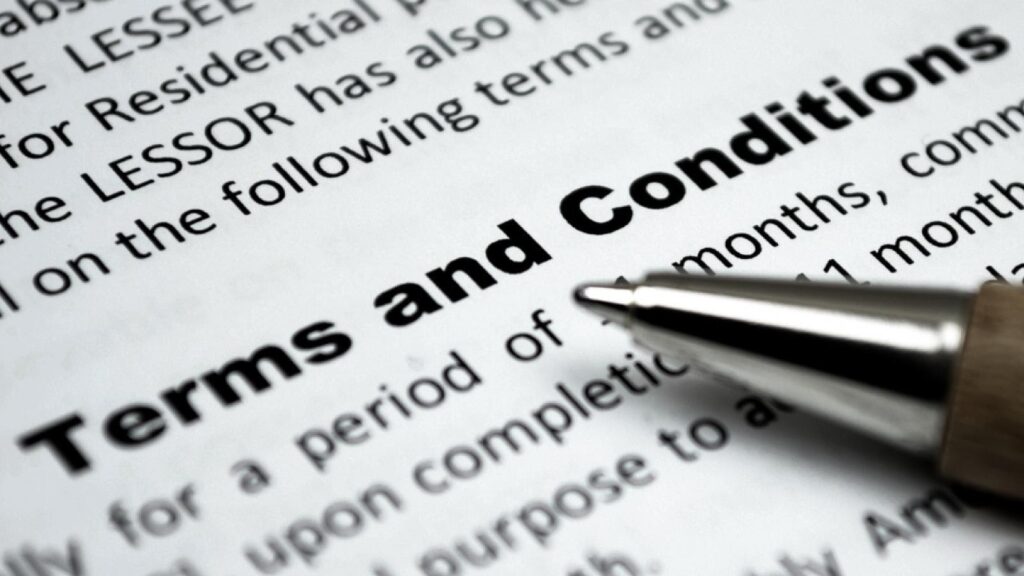 5. Using Attractive Pictures and Titles
You only have a few seconds to impress your customer since there is too much information on the Internet nowadays. Therefore, appealing illustrations and titles will retain customers longer and urge them to take specific actions. Ensure to include your brand's logo and colors on the giveaway picture, and the theme needs to be consistent.
6. Do Not Extend the Competition too Long
If you do not want your participants to forget or lose interest, the contest's duration should not be too long. The ideal time for a game is between a week and a month, in which it is always hyped from start to finish. This avoids the feeling of being spread out and dull.
To be more specific, depending on the size of the contest, you can choose which time frame works best:
For small contests, it should last about 3-5 days.
For larger ones, these should have smaller rounds. Each round happens for 5 – 7 days and has its own prize.
7. Use a Third-Party App If Necessary
To reduce the hard work of running the contest while ensuring fairness, you could use a third-celebration app – that can maintain track of entrants or even choose a winner. They also can assist in arranging any data.
8. Keep Your Giveaway Ideas for Facebook Simple
Your Facebook contest needs to be as simple as possible to gain more players. If the competition is for the masses, do not force them to write a lengthy essay when not everyone knows how to write well. Or do not make their film and edit a video like a professional with tons of requirements because such competitions require players to spend a lot of time, skill, and dedication to participate. That may be an invisible barrier that prevents players from joining.
9. Begin With a Contest Called "Sweepstakes" If the Fan Page Has Less Than One Thousand Likes
This rule additionally applies to Facebook pages with low consumer engagement. Sweepstakes contests will grow consumer participation on the site.
10. Increase Engagement With Contest Participants
Getting players to participate more personally will make the contest more exciting. For example, if your brand releases a new skincare product soon, you should let users guess the product packaging's color or name. That way, you can utilize unique and creative ideas while customers feel genuinely engaged and helpful.
11. Do Not Forget the "Celebrity"
The 'famous' people on Facebook here do not need to be music stars or actors. They simply receive huge attention through their humorous posts, comments, etc. Therefore, you can collaborate with them to guide others (especially their fans) to participate in the contest. Please contact them and suggest cooperation opportunities.
12. Make Sure Your Giveaway Is Mobile-Friendly
Many businesses, even the large ones, run giveaways on Facebook apps and usually forget to optimize for mobiles. Meanwhile, 98% of Facebook users are online via a mobile device. As a result, they will lose several potential participants.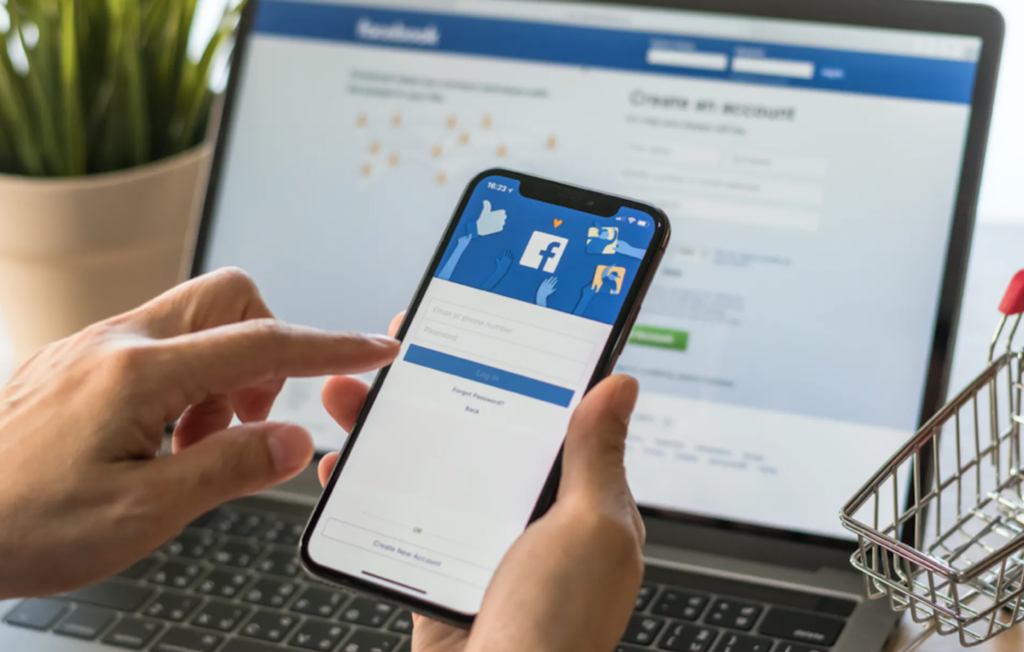 13. Use Facebook Ads
Many companies suppose they will undoubtedly get a flood of visitors and Facebook likes when they give away for free. Unfortunately, without a simply described intention and a strong advertising or marketing plan, that only applies to fan pages with many subscribers.
14 Promote Your Contest Ideas for Facebook on Different Platforms
Consider promoting your Facebook contest through your website, Instagram posts, or email newsletters. Moreover, do not underestimate the power of word of mouth.
15. Need to Organize Facebook Contests Regularly
If possible, you should organize a contest once a month, with a different idea each time. That increases engagement, generates predictions around the contest periodically, and gives your fans a reason to regularly return to the fan page.
16. Collaborate With a Contest Sponsor
If you want your prize to be bigger and attract more participants, your brand can partner with another sponsor instead of organizing the contest alone. Here is the win-win situation as it will give you more resources to open more contests and entice your partner's customers to be yours.
17. Utilize the Info of the Winner
Look at winner notification as a manner to create tremendous buzz around your brand, in addition to extra content. Rather than simply emailing the winner, do not forget to write a weblog or a social media post about him or her holding the prize. However, ensure your business is authorized to use this information (you can add additional requirements about this).
18. Email Attendees With Some Kind of Consolation Reward
For people who do not win, you should email and give them small rewards. There is no need to give something too big, just anything that gives the contest attendees the feeling of being appreciated because of their engagement. For example, each participant can get a 5% voucher discount. That is also a way to turn Facebook fans into potential customers.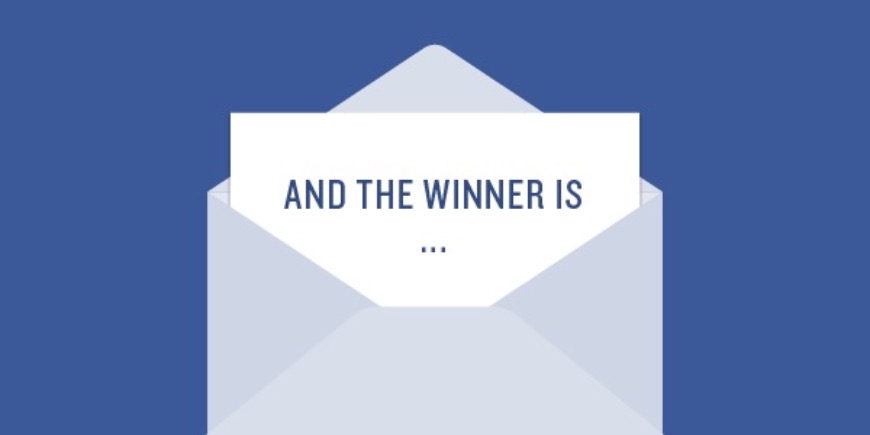 19. Evaluate the Results of the Facebook Contest
After the contest ends, considering carefully whether it met your expectations or what did not happen properly is necessary. It will help you improve any future Facebook contests you run.
20. Specific Requirements That Participants Must Do
Here is the list of some requirements that attendees need to do to be eligible:
Follow or subscribe to the brand (Facebook page, Instagram page, Newsletters, etc.)
Tag at least 3 – 5 friends
Share the Facebook photo contest post in public mode (not private)
Add the business's hashtags
All submissions must be self-taken/ self-made
Edited comments will not be accepted
One thing to keep in mind is that you do not need to include all of the above requirements in your contests.
List of 21+ Best Facebook Giveaway Contest Ideas
1. Facebook Photo Contest
Photo contest Facebook is one of the most fun Facebook contests to join. These are undoubtedly popular and have been organized for many reasons. Almost all users may choose to participate in this type of game over other formats because they may find it easier and less troublesome. While boosting activity for your page, they can help you get access to your marketing plan's user-generated content source.
How to do a photo contest on Facebook?
Ask fans to upload photos as Facebook posts, and you will choose the winner based on a specific theme. For example, participants should upload pictures related to the Christmas theme on Christmas, such as sitting under the pine trees with their families.
Facebook photo contest process:
Step 1: Ask fans to post a photo on their Facebook pages
Step 2: Choose a winner

(a) you directly choose a winner
(b) the winner will be selected by the community (whoever has the most likes wins)

Step 3: Public the result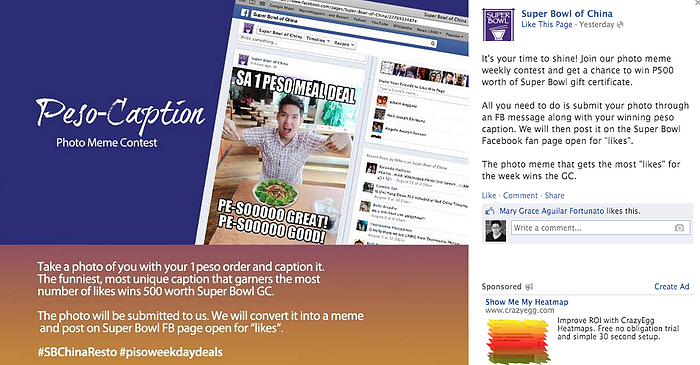 Small Note:
Besides posting participants' pictures, you can request them to post images relevant to your products or businesses. For example, organizing a pet photo contest on Facebook is a unique idea for a pet store.
Make sure your Facebook photo contest rules are transparent and clearly
You can have a look at some Facebook photography contest ideas through this link
2. Facebook Video Contest
Video contest is another excellent example and fun giveaway idea for Facebook that can bring you unique user-generated content. Similar to photo one, you can create a video contest when you launch a new product on some big holidays of the year, such as Valentine's Day (14th of February), Christmas Eve (24th of December), etc.
To create this kind of Facebook giveaway idea:
Step 1: Ask users to post their videos on your YouTube
Step 2: Share the link with the "Invent Yourself" action in the RafflePress. This keeps your submissions in one place and makes it easier to choose winners.
Note: Make sure the video is connected with your brand. Moreover, video competitions usually result in slightly fewer submissions because the entry barrier is higher than in others. So if you want to do this kind of content, the requirements should be simple (ex: can film with a mobile phone, no need to edit, etc.).
3. Sharing Product Hacks Contest
Brands can acquire various pros when organizing and sharing product hacks. One of the most significant profits would be gaining insight from customers experiencing products. Moreover, the brand can even achieve unexpected tips related to products that customers discover themselves.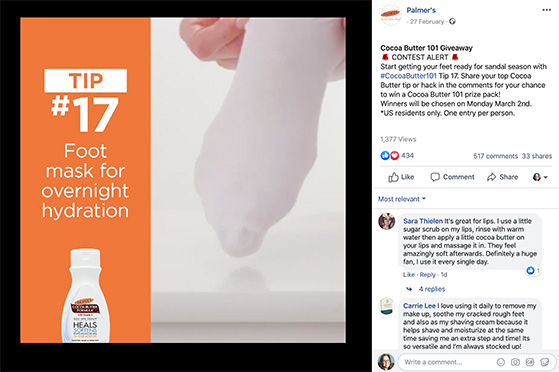 Once customers use goods, they can create hundreds of ways to utilize them that your brand can not imagine. Product hack contests can also result in acquiring valuable tips to share with future customers.
How to do this contest?
Step 1: Ask participants to share their tips and publicize them on Facebook with some required hashtag, OR they can comment directly on your post
Step 2: Choose the most valuable hacks as the winners
Step 3: Publicize the results and specific reasons why you select it
Small tips:
Make your selection process as straightforward as possible to elicit the contest's fairness.
Try to suggest valuable awards to boost the interest of customers.
4. Facebook Voting Contest
Another popular option in our list of free Facebook ideas is voting, as people like to share their opinions. This giveaway idea brings an excellent opportunity to promote a new product line or find out which products are most popular. Or simply, it collects recommendations from customers that may help you make more accessible investments or choosing decisions.
How can you do it?
Step 1. Publish photos of different product options
Step 2. Your fans will vote for the products they like
Step 3. You can use the Polls operation in RafflePress to get your audience to vote for their favorite people
Step 4. When the contest ends, you will have a Facebook random contest winner generator, and you can find the winner.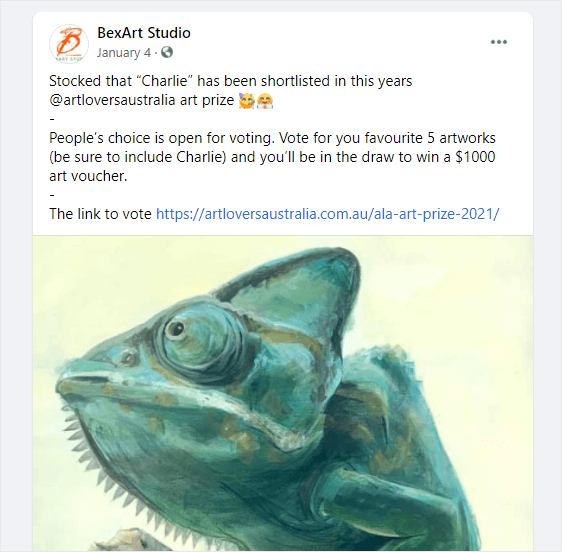 Some tips to note:
As a reward for participation, the winning product can be the product with the most votes.
Remember to describe the products in detail or give them several options.
Facebook contest template may be helpful to use
5. Like and Share the Facebook Contest
If your brand wants to hold a simple Facebook competition to reward fans, the "Like and Share" competition will be the easiest. Like its name, fans only need to like and share specific posts to participate. Photos, status reports, links, and videos can be used to launch this competition.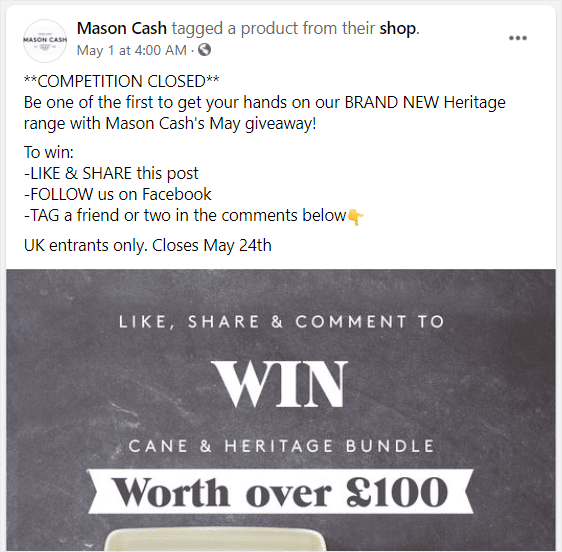 Moreover, this type of giveaway is suitable for small businesses because it is genuinely easy to hold. In particular, it does not take any fee. Thanks to the simplicity, such competitions usually attract many participants.
It takes three steps:
Step 1: Post a giveaway contest on your Facebook account
Step 2: People will like and share this post
Step 3: Using RafflePress to find out the winner easily
Note:
The like and share contest does not require much effort, so the prize should not be too big.
You can also do Facebook like share comment contest
6. Fill-in-the-Blank Contest
Some people have time to create creative things, while others do not. Therefore, if your audience has limited time, consider starting a quick and simple event, such as a giveaway, to fill in the gaps. This way will attract people and increase product awareness without wasting a lot of time.
How can you do it?
Step 1: Write a simple sentence about your product or service, leaving part of the sentence blank
Step 2: Request people to enter their answers.
Step 3: Find out the winner
Note:
A winner is a person who has the correct or most exciting answer
You can also use photos to attract attention and name them with incomplete sentences. Do not forget to choose the theme that suits your brand!
You can hold this contest at any time of the year
7. Facebook Drawing Contest
A recent exciting minigame organized on Facebook would be a design (or drawing) contest. This contest is most appropriate for those brands in the clothing or fashion industry that attempt to introduce new models. All you have to do is post the type of clothes/handbags you want to design (draw on) and ask for participation. Indeed, the achievement will be enormous.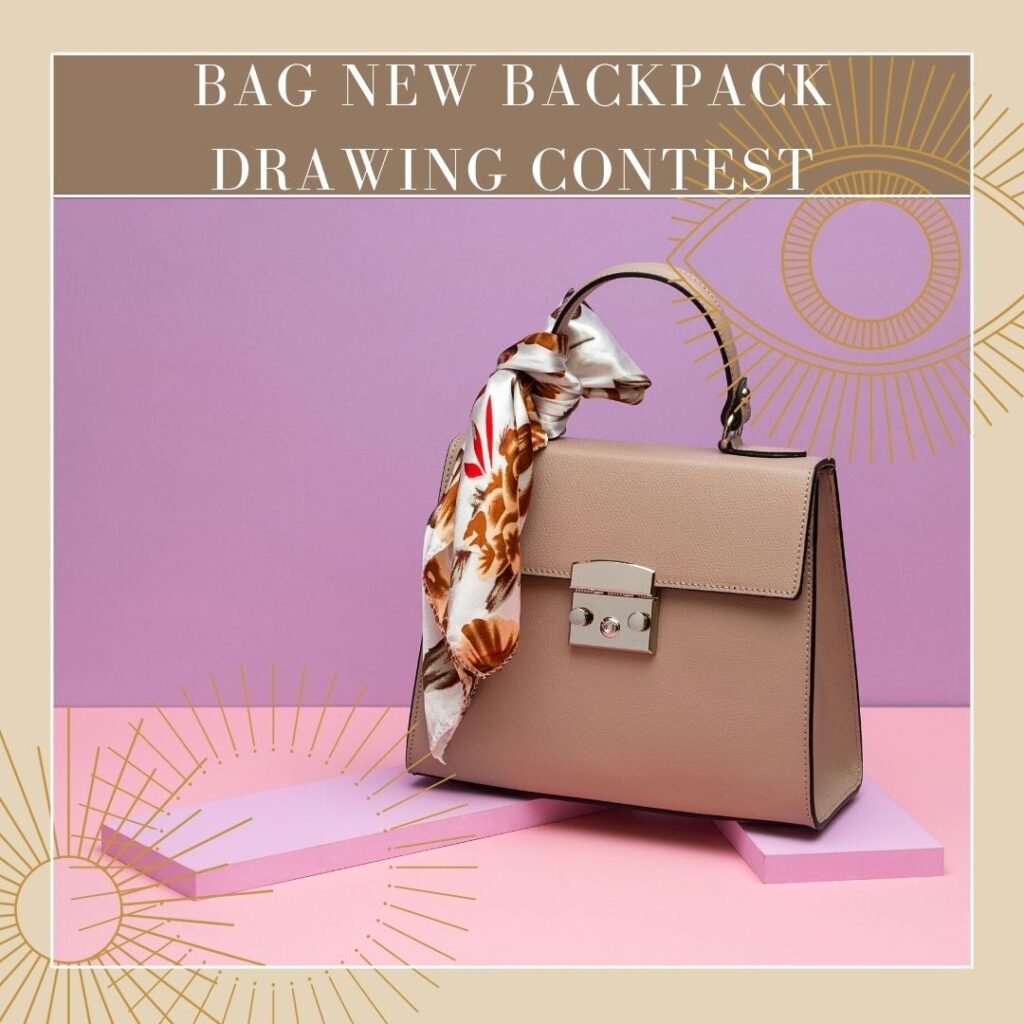 Unexpected ideas will simply and uncostly come to your brand due to hundreds of contestants around the globe. You can use their ideas to apply to your products. Doing this also illustrates that the brand pays much attention to customers and makes them feel respected. Moreover, this is the most effective and economical way to gain customer insight (as the brand knows what style customers like).
How to do this contest?
Step 1: Post the chosen type of cloth and ask participants to redesign it with their own interest
Step 2: Choose the winners in 2 ways:
Select 3 winners with careful consideration
The votes of the audience will select the winners
Step 3: Publicly reveal the results
Small tips that you need to note:
Allow customers to use photoshop software or draw it by hand to avoid barriers when joining the contest.
To ensure there is no copyright issue in the future, you must include clear terms and conditions and state that your brand has all the right to use customers' submissions.
8. Facebook Shares a Story Contest
This Facebook competition took a different approach. As stories and nostalgia are great things to build close emotional relationships and connect likely souls, they will arouse a lot of interest. Therefore, businesses interested in knowing more about their loyal fans can ask users to share their stories about the products. For example, ask them to write down their memories when using the products, maybe when they were younger, etc.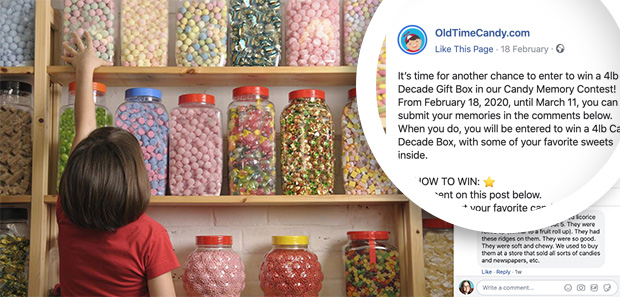 You can hold this contest during some important holidays in the year, such as New Year's Day (1st of January), Valentine's Day (14th of February), Christmas Eve (24th of December), etc.
Step-by-step guide:
Step 1: Post a theme about the story
Step 2: Ask users to leave their stories in the comments
Step 3: Link to confirm your input via "Make your own action" in RafflePress
Tip to note: Do not choose the winner based on your feelings. Sometimes customers may feel offended as emotions should not be judged.
9. Name the Product Contest
If a new product is about to be launched, you can organize a giveaway event on Facebook and ask users to help to name it. They can win and use the product for free in return for their ideas. By asking your customers to participate in releasing new products, they will feel highly engaged while you have gained different information about your customers. The name they choose implies their first impression of what they see about the products and what they believe so strongly. Moreover, you can have several ideas to name your product.
How can you do it?
Step 1: Try to choose products without inappropriate names to avoid unwanted entries
Step 2: Provide detailed information about the function and purpose of the product so that people can better understand how it works and how to label it
Step 3: Be sure to use the name of the winning game. To make sure you like a name, choose the ten names that users voted for the most, and then ask the internal jury (or only you) to determine the final winner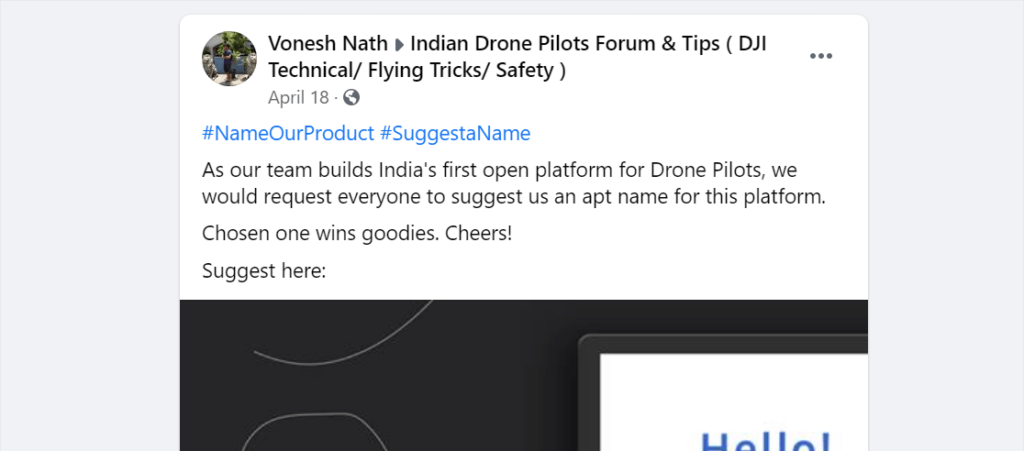 Tips: For those who are not winners but have interesting answers, you can also reward them.
10. Facebook Caption Contest
If you are running out of ideas to write captions or just want to understand how much customers know about your brand and products, organizing a Facebook caption contest is the right choice. Among fun Facebook giveaway ideas, this competition is not challenging to participate in and is a great way to showcase the creative aspects of your customers and followers.
How can you do this?
Step 1: Ask the participants to rename the photo file to the picture name
Step 2: Choose the most exciting name
Step 3: Announce the winner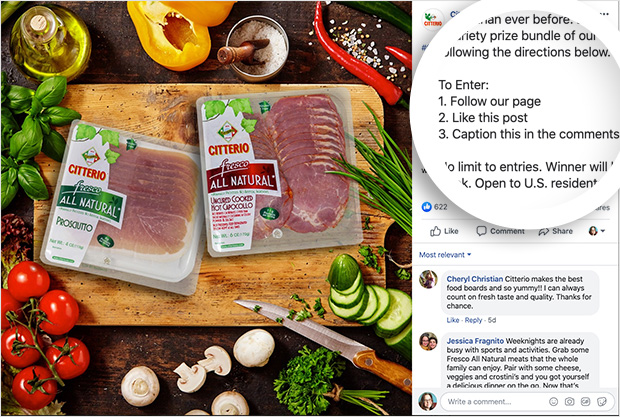 Small tip:
You can either manually choose a winner or use a third-party app
If you want customers to create more detailed and high-quality captions, you should provide basic information (ingredients, calories, origin, etc.)
11. Lucky Wheel Contest
The lucky wheel is one of the most attractive minigames because of its high winning ability, eye-catching pictures, and simple playing method. The rotation of fortune originates from the wheel of Fortuna, the goddess, symbolizing the irregularities of fate. Throughout many historical periods, the wheel's image appeared in games representing fortune.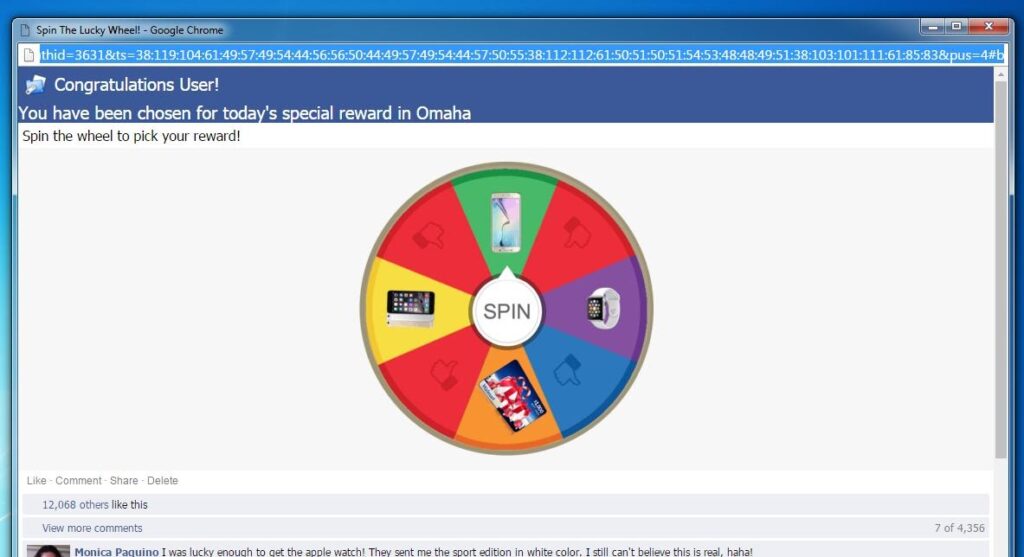 Moreover, brands can extend the benefits of this contest by asking audiences to answer several related questions to acquire more valuable gifts in return.
How to do this contest?
Step 1: Create the GIF wheel (animated image format) with appealing prizes
Step 2: Share the wheel with customers and invite them to join
Step 3: Participants will tap start and stop. They will need to screenshot the results and comment below.
Step 4: You will email the attendees the voucher discount or further requirements
Some tips:
You can easily create a lucky wheel with the top three websites like Wheeldecide, Pickerwheel, Wheelofnames, etc.
On the wheel, you can add different types of prizes with different values (ex: $5 off, $10 off, free one product, try your luck later, etc.)
12. Facebook Selfie Contest
As one of the most attractive trends that happened long ago but show no sign of fading, the Selfie – a global phenomenon- still excites people. That is why Selfie contests have been created a lot by countless businesses.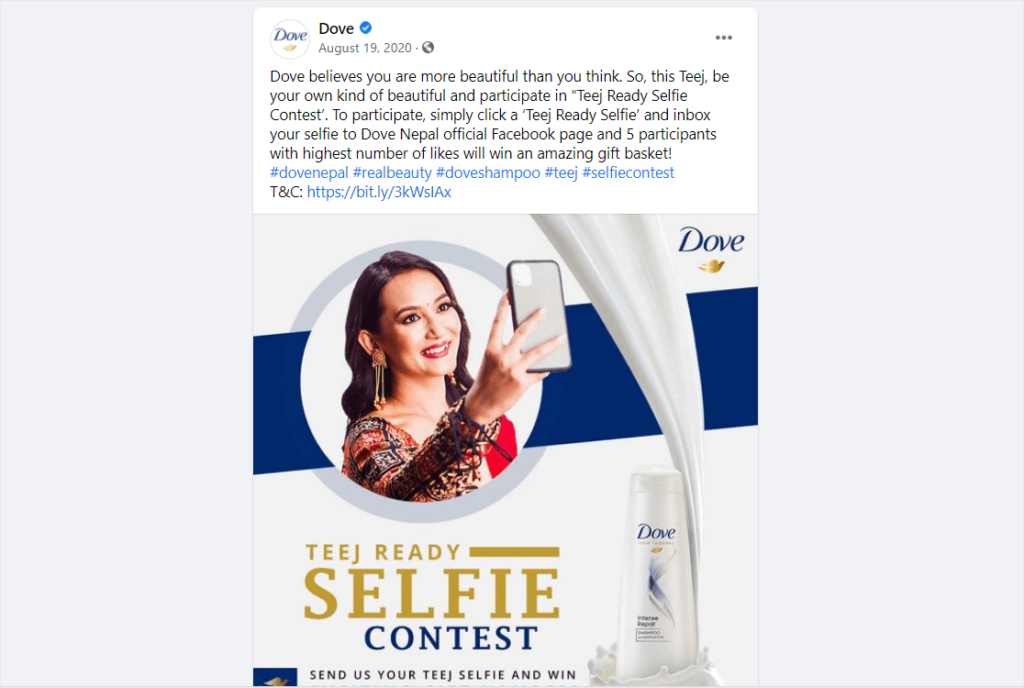 Thanks to this type of competition, you can receive substantial Marketing resources. Furthermore, having selfies is a great tool to increase brand awareness. People seeing pictures of other customers helps to humanize your brand.
How to arrange the contest:
Step 1: Ask participants to upload their selfies with your products
Step 2: Choose the best ones through voting (highly recommended) or RafflePress
Tips:
This type of contest is mainly suitable for the younger generation (below 35+), so you must be careful with your brand demographics.
If your business sells services, you may need to choose another Facebook giveaway idea.
You do not need to wait for some big holiday to hold this event.
13. Answer a Question Contest
Another compelling Facebook contest idea you can use is 'Answer a question. Here is the one that will help you evaluate your community's knowledge by asking them some interesting facts. Through this, people can learn more about your business depending on your research questions.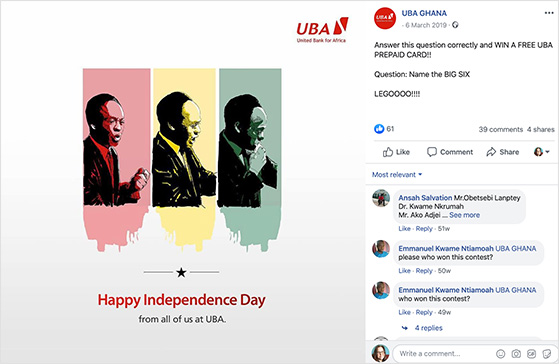 How can you do it?
Step 1: Post the question with the relevant image
Step 2: Sifting those correct answers
Step 3: Use RafflePress to select the lucky winner
Tips:
If there are too many correct answers, you can add another rule before publishing the contest: only those who answer the fastest get a reward, or the winner will be chosen randomly.
Only ask questions that are related to your brand. For example: When was your brand established? Which main ingredients are in every product (gluten-free, vegan-free, etc.)? What are some signature things about your business?
15. GIF – Jigsaw Puzzle Contest
Brands in recent years have widely organized jigsaw Puzzle contests. The rules of this game are simple; players just need to wait until the GIF is merged into a complete picture and click stop. Then, participants must take screenshots and upload the captured image in the comment section.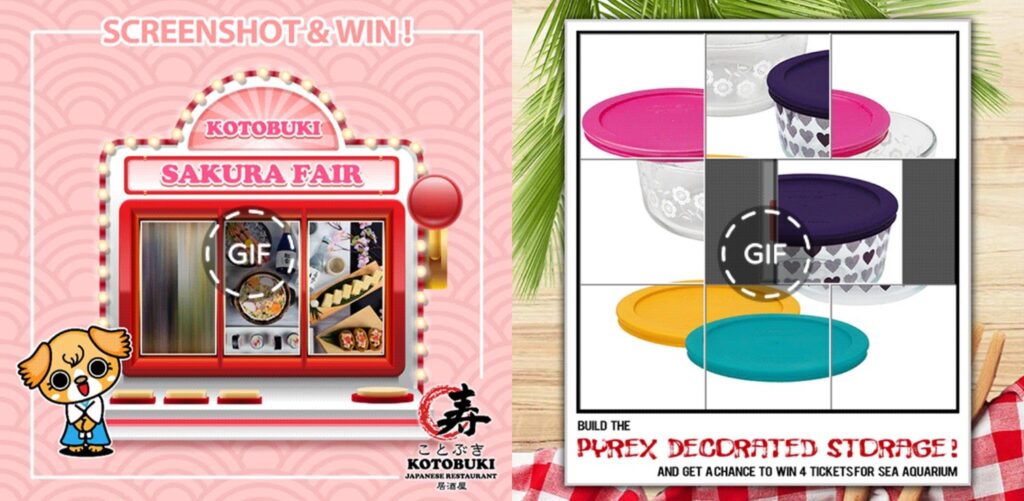 How can you do it?
Step 2: Use a random name picker for the Facebook contest to choose the winner
Step 3: Announce the winner and publicize it.
Some tips to note:
Like the lottery game, this contest is quite challenging to complete. It will frustrate players as they have to do it many times. So it is better if you can do a slow and straightforward GIF.
You will need to design the GIF image independently, as free GIF images often have low resolution.
You should integrate your brand's products into the game.
15. Facebook Comment Contest
Comment contest on Facebook is quite familiar to customers. For example, customers can comment about the reasons for using these goods, what they like about products, guess the price of new products, and even specific features (functions) they desire in the future. To establish this game, the brand can publicize photos of its products and require participants to comment below the post.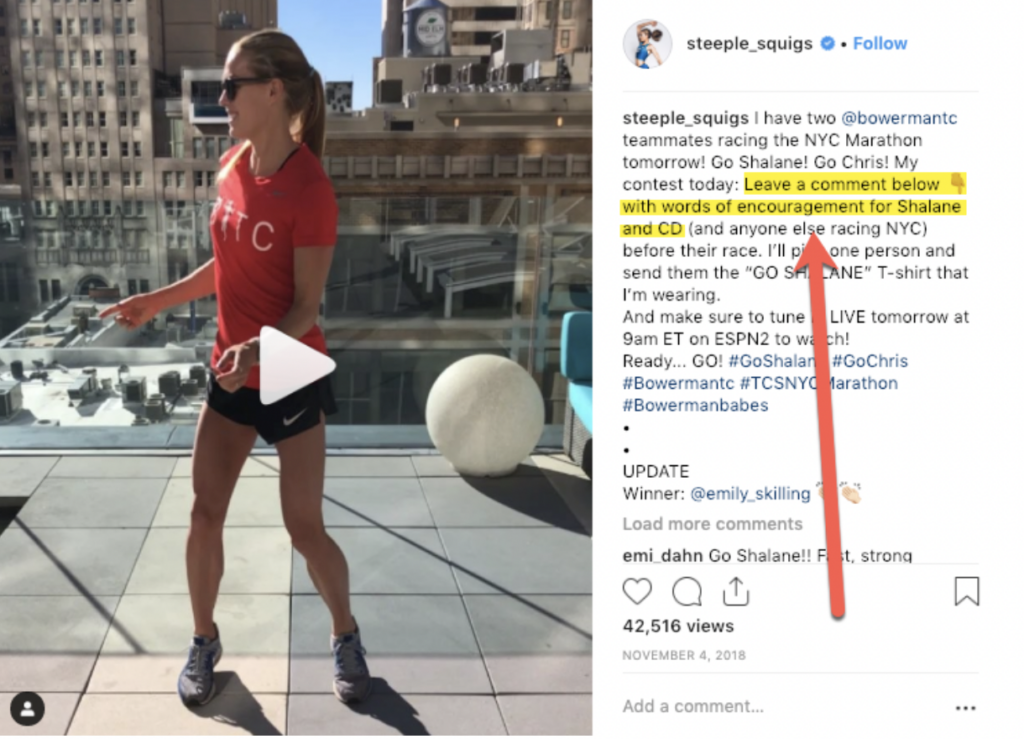 Acquiring these data will definitely benefit the company in adjusting the strategies the company is pursuing. Moreover, this is the most cost-effective way the brand can think of and apply.
How to do this contest?
Step 1: Post appealing photos of products and ask customers to supply contributing comments.
Step 2: Read the comments and choose the most valuable one(s) to reward
Step 3: Publicly reveal the results
Some tips for applying:
Due to numerous responses, rewards can be divided into primary and minor prizes
You should limit the number of words (from 100 to 150 maximum) because your team can not read all these lengthy comments
To enhance the traffic of your post, you can require contestants to tag friends, add hashtags, like and share fan pages, etc., to raise the likelihood of winning the game.
16. Facebook Pairing Contest
If you desire to make your products unforgettable with target customers, this contest will be the right one. That is a simple yet effective game to market company brands and products, especially newly introduced ones. Doing this will stimulate the curiosity of customers and, hence, sometimes, force customers to enquire about your products.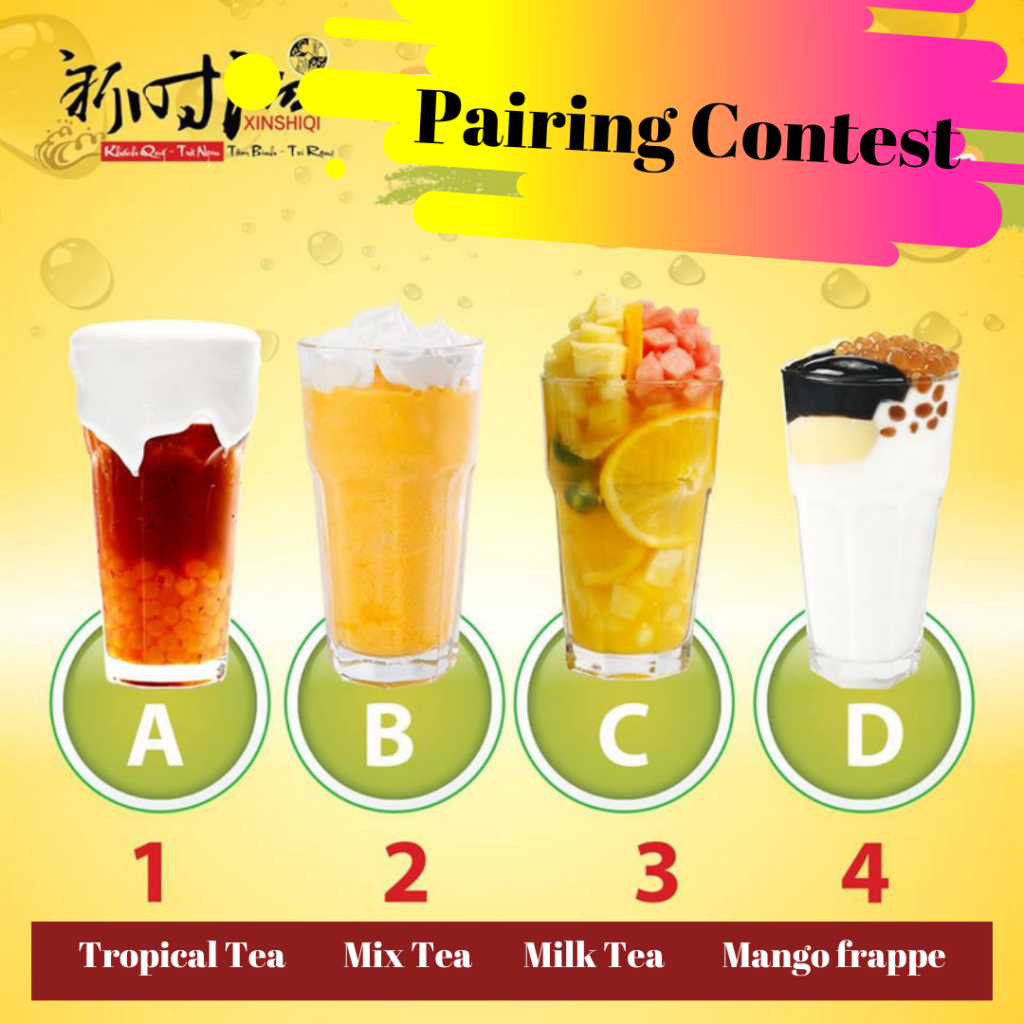 Once customers know enough about the products, they start to remember the names, and whenever they need them, they will remember your brand. Consequently, the cost of spending on marketing can be saved economically.
How to do a pairing contest on Facebook?
All you have to do is several select goods and place them with the wrong name. Then, publicize it on your Facebook brand account and ask participants to match products with the correct name.
Facebook paring contest process:
Step 1: Ask participants to pair given goods with their name and post it on their own Facebook with some required hashtag and a specific number
Step 2: Select participants with appropriate answers and randomly choose a number
Step 3: Publicize the winners and methods applied when choosing them
Tips: Make your selection process as clear as possible to elicit the contest's fairness.
17. Random Number Contest
Another Facebook giveaway contest idea is a Random number. To participate in the contest, players just need to comment on a random number they like and wait to see if they are the luckiest. Winning numbers are usually randomly drawn on the random.org website.
Process:
Step 1: Upload a picture to announce the game
Step 2: Use random.org to select the winner
Step 3: Publicize the winners and contact them to hand over the prizes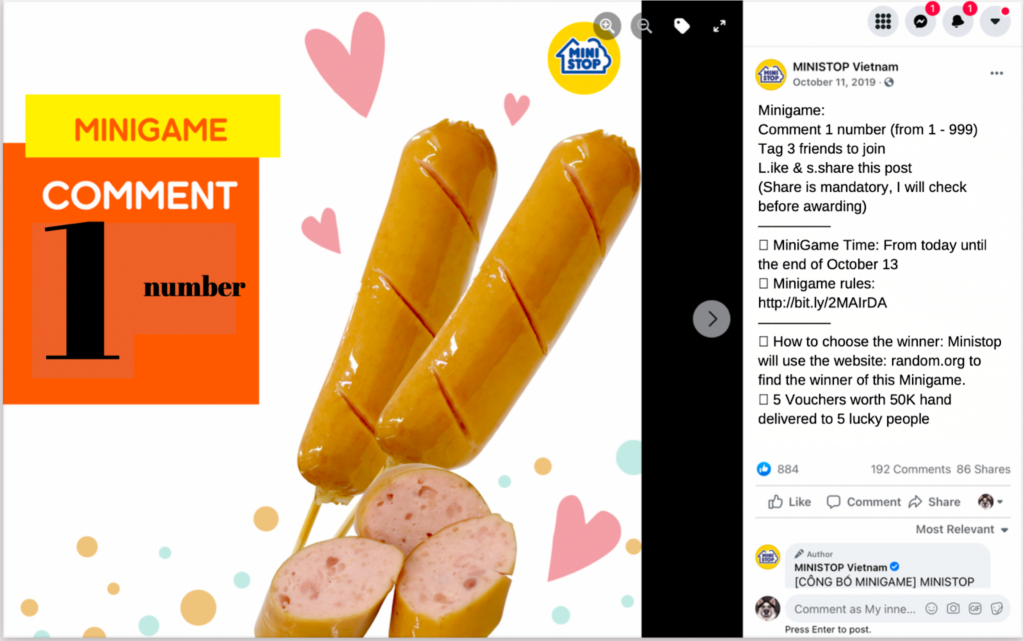 Small notes:
The participants may feel bored if the gift is not attractive, or they can think that the result has been arranged in advance if the brand does not organize the contest skillfully. Therefore, it is better if the brand can Livestream the choosing process.
The number range should be from 0 – 999 to increase the participant's chances of winning
18. Join a Newsletter Contest
Did you know that you can also use Facebook contests to expand your mailing list? That may not seem obvious, but using this input method can increase the number of people who subscribe to your newsletter. In addition, once they appear on your list, you will receive a direct link to your inbox to send them future news and suggestions.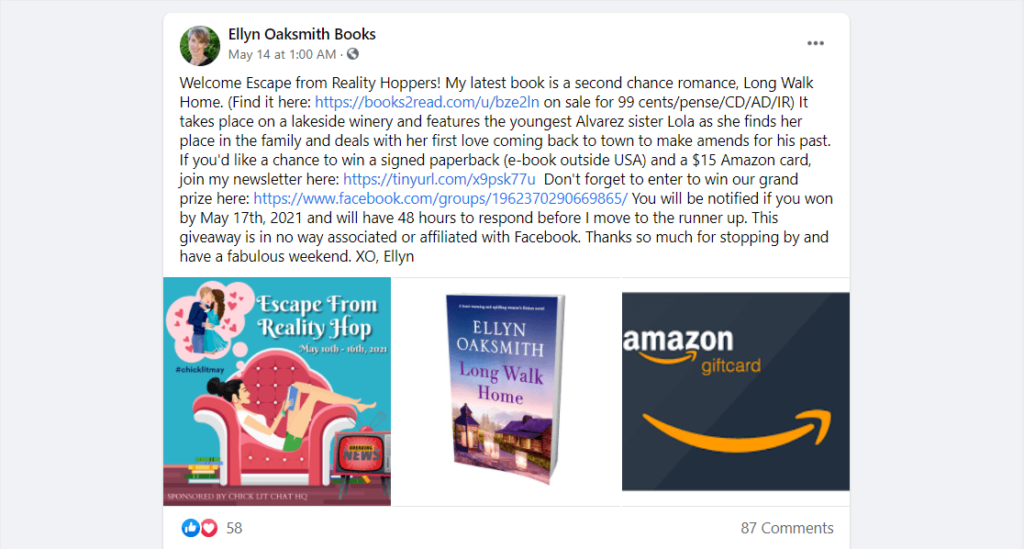 How can you do it?
Step 1: By using Join RafflePress Newsletter promotions, people must subscribe to your list in exchange for posts
Step 2: If you switch the "Activate at registration" option, you can automatically add users to your mailing list when they enter the drawing
RafflePress allows you to directly contact the email marketing provider of your choice so that the person filling out your contest form is immediately added to your mailing list.
Note: Hosting Facebook sweepstakes is also an easy way to increase mailing lists. After users register on your list, you can send marketing messages directly to their inboxes.
19. Refer a Friend
The most effective way to make your game go viral is to let people quickly share it with others. The more people share it, the faster it will be; the sooner they see it, the more people will intervene, forming an upward spiral of viral content. To participate, users just need to share gifts with friends.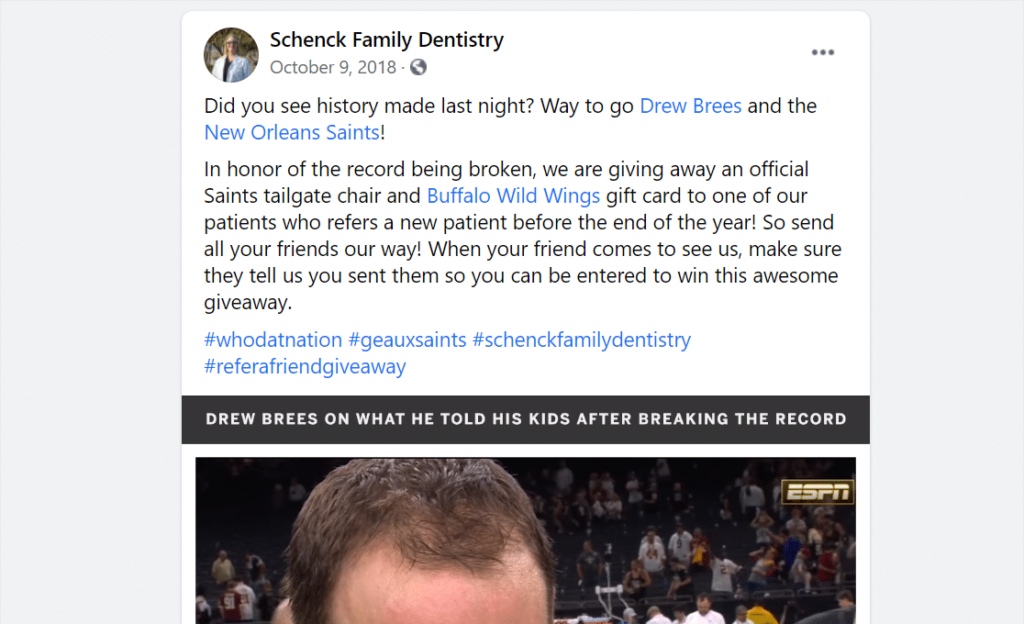 This type of game is genuinely engaging because it allows brands to increase awareness. It also utilizes your followers and their network to expand your influence. As long as the prize you provide is the prize your audience is eager to win, there should be no problem splitting it.
Follow the two steps below:
Step 1: Use RafflePress's built-in recommended friend action to promote your content.
It allows members to recommend other visitors through social media and emails to get more posts.
Step 2: Ask customers to share the giveaway with their friends to participate.
Small tip: The easiest way to create referral contests with RafflePress is to use ReferaFriend promotions.
20. Maze Contest
If you want to challenge your customers and raise brand awareness, then a maze contest will be for you. Maze contest has been successfully applied by many famous companies and brands and has not been obsolete. Conducting a maze contest is also a way for a brand to connect with its customers.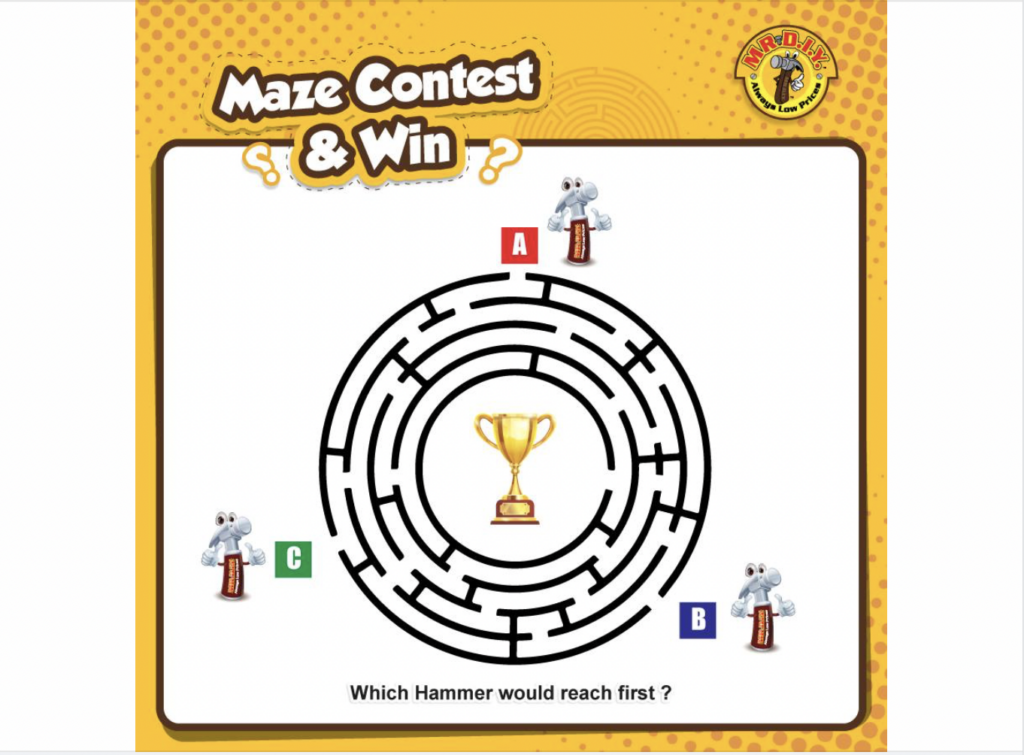 How can you do it?
Step 1: Create your own maze, publicly post it on the Facebook fan page and invite customers to join. You can make your maze here.
Step 2: Choose the winners according to your own criteria.
Step 3: Publicize the results
Some small tips:
First introducing the contest, you should also illustrate your criteria to ensure it is fair
Placing your products at the end of the maze to make an impression on customers.
21. Solve a Crosswords Contest
Solve the crosswords contest is another Facebook giveaway contest that brands can organize. Crossword contests require more attempts from participants. In crossword, answers to several questions (usually 8) will be placed vertically, and after solving all of them, the highlighted column is the final destination. Doing this will give customers better knowledge about brands, products, etc. As a result, it boosts customers' purchases and income for companies.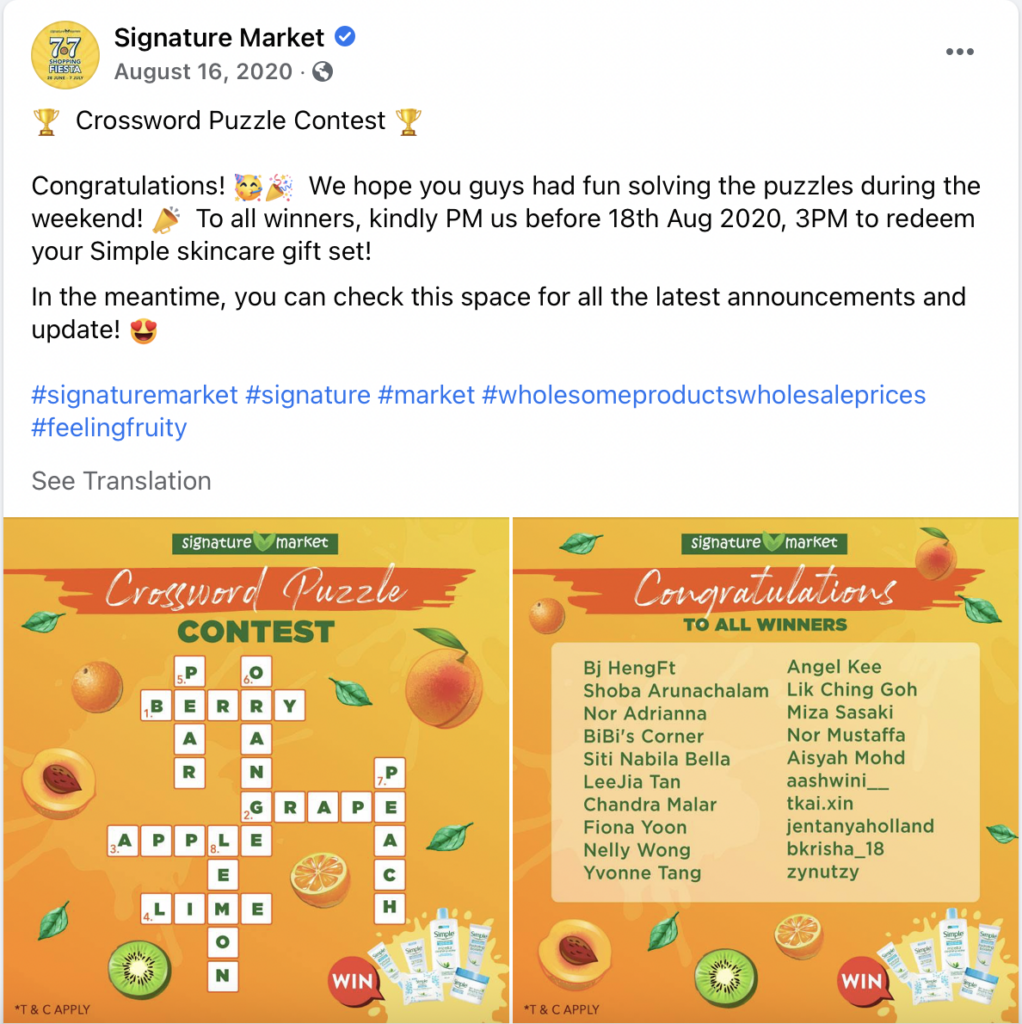 How can you do it?
Step 1: Develop a list of questions and answers, then design it appropriately
Step 2: Publicize your game on Facebook and ask customers to join with promising awards
Step 3: Choose the winners according to your own criteria
Step 4: Publicize the results
Some notes:
As this type of minigame takes quite a long time to complete, you should not ask difficult questions
The questions need to be relevant to your products or services
In case nearly all of the participants have the correct answers, use random.org to choose the lucky ones
Wrapping Up
Undoubtedly, the possibilities for Facebook contests to help businesses are endless, including but not limited to developing relationships with customers, collecting user-generated content, conducting surveys, or even finding ideas for the following products. Especially organizing Facebook contests is a great way to quickly acquire new potential customers suitable for your business over the long term.
Hopefully, you have found some creative Facebook giveaway ideas to start communicating with your lifelong customers from the list above.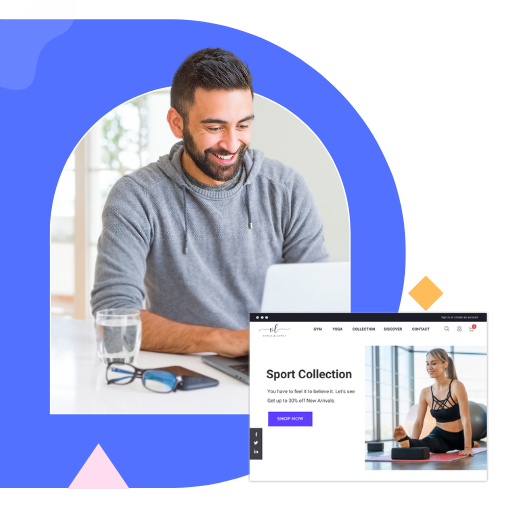 Try FREE Magento Page Builder demo today
Looking for a Magento 2 page builder that helps you create any beautiful page layout with no coding required?
Magezon Page Builder can help!