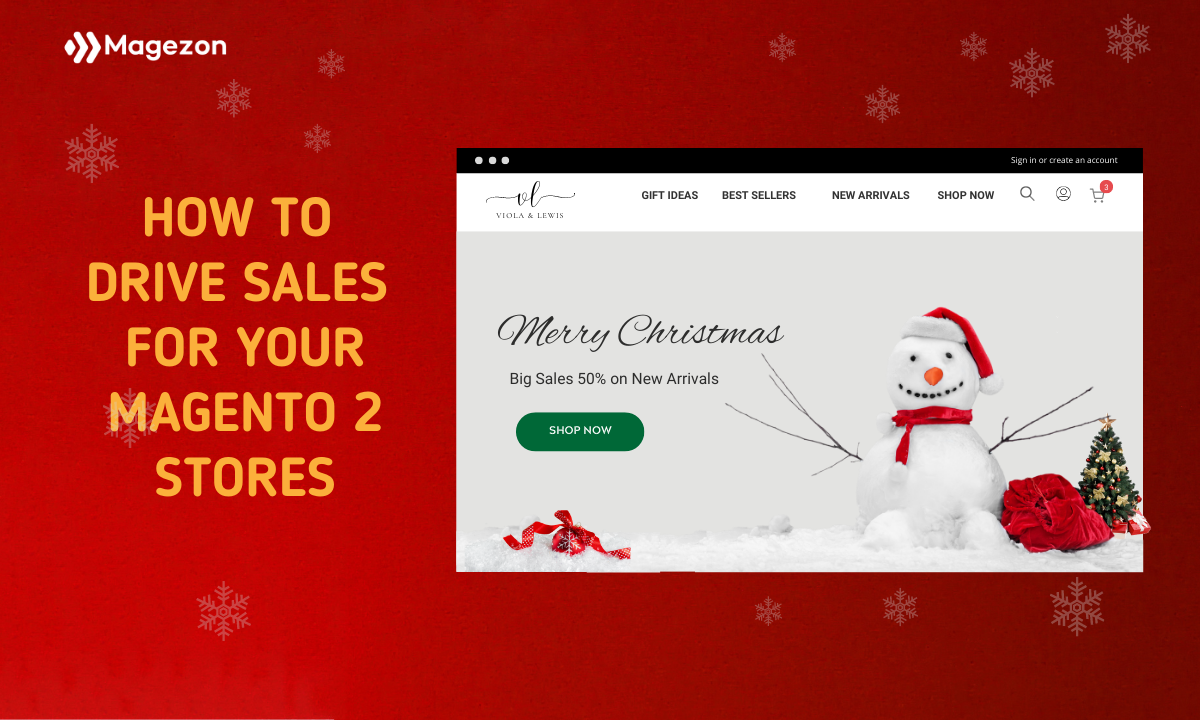 This post will give Magento 2 store owners proven tips and profitable ideas for a fruitful e-commerce Christmas!
Phew! Some days away from the Halloween sale campaign, you think right now is the perfect time to sit down and relax. But wait, October 31st is just the 1st round for the race of this festive season.
To avoid being left behind the game, you'd better plan a well-thought-out Christmas promo campaign and whip your Magento 2 store in shape. Ready to jump right in?
I. Add the Christmas spirit throughout all channels
First, be sure all of your channels look drenched with Christmas fervor. From the website, through email marketing, social media, and physical components such as packaging. A thing to remember is that your concept for Christmas should reflect your brand identity and avoid being cliché. If the design is not your strong suit, delegate the responsibility to a professional team.
1. For Website
The website will make up a lion part of this task because we need to revitalize many things. Consider changing your current theme to a Christmas theme that conveys the holiday's warm and magical atmosphere. You can pick up one from Templatemonster or Themeforest.
A banner for your campaign is also vital because it is one of, if not the first thing to be noticed. Let Magento 2 Promo Banner help you create eye-catching banners for this holiday season. From the backend, you can decide where, when, and who to display them by controlling the display condition. Besides, it's easy to keep track of the banner performance with an insightful report. After designing the campaign's popup and banner, the next thing is to create a sale landing page to which they will redirect. If you are still using the old WYSIWYG editor or default Magento Page Builder to craft your web page, it's time to give it a makeover.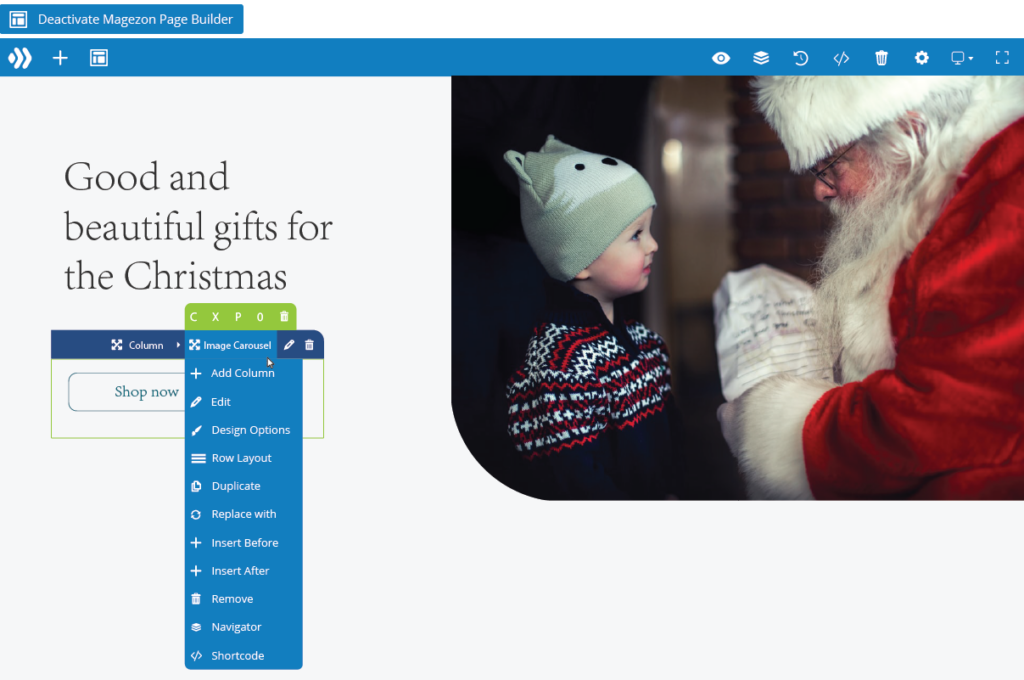 When you are about to upgrade your page builder editor, "easy-to-use" and "feature-rich" are the two most essential factors to consider. With that in mind, try the intuitive drag and drop interface of Magezon Page Builder. It will save you a lot of time and money when creating CMS pages, static blocks, category descriptions, and product descriptions. Besides, more than 50 elements give admins the flexibility to create any spectacular Christmas sale landing page they want.
2. Get Your Newsletter Ready to Send Out
People may think email marketing now is outdated, compared to the booming of social media with hashtags and live streams. Still, emails and newsletters are a cost-effective and professional solution for branding and driving sales. That is to say, you'd better spend time crafting newsletters informing your customers about your upcoming discount.
Sharing the same core builder interface with Magezon Page Builder, Magento 2 Email Builder is a compelling set of tools for building and designing any email type. You can create and manage unlimited email templates that go in line with your brand aesthetic or sale promotion campaigns. Also, the module contains more than ten brilliant pre-built email templates with highly customizable options. Thus, it helps save time-suck while not having to pour so much effort into your tasks. Other than that, it's vital to keep an eye on the email content. Try to craft something new and creative, not just a boring sale-focused newsletter. Have little-to-no idea? Explore 8 Christmas newsletter ideas to wow your subscribers.
II. Improve your page load
When the Christmas fever is at its peak, your store will see a considerable spike in traffic (and conversion). Of course, that's great. But it may be a double-edged sword that slows down the page speed and affects your customers' seamless shopping experience. Especially during the holiday season, people tend to be more time-sensitive because the orders can be gifts for their nearest and dearest. Thus, people will not spend time struggling with an e-commerce site that takes forever to load, and you do not want to see your customers bounce to other competitors, either.
That's why you should prepare for this scenario. In fact, upgrading the Magento page speed is a smart move, and it is not as challenging or costly as you think. You can download for FREE Magento 2 Lazy Load extension to speed up your website by 70%. Its working mechanism is loading images and videos only when they enter the viewport as customers scroll down the page. Get it now to optimize your site performance, not only for the upcoming holiday but forever.
III. F5 your product pages
1. Create a sense of seasonal merchandise
Because of your business peculiarities, it's hard to offer actual seasonal merchandise. But you can decorate and spice up your product with some Christmas spirit.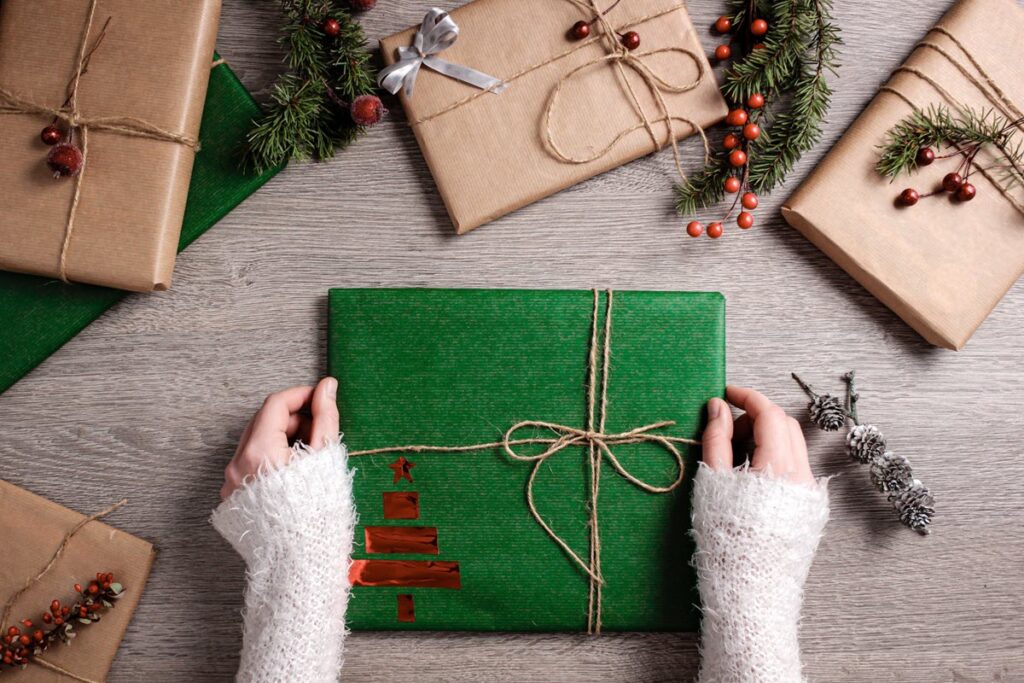 If you sell physical products, add extra services like Christmas gift wrapping, fast shipping, or an edition just for the occasion. For the virtual products, consider modifying the advanced pricing, giving them a free installation service or any strategies you think will drive sales. Just let people feel it's more special than other normal days. By default, it's possible to implement this task with the Magento 2 backend. But if you are looking for a more powerful tool that allows you to create products' custom options quickly and brilliantly, take a look at Magento 2 Custom Options extension.
Moreover, adding product labels will be a sure-fire way to draw customers' attention. Leveraging Magento 2 Product Labels extension, you are empowered to create eye-catching labels and control their display in terms of the position, pages, condition, and time limit.
To create a sense of urgency, why not design a countdown timer for your product pages? Because countdown clocks will steer indecisive and last-minute customers toward the checkout faster. Countdown Timer extension for Magento 2 is a great all-rounder that restricts customers' decision-making process and turbocharges sales volume. Besides, it comes in handy for designing countdown clocks for any campaign without touching a line of code.
2. Expand Your Product Visibility
Did you know that your navigation menu also affects your SEO score? This is because the clear, easy-to-follow, and keyword-rich features of a top menu are components for the Google algorithm to rank your site.
So if you want your products to pop on the search engine result page, do not ignore this factor. One more reason is that a working menu will allow customers to quickly navigate to the desired product pages, hence, enhancing their shopping experience.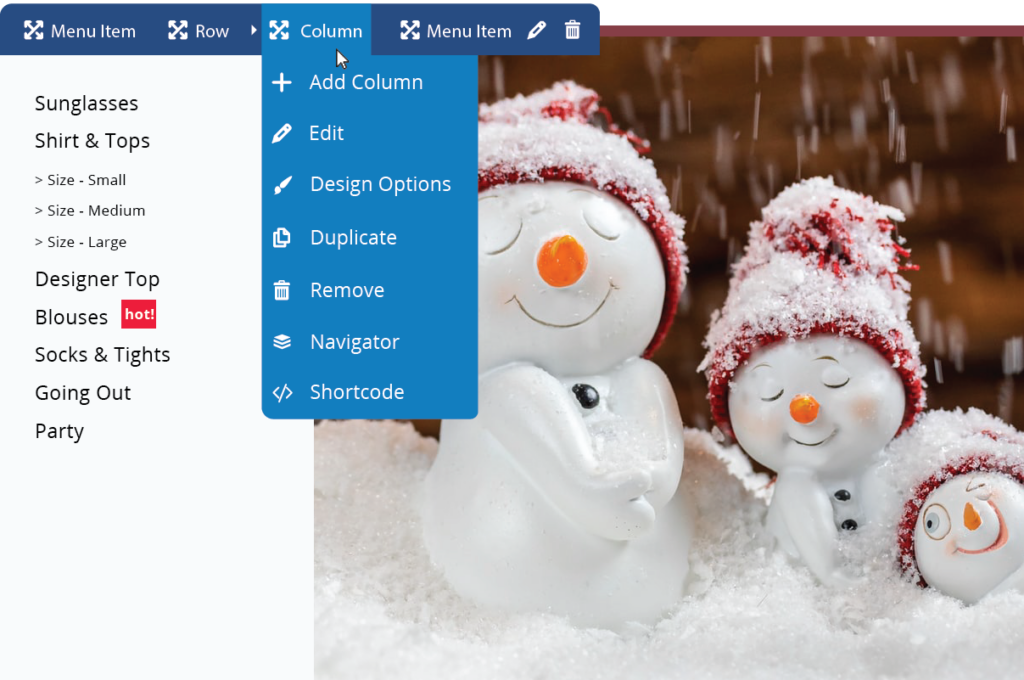 So what should you do to push your site navigation to the next level? The answer is using Magento 2 Ninja Menus extension. This goes beyond simply using a top-notch drag and drop interface, but you can use the 11 elements to turn your imagination into reality. Try the demos. You'll see it pays off for itself!
IV. Speed up the workflow
At the peak of the campaign, you will struggle to keep your head above the water. So it's time to speed up the day-to-day tasks.
1. For the frontend users
Is there anything you love but hesitate to buy because it costs an arm and a leg? To bring it home, you may jot down a wishlist and wait for a sale event, like Christmas. This festive season is when people tend to buy many products or even place orders in bulk, which takes time for searching and checking out, especially if they are wholesalers or last-minute shoppers. You need a solution! Magento 2 Quick Order extension allows your customers to place orders in bulk much faster. There is no need to access multiple pages to buy products because you can add them to the cart right from the checkout page. Hence it helps cut down the searching time and boost your sales dramatically.
Also, the "add to cart" button is the next thing that deserves an update. By default, on the category page, if you click the "add to cart" button of simple products, the items will be added to your cart immediately. But if you click that button of configurable or bundle products, you will be redirected to the products pages to select required product options. Thus, to continue shopping, you have to come back to the previous or next catalog page. And it's not a seamless experience. Magento 2 Ajax Cart Pro increases retention rate by allowing you to display a popup containing product options when customers hit the "add to cart" button of configurable or bundle products. Hence, customers do not have to wait for reloading pages each time they add or remove an item.
2. For the admins
In addition to the need for quick order placing, you can also speed up the invoice and shipment creation by levering Magento 2 Auto Invoice & Shipment. The module is a powerful tool that automatically creates invoices and shipments once your orders are completed. With its amazing features, you can speed up your payment process and enhance your customers' shopping experience.
From the backend, there is a no-brainer way to shorten the searching time for admin users by installing the FREE Magento 2 Admin Search extension. Then you can quickly and conveniently navigate to any menu, option, tab, and field in the Configuration section.
V. Marketing campaign
If you land here, the preparation phase is almost done. Congrats! You just need to plan a considered timeline for the campaign to make sure everything is in its place.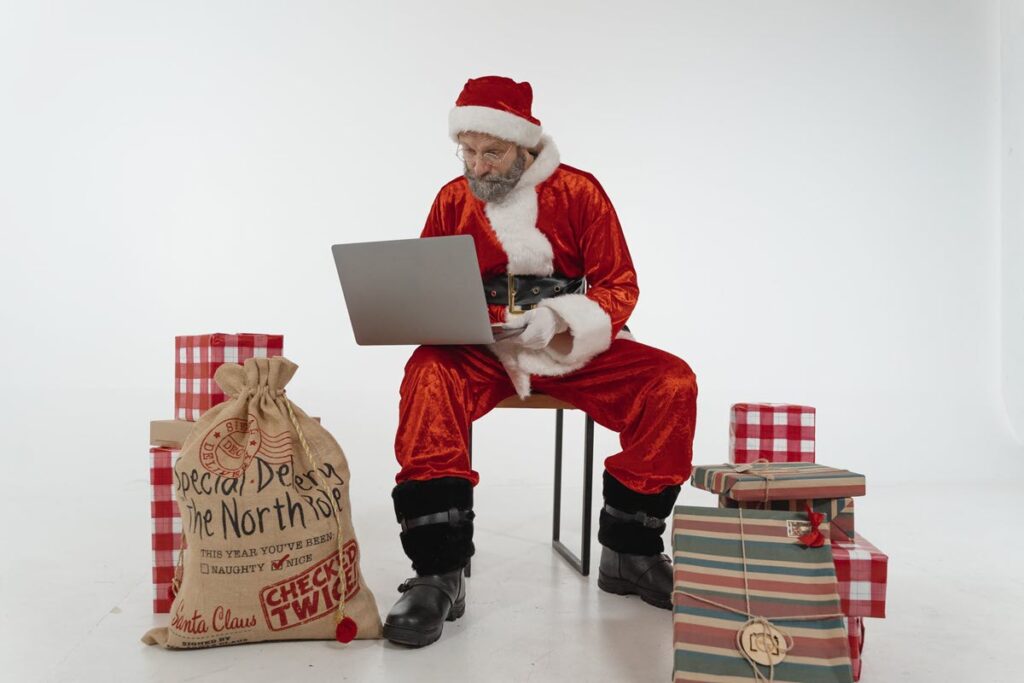 Assume that the campaign takes place from December 20th-27th. My suggestion for the timeline will be as follows:
In the first week of December: give a sneak peek of what is going on for this e-commerce Christmas. There are several ways to keep your customers informed about the upcoming event. For example, you can send personalized emails to repeat customers, making them feel they are privy to the news.
December 15th: design clocks for the home page and product pages that count down to the big day.
December 19th: ensure rules, coupon codes, banners, and popups are scheduled from your backend. Then send emails and post on your blog/socials to spread the words about your deal all over the web.
December 25th: panic for last-minute shoppers by emails, blog/social posts.
December 28th: wrap up your campaign, say thank you to your customers, and give them a glimpse about your after Xmas sales.
VI. After Xmas sales – don't forget it
You've done an excellent job throughout the campaign and see a huge spike in your sale volume. Give yourself a pat on the back!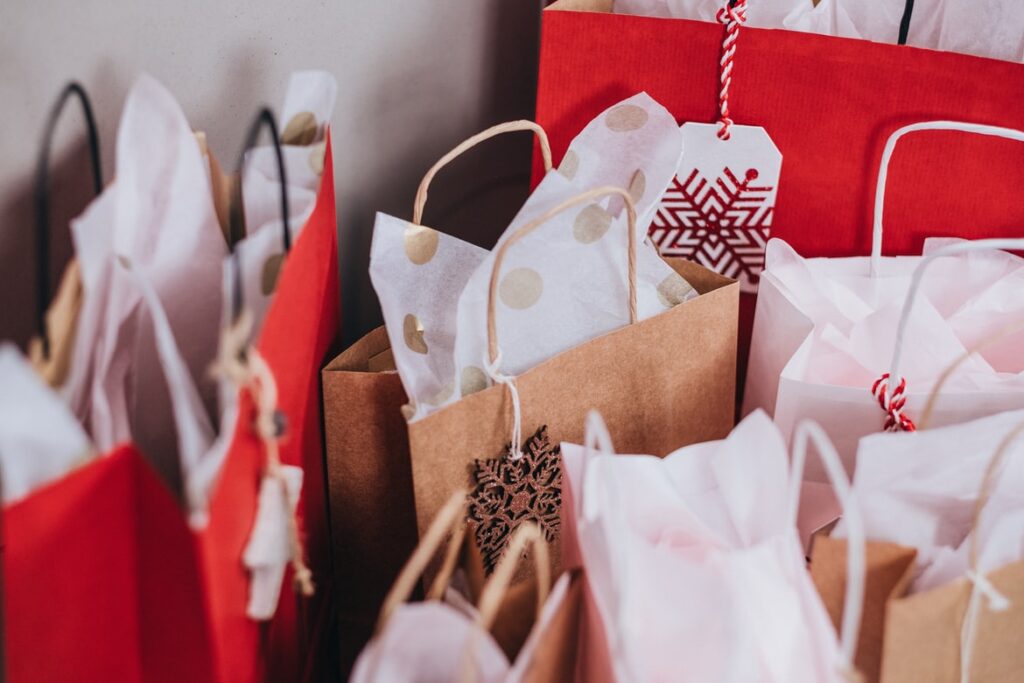 However, the battle hasn't come to an end yet! According to NRF, 68% of Americans are willing to shop after December 25th. So I bet you'd love to get a slice of the pie. Here lies an opportunity to make your sale volume go through the roof even when the big day has gone.
The easiest, first, and foremost thing is to rescue the abandoned cart. Just export a list of customers who have not completed the checkout process and craft emails recalling them about the last chance to buy their desired items.
Also, there must be a large number of out-of-stock products after such an intense sale campaign. Therefore, you should leverage Magento 2 Out Of Stock Notification to update your customers with every change in their concerned products through emails.
Over to You
Christmas is not just about buying presents, giving presents, and waiting for presents. Instead, it's a low-hang opportunity for online merchants to tempt shoppers to buy. We hope that the to-do list above helps you plan a well-thought-out Christmas promo campaign and enjoy your most profitable festive season ever. Stay safe, and merry Christmas!
At Magezon, we also provide safe, efficient yet affordable Magento extensions that helps you build and optimize your Magento store. Visit Magezon to pick ones for yours!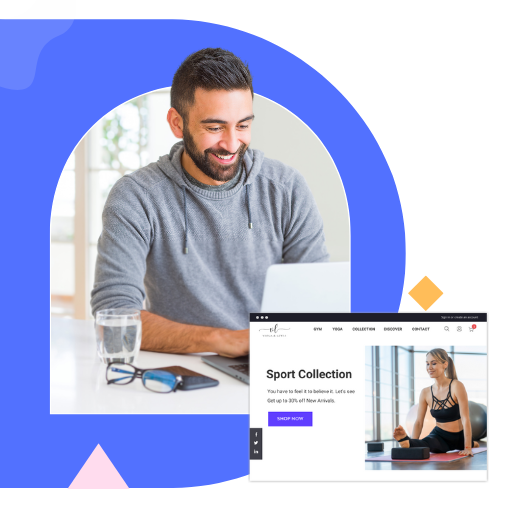 Optimize Your Magento Store With Powerful Extensions
Looking for fast, efficient and well-coded extensions to build or optimize your Magento stores for sales boosting? Then visit Magezon website and grab necessary add-ons for yours today!