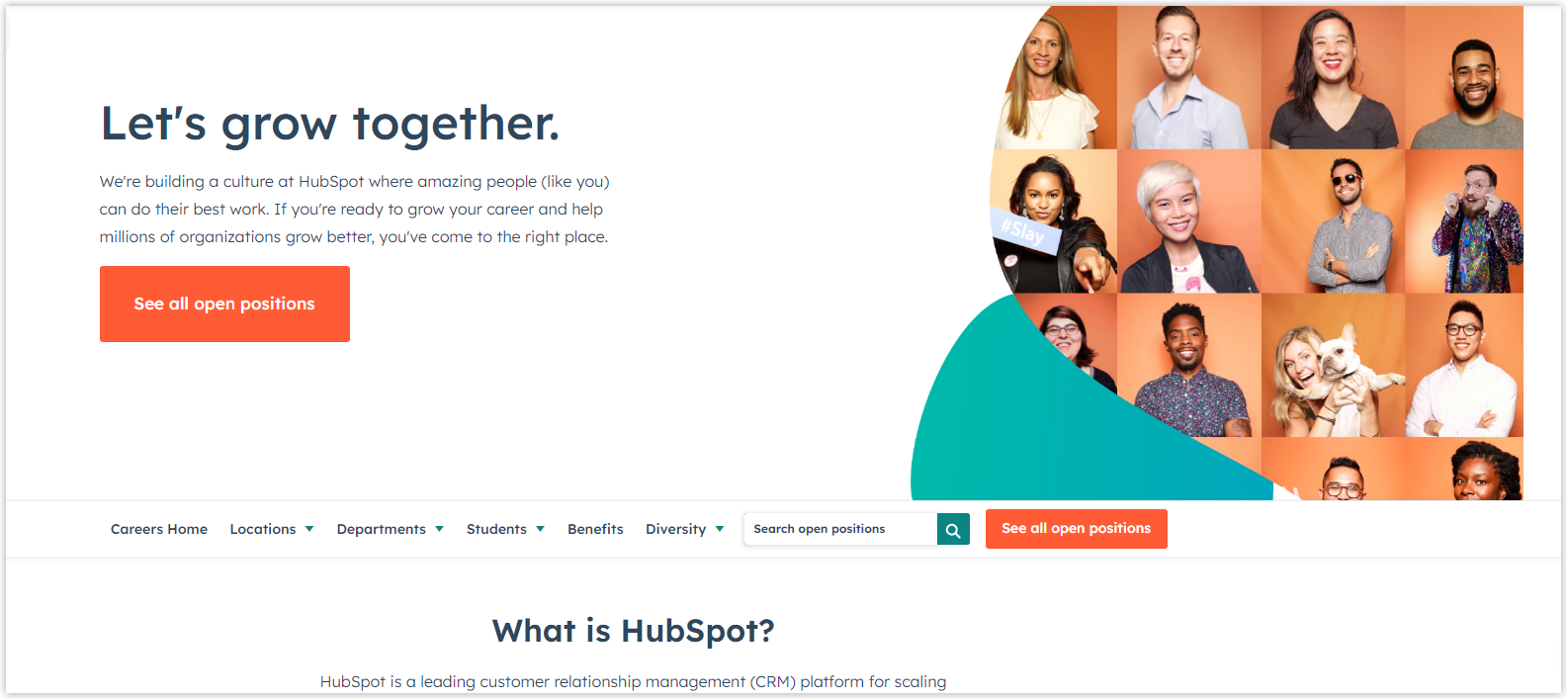 Seeing many companies trying their best to attract candidates with their stunning career websites, we are here to give some more useful advice. A company career site can be the window to the company's soul; when done well, they reflect its mission, vision, and core value. Besides, career page design is also one of the effective marketing methods that any business should focus on.
What Is a Career Page on a Website?
The best career site is an essential part of a professional business website. On this page, the firm provides all the information about job vacancies, sometimes the mission, the vision, and core values of human resources.
A career page should have an intelligent vacancies filter and a stunning theme. With a well-designed career page, candidates can seek all the requirements and vacancies of the company. Your career webpage is an effective recruitment marketing tool if you want to attract the younger generation.
How to Create the Best Company Career Sites?
A company career website is a business's appearance. Thus, owning cool career pages will mark a candidate's impression. Here are several tips for the best company career pages.
1. Highlight the firm's core values
A career webpage is a powerful tool that spreads a company's core values to help candidates visualize the working environment. In addition, the company can spotlight its culture through the tagline at the top of the page.
2. Showcase business culture through human resources
Besides core values, businesses can use human resource pictures and stories on the recruitment page to transfer their culture. These create a feeling of friendliness and closeness for candidates at first sight.
3. Build a mobile-friendly career page design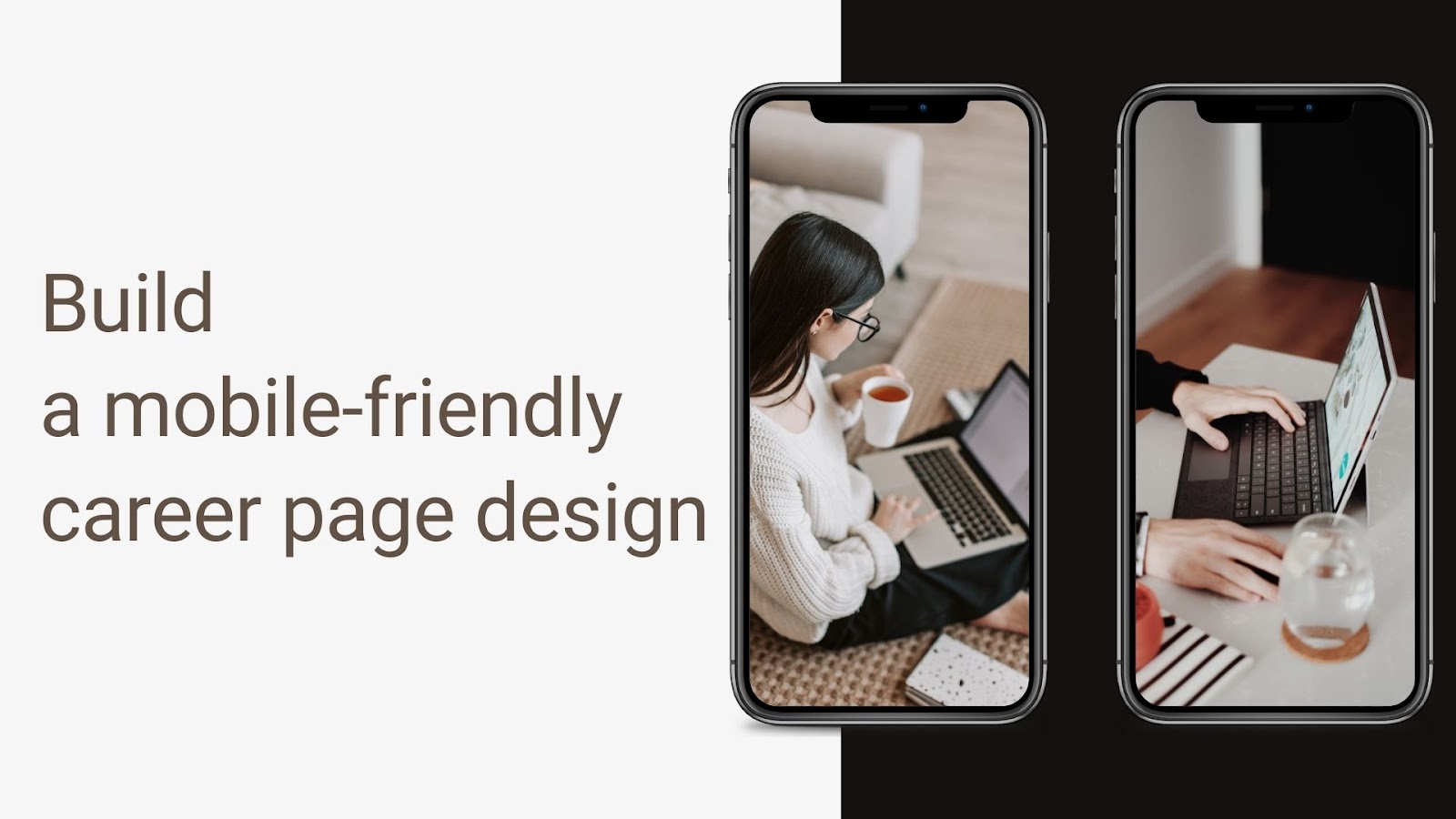 Probably most people think that a mobile-friendly version of a career webpage is unnecessary. However, there is an insight that some candidates look for jobs, save them on mobile, and apply later through a desktop. Therefore, creating a mobile version of your career webpage is a wise choice.
4. Keep your career page constantly updated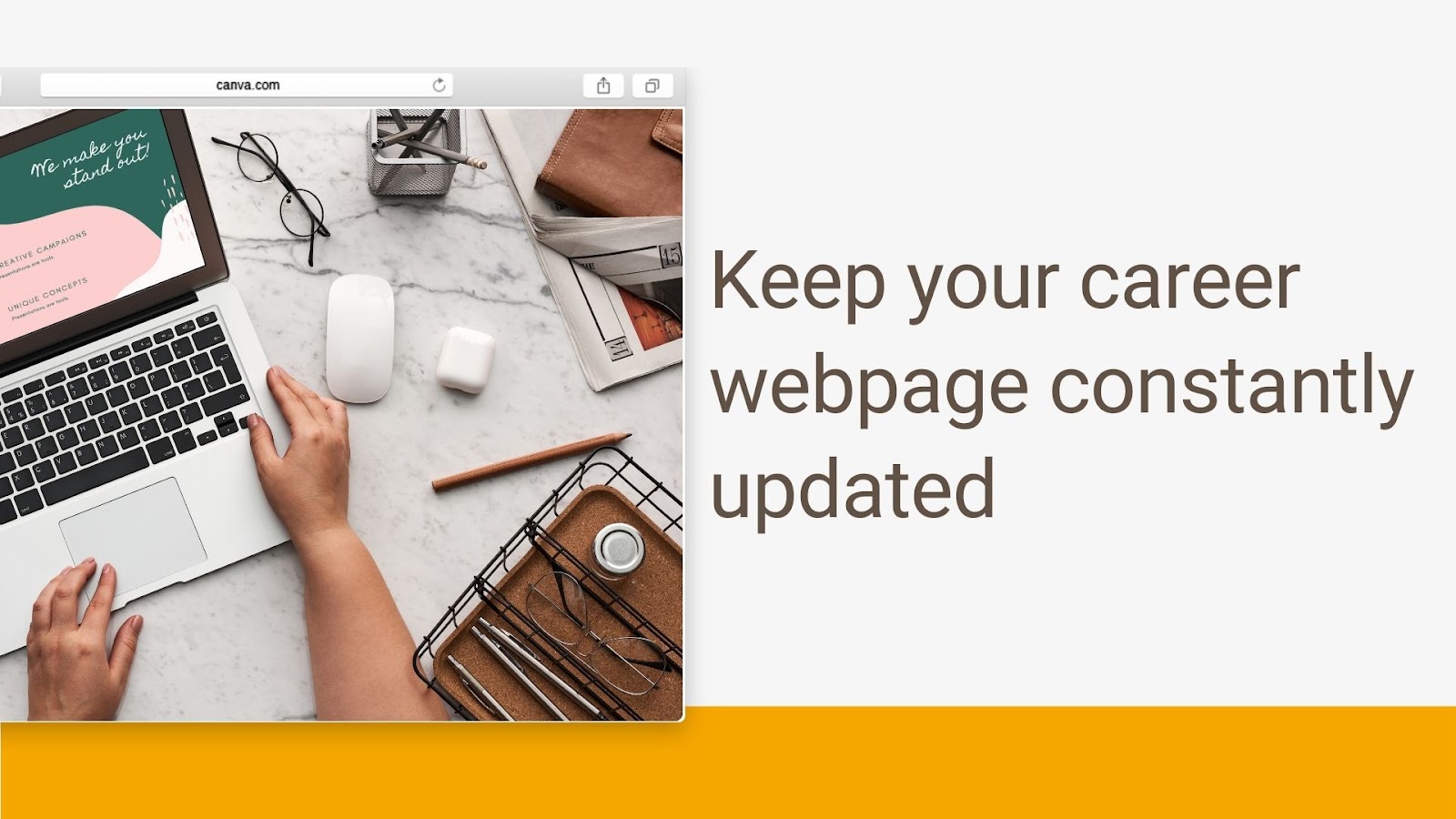 Frequently updating pictures and videos of humans on your careers page keeps it fresh and helps candidates understand how your company develops. When updating your recruitment page, don't forget news about new offices and testimonials from your employees. They are trustworthy information that improves a firm's reputation.
5. Display a well-designed vacancy filter
If a website contains a large number of jobs, a filtering system is a necessity. A filter is a powerful tool for arrangement, improving the UX, and reaching a wider audience. In addition, the effective filtering design can improve the time on the page and diminish the bounce rate.
6. Have clear job descriptions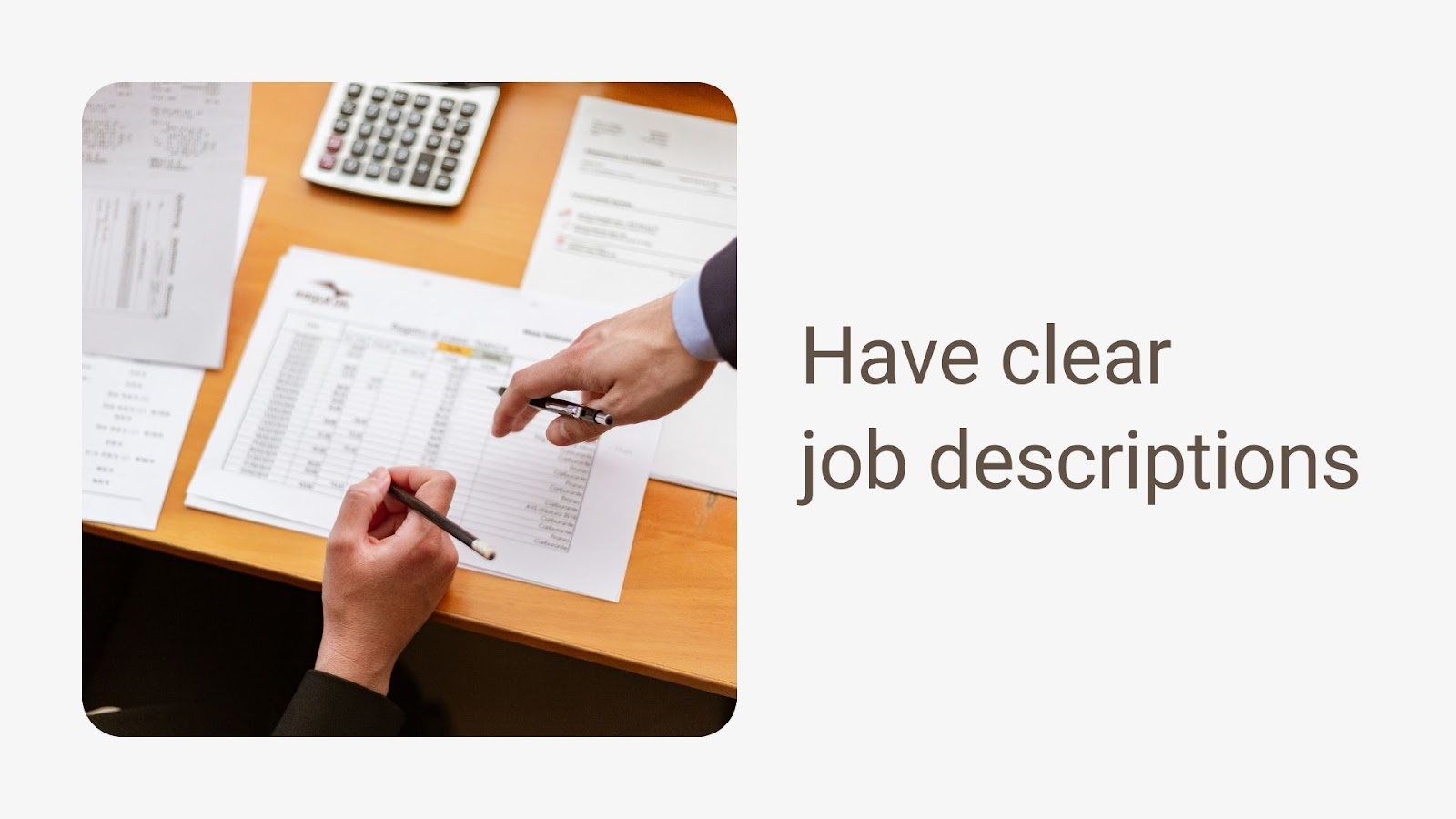 A compelling job description is one factor that creates a successful career site. It reveals what a company expects from the candidates and whether they would find it suitable or not. Thus, a job description is a simple list of tasks and an opportunity for a business to make a creative description.
7. Display share buttons
When you add a share option, people can immediately share your information on social media or personally with someone. This gives you many chances to reach many new potential candidates.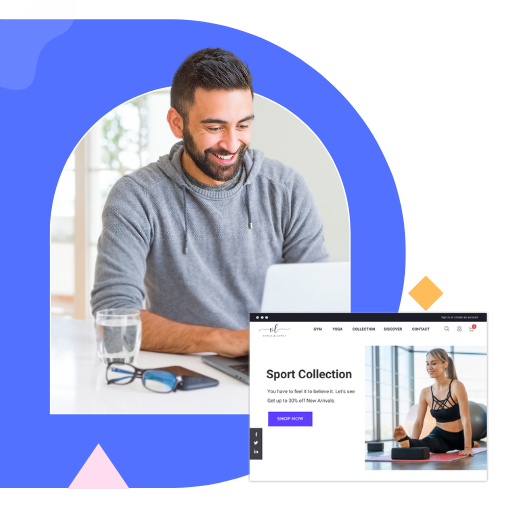 Try FREE Magezon Page Builder demo today
Easily create your engaging, interactive Magento company career pages in any style whenever you want without relying on developers or designers. Just by drag & drop.
Top 21 Best Career Page Examples
Here is the list of the 21 best company career pages. Look at these tops and find out whether there is any mistake on your site.
1. FPT Software
FPT Software is based on FPT Corporation, a globally leading technology and IT services group headquartered in Vietnam. It has more than 32000 employees worldwide, and its revenue is nearly $US1.2 billion. Therefore, it's safe to say that FPT Software is the pride of the Vietnamese.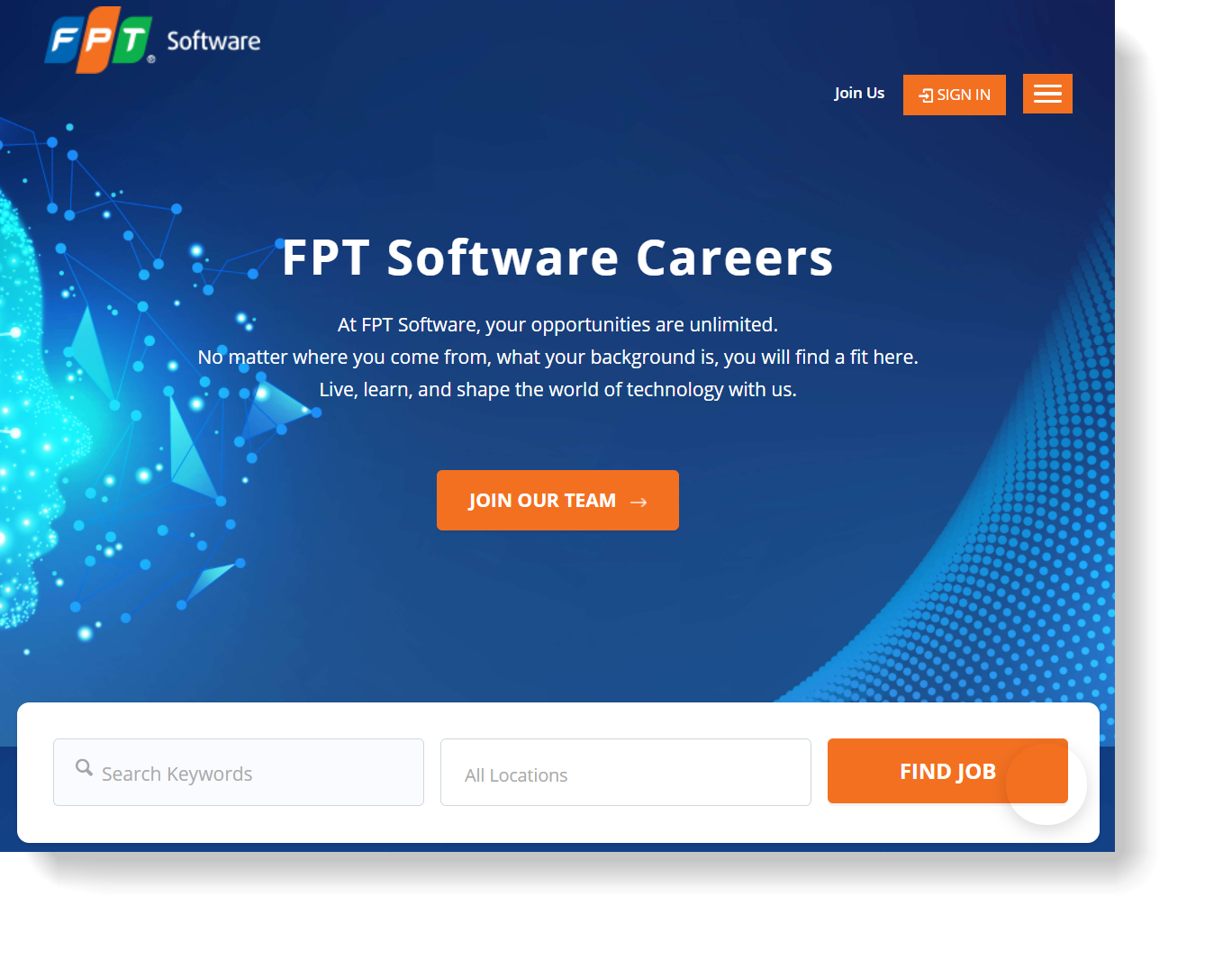 At first sight, we can easily see the recruitment brand "FPT Software Careers" on a dark blue theme. This brand acquired a reputation as a headhunter for technology and IT talents that most people dream of. The site has good content, such as job categories, rewards and benefits, culture, and testimonials.
2. Unilever
Unilever is a global company that manufactures and supplies daily necessities for nutrition, hygiene, and personal care. Unilever's headquarter is located in London, England.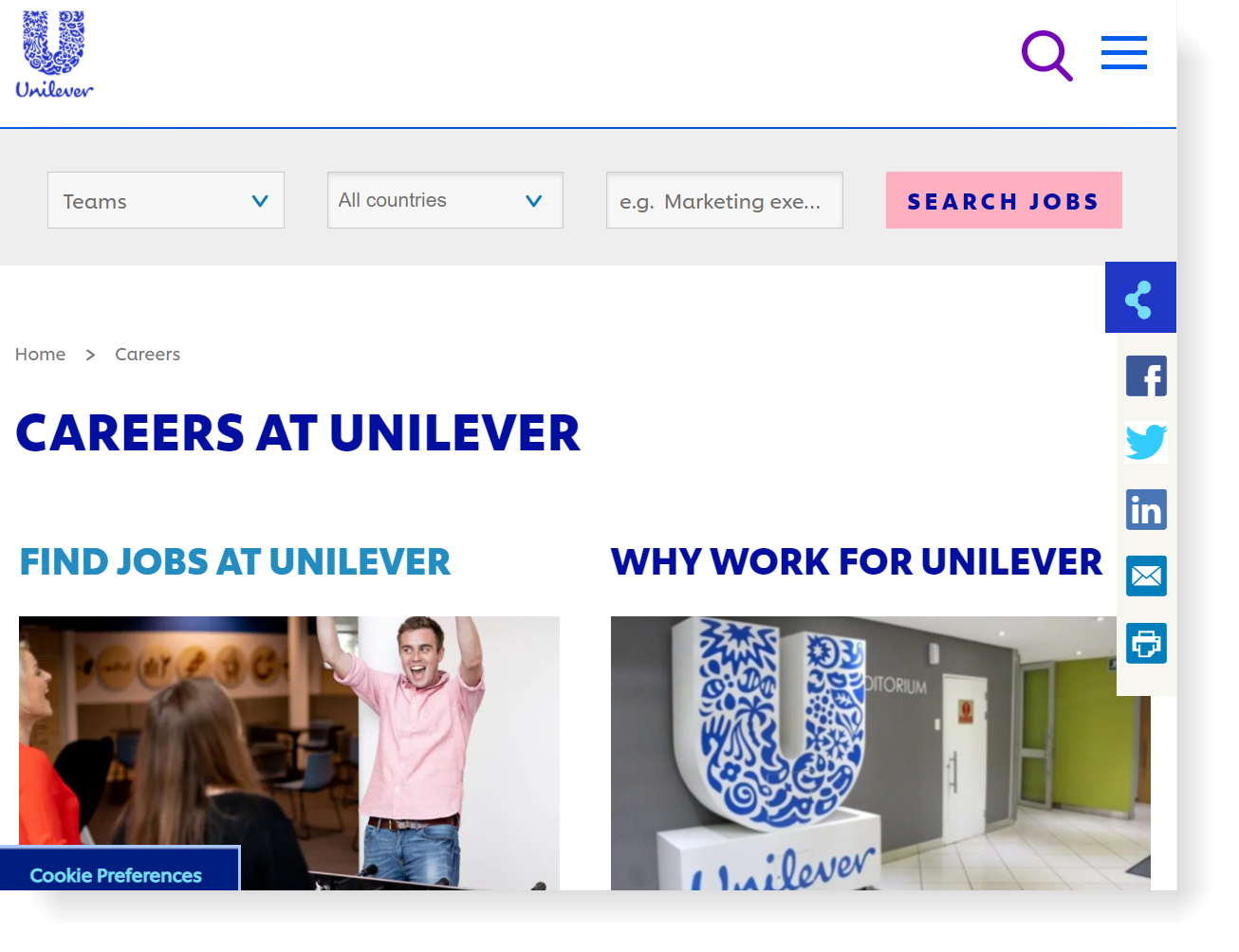 Like FPT Software, Unilever doesn't have a tagline on its recruitment page. However, they are successful when sharing their stories and testimonials with communities. As they realize the importance of social media, they put the share buttons in outstanding points to quickly expand their brand to the market.
3. Amazon
It can easily be seen that Amazon is one of the biggest e-commerce companies globally, which focuses on e-commerce, cloud computing, digital streaming, and artificial intelligence. In particular, they own an online store that delivers worldwide.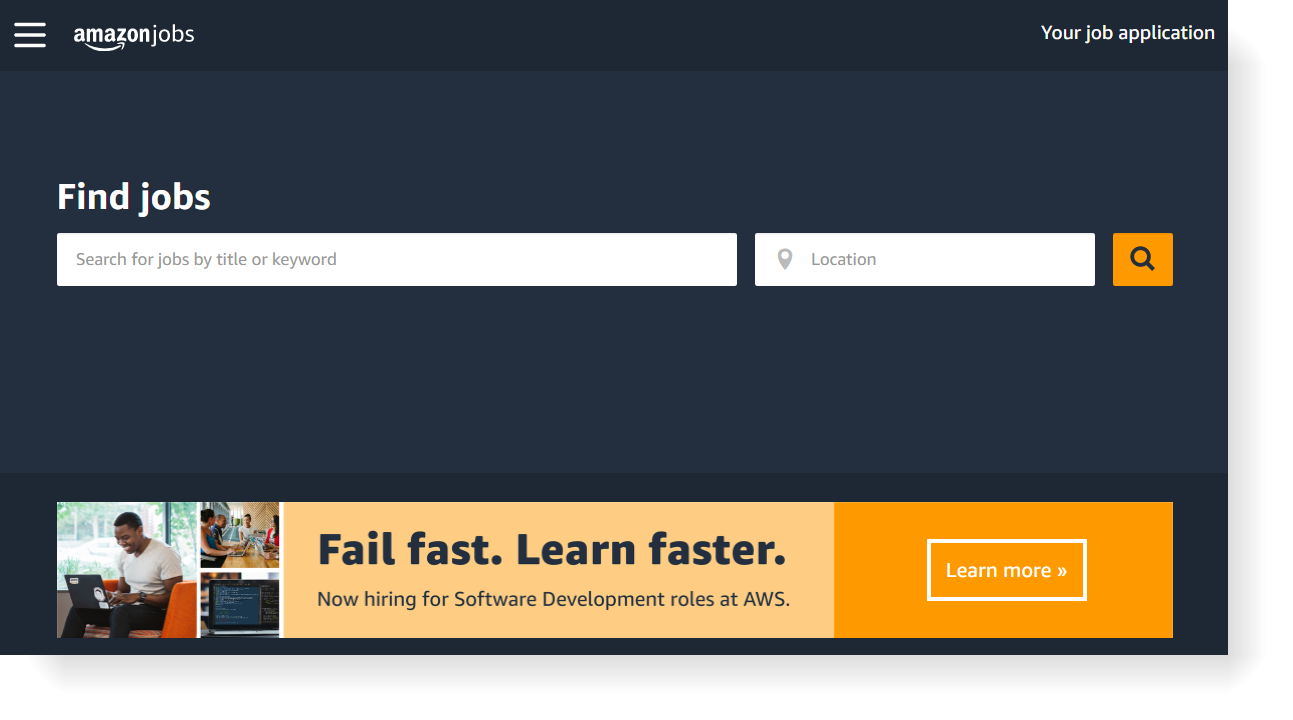 Amazon's career site has a convenient filter for jobs. They also divide jobs into categories for candidates to quickly seek.
4. Nestle
Nestle is the world's largest food & beverage company contributing products worldwide, headquartered in Switzerland. This company is a dream for those who work in Engineering, Marketing, Supply Chain & Procurement, Technical & Production.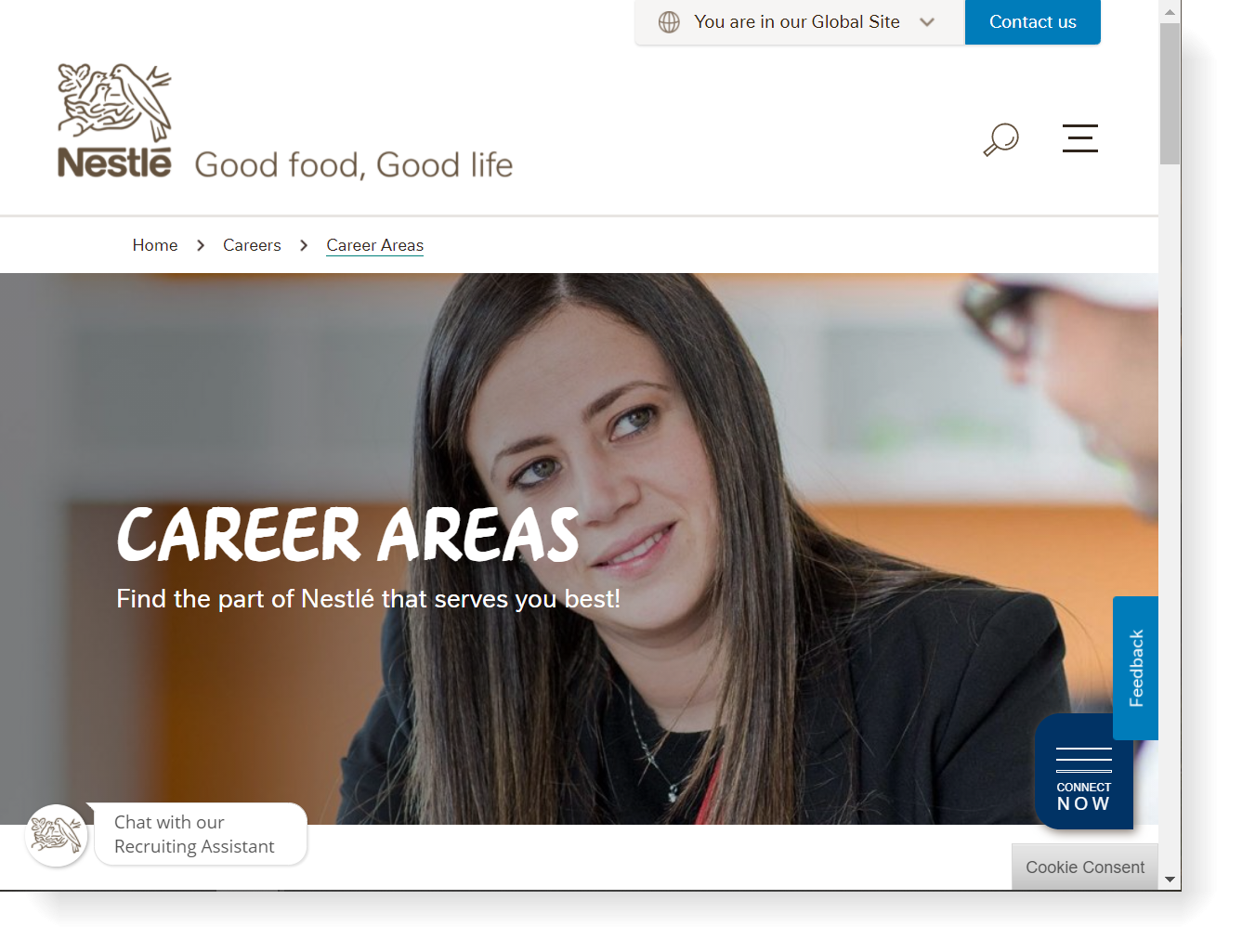 Their main slogan is "Find the part of Nestle that serves you best!" Immediately on the page, a long list divided into many areas is displayed. In general, the whole page is straightforward and user-friendly.
5. Coca-Cola
Coca-Cola is a beverage company manufacturing, retailing, and nonalcoholic marketing beverage concentrates and syrups. They provide drinks for a lot of different countries in the world. So this is a worldwide company that most people want to work for.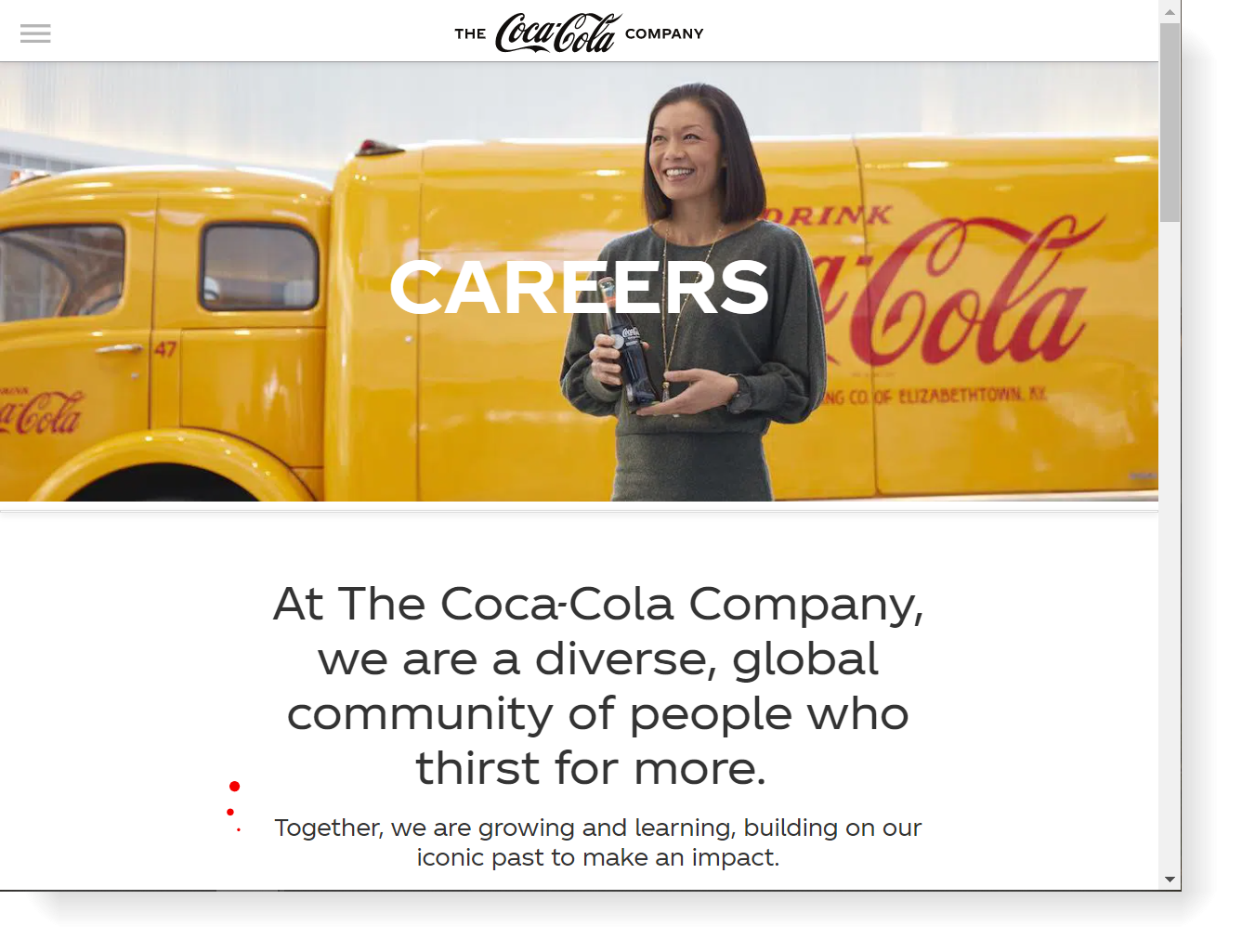 The content on the company career site is written in a telling stories style and creates trustworthy information. The stories on the page convey the brand's philosophy and human resources culture. Besides, if you want to learn more about job opportunities, you must navigate to another page.
6. Google
Perhaps Google is a multinational technology company that established its reputation, so I don't have to introduce much. On the other hand, working in Google headquarters or branches is a pride in every staff's career. From my point of view, I also dream about the day I work for Google.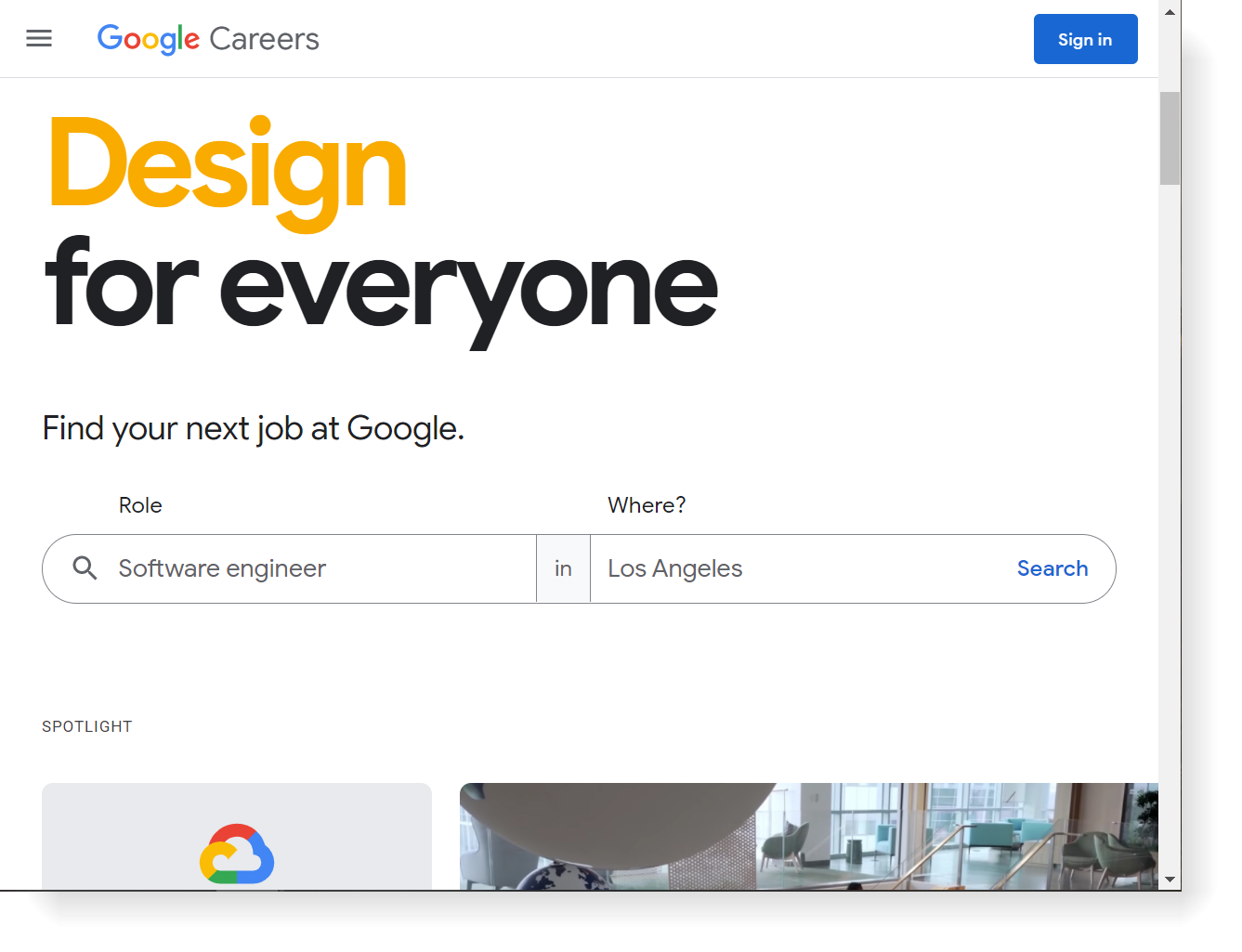 On the top of the company's career site, Goole nailed down its slogan: " Build, Create, Design, Code for everyone." It means they always work for user experience and make their products convenient. In addition, there is a lot of information on the site about working space, job opportunities, and human resources.
7. Facebook
Probably, Facebook is too common to introduce. So instead, Facebook showed the tagline "Discover who we are, what we do, and why we do it." to convey how well-known they are. Their career page inspiration 100% reflects the company's spirit, culture, and philosophy. As Facebook says, "The work we do impacts the world and the future."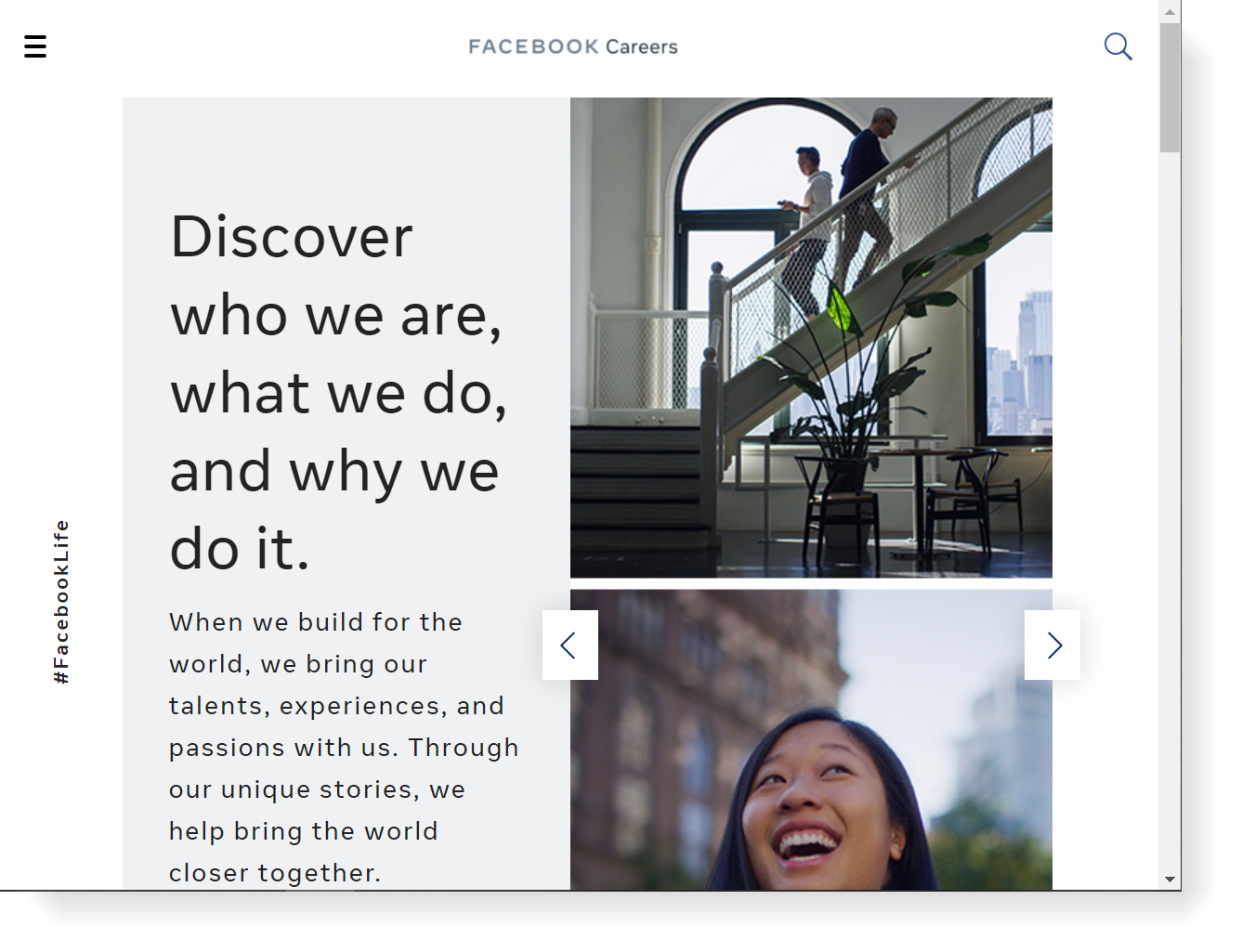 8. Gamestop
Just hearing the name, we can imagine that Gamestop provides video games and consumer electronics. It is a famous video game company headquartered in Texas.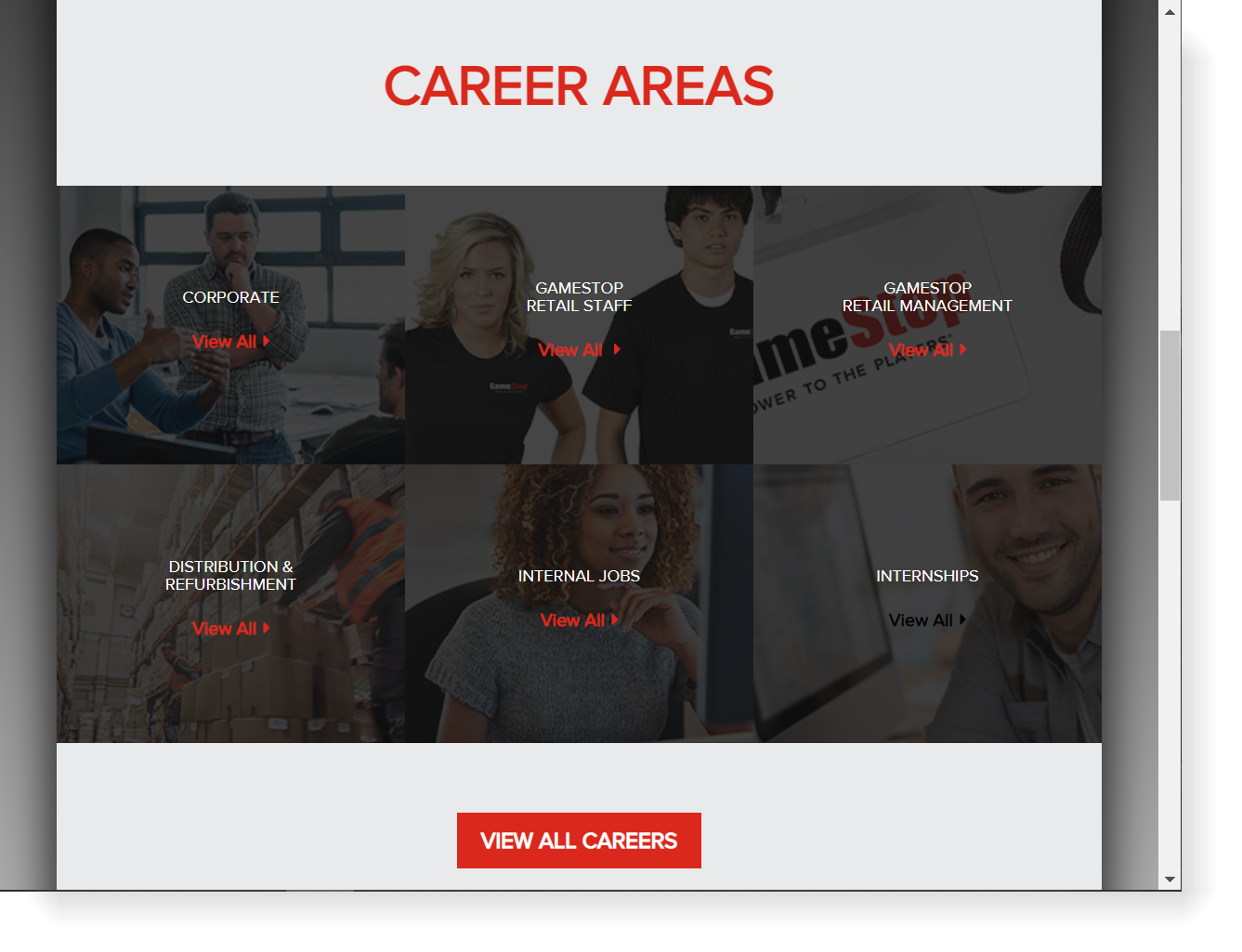 Regarding GameStop, the content structure on the career site is different. It contains About Us, Our Brands, Career Areas, and Job Search. Besides they also provide a registration form for candidates who want to join their team.
9. LinkedIn
LinkedIn is a social networking site for employment and business. Employment services mainly use this platform to seek candidates or look for jobs. Besides, LinkedIn Page is also a marketing tool for any business to expand its brand in recruitment.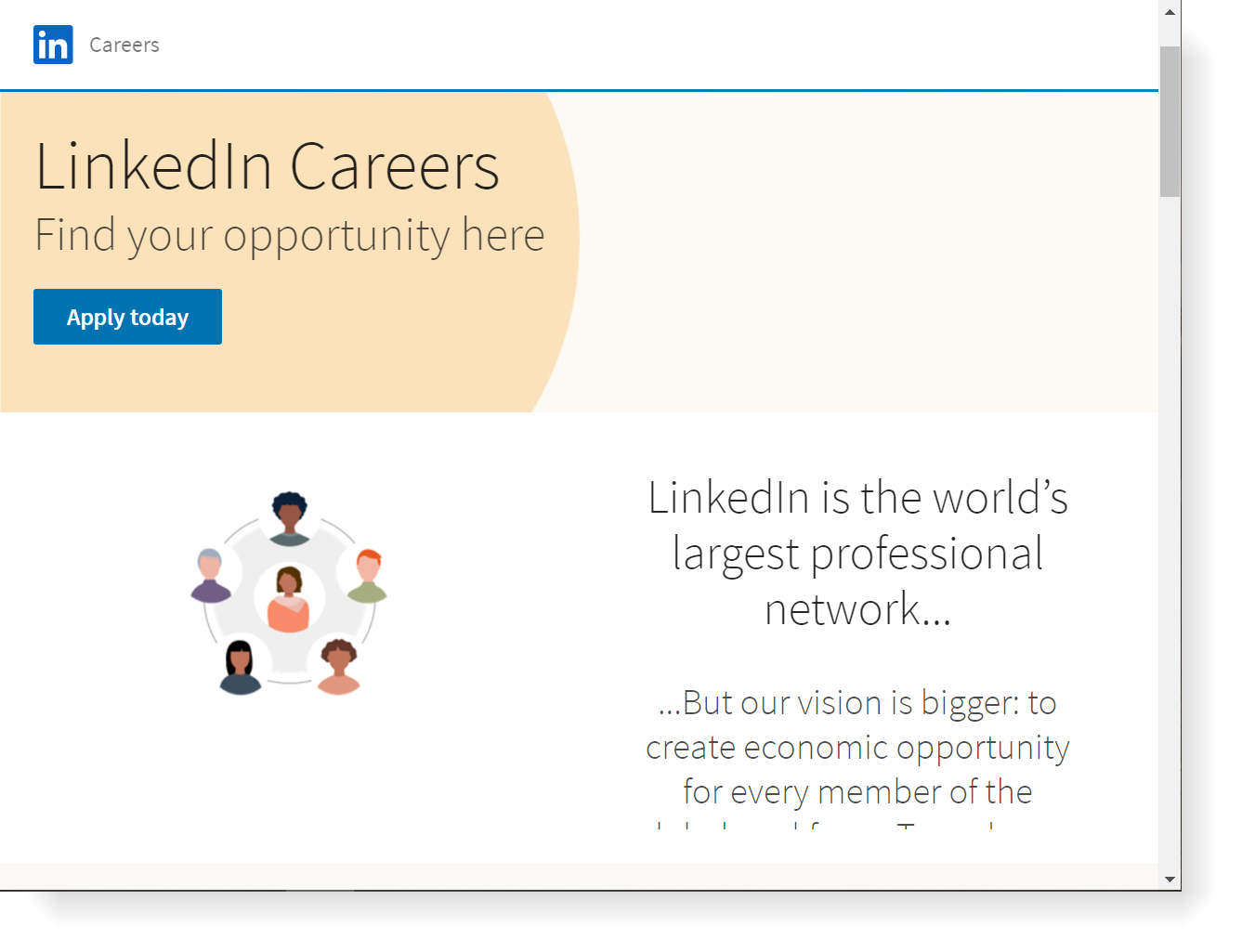 On the company career site, immediately, they present themselves with the tagline "Find your opportunity here" and the button "Search Jobs." You will be redirected to your LinkedIn page if you click the button. In the sections below, LinkedIn displays the testimonials and share buttons. It can be said that they are good at spreading themself on social networks.
10. Alibaba
Alibaba is a global technology company specializing in e-commerce, retail, and technology. It was founded in 1999 by a famous businessman, Jack Ma, China. Absolutely, because a multinational company, Alibaba has many branches worldwide.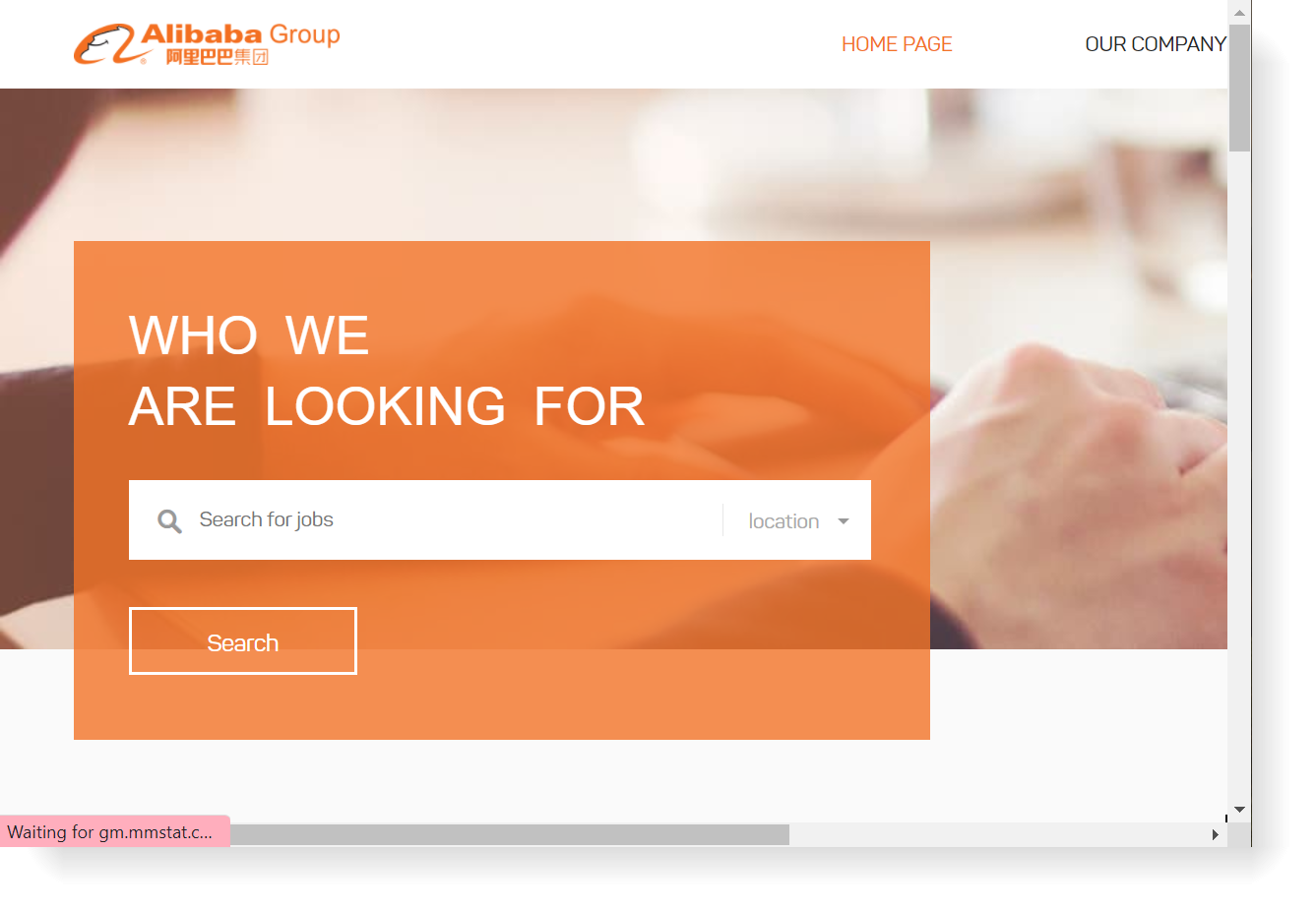 You can find the job you want in many cities by using keywords in the search bar. The content below is around brand stories and human resource culture.
11. Netflix
Netflix is extremely popular among the young, given that many watch their favorite movies or TV shows on this platform every day. Therefore, Netflix may be an entertainment icon for the young generation in the world.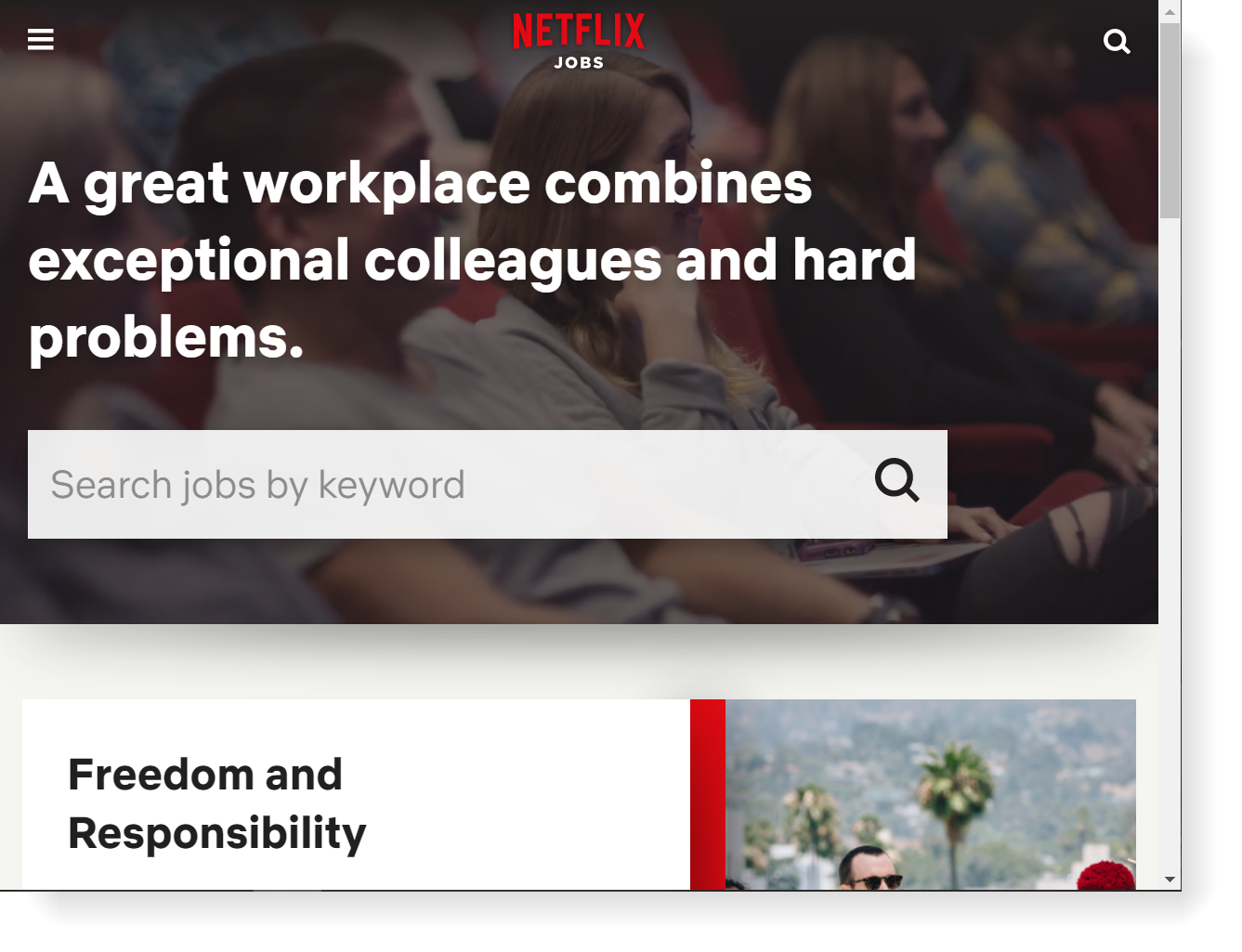 On the recruitment page, Netflix presented its slogan, "A great workplace combines exceptional colleagues and hard problems." and the philosophy, "Freedom and Responsibility." However, I figure out that Netflix is not good at arranging when not dividing jobs into categories.
12. Spotify
Just like Netflix, Spotify is quite common for young people. It is the world's largest platform providing audio and media services.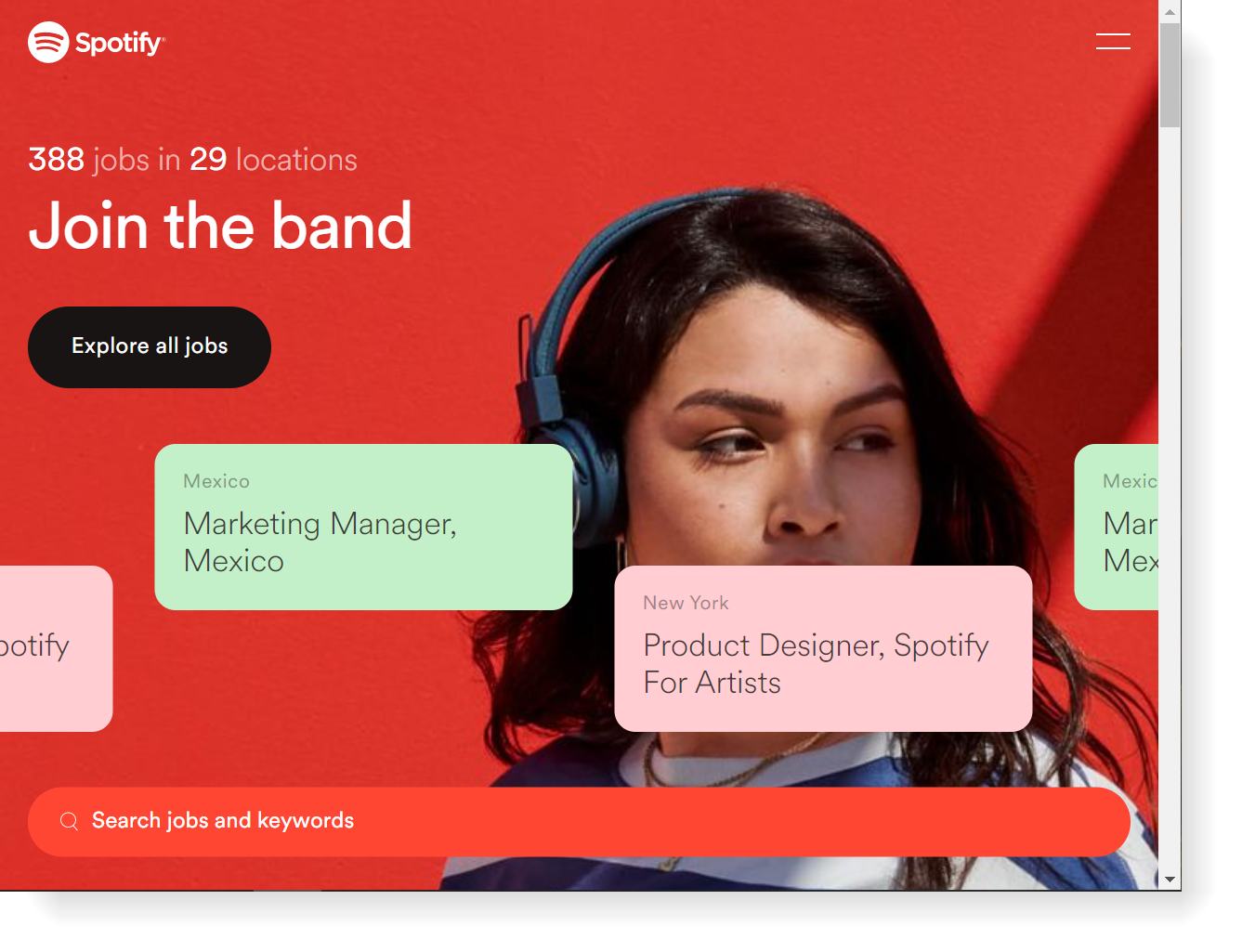 The brand's entire slogan is found in the slogan "JOIN THE BAND" on the top of the site. In addition, there is a "Explore all jobs" button below it to display the list of opportunities to work on Spotify. Moreover, you can also seek a job with the search bar expeditiously.
13. Apple
Undoubtedly, Apple is the world's largest multinational technology company that manufactures and provides consumer electronics worldwide.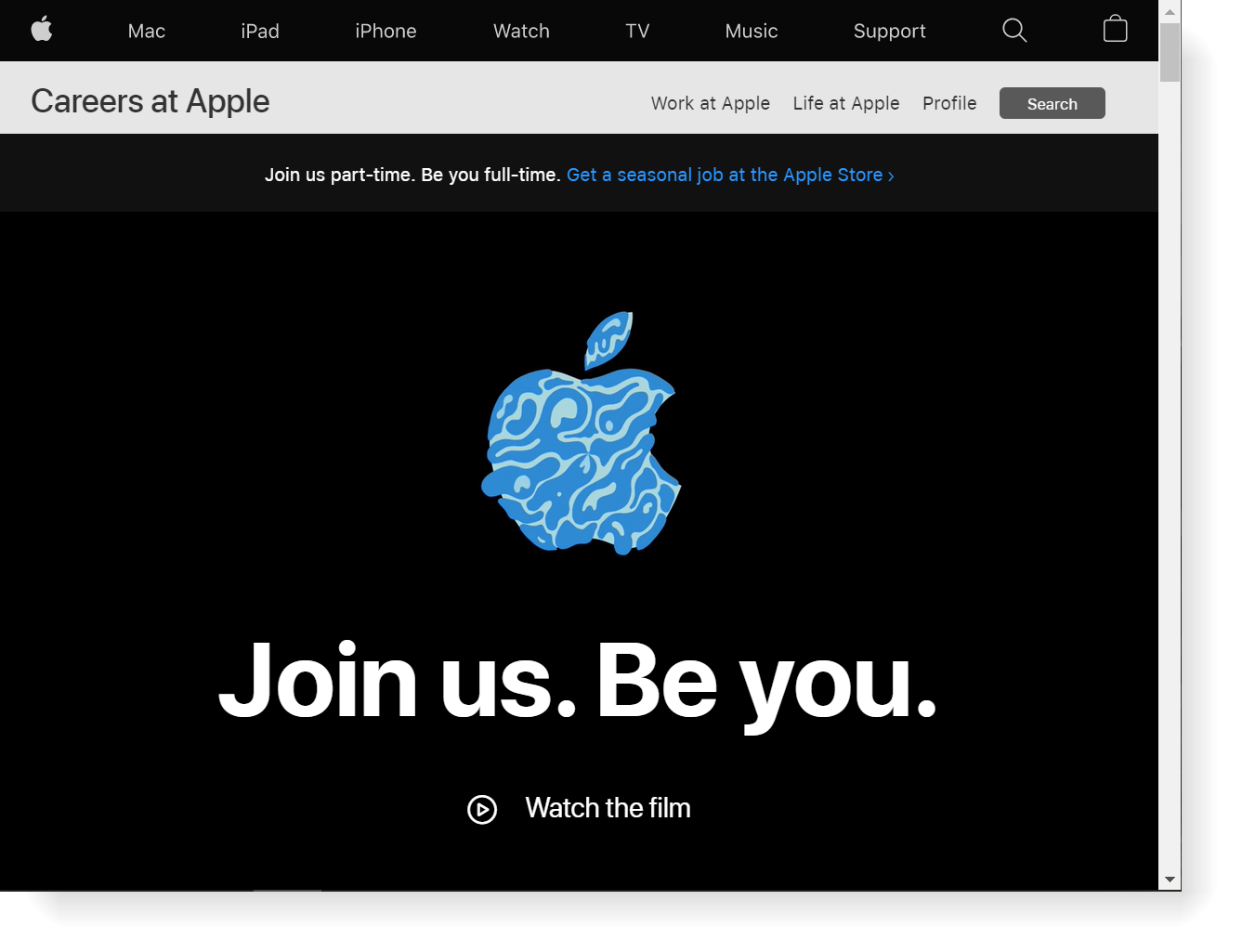 The information on the site looks like a conversation between employers and candidates, creating a friendly atmosphere. With the tagline and quotes on the site, we can visualize that Apple is a creative workplace, and you only need "Join us. Be You."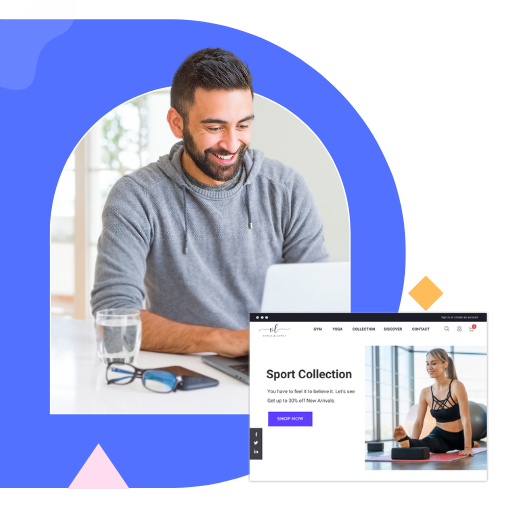 Try FREE Magezon Page Builder demo today
Easily create your engaging, interactive Magento company career pages in any style whenever you want without relying on developers or designers. Just by drag & drop.
14. Agoda
Agoda is one of the most necessary mobile apps for vacation preparation if you are a frequent traveler. It is an online travel agency providing information on hotels, vacation rentals, flights, and airport transfers.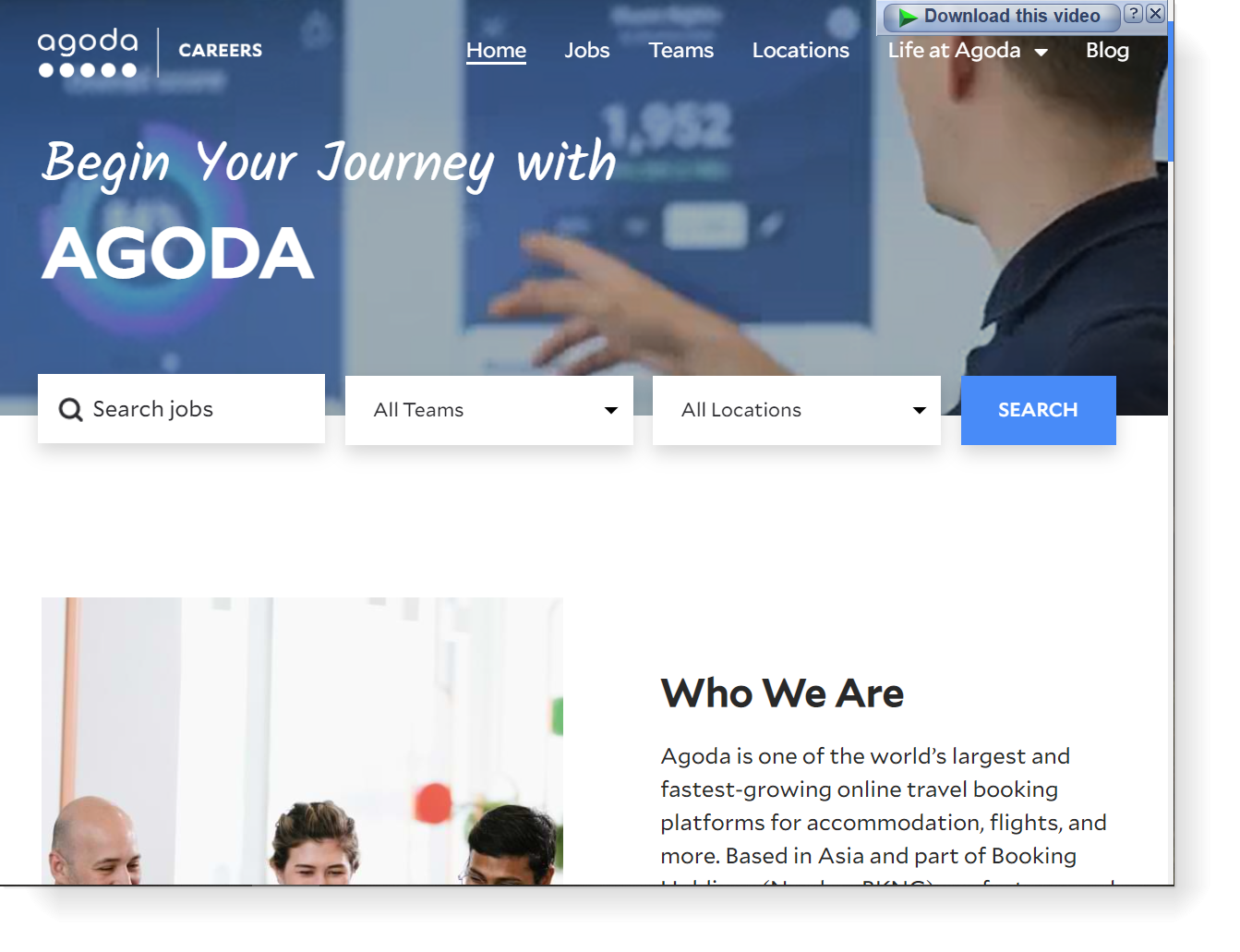 "Begin Your Journey with Agoda" might consider your career challenging. Agoda also presented itself through introduction, culture, and testimonials. They divided jobs into types logically. Besides, the intelligent search bar is always available for convenience.
15. Vietnam International Bank
Vietnam International Commercial Joint Stock Bank – Vietnam International Bank – VIB was established in 1996, headquartered in Hanoi, Vietnam. VIB has gained a reputation for its good services and fintech development.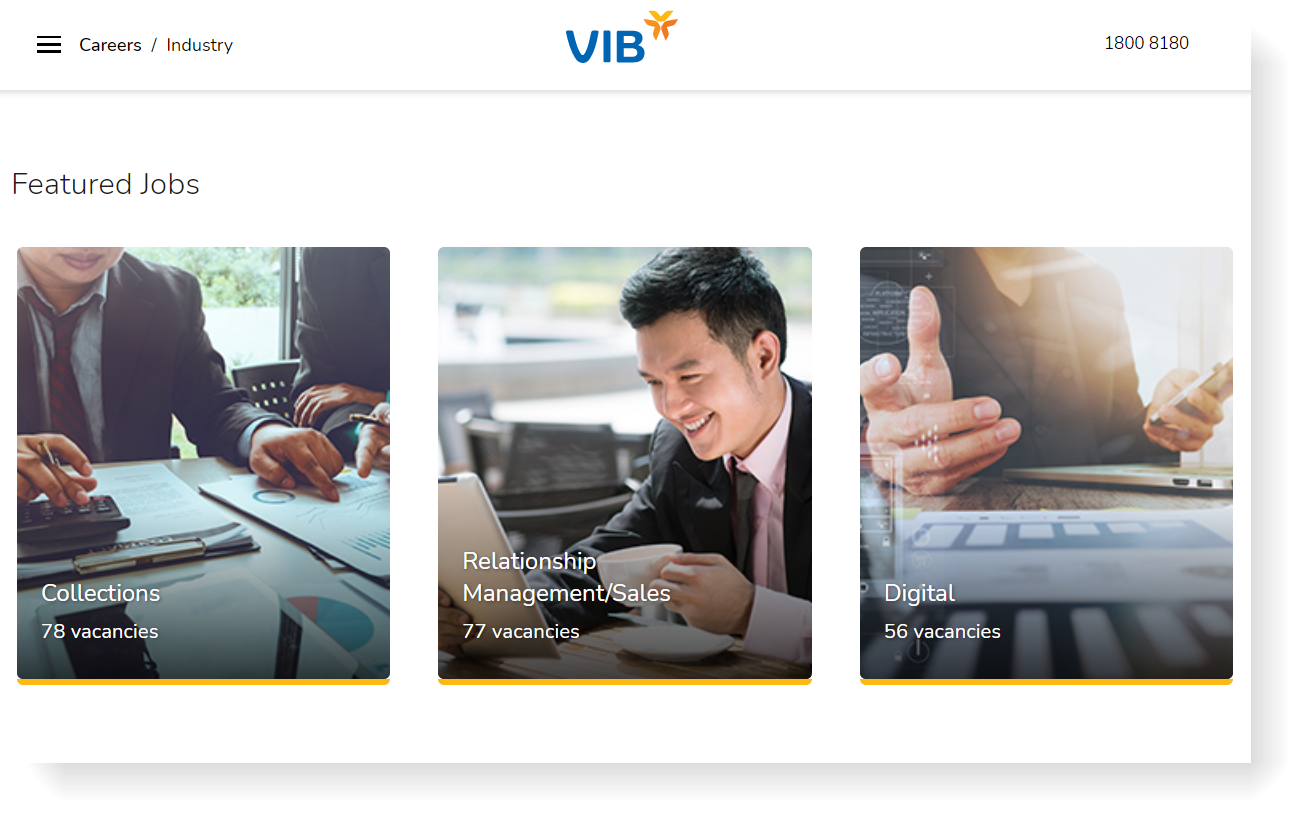 Everything is about job opportunities on the recruitment page instead of their message or history. They showed the featured jobs above. Below that, there is the other jobs section.
Techcombank is another well-known bank headquartered in Vietnam, established in 1993. It has become one of the most successful banks in Vietnam in recent years.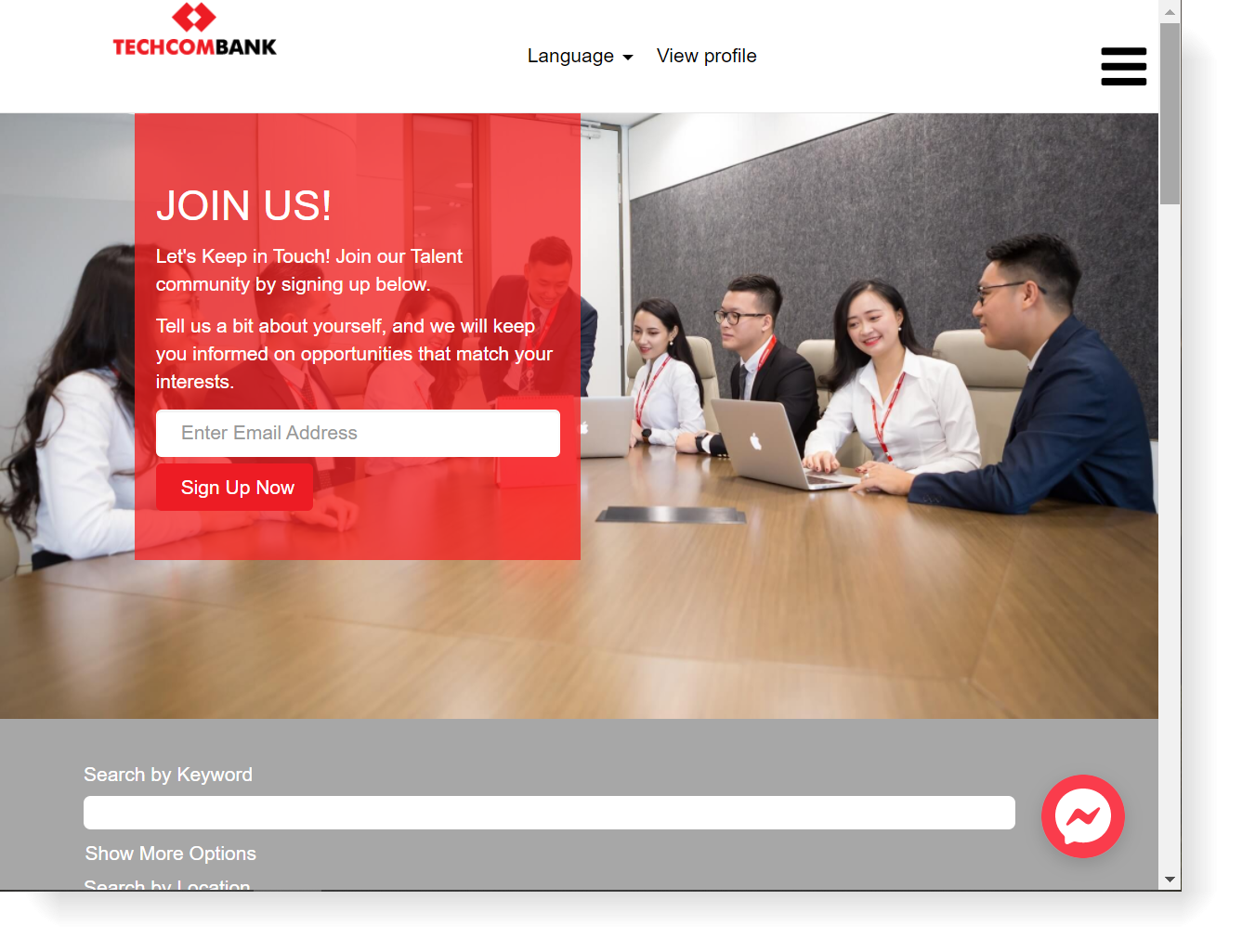 The content and function on the career page are pretty fulfilled. They designed a registration form and search bar on the top of the page. In the section below, they presented an introduction and human resources. The featured jobs list is also nailed down here. The brand's color scheme, red and white, is a great way to attract young people.
17. Zoom
Zoom's company career site is quite straightforward. It is a job list with an intelligent filter. You can seek the job you want through category, country, location, and more. From my point of view, this type of page will provide information for users expeditiously without long content.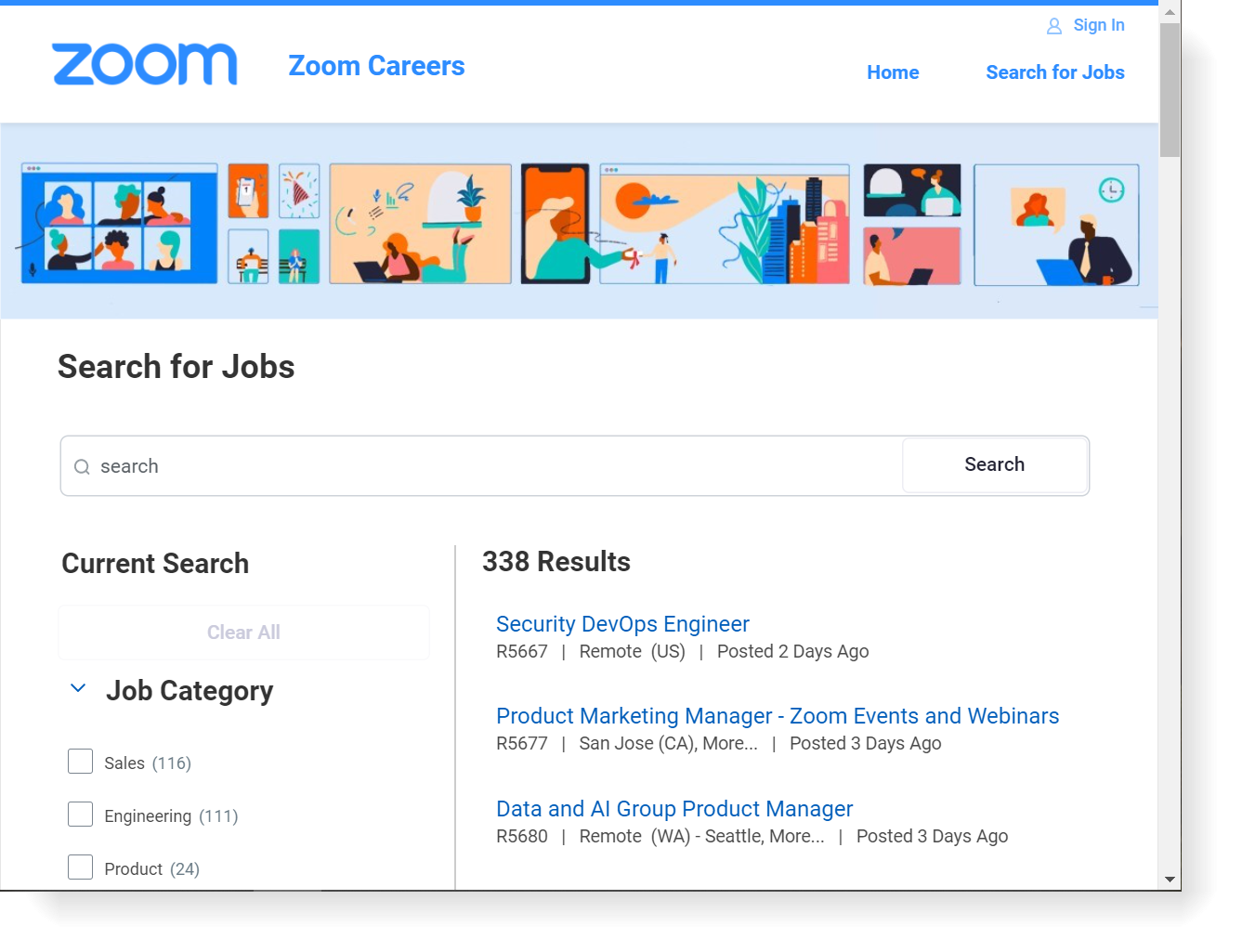 18. Pepsi Co
Pepsi Co is a multinational food & beverage company headquartered in New York. They manufacture, market, and contribute food and drink worldwide. Therefore, it can be said that PepsiCo is one of the other fast food & beverage market heads.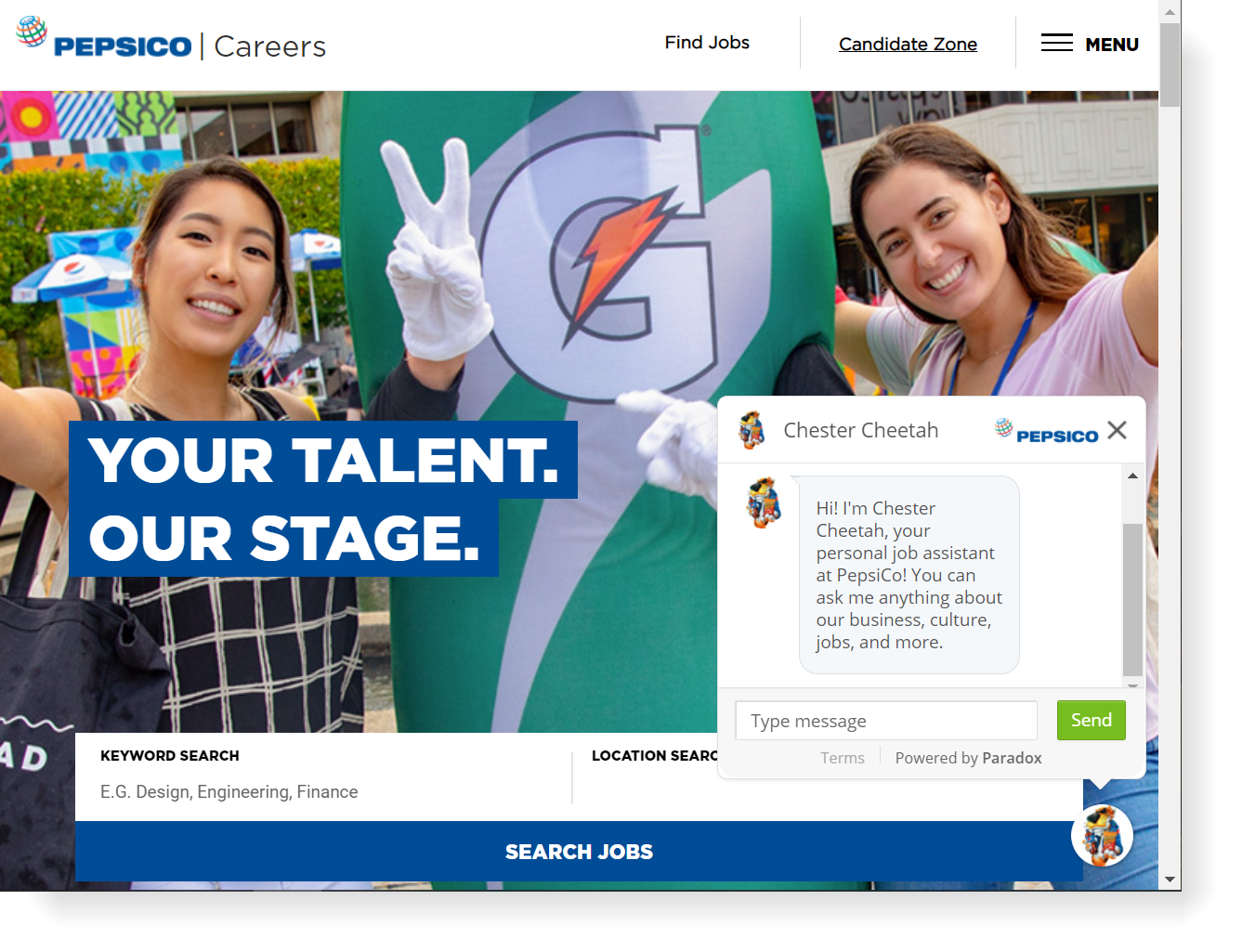 PepsiCo's recruitment page truly reflects how creative and native they are. The light background gives the careers site a catchy look and feel. It also showcases the brand's mission and culture through stories and pictures. Moreover, candidates easily find suitable jobs in many locations in the "EXPLORE OUR GLOBAL CAREERS."
19. Samsung
Samsung is a South Korean company, one of the world's largest producers of electronic devices. It specializes in manufacturing and retailing consumer and industrial electronics. Samsung is the strongest competitor of Apple.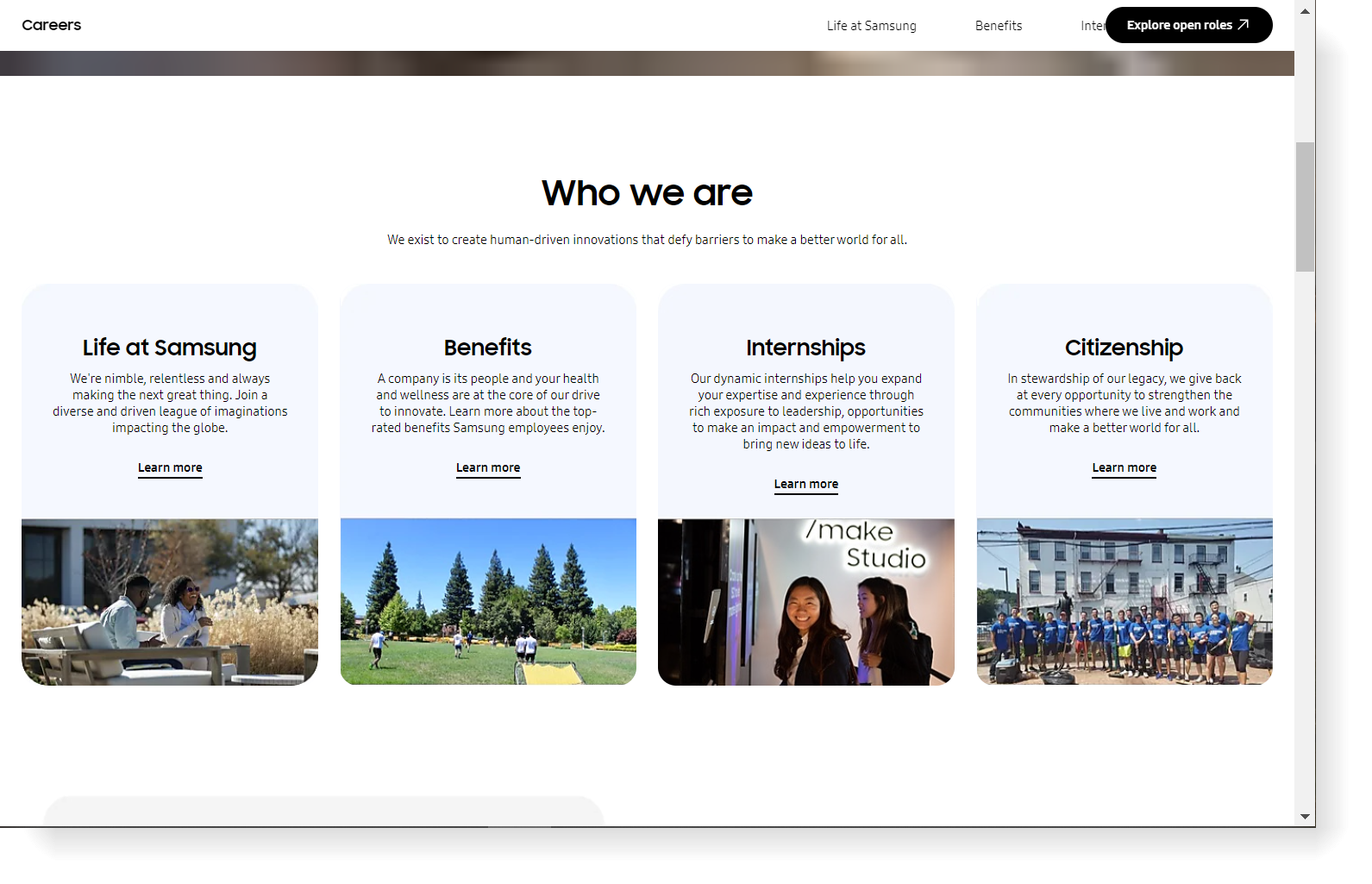 The prominent tagline of their company career site is "The future is never finished." Immediately on the page, future candidates can find benefits from working at Samsung. The entire page is well-designed, catchy, and user-friendly. Images and content are entirely suitable for the industry and direction of work.
20. Huawei
Huawei is a Chinese multinational technology company headquartered in Guangdong. It designs, manufactures, and sells consumer electronics.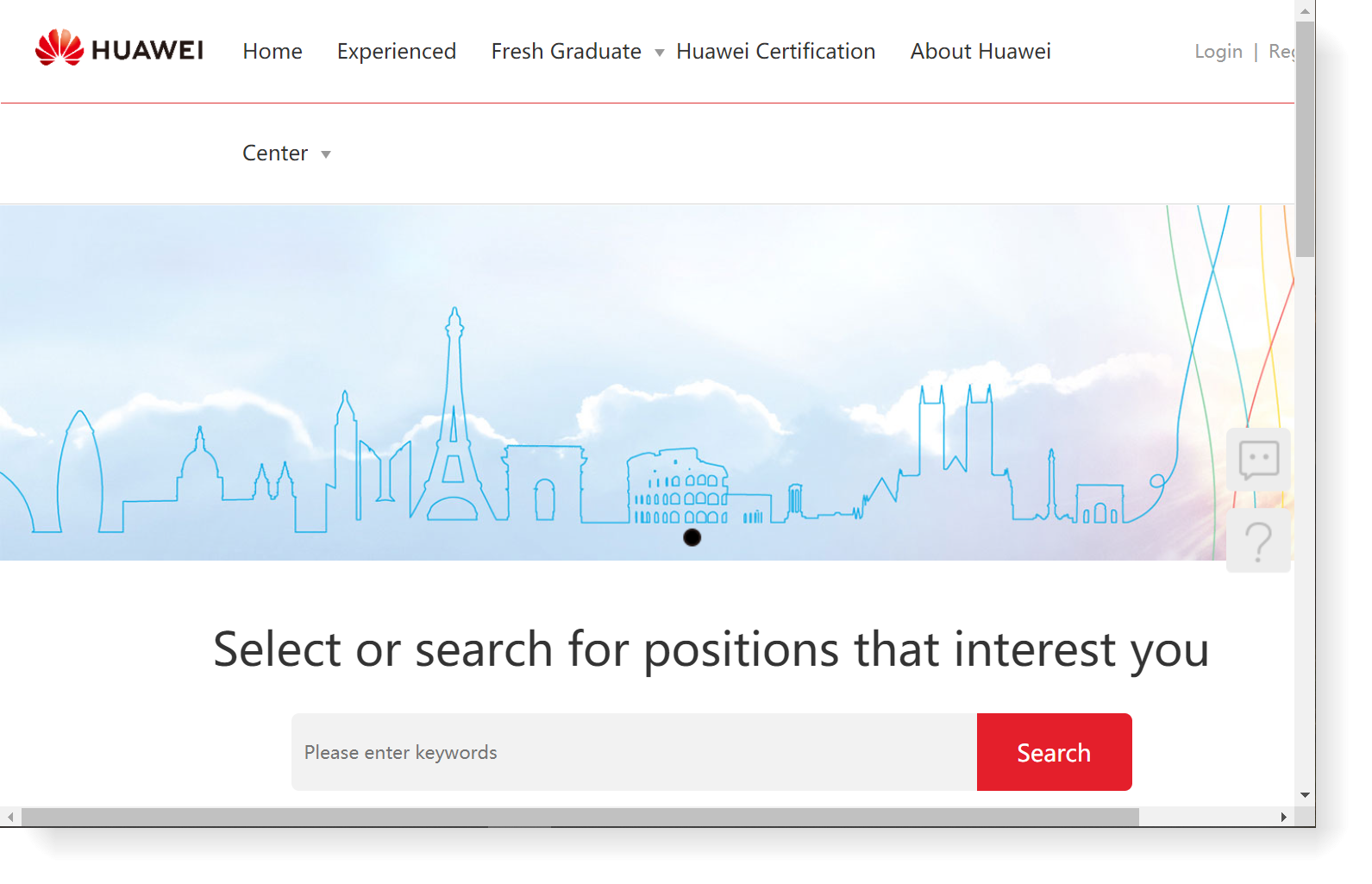 On Huawei's recruitment page, there is not too much information. The main content is only about job opportunities that are divided into categories. On the other hand, you also have a quick search with keywords.
21. Pinterest
Pinterest is an American content platform focusing on image sharing and social media services. It is ubiquitous for the young generation who take an interest in art and visual content.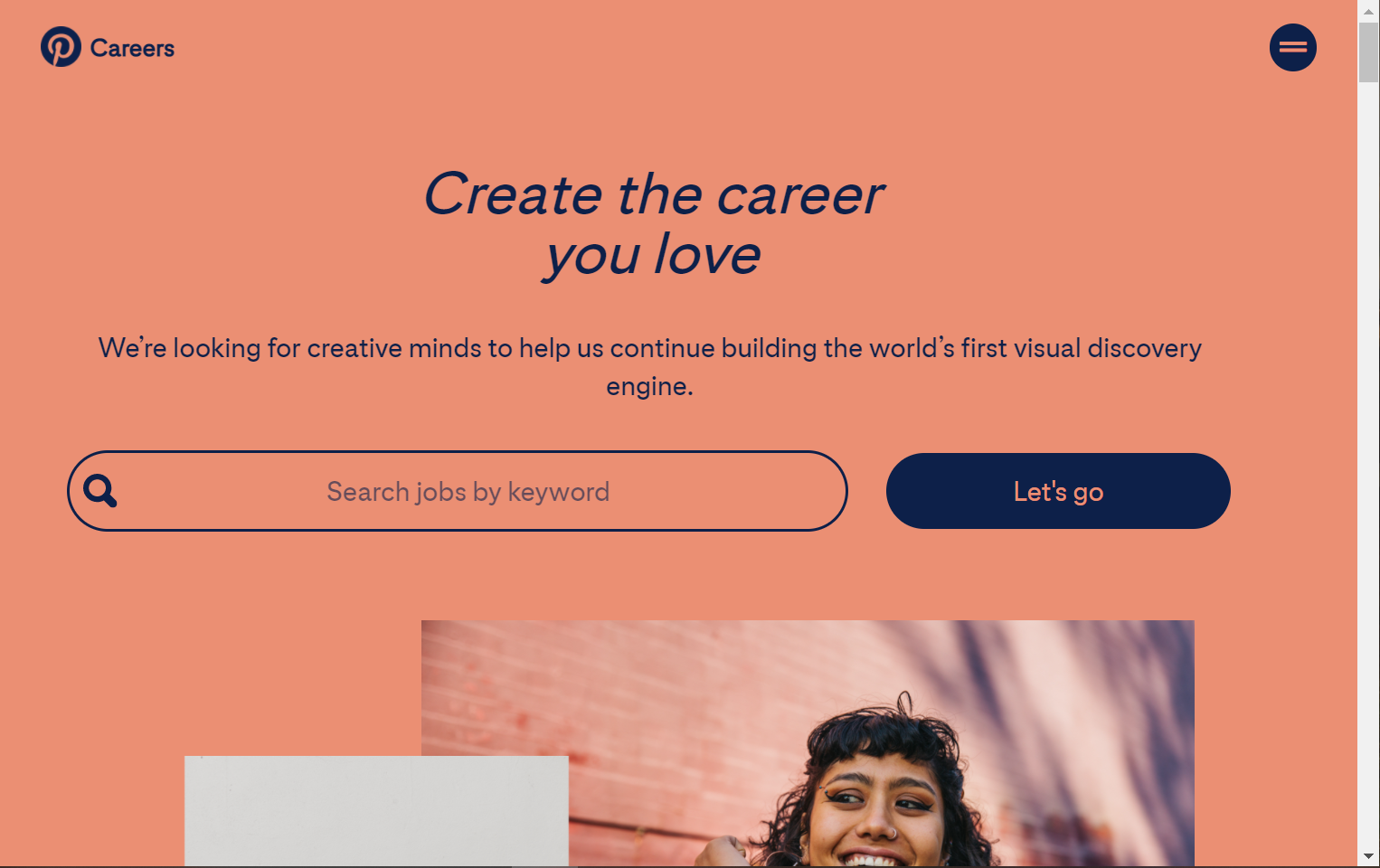 Looking at Pinterest Careers, we can easily say that it is a colorful page. Candidates can discover their opportunities through departments that Pinterest arranged logically.
Bottom Line
The career page is valuable for spreading a business's recruitment brand. Hopefully, these career page examples will help you to design and improve your career webpage. Our customer service is always pleased to support you in creating the best company career pages on the Magento platform.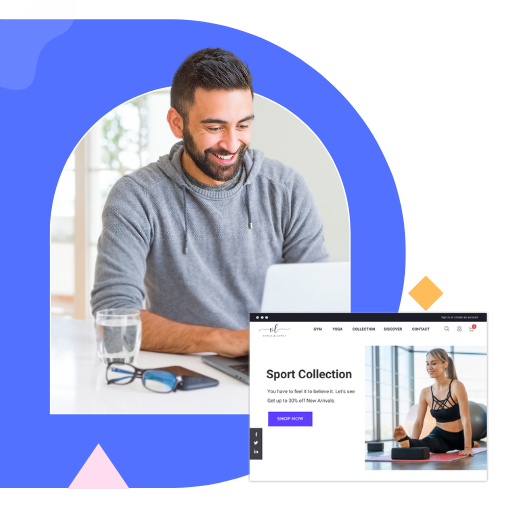 Try FREE Magezon Page Builder demo today
Easily create your engaging, interactive Magento company career pages in any style whenever you want without relying on developers or designers. Just by drag & drop.