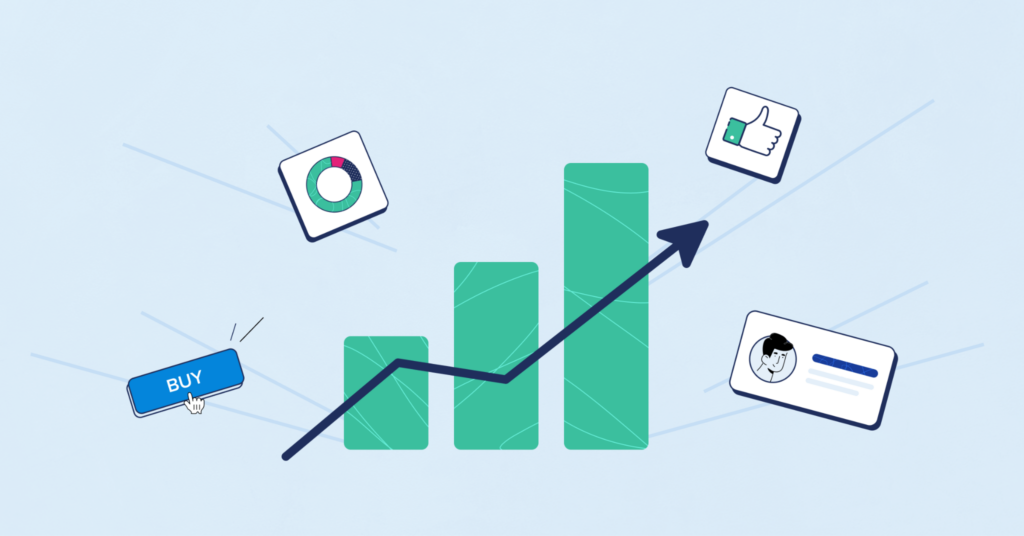 How do you measure your website's effectiveness? Many people think that the only way to find out how well their website performs is to count its number of visitors. But this isn't the whole story. Suppose you are using your website to convert visitors into customers. In that case, you have to factor in your website's conversion rate – the percentage of visitors who buy something – as part of your equation.
What is a good online store conversion rate? How do you increase the conversion rate in digital marketing? What is a conversion rate formula in digital marketing? If you need the answer to these questions, you should read this article. It will give you all the information about the website conversion rate and tell you exactly how to increase it!
What Is a Conversion on Websites?
Conversion is one of those terms thrown around in eCommerce but often poorly understood by business owners. Even more frequently, it's confused with other metrics like click-through or opt-in rates. So to clear up some confusion and help us better understand just what we're talking about, let's start with a definition:
Conversion refers to a visitor who takes an action you want them to take – for example, signing up for a newsletter or buying a product on your website.
A high conversion rate means that many visitors are taking any desired action or converting into customers. It's one of the most critical metrics in online marketing because it tells how well your content and ads perform.
Why Are Conversion Rates Important?
Before answering a good conversion rate for eCommerce, let's find out why having a good website conversion rate is crucial.
Conversion rates on websites are significant because they determine whether a company will be profitable. The higher a website's conversion rate, the better its Return On Investment (ROI) will be. If users don't convert, it's a sign that something is wrong. A low conversion rate can indicate some issues on your site, including but not limited to:
The lack of a call-to-action button or maybe confuse users
No clear direction to the sign-up form
No clear Buy Now button on certain products
Your site isn't optimized or mobile-friendly
Your website loads too slow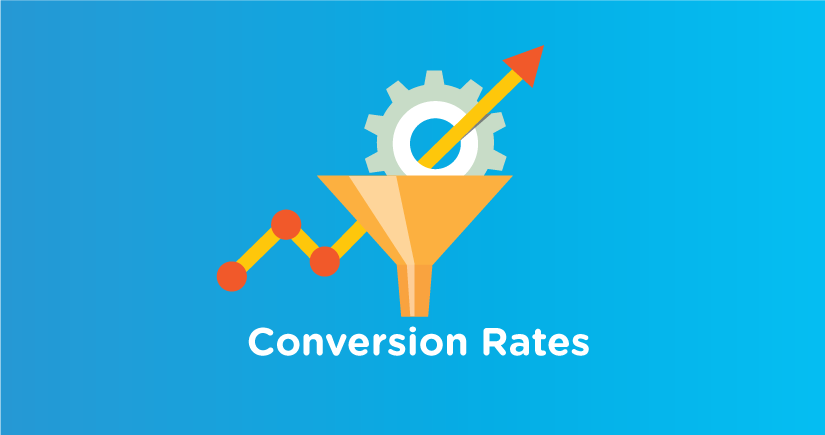 For example, an eCommerce site brings in 1000 visitors every day but only has 100 sales per month. That means that 990 people visited that site and didn't buy anything. Changes need to be made to generate more revenue from those 900 people who just walked away empty-handed. Either way, it may be time to revisit or improve upon them.
That's when ways to improve conversion rate come in. It may sound obvious, but focusing on how to boost conversion rates could help give your business a boost without increasing advertising costs.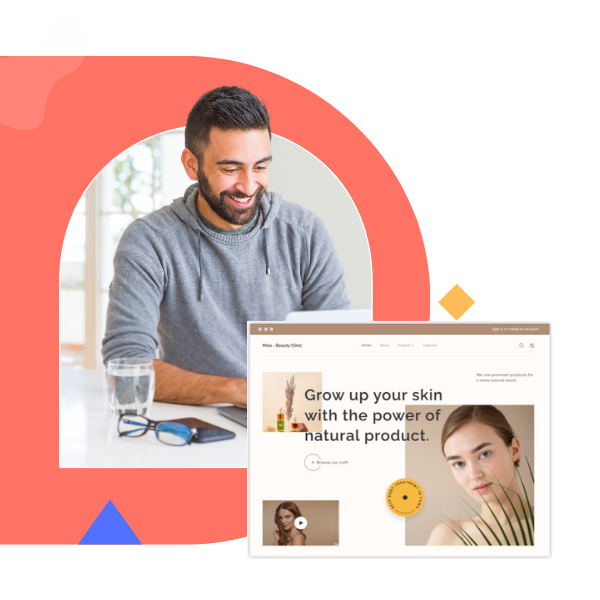 Try FREE Magezon Page Builder demo today
Easily create your engaging, high-converting Magento website in any style whenever you want without relying on developers or designers. Just by drag & drop.
How to Calculate the Conversion Rate?
To calculate your website's conversion rate, you will need two numbers: how many people visited and how many people converted. Then, the conversion rate equation is: dividing the number of sales by total visitors or sessions where at least one action was performed and multiplying by 100.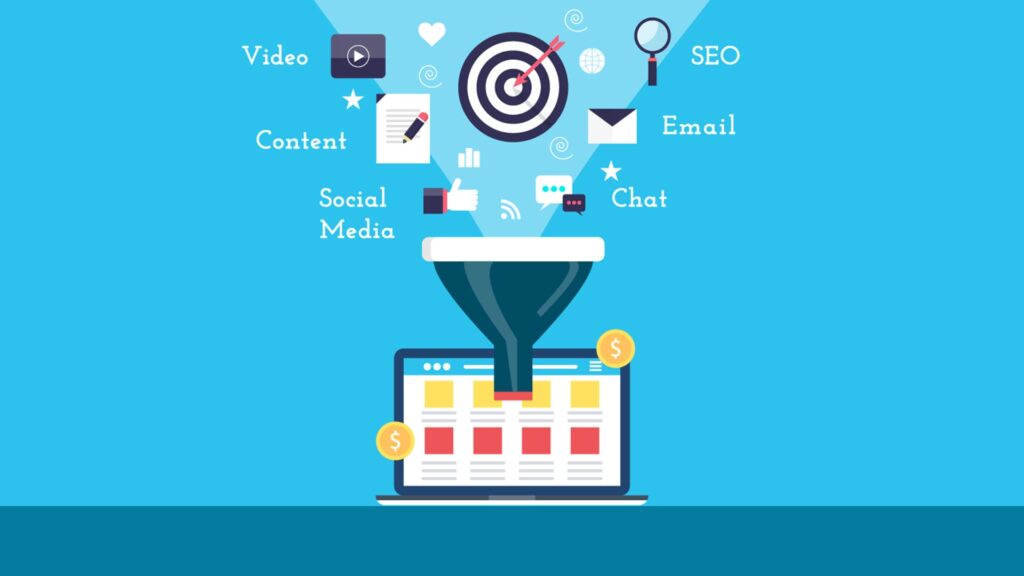 For example, if 10,000 people visit your site and 50 buy something, what's your conversion rate? 50/10,000 x 100 = 5%, or in other words 5 in every 100 visitors purchase something. It doesn't sound too terrible at first glance. And it even seems impressive if we compare it to an e-commerce site that only converts 1% of its traffic into customers.
What Is Considered a Good Conversion Rate?
The goal of any online business is to convert as many visitors into customers as possible. However, the answer will vary depending on the industry, business, or product sold. Sometimes, what counts as a good conversion rate can vary based on the marketing channels used.
A popular rule of thumb is that your site is considered a success if you get over 3% conversion. But, regardless of the industry average, each business needs to track its data and find out what works best for them. For instance, if you sell highly specialized products with limited demand, 3% will likely not be enough. But if you are selling everyday goods, 3% might still be too low of a number.
Ultimately, it's up to each business owner or manager to determine a good conversion rate for their company/website/products, etc., based on current performance and future goals.
3 Steps to Increase Conversion Rate
Below are three easy steps to increase website conversion rate that you need to know:
Find out what brought your visitors to your website
Knowing what brought people to your site is critical to increasing conversion rates. People generally fall into three categories: They were referred there by a friend, they found you via a search engine, or they were sent there from another website.
Without knowing which one it is, it's impossible to create high-converting websites. Since if someone found you through a Facebook post and converted within 3 minutes, then there's no point in increasing referral traffic. Therefore it's essential that you know which category best describes each visitor so that you can work on increasing conversions from those sources alone.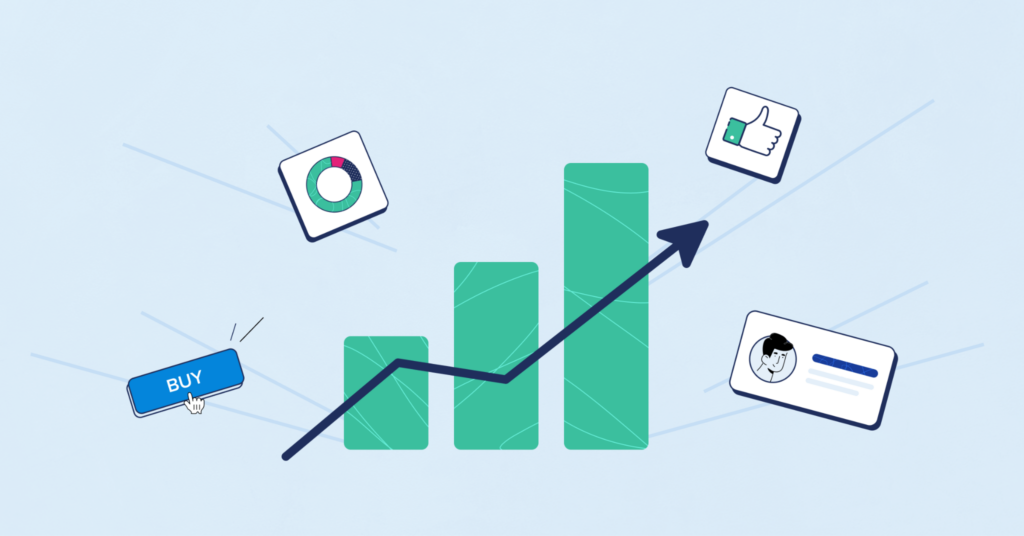 Moreover, you need to understand why customers are visiting it in the first place. For example, if you sell clothes, people visit your site because they are interested in fashion. If you own a restaurant, they come because they are looking for food options. Once you find out what people are looking for on your website, two things will help increase the conversion rate:
Find out what people are looking for
Talk about what interests visitors and keeps them engaged
Sometimes there's nothing worse than getting on a store's homepage and seeing an uninspiring slideshow of past images of their products with no clear call-to-action or call out to previous work done by said store.
Detect factors that might chase your potential customers away
Then, you should find some elements that make your site a high-converting website. It may include:
Performance: How is your website's performance? Is it slow and cumbersome, or smooth and easy to use? Look into ways that you can improve page load speed.
Mobile-friendly: Is it compatible with mobile devices?
Navigation: Is navigation easy on your site? Can customers quickly locate what they need, or do they get lost within product information pages? Improve navigation using better organization, less clutter, and clearer calls-to-action (CTAs).
Trust: If there's one thing that will chase customers away from a site, it's a lack of trust or social proof. If customers don't sense that they can trust a business, their experience with that company becomes tainted and ultimately less enjoyable.
You can also use some tools, such as Google Analytics, to spot poorly-converting sites:
Look at heatmaps: to analyze where users click to tap the most (and least).
Observe session recordings: of similar pages to know how users interact from page to page and detect UX problems or blockers such as broken links or bugs.
Set an Incoming feedback widget: on your issue pages, and provide users a way to notify you about their experiences.
Find what encourages your visitors to convert.
The last thing to increase the conversion rate is knowing what will encourage your visitors to convert. If people aren't signing up for an email list, clicking on advertisements, purchasing products, or filling out forms, you need to figure out what will motivate them.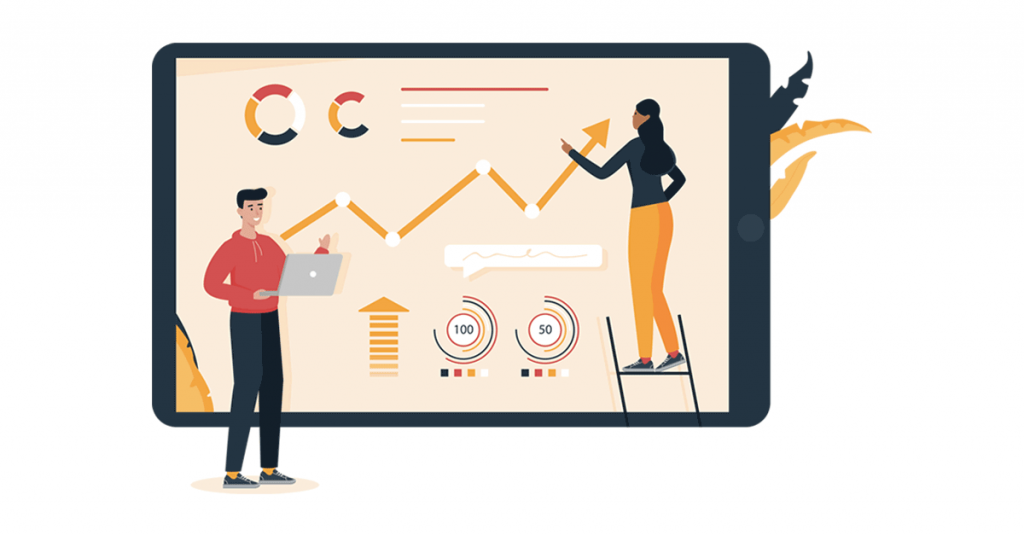 Analytics is an excellent way of determining where visitors stop engaging with your content. But it's also vital that you ask questions like:
What kinds of features do my customers want?
What draws them in?
Do they respond better to red or blue text?
What tone of voice is most appealing?
All these questions, and more, help determine how your audience engages with your content and how it can be improved. With enough time and data behind it, these insights can help shape design decisions moving forward. So start asking those tough questions!
That can be settled in several ways, such as running split tests with multiple options, and then you'll find out what's most effective at getting people to convert. Test different landing pages, and see which one encourages people more.
Optimize your PPC landing pages: 25+ PPC Landing Page Best Practices to Boost Conversions 2022
For example, an eBook has a 30% conversion rate (which is very good). However, one page has a 60% conversion while another only has 20%. That tells you that perhaps something is missing from that second page that might get people more excited about converting into customers. Whatever it is could be added to that specific page and help boost conversions.
Frequently Asked Questions
What are some effective conversion rate boosting tools?
There are several practical tools to increase the conversion rate, including:
Hubspot's free Website Grader tool tells you how many people are visiting, buying, and how much time they spend on your site. This lets you track leads, identify your target audience, view conversions, and generate heatmaps. In addition, it has a simple interface with colorful graphs and numbers, which are easy for us to follow how different changes affect your conversion rates.
Conversion rate optimization is one of Google Analytics' main uses. It is a free, web-based analytics tool from Google that tracks and reports website traffic. With it, you can determine how visitors find and interact with your site and what's working – and what isn't – with your marketing efforts.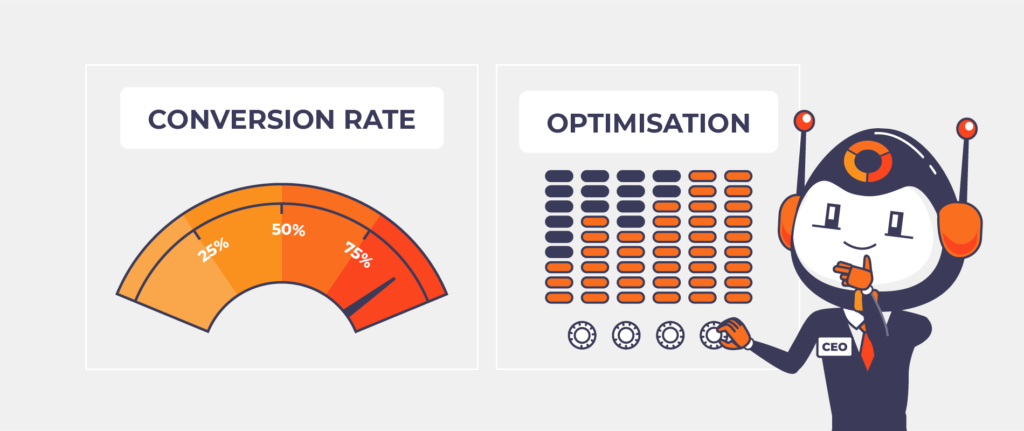 It can be used on an ongoing basis to learn more about traffic sources and users' behavior on a site. That helps track key metrics quickly and see how effective changes improve user engagement and conversions.
Crazy Egg is another excellent tool to increase the conversion rate. It can help you understand why users may or may not be converting to your site. You can use Crazy Egg to watch users scroll through pages, click on links, and where they're clicking. That tells you if it's worth putting time into updating something because of its impact. It also lets users see what people see on their site to make it easier and more intuitive.
Moreover, it allows you to do A/B testing. For example, you can test out different layouts, sizes, colors, text, etc., and see which combinations lead to conversions at a higher rate than others.
Is a 30% conversion rate good?
The answer depends on your business goals. If, for example, you're running an eCommerce site and want $50K in monthly revenue, then yes – 30% is a good web conversion rate. However, if you wish to traffic so that more people learn about what you do, then 30% may not be what should matter most. For instance, you may need 1 million monthly visitors instead of only 30K so that more people learn about what's available on your site.
What is CRO?
Conversion Rate Optimization (CRO) is a method companies apply to increase website conversions. In other words, CRO improves how many people do what you want them to do on your site, whether that's buy something, fill out a form or read an article. Of course, any business's goal will always be more revenue and profits.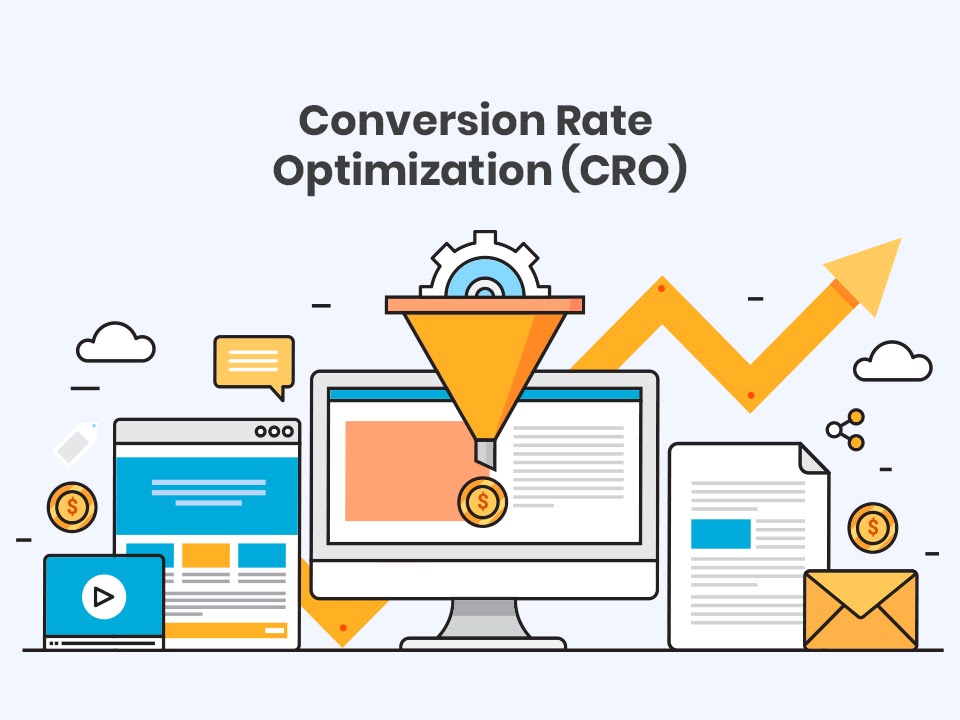 Higher conversions mean more potential customers do what they need to do on your site to reach that goal. The first step towards increasing your website's conversion rate is understanding why it matters.
Wrapping Up
The conversion rate may seem like an unfamiliar term to some. But you must understand its meaning and know how to raise the conversion rate. In fact, if you aren't achieving the high conversion rate you want, you could lose thousands of dollars from sales as potential customers leave before they finish the purchase.
Moreover, increasing the conversion rate for your website can improve your overall business and boost the results of your marketing efforts. After reading this article, you'll hopefully have all the answers to increase website conversion.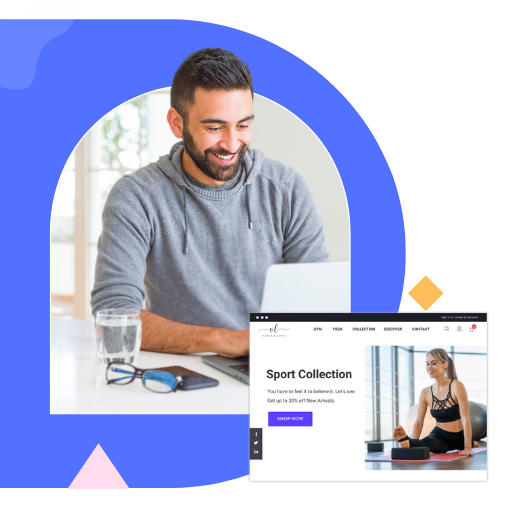 Try FREE Magezon Page Builder demo today
Easily create your engaging, high-converting Magento website in any style whenever you want without relying on developers or designers. Just by drag & drop.