The more landing pages you have, the more leads you generate. With so many landing pages to write, one can not simply sit and code every single line, especially with small businesses. This is where the best free landing page builder comes in. They make it easier to build a landing page from scratch and contain useful features that make data harvesting more efficient.
However, you can get lost in the many builders out there. That's why our team compared and contrasted every prominent landing page builder out there. To test each one's conversion potential, we constructed a landing page from scratch with different software to pick out the best to present.
Besides the convenience, they also offer free services. Let's look at what they are and how to choose the best free landing page builder for your business.
What Is a Landing Page Builder?
Landing page builders have evolved throughout time and added more features. Everyone, including those without coding skills, can use landing page builders. They also include built-in functions that allow you to monitor your progress.
Many marketers and business owners use landing page builders because of this. Building and monitoring your landing pages takes time and resources that could be better spent elsewhere yet they are so simple to operate that you can perform all of the work.
What Makes a Great Landing Page Builder?
Good landing page builders allow you to design your landing page with little or no coding skills. Even non-tech-savvy users will appreciate how easy it is to use the best free landing page builder.
However, a good landing page builder should also take good care of all your requirements such as domain name registration, A/B testing, and third-party software compatibility.
A great landing page builder should be a place for all your landing page demands. You should be able to create a website from scratch, collect leads, and manage them all with ease.
If you want to attract new consumers, this list of the finest landing page builder software packages has everything you need.
What Are the Benefits of Using Landing Page Builders?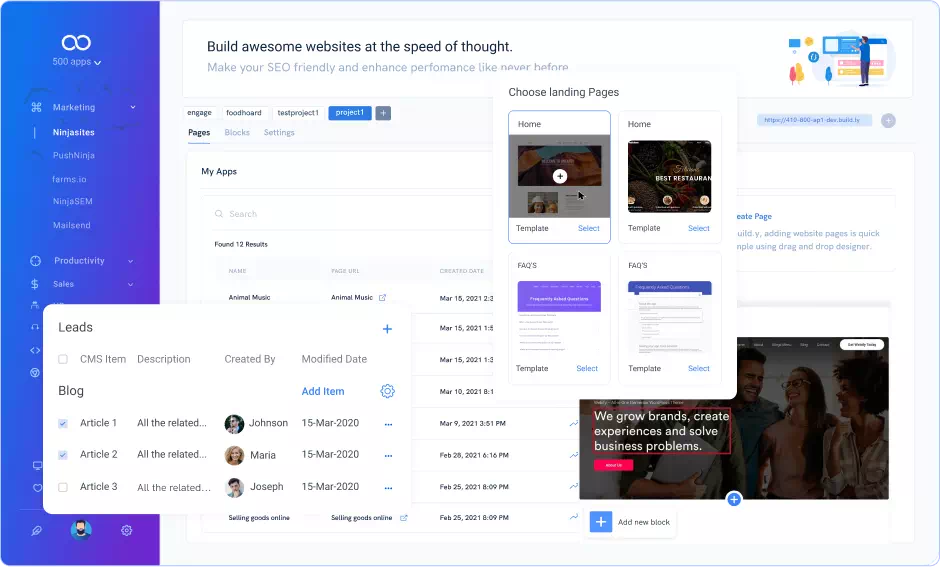 Ease of use: Templates for lead generating are included in most page builders. This means you don't need to hire web designers to build your pages. Elements can be added or removed, and your changes will be visible in real-time using a drag-and-drop system. You can now spend time on other tasks because all the work will be done automatically.
Built-in analytics: With the use of analytics tools, users may track the performance of their landing pages. Tracking visits, conversions, interactive features, and other information is possible.
A/B Testing: A/B testing is the process of launching many variations of a single landing page to see which one performs better. The goal is to see which landing page gets the best response from your targeted audience. To be sure, check to see if your landing page builder has this capability.
Attractive templates: Most landing page builders provide templates that are of a professional standard. However, you don't need to be worried because modifying the design is still possible even when using a template. You can customize a template so that it reflects your personal style, products, niche, or category. Some websites even allow you to view their templates without creating an account.
Integrations with third-party software: You'll miss out on certain functionality if your page builder doesn't enable third-party integration. Email marketing, content optimization, webinar functionality, or add form builder features can be improved with the help of third-party tools. However, platforms you're already using may not be compatible with landing page builders. Ensure the landing page builder you're considering is compatible with your preferred program before signing up.
10+ Best Free Landing Page Builder 2023 
1. Squarespace
If you're looking for a website builder with beautiful designs, Squarespace is the best option. This tool has various landing page templates, known as "Launch" or "Cover" pages to choose from.
Each page has its own distinct look but still remains consistent thanks to the grid editor. You can use the grid editor to add and edit new "grid" parts such as contact, newsletter sign-up, and pricing sections.
In order to get your website to the top of the search results, you'll need to use complex SEO capabilities and site analytics.
Squarespace also excels in marketing thanks to the built-in and third-party tools. You can do multi tasks such as selling digital or physical things and creating a newsletter but still are able to manage them from a single, centralized platform.
Pros:
To construct a website, the drag-and-drop UI makes it simple.
In order to embed movies and images, you only need to copy and paste an embed code.
Regarding tracking the effectiveness of landing pages, Leadpages' analytics are second to none.
Cons:
A number of design components are difficult to fine-tune.
Some of the options for customization are not working properly.
No follow-up links are available for the Basic plan.
Price: $37/month, and there is a 14-day free trial before you decide to purchase.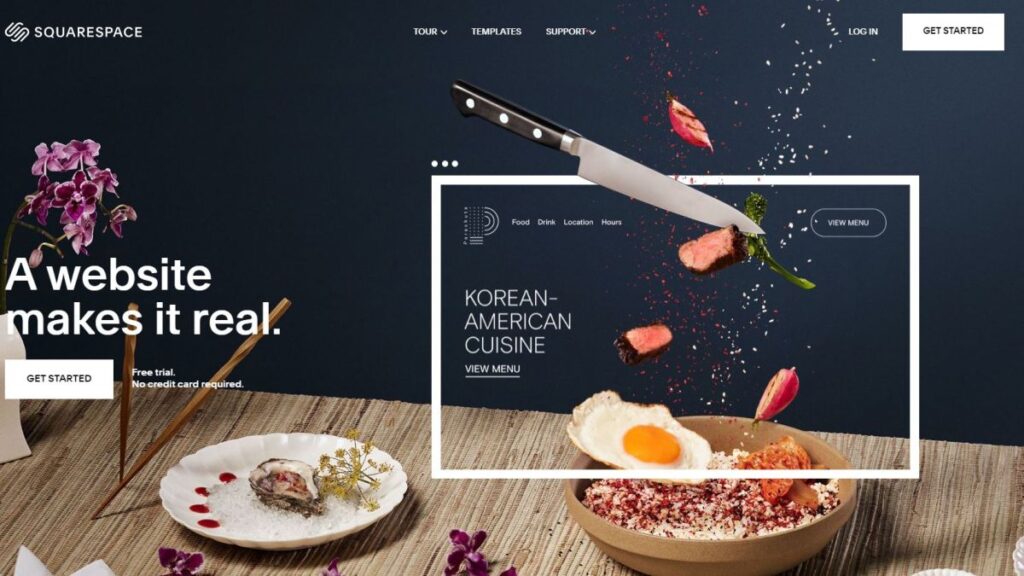 As a professional extension provider for Magento – an e-commerce platform used by medium and large businesses worldwide, Magezon is offering its feature-rich page builder with more than 50 different elements.
This drag-and-drop editor allows you to create any page layout in the style you want with little to nothing effort. Magezon Page Builder is the company's best seller and has received a lot of trust from store owners and developers because of its powerful diverse features, flexibility, and ease of use. Let's see what powerful features the intuitive editor has.
Pros:
More user-friendly than Magento Page Builder
Provide multi plugins to support extensions
The drag-and-drop feature makes it easier for non-coder
Mobile responsiveness is a major plus
Improved SEO capabilities compared to Magento Page Builder
Compatible with all Magento themes
Cons:
There is no free trial version, but a demo backend provides customers a full as the paid version.
To optimize the display, you need to learn how to code.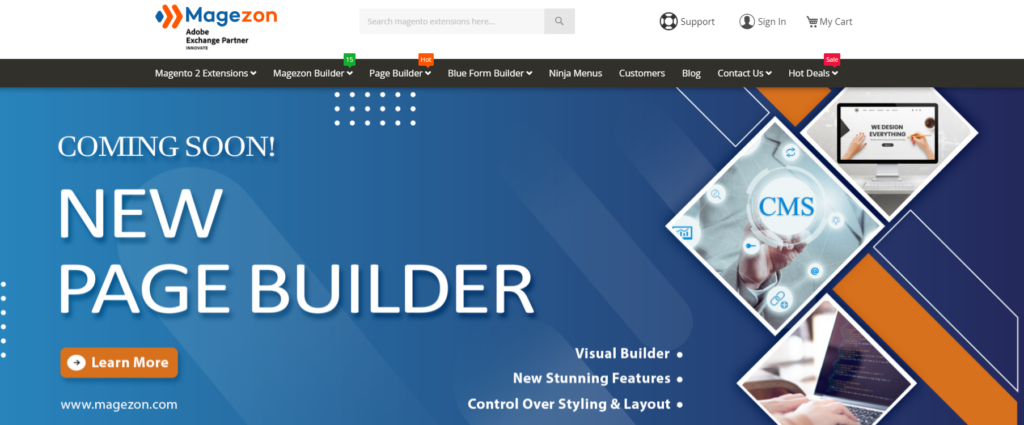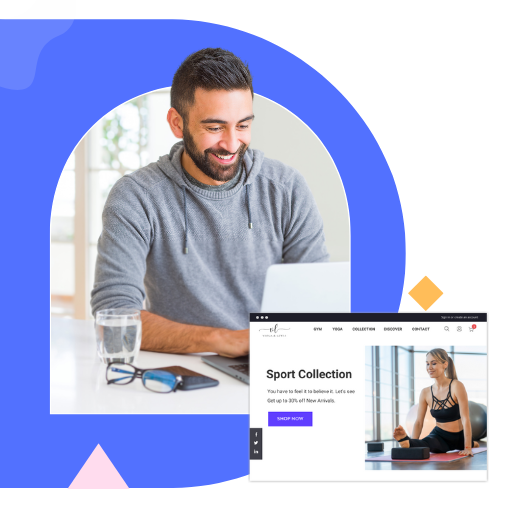 Try FREE Magezon Page Builder!
Easily create your engaging Magento pages in any style whenever you want without relying on developers or designers, just by drag & drop.
3. Instapage
Building your landing pages couldn't be simpler with Instapage as you can minimize unnecessary steps. Sign up and focus entirely on optimizing your website with the help of more than 200 mobile-responsive templates.
A/B and variable testing, heatmaps, and analytics are also available. You may make any changes to suit the needs of your target audience. Instapage welcomes all collaboration. Set up your workflow so that you may get immediate feedback and share your work securely.
Pros: 
Customizable templates are included in the bundle.
Drag-and-drop building is available to you.
You may open an account in a matter of minutes.
Cons: 
The cost of using Instapage rises rapidly.
Custom coding is a challenge.
Landing pages' responsiveness to mobile devices varies widely.
Price: Only two options are available. If you choose to pay annually, the Business plan is $149 monthly. The price will be $199 if you subscribe on a monthly basis. Conversion Cloud which is an Instapage-specific package is another option and the best way to acquire a price quote is to call Instapage.
If you're interested in the Business plan, you can try a free 14-day trial period.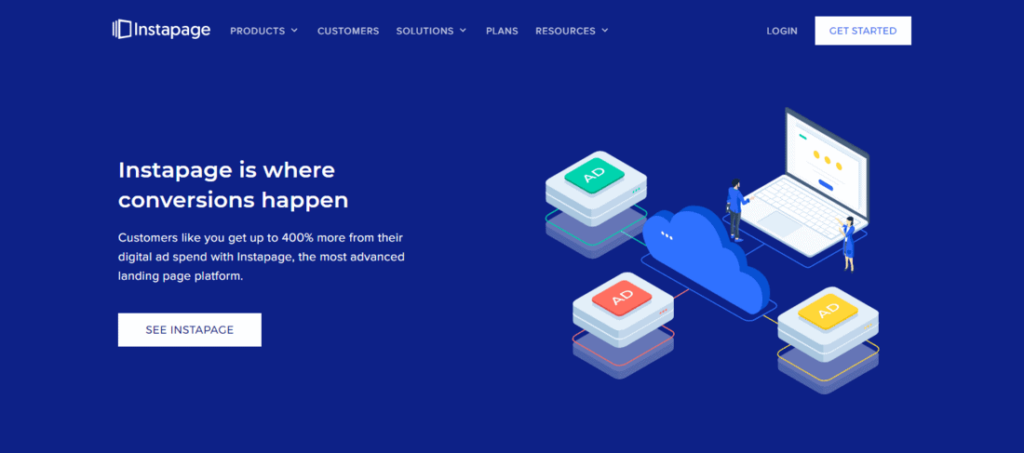 4. HubSpot
HubSpot is a household name in the B2B marketing industry. Therefore, if you want a reputable best free landing page builder, HubSpot should be your priority choice.
Do you want a one-stop-shop service for all your needs? Landing page builders aren't Hubspot's only feature; it also provides a client relationship management tool.
A design tool, form builder, and analytics are all included in the landing page tool. Email marketing, ad management, and the rest of the suite's features can all be used in concert to increase your lead count.
Pros:
HubSpot offers an all-in-one CRM solution.
Additional content is included, such as email marketing and social media scheduling tools.
Cons:
HubSpot doesn't provide an online store.
It's a hefty price to pay for all the features you get.
The user experience may be overwhelming.
Price: The HubSpot Marketing Hub plans, which include the landing page feature, come in three different tiers. The monthly fee for the basic plan is $45. The Professional tier is $800 a month and finally the Enterprise plan with a monthly fee of $3,200.
Alternatively, you can use the website builder in the CMS Hub. The Professional plan costs $270 monthly, while the Enterprise plan costs $900.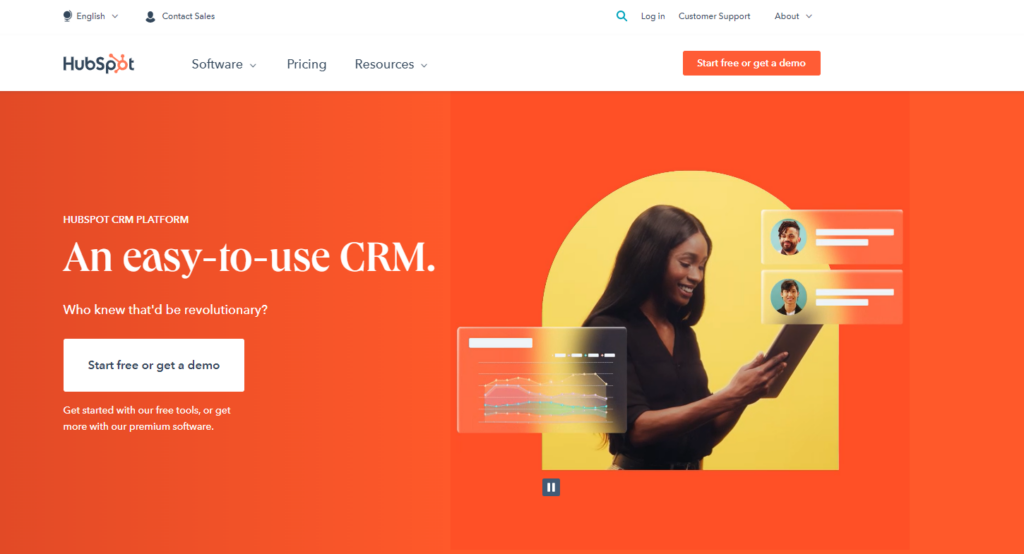 5. Get Response
To get the most out of the service, you can define your target list size and calculate the price. There is no need to worry about overpaying. And because the basic plan covers most of the services you'll likely need, you can save a lot of money.
There is no limit on the number of landing pages or automation templates you can create with this plan. It allows you to create tons of lead funnels and even sell e-products. More sales and webinar funnels are available with a more expensive package.
Pros:
It's easier to reply to leads thanks to the Campaign Builder function.
There's a way to establish a list of subscribers.
The templates of GetResponse are excellent.
Cons:
On mobile devices, several of the landing pages don't operate very well.
There are some issues with the drag-and-drop functionality.
The user interface may need some improvement.
Price: There are four options. Depending on your selection for the very first three, you can alter the pricing. It costs $15/month for Basic; $49/month for Plus; and $99/month for Professional.
Max is the fourth and final plan. To find out how much it costs, you'll need to acquire a quote. You can get a 30-day free trial by signing up. There is no need for a credit card.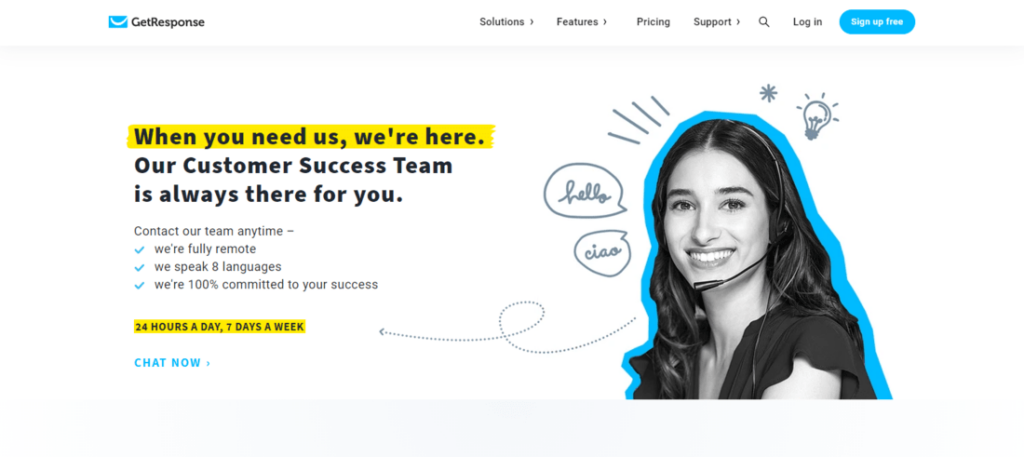 6. Landingi
Companies of all sizes can benefit from Landingi's services since they provide various pricing options that fit your budget and needs and are regarded as the best free landing page builder.
Of course, the price shouldn't be the only consideration. The good news here is that Landingi can also do well other things and a drag-and-drop website builder is one of its advantages. In other words, even if you don't know how to code, you can still create a page. By using its web analytics tools, you'll be able to keep tabs on your progress without any issues.
Pros:
Landingi's design approach is straightforward.
Even tiny businesses can afford it.
It contains more than 300 pre-made landing page designs.
Cons:
There aren't many customization options.
There are limited features for lower-tier plans.
It must improve the responsiveness of its landing pages for mobile devices.
Price: Each plan has a starting price of $29 per month, with the option to upgrade for an additional fee of $55 per month or $79. There are two agency plans: Agency ($149/month) and Pro ($245). The final option is the Enterprise plan, which costs $599 monthly.
A 14-day free trial is available. You can try the free 14-day trial and a credit card is not compulsory.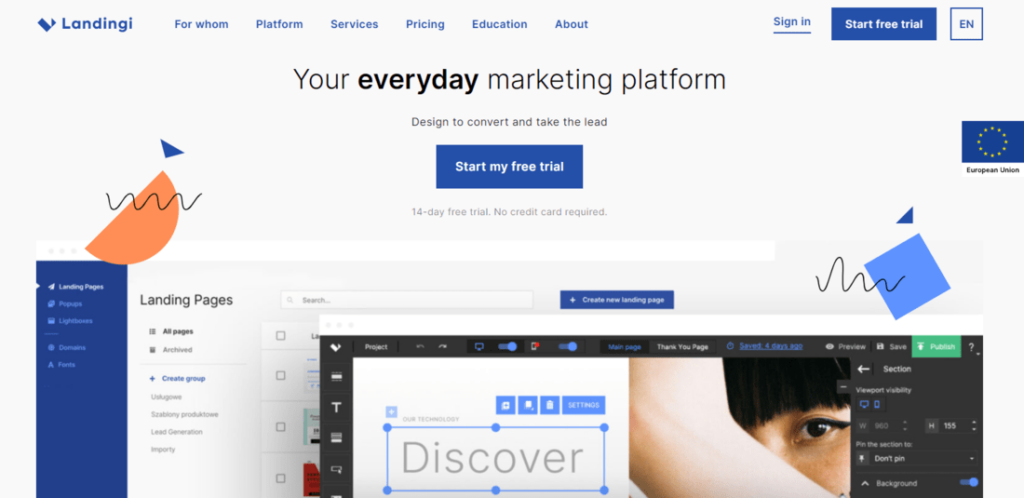 7. Elementor
With Elementor, you have complete control over the look and feel of your landing page. It's up to you whether you want to use one of the pre-made templates or design one from scratch. Additional functionality can be obtained by integrating your preferred third-party tools. Almost all WordPress themes and plugins are compatible with Elementor so you can continue to use the ones you already have.
Pros:
It's easy to see your work because it has a visual building interface.
With Elementor, your website uses some of the top design templates available.
It works great with most WordPress themes
Cons:
When you initially start using the tool, there is a learning curve.
Their landing page's mobile responsiveness has some flaws.
In several areas, it lacks design flexibility.
Price: There are four different Elementor plans. First, there's the free version, which allows you to use Elementor but has a limited number of features.
Personal, Plus, and Expert all share the same features. The only difference is that you can use Elementor on more than one site.
The Personal plan offers you access to one site, while the Plus plan allows you to use Elementor for three, and the Expert plan offers access to 1,000 sites, a top contender for the best free landing page builder.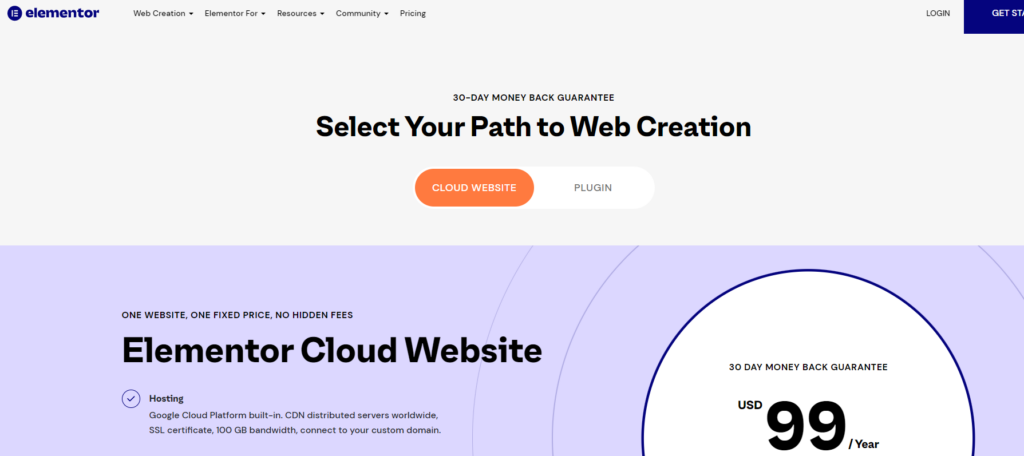 8. ClickFunnels
ClickFunnels is a well-known tool for creating sales funnels. However, it does include tools that allow you to build lead-generation landing pages. In fact, you may use it to make money by selling things online. It's worth the investment if you're planning on using other landing page strategies in the future.
In addition, the ability to create follow-up funnels is worth noting. By using email, social media, text messaging, and desktop notifications, you can communicate with prospects and consumers in various ways. Then you can follow up with the funnels feature.
Pros:
Creating sales funnels can't be simpler than this. 
The high responsiveness of the drag-and-drop tool is a thing of beauty.
The customer service provided by ClickFunnels is excellent.
Cons:
There is a lack of email functionality.
The software can prove challenging to new users.
Some people find it annoying because of its obvious marketing strategies and affiliate program.
Price: The monthly fee for ClickFunnels is $97. However, the basic plan has been improved in two ways. ClickFunnels Platinum is $297, whileTwoCommaClubX costs $2,497 per month.
With the premium subscription, you may create an infinite number of funnels and pages, as well as access a library of video tutorials and other educational resources. You can use the software for free in 14 days.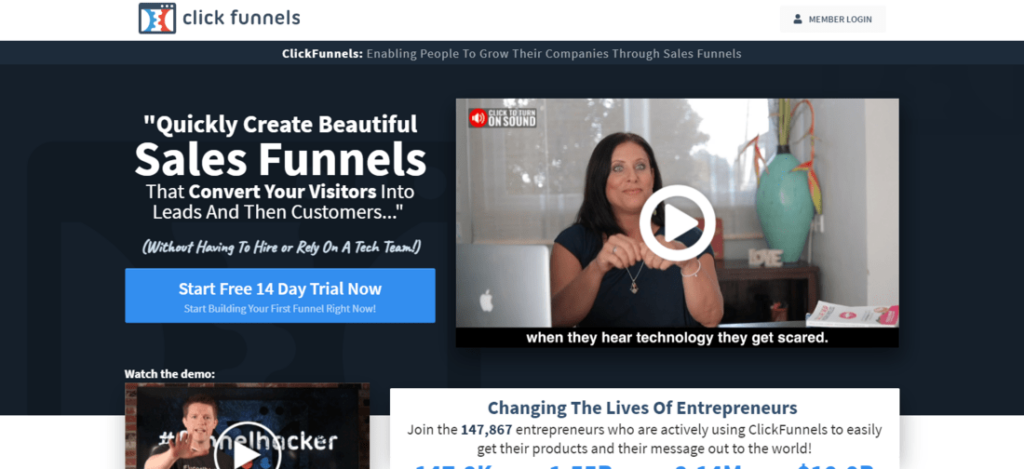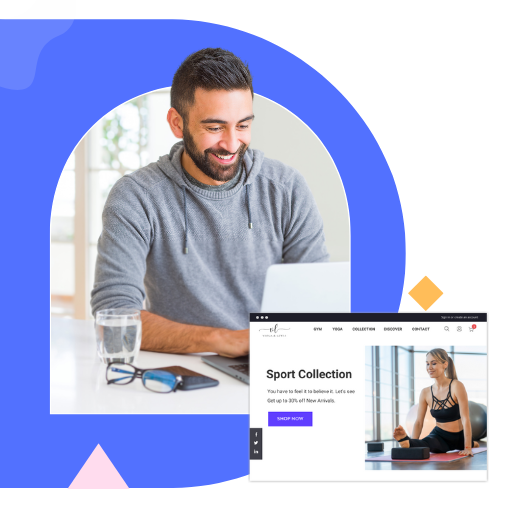 Try FREE Magezon Page Builder!
Easily create your engaging Magento pages in any style whenever you want without relying on developers or designers, just by drag & drop.
9. ShortStack
Your firm can gain new customers by holding contests. It's possible that ShortStack could be the solution for you if you're considering this method.
It's simple to use, just like all the other landing pages mentioned above. You don't need to know to code to design pages as it has a drag-and-drop builder. Moreover, its analytical and marketing features allow you to manage and analyze the data you've obtained. When it comes to running contests on social media, ShortStack provides all the tools you need.
Pros:
It's a terrific tool for creating contest-specific landing pages.
As your firm expands, you may also easily scale up your business.
Because of its ease of use, even one person can manage it all.
Cons:
Getting used to the site builder tool is essential.
You're limited to a certain number of monthly page visits.
Professional designers may feel some design features are restrictive.
Price: You can choose from one of three plans. There are three plans available. The Business plan is $99/month, Agency is $199/month, and the Brand is $499/month.
You can try ShortStack for free in 30 days with access to 20 entries and 100 views. Per the 30-day period, you'll have access to 20 posts and 100 pageviews. There is no time limit for the free version and no credit card is required during this time.

10. Lander
Lander's use of Dynamic Text Replacement (DTR) is excellent in any case. While running PPC ads, Lander will dynamically match your PPC keywords with your PPC landing page. This technique might save you both time and money on your PPC campaigns.
The drag-and-drop editor makes it simple to build new landing pages without learning how to code. You can also use A/B testing and connect with your Facebook pages.
There are other essential tools like auto-fill forms and email integrations as well as for analytic tracking and an unlimited number of landing pages and confirmation pages.
Pros:
The editing tool in Lander is user-friendly.
PPC ad integration has never been easier, thanks to the DTR capability.
Your landing pages can include media and widgets.
Cons:
There are a few design elements that are missing.
The number of monthly visitors is restricted.
Price: There are two options to choose from here. The first option is the $49/month Basic plan. The second is the $99/month Professional package. Annual subscriptions are an option if the current rate is too high for your budget while the Basic plan now costs $16 monthly.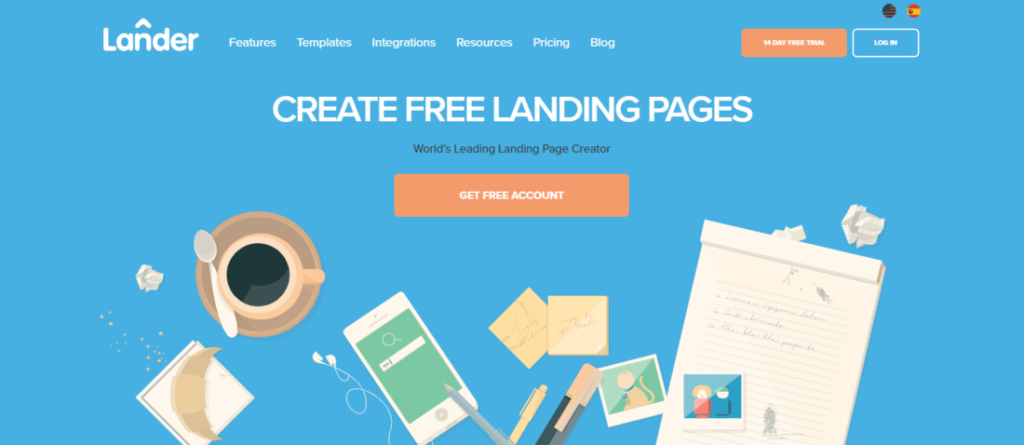 11. Wishpond
This landing page builder is for businesses that plan on scaling, as evidenced by the likes of many big, household names like Sony, Unicef, CBS, Walmart, and Panasonic, all using Wishpond.
Wishpond does all of the work of gathering leads for you to nurture as you go about your business building landing pages, pop-ups, forms, contests, and promo work.
Though non-coders can use it, it also allows HTML and CSS coding at a higher level.
Pros:
Keeping track of your leads is a cinch with Wishpond.
Everything on the site is simple to use.
You can even use some of the email processes.
Cons:
There are limitations in the ability to draw information with this system.
There should be more template options
Drag-and-drop features need more improvement.
Price: You can choose to subscribe with 3 pricing plans: Starting Out ($49/month), Everything You Need ($99/month), and Rapid Growth ($199/month). You can create an unlimited amount of accounts. However, each of the base plan accounts can only drive up to 1000 leads,
If you subscribe to Everything You Need or Rapid Growth, you can use A/B testing, custom Javascript, and API. This might be the best free landing page builder with its 14-day free trial.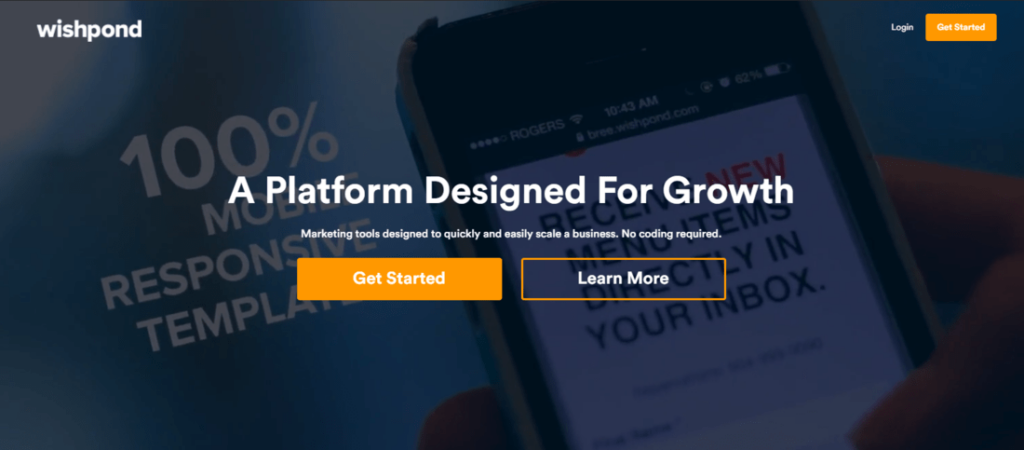 12. Ucraft
More than a simple drag-and-drop website builder, Ucraft is a full-fledged content management system. You can personalize your landing page using logos and changing colors and effects. To give you an idea of what you can do, here are a few examples: create logos, alter colors, and apply special effects.
You can also use the built-in e-commerce and blogging tools. to extend the functionality of your pages if necessary.
Should you sign up, the availability of millions of high-quality graphics and stock pictures is at your disposal? And even SSL certification, various designs, SEO, and analytics are all included for free.
Pros:
You can use built-in security measures.
Ucraft is easy to use
Excellent customer service is at your fingertips.
Cons:
Customers can't give feedback.
There are just a few integrations with third parties.
There aren't many features.
Price: Ucraft offers a free, though very constrained, plan. It costs $10/month if paid yearly for Pro Website. A $21-per-month option is Pro Shop. The monthly cost of the Unlimited plan is $69 USD.
If you're willing to skip the free plan in favor of a trial of the paid version, you can do so for 14 days without making any payments. There is no requirement for a credit card.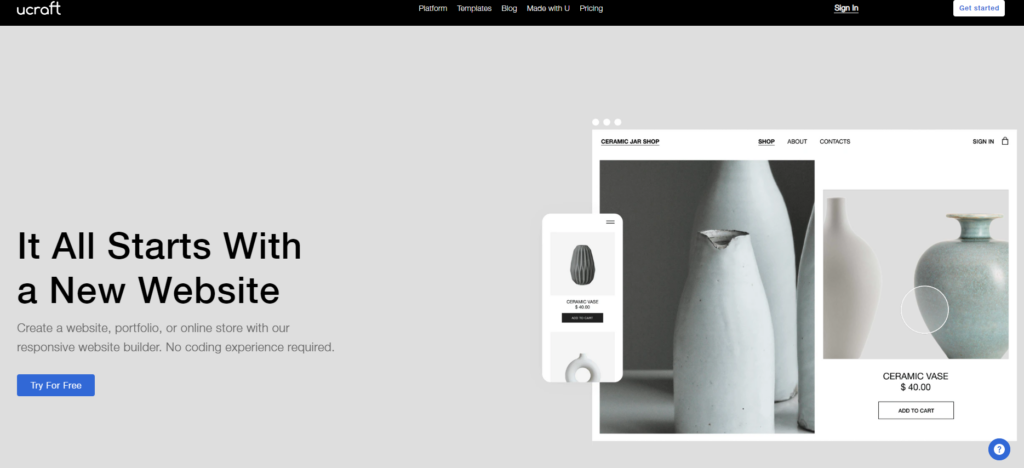 Conclusion
There is no one-size-fits-all solution when it comes to the landing page builder. Users of WordPress may wish to consider Elementor. Regarding contests, ShortStack is the best option for your company.
The majority of the landing page builders on our list offer a similar set of options. A/B testing, drag-and-and-drop design, and customer service are just some of the features they offer. Furthermore, there are page view limits on certain third-party programs, so be sure to check those out before using them. So depending on your case, we hope you can find your best free landing page builder.
However, if you're looking for a comprehensive landing page builder that's easy to use and offers a wide range of options, we recommend visiting Magezon Page Builder. We give exclusive back-end demos with full functionality for first-time visitors. Free trials are also available, so you can get a better sense of how the service works before deciding to sign up.