Building and designing a Magento website is a challenging task for an e-commerce business. That only happens when you don't know the following Magento 2 page builder extensions.
This article will provide you with a list of the top 5+ Magento 2 Page Builder extensions with valuable information about each module to assist you in making the best decision. There is no need for coding skills, and it does not require much time; you can create a unique and impressive website to sell products.
Are you ready to explore?
Let's jump in!
1. Magezon Page Builder for Magento 2
Magezon Page Builder is a powerful drag-and-drop tool that helps you build and design your Magento 2 website without any coding knowledge. With its beautiful predesigned templates, the extension allows you to give your website a more appealing look in seconds instead of creating it from scratch.
With Magezon Page Builder, you have complete control over editing your layouts across multiple devices to ensure their responsiveness. Additionally, the extension is SEO-friendly, considerably improving your standing on search engines.
Basically, everything from product descriptions, category descriptions, and static blocks to CMS pages can be created and designed instantly.
Frontend live-editing builder and other exciting features will be present in the upcoming version of Magezon Page Builder. Don't miss it!
Support duration: Free lifetime updates + Free 90 days of support
Price:
Grade: A+
Key Features:
Visual drag-and-drop page builder
Compatible with all Magento themes
50+ elements supported
Powerful customizable options
Ready-to-use designed templates
100% responsive–mobile ready
Magento WYSIWYG integration
Lightning-fast performance–cache supported
Tons of plugin integrations
2. Page Builder Extension for Magento 2 by Landofcoder
Another amazing plugin named Page Builder for Magento 2 by Landofcoder is the best way to create CMS pages, static blocks, category descriptions, and product descriptions quickly and easily.
No more wasting time saving and uploading; you can make changes to your page design while it constantly updates.
Best of all, Landofcoder Page Builder provides ready-made templates, a simple drag-and-drop interface, powerful effects and animations, and other features that meet your demands for responsiveness, attractiveness, and professionalism.
Support duration: Free lifetime updates + Free 12 months of support
Price: Starting from $0
Grade: A
Key features:
Drag-and-drop interface
Work with any Magento templates
50+ widgets supported
Responsive design options
Convert page & elements into content CMS page & content CMS block
Create various layouts
Block builder & bootstrap grid view system
Easy to extend with 3rd party extensions
CMS page builder & CSS skin builder
Schedule a time to display your page on frontend
Enhance page load time incredibly
Live preview for easier editing
3. Page Builder for Magento 2 by Tapita
Tapita Page Builder is the fastest and easiest way to build your Magento frontend, with no coding knowledge required. It offers an intuitive drag-and-drop page builder and valuable elements to build any layout.
Similarly, you can speed up your page creation with the help of Tapita's pre-built templates. Select your favorite template, make changes, and make it yours.
Tapita ensures that your pages are responsive and mobile-friendly due to its device-specific styling. Moreover, technical members can insert custom CSS or JS code into the pages to enrich the UI/UX of the website.
Support duration: update later
Price:
Free version available
Starting from $9
Grade: A
Key features:
50+ templates & 25+ page elements
Device-specific styling
Synchronize Magento catalog
Optimize for SEO & speed
Drag-and-drop tool, live editor
Create numerous page layouts: homepage, landing pages, information pages, etc.
Create blocks & save them for later
Able to add HTML/CSS/Javascript code
Work well with PWA studio & ScandiPWA to build headless frontends
4. Magento 2 Landing Pages by Amasty
Amasty Landing Pages for Magento 2 is an excellent option if you desire to increase your website conversions by adding landing pages to the sitemap.
Thanks to the plugin, you can create landing pages with unique URLs, metadata, meta robots, and canonical URLs. As a result, it raises your website's Google ranking and increases organic traffic. The plugin also delivers a unique appearance with dynamic content to set your website apart from competing websites.
Nevertheless, Amasty Landing Pages doesn't offer a free trial version, which makes it difficult for users to try out the product.
Support duration: Free 12 months of support and updates
Price: Starting from $149
Grade: A-
Key features:
Improve store SEO with unique URLs and metadata
Use flexible conditions for adding products
Display custom CMS blocks at any place on the page
Add landing pages to the sitemap for better visibility
Create as many landing pages as you need
Enjoy full compatibility with the Jet Theme
5. Magento 2 Front-end CMS Page Builder by Magesolution
Magento 2 Front-end CMS Page Builder by Magesolution enables you to create CMS pages, category descriptions, and product descriptions with multiple powerful features. Besides, a front-end visual interface allows you to preview your changes directly.
For those without any experience in coding, everything is solved in minutes using this extension. Build everything you want the way you like with just a few clicks!
Support duration: Free lifetime update + Free 90 days of support
Price:
Free version available
Starting from $129
Grade: B+
Key features:
Create numerous kinds of CMS pages: homepage, landing page, content page, Ads page,…
Edit product and category descriptions
Drag and drop tool
Front-end interface
40+ elements
Compatible with any Magento 2 themes
Set builder accounts' page editing permission
Export – Import – Restore contents
6. CleverBuilder for Magento 2 by CleverAddon
CleverBuilder is now climbing to the top of the list of the most outstanding page builders for Magento 2. With CleverBuilder, you can experience a one-stop solution to manage the web design workflow.
The power of the front-end visual interface enables store owners to easily create beautiful, flexible pages in any layout while immediately seeing changes. CleverBuilder integrates seamlessly with any CMS page or Magento theme. Consequently, you can transfer themes quickly without being concerned about content loss.
Additionally, CleverBuilder's elements and templates are all responsive, enabling you to start building a responsive website right away.
Anyway, don't expect a pixel-perfect design here. It's a minor drawback that you should replace some unwanted whitespaces with custom CSS. The high fee is another aspect that makes CleverBuilder tough to rank with other competitors on the market.
Support duration: Free 12 months of support and updates
Price: Starting from $399
Grade: B
Key features:
Create and control every aspect of your web design workflow from one place
Innovative visual drag-and-drop design interface
Seamless end-to-end experience with 30+ design elements and templates
Work seamlessly with any theme and CMS page
Real front-end editor experience
Easy-to-use interface
Responsive design
Conclusion
We hope the above-suggested list of Page Builder extensions can help you find the right one to shape your sites. Finding the most suitable extension to create the entire website can save you a ton of time and money.
If you need more information about this topic or would like to recommend other brands, feel free to let us know. We're honored to support you!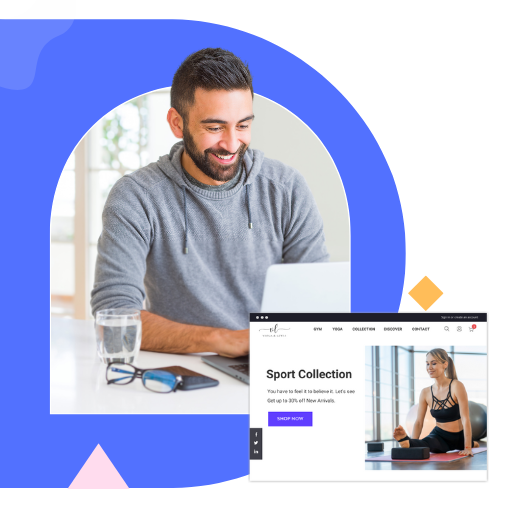 Optimize Your Magento Store With Powerful Extensions
Looking for fast, efficient and well-coded extensions to build or optimize your Magento stores for sales boosting? Then visit Magezon website and grab necessary add-ons for yours today!