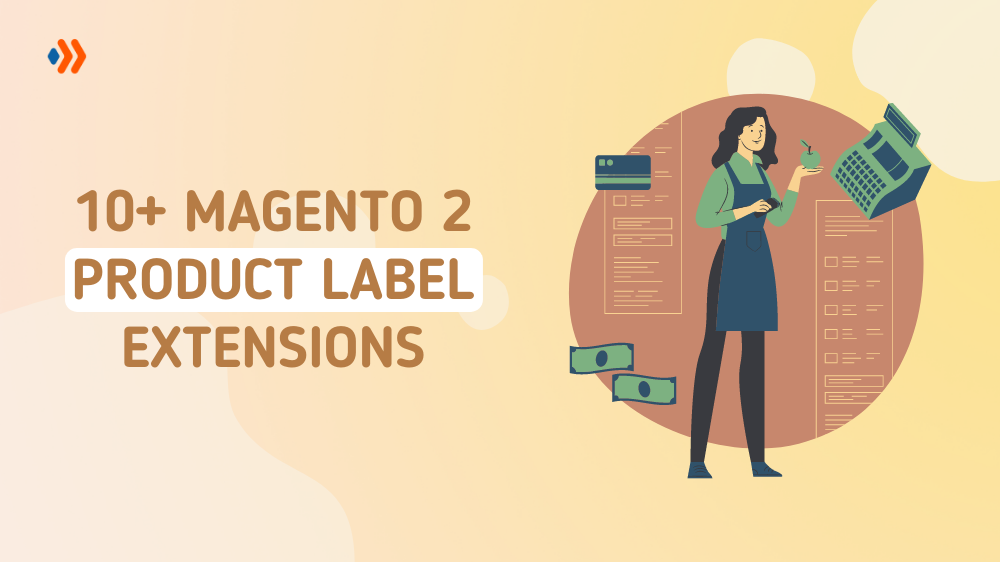 What can you do to make your site more noticeable and appealing to customers when they explore it? For example, you can change small factors like product labels that include color, graphics, content, and other elements that help to attract more customers and encourage them to make a purchase. Above all, it saves time by eliminating the need to sift through dozens of products to find ones that suit their preferences. Furthermore, it's a well-informed piece of information that helps clients identify things and saves them time and effort. Certainly, Magento 2 Product Labels extension comes highly recommended for its useful and remarkable features at a reasonable price.
In other words, the product label is well-known as a powerful instrument for making a lasting impression on a customer's mind throughout their visit. This is why every online store needs the Magento 2 Product Label extension, which helps you do exactly so.
Therefore, the Magento 2 product labels extension is a definite priority if you want to deliver the finest customer experience to your existing or new clients. In addition, given the importance of product labels, we've compiled a list of the top 21+ Magento 2 Product Labels extensions for your consideration.
Table of contents
Top Magento 2 Product Label Extensions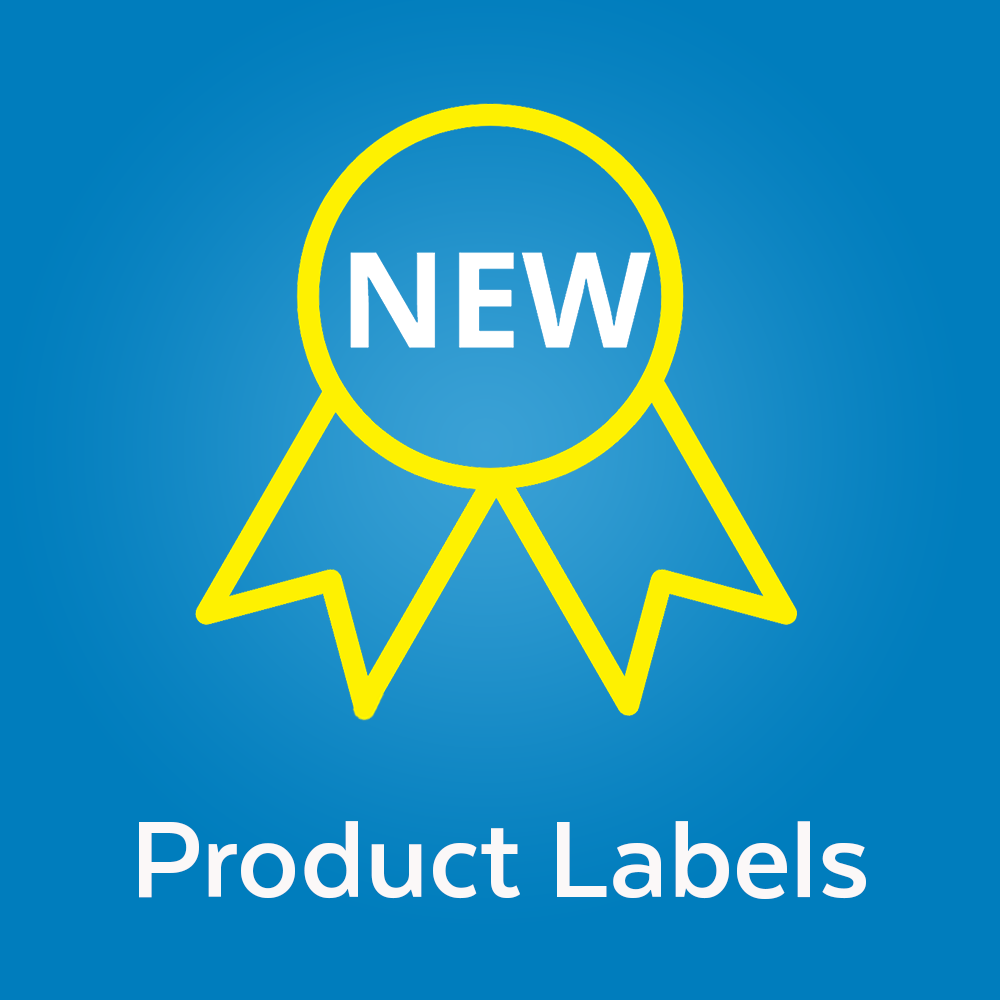 Starting off with Magento 2 Product Labels by Magezon – one of the most effective tools to use if you want to drive sales for your e-store. Eye-catching labels with reasonable call-to-action texts like "Hot", "New", "Sale Off", etc. absolutely help to capture shoppers' attention and encourage them to convert.
Price: $129
Key features:
Download this extension and you can:
Choose to display your product labels wherever you like, as long as it has product lists, such as on product pages, product list pages or even category page). Moreover, it is possible for you to design unique labels for each page.
Write new messages or use 10 pre-made variables which are user-friendly and easy to apply. Hence, showing dynamic text on the labels now is a piece of cake without any coding skill.
Set date and time intervals for labels to be displayed. As the time period expires, the labels will disappear.
Place the labels in any of the 21 positions supported, inside the product image or even outside. What's more, you can see how it looks from the backend using the preview function.
Set up priority for labels. Less prioritized labels will be hidden to display the more prioritized ones.
Create as many labels as you want, as Magezon doesn't apply limits on the number of labels.
Compatibility:
Community Edition: 2.0.x, 2.1.x, 2.2.x, 2.3.x, 2.4.x
Enterprise Edition: 2.0.x, 2.1.x, 2.2.x, 2.3.x, 2.4.x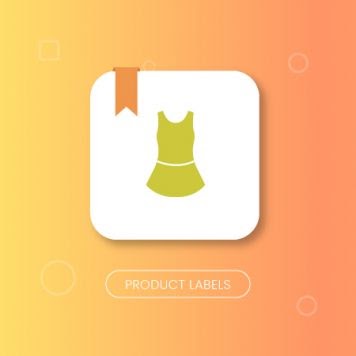 Price: Community: $49; Enterprise: $149
Magenest's Magento 2 product labels extension works in a way that it makes sure the design of your label is attractive enough to draw in visitors' attention. Browsers will find it easier to navigate through the product list and quickly find what they need if there is a highlight section of quality products.
Key features:
Generate an unlimited number of labels for all sorts of attributes, such as products that are on sale, the most often purchased products, or to advertise a promotion; for example, buy one get one free, or a coupon for a fifth of the original price. Other characteristics include environmental friendliness, cruelty-free, organic, and so forth.
A large selection of stickers and labels are available.
The ability to personalize it to your preferences: In the Magento 2 backend, you may move stickers around and add new ones.
Choose whether or not to display labels to a specified category of customers.
If you have several labels to display, assign a priority to the labels that fulfill the requirements. Define some attributes to show the labels that meet your requirements.
Compatibility: CE, EE 2.1.x, 2.2.x, 2.3.x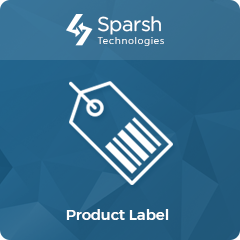 Price: Free
Having a visually pleasing product label can improve your store's sales numbers by up to 55 percent. Which is a fantastic price to take advantage of! That is to say, you may label a variety of product qualities with this Magento 2 product label and execute various marketing programs at the same time!
Key features:
Customers should be informed about the products of your ecommerce store, whether it's a discount, a new arrival, further discounts or promotions, and so on.
Make eye-catching images to entice them to make a purchase. They are made beforehand, ready to be used in a second, and come in a variety of shapes and sizes, including text, photos, and other media.
With a single click, you may put your label in any landing zone on your page.
Create unique labels for each customer type. Customers who are wholesalers vs. general customers, for example.
Configure your labels' conditions. The extension display all of your labels automatically based on your preferences.
Add "X things left" and "Almost sold out" to create a sense of urgency.
Set a specific time for the labels to appear. It will arise and vanish on its own.
With the PWA Product Labels add-on, you can create a mobile-responsive UI. There is no additional price!
With CSS and sophisticated settings, you can create your own labels.
Compatibility: Magento 2.2, 2.3, 2.4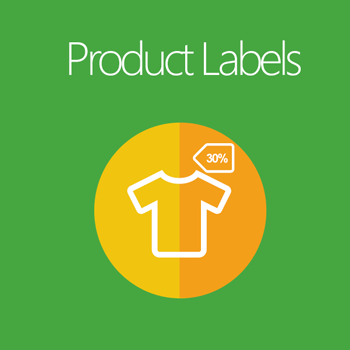 Price: $129
Make a good first impression on your customers, after that encourage them to purchase your products with Mageplaza's Magento 2 product label extension. Admins can also quickly and simply adjust and edit the addon. Customers and you, the business owner, will have a positive experience.
Key features:
Pre-made templates with enticing styles and designs to catch the eye. In the backend, you can change and customize it.
Assist you in creating the greatest "Best Sellers" badge — one of the most potent labels for first-time visitors.
Adapt your label messages based on the campaign and several aspects.
To give labels to individual products, create your own rules. These criteria might be based on product kinds, categories, SKUs, and other factors.
For easier handling and control, use a label management grid.
Set the timeframe for the extension to display all of your labels.
Compatibility: Magento 2.2.x, 2.3.x, 2.4.x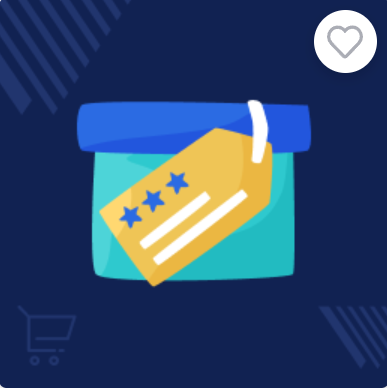 Price: $49
Store owners now have the ability to generate highly customizable stickers/labels to go hand-in-hand with their product listings using Magento 2's custom product labels feature. Product labels generally are an excellent approach to draw attention to products and convert visitors into consumers. The Magento 2 module Custom Product Labels can be used to display badges for Deals, New, Out of Stock, Featured Items, Popular, and much more.
Key features:
Create advertising stickers for your products that say things like "new arrival," "sale," "sold out," "exclusive," "featured product," "out of stock," and more.
With interactive product Image labels, you can catch the attention of customers and enhance sales.
Create and edit as many product labels as you want.
Product labels that are simple to implement and customize.
Create one-of-a-kind product labels with a distinctive name and logo.
Decide where the extension will display your label on the product: top right, top left, bottom right, bottom left.
Compatibility: Magento 2.0.x, 2.1.x, 2.2.x, 2.3.x, 2.4.x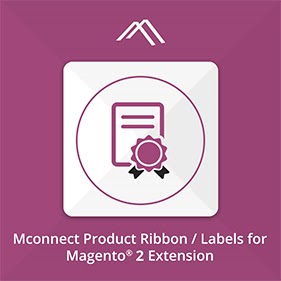 Price: $79
Product Labels for Magento 2 allows you to build professional-grade looking, highly interactive product labels that will aid you in drawing clients' attention to highlighted products and persuade them to buy them. There is also the inclusion of a backend grid with the addon to make managing frontend product labels a breeze. You can also set product label conditions, such as displaying the label if the product falls inside a certain price/date range or has reached the minimum store threshold value.
Key features:
To showcase your store's products, use eye-catching product labels.
Set a product threshold quantity to display automatically a product label on the product page, category page, or both.
A single product can have many labels applied to it.
At the same time, assign labels to numerous goods and categories.
Customize the image label by adjusting the height, width, and location.
Compatibility: Community version 2.0.x, 2.1.x, 2.2.x, 2.3.x, 2.4.x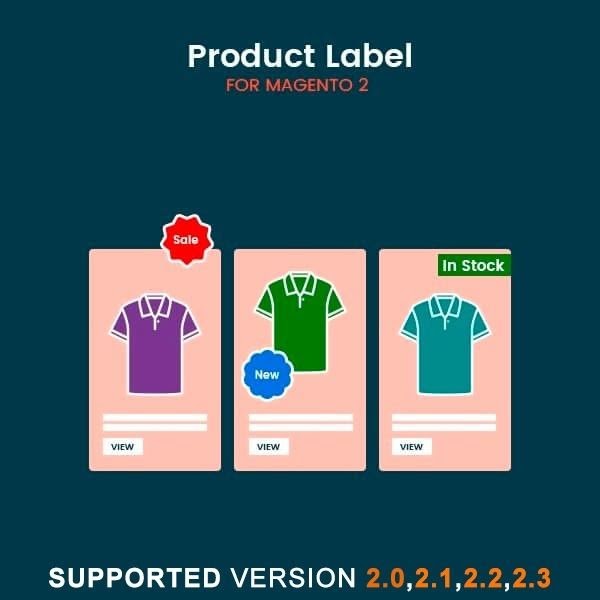 Price: $89
Add a highly interactive and informational element to your ecommerce website products with MageAnts Magento 2 Product Labels to promote them as part of your marketing plan.
Key features:
Add personalized product labels that describe the product's distinctiveness.
Color, position, type, and text can all be customized to your liking.
Add different types of product labels, such as sale, bestsellers, new, and so on.
Create personalized sticker designs by uploading photos.
Make the different labels of every product a top priority.
Specifically customized labels for goods, categories, and stores can be enabled or disabled.
In Magento 2, product labels work with any type of item.
Compatibility: Magento 2.0.x – 2.4.x
Price: $79
The Magneto 2 product labels extension feature enables store owners to place labels next to product photos in category and product pages automatically. This extension draws emphasis to the featured goods by using various labels such as new arrivals, hot sale, top seller, exclusive, and so on. Customers will be able to quickly locate products and make purchases using this extension. This addon allows you to easily change the label image or text from the backend.
Key features:
The product label module can be enabled or disabled in the shop configuration by the administrator.
From the backend, the administrator can quickly customize and add a label (picture or text).
The label can be created, edited, or deleted by the administrator.
You can implement the advanced settings/CSS to make labels more appealing.
Admin can limit the number of labels that can be displayed on each product.
The label location surrounding the product image can be set by the administrator.
Compatibility: Magento 2.0.0 – 2.4.x; CE & EE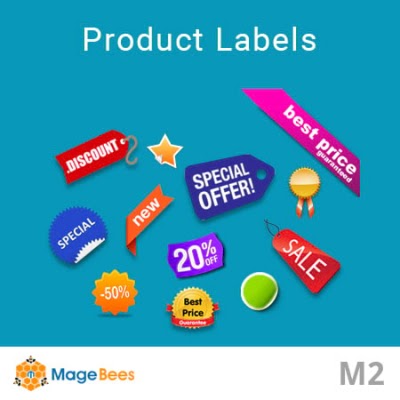 Price: $49
The Magento 2 Product Labels Extension is used to showcase your products using various custom labels such as new products, special discounts, and so on. Labels can also be used as a promotional tool to help you sell your items. Adding labels to your store is a certain technique to get clients' attention and encourage them to buy. You are free to make as many labels as you like. Labels can be uploaded based on a variety of criteria, including date and time, price range, stock status, and selected products and categories.
Key features:
Make a variety of labels for the products that you want the product to stand out.
Labels can be filtered by products and categories.
Labels can be applied to certain store and consumer groups.
Prioritize whichever labels you want.
Variables for label text with custom text are predefined.
Label dimensions are managed separately from admin.
Compatibility: Magento community/enterprise :2.0, 2.1, 2.2, 2.3, 2.4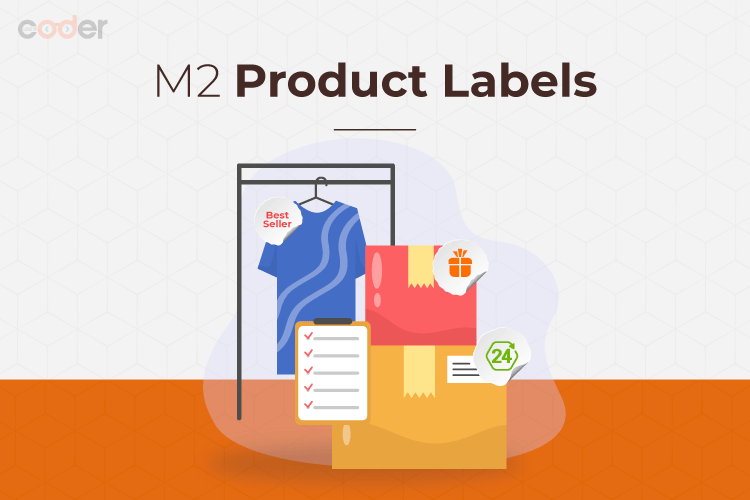 Price: $129
Magento 2 product labels assist store owners in capturing the attention of their site visitors, motivating them to make a purchase decision more quickly.
With the Magento 2 product label extension, you can use a variety of pre-made labels to emphasize your products, such as bestseller, new arrival, exclusive, and so on, or customize product labels based on your particular tastes. The products associated with those labels give online buyers a sense of urgency and want to buy, increasing your store's conversion rate.
Key features:
Labels for your items can be easily customized.
Use special offers labels to draw attention to your storefront.
Use labels with qualifiers to have your promotions appear automatically.
Keep your consumers up to date on the status of their orders.
With a few basic guidelines, you can increase your sales revenue.
Compatibility: Community Edition: 2.3.x, 2.4.x; Enterprise Edition: 2.3.x, 2.4.x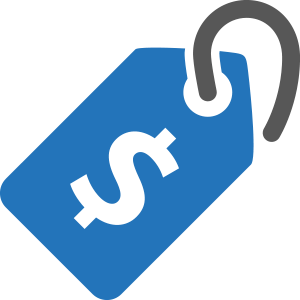 Price: $199
Stimulate your customers' attention and pique their interest, and they will more than likely make a purchase. With the Magento 2 Product Labels extension, product labeling has never been more efficient. It provides an outstanding range of editing possibilities and control over display settings, flexible rule-making flexibility, and significant label application diversity.
Aheadworks' Magento 2 product label extension strives to give you more options in terms of presentation, display, and backend control. Because images are important, it emphasizes flexibility to enable you to fine-tune your display. With the use of numerous labels, you can make your items talk to buyers by offering clear and attractive promotional messaging.
Key features:
Customize the label's design to make it more appealing.
Place labels directly on the product image or near the "Add to Cart" button to add several labels to one product.
Distinct labels for different consumer groups should be specified.
Create label display guidelines based on the marketing campaign.
Compatibility: Open Source 2.3.x – 2.4.x; Commerce 2.3.x – 2.4.x
Price: $119
With the Magento 2 Product Labels extension, you can add labels to product photos and emphasize featured products and special offers evenly. It allows you to rapidly create a label with special deals, featured products, and other information and also draw attention to any product in the most visible way for customers.
Key features:
You can freely upload your own Magento 2 product labels for any usage purposes
Choosing the position of labels by drag & drop.
Showing many labels on a single product.
Labels can be displayed to specific consumer groups and store views.
Label things in bulk according to their conditions.
Compatibility: Community: 2.3.x – 2.4.x; Enterprise: 2.3.x – 2.4.x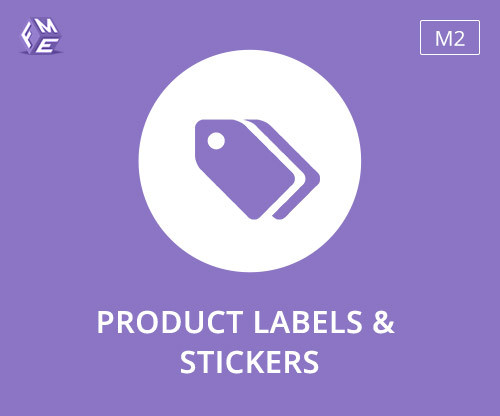 Price: $109.99
The final label extension we'd like to feature is the Product Label & Stickers by FMEExtension. This Magento 2 Product Labels extension allows you to decorate your product photos with appealing labels and stickers. Add ribbons, text, and image labels to catch the eye of customers and increase conversion rates.
Key features:
Ready-made shapes to create attractive Ribbons add text and image labels to your product photos
For each product, add multiple labels and stickers.
Place the label anywhere on the image of your product.
Out of stock and most viewed labels are automatically shown.
Labels can be restricted based on customer groups and store views.
Use flexible conditions to apply labels to certain products.
Upload multiple labels for product and listing pages
Option to Add Multiple Labels at Once
Compatibility: Enterprise : 2.1.x, 2.2.x, 2.3.x; Community : 2.1.x, 2.2.x, 2.3.x
Conclusion
In conclusion, we hope that this review has given you a good overview of the Magento 2 Product Labels extensions that are currently available. Now you must make your own selection – select the extension that is the best suit for you. Because marketing approaches are becoming more sophisticated, make sure you examine all of the available tools and methods before deciding which ones are best for your company.
At Magezon, we provide many other fast, efficient yet affordable Magento extensions that can help you optimize your store and win sales. So visit Magezon to pick ones for yours!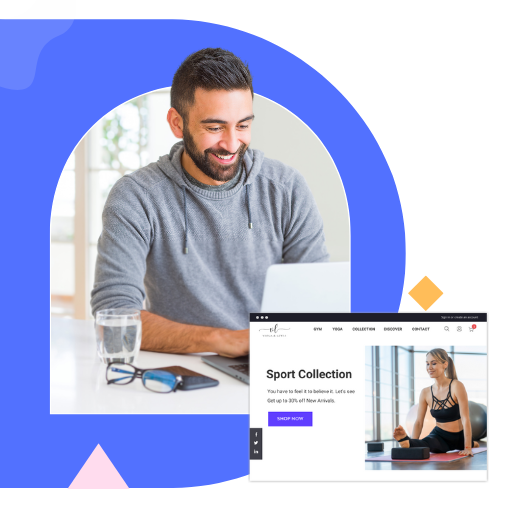 Optimize Your Magento Store With Powerful Extensions
Looking for fast, efficient and well-coded extensions to build or optimize your Magento stores for sales boosting? Then visit Magezon website and grab necessary add-ons for yours today!