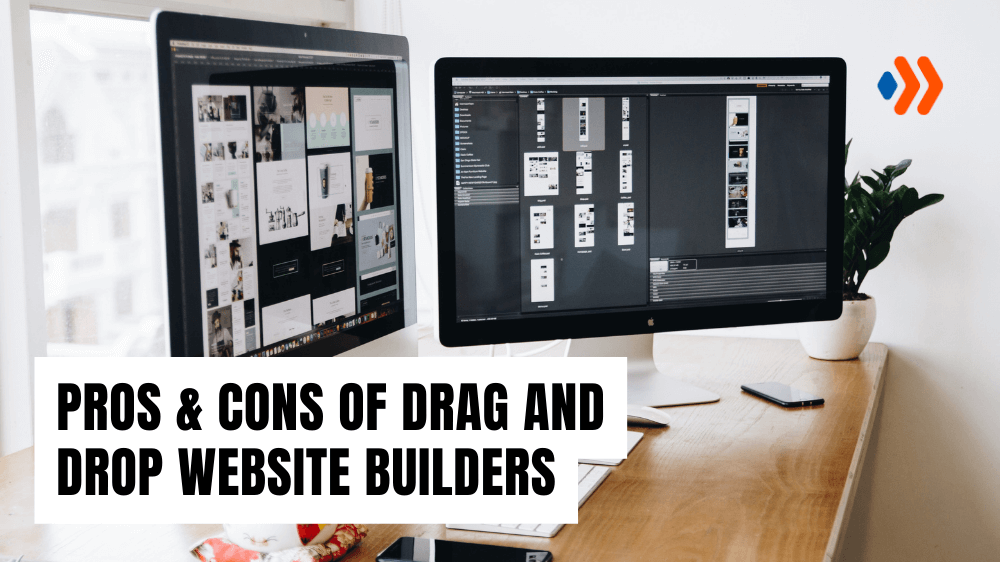 When it comes to creating a website, you have a few alternatives. Creating a well-designed website from the ground up may be the way to go if you are a code wizard. However, you might hire someone to build your site if you are not a coder. Alternatively, you may opt to design a website using a drag-drop website builder. This option is a bit easier and more autonomous. But you must also be aware of the pros and cons of website builders.
Drag and drop web design editors allow you to create a website by dragging and dropping your own content into premade templates and content blocks. Building a website has become more accessible to everyone who wants a webpage for their brand, thanks to the drag-drop website builder. Even if you don't know how to program, you may open an online store and sell to a global audience.
While drag and drop may appear to be a good option for creating digital content, it isn't always as simple as it seems. So, you must answer the question: What is the best solution for you and your company?
We can't make that decision for you, but we can give you some pros and cons of website builders. Think over these before deciding how to build your website.
What Is a Drag Drop Website Builder?
As mentioned in our previous guide, What Is a Drag and Drop Website Creator? a drag-drop website builder is a tool that enables you to create a professional-looking website with only a few simple steps. You can design a website using the drag and drop page builder interface by dragging and dropping content items onto the layout. You don't have to be technical to do it, and you don't have to hire a developer to do it for you. It is the simplest, quickest, and most cost-effective way to create any website. Many drag-and-drop page builders, such as Magezon Page Builder, Squarespace, and Wix, can assist you in creating websites without the need for coding.
To put it another way, anyone with a computer and an internet connection can create a website using a drag-drop website builder. However, one must also consider the pros and cons of website builders.
Explain the Drag and Drop Functionality
Drag-and-drop is one of several user interfaces approaches for moving things around on a computer. The "drag" action entails holding down the main mouse button (by default, left-click) while gesturing the mouse towards a destination. On the other hand, the "drop" method entails releasing the main mouse button while hovering over the desired location. This approach has a variety of uses in the computer world, including file relocation and rearranging. In addition to that, specific programs, such as data input, employ the drag and drop UI builder mechanism to simplify certain instructions.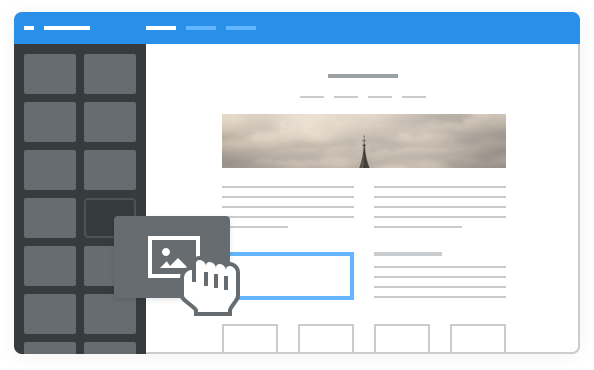 Regarding website builders' pros and cons, the method mimics natural human motion for moving objects. Users can take, move, and put virtual things down using the mouse pointer as a "hand." This user-friendly design is common among operating systems, and it usually aids in making computer use more accessible to the general individual.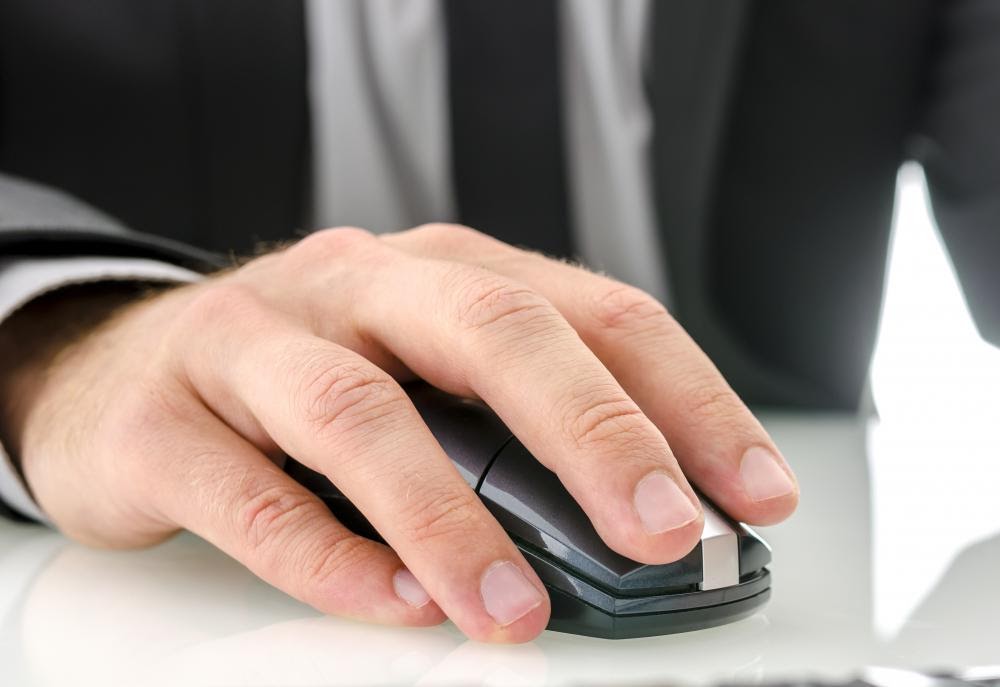 For convenience, software developers include a drag and drop layout builder in their programs. Several email applications, for example, allow you to drag and drop file attachments into an outbound message. The user saves time and effort by not having to locate and connect the file through a separate dialog box. Developers also use the drag-drop web design builder in various games, office programs, and other software. You can move virtual objects in most of these applications. Websites can now integrate drag-and-drop capability within the code, allowing for more user-friendly interfaces, thanks to the development of HyperText Markup Language version 5 (HTML5).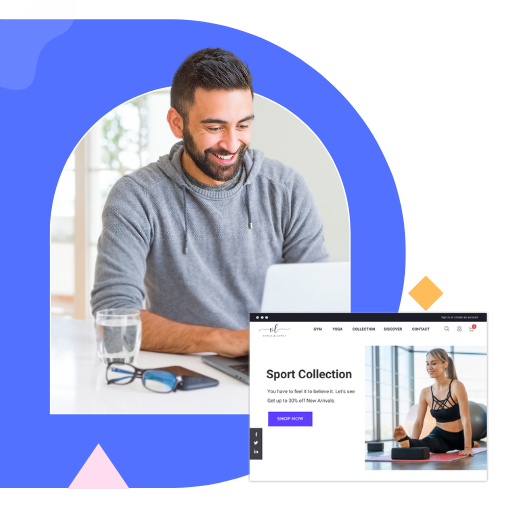 Try FREE Magezon Page Builder demo today
Easily create your engaging, interactive Magento website in any style whenever you want without relying on developers or designers. Just by drag & drop.
Other Applications of a Drag Drop Website Builder
The technology of a drag-drop website builder is the foundation for many touch-screen devices' user-interface techniques. Instead of repeatedly tapping the screen to navigate the device, users may simply keep their fingertips on the screen and "drag" to the desired location. The "drop" brings movement to a halt. Because of the limited screen sizes on mobile devices, the drag-and-drop may need repeated several times to reach the desired effect. This allows for more efficient usage of the gadget while reducing screen structural damage.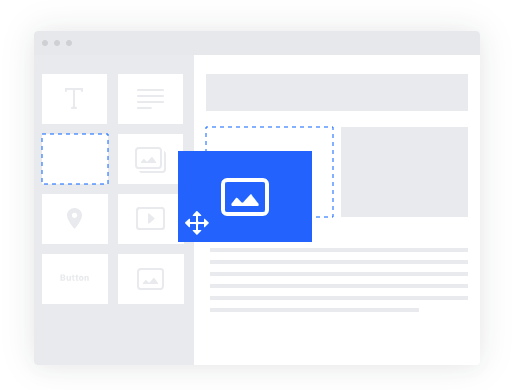 On the other hand, the method of a drag-drop website builder has some restrictions. When transferring files, both the source and destination locations must be open at the same time. Although this is usually a minor issue, the destination can still be placed beneath the original site, rendering the desired new location unreachable. The solution to this problem is as simple as dragging and dropping the destination to a different part of the screen than the file's original location. Other issues come when designers change the convention, such as with computer trackpads, which require users to tap the pad twice before using the drag-and-drop functionality. There will be further discussion on the cons in later parts.
Pros and Cons of Website Builders
Advantages of Using a Drag Drop Website Builder
Simple Designing
When building your own website, most website builders highlight the significance of simplicity. It's important to remember that you'll still need to learn how to use the design tools in their site editor. This should not prove to be a difficult task for first-timers. Some platforms provide free online classes and web design training before website building.
A drag-drop website builder is excellent for quickly and easily creating your own website. If you have a keen eye for design, you'll want to rearrange everything and put them back in its proper places. You'll need to drag and drop items to integrate your branding strategy, whether you choose a minimalist or slick design template for your website. You can simply develop design concepts if you have this powerful function.
No Coding Required
One of the most obvious benefits of using a drag-drop website builder is that it requires no coding knowledge. Expert assistance is not necessary with a drag-and-drop eCommerce website builder. You are not required to master the fundamentals of programming. These programs are designed specifically for persons without experience with coding.
Many website templates, even those that are free, have attractive and inventive designs that are also very functional.
To make a website, you no longer need to be a web developer. Every day, new opportunities for entrepreneurs to make their mark emerge. Drag and drop allows anyone to do this, whether a seasoned programmer or not.
More Cost-Effective
An easy drag-drop website builder online has also proved to be a cost-effective approach to designing a website for small businesses. You won't have to pay a coder to get your firm. Instead. Depending on your plan and platform, you may spend as little as $20 or even $10 each. They're ideal for those who are just starting their first website or wish to create a personal blog to post random thoughts. Using a website builder is less expensive than hiring a web designer. Hundreds, if not thousands, of dollars, can be saved. You also don't have to wait too long. You may have your website up and running in less than 30 minutes.
Build a Website with High Speed
Consider building a website in mere minutes and launching it immediately. Yes, you can use a drag-drop website builder. You are not required to haste, but having to build a site at breakneck speed is an excellent thing.
You won't have to worry about coding or anything related to website development's technical aspects. It's amazing how quickly you can get your website up and running.
You only need the essential design tools and functionality to put your ideas into life as quickly as possible. Even better, the best drag drop website builder offers all these capabilities.
High Flexibility
Did you know that when a drag-drop website builder becomes more powerful, it attracts fewer users? Flexibility is the first thing you should look for in a drag-drop website builder that is true to its features and capabilities.
Even if the drag-drop website builder you are using is free, you'll find that they aren't versatile enough to allow you to mix and blend your customized ideas.
You may construct a simple website with no extras thanks to flexibility. You don't have to switch tools to move a single object. Simply switch to drag-and-drop mode, and everything should start to fall into place.
Tech Support
Customer care is sometimes available from any drag-drop website builder, and you can contact them for assistance. If you require technical assistance, review the service features and agreement to determine the best platform.
Personalized Web Design
There is nothing like designing your own website from scratch. Users can use the drag-drop website builder to create their wonderful ideas while using one of the creator themes. It's as simple as sliding the image to the left or adding the chat button in your site's upper right corner.
Something such as this can significantly impact your internet business's success. While you can go deeper into the neuroscience of web design, it's more practical to use your personal likes and brand concepts. Yes, it communicates a lot about personalization.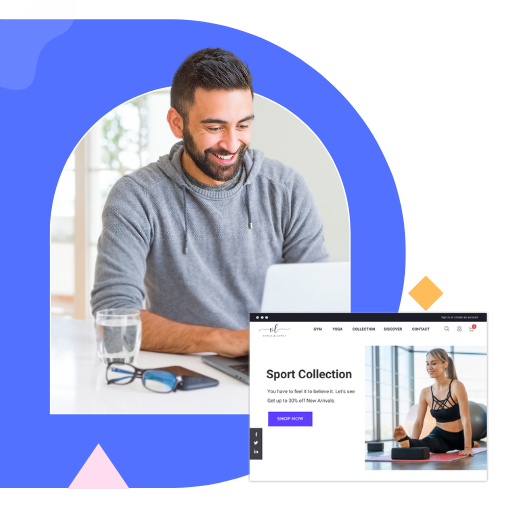 Try FREE Magezon Page Builder demo today
Easily create your engaging, interactive Magento website in any style whenever you want without relying on developers or designers. Just by drag & drop.
Limitations When Using a Drag and Drop Site Builder
On the other hand, drag and drop builders have their own drawbacks.
Not very suitable for big enterprises
Professional design, SEO coding, and sophisticated features are required for business websites. First impressions are crucial. Consumers will likely never return to your website if it has a cheap-looking design.
The design of your website is important for more than just aesthetic reasons; according to a study, 48 percent of respondents believe site design is the most important aspect in determining legitimacy. If you want to use this site for business purposes, you must employ a web designer instead of a drag-drop website builder for better quality and aesthetics.
Limited Customization
If you have a specific vision in mind for your website, the website drag and drop editor you choose might not offer all of the functionality you need. You won't need any coding abilities to get your site up and running at first, but you need them later if you want to make it truly unique.
Many website builders get around the lack of coding experience by only allowing consumers to choose from a limited number of themes for their site. As a result, you can only put text in this location and an image in that spot, but you're out of luck if you require more space for more material outside their design framework. It makes it difficult for your company to stand out from the crowd.
After all, you might need to hire a developer for that. Even then, communicating your concept to a third party can be difficult. That's one of the things that makes drag and drop so appealing: it allows you to create a website exactly as you want. However, the only issue is that this does not always occur immediately.
Looks Generic
Because you'll be using themes others use, your site will seem like many other sites if you don't personalize it. Take a little time to personalize as much as possible to combat this. Experiment with fonts, colors, images, and copy to make your site stand out. You may have to pay a small fee to remove the website builder platform's name and branding.
Missing SEO Elements
Most drag-drop website builders do not properly integrate SEO or generate leads into their website creation process. To gather email addresses, they rarely encourage you to include a call to action on your website or develop a soft offer for your clients. These characteristics and others are required for your website to turn leads into actual clients.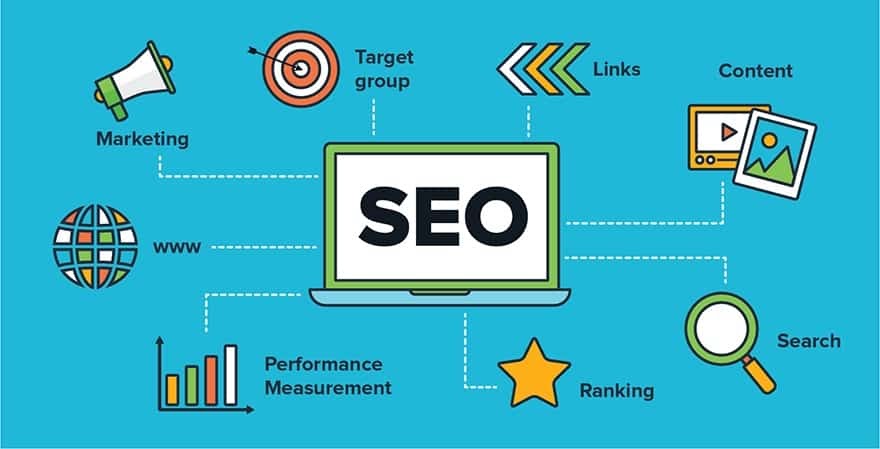 From an SEO standpoint, there are several back-end coding features that a drag-and-drop website creator may neglect or fail to include entirely.
The use of unstructured and jumbled codes is prevalent among website designers. This hurts your on-page SEO, which is supposed to help you rank higher in search engines like Google. The problem is that when you use website builders to create your site, you don't have control over the code; you just have design control. Google favors more well-organized sites and adheres to a specific hierarchy or category. Making Google happy will help you rank highly on its search engine.
Some Are Not Free
The first, less expensive package you bought to start building a website might not be enough to give you all the features you need for your business. You may need to buy more plugins or switch to a more expensive option over time to make your website worth visiting.
Furthermore, problems can occur even if you aren't actively editing HTML in the backend of your site. If you run into these problems, like most individuals who use a drag drop website builder, you may need to employ a coder again. The money you saved by not hiring a developer in the first place will fast go as your store expands and difficulties arise.
Not All of Them Are Mobile Responsive
The importance of coding for mobile viewing and the operation of your website cannot be overstated. Unfortunately, many website builders have relatively limited mobile optimization options. Why is mobile so important? Mobile searches and website browsing have finally overtaken desktop browsing. Mobile devices now account for more than half of all web traffic worldwide, and the percentage is growing yearly.
When you encounter a problem with how content or a design section appears on portable devices, the drag-drop website builder doesn't allow you to perform much more device-specific customization (i.e. phone, tablet, etc.). You're stuck with their built-in mobile rendering, which doesn't always translate your information and design into the best appearance and feel, causing potential user experience difficulties.
An Alternative Website Creator to Drag Drop Website Builder Online
With the pros and cons of website builders out of the way, if you still find a drag-drop website builder unsuitable, other content management systems (CMS) make managing and updating your website a little easier. However, these come with considerably fewer restrictions than website building platforms. They frequently necessitate the assistance of a reputable website designer for the preliminary concept and setup. They are, however, significantly more adaptable than website builders in the long run.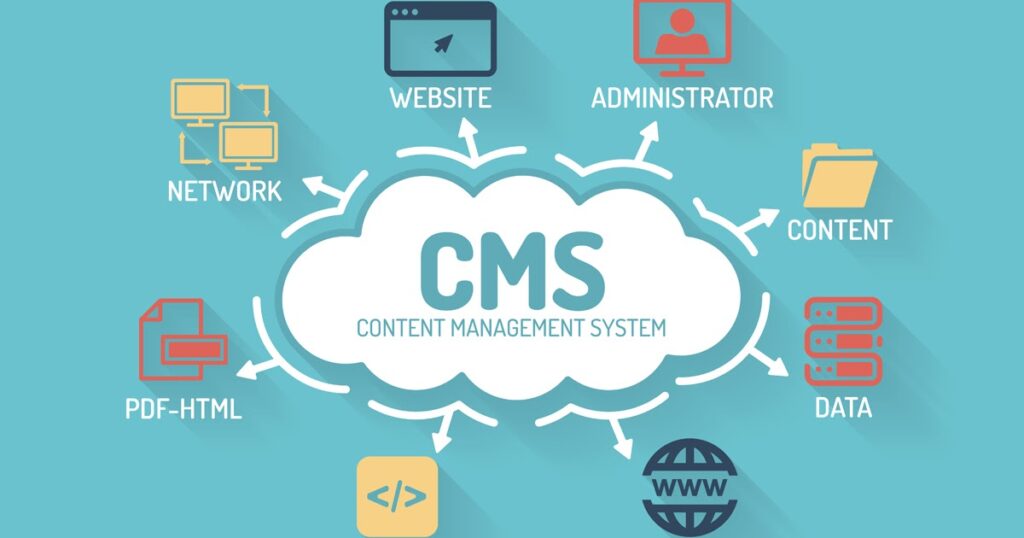 Hiring a service that excels in website design and employs SEO professionals is highly recommended.
That's All About Pros and Cons of Website Builders
Learning about the pros and cons of website builders and appreciating the capabilities and tools that can help you build the website of your dreams is crucial. As a result, selecting the right website builder or using an alternative to get things done is critical.
When choosing the best website-building framework for your online presence, there are a few things to consider. Don't skimp on the reliability of your website services to save money. If you have the opportunity, why not get both? After all, the best drag drop website builders have common traits like the ease of use, adaptability, strong functionality, reasonable pricing, and appealing online designs.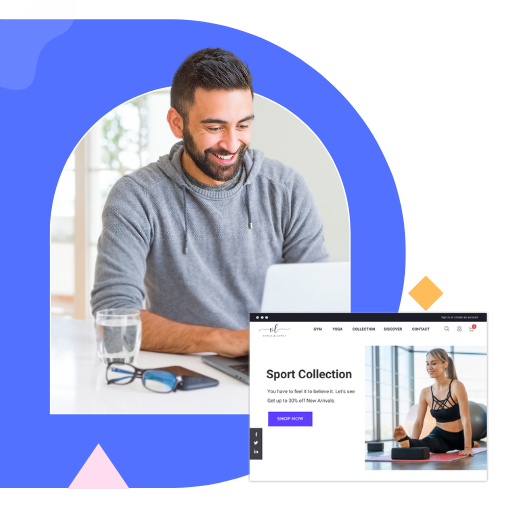 Try FREE Magezon Page Builder demo today
Easily create your engaging, interactive Magento website in any style whenever you want without relying on developers or designers. Just by drag & drop.
Photo in features image by Tranmautritam from Pexels.