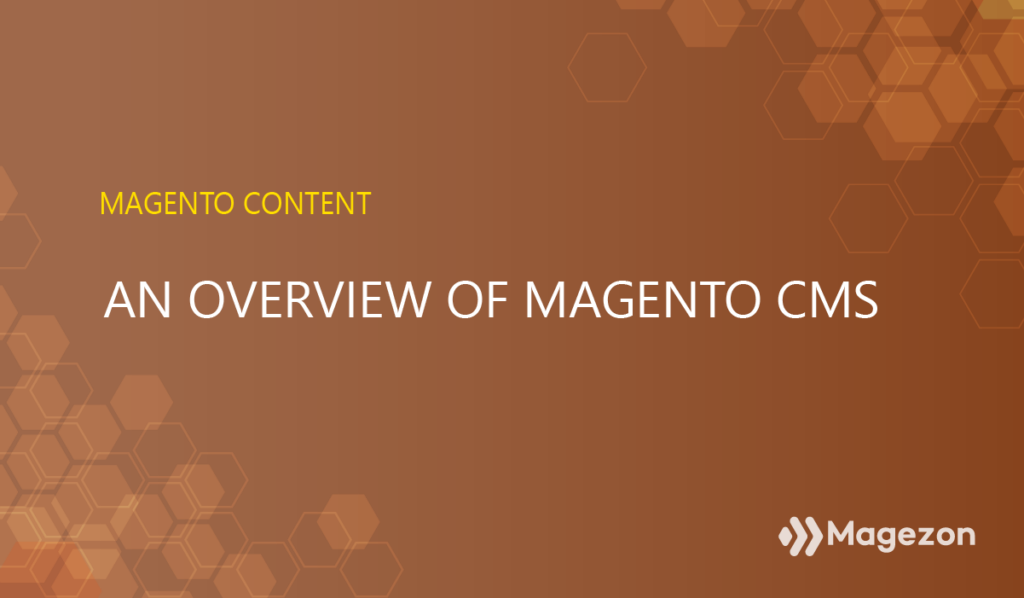 When first started with Magento, many users have questions about Magento CMS (Magento Content Management System). Some question if it's a CMS. Some question if it's good for building content. In this post, we'll unlock the most commonly asked questions about Magento CMS. We'll also recommend some expert's tips for choosing your next Magento CMS extension. Scroll down to see!
Is Magento a CMS?
One of the most common questions among Magento beginners is: "Is Magento a CMS?".
Well, we're confident to say that Magento is a CMS. It allows users to create and manage digital content like any other Content Management Systems. Magento is among one of the most common CMS, along with WordPress, Shopify, Joomla.
More than a CMS, Magento is often referred to as an Open Source e-commerce platform. Magento's feature list includes Marketing tools, Catalog Management, Order Management, Check out, Payment, Shipping, Customer Accounts, … These essential features are the main drive behind Magento's robust performance.
Magento also allows you to install extensions from third-party, which boost the CMS customization ability of the platform to a new level. To find these extensions, Magento Marketplace is a safe place for a beginner. It partners with hundreds of extension providers, providing you a wide range of choices. Above all, it executes a rigorous 3 phrase
Since first introduced in 2008, till now, Magento has supported more than 200,000 websites all over the world. Many giants are trusting Magento to develop their e-commerce business. They are Helly Hansen, Olympus, ASUS, Land Rover, Ford, … to name a few.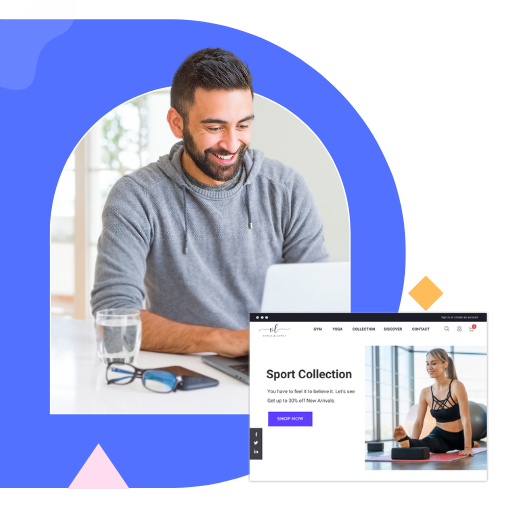 Try FREE CMS Page Builder demo today
Easily create beautiful, engaging Magento website the way you want without relying on developers or designers. Just by drag & drop.
Magento CMS Features 
CMS Page, CMS Block, and CMS Widget are some salient features of Magento Content Management System.
CMS page. CMS Page allows you to create all pages on your website. Magento also provides some simple templates for CMS pages such as: Homepage, Enable Cookies, Privacy Policy, About Us, Customer Service page, …
CMS Block. Around 20 CMS Blocks are available on Magento by default. You can create unlimited blocks and manage them easily via the Block page.
CMS Widget features are quite great. By default, there are 9 Widget types and 2 Design Themes. They will help you create a widget easily and effectively.
Magento CMS Extension
1. Why Use Magento 2 CMS Extension?
This is how Magento WYSIWYG editor looks like: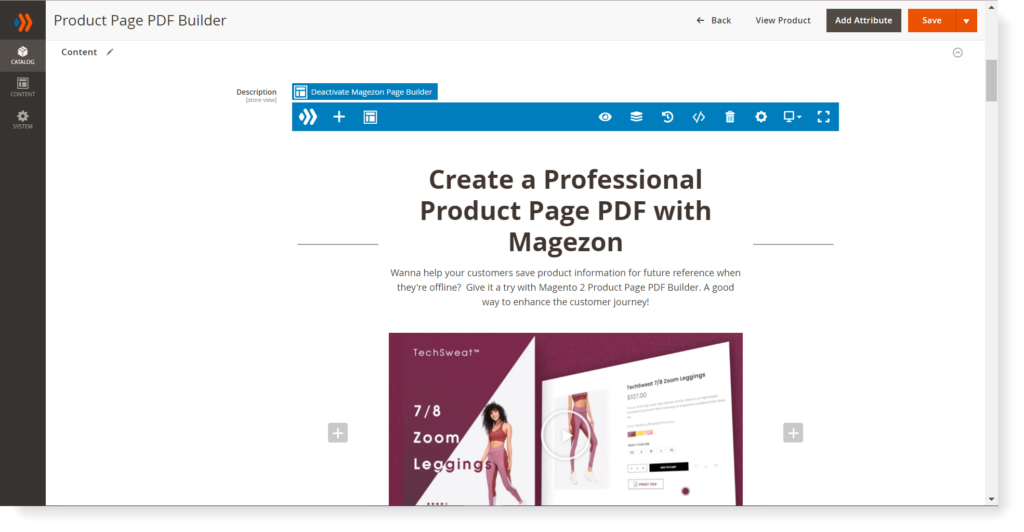 Even though this editor provides a list of basic options for users, a CMS extension extends these options even more. They can improve both your experience with building landing pages and the landing pages themselves.
2. What You Should Look for in Magento CMS Extension?
A one-size-fit-all CMS extension doesn't exist. Because what defines an excellent CMS extension isn't the features themselves are but how those features match user's needs. There are non-coders who prefer intuitive front-end builder. On the other hand, there are also advanced users who don't mind spending long hour coding their own landing pages. Many of them will go for less intuitive but more developer-friendly options. However, based on our experience, we believe a decent Magento 2 CMS extension should have several factors below.
Element diversity
Ease of use
Highly customizable
Having multiple SEO attributes
Compatible with other third-party extensions
Great support
3. An Advanced Magento CMS Extension: Magezon Page Builder
Magezon Page Builder for Magento 2 is one of the most popular page builder extensions for Magento. It integrates with Magento WYSIWYG editor and works as a drag-and-drop builder.
If you are looking for an Elementor or Visual Composer for Magento 2, Magezon Page Builder is likely to be your gem. With this Magento CMS Page Builder, the customization options are endless.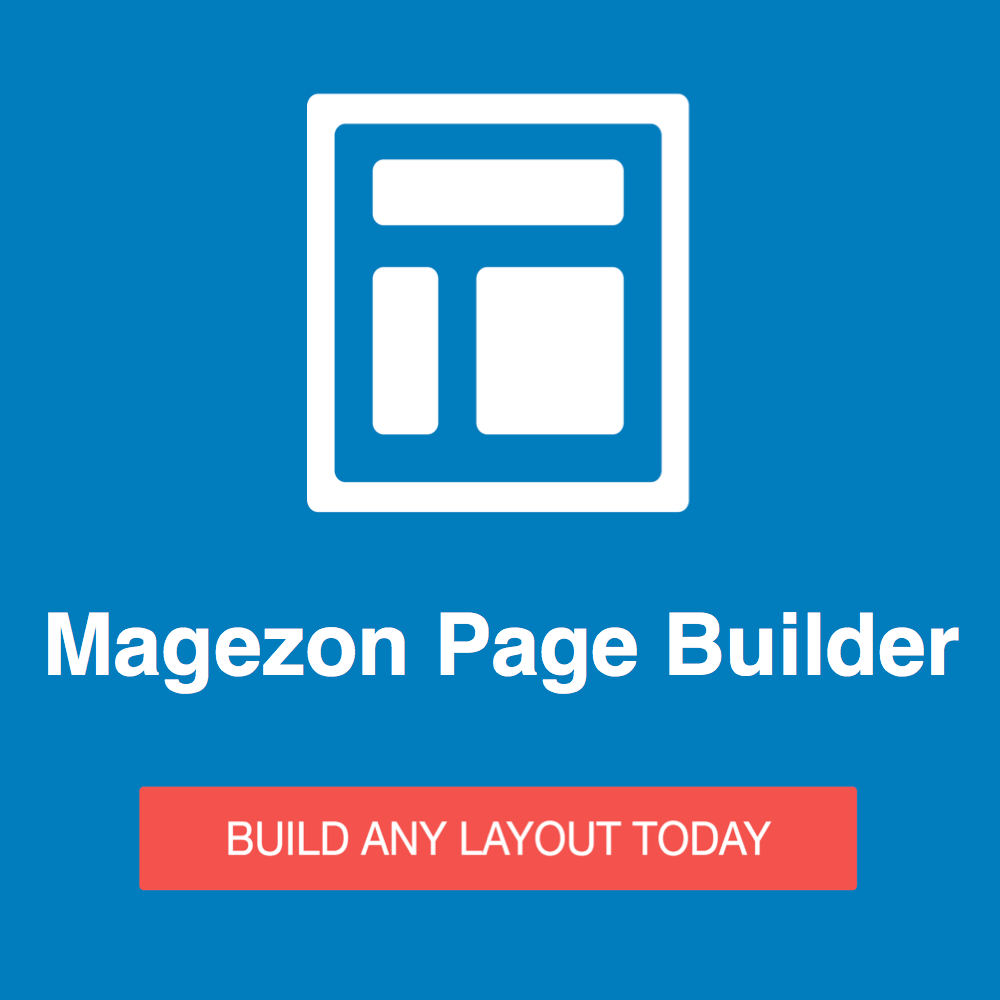 Here are some highlight features of Magezon Page Builder:
Drag & Drop Page Builder
50+ elements supported
Powerful Customizable Options
Magento WYSIWYG Integration
Create Beautiful Page Layouts
Create Responsive Magento Websites
Works With Any Magento Theme
Ready-to-use Predesigned Templates
Lightning Fast Performance
SEO Friendly
Outstanding Plugins Supported
More Amazing Features
Compatibility with other Builder extensions from Magezon
Amazing support team
Magezon Page Builder comes with a Free version and a Paid version. Transform your next CMS page with this Magento drag and drop page editor now!
To Recap
Magento CMS shows tons of great features for e-commerce store owners. If you're still reluctant to go for Magento instead of other e-commerce platforms, comment down below to let us know what you're thinking. We are very excited to discuss with our readers.
Trying to optimize your Magento store to the fullest? Then, Magezon extensions website is where you should visit.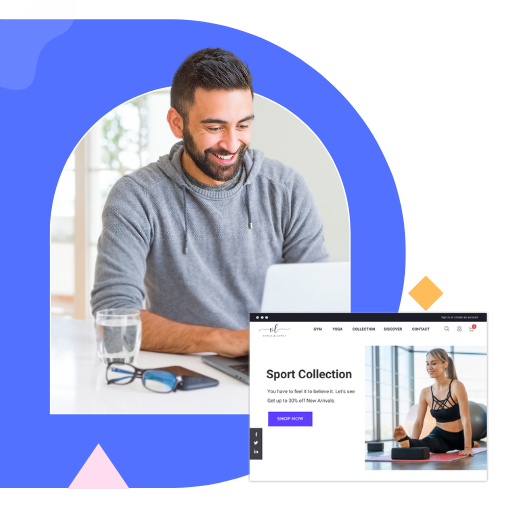 Try FREE CMS Page Builder demo today
Easily create beautiful, engaging Magento website the way you want without relying on developers or designers. Just by drag & drop.