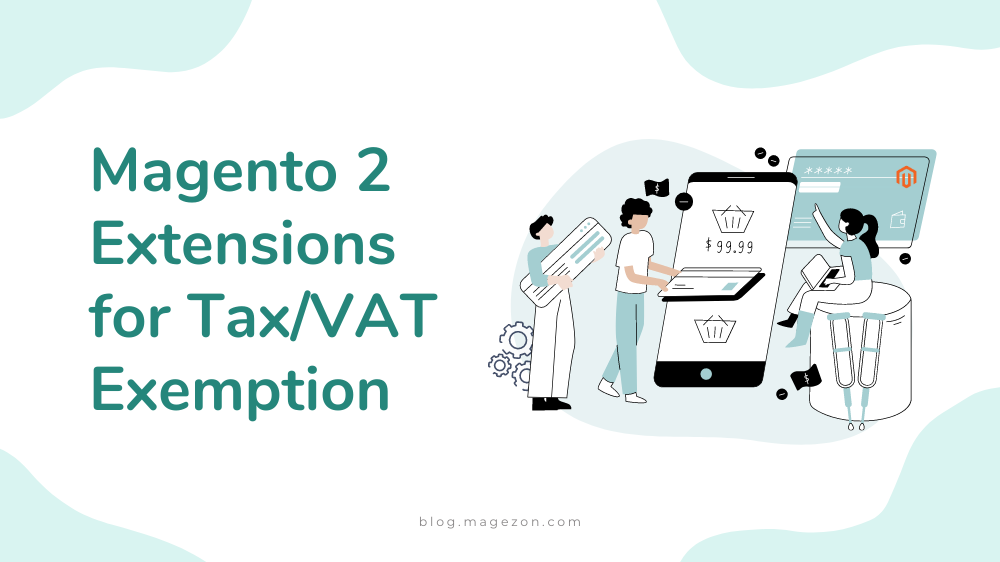 Table of Content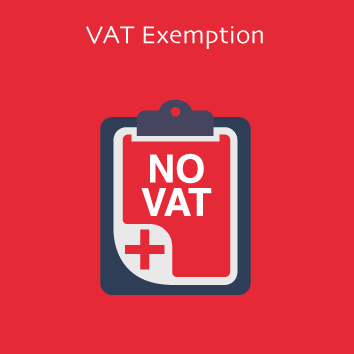 Price
When visiting Meetanshi's website and looking for Magento 2 VAT Exemption, you will easily find its offering price located outstandingly on the right of your screen. Typically, you have to pay $69 to make this extension available for use.
However, suppose you have a tight budget and want to consider carefully before purchasing this Magento 2 VAT Exemption. In that case, there is a demo version offered by Meetanshi you could utilize to experience it to refer.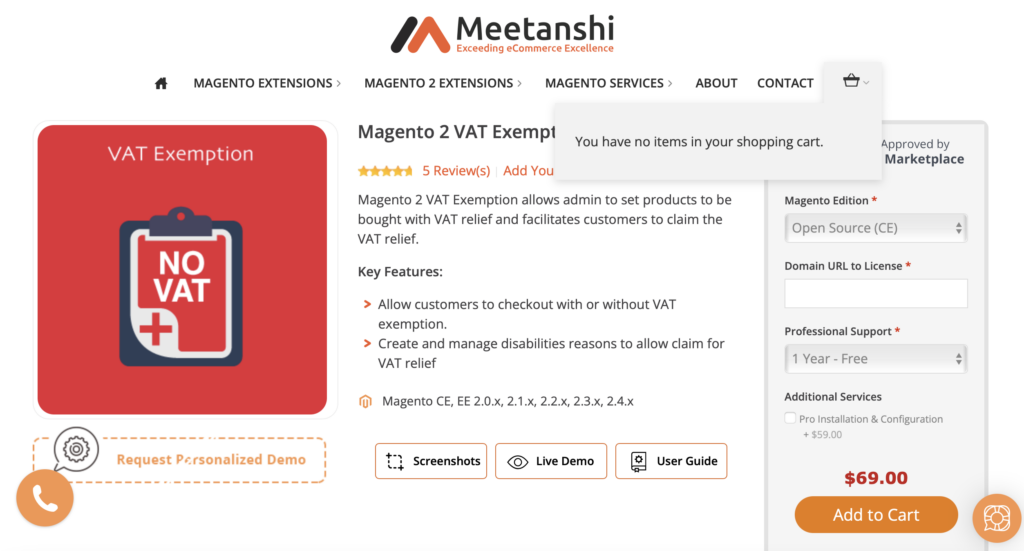 Description
As you may know, VAT (short for Value Added Tax) is a type of tax widely used globally by various countries' governments. When implemented, this tax will be applied to any goods and services transacted throughout the nations, and it is customers that incur this additional expense. Therefore, people have to pay more than the regular price to own items, which is highly undesirable from consumers' point of view.
Indeed, most of us once desire to achieve VAT reduction as we can purchase things at a more affordable price. In the online context, you can quickly fulfill this dream with platforms concerning tax in Magento provided by Meetanshi. After implementing this Magento 2 VAT extension, you can get VAT reduction on things such as medical equipment, health-related products, products that benefit disabled persons, and so on.
Key Features
Generally, by buying Meetashi's Magento 2 VAT application and operating it, customers allow shop administrators to provide VAT exemption to ill or disabled customers on particular items, sometimes even all of them.
Here is how it work:
With customers' permission, the module for Magento 2 tax will add a checkbox to the checkout page.
When the client clicks on it, the VAT declaration automatically appears
The customer can decide to apply for Magento VAT relief.
So what is unique about this app? You may ask. Firstly, with Meetashi's Magento 2 VAT extension, customers may be provided 100% VAT-free items and services in Magento 2, which is exceptionally desirable for online consumers. Secondly, with careful prior research and logical analysis, this extension enables online shop owners to add many possible disabilities reasons they permit to allow claims for VAT reduction.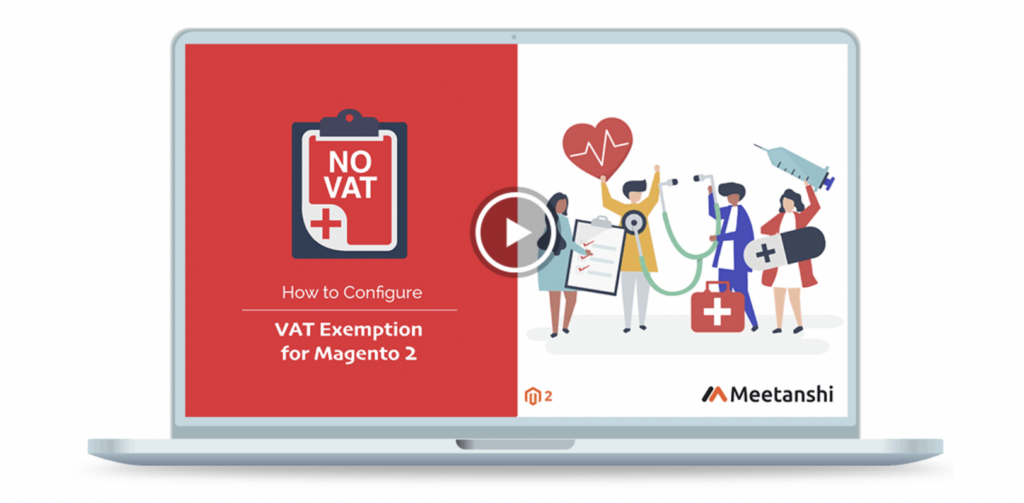 Further information
Referring Magento 2 VAT extension developed by Meetashi, below illustrated how you could activate it:
Step 1

. Shop owners can choose to display a client notice during the VAT exempt phase of the checkout process.

Step 2

. Establish and maintain VAT Exemption Reasons for Disabilities easily by clicking VAT Exemption > Manage Disabilities

Step 3

. Designate the products to provide VAT relief from the Catalog, clicking card named Goods

Step 4

. Customers choose the VAT-exempt goods to their shopping cart and select available options generated by shop owners
If you still can not imagine these steps, visit the Meetashi website; there is an available video describing details about Meetashi's Magento 2 tax application.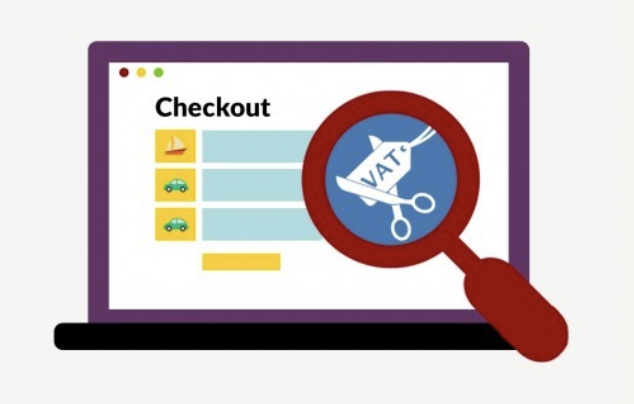 Price
That is a pretty expensive option compared to Meetashi's Magento tax. Scommerce may charge you about £84.99 for its app activation, not including tax. Besides, if you desire to develop a professional website with various features, you can add installation service and 12-month premium support.
For each of the additional options, you have to pay a further £70. However, if you just want to purchase this Magento 2 tax app, the developers offer free support within 60 days and free upgrades for up to 12 months.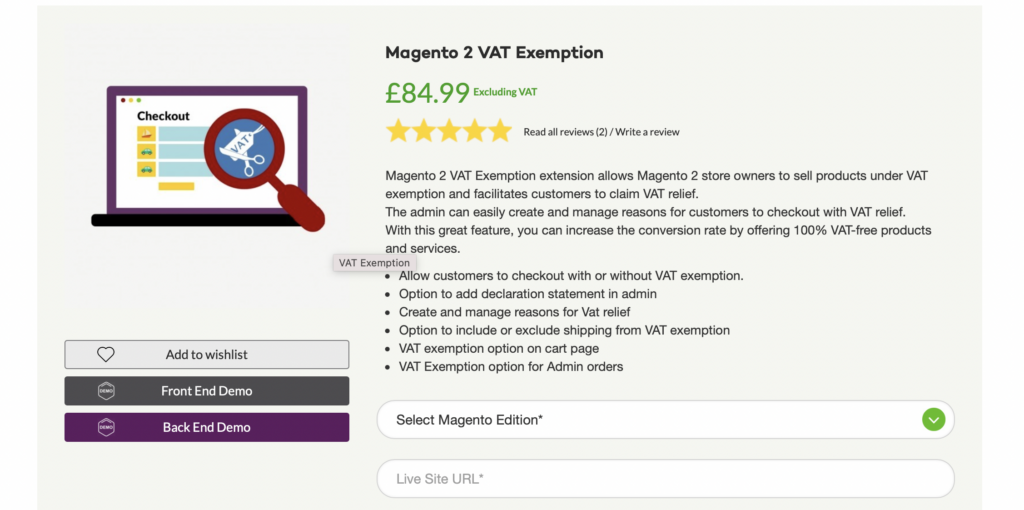 Description
Similar to the prior Magento tax extensions, Scommerce Mage also provides solutions to shopping owners to manage the VAT exemption as they wish. After their settings, customers can pay tax in Magento by giving information related to their products such as name, disability reason, and so on. The system will reveal the percentage of VAT exemption they acquire and calculate the deducted amount.
Key feature
To be specific, here are some functions you can have after implementing this valid extension:
Adding or omitting shipping from VAT exemption.
Displaying the declaration statement in admin alongside the purchase information, as well as on the front end during checkout.
Personalizing the VAT Exempt Message
Establishing as many disability grounds as necessary to allow consumers to claim VAT reduction.
Displaying terms and conditions information on checkout pages
Adding, deleting, updating forms from the back-end easily and quickly
Adding a VAT exempt message to the cart from the back-end settings.
Classifying items with VAT relief from the Catalog > Products > Edit menu.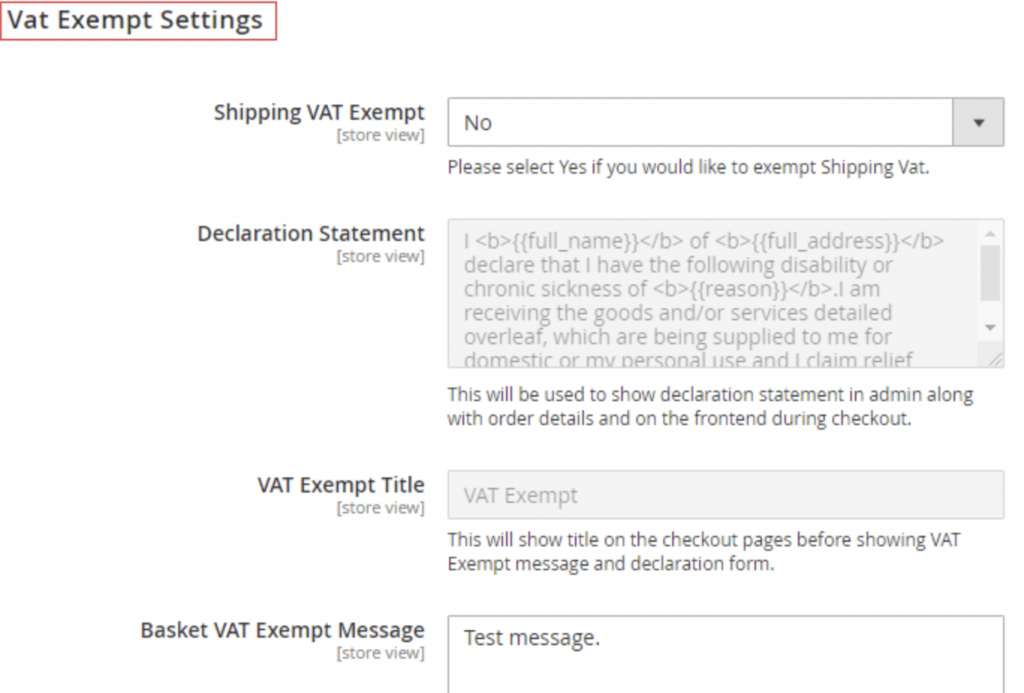 Further information
So why do you have to purchase Scommerce extension that manages tax in Magento? You may ask. According to developers, doing this will help you:
Improve user experience: As a rule of thumb, among various available shopping platforms, customers will choose those with more competitive prices, or cheaper as many say. Besides, enabling VAT exemption means customers can pay less amount for similar products provided by you. Therefore, with the assurance that you offer a reduction of tax in Magento, they will feel pleased and enjoy your website.
Lower bounce rate: As you may know, with an e-commerce business, bounce rate is significant since it represents whether your platform is practical and attractive or not. The higher the bounce rate, the more likely you are doing wrongly with your website. You are losing customers for rivals. Pleasing customers by allowing VAT exemption is one of the best selections you can think of to decrease the bounce rate.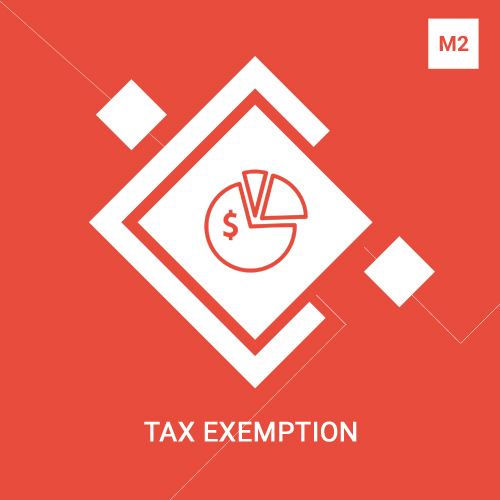 Price
This extension is highly costly for startups. There are two options for edition (community, enterprise) and 3 for services (none, installation, customization). By clicking which selection you want to purchase, the DCKAP website will demonstrate the amount you have to pay. That is the least costly option.
You may be charged $299 for community and no service, which is the least costly option. Nevertheless, if you add installation or customization service, you have to pay a further $100 or $500 respectively. For enterprise, the most straightforward package would charge $399.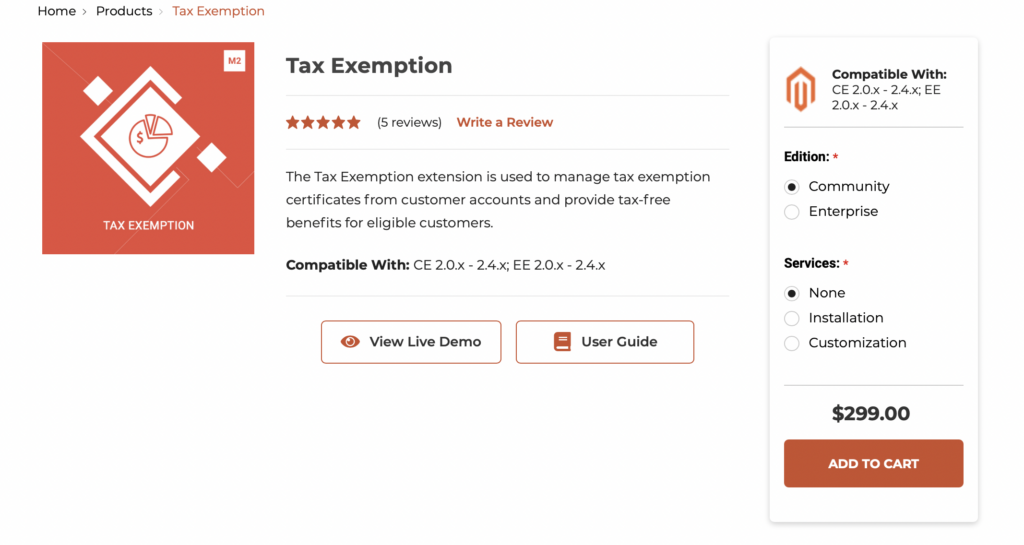 Description
With the DCKAP Tax Exemption extension, customers can maintain tax exemption certificates from their accounts so that store owners can allow customers to achieve tax-free benefits.
Specifically, customers upload their tax exemption certificate for approval from the "my account" area. Customers will select the tax-free option at the checkout page once the request has been reviewed and approved by the admin. From the "customer account" area, the administrator may also determine the expiration date for the current tax exemption.
Key feature
Besides similar features like the two above mentioned extensions, DCKAP also enables e-store owners to:
Specify the tax exemption's expiration date
Prevent clients from getting the tax exemption on the checkout page after it expires, which is automatic.
Be alerted via email when the consumer submits the tax exemption certificate and vice versa, and customers will be notified if the admin approves their credentials.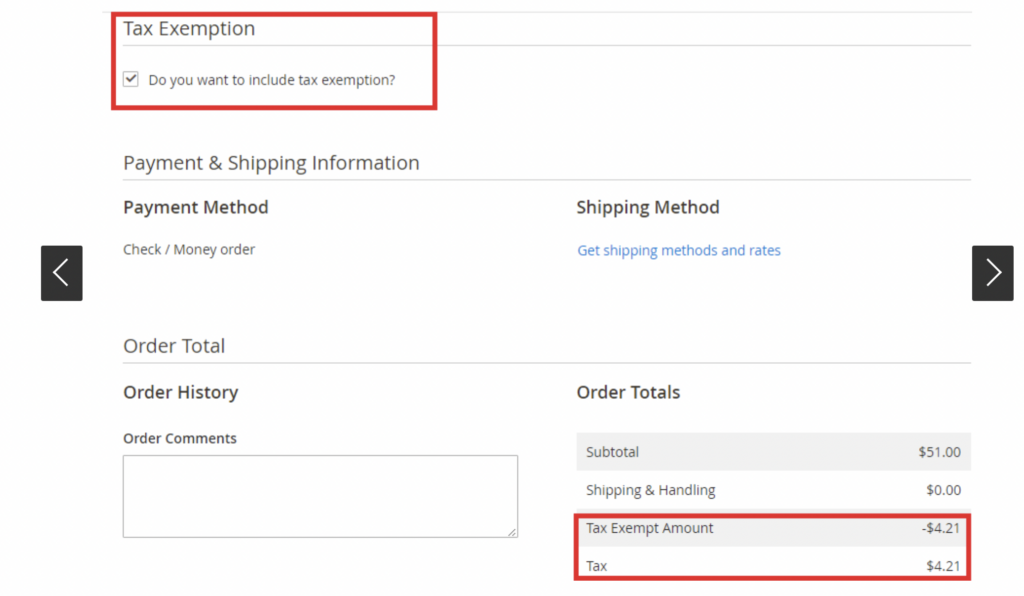 Further information
If you still consider how the DCKAP Tax Exemption extension works, you can view its publicly demonstrated demo and download the user guide it offers. Besides, as there are various available options, you should carefully understand the status of your website and precisely what you want to select which combination is most suitable.
Price
OSC provides prices lower than DCKAP but higher than the two left. Precisely, you will pay $140 for its VAT Exemption, including 180 days of free support and free updates. If you have purchased but are not satisfied with it, OSC allows you to get your money back within 30 days.

Description
Similar to other VAT exemptions, this application of OSC allows a consumer to check out without paying tax if they are exempt from it under government regulations. Both new and current customers can utilize this by entering their Tax ID type (Resale number or IRS number) and Tax ID Value and attaching a Tax Certificate.
Key feature
According to its developers, several outstanding points of OSC Magento 2 VAT Exemption would be:
My Account card that allows customers to add Tax ID and Tax Certificate
Customers can re-upload the Tax Certificate if Tax Id information is saved for future tax exemptions.
Customers may upload several file extensions from 'My Account,' including jpg, jpeg, gif, png, pdf, txt, Docx, and ppt.
Configuration is simple and straightforward.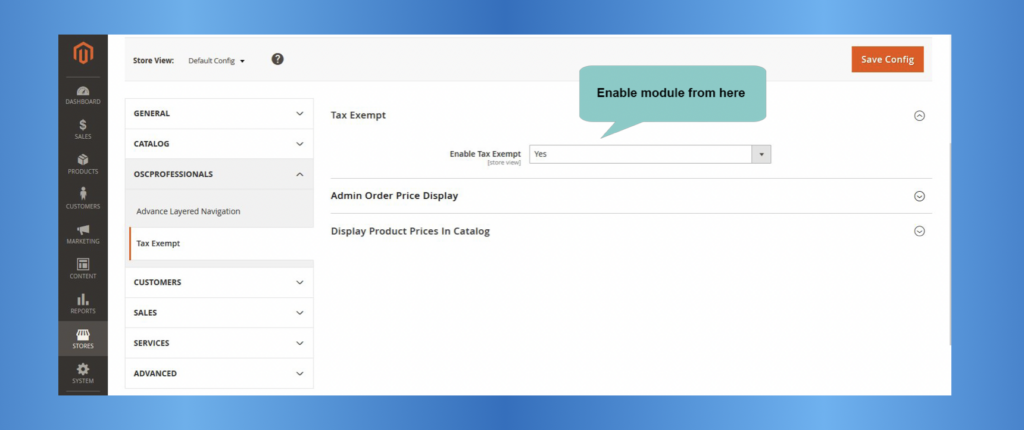 Further information
Despite being a friendly extension, some sites disrupt the function of OSC Magento VAT, like TaxJar Module and AvaTax Module. As the ways they developed may conflict, you will witness some undesirable circumstances. However, don't worry because the OSC team can support you with the problems with a small amount of fee.
Wrapping up
In conclusion, as an online shopping website, it is highly recommended for you to purchase and enable Magento 2 VAT Exemption. Although you might pay a reasonably considerable amount at first, after a period of activation, your business will acquire many benefits, not only satisfying customers but also boosting your platform's performance and revenue.
At Magezon, we provide many other fast, efficient yet affordable Magento extensions that can help you optimize your store and win sales. So visit Magezon to pick ones for yours!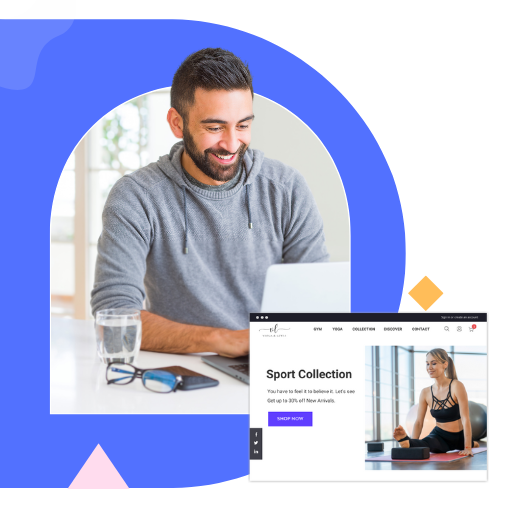 Optimize Your Magento Store With Powerful Extensions
Looking for fast, efficient and well-coded extensions to build or optimize your Magento stores for sales boosting? Then visit Magezon website and grab necessary add-ons for yours today!