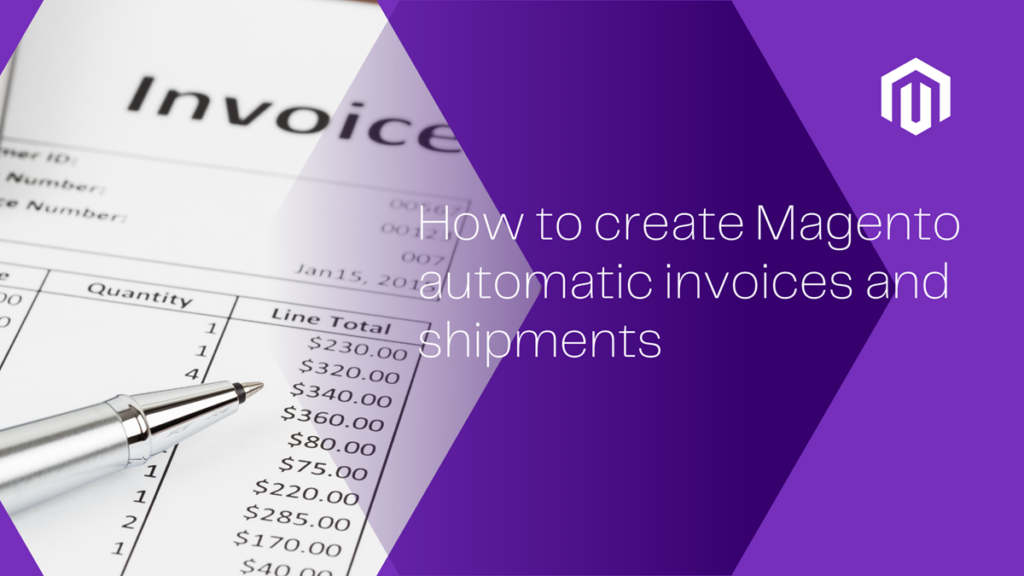 It can't go without saying that invoices and shipments are a pillar in the order processing, especially for online business. On the one hand, store owners take them as an order notification which includes all necessary information. On the other hand, to customers, invoices and shipments are other forms of the order confirmation. They know by certain that their order is successfully placed, and consequently, their shopping experience is boosted higher with their trust.
So in today's blog, we will show you all about Magento invoices and shipments.
Why they are essential
How to create them manually in the Magento 2 backend
Introduce our FREE extension to create Magento 2 automatic invoices and shipments
No more further ado, let's get started!
I. What are invoices and shipments? Why is it important to your online store?
1. What is an invoice?
Invoice is a commercial document that is sent by sellers including details about the cost of products or services. Below is the list of details an invoice may contain:
The invoice number
The issued date
Payment terms
Tax
Contact information of the seller
Seller's company registration details
Contact information of the buyer
Product description
Total amount charged
And many other pieces of information depending on particular situations
Why invoice considered important? Well, the first reason is it serves as a bill for the products/services your customers receive from you. Therefore basing on it, you let your customer know how much they owe you and when they need to complete the payment obligation. An invoice is also a legally binding agreement between you and your customers, and it's easier for you to keep track of the sales and payments of your business.
2. What is a shipment?
Shipment is a commercial document which allows shipping companies to list the shipping date, the quantity of products, the method of shipping, the customer's information… These details describe the procedures of consignment to keep customers informed about the order status.
Thanks to it, they know when the products arrive and do not worry that whether it takes a lifetime to deliver. A shipment is also extremely helpful in emergency situations, for example, when shipping a last-minute gift.
II. Create invoices manually in Magento 2
Usually, there are some cases when people have to create invoices manually, say, when the payment method of the order has not been integrated into Magento 2 system.
Note: Magezon has brought you a FREE extension to tackle this problem. Magento 2 Admin Payment Method is a set of powerful tools that gives you the freedom to create orders with a custom payment method.
But before going any further, we first need to know how to create invoice and shipment manually in the Magento 2 backend.
In the admin panel, navigate to Sales >> Orders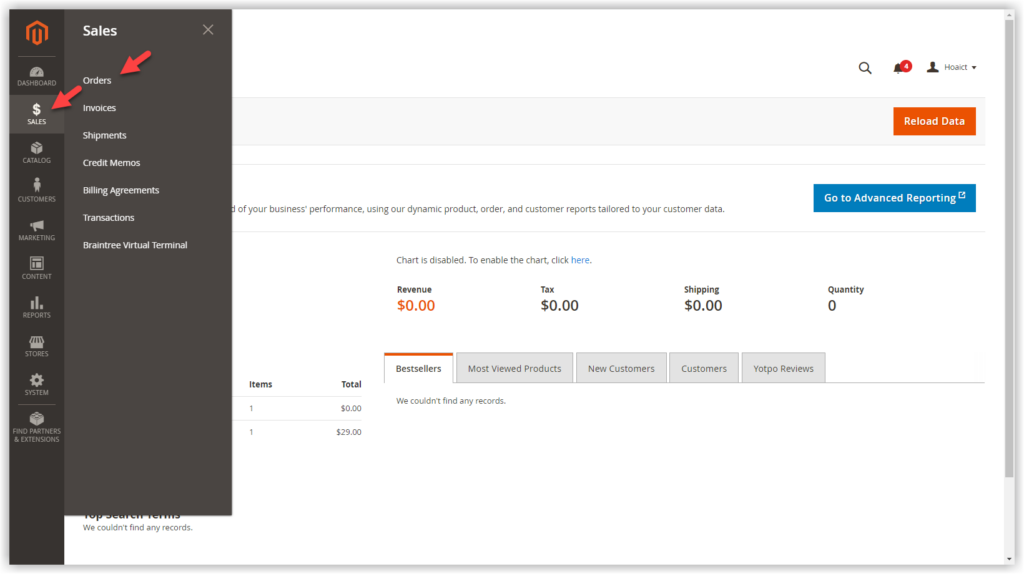 The system will display a grid of orders, choose an order in processing status and click View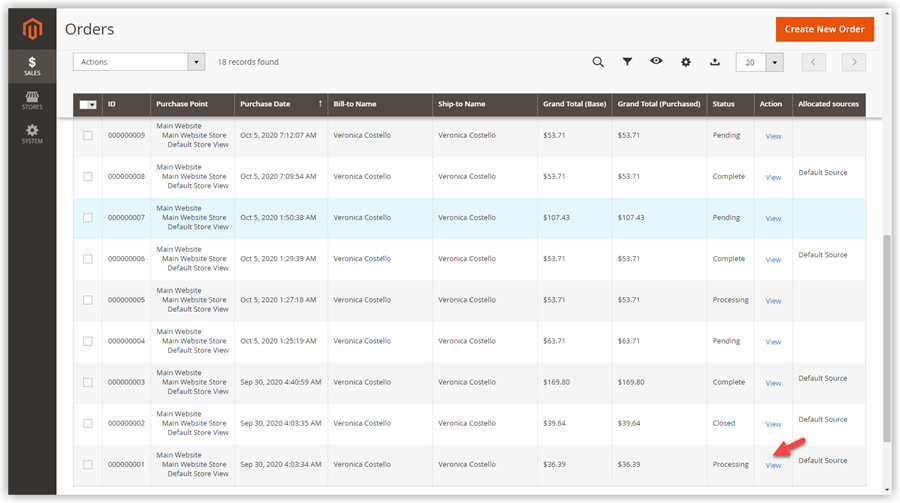 In the order view, click the Invoice option in the right corner of the header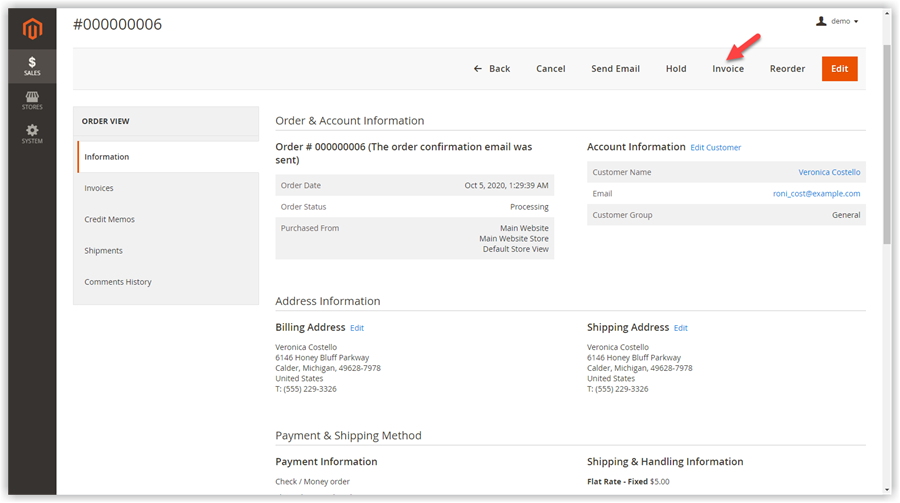 The system will redirect to a new invoice page that allows you to edit the invoice information.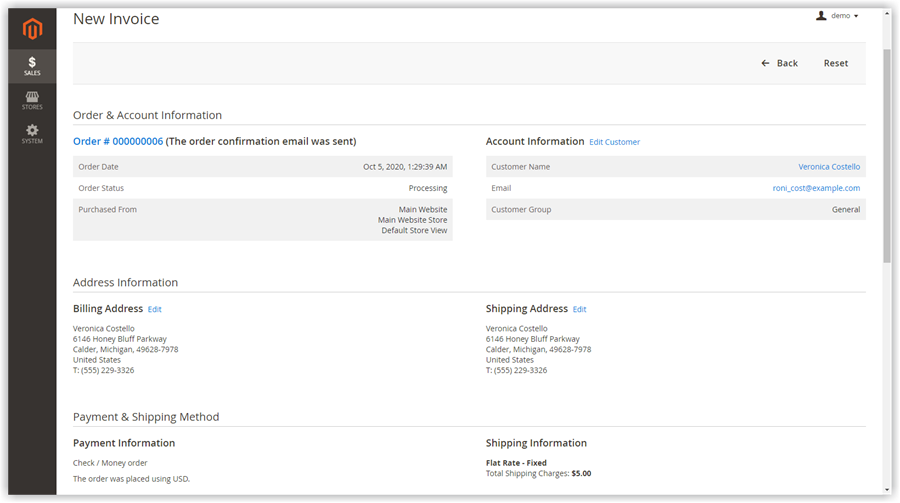 Check and edit the details about Order & Account Information, Address Information, Payment & Shipping Method, Items to Invoice, and Order Total. Then click Submit Invoice in the bottom right corner.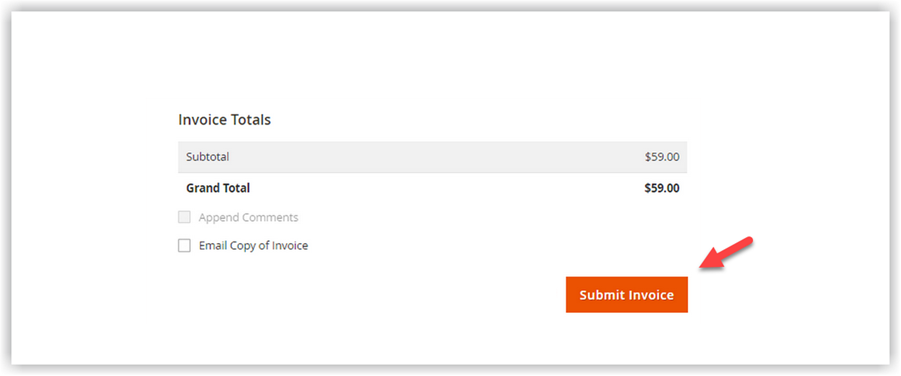 The order in accordance with this invoice is considered as paid and ready to be shipped.
III. Create Magento 2 automatic invoices and shipments
1. Why do we need to create Magento 2 automatic invoices and shipments?
That's a way to create an invoice manually within the Magento 2 backend. However, have you ever struggled before with the overloaded workflow because there are too many orders to process and you can not create the equivalent invoices and shipments one by one manually? If your answer is yes, you definitely have to deal with some issues like below.
Handling a large number of orders takes you tons of time to create the equivalent invoices manually
Getting high chances to make mistakes when there are too many cumbersome tasks that need to be done.
The ordering process is slow down
Decreasing the shopping experience of your customers and the work efficiency of your store.
Don't worry, everything has its own solution and the problem will be solved in a matter of minutes with the help of Magento 2 Auto Invoice & Shipment extension. It is a set of powerful tools that allows you to create invoices and shipments automatically once your orders are completed.
With its amazing features, you can speed up your payment process and enhance the purchasing experience of your customers. Trust me, the module is so easy for average Jane or Joe to use.
Let's browse through the below instruction to get a taste to the range of possibilities this module brings.
2. Magento 2 Auto Invoice & Shipment extension
After installing, please follow Stores >> Configuration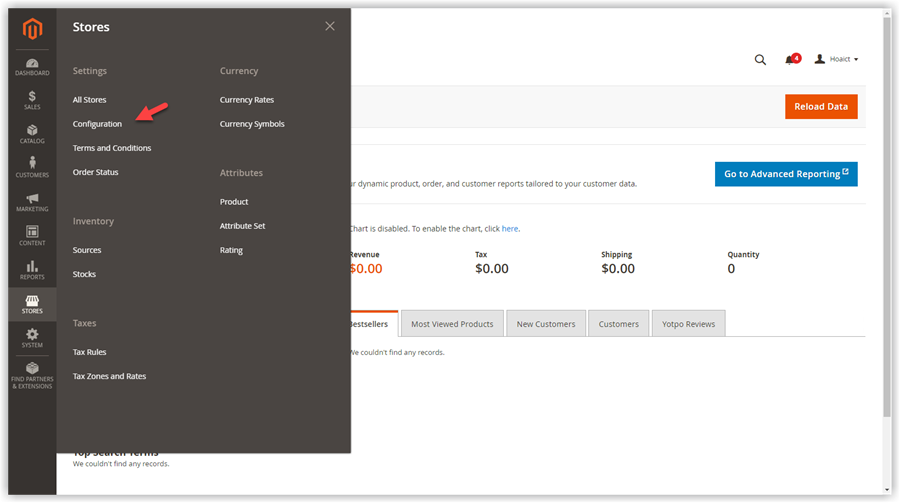 Span Magezon extensions >> Auto Invoice & Shipment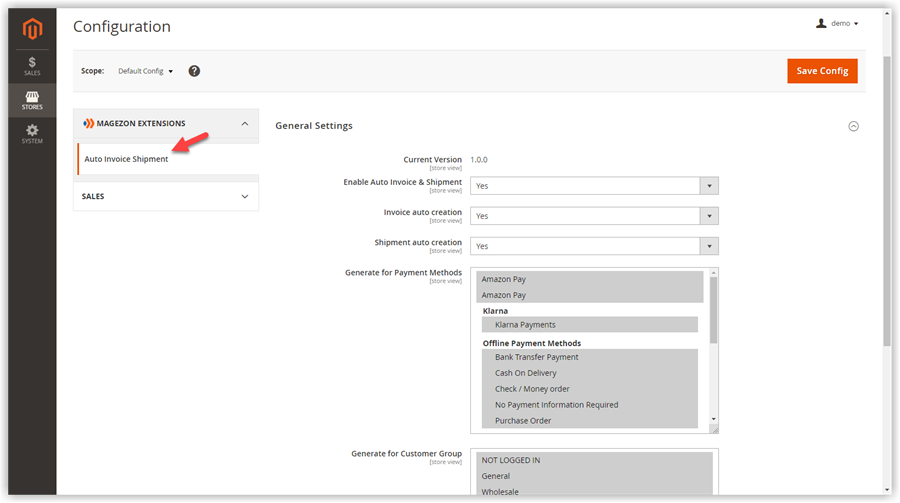 Current version: this line informs you about the updating status of the module.
Enable Auto Invoice & Shipment: Choose Yes to enable the module and No to disable the module.
In case you want to just create either invoices or shipment automatically, you can enable/ disable the field Invoice auto creation and Shipment auto creation.
Note: If you disable both of the above 2 fields, the extension will be considered as being disabled. Besides, these 2 fields are independent of each other. That means you can enable shipment auto-creation without having to enable invoice auto-creation, and vice versa.
Generate for payment method: Assign the payment methods you want the module applies.
Generate for Customer Group: Assign the customer groups you want the module applies.
Afterwards, click Save Config.
Now you are free to create automatic invoices and shipments without the need for coding skills. You can also keep track of all auto invoices and shipments with the help of the filtering functions.
Final words
Hopefully, after reading this blog you'll get your mind opened and find ways to alleviate the volume of overloaded orders you receive. If you are looking for powerful Magento 2 extensions, you should take a quick look at our Magezon website.
Don't forget to turn on your notifications to be one of our first readers cause we'll be back with tons of useful information.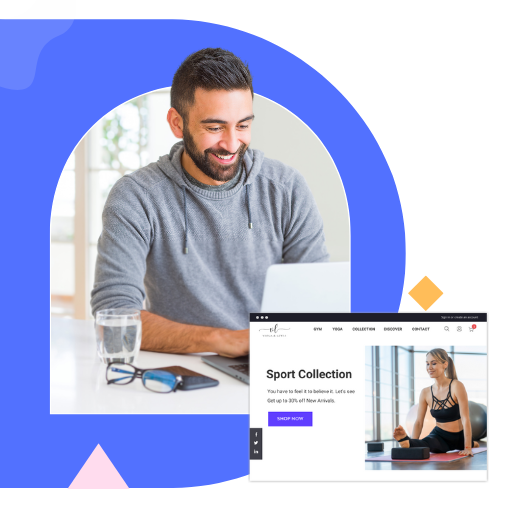 Optimize Your Magento Store With Powerful Extensions
Looking for fast, efficient and well-coded extensions to build or optimize your Magento stores for sales boosting? Then visit Magezon website and grab necessary add-ons for yours today!