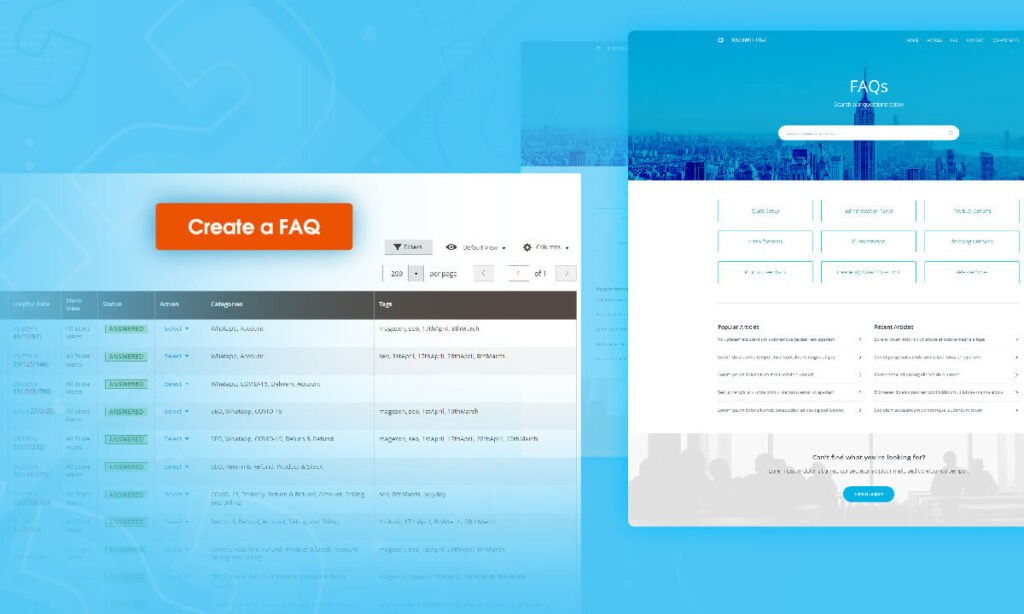 As an online business, you can't avoid receiving dozens of questions from customers, while most of them are the same. So why don't you make a list of frequently asked questions and answers? This not only helps to reduce your support team workloads, but also shorten your customer response time.
In this tutorial, we will go over what exactly FAQs are, and how you can create FAQs with our Magento 2 FAQ Extension.
I. What are FAQs?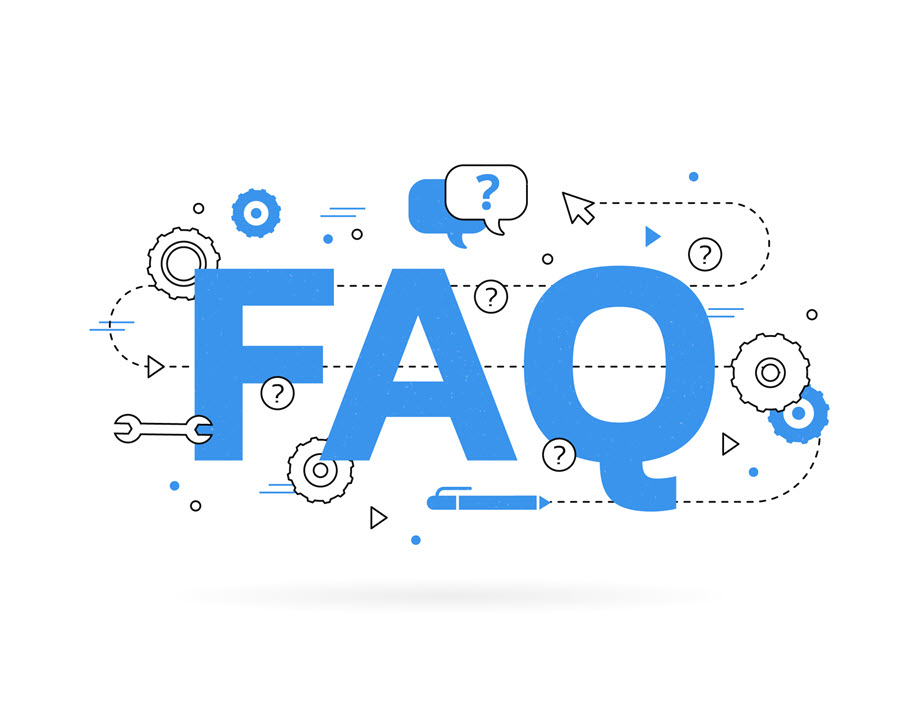 FAQs is a list of frequently asked questions and answers about a particular subject. The main function of FAQs is to provide basic information on questions that are often asked by customers.
For most e-commerce websites, the FAQs are used to make clear the company's policy, payment method, service, shipping, and more.
For software and digital service, it primarily guides users to implement common actions such as installing and using a product, deleting an account, and fixing common problems.
II. How to Create FAQs Using Magezon Magento 2 FAQ Extension
Firstly, from the Magento Dashboard, navigate to the Content tab → choose the Questions option.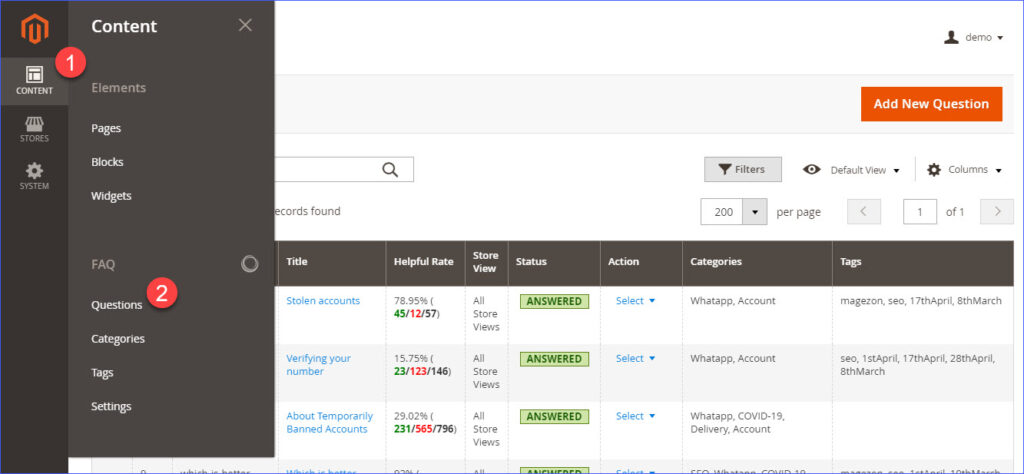 After that, the Questions grid will display. It contains all the created frequently asked questions with their ID, URL key, Title, Helpful Rate, Store View, Status, Actions, Categories, Tags, etc.
From this grid, click to the "Add New Question" button to create a new FAQ.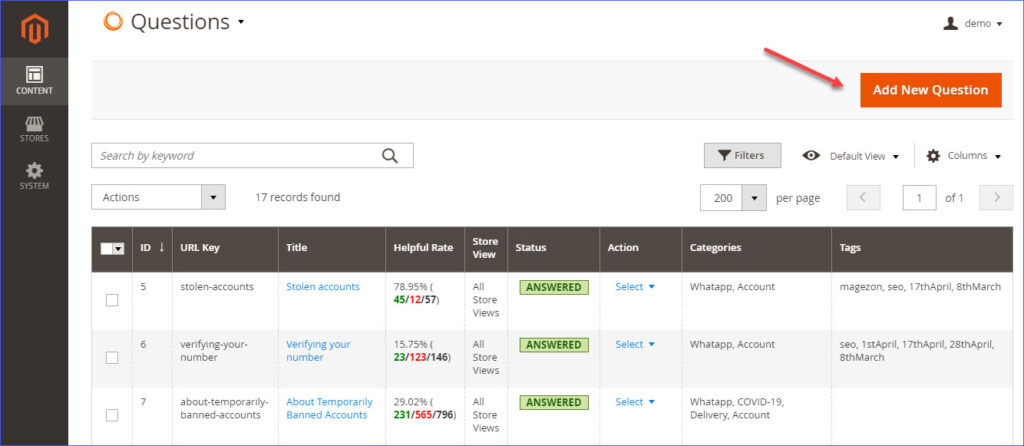 The New Question area contains several configuration options so that let's start with the first section- General Information.
In this section, enter your frequently asked question in the Question field. Next, set a value for the question in the Position field. Note that the question with the lower value will appear first on the frontend.
Then go to organize this question to the relevant Categories and Tags. This step will help you to avoid the problem of searching and skimming through tons of FAQs in the future.
If your needed category or tag is not available, you could hit the "New Category" and "New Tag" button to create new ones.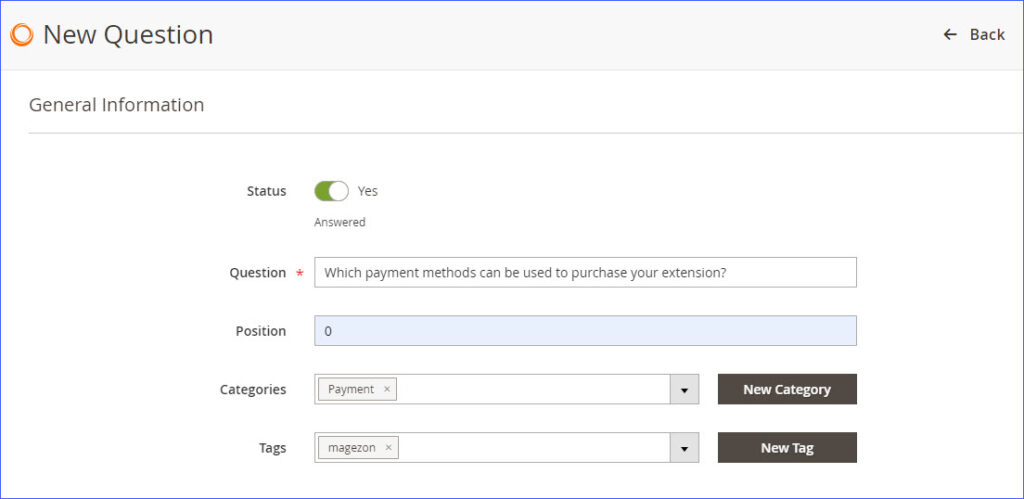 For instance, we want to assign this question to the Payment category but it's not available. So we create a new one as the image below.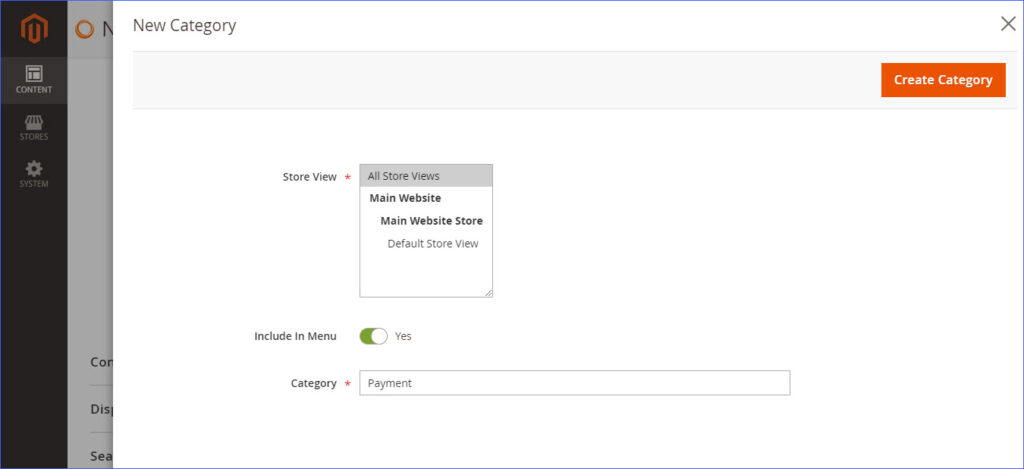 Once you've completed the General Information section, go to the Content section. Write the answer for your question in the Answer editor box. It gives you flexibility to style your answer's format with many supported options. For example, you can add images to make the reading experience easier for your customers.
In the Like and Dislike field, enter the number of likes and dislikes of the question that you want to show on the Question detail page (optional).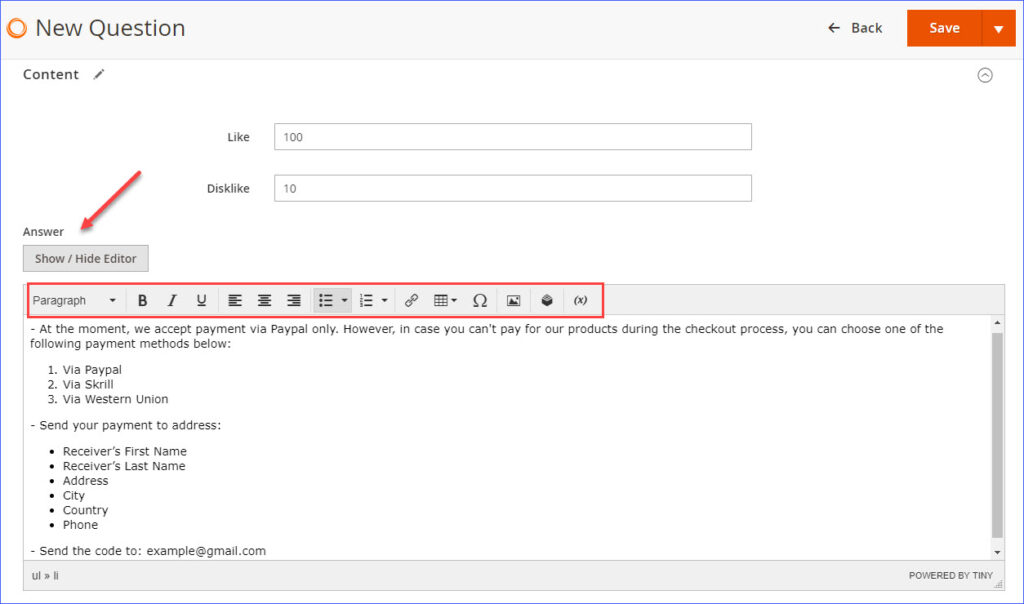 Next, go to the Display Settings section. Choose a specific Store View to display the question. Then decide which Customer Groups can view the question on the frontend.
After that, select the layout for the Question detail page. Our Magezon Magento 2 FAQ Extension provides you with 4 layouts. All you need to do is choose your desired one. In this guide, we're going to choose 2 columns with right bar layout.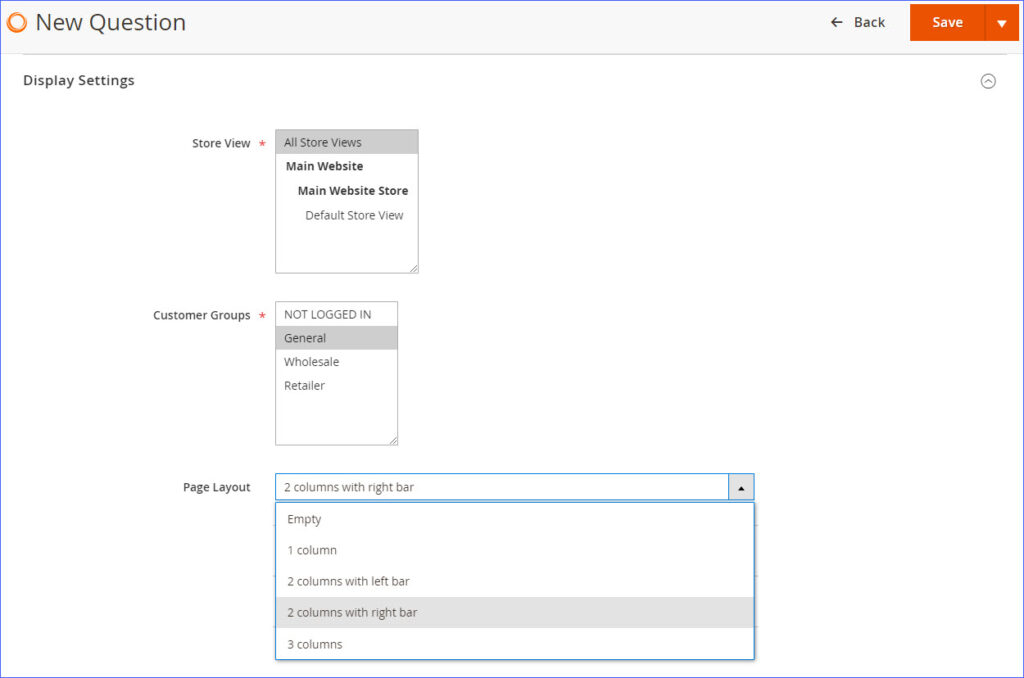 After configuring the Display Settings section, go to the Search Engine Optimization section to optimize the Question section for SEO success.
Specify the SEO-friendly URL Key for the FAQ section. Then go to write down the Meta title, Meta Keywords and Meta Descriptions for it as your purpose (each FAQ will have unique URL Key and Meta tags).
You can remove the duplicate content in the Canonical URL field.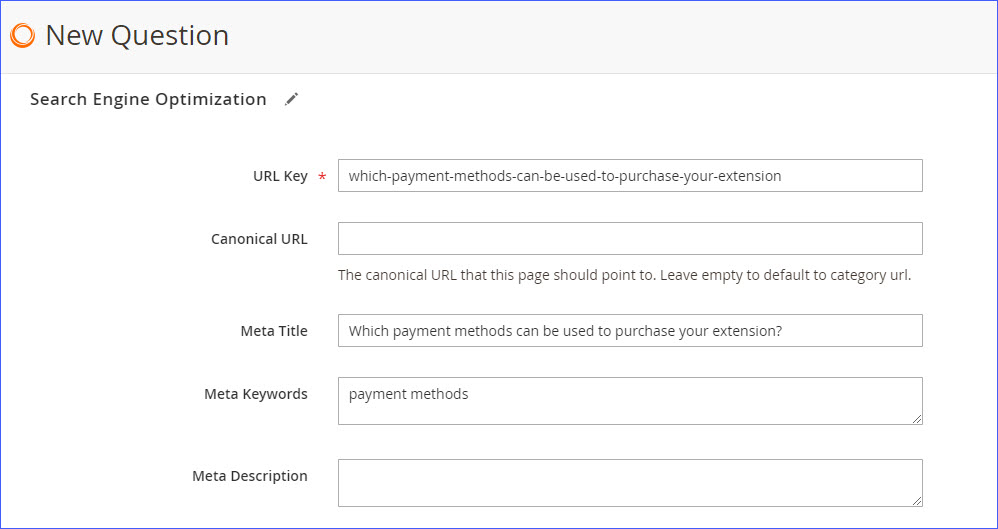 In the next configuration option – Related Questions, select questions that you find related to the question you are creating. Then these related questions will be shown on the sidebar when you view this FAQ in the Question detail page.
Lastly, if you want to show this FAQ on the product page, choose the products that congruent with this FAQ. After that, the FAQ will be displayed on the product pages that you've selected.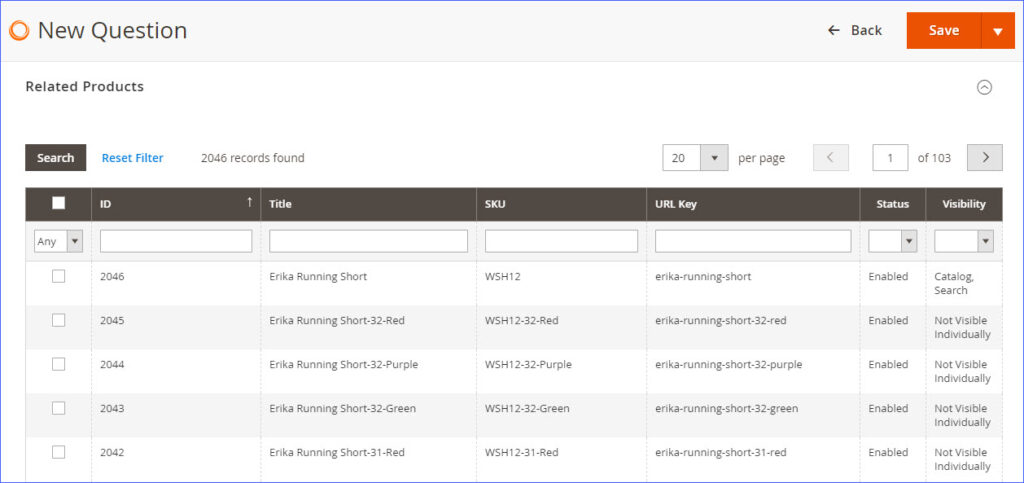 Now see the result on the frontend: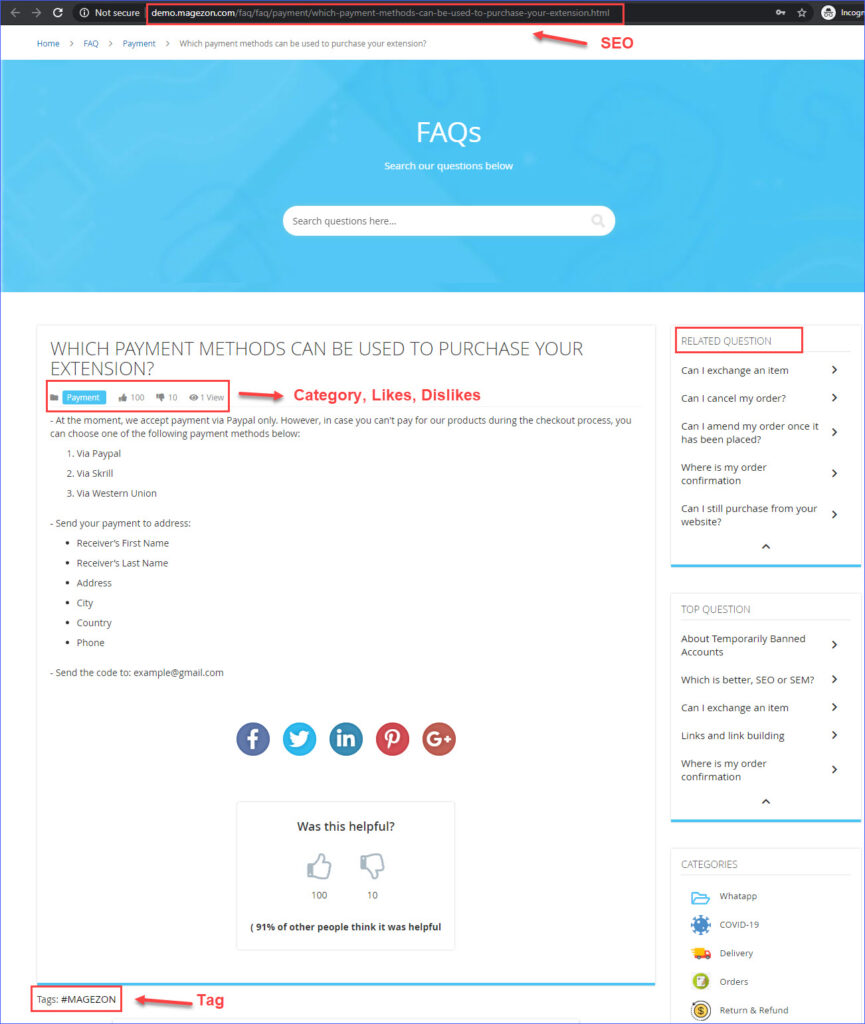 Final Words
With Magezon Magento 2 FAQ Extension, you're able to create FAQs from scratch in minutes. Save this guide and we hope that you can apply it for your online store effectively.
If you have any questions regarding our Magento 2 FAQ module, please contact us via email and leave comments below.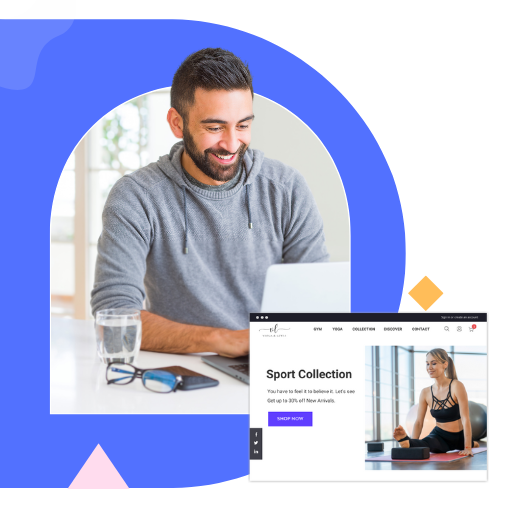 Optimize Your Magento Store With Powerful Extensions
Looking for fast, efficient and well-coded extensions to build or optimize your Magento stores for sales boosting? Then visit Magezon website and grab necessary add-ons for yours today!