The free Google tools for business are significantly helpful for business and startup owners in this digital era. Those tools can assist your companies in daily operations and get their websites to appear on the top page of Google search results.
Talking about the best Google business apps, many people are familiar with Gmail and Google Drive, Google's most modern free tools for communication, content production, collaboration, and storage. Besides, Google Analytics to improve SEO and Google Trends for a thorough insight into global keyword trends are also popular among marketers.
However, I bet there are other excellent free Google tools for business that you have never heard about before. So, buckle up and get on the ride to receive loads of new information and knowledge because this article will introduce the 51 best free Google tools for business and answer your question, "How can google help my business?".
Table of contents
48 Best Free Google Tools for Business

Google Drive is considered one of the most useful Google apps. It provides safe and straightforward access to all of your stuff. Therefore, you can create, share, and save your content from various devices, such as mobile phones, tablets, laptops, etc.
Besides that, Google Drive can integrate smoothly with other Google cloud-native apps like Docs, Sheets, and other tools and applications used by your team. As a result, the tool allows your team to work, edit and store Microsoft Office and over 100 more file kinds, including PDFs, photo files, and more, without changing file formats.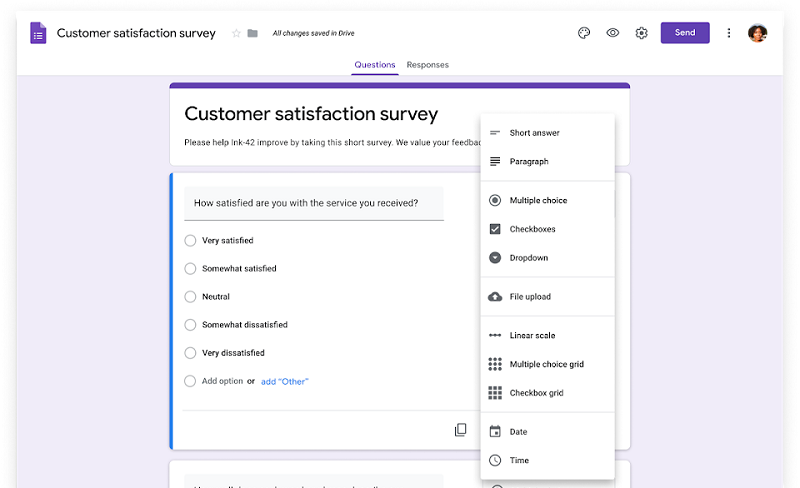 Google Forms is a tool in the Google tools list that helps users create different kinds of surveys. Businesses can use this tool for several tasks, such as keeping track of event registrations, making a customer survey, gathering email addresses, and much more.
One fantastic feature of Google Forms is choosing suitable colors or themes to create a unique survey form based on your company's logo and images. In addition, surveys created by Google Forms can be made, edited, and responded to quickly on both computers and mobile phones. More impressively, Google Forms can automatically analyze and organize the responses into graphs and charts or create a sheet shared with only the survey creators.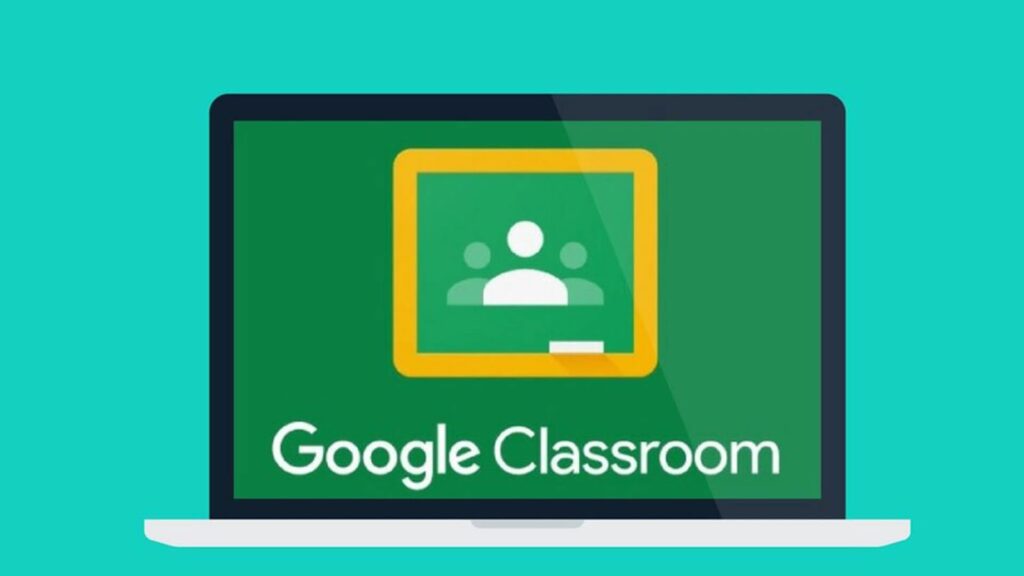 Google Classroom provides an "all-in-one-place" for educators to teach and administer classes in one location. It is a simple, safe, and free google software that assists educators in controlling, measuring, and improving learning activities. The free version already has fantastic features, such as keeping track of students' progress, creating "comment banks" filled with frequently used phrases, and many more.
Many people have always considered Google Classroom a tool only for schools and educational institutions. However, in reality, many business owners are using it for onboarding and continuing workplace training since it's an excellent tool to keep all communication, learning materials, and progress in one location.

Google Developers offers software development tools and platforms, APIs, and technical resources. In addition, the site includes instructions on how to use Google developer tools and APIs and discussion forums and blogs for developers using those tools.
In addition, Google Developers provides various products that assist businesses in building high-quality applications, growing the number of active users, and making money through attractive advertisements and in-app purchases.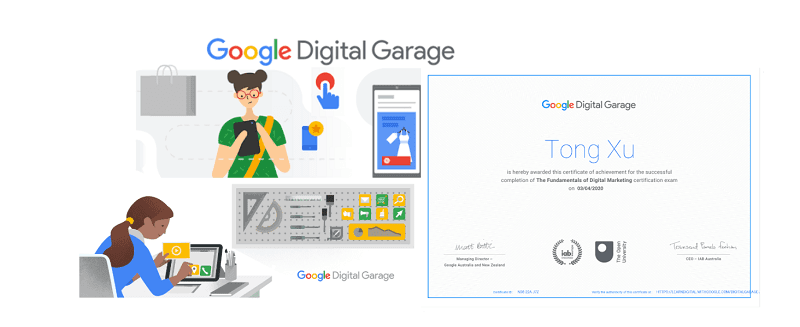 Google Digital Garage provides a wide range of free online courses related to Data and Tech, Digital Marketing, and Career Development. Industry experts, prominent entrepreneurs, and some of the world's most prestigious organizations have approved most of these courses.
Google Digital Garage is a fantastic site that benefits both employers and employees. The on-site training courses can help business owners learn about tools that help their businesses succeed and improve their staff's professional skills.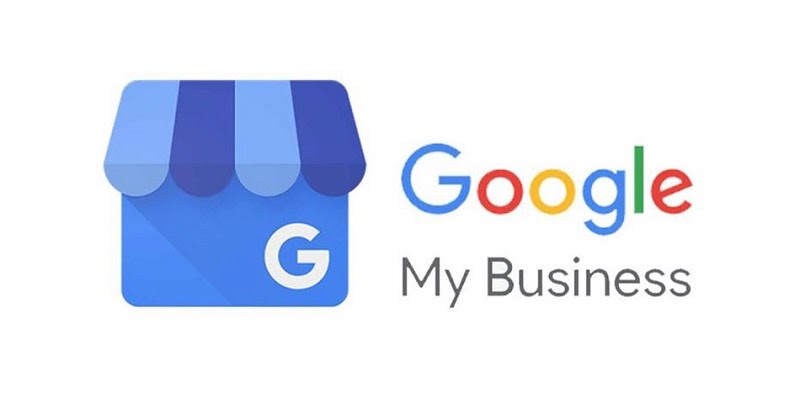 Do you want to list businesses with Google? Try Google My Business, one of the best Google pro-business tools. The tool helps business owners create profiles, including their basic info, photos, logos, customer reviews, and many more. New customers can learn more about the businesses thanks to the shape created.
Google My Business is a free, easy-to-use, personalized tool with some handy features for businesses to build brand awareness. For example, business owners can quickly connect and interact with customers by answering customer reviews and sending and receiving messages in their business profiles. In addition, a business profile is an excellent place for businesses to showcase their products and services to customers.

As their name says, Google for Retail is a Google app for businesses, especially online retailers. The tool's primary purpose is to help business owners engage with customers, build their brands, and increase revenue.
One of the best features of Google for Retail is suggesting solutions and tools based on users' goals. For example, suppose your business's goal is to grow local sales. In that case, Google for Retail will recommend handy tools like Free local product listings, Local inventory ads, or Smart shopping campaigns. In addition, the tool integrates with Google Search, Google Assistant, Maps, and Youtube to help online retailers reach millions of online shoppers every day.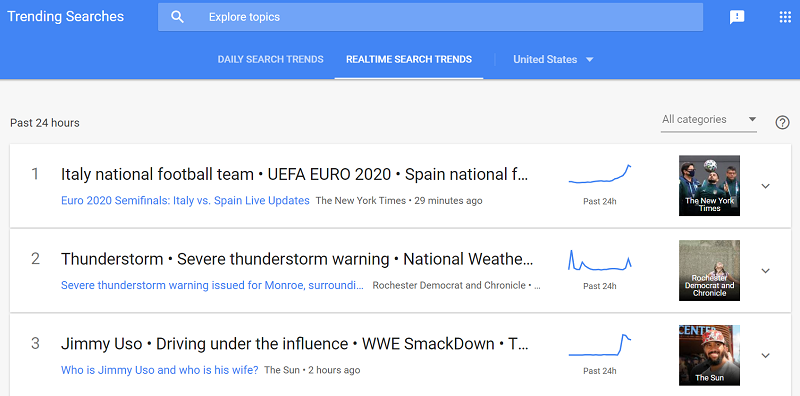 Google Trends is one of the best online tools for marketers and businesses. The program examines the popularity of top Google Search queries in different countries and languages. Thanks to this tool, companies can improve their SEO, thus driving website traffic.

Google Trends has many features that make users' experiences more convenient. For example, when looking at the search volume of a keyword, users can choose the area, period, categories, and that keyword compared with another.
Besides, you can also find on the website daily search trends and real-time search trends in different areas.

Google Data Studio is an online application for turning data into customized informative reports and dashboards that is part of the business Google Analytics 360 package. This tool has both free versions and paid versions with extra handy features.
Users may quickly connect to many data sources and visualize data with Data Studio's highly customizable charts and tables. In addition, users of Data Studio may also share their findings and collaborate on reports with their team, much like they can with Google Drive. More impressively, with built-in example reports, organizations may speed up their report production process using the tools.
Want to start using Google Data Studio but are not familiar with the tool? Watch this video: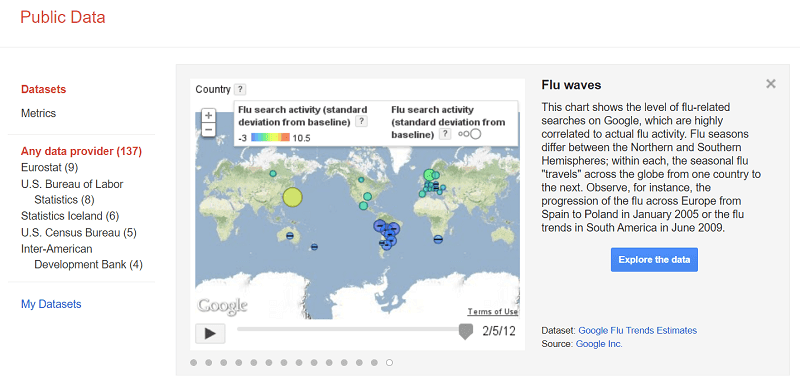 Google Public Data Explorer is a Google free website for small businesses. It provides public statistics and predictions from organizations and institutions worldwide, such as Eurostat, OECD, the University of Denver, and many more.
The tool makes exploring, displaying, and sharing massive public interest datasets simpler. The global changes become simpler to grasp when the charts and maps animate over time. You don't need to be a data expert to move between different views, conduct your comparisons, and publish your results.
See this article for more background information if you want to learn more about the Public Data Explorer.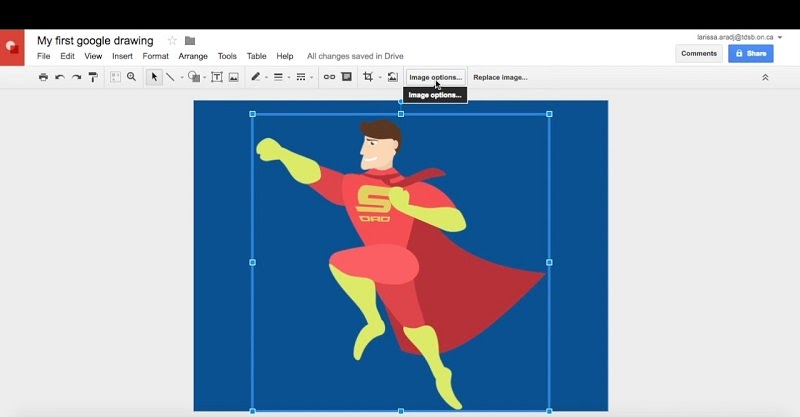 Google Drawings is among the new google tools for businesses. It's a very flexible tool for creating a wide range of graphic content. Google Drawings is not a professional graphic software like Adobe Photoshop, Adobe Illustrator, or MS Paint, but what makes Google Drawings popular among office workers is collaboration.
Like other Google tools like Docs or Sheets, Google Drawings has some valuable features that allow users to share, collaborate and comment on the graphic files. In addition, you can easily integrate your charts or layout diagrams into other documents or embed them on a website after they've been created.
Blogger is a free service that allows you to create and publish blogs. Not many people know this, but Blogger is also one of Google's business tools. Pyra Labs developed the tool, and Google bought it in 2003.
Blogger is more prevalent among individuals, and few businesses use the site to its full potential. However, it has some great features for creating blogs. For example, different designs, flexible layouts, and hundreds of background pictures are available for users to create their blogs. In addition, Blogger allows you to save thousands of posts, images, and other files for free with Google to save your memories.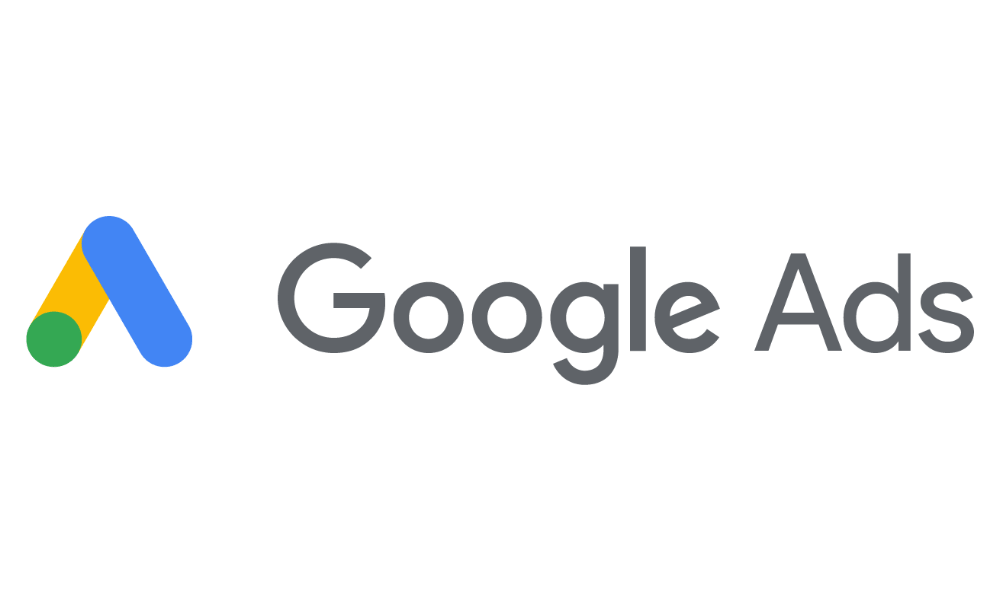 Google Ads, one of the best Google apps for business, is an online advertising platform where marketers may bid to have short adverts, service offerings, product listings, or videos shown to web visitors. In addition, it may display advertisements in search engine results, such as Google Search, non-search websites, mobile applications, and videos.
When customers search for businesses like yours, Google Ads helps your business appear on the result page. As a result, you can drive traffic to your websites, attract customers to visit your stores, and increase your sales and bookings, thus developing your business.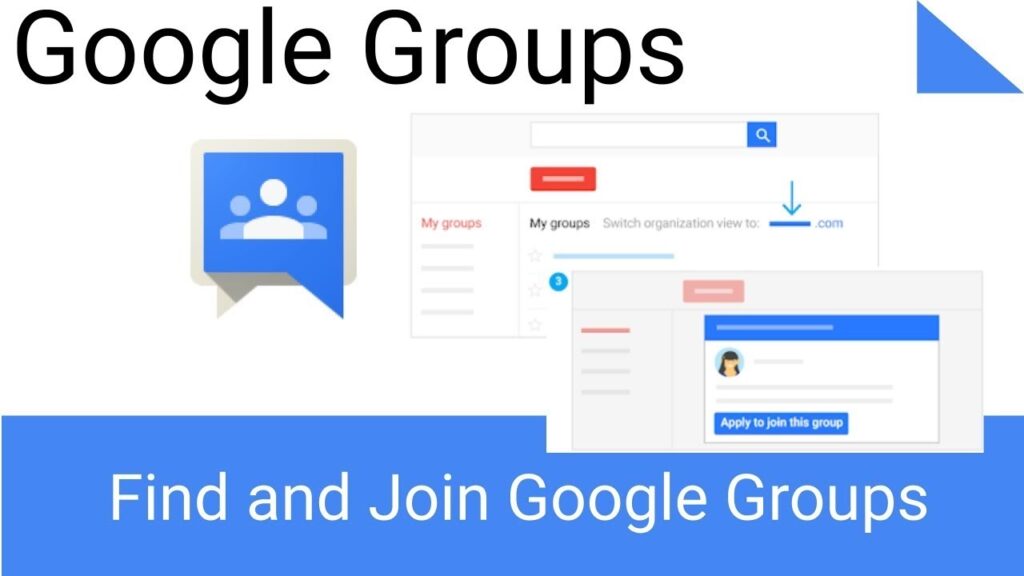 Google Groups is also one of Google's free tools for small businesses. It provides an online platform for group discussions. Therefore, you can use Google Groups to hold online events, conferences, or meetings; send emails to members in your group with one email address. This tool would be extremely useful in creating a business or team meetings and training.
After getting updated, Google Groups now has more handy features. For example, you can create a collaboration inbox to assign the conversation roles to yourself or other members. Besides, you can also resolve, mark as complete, or duplicate conservations.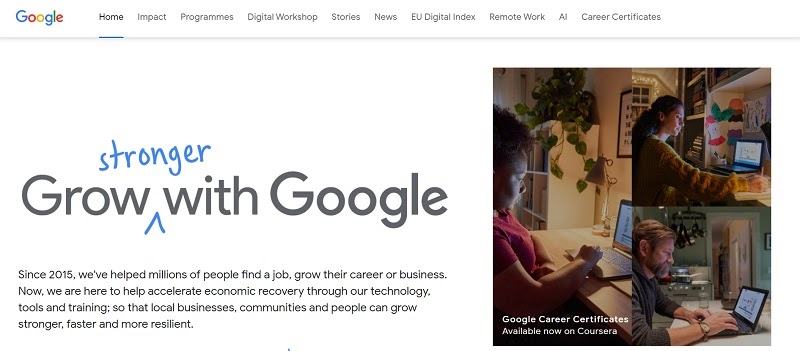 Grow with Google ensures that everyone has access to the possibilities offered by technology. In addition, they help people gain the skills they need to get jobs, progress in their professions, and expand their companies by providing free tools and training. Therefore, this tool is suitable for both employers and employees.
Grow with Google will suggest tools and online courses help business owners reach their goals. For example, for those who want to digitalize their businesses, the tool can quickly evaluate their store's website and suggest ways to improve it.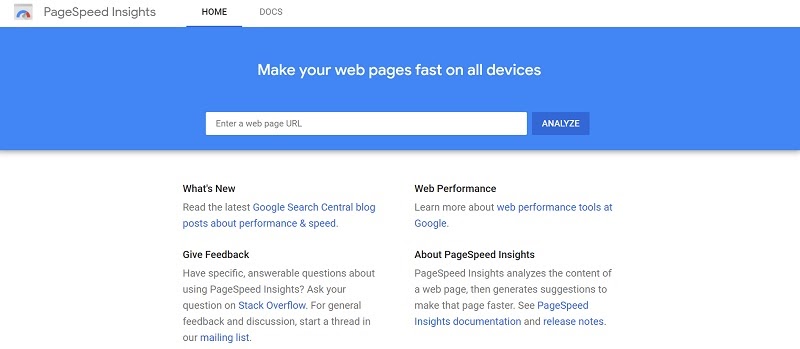 Google PageSpeed Insights is another tool that Google small business finds extremely helpful. The tool checks and lets you know your business site's performance. In addition, it also offers suggestions to improve and make your page faster. Thanks to this handy tool, pages are faster, thus getting a higher ranking on the Google search engine.
The process of getting your website checked is straightforward and fast. All you need to do is input the URL link to your site and wait for it to give you the performance score. After that, based on the score and suggestions from Google PageSpeed, you can start improving your website.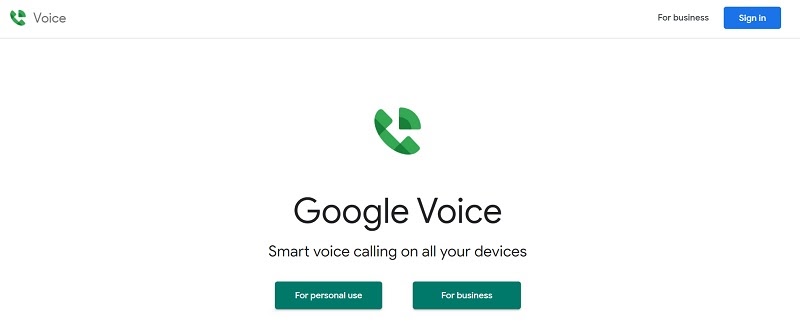 Google Voice is another good one among Google tools for small businesses. It generally provides call, voice mail services, and text messaging for Google account users.
With Google Voice, you can communicate more efficiently by making and receiving phone calls with your work number on any device. In addition, it has some other handy features, such as customizing to fit users' workflow, integrating with Google Meet and Google Calendar, automatic voicemail transcription, and many more.
With an easy-to-use phone solution that suits businesses of any size, Google Voice is a fantastic tool for staying connected, organized, and on track.

Think With Google is another nice one among the free Google business programs. You can receive market insights, valuable articles, research materials, case studies, various infographics, and interviews with industry executives from this site. In addition, it is continuously updated with a wealth of valuable information you can use to expand your company.
With Think With Google, you can do so many things. For example, you can get the newest customer insight, use the data to transform your marketing, find tools to make your marketing data-driven, and many more.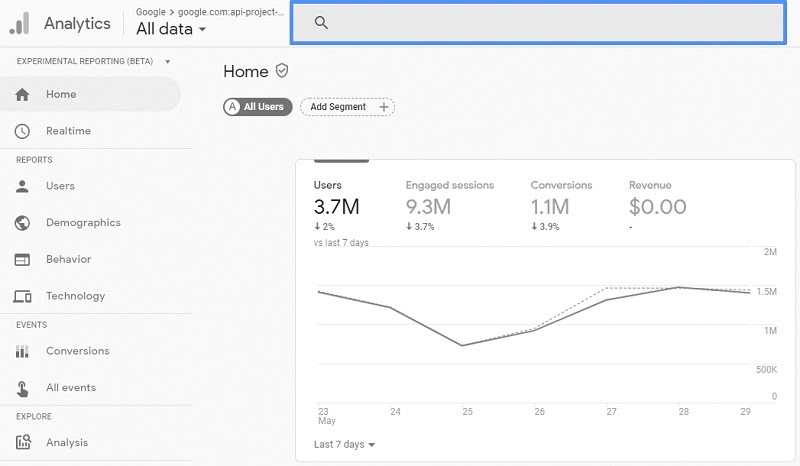 Google Analytics is a web analytics tool provided by Google that analyzes and reports website traffic. It is one of the most popular Google apps for small businesses. The device is very useful in helping you measure the success of your digital marketing efforts.
Google Analytics offers some handy features that improve users' experience. For example, the tool integrates with other Google tools, such as Google Ads or Data Studio, for a smoother workflow. In addition, after tracking and analyzing your website, Google Analytics gives you a thorough report about it, including information about user level, session level, pageview level, and event level.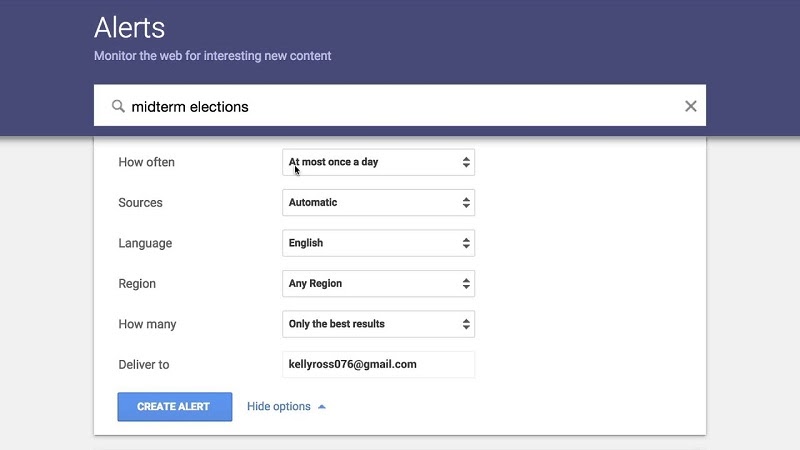 Google Alerts is a free email notification service provided by Google that summarizes search activity around search keywords and delivers emails to subscribers. Its working process is straightforward: you input one or more keywords, and the tool will send emails to notify you whenever it finds online content that contains the keywords you chose.
Google Alerts is not a powerful site with many valuable features and is not the best among Google product search tools. However, it is still a tool you should use when using google for business. The most appealing thing about the tool is that it's free and easy to set up. Furthermore, companies can get updated when people mention their names, products, or competitors using Google Alerts.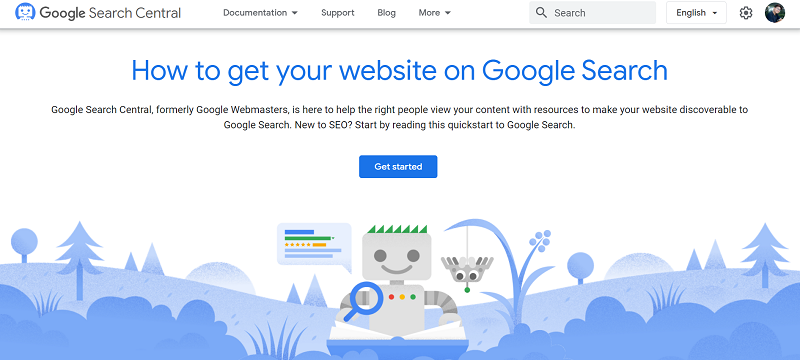 Google Search Central is the Google Webmaster Tools app after getting its name changed. It is another excellent tool in google for small business owners that helps businesses' content reach their target readers and make their websites easier to discover on Google search. In addition, the tool offers different beginner guides for other target groups, such as business owners and marketers, website developers, or SEO professionals.
With Google Search Central, businesses have a place to get help with their websites' SEO from where they can get advice on how to improve it and drive more visitor traffic to their sites.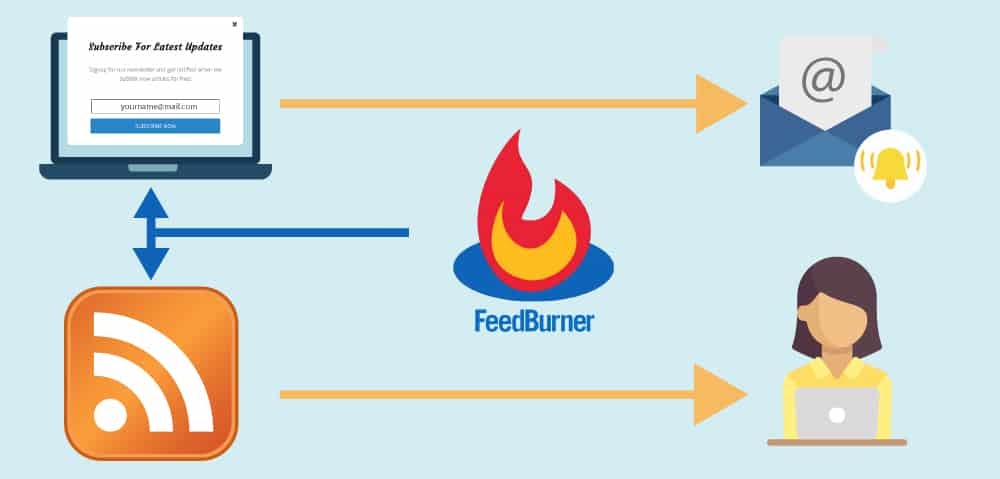 Feedburner was founded in 2004, and Google acquired it in 2007. It is a "web feed management service" that offers tools for publishers of web-based content, such as podcasters or bloggers, to manage their pages. However, to understand fully how this tool works, you must first grasp the concept of "feed". If you are new to this term, the "Feed 101" article on the Feedburner site would be helpful for you.
Feedburner gets the standard RSS feed your blog generates (which your site does most of the time automatically) and renames it, records who subscribes to that address, and provides other geeky goodies. This tool helps your business's blog get more visitors and lets you see your visitors' on-site actions.

As the name says, Google Scholar is where you can find all the scholarly publications. The tool indexes the full text or metadata of academic literature published in various formats and fields.
Google Scholar is considered one of the best Google tools for a reason.
With the tool, users can search for academic literature, explore relevant works and authors, create an author profile, and check to see people citing their works. In addition, they can do all of those things from one sim on the Google Shopping Insights website to a couple of locations.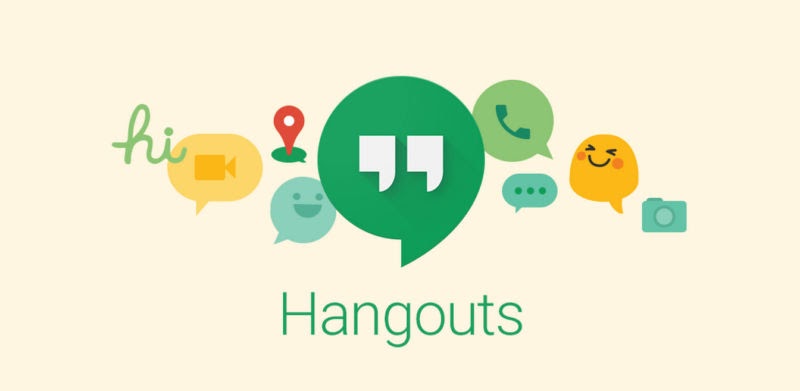 Google Hangouts is a chat software for business communication that lets users initiate and participate in one-on-one or group text, phone, and video conversations. You can use the tool from anywhere, on every electronic device, from mobile to desktop. Google Hangouts for mobile is available now on both IOS and Android.
Google Hangouts is convenient for team meetings, training, and discussions. The process to get started using it is also straightforward. All you need to do is log into your Google account, access the site, add the phone number or contact you want to communicate with, and start using it.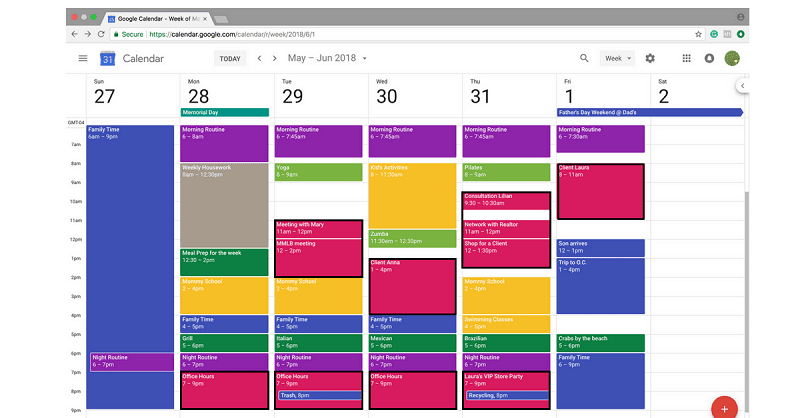 Google Calendar is a similar tool to many people. It allows people to keep track of their schedule more efficiently, schedule their events and meetings quickly, and people can access their calendars from everywhere on every device. However, not many people know about Google Calendar For Business and its fantastic features.
With Google Calendar For Business, users can create a mutual schedule for their teams or groups and use the "Find The Time" feature to find a joint free time for their team meetings. In addition, the calendar can be shared with other people in the company and integrated with other tools like Blackberry Enterprise Server or Microsoft Outlook.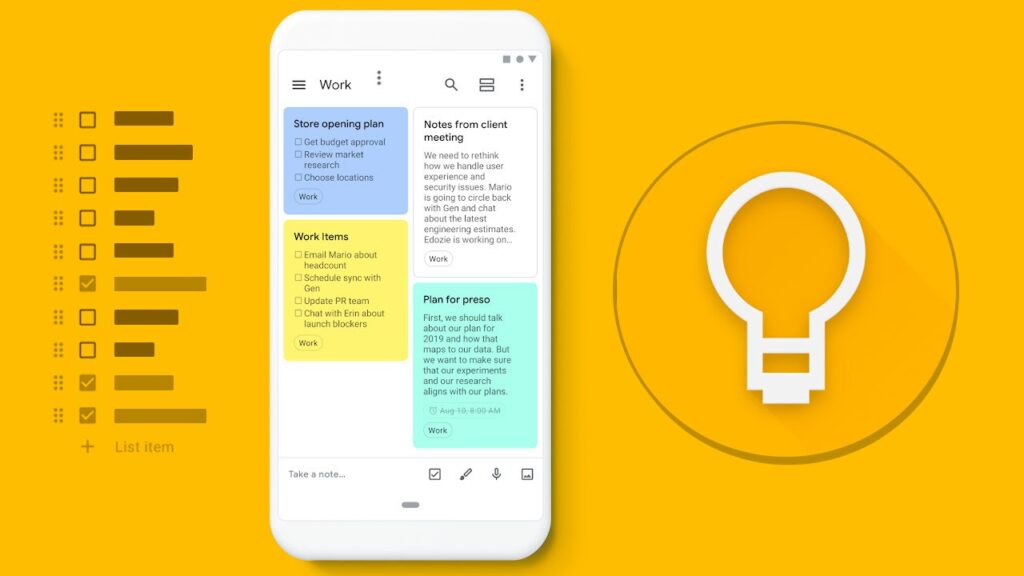 Google Keep is another free tool for businesses to take and keep notes. This tool works straightforwardly: you create a note, write down what you need to remember, and save it. You can create and save your note anywhere on both desktops and mobile phones.
Like other note-taking apps, Google Keep has features that make user experiences more convenient. For example, you can create notes or lists or save a drawing as a note. In addition, you can also set up reminders for your notes and change their labels, colors, or formats.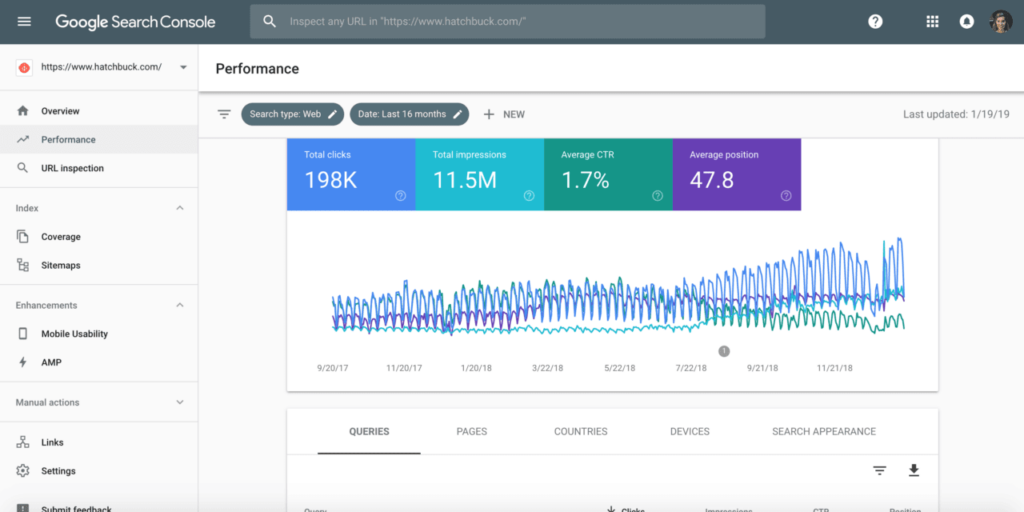 Google Search Console is one of the best google business apps that many business owners and marketers have used. The tool's main purpose is to assist you in determining your site's Search traffic and performance, resolving difficulties, and ensuring that your site shines in Google Search results.
Google Search Console has many fantastic features for users to improve their sites' performance. For example, it can integrate with Google Analytics to analyze your sites and their position on Google search. In addition, you will receive a notification if there is a problem with your website and advice on how to fix it.

Google for Startups is a fantastic Google tool for new business owners. Its goal is to help people build and grow their startups. Google for Startups suggests relevant tools to help startup owners in different aspects. For example, it recommends Google Ads and Optimizes to launch ads and improve ads performance regarding brand and marketing.
This tool is one of the best Google apps for startups for a reason. It has supported many startups worldwide, creating 130 thousand of jobs and raising $6.7 billion in funding in 2020.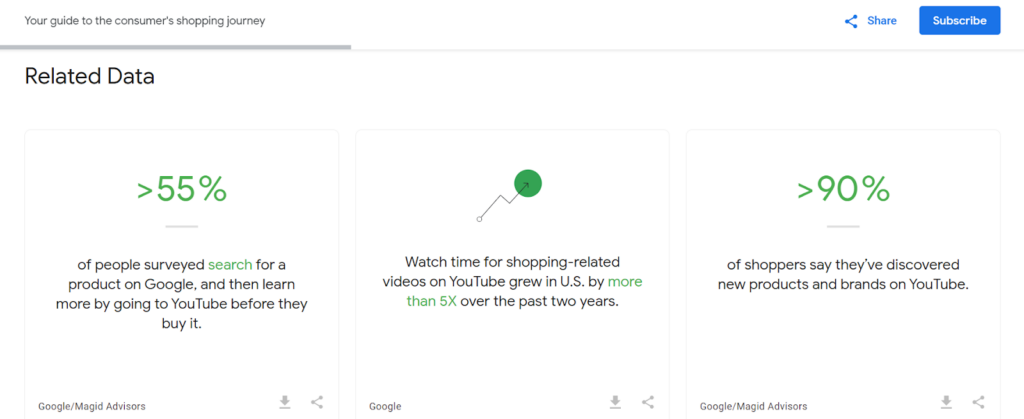 As a smaller part of Think With Google, Google Shopping Insights is a free tool that compiles data from all of the Google Shopping network's brands and consumer shopping-related search inquiries. This site guides business owners and marketers on customers' shopping journeys. As a result, companies can have more profound insights into customer behaviors, and improve ads performance regarding brand and marketing, thanks to Google Shopping Insights.
You can find many articles and case studies about marketing strategies and customers' insights on the Google Shopping Insights website. Besides, other relevant statistics, research, and data are also available for users to get to know their customers better.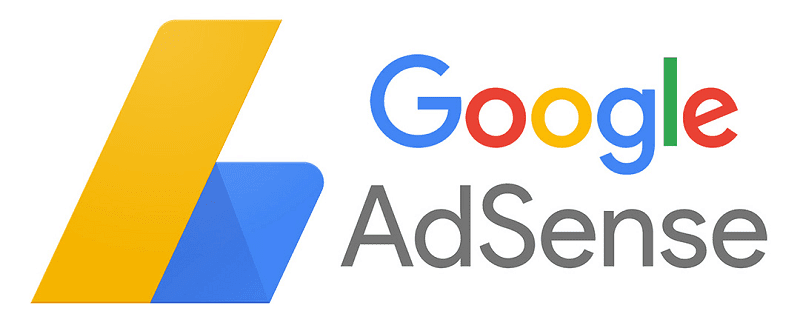 Google AdSense is a Google initiative that allows website publishers in the Google Network of content sites to show text, pictures, video, or interactive media advertising tailored to their sites' content and audience. Google is in charge of administering, sorting, and maintaining these advertisements. The tool allows companies to create mobile-optimized ads and make more money from their websites.
Google Adsense offers some precious ads to increase efficiency in businesses' advertising. For example, it will check your ads to ensure they have high enough quality and related content. You only need a Google account, phone number, postal address, and a website linked to Adsense to get started.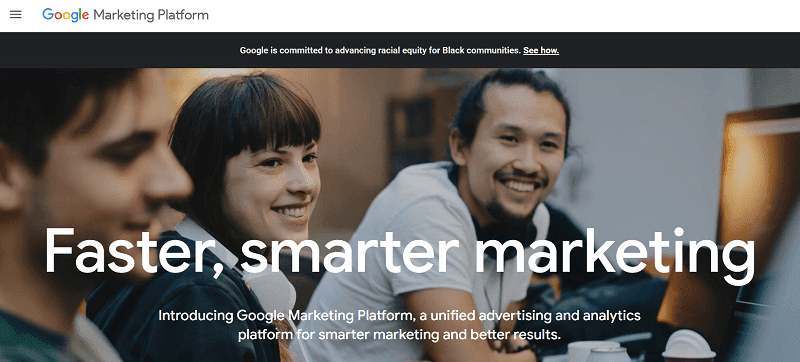 Google Marketing Platform is an advertising and analytics platform that helps marketers make better decisions and get better outcomes. It includes several free, easy-to-use local business apps for small businesses and some advanced tools for larger businesses. These apps help companies build stronger customer relationships and improve marketing outcomes with extensive advertising and analytics tools.
Google Marketing Platform can also integrate with other tools in Google for organizations, such as Google Analytics, Data Studio, and many more, to bring out the best results for your business.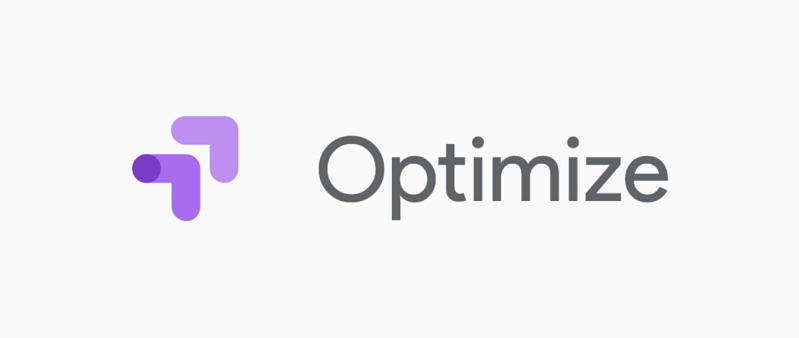 Google Optimize is a Google tool for businesses, which is included in Google Marketing Platform. It allows you to test different web page variations to evaluate their performance against a set of goals. After that, the program keeps track of your experiment's outcomes and tells you which version is the clear winner.
You may test new website designs, layouts, and content with a portion of your users by conducting experiments in Optimize. Instead of depending on intuition and opinion to identify the optimal page or site design, you can run a study that compares several techniques with real-world users and produces data that is easy to read and comprehend.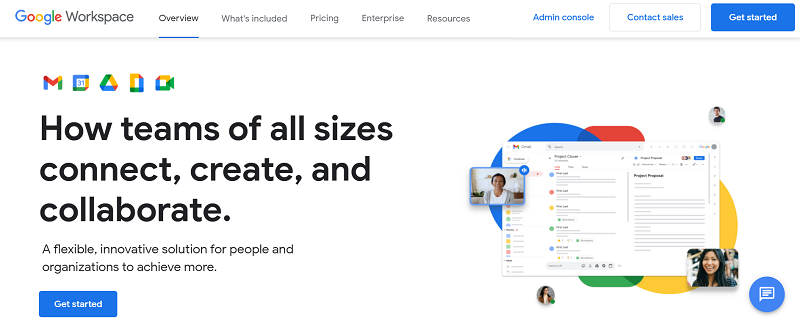 Google Workspace is a set of cloud computing, productivity, collaboration technologies, and software and products. It provides a creative to increase the productivity of team collaboration. The website was formerly named G Suite and includes different Google tools for business collaboration, such as Google Drive, Docs, Sheet, Meet, and many more.
Google Workspace is currently free for every user. However, it also offers some paid plans with more convenient business features. In addition, every plan has a 14-day trial use so that users can see if the program suits their businesses.

Google Charts is an interactive Web application that generates graphical charts based on user data. The user provides data and a formatting specification via JavaScript embedded in a Web page, and the service responds with a chart picture. The chart gallery has a wide variety of ready-to-use chart kinds, ranging from basic line charts to sophisticated hierarchical treemaps.
Besides, you can permanently alter a chart to match the style and feel of your website, but the default appearance will generally be enough. Charts are highly interactive and reveal events that may link them to build sophisticated dashboards or other experiences connected with your website.

Hardly anyone does not know about Gmail, a free and worldwide popular email service from Google. Many people use Gmail, but not all of them know about this tool's great features. For example, you can view attachments, RSVP-ing, or snooze messages in the app without opening emails.
In addition, Gmail is one of the safest email tools, with the feature blocking dangerous emails. Besides, Gmail users can set reminders to follow up on communications and react to them so that nothing falls through the cracks.

Google Tag Manager is another free Google tool for businesses that assists users in managing and installing marketing tags (code snippets or tracking pixels) on their website (or mobile app) without modifying the code. In addition, the tool offers tag management solutions that help you save time when updating the tags on your websites.
Google Tag Manager offers some excellent features to improve your site's tags. For example, you can manage your tags with features like simple preview and debug tools and auto-event triggers, not to mention a user-friendly interface. In addition, the tool can also be integrated with other Google and third-party tags.

Google Currents, belonging to Google Workspace, is a valuable communication tool for employees within a company. The main goal of the tool is to help users have "meaningful discussions", encourage employees to work together and with employers more engagedly, and create an effective working environment.
With Google Currents, business owners can share their ideas with their workers and get feedback about important business issues. In addition, the personalized support from Currents allows you to uncover previously isolated material and resources related to your job.
Besides, Currents also have some other handy features, such as ranking content based on importance level or posts and comments staying accessible on the app for future reference.

Google Mobile-Friendly Test is another fantastic one among Google products for business. It functions as an online tool to test the mobile-friendliness of websites. The way it works is simple: you input the entire URL of the web page you wish to test, it usually takes less than a minute to complete the exam, and the tool will tell you if the website is mobile-friendly.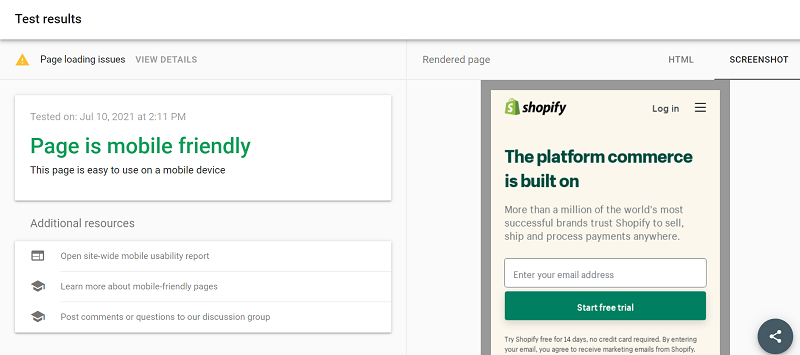 In addition, a snapshot of how the website appears to Google on a mobile device is also included in the test results as a summary of any mobile usability issues discovered. For example, some significant problems that make a site mobile-unfriendly that the tool usually detects are tiny font sizes (which are difficult to read on a small screen) and the usage of Flash (which isn't supported by most mobile devices).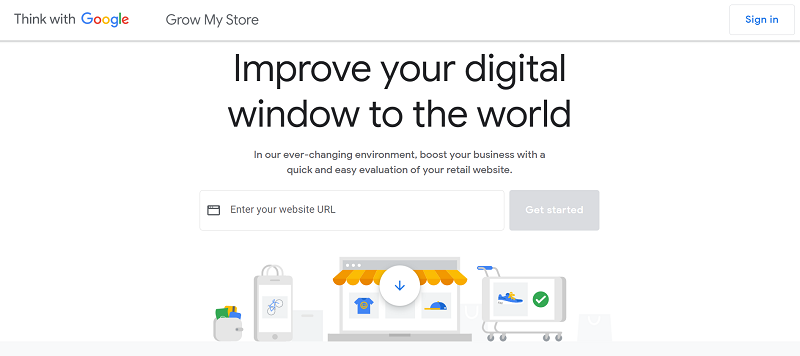 Google Grow My Store is another helpful one among the Google tools for businesses, tiny online retailers. Like Google Mobile-Friendly Test, this tool also gives the retail businesses' websites evaluation of their performance. However, the difference is that Mobile-Friendly Test only tests the website's mobile-friendliness, whereas Google Grow My Store will give you more than that.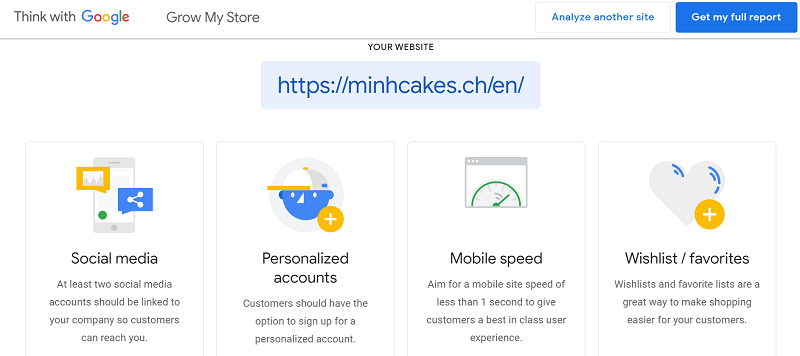 To be more detailed, the tool's analysis of your website gives you a score about your store's performance in general and suggestions to develop it. For example, you can see how your website compares to other merchants in your industry and get advice on improving and updating your store efficiently.

Test My Site is a free Google tool that evaluates the performance of your mobile site and suggests solutions to improve user experience. The tool leverages Lighthouse data to provide unique suggestions for improving page and site performance, best practices and recommended resources to enhance your overall experience based on what consumers care about.
Test My Site is aimed at both marketers and programmers. Developers will find tech-specific advice from it and tips on how marketers may overcome any organizational challenges. In addition, the site's tailored report includes a section dedicated to each audience, complete with details and the next steps.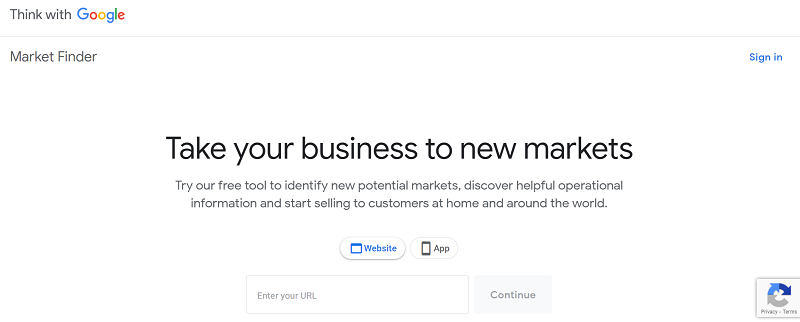 Market Finder is a free Google tool that assists you in expanding your business into overseas markets. Market Finder is separated into three areas, each of which provides tailored market insights to assist you in determining which markets to target, setting up your operations, and marketing your business in new markets recommended by Market Finder.
The way Market Finder works are straightforward. First, you give the link to your company's website, from which the tool will extract the product categories you sell or the services you provide. Then, market Finder will produce your suggested markets based on this. The working process is divided into three stages: looking for new opportunities, making a strategy for your operations, and promoting your company.

Google Docs, a part of Google Workplace, is a handy online tool for businesses that function as a "word processor". Overall, the tool assists users in creating and editing documents and collaborating with others.
Google Docs is one of the most popular online business tools, but not everyone knows how to use it for its utmost functions. For example, various templates for different types of documents, such as reports, project proposals, resumes, and many more, are available for you to pick.
In addition, the tool has some similar handy features to most of Google's business tools, such as the feature to share documents and access them from everywhere on both desktops and mobiles.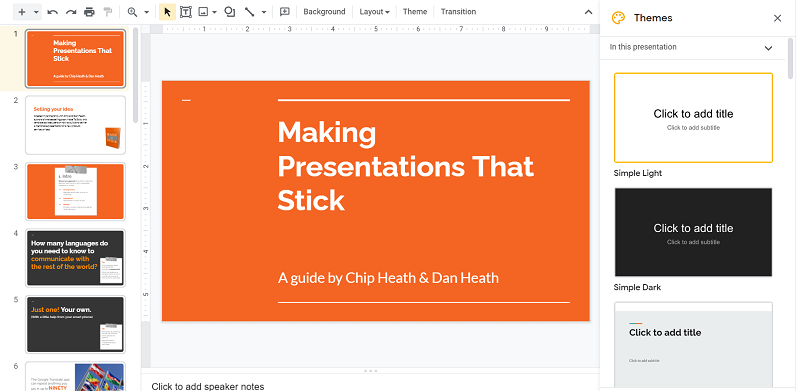 Google Slide is another free tool in the Google Workspace collection of business tools. The main goal of Google Slide is to create, edit, and share presentations online. Currently, the tool is available in the personal free version with many handy features and the business version with higher security and control for your team and business.
When there are thousands of presentation creation tools in this era, what makes Google Slide stand out from the crowd is the straightforward and user-friendly interface. For example, many available themes, word fonts, and design ideas are suggested to users based on their presentation content.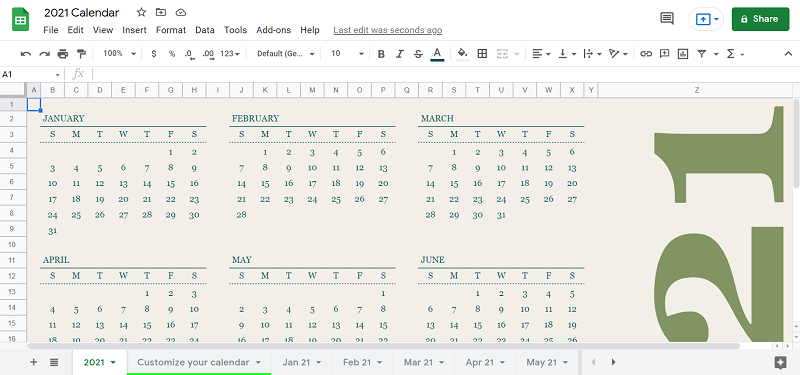 Google Sheets is a tool for creating online spreadsheets for both individuals and businesses. The tool has almost all the essential features of MS Excel, such as functions and changes in word fonts and formats. In addition, you can also create charts and graphs by Google Sheets based on inserted data.
Besides, like other tools in Google Workspace, Google Sheets has some extra handy features to improve users' experiences. For example, there are many templates for different purposes, such as budget reports, calendars, to-do lists, etc., for users to choose from and create their files.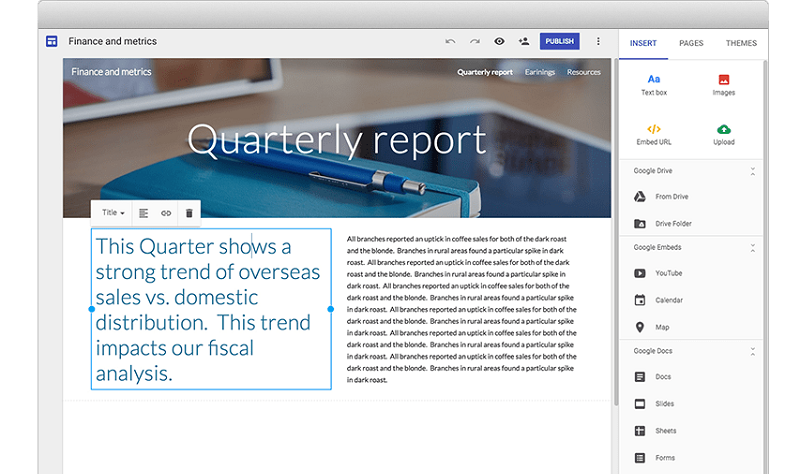 Google Sites is a flexible tool that makes it simple to create a website. Consider it a more advanced version of a "wiki page". With a Google Workspace account and ten minutes using Google Sites, you can create your internal project hubs, team sites, or public-facing websites without professional web developers or designers.
In addition, when you establish a new site, it is instantly uploaded to Drive, along with all your other files. You may work on a Google Site with another person in real-time and view each other's updates as they happen. Publish the site for everyone to view or limit sharing rights so that only those you wish to share it with, such as vendors or suppliers, may see it.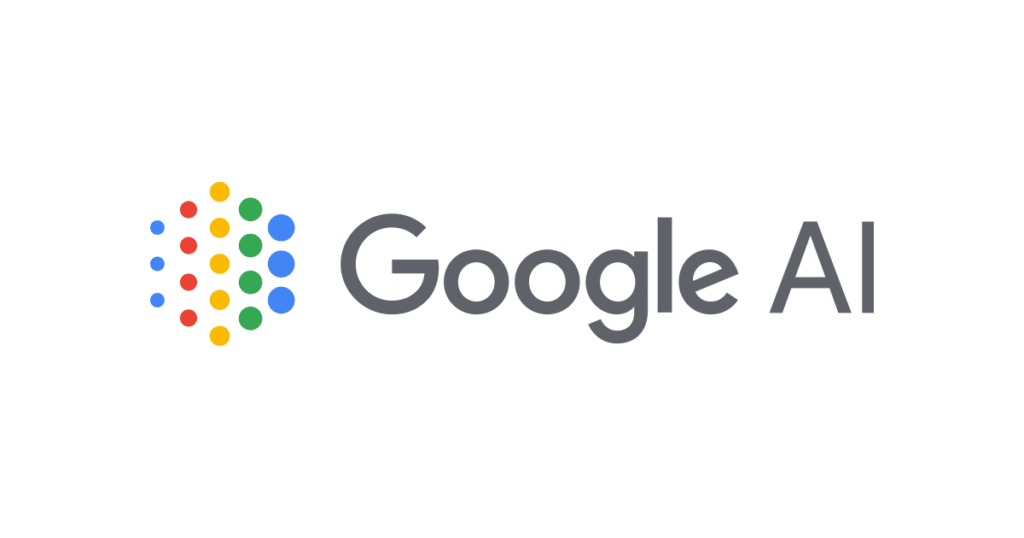 People at Google AI work on research to enhance the field's state-of-the-art, apply AI to products and new areas, and provide tools to guarantee everyone access to AI. Using Google AI, business owners can put Google's artificial intelligence into the application, making their businesses function more smoothly and discovering new ways to satisfy consumers.
In addition, the Google AI site has a blog site on various topics, such as introducing new AI products, recent AI-related research or knowledge, and many more.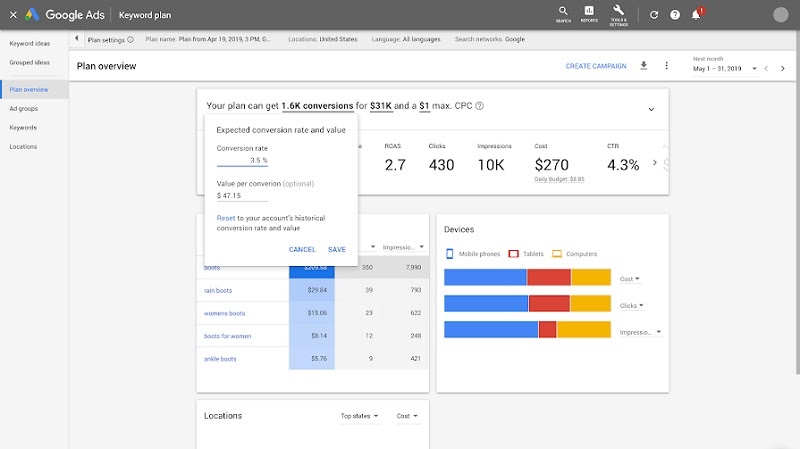 Keyword Planner is a great Google tool for businesses and marketers. The tool's primary purpose is to pick the right keywords so your ads can reach your target customers. Suppose you're a beginner in Keyword Planner. In that case, there are a few steps you have to take before starting using to personalize your keyword plans, such as choosing your business's primary goal, name, website, and other information.
In addition, with Keyword Planner, you can discover new keywords related to your niche, have a deep insight into the search volume of the trendy keywords, and calculate your ad budget based on the bid estimates.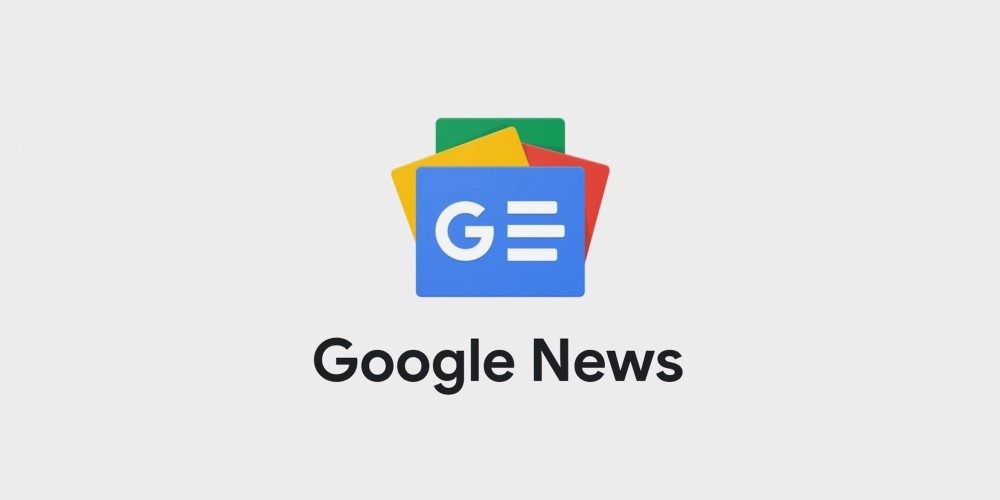 Google News is a news aggregation service that Google has created. It displays a constant stream of links to articles sorted by publisher and magazine. Google News is accessible on Android, iOS, and the web as an app. This is a great tool for business owners, employees, and students to catch up with the world.
Not just providing up-to-date news about the world, Google News also has some fantastic features. For example, the tool can access your cookies and find relevant articles to what you have been searching for online.
Last Words
The 48 Google tools for businesses below would hopefully help build and grow your businesses. However, it is worth noticing that each device has its functions, and choosing the right tool for the right purposes is essential to the efficiency of your teams. In addition, even though most of the tools have free versions, consider buying the paid versions for more handy features.
If you have used some of the sites below and found them useful, please tell us about your experience below. And also, don't forget to share this article with your friends if you like it!