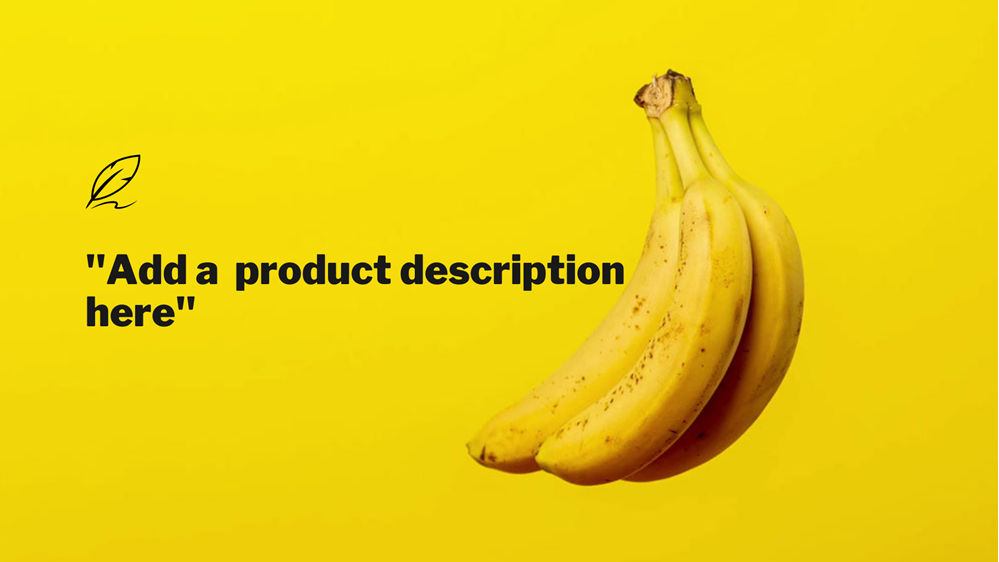 Developing creative product descriptions to build up your lead-generating website is always advisable. Wonder why?
According to OneSpace data, up to 98% of consumers have become dissuaded from buying a model because of insufficient product information. What is more? Shotfarm report shows that poorly written product descriptions reduce trust & confidence in an enterprise for over 80% of consumers. And that leads to more returns, demonstrated by 40% of shoppers returning products owing to inaccurate descriptions.
If you are trying to boost creativity in the descriptions of their goods and looking for some inspiration, we have you covered. For example, this one from a Vintage newspaper! Does it wow you more than enough, even though it was from so long ago?
That is not all; in the list below, we will show you ten more examples that will give you a stronger impression.
8 Fool-Proof Tips for Writing Creative Product Descriptions
Below are some practical tips and tricks that you may want to refer to when developing the descriptions of your products.
1. Prepare for Creativity
You can discover improvement opportunities when observing how others do things. The general rule of thumb is that the more you watch and perceive, the higher your chances.
For example, you may want to follow Pinterest, Twitter, and certain brands you like for constant inspiration.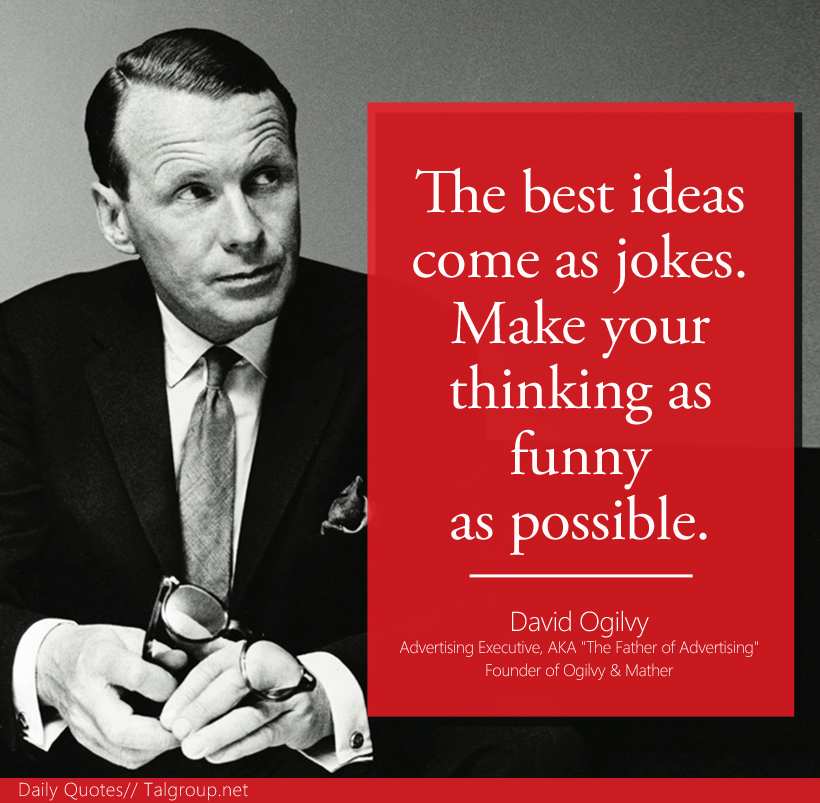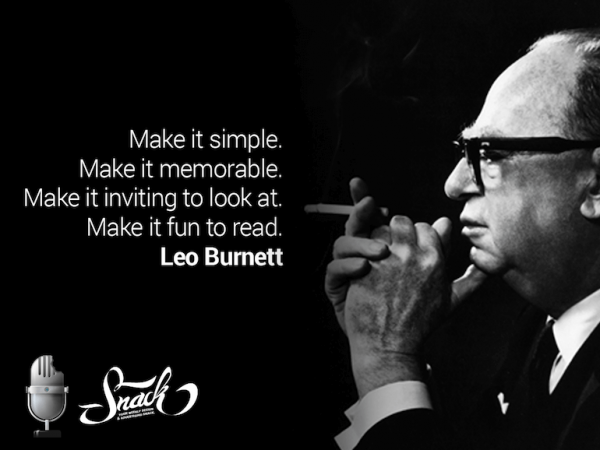 2. Be Creative but Consistent With the Brand and Customer
In this regard, creativity makes a difference. On the other hand, it is also significant to make your product descriptions consistent with the customer and brand. The question is how to keep your brand's voice and style intact. We suggest:
Grasp who you are as well as who you design your products for. In other words, consider who your ideal customers are along with their interests. Consider what makes your brand or your models different.
Develop documentation. This document should outline your company's standards for style, voice, & tone. Leveraging an updated style guide, you will not have difficulty handling whatever you sell, as your team has particular guidelines to create an original product description that nails your brand's goals.
Split test these descriptions of your goods. We mean testing various words, lengths, formats, etc. By doing so, you will optimize the product page more easily to improve the conversion rate.
3. Rather Than Features, Pay More Attention to the Main Product Benefits
For those who plan to write product descriptions to your targeted customers as if they are already definitely sold and only desire to have a better idea of your product, we do not suggest that.
More often than not, shoppers are not sure that they need your product or service. So get the most out of the product description by pointing out why these specific customers need your products. By what means? By showcasing product quality advantages rather than their features.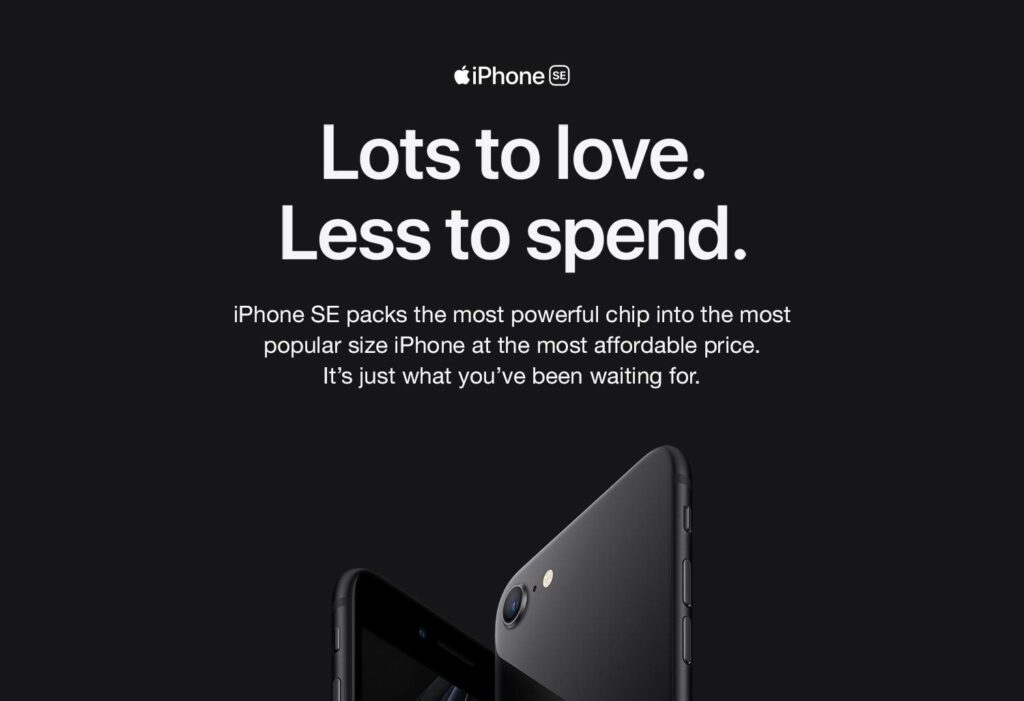 Instead of merely including features such as water resistance, Apple does know how to impress customers with their already-remarkable iPhone SE model by specifying how they benefit from its being water-resistant.
4. Use Power Words
In case you miss it, instead of keywords, power words sell! While keyword stuffing worked fantastically on Google back in the day, this search engine has become far wiser at grabbing users' search intent (i.e., what they want) and detecting those attempting to game the system.
Nowadays, what you advisably pay attention to instead is power words. Smart copywriters and marketers use these strong-meaning words to spark an intense psychological or emotional response.
Speaking of writing product descriptions, power words are convincing, powerful, & particular words that allow your visitors to know your product's impressiveness. Let's take an example of how Dollar Shave Club's copywriter team describes their Shave Butter and Prep Scrub.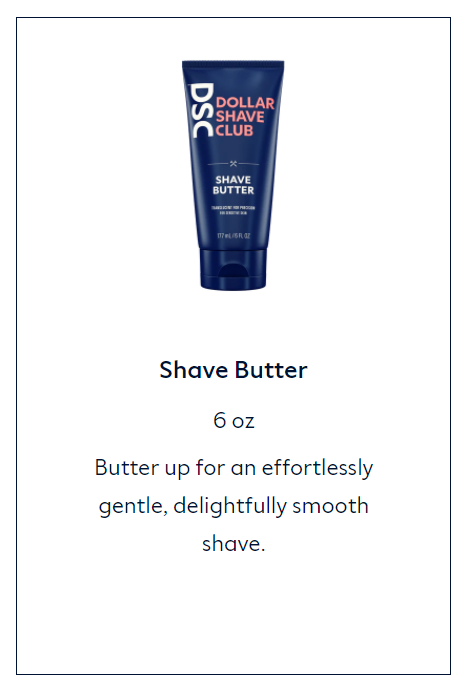 Instead of saying, "Expect a smooth shaving experience by giving Shave Butter a try," it works to evoke emotion and visualization by including powerful words in the creative product description "Butter up for an effortlessly gentle, delightfully smooth shave."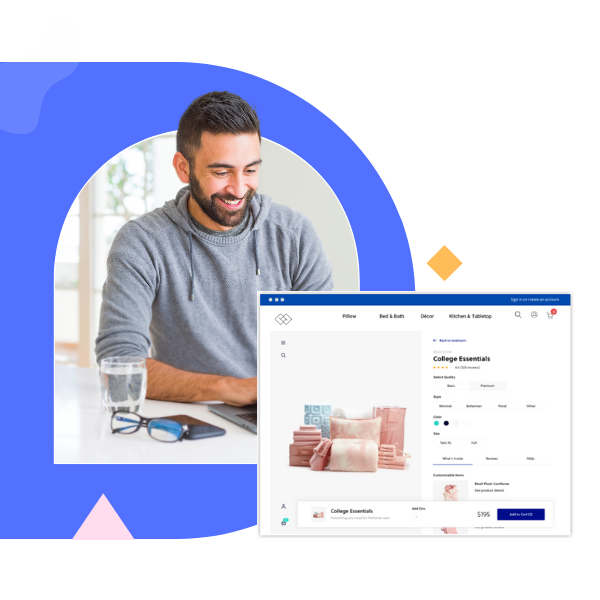 Try FREE Magezon Page Builder demo today
Easily create your engaging, interactive Magento pages in any style whenever you want without relying on developers or designers. Just by drag & drop.
5. Tell a Story
Why do you not make use of the narrative for your product description?
For instance, it tells why your shopper needs this specific item to deal with their problem. Else, a story about what perks your product offers. Or simply an entertaining narrative or something related to the model that appeals to your visitor.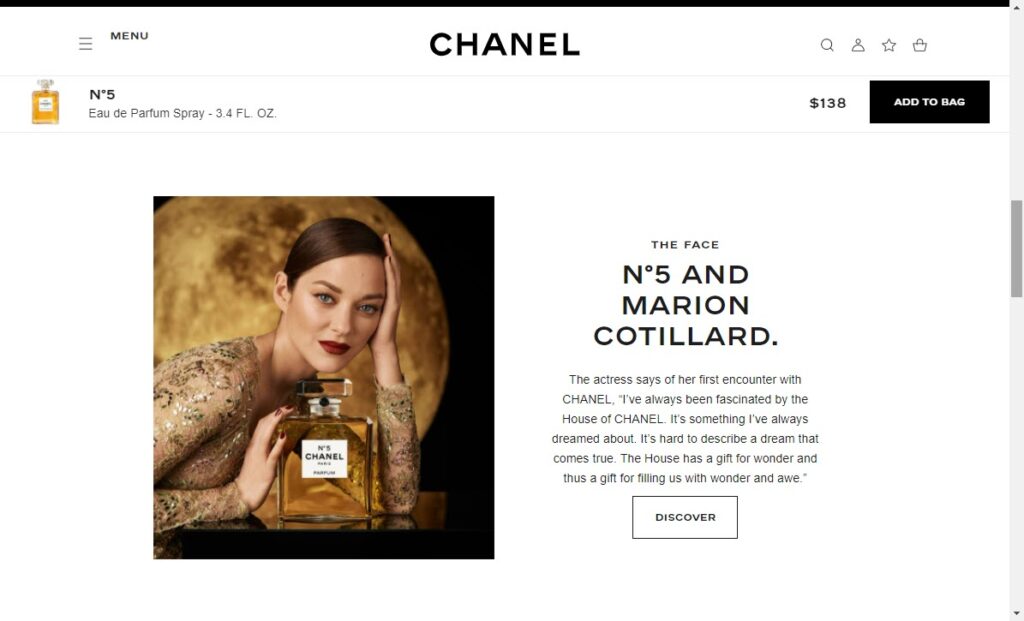 Chanel's n°5 Eau de Parfum Spray is a typical example. Its description is a concise, on-point, and engaging story of how the product has improved since it was first invented 100 years ago.
6. Make It Scannable
It will help if you create creative product descriptions. But, simultaneously, keeping them simple to read is also crucial. For example, you may want to include sentences demonstrating the production unit with a few bullet points. That enables customers to receive the information delivered faster, possibly making them buy more quickly.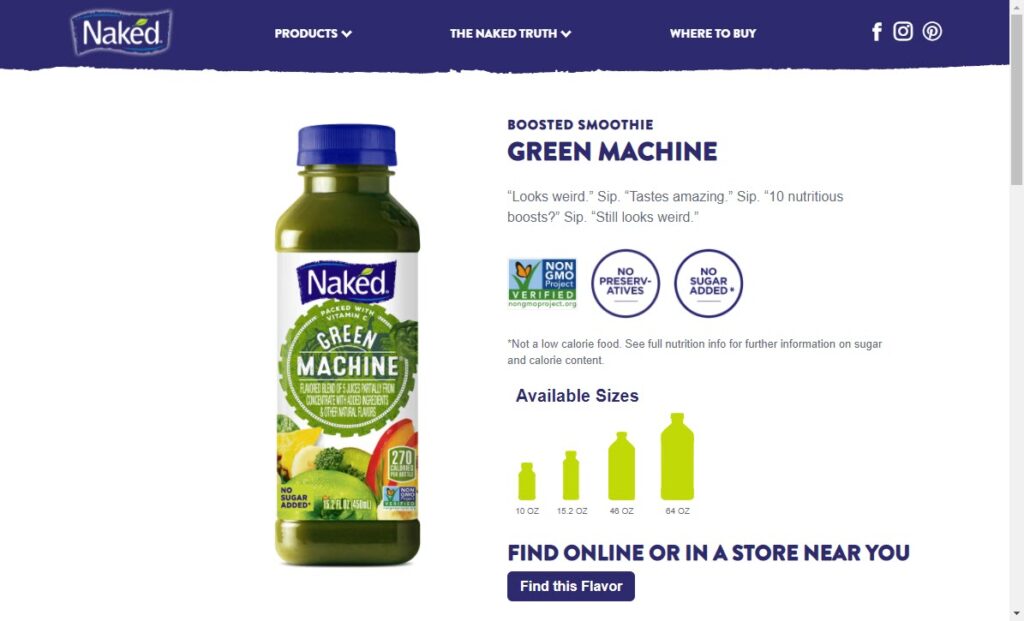 7. Surprise and Draw Your Potential Customers in
You must provide your customers with all the essential information about your product for their informed choice. However, it will be even better if you write a description that can leave a warm & unforgettable impression and make them stay engaged.
How to do that? Try and answer these questions based on your understanding of your customers:
What are their expectations about your product? How to live up to them?
What could make them laugh?
What experiences/ memories may your regular customers share? How do they trigger those memories?
8. Use Impressive Product Images and Video
On the one hand, your images should be realistic. On the other hand, you may want them to look fantastic enough to be on your site. We mean, it will be best if they are:
Being true to life
Capture your product's significant aspects – say, sizes
Visually appealing
Being high-resolution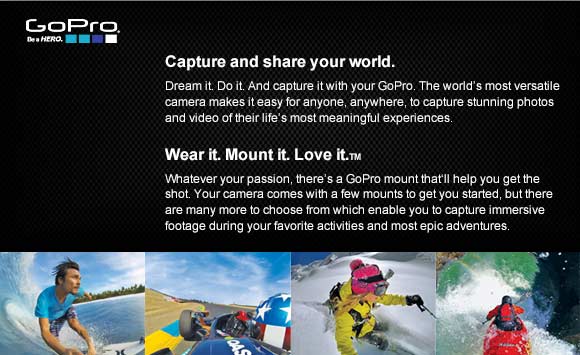 An example for your better understanding? Then, let's quickly look at how GoPro nails HERO9 Black's illustrative image. Rather than using too many photoshop things, the brand manages to make the visual illustration realistic, cover all the product's included features, and be strikingly impressive simultaneously.
10 Creative Product Descriptions That We Find Irresistible
1. Blue Q
Blue Q has sold their joy-bringing, unique, and life-improving stuff, such as personal care, socks, and bags, to a multitude of customers for more than 30 years.
Their products are the absolute best for local marketplaces & ex-pats. Even better, the product descriptions are something many of you love to look at for inspiration.
The brand manages to make the description creative and easy to follow simultaneously. In only three concise sentences, they perfectly introduce the ultimate features and benefits delivered by the product. Do power words such as "a damn near perfect match" hit you?
Best yet, there are many other creative descriptions of items from the brand that you may think are impressive. For example, this one: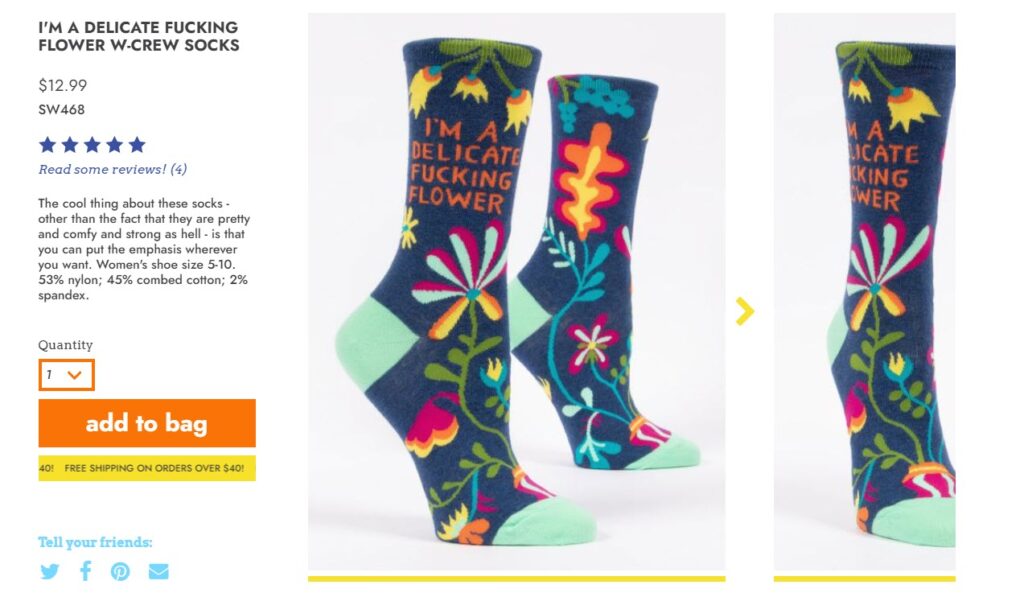 2. Poo Pourri
Being an avid fan of all things natural, Poo-Pourri's CEO & creator, Suzy, has poured out her heart and mind into formulating natural and genuinely effective solutions to universal concerns like the poops' stinky smells.
If you are among those who desire to solve such problems confidently, their items should be your best bet! Plus, you cannot get enough of their creative product descriptions that you may want to learn from if you are a marketer.

These three short paragraphs are ideal essays with particulars of how good the product is. Poo-Pourri also cleverly highlights the important phrases NATURAL ESSENTIAL OILS in bold and capital letters. What is in the box is in bullet points to make the description user-friendly, after all.
The same surefire formula for writing product information seems to apply in many of their other items: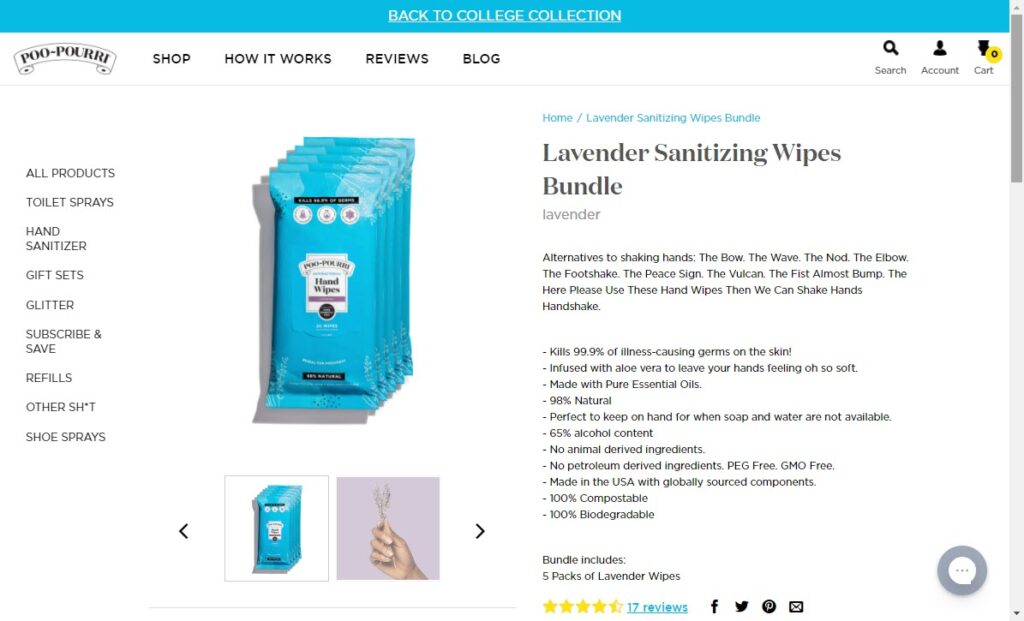 3. Asos
Famous for selling various clothing targeting middle-class customers ages 16-34, this brand has also become well-known for its quirky product descriptions.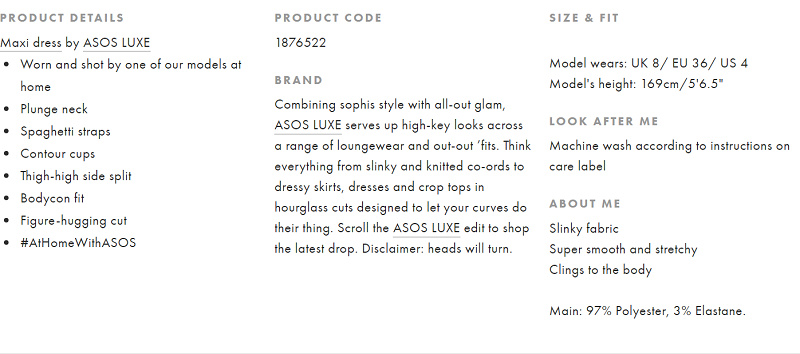 ASOS helps you visualize and define information about the product and show it is right for you by using a self-aware tone of voice and descriptive words such as "Thigh-high side split" and "Figure-hugging cut." And is the sentence "Disclaimer: heads will turn" confirmative and appealing enough to promote you to make an immediate purchase?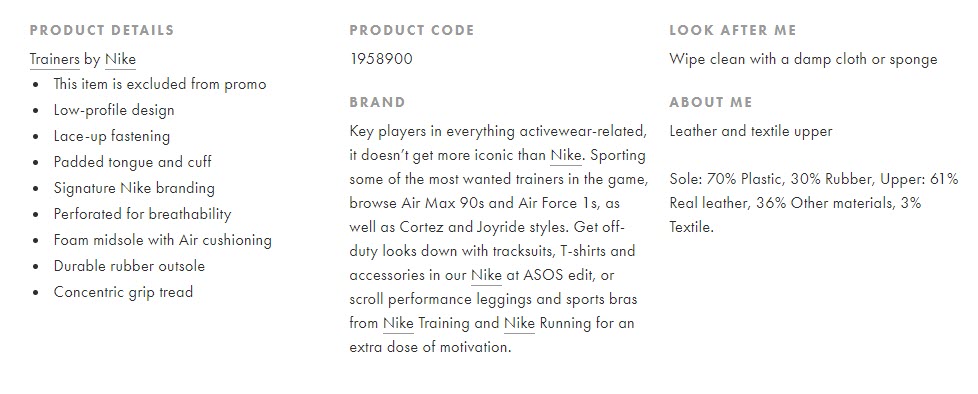 4. United Sodas
United Sodas is a well-known healthy beverage manufacturer and supplier going after consumers, caring about where they should spend their money.
Their products have thirty calories, are organically sweetened, and twelve premium flavors are smoothly shown on their whole page of creative product descriptions like this one: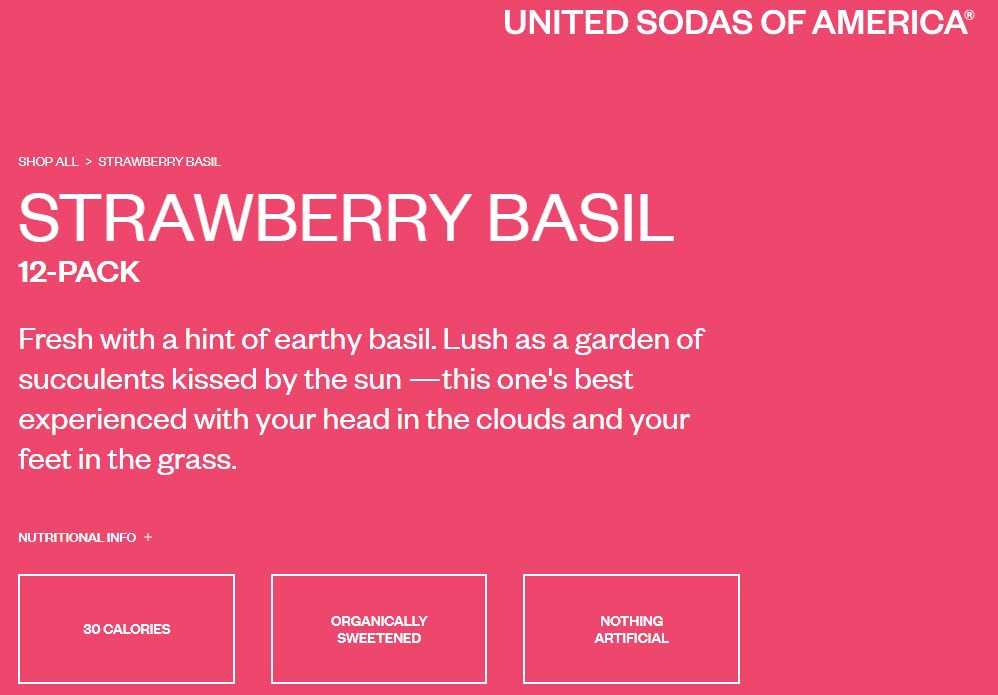 As you can see, there include visual-appealing images, interest-evoking words such as "Sm000000th mango with passionfruit vibes", and the legit reasonable & impressive utilization of emojis. They are consistent with the brand while managing to show how creative and persuasive the description is.
The same goes for this Gingery Ale.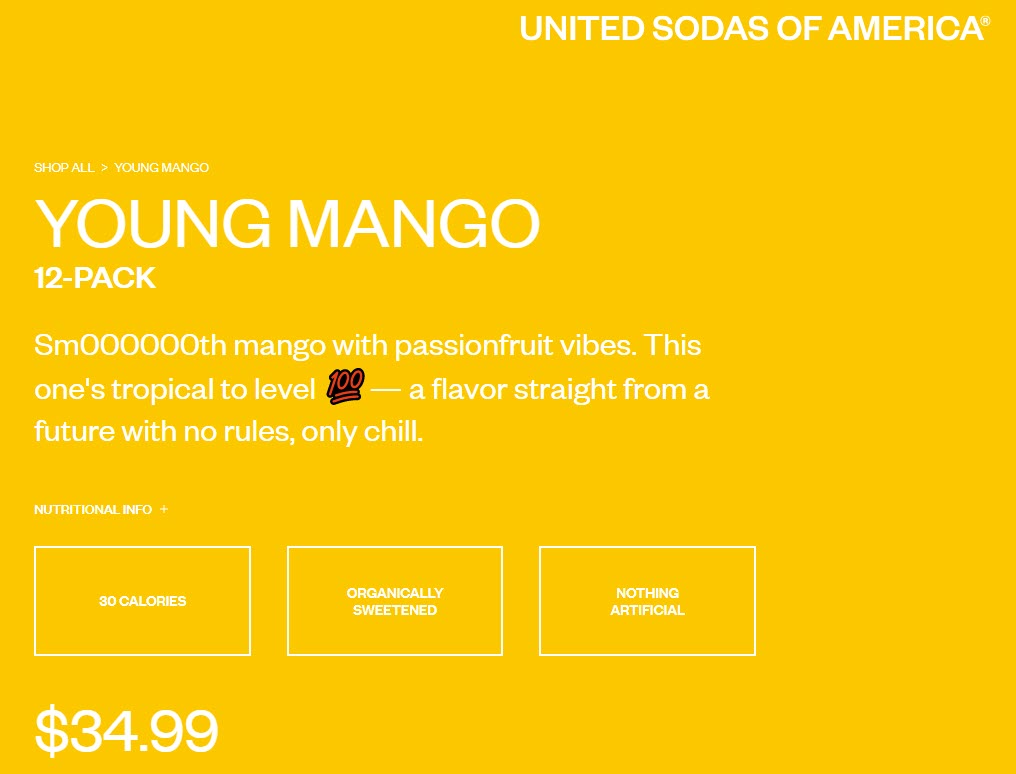 5. Wetnwild
Wet n Wild delivers a whole range of cosmetics for the face, nails, lips, & eyes. Aside from families, it is intended for international visitors & domestic residents between the age of 15 and 30.
With that target market in mind, they develop product descriptions that are creative enough to draw them in. For example: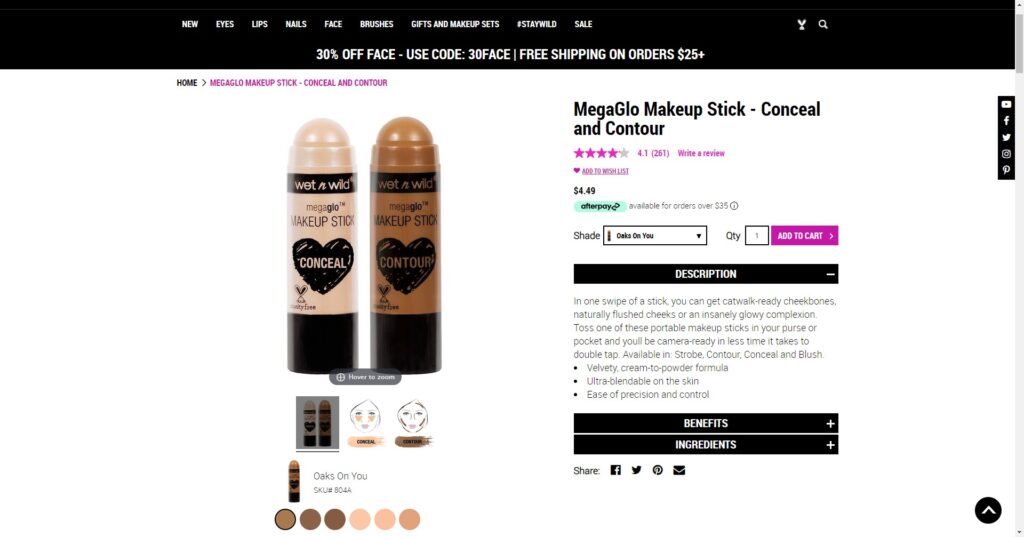 It is safe to say that this is a precise definition of how the storytelling approach should go. It addresses exactly many buyers' concerns and suggests the best of the best solution. The words used here – say " oh-so-smooth, oh-so-creamy application" are oh-so-mesmerizing that you may immediately swoon over this eyeliner.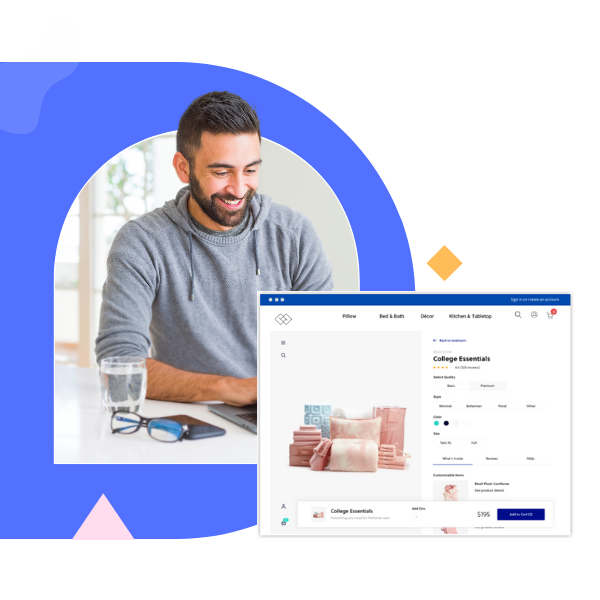 Try FREE Magezon Page Builder demo today
Easily create your engaging, interactive Magento pages in any style whenever you want without relying on developers or designers. Just by drag & drop.
6. Firebox
Visit Firebox, and you can discover personalized presents and gifts for your living space, tech and gadget gifts, etc. Anyone who wishes to "shop for the unusual" will find their products irresistible.
What is more? Their creative product descriptions are really something. For instance, this SUCKULENT BABY TEETHER. The sentences like "Soothe your baby's teething pains with a cute lil' cactus" pull off the tender vibe – enough to prove how passionate and dedicated the product is for your little one.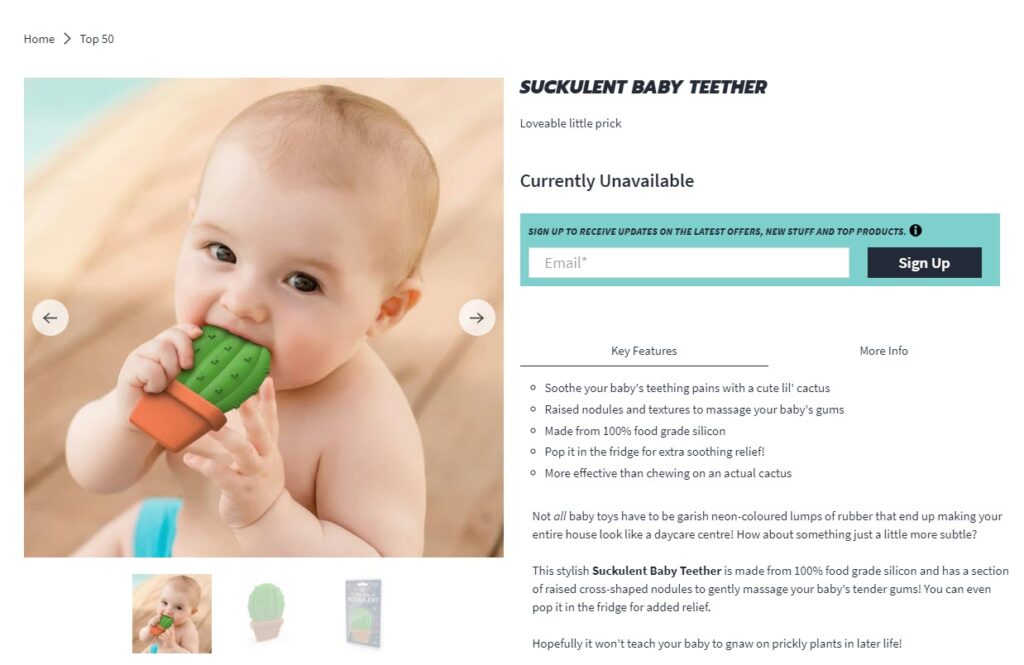 7. Kallo
Kallo is devoted to making savory, sweet, seeded, seasoned, or plain rice cakes and other healthy snacks solely using the finest ingredients. And it boasts a large number of women customers aged over 35.
In which way the brand manages to touch the heart of these target shoppers? Through poem!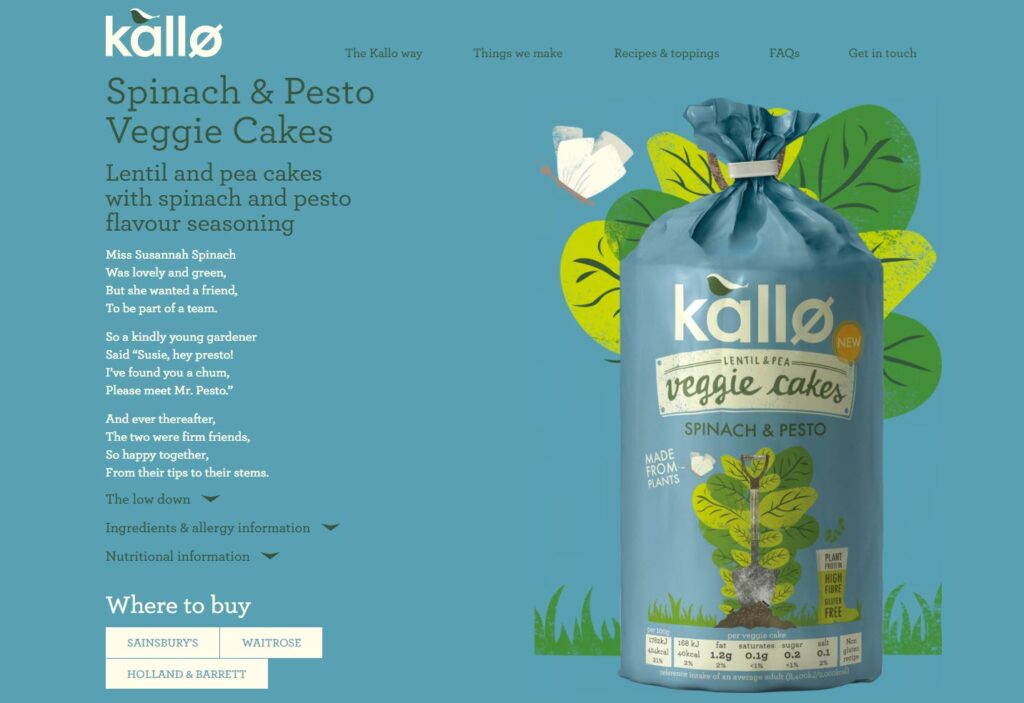 Poetry is nothing but sensations in a pure sense. Kallo feels, writes, and puts it on a pleasant and appealing-looking display to let tender-hearted women emphasize how the brand feels when making their organic and original product.
Let's spare a moment to appreciate the brand's other beautiful poem: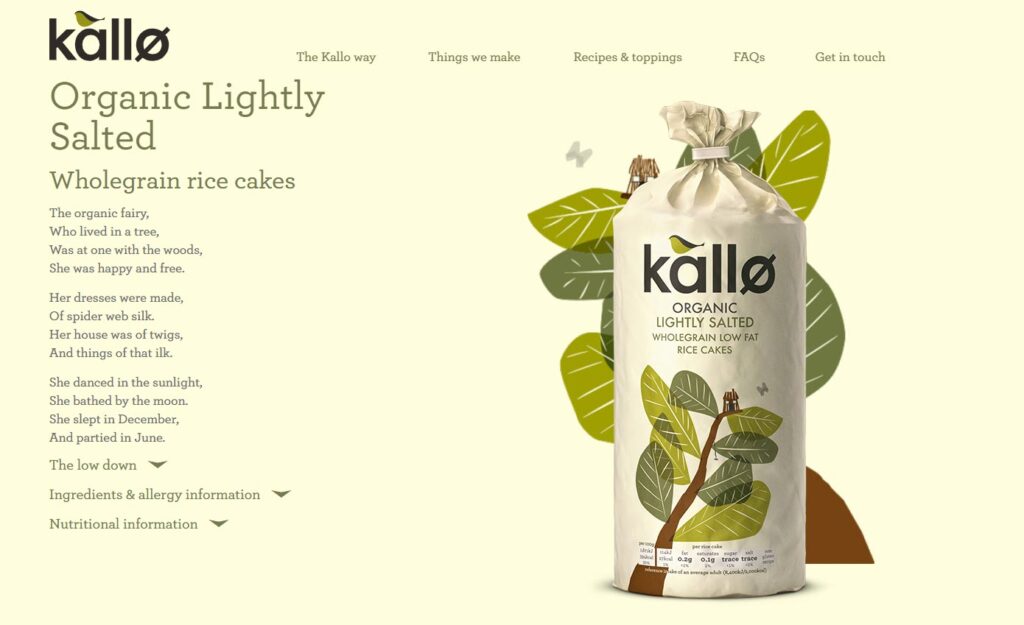 8. Pat McGrath
Pat McGrath is famous for its top-notch makeup items created by the world's most down-to-earth editorial and makeup artists. Its primary age audience is 25-34.
Practically everything about this brand is noteworthy, including its creative product descriptions.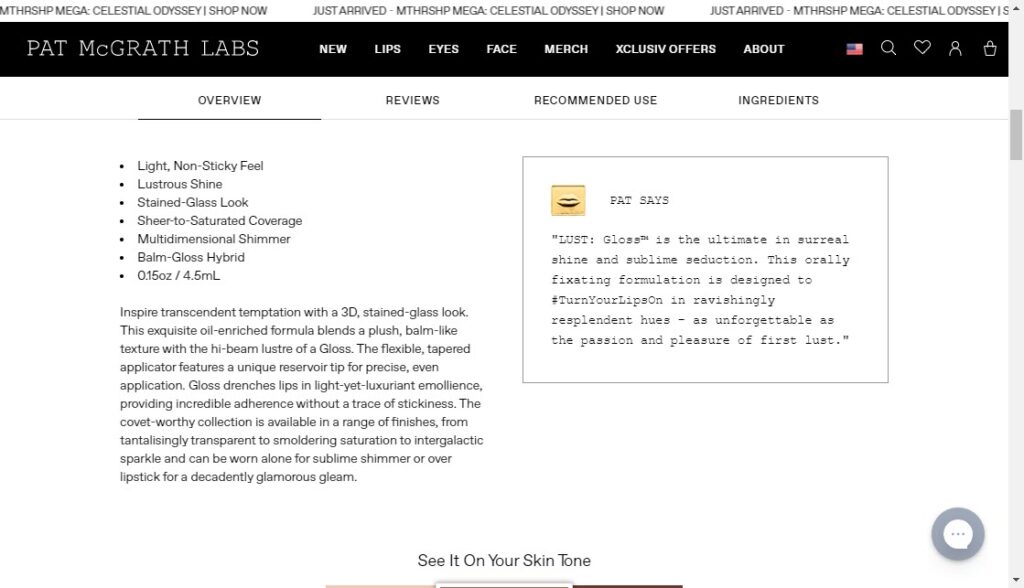 Let's check out the above example. If you are looking for something over the top, you will not be able to go wrong with that description. As far as we see, sentences such as "ethereally erotic color meet surreally seductive shine in LUST: Gloss." can win over the heart of many passionate and romantic girls and women in the targeted age range.
9. Glossier
Glossier is dedicated to creating easy-to-use beauty essentials, primarily for millennials. Designed for that target audience and conforming to its goal of making products "inspired by real life," the brand does know how to breathe life into the descriptions of its skincare and makeup items.
For instance, to explain Glossier You Eau de parfum, they say, "First you smell the pink pepper—the bright, sparkling, spicy top note that makes a good first impression…."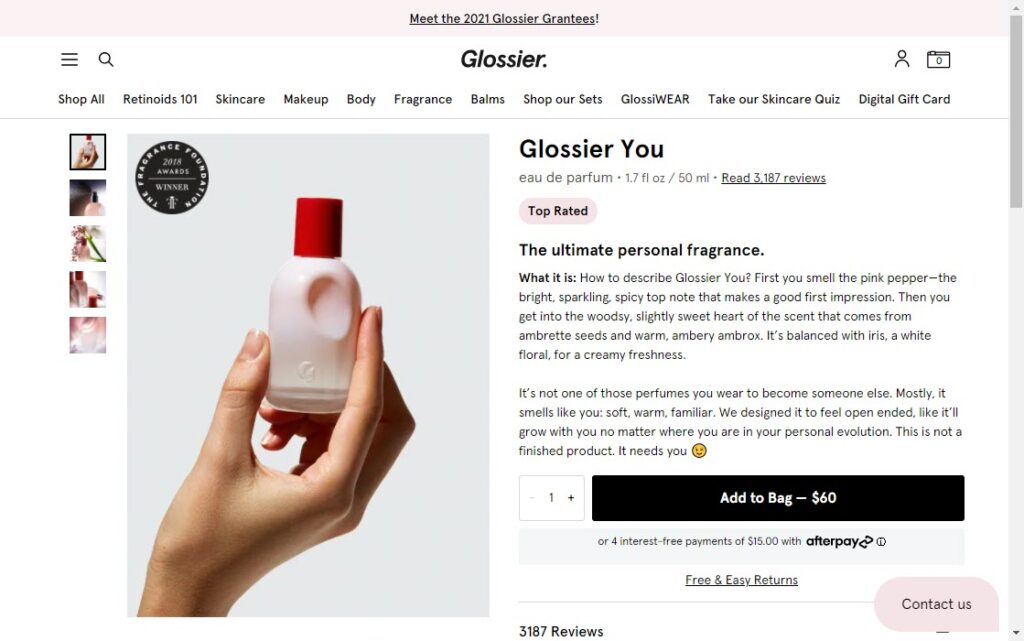 10. Treats2eat
Treats2eat takes its end products (i.e., delicious desserts freshly home-baked) seriously and pays equal attention to its marketing approach to those who crave sweets. Their product descriptions are not an exception.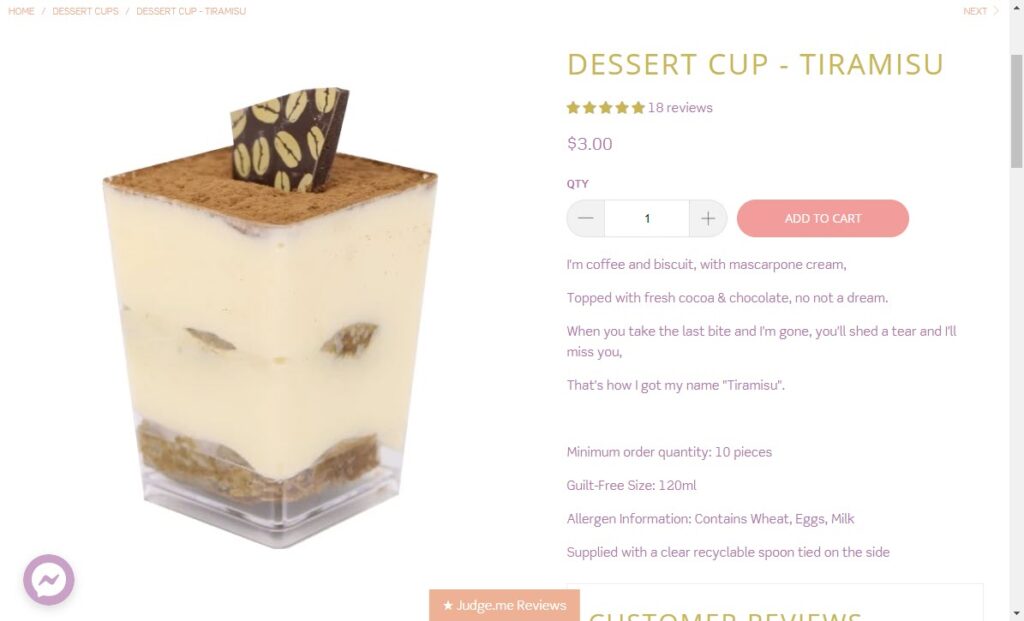 Here, they write poetry to grow emotionally and awaken the appetite because these languages succeed in articulating and framing experience symbolically.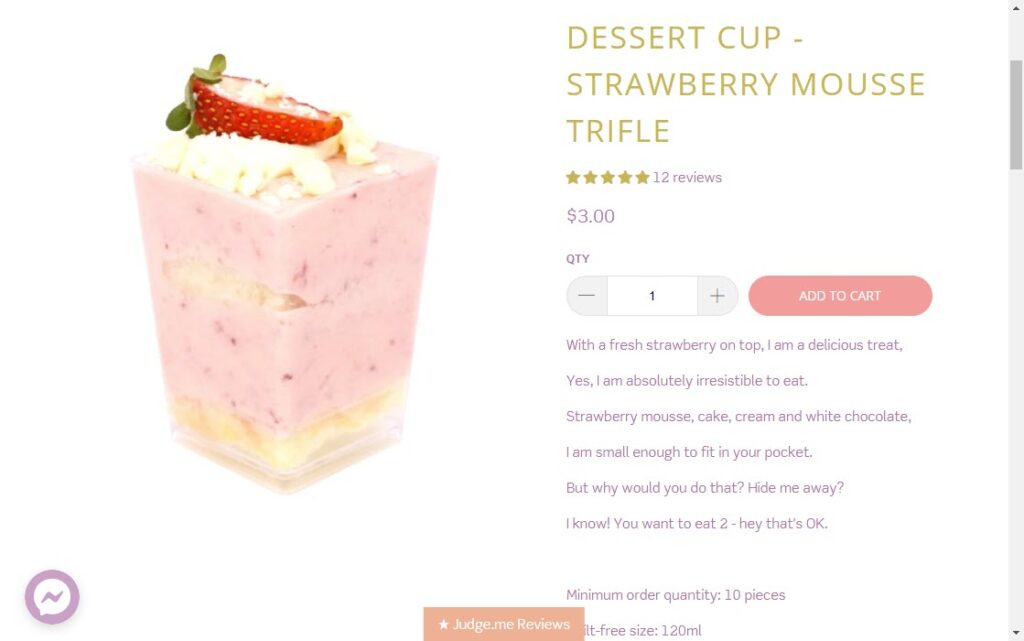 Why do you not get inspired by another poem while enjoying a beautiful mouthful of strawberry mousse trifle?
Conclusion
Mastering your creative product descriptions will need creativity & testing. That is why it is recommendable for you to refer to and test the descriptions of the goods mentioned above to help you better your format.
Thank you for reading our article, and please continue to follow Magezon in the future to receive more useful information.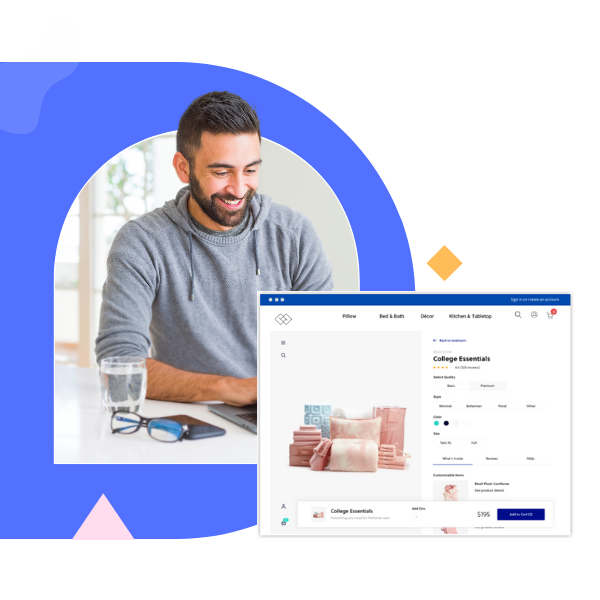 Try FREE Magezon Page Builder demo today
Easily create your engaging, interactive Magento pages in any style whenever you want without relying on developers or designers. Just by drag & drop.