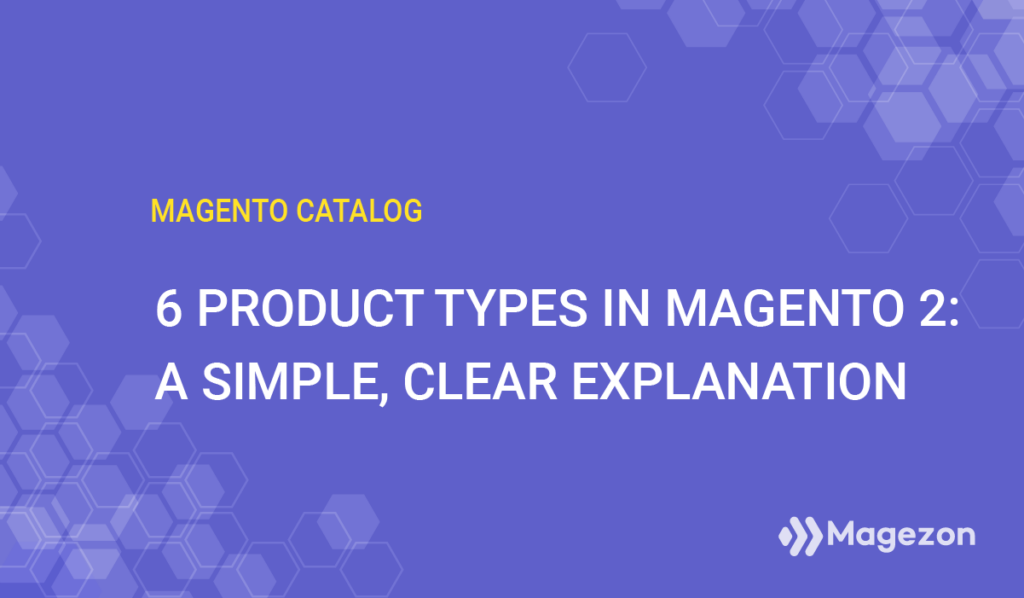 Magento 2 comes with six types of product for store owners to choose from:
Simple Product
Configurable Product
Bundle Product
Grouped Product
Virtual Product
Downloadable Product
Understanding what types of products you should apply for your catalog will help you build a comprehensive catalog and manage it easily. Also, it's an excellent way to bring your customers a better shopping experience. In this blog, we will give you a simple and clear explanation about these 6 Magento 2 product types.
Type 1: Magento 2 Simple Product
A simple product is a physical item that you can ship or present in your brick-and-mortar stores. This product has a single SKU (Stock Keeping Unit). Moreover, there are no options such as size, color for your customer to select. In short, your customers can only choose the options that you offer.
Let me give you an example of Magento 2 simple product – one of Magento 2 product types. Fusion Backpack is a simple product because your customers can not choose your desired colors, sizes, or materials. All they can decide is to select the quantity of that product.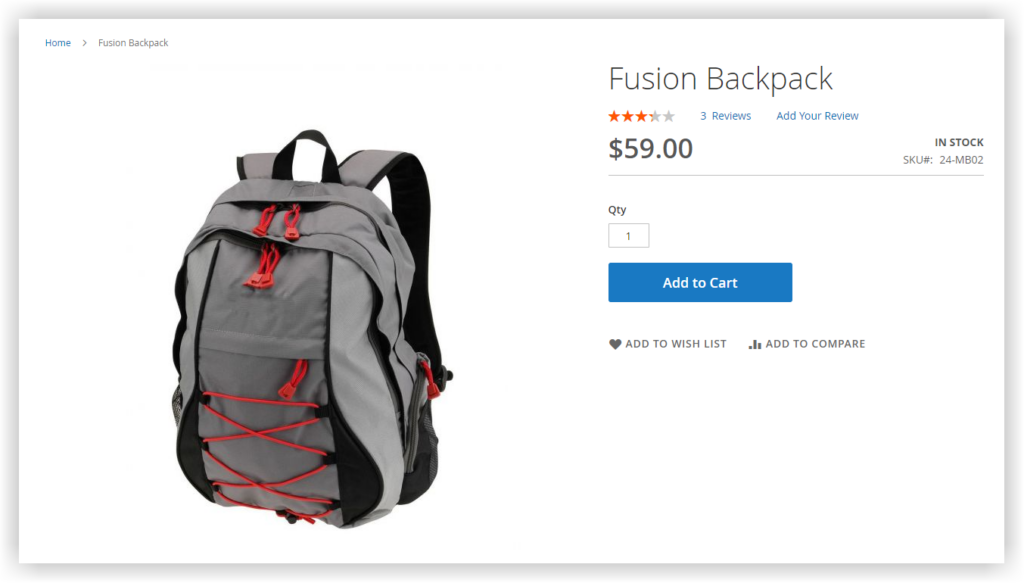 Type 2: Magento 2 Configurable Product
When you shop online, you must have purchased a product with many options to take, such as sizes, colors, materials. That product is called a configurable product. A configurable product is made up of multiple product variations. Each variation is a simple product with a single SKU.
Now, let's take a look at the following example. Gabrielle Micro Sleeve Top is available in:
Three colors: Blue, Green, Red
Three sizes: S, M, L
This case, Gabrielle Micro Sleeve Top, is a configurable product that is the collection of 12 following variations:
| | | |
| --- | --- | --- |
| Blue – S | Green – S | Red – S |
| Blue – M | Green – M | Red – M |
| Blue – L | Green – L | Red – L |
To be specific, the top size S color White is a variation and a simple product with its own SKU. Remember, although these variations all belong to Gabrielle Micro Sleeve Top, that doesn't mean they all have the same price. They may be at different prices. For example, the red top charges more than others because of its higher cost for tie-dye color.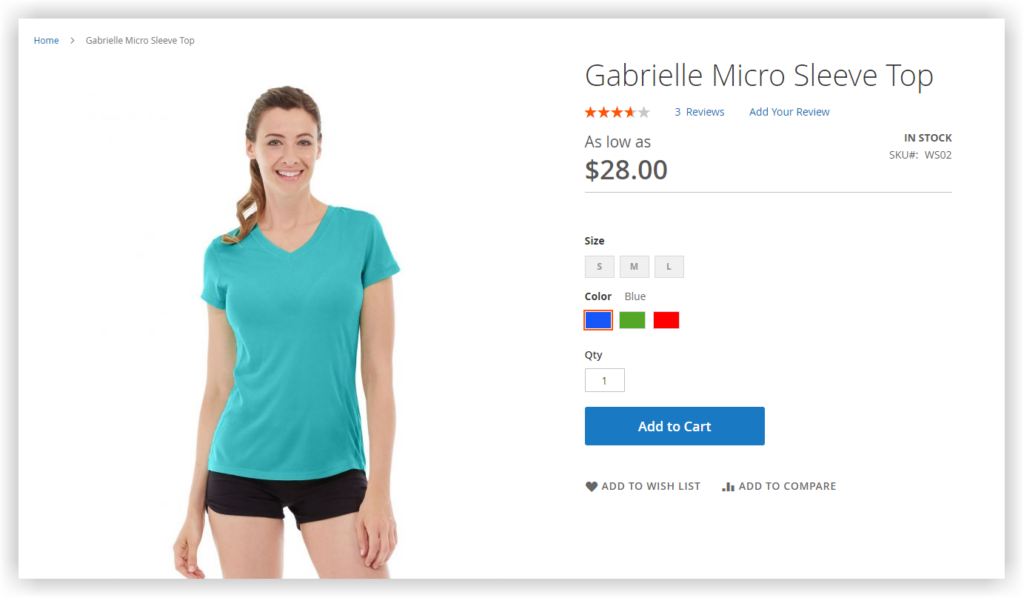 Besides, store owners like you are given the ability to manage the inventory by product variations instead of the total number of tops available. Specifically, you and your customers can know precisely whether Top size S color White or top size M color Blue is in stock.
This individual product is formed with other simple products. A question arises, why should you create a configurable product that covers all of them? The answer is simple.
First, if your website has a lot of duplicate content, it will negatively affect your rankings on Google and traffic for sure. Second, when your customers browse in your web store but have to wade through too many pages of similar products, they will get annoyed. This is not that good for their experience and of course your sales. So, an individual configurable product with all related simple products would be a much better choice.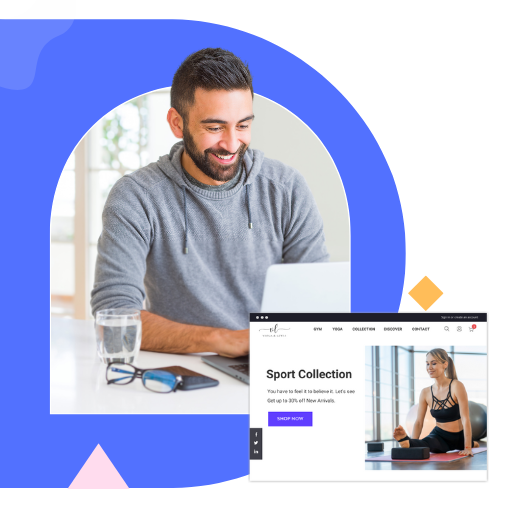 Optimize Your Magento Store With Powerful Extensions
Looking for fast, efficient and well-coded extensions to build or optimize your Magento stores for sales boosting? Then visit Magezon website and grab necessary add-ons for yours today!
Type 3: Magento 2 Grouped Product
Being one of product types in Magento 2, Magento Grouped Product is a combination of multiple single products that are presented on one page. These individual products are often related to each other and grouped by theme, season, or business purpose. Customers don't necessarily buy the whole set. They can purchase any item in their desired quantity. When they add these items to the shopping cart, each item with its quantity ordered is listed separately, not in a set.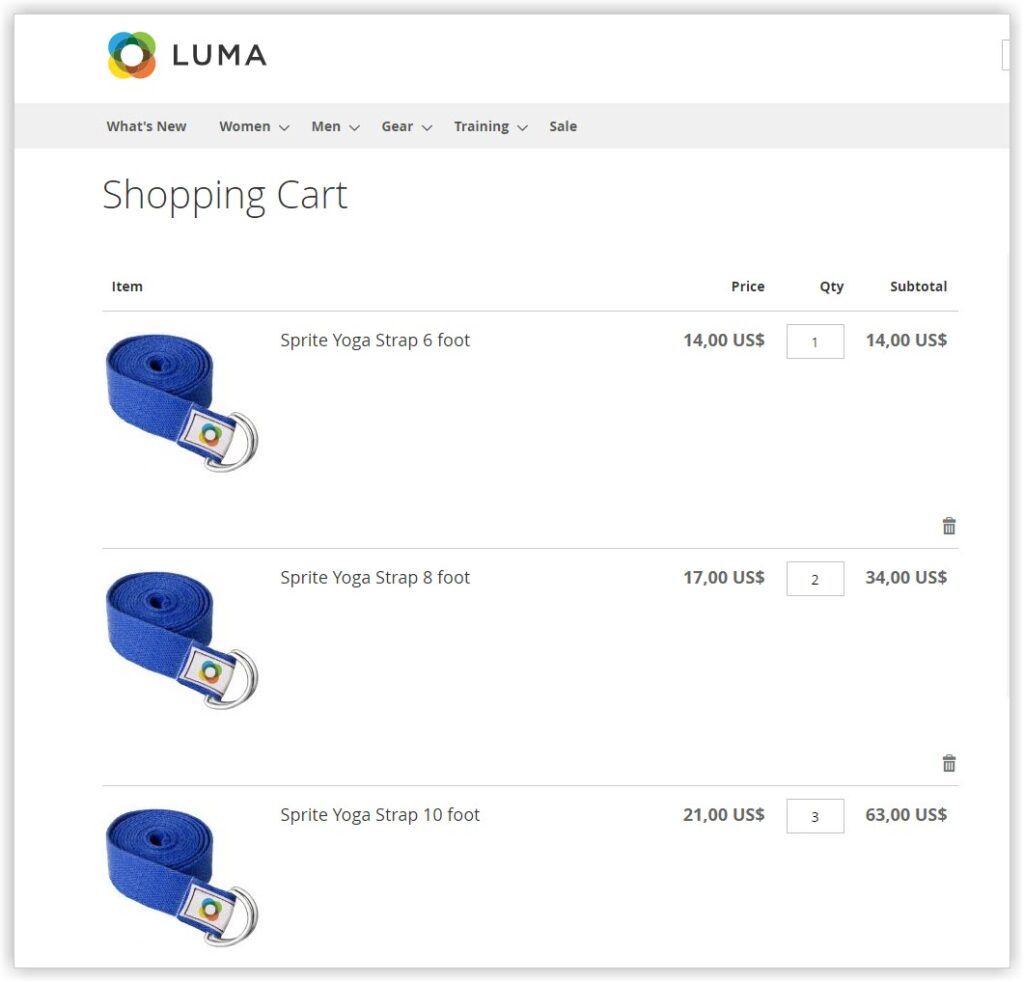 Thanks to it, store owners have more chances to advertise and sell other different products. Also, by giving them a special price on this product, online merchants will be more likely to get more sales. Besides, customers can buy all their needed products at once instead of visiting separate product detail pages for purchase. This helps improve customer satisfaction and make them keep coming back to your store.
Now, take a look at the grouped product Set of Sprite Yoga Traps: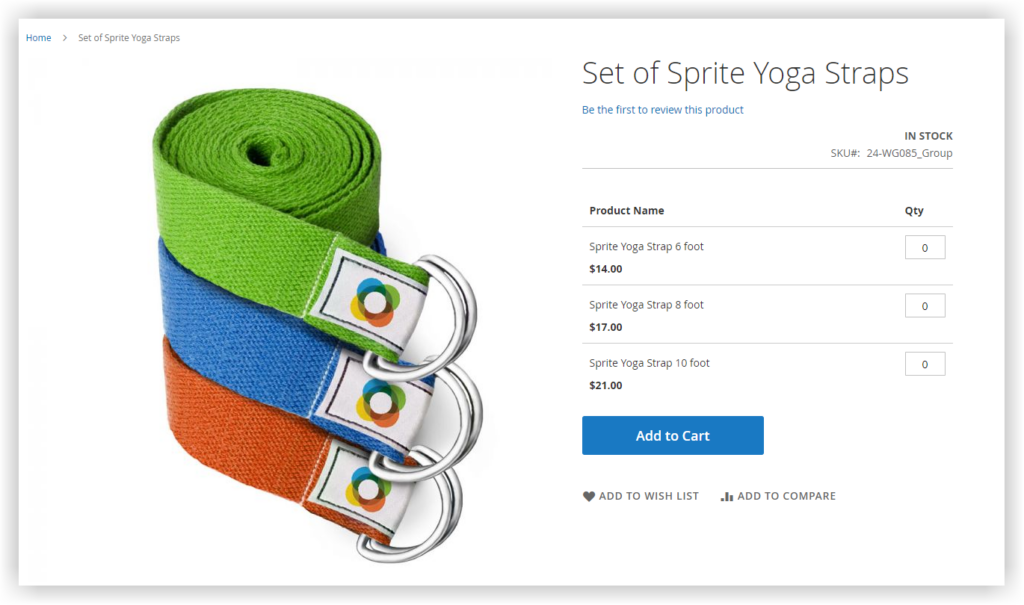 Remember, customers can buy their desired items from this set and enter their wished quantity.
Type 4: Magento 2 Bundle Product
A bundle product is made up of many other products. Each item in a bundle can be a simple product or a virtual product.
So, what difference between grouped products and bundle products? Grouped product only enables us to choose given items from the set and their quantity. Bundle products can do this too. But the thing is, this product type provides us with the ability to customize items by choosing options such as color, size, material, etc. Let's take a closer look at the product:
You can see, other product types have a button Add to cart in common, while bundle products have a different button named Customize and Add to Cart. This enables customers to customize the product using a list of options before adding to the cart.
Also, every item with different options may have a different price, so the price for the bundle product is not fixed on the product page. That's why these products' price is often set as Price Range (from minimum to maximum) os Low As (the lowest possible price).
To illustrate, click on the button Customize and Add to Cart and see what'll happen: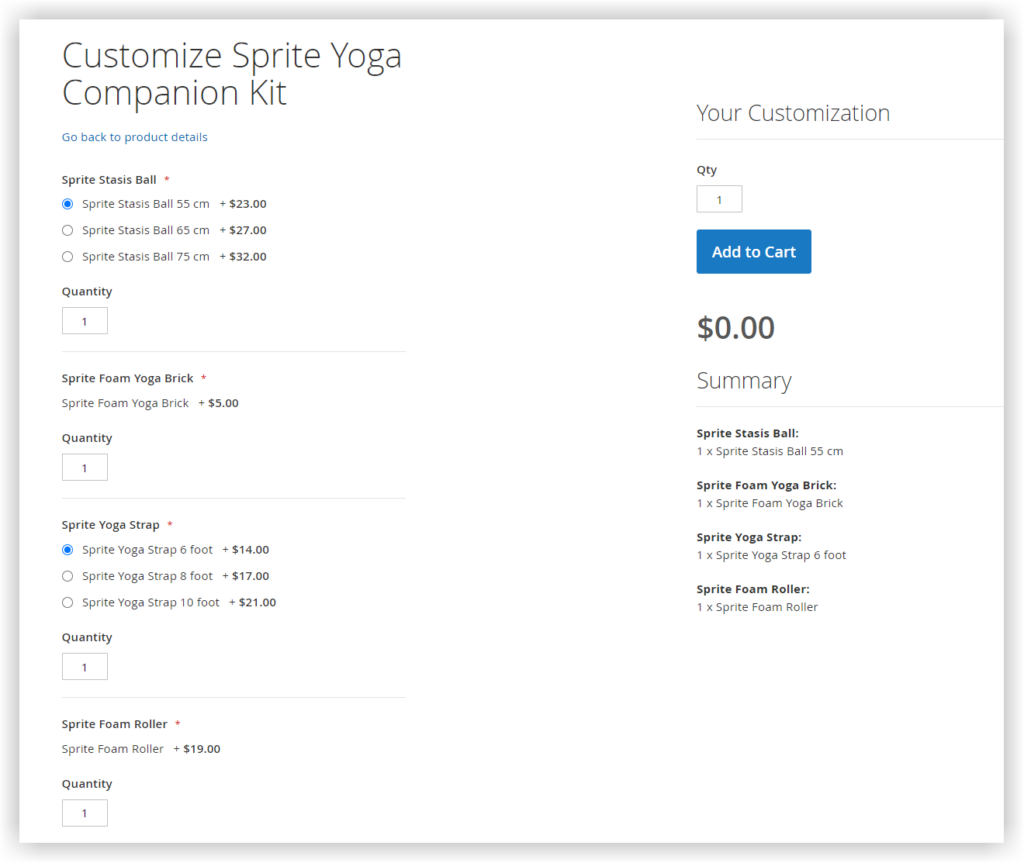 This bundled product Customize Spite Yoga Companion Kit appears with four individual items: Sprite Stasis Ball, Sprite Foam Yoga Brick, Sprite Yoga Strap, Sprite Foam Roller. Each item has several options for customers to select.
When customers a bundle product to the cart, all selected items will appear in a set.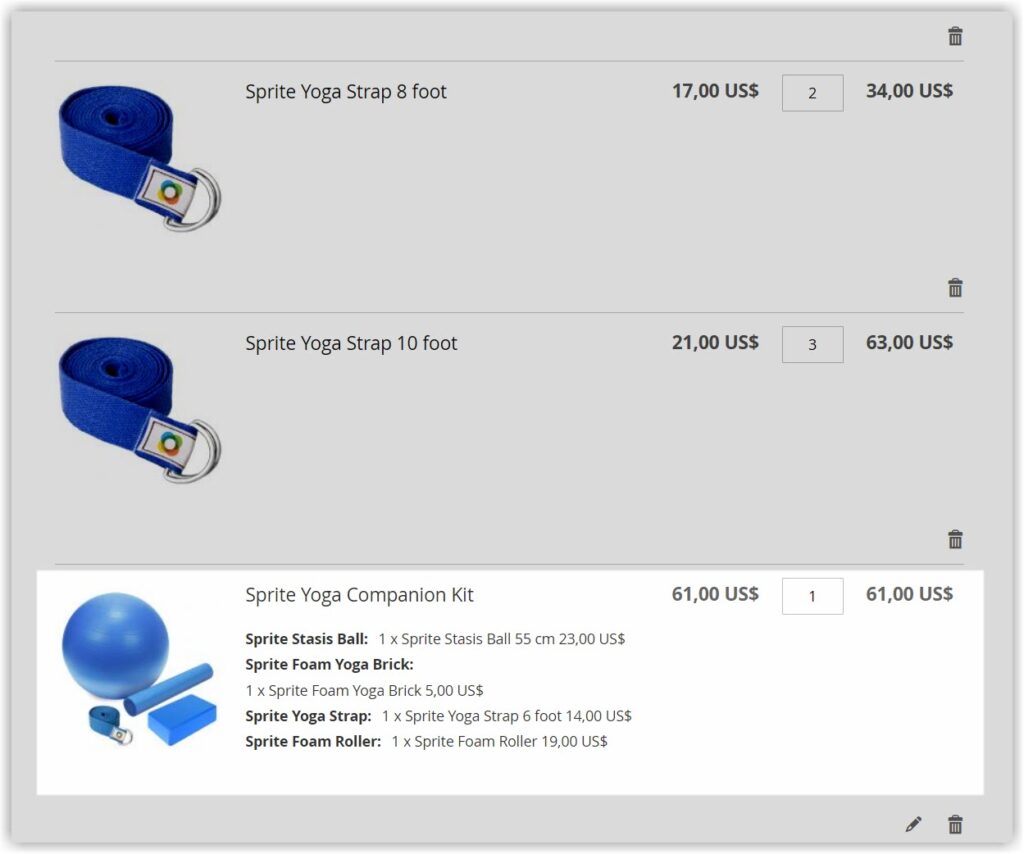 NOTE: Customers can choose the quantity for a bundle product.
Type 5: Magento 2 Downloadable Product
A downloadable product is an item that customers have to get that product via a download link. Some examples of downloadable products are audio, music, video, software applications, Magento extensions from Magezon. As usual, customers will be provided samples (an excerpt from an e-book) to make buying decisions. These products don't have weight, so store owners don't need to set the delivery method for them at the checkout form. Also, downloadable products have no stock attributes.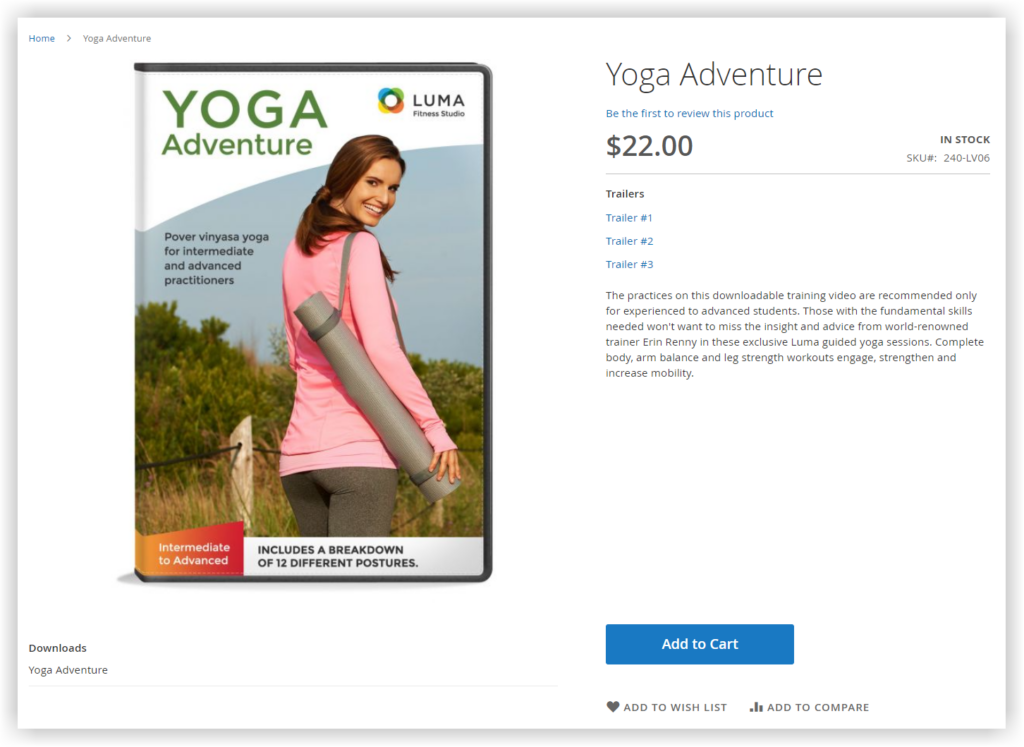 Type 6: Magento 2 Virtual Product
A virtual product is an intangible product. It's not a physical or downloadable product. These products have no weight so shipping options are not shown at checkout. I bet you must know it in real life such as memberships, warranties, and services.
For example, you offer a 1-year in-home beauty service, which is a virtual product. Or, we provide support service for our Magento 2 extensions. That's a virtual product. Remember, virtual products don't have In Stock attributes. So, you don't have to manage inventory like other product types. Besides, you can add them to grouped or bundle products.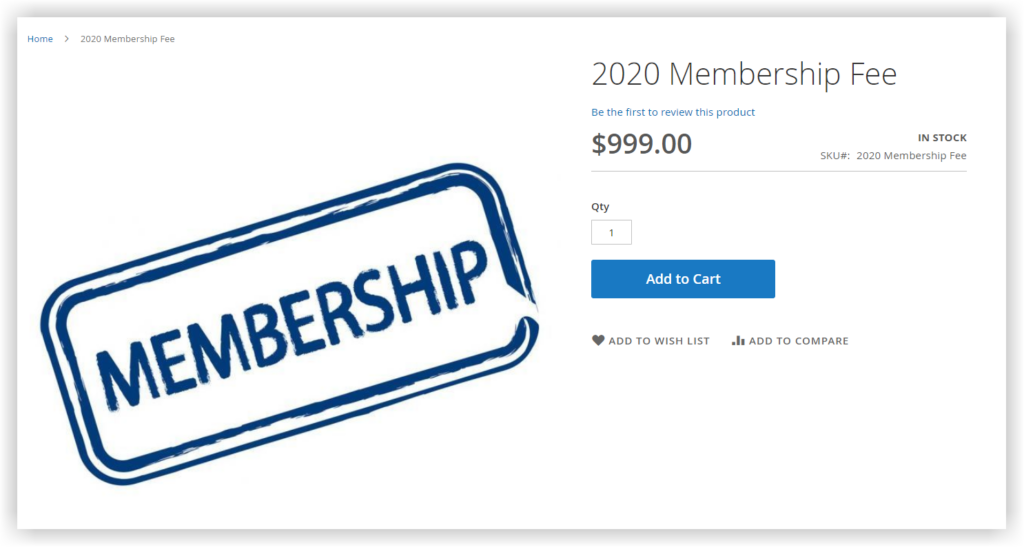 Wrap It up
We hope, this blog will take a good grasp of the 6 Magento product types explained to apply to your catalog to the fullest. If you have any questions or ideas about this topic, don't hesitate to leave comment down below. Learn more about Magento 2 at: Magento 2 Tutorial
Magezon has developed efficient and well-coded Magento 2 extensions that help you build robust web stores. Besides, all of them are affordable and friendly to both developers and website owners. Give it a try to see your sales.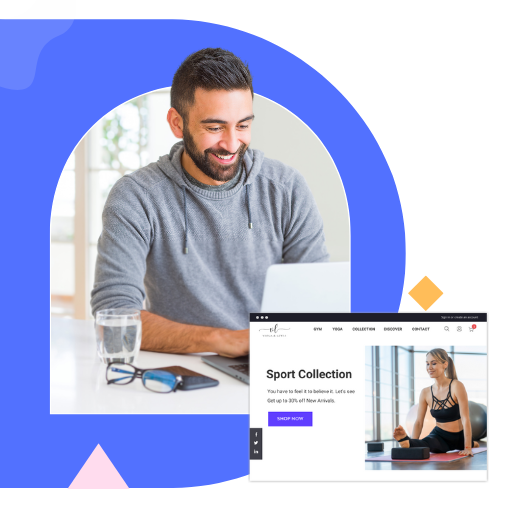 Optimize Your Magento Store With Powerful Extensions
Looking for fast, efficient and well-coded extensions to build or optimize your Magento stores for sales boosting? Then visit Magezon website and grab necessary add-ons for yours today!