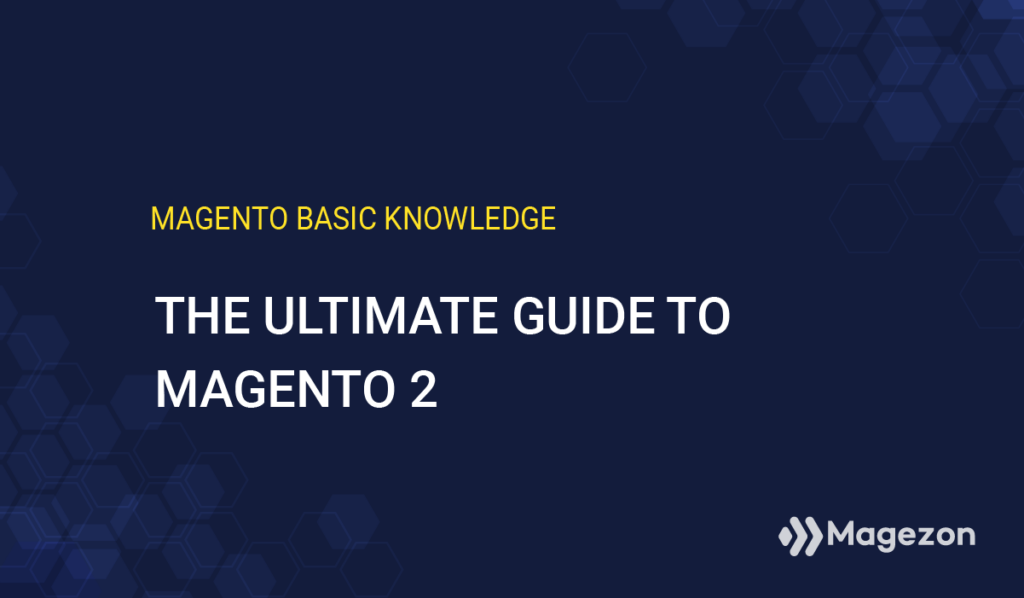 If you are landing here, you are looking for Magento 2 knowledge for sure. You've probably heard about Magento as a big eCommerce platform but still don't know well what it is, what features this software owns. Or, in case you are an online store owner, why you should choose it among other platforms to build your web store. This is exactly where you can find full answers to "What is Magento 2?" which is easy to understand for beginners. Great, isn't it? So why start right now?
One thing to note is, Magento has 2 versions: Magento 1 and Magento 2. However, this provider no longer supports Magento 1 since June 2020. In fact, all Magento products invalid are currently based on Magento 2. Therefore, this article is mainly focused on Magento 2.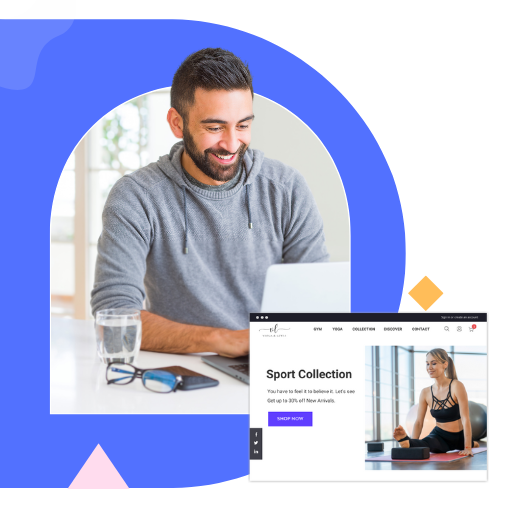 Optimize Your Magento Store With Powerful Extensions
Looking for fast, efficient and well-coded extensions to build or optimize your Magento stores for sales boosting? Then visit Magezon website and grab necessary add-ons for yours today!
1. What is Magento Software?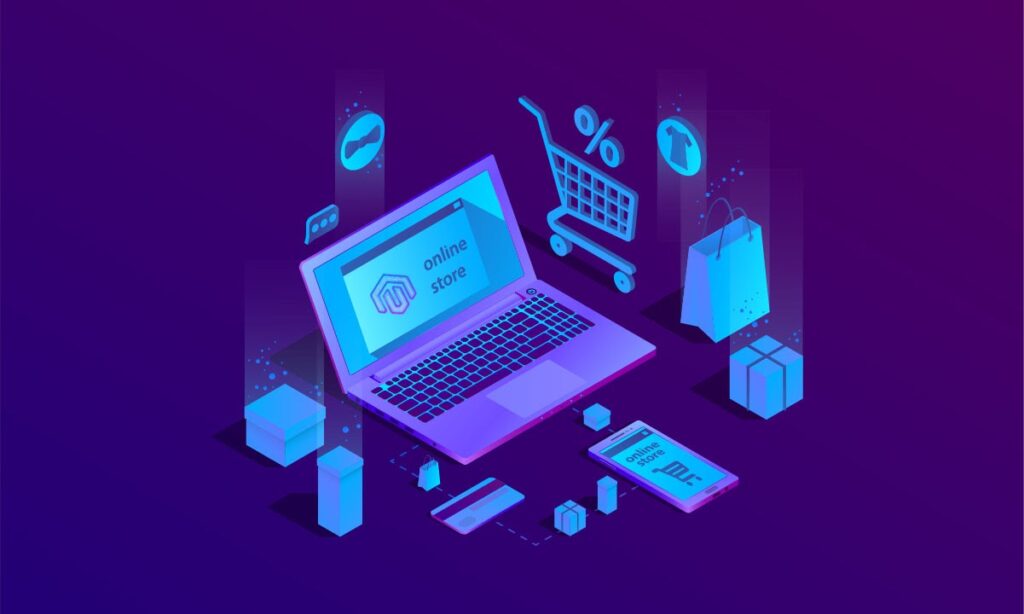 First introduced by US-based Varien, Inc in 2007, Magento is a popular eCommerce platform that helps online store owners build their websites. Due to being open-source, Magento users can freely modify, extend the source code or add third-party extensions to keep pace with their business demands.
Magento website fulfills most business requirements:
Gives you full control over the look and content of your website
Helps manage catalogs, inventory, customers, orders, and returns
Provides marketing and SEO tools to build a strong online presence for your store
Offers multiple shipping and payment methods
Others.
2. Magento 2 History & Revolution: 2007-2020

3. How Popular Is Magento?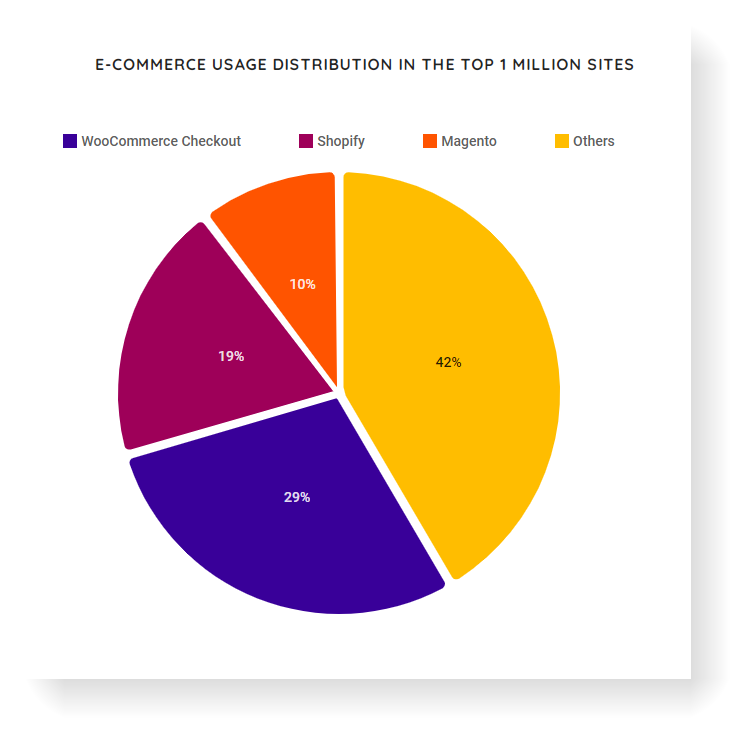 According to Builtwith, Magento is ranked the 3rd most popular among the top one million sites of all commerce platforms on the Internet. Specifically, 10 out of 100 top online stores chose Magento as their eCommerce platform. Its share maybe not that impressive, but it is enough to make it into the top 3 in the ranking. You can refer to Magento usage statistics conducted by Builtwith for more information.
Based on the statistics from Builtwith, developed countries tend to use Magento more than other countries. In particular, the US, UK, and Australia use Magento most.
Besides, many world-famous brands build their eCommerce websites on Magento: Nike, Coca-Cola, Canon, Asus, Christian Louboutin, Ford, HP, etc. As can be seen, Magento is preferred in the eCommerce world.
4. Magento 2 Editions: Community and Enterprise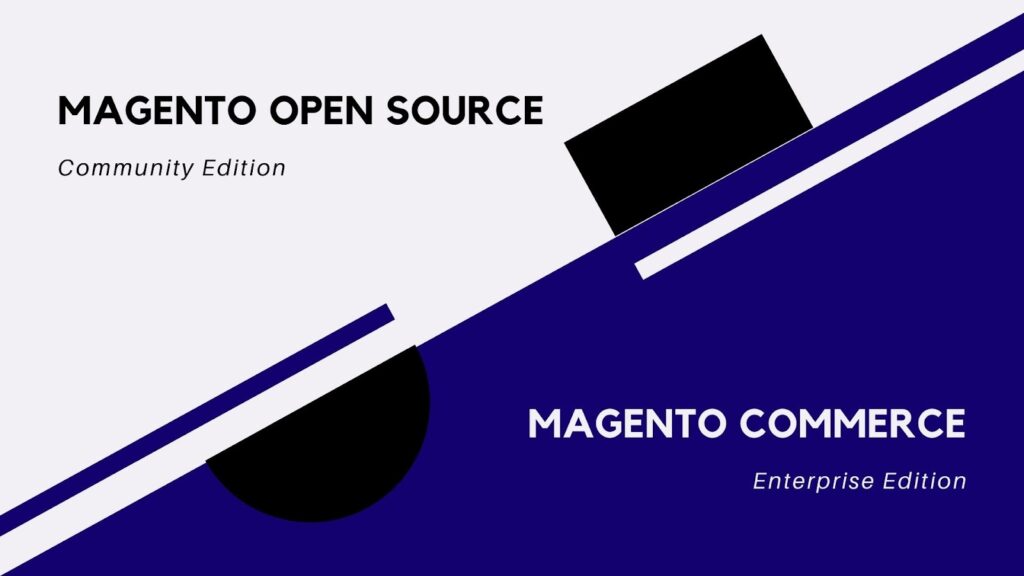 Magento has 2 distinct editions: Magento Open Source and Magento Commerce. Each product has its own pros and cons and fits each type of business. Let's find out!
4.1. Magento Open Source (Magento CE)
Magento Open Source (previously known as Magento Community Edition) is free to download and use. However, for this edition, Magento only provides you with the basic features and functionalities. If you want a robust eCommerce website, you need to equip your web store with more advanced features. Besides, you are responsible for some costs such as hosting service, domain, development, web design, third-party extensions, and maintaining websites.
The way out of it is, you can hire a programmer if you have a good budget. Otherwise, you should buy extensions or themes from third parties in the Marketplace. This helps cut down on time and effort to customize. Another way is that you can ask for help from the big Magento community. If you are from the ground up or own a small business, Magento Open Source is an optimal choice.
4.2. Magento Commerce (Magento EE)
Meanwhile, Magento Commerce, previously known as Magento Enterprise Edition (Magento EE for short), is a paid edition developed by a Magento development team you choose.
Users have to pay a high annual licensing fee which depends on their expected annual gross sales revenue (GSR). It's estimated at $22,000 for under $ 1,000,000 GSR and $125,000 for $25,000,000-$50,000,000 GSR. This pricing does not include other costs such as web servers, database, development (programming, design, integration), technical staff.
In return, your store will be equipped with out-of-box capabilities and received 24/7 support from the Magento team. With scalability and flexibility, Magento 2 Commerce can resolve huge workloads and complex business demands. This edition is much suitable for large firms which need to expand their businesses globally.
4.3. Other Magento 2 Products
Are all products Magento 2 provides? The answer is no. In fact, Magento has developed other products to increase functionalities of Magento 2 Commerce such as Magento Commerce Cloud, Magento Business Intelligence, Magento Order Management.
Magento Commerce Cloud: Magento team combines Magento Commerce and Cloud-based infrastructure hosting. That means this version owns all features of Magento 2 Commerce and enhanced Cloud hosting. Magento Cloud Edition offers merchants managed services infrastructure, high security, optimized performance, smooth integration with current frameworks, and scalable web storefronts.
Magento Business Intelligence: This product is a powerful analytics platform designed for businesses to use their data for their growth. This helps merge data from various resources such as your website database, Magento modules, and other third-party tools (Facebook Ads, Google AdWords, Quickbooks, and Salesforce). Thanks to it, merchants can gain valuable insight to build their development strategies effectively. There are 2 options for these products: Magento Business Intelligence Pro (a right choice for big firms) and Magento Business Intelligence Essentials (a good start for small businesses).
Being integrated with Magento Commerce, Magento Order Management is a flexible and affordable solution for managing, selling, and fulfilling inventory from any sales channel, online or in-store. Particularly, it seamlessly improves your inventory visibility so you can keep track of what inventory you have, where inventory is located, who your third-party logistics providers or retail partners are, etc., in any store at any time.
This not only helps reduce costs but also accelerates the time to market. Hence, it responds to the customer's demands in time. A smart solution to enhance your customer experience and loyalty.
5. Quick Look at Magento 2 Main Features
As mentioned earlier, Magento has multiple rich and robust features that help online merchants strengthen their eCommerce websites. This section will show you general features in Magento 2.
Let's start with Magento 2 feature list: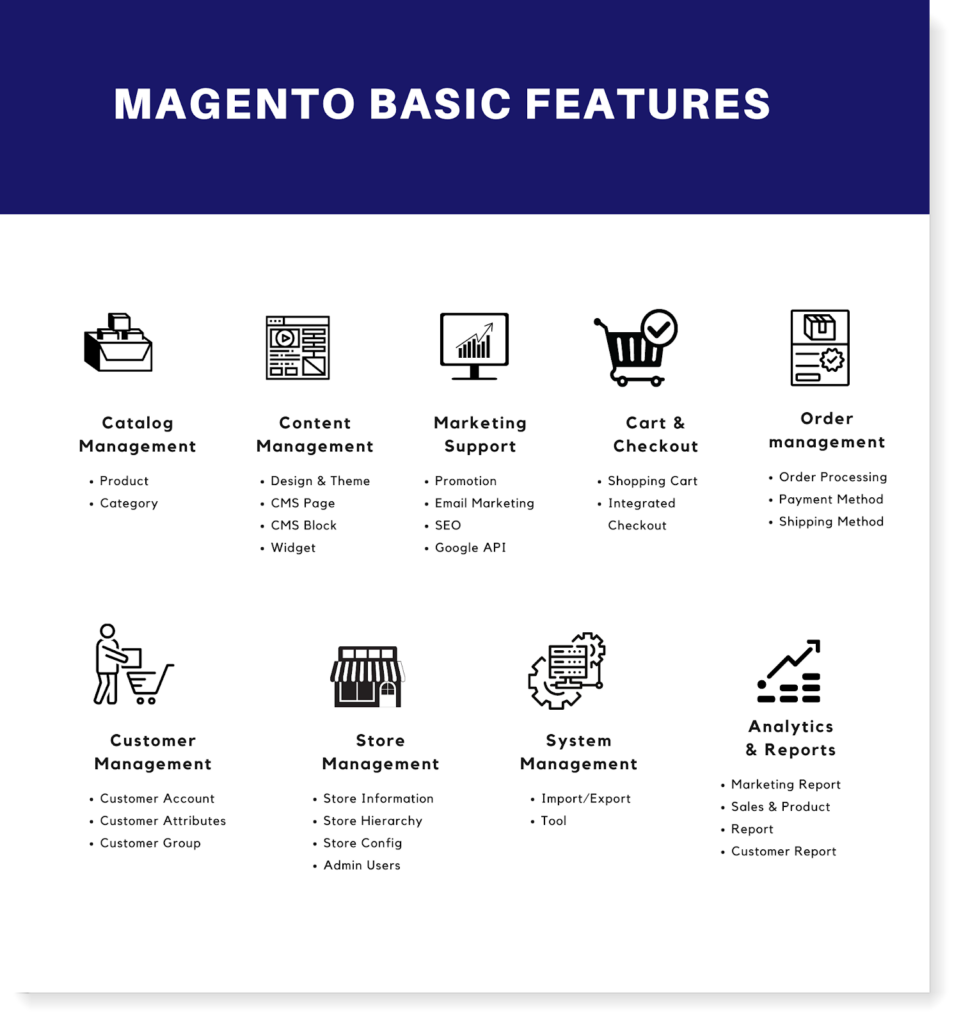 Read this blog about detailed features of Magento 2.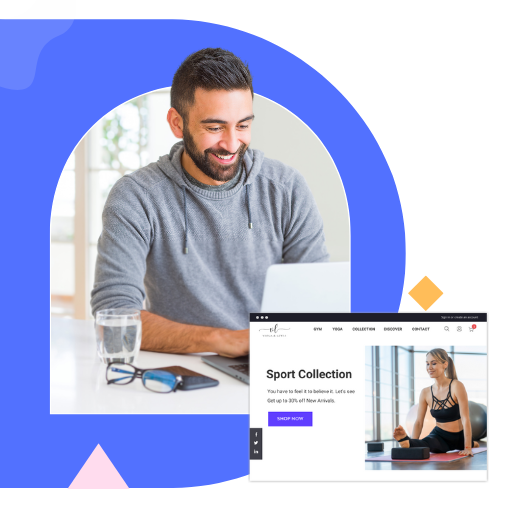 Optimize Your Magento Store With Powerful Extensions
Looking for fast, efficient and well-coded extensions to build or optimize your Magento stores for sales boosting? Then visit Magezon website and grab necessary add-ons for yours today!
6. Why Choose Magento for Your Online Business?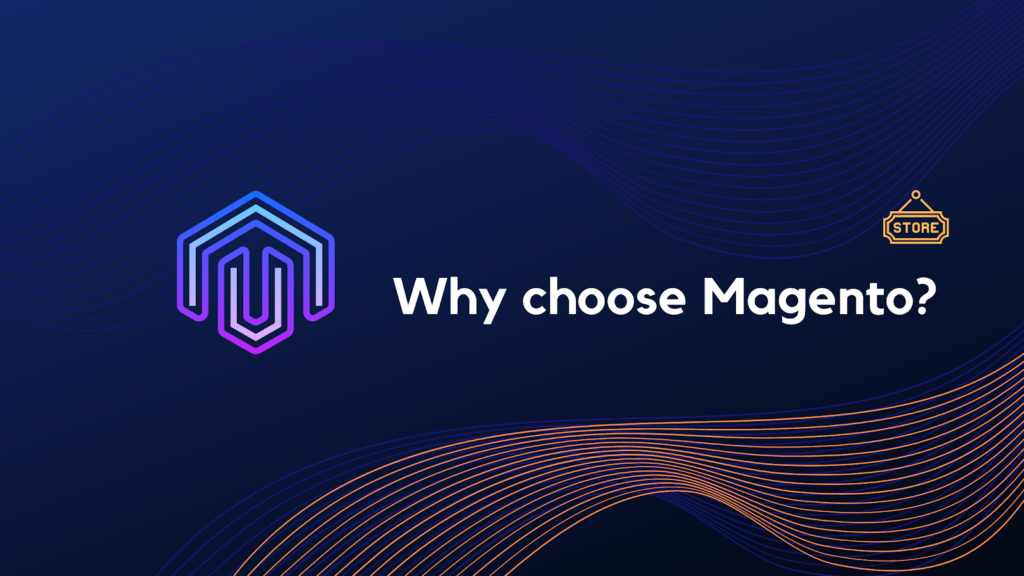 6.1. Open-source platform – Customizability and Flexibility
Being an open-source platform, Magento allows users to download and use it for free. More importantly, users can flexibly customize their websites to meet their business preferences. Compared to a closed-source platform like Shopify, you almost depend on what the provider has developed and offered. In case you require functionality to enhance your business, but your platform's provider does not have it, it is a big barrier to growth. In this case, Magento is the ideal option.
6.2. Highly scalability
Any business has a desire to grow and grow further. This requires a highly scalable website that can be adapted to meet increasing needs. For the big businesses that have continuously thrived, Magento is a powerful tool that can serve even more enormous numbers of users and a larger product catalog. How about small businesses? Well, they can make good use of this advantage by expanding your product lines: add more new items, create more categories to your product catalog.
Note:
Magento 2 Open Source safely manages 100,000 – 200,000 products in most cases, without much scaling and extra care. With proper scaling, optimization, and server resources, it can manage 400,000 – 500,000 products.
Magento 2 Commerce can manage even much more, depending on some highly advanced features.
However, you should check with your hosting support team whether they can allow such large hosting or not.
Another proof as experience from Abhinav Singh on Quora, a developer of high-end Magento websites, is: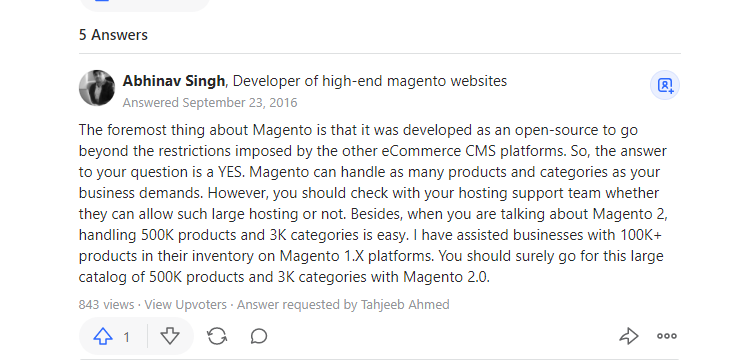 6.3. A big community with superior support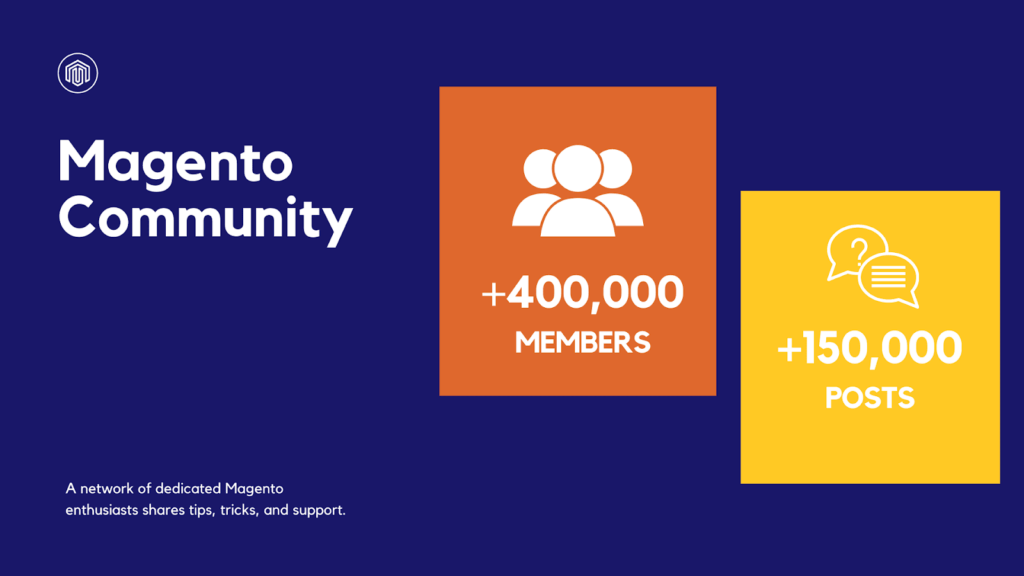 With some 450,000 forum members, Magento owns a big community over the world, including eCommerce developers, contributors, innovators, etc. Instead of hiring a developer with a high cost, online merchants can reach out to the community members who are willing to help if any issues arise. Also, the Magento community regularly updates the latest news related to its members.
6.4. Easy integration to third-party services
Magento platform makes it easier to integrate a large number of third-party tools to your site, such as Magento partner's extensions and plugins, payment gateways (Paypal, Braintree, COD, etc.), database applications, shipping, order tracking, or built-in Google tools (Google Analytics, GG checkout, etc.), or themes (Porto, Themeforest, etc.). Thanks to it, online merchants don't need to worry whether these tools work together with Magento. Besides, users can configure the integration to some third-party tool using a step-by-step Magento guide.
6.5. SEO-friendly Ecommerce Platform
An SEO-friendly website helps drive more traffic to your website. Magento owns amazing built-in SEO features that optimize your website. You can easily create SEO-friendly URLs, tags, descriptions with the right keywords. The Search Terms section in Marketing provides you with the most searched terms and search terms reports. One thing to bear in mind, Magento website can integrate with a large number of third-parties, including SEO extensions. This advantage helps improve your Google rankings.
6.6. Support Multiple stores, languages, and currencies
As mentioned above, many world's well-known online retailers base their website on Magento because Magento supports multiple stores and languages. After installing Magento, they can run multiple stores on the same platform. Besides, Magento supports multiple common languages and accepts multiple currencies on its websites. This feature allows large brands to serve online shoppers worldwide.
For those who have planned to expand their operation, Magento is the way for businesses to reach the larger target markets and ensure to bring the best experience for their customers across the globe.
6.7. Multiple advanced extensions
To upgrade your store, you can easily buy extensions from the Magento marketplace at a reasonable price or even free of charge. There are over free and paid 3500 extensions, plugins, and themes developed by providers and partners. These tools can help you in any aspect of your business such as Marketing, Customer, Shipping and Payment, Checkout or Order Management, Report, and Analysis. So, now just take a tour around the Marketplace; you will get the desired extensions for sure. Furthermore, there is also plenty of global Magento extension and theme providers.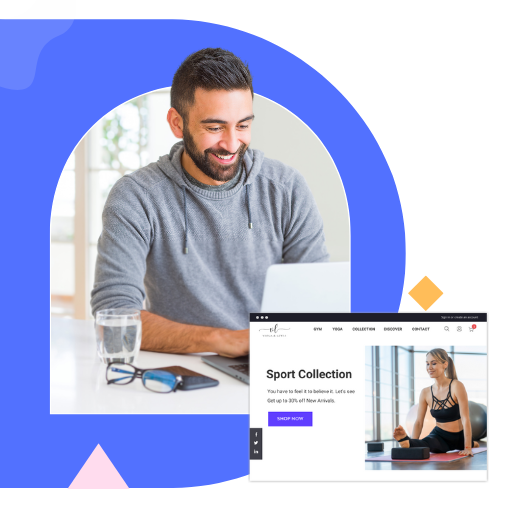 Optimize Your Magento Store With Powerful Extensions
Looking for fast, efficient and well-coded extensions to build or optimize your Magento stores for sales boosting? Then visit Magezon website and grab necessary add-ons for yours today!
6.8. Multi-responsive website on any devices
Nowadays, most people have a mobile or tablet in hand. Instead of browsing the Internet on a computer or laptop, users turn towards smartphones and tablets to surf websites and shop. Realizing this, Magento has quickly provided online store owners with a multi-responsive platform that caters to these user preferences. Specifically, this platform supports HTML5 and CSS3 to adjust the image size on any device and supports videos. Hence, shoppers using different devices can have the same smooth and convenient experience. No display issues. No purchase issues. And fast loading. Besides, a responsive website saves the owner's time, money, and effort instead of managing different themes for different devices. How great!
6.9. High Website Performance
Users always expect to browse a high-speed website that has fast web pages. If your website takes so long to wait, they will leave your site soon, and people call it bounce rate. This not only negatively affects conversion but also GG rankings. More importantly, this does not bring a smooth, seamless customer experience, and hence, they hardly return to your website in the future. So, you need a website with high-speed performance. Magento is outstanding among other eCommerce platforms when it comes to its site performance. According to a study conducted by Adheadwork, Magento is the runner-up in the loading time competition of other popular platforms: WooCommerce, Shopify, PrestaShop. And Magento is not far behind the winner Shopify. This platform even overshines Shopify when it comes to loading pages on mobile devices.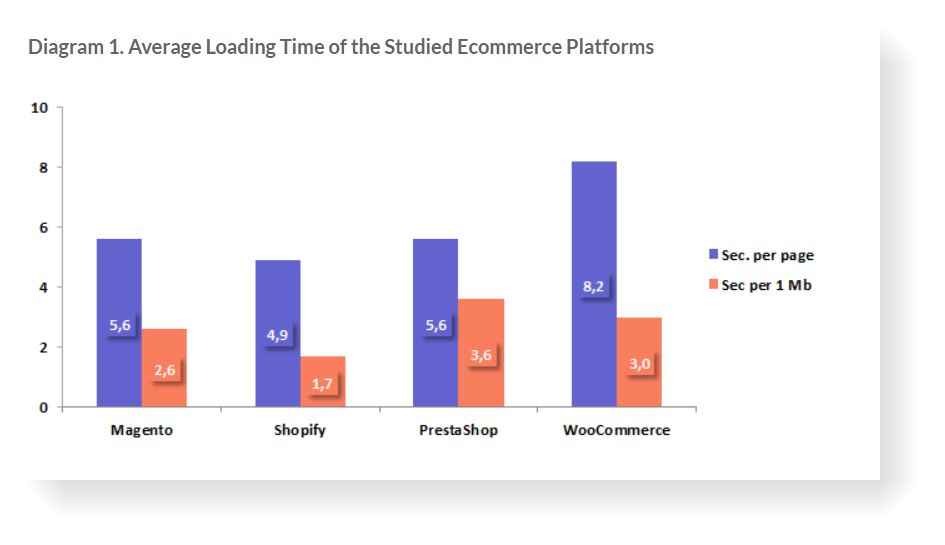 6.10. Regularly upgrade the version
When you run an online store, it is unavoidable to meet new bugs. If you don't upgrade your store in time, it will more likely slow down your website or open the chances for hackers to access your system. So, owning a platform upgraded regularly and easily is necessary. Magento allows users of both editions to easily and constantly upgrade their websites. Each updated version fixes bugs and errors discovered in the previous version. On the other hand, the new release also provides more advanced features to enhance both owners' and customers' experiences. Thanks to it, owners save time and effort to work with the system. At the same time, customers enjoy a smooth and seamless experience, which helps boost your sales. As a result, they will be back to your eCommerce store and shop more.
Note: From 2007 to 2020, Magento has launched multiple versions developed from Magento 1 and Magento 2. The current Magento version is Magento 2.4.1. Check Magento 2 Release Notes (for both Magento 2 editions) to get the latest version for your website.
7. Challenges while building an e-commerce website on Magento
7.1. Quite hard for beginners
When choosing any platform, you must consider the ease of use and installation. When installing and configuring Magento, you also need to know a little coding knowledge and terms. Besides, if you are tech blind, it might be hard to make any complex customization in your website—however, there is no need to worry about it because there are many ways out of those situations. Just find a developer who can resolve your store issues and enhance its performance. Or, if your budget is limited, ask members in the Magento forum, where so many experts are waiting to help you. Besides, Marketplace is ideal for you to find tons of ready-made solutions such as extensions, plugins, or themes.
7.2. An enormous investment for Magento Commerce
Magento Community is free of charge, so it's a perfect fit for start-ups and small businesses. However, this version can't properly meet the scalability demand among SEM and large firms. This case, these businesses' owners should migrate to Magento Commerce, of which cost per year is really high, $22,000 for under $ 1,000,000 GSR and $125,000 for $25,000,000-$50,000,000 GSR as mentioned above. It can't be denied it is a huge amount of money for investment, but it goes along with multiple huge advantages that businesses using Magento Community don't have.
7.3. Take care of other costs for Magento Community
Everything has its price. Indeed. For the free version of Magento Open Source, you have to take care of many things. This means you will take more time and effort to search, research, select and learn how-to. But the good thing is, you have the full right to choose the best service providers (hosting, for example, the high-quality service at an affordable price) for your online business.
8. Where can you get reliable Magento sources?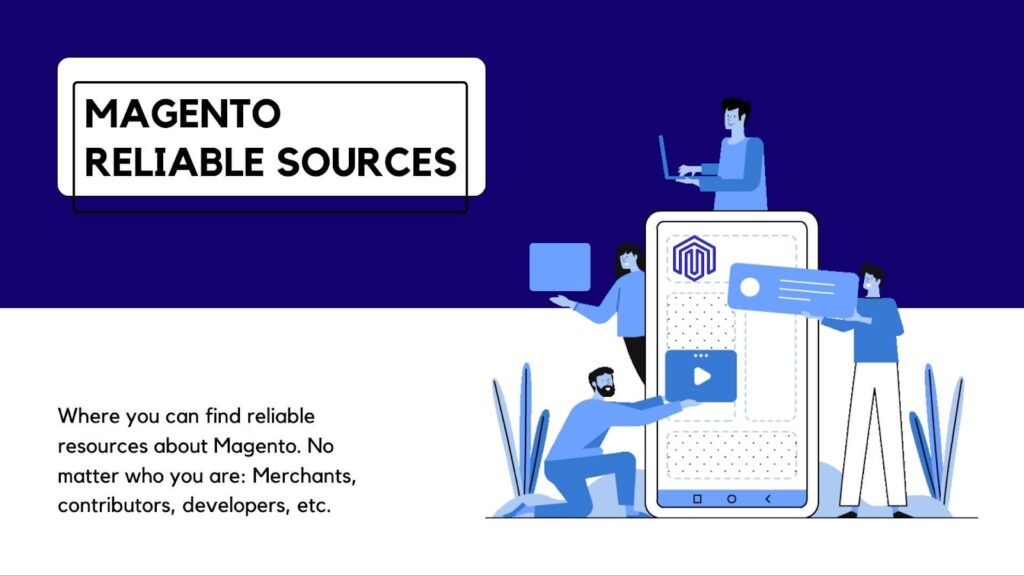 You can not find more reliable knowledge and tools about Magento anywhere than Magento itself. Below are 4 main channels that you can make full use of.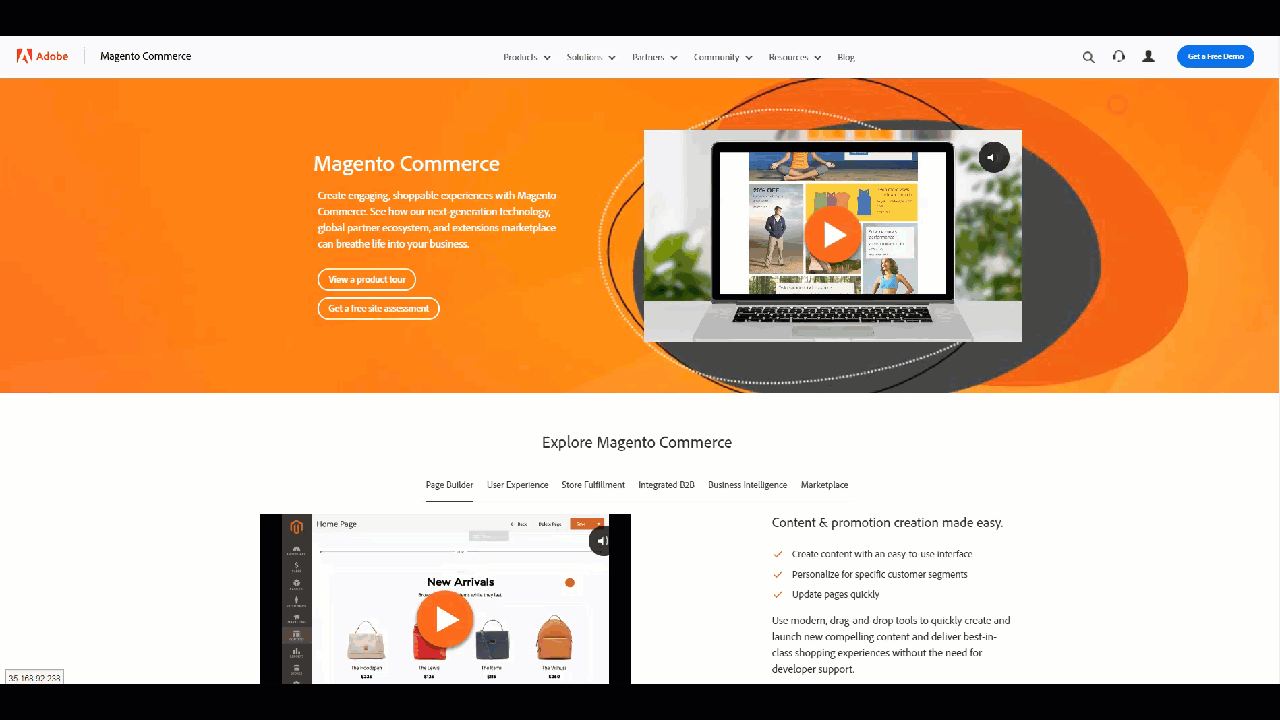 This channel is a must-visit place for online store owners to get reliable and detailed information around Magento. There are many products to choose from: Magento Open Source and a bunch of Magento Ecommerce products such as Magento Commerce, Magento Cloud, Magento Business Intelligence, etc., along with solutions for small and large businesses, for B2C and B2B, needs or for different industries.
If you want to gain more knowledge about Magento-related Ecommerce, Resource Library is home to tons of resources available in many different forms: PDF ebook, infographic, video, webinars, etc. To be able to download, you need to fill in the form with your information. It will take a little while, but it's worth it.
Or, if you need to find out what brands have gained success due to Magento and learn how they did, you should take a tour of Customer Success Stories. Magento Blog is a good source for you to keep updated with the best practices, events, and news about Magento.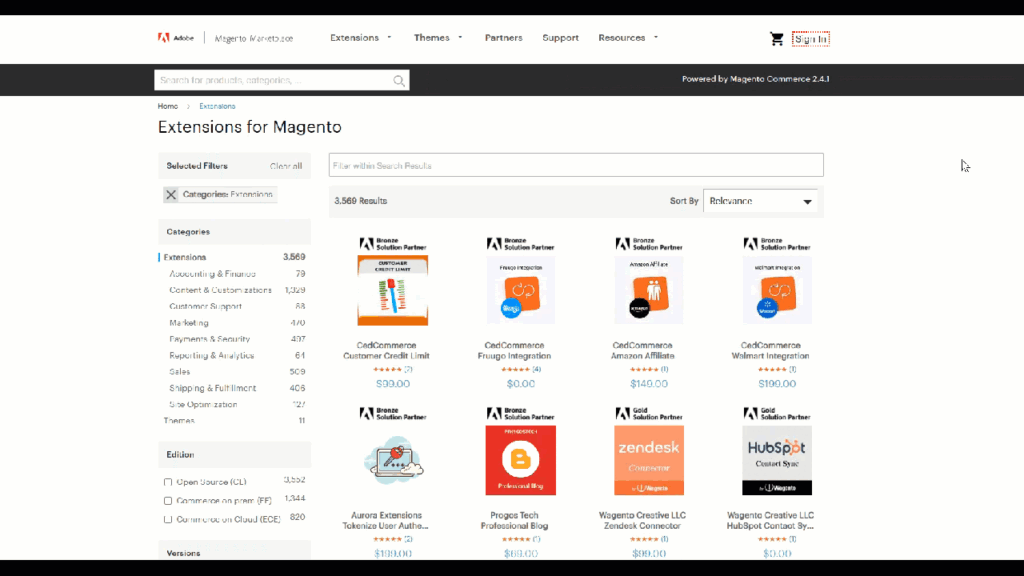 As the official store of Magento, Marketplace owns more than 3500 verified extensions and themes offered by Magento partners. In fact, no other site has as many extensions as Marketplace. This is where online merchants can pick up well-coded modules that help optimize their Magento store. These extensions are classified into 9 categories that are also the sections in the Admin sidebar of a Magento store:
Accounting & Finance
Content & Customizations
Marketing
Customer Support
Payments & Security
Reporting & Analytics
Sales
Marketing
Shipping & Fulfillment
Site Optimization
You can quickly find your wanted extensions by filtering the options such as Editions, Versions, Price, Partner Types, and Ratings. More importantly, you can completely trust extensions from the Magento store due to their thorough vetting process. Read this article "How to choose Magento 2 best extension for e-commerce" for your right choice for your Magento 2 store.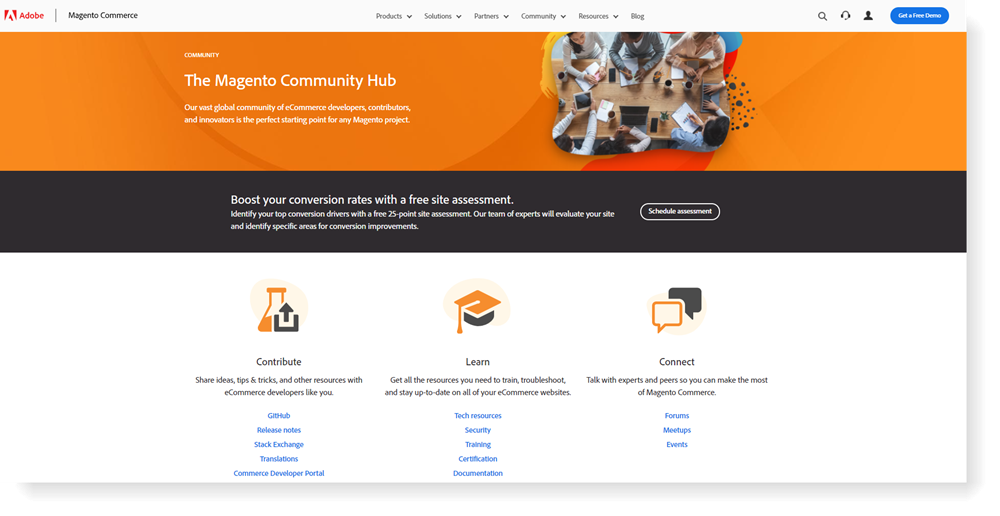 Magento Community is a Magento forum that gathers a huge community worldwide, including eCommerce developers, contributors, and innovators. This channel is much better suited for developers and tech-savvy merchants.
Developers can share ideas, tips, supports, and other useful resources with other fellows. Any questions or issues arising during their work are welcomed in the Stack Exchange category. Besides, this is where to get resources for training, troubleshooting, and staying up-to-date with eCommerce websites. Another great thing is, Magento offers multiple jobs for developers. Visit Stackoverflow to find your opportunity.
Online store owners with no coding knowledge can take advantage of this forum to seek suitable projects for their store improvement.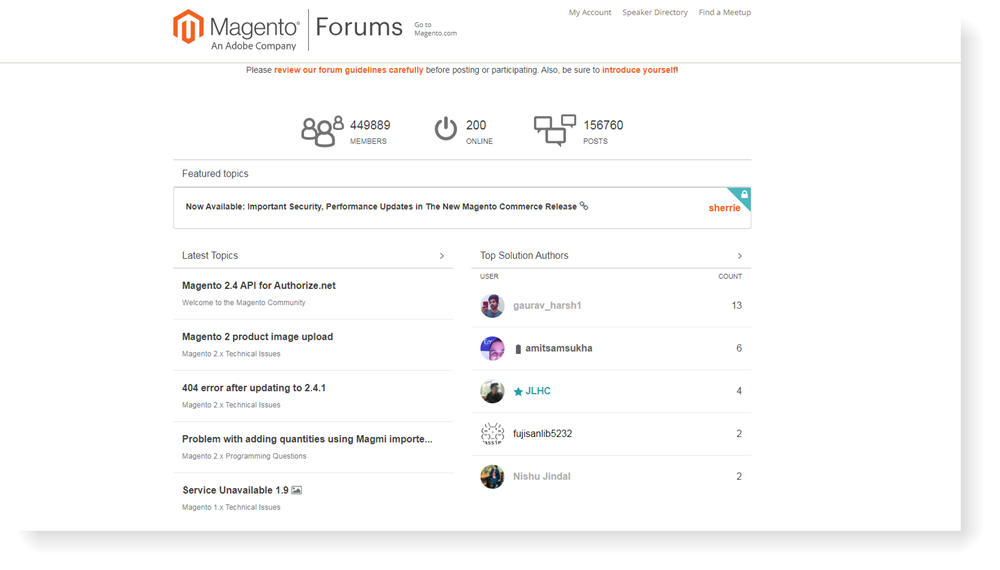 As mentioned above, Magento Stack Exchange is for developers who get stuck while developing their projects. Meanwhile, Magento Forum is for all: online merchants (tech-savvy or not), developers, and contributors. If you have any questions, just ask. However, you should first check whether the question has already been answered. And don't forget to read their regulations to avoid violations. One worth-noted thing is, this is a good place where you can sell yourself. So, you should show your work and experiences in Magento by submitting your brief introduction about yourself.
Sum up
To wrap up, the main aim of this blog is to help you all get to know more about "What is Magento software?" and its advantages as well as disadvantages, some reliant Magento 2 sources. So, you then know whether it is the right platform to build your store. Have any information provided? Do let us know!
Learn more about Magento 2 at Magento 2 Tutorials.
————————————————–
Magezon is an official Adobe Innovate Exchange Partner, as well as, one of the leading Magento 2 extension providers in Vietnam. we have developed efficient and well-coded Magento 2 extensions that help you build robust web stores. Besides, all of them are affordable and user-friendly to both developers and website owners. Visit our website to pick up ones for your Magento stores.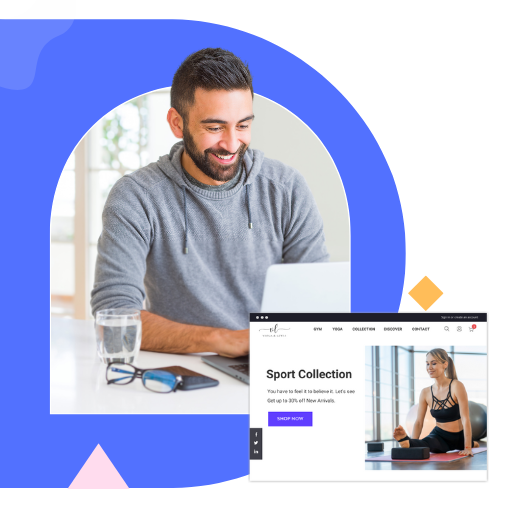 Optimize Your Magento Store With Powerful Extensions
Looking for fast, efficient and well-coded extensions to build or optimize your Magento stores for sales boosting? Then visit Magezon website and grab necessary add-ons for yours today!