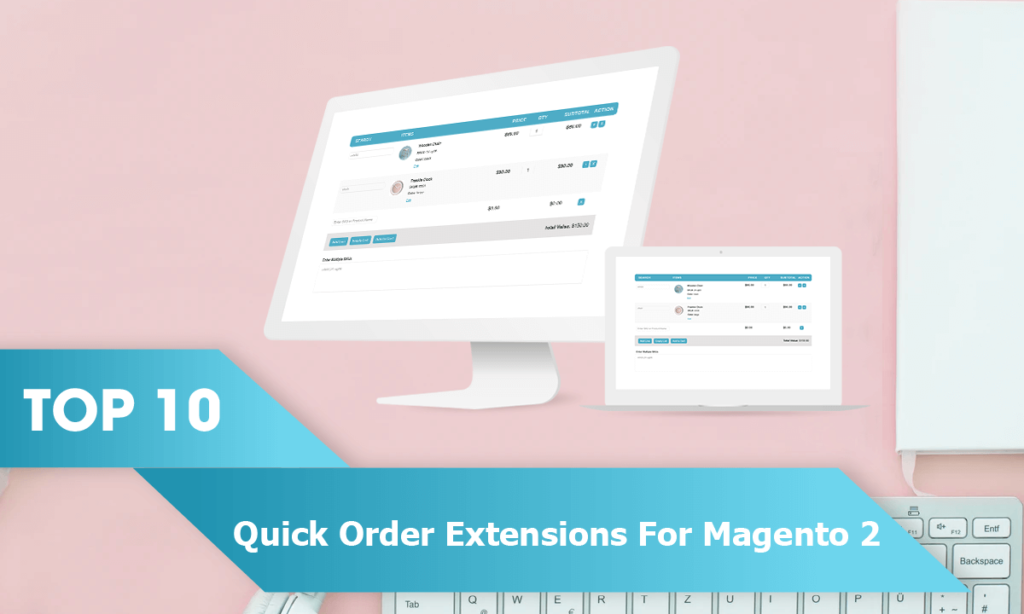 Are you busy with managing your wholesales business? Take your mind off. Magezon offers you a list of 10 Quick Order extensions for Magento 2 that make your work easier than ever. Let's see the difference between all these products and what the best one is for you?
What is Magento 2 Quick Order Extension?
Ordering and checkout are the most important parts of wholesale business. However, not everyone knows how to boost their business and custom the product pages. That's why Quick order extension was built to support customers order products in bulk very quickly, also increasing business. Below are the 10 options of Magento 2 Quick order extensions for you.
Top 10 Magento 2 Quick Order Extensions
1. Quick Order Extension by Magezon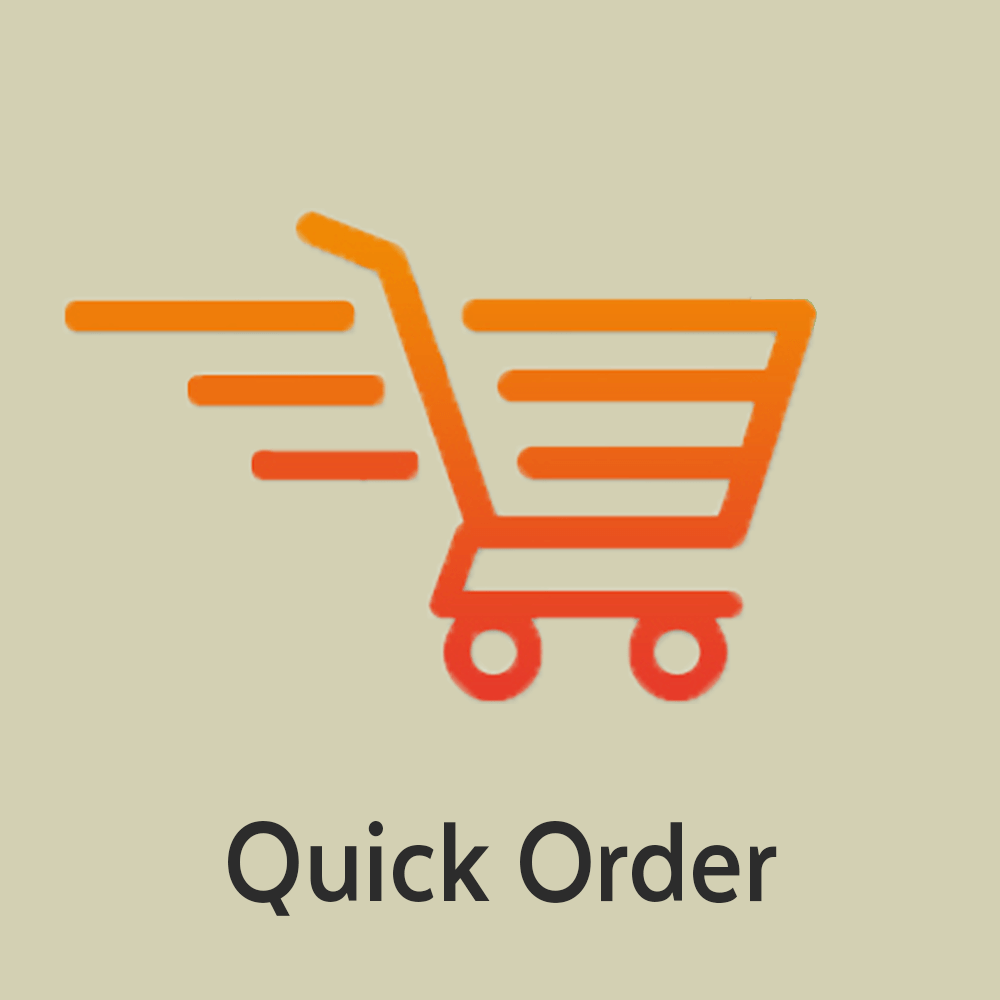 Price: $149.00
Compatible: CE, EE 2.1.x- 2.3.x
Magento 2 Quick Order Extension by Magezon allows customers to order products directly on the web sale page without navigating to another page. It's extremely easy to use and no time consuming anymore. Therefore, searching time is reduced and your business can be boosted dramatically.
Key features
Fast search and autocomplete technique ensure speed and efficiency
Order products directly on interface instead of navigating to other pages
Enter Multiple SKUs and manage quantity at the identical time
Use the fast CSV import function for all sort of products
Compatible with all Magento product types
Temporary product list
Fully Responsive
Highly Customizable Design
Display Quick order for specific customer groups
Save user previous actions as history
Detailed Documentation & Video Tutorials
2. Quick Order Extension by Mageplaza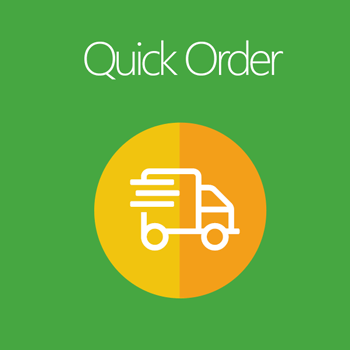 Price: $199.00
Compatible: CE, EE 2.2.x, 2.3.x
Magento 2 Quick Order extension by Mageplaza supports customers in putting a bulk order quickly with only several clicks. This helps wholesalers prevent abandonment due to the easy right selection on a single page and boost sales.
Key features
Instant Search box for Products
Bulk purchasing in Several Clicks
Optimize Quick Order Page
Highly Customizable Design
Custom URL & Page title
Fast order link position
Quick order for groups
3. Quick order by Land of coder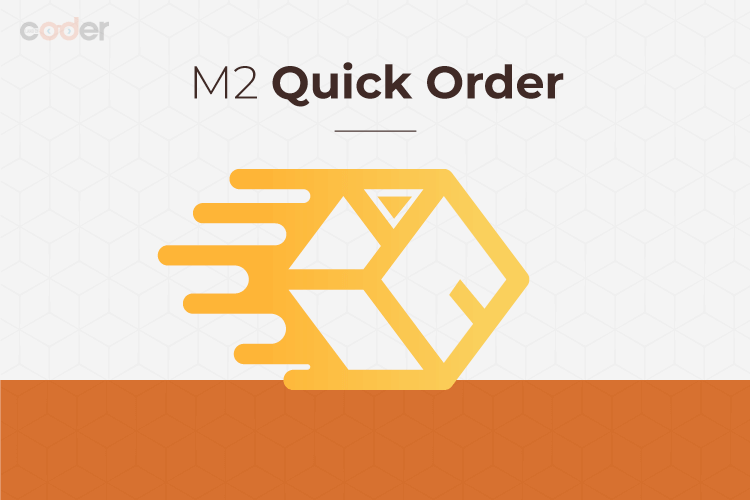 Price: $199.00
Compatible: Magento 2.3.0- Magento 2.3.x
Quick order by Land of Coder makes customers reduce searching time and increase purchase efficiency by inserting SKUs, product names, or CSV file rather than browsing all those web store pages.
Key features
AJAX, elasticsearch & Bulk Order easily
Search products by names or SKUs very quick
Bulk order by CSV
Quick order field to enter multiple SKUs
Quick order all Magento 2 product types
Support simple products with custom options, bundle product
Live update in quantity, price, subtotal without loading
3 minutes order making
4. Quick Order by Magetop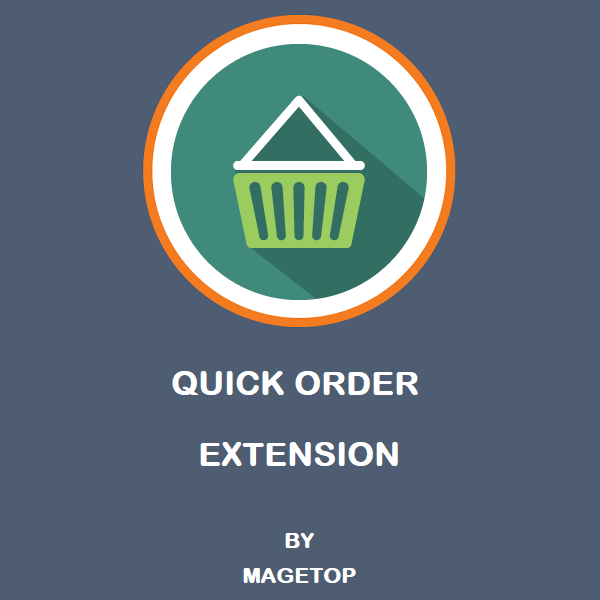 Price: $69.00
Compatible: CE, EE 2.0.x, 2.1.x, 2.2.x, 2.3.x
Magento 2 Quick Order Extension by Magetop allows customers to order products in bulk quickly without navigating the product sites. Simply enter the SKU, product name, quantity to add to cart and one thing special is import products to cart with a CSV file.
Key features
Purchase products from a single page.
Search products by SKU or Name.
Update the product quantity on the quick order page
Add multiple different products to quick order.
Present subtotal value and total order value on the quick order page.
Add items to cart directly or via CSV files.
Highly-customizable design to match the store's theme.
Few-click bulk purchase.
Open-source, multi-store and multi-language support.
Easy to install and customize.
5. Wholesale Fast Order by BSScommerce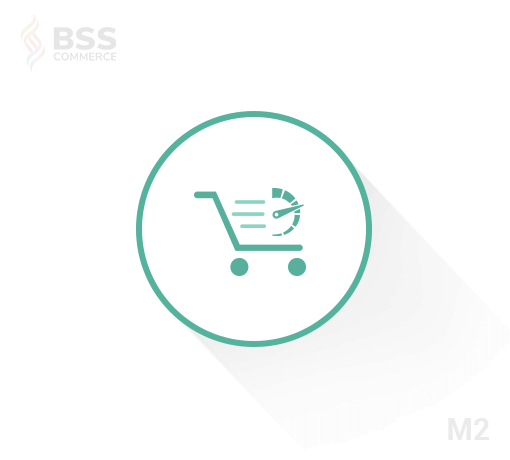 Price: $159.00
Compatible: CE, EE 2.2.x- 2.3.5
Wholesale Fast Order extension custom purchasing products by using pop up to select options or search items directly on the product page. Besides, it works well with a variety of product types, making every ordering process more comfortable.
Key features
Quick order by SKU
Bulk order Add to cart by CSV
Quick Order Field to Enter Multiple SKUs
Quick Order various Magento 2 product types
Quick Settings Fast Order Form in B2B Magento 2
6. Quick order by Magedelight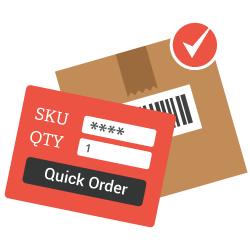 Price: $79.00
Compatible: CE, EE 2.2.x- 2.3.x
Magento 2 Quick Order by Magedelight allows clients to order products in bulk fast without handling the product pages. Purchasing items easily by entering the SKU, quantity or adding items to cart fast.
Key features
Search and order products using SKU
View all details of the ordered products
Customize the Quick Order Page as per Theme
Search for products by using names or SKUs
Using CSV file to add different products in a single time
Allow selected customer groups to access order by SKU feature
Add products quickly by specifying the items for B2B users
Enabled Autosuggestion on SKU input
Supports all product types
Guest Users can use quick order feature
7. Quick order by Evincemage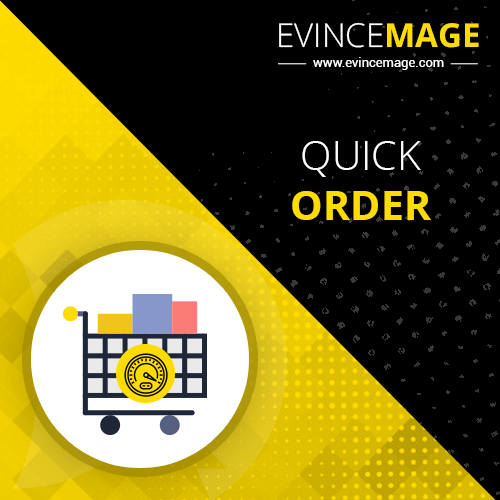 Price: $159.00
Compatible: CE 2.1, 2.2, 2.3
Quick order by Evincemage allows clients to purchase products with some clicks and no need to navigate to others pages. Moreover, this extension allows customers to find, select and order products quickly with all categories of quick pages.
Key features
Find products with SKU
Select product quantity & attributes
Edit product quantity and attributes
Remove selected product
Set max. product results
Enable extension for Customer groups
8. Quick order by MageAnts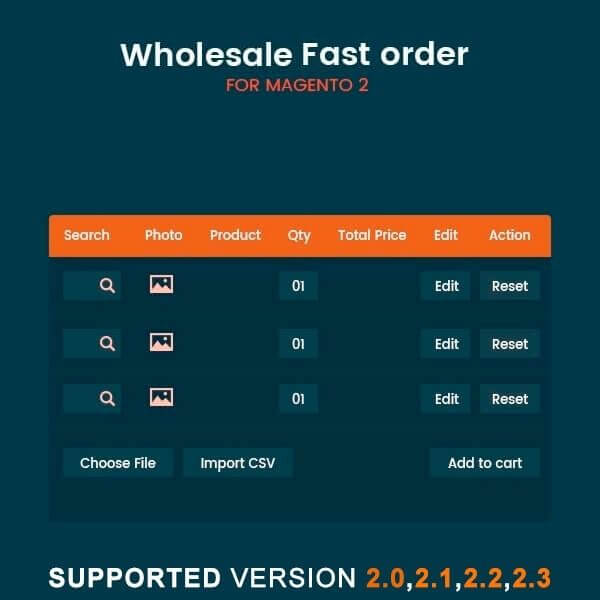 Price: $89.00
Compatible: Magento 2.0.x- 2.3.x
This is a friendly and flexible extension of MageAnts for wholesales business that consumers can order numerous products with ease from the store. Besides, the website can increase sales and improve customer experience.
Key features
Quick Search options for purchasers using SKUs or product names.
Ajax-based extension to confirm speed and efficiency.
Use the fast CSV import function for simple products.
Restrict the extension features to a particular customer group.
All customers avoid time consuming with easy searches and quick orders.
Working for all kinds of Product: Simple, Configurable product, Group product, Downloadable Product, Virtual Product and Simple Product with custom options.
9. Fast Order by Dckap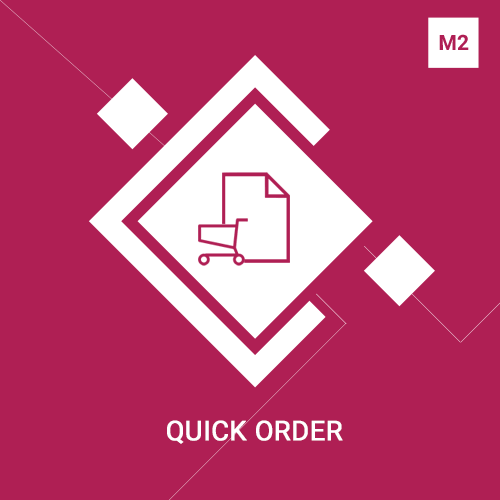 Price: $249.00
Compatible: CE, EE 2.0.x- 2.3.x
Fast order from Dckap allows all customers landing on a web store to search and add products easily to cart and no navigation requirement to search out items. Furthermore, Quick order is such an extension to facilitate the customer with this functionality.
Key features
Allow searching and buying the products by fill in the popup
Customers can order simple and configurable products by using popup.
Add different product by using dynamics rows in the popup
Add numerous products fast by specifying the SKU and the quantity of the products in a textbox in the popup.
Admin can change the number of rows in the popup display
Enable admin to change the separator for SKU and quantity from the backend
Enable admin to change the number of characters needed for product auto suggestions to figure within the popup.
Allow admin to add quick order on any CMS Page using widget option
10. Quick order by Amasty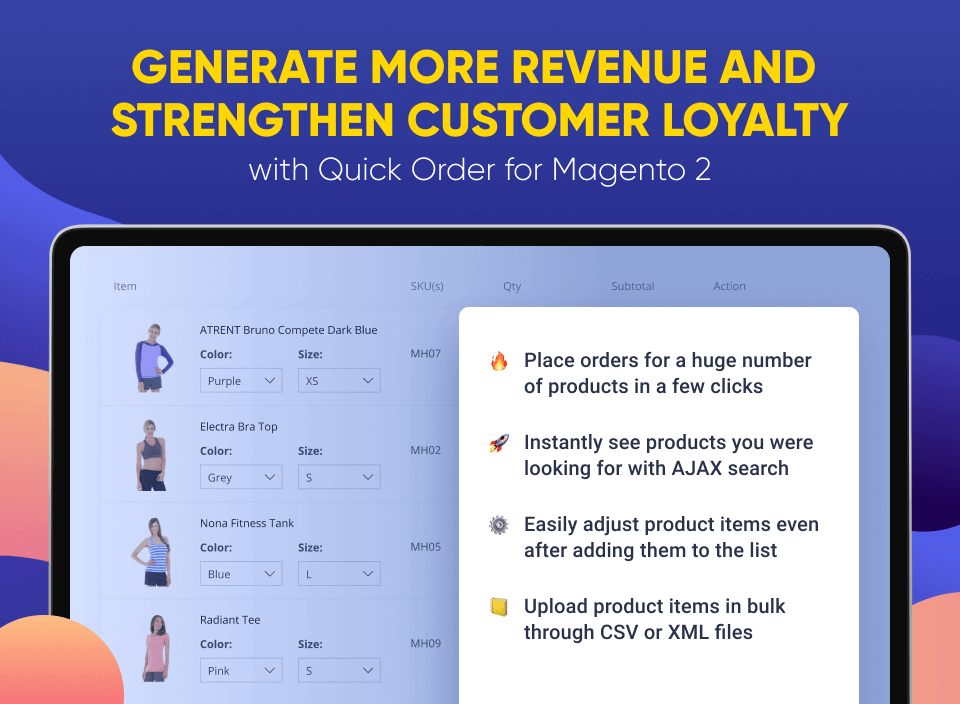 Price: $149.00
Magento 2 Quick order by Amasty allows customers to shop numerous items from one page instead of visiting too many web store pages. Therefore, business owners can boost their B2B sales and increase purchases.
Key features
Search AJAX product via SKU or product name
Enable to add different SKUs to make bulk orders
Bulky order by CSV and XML files
Specify product options and quantities from the list
Certify SKU mismatches and out of stock on the fly
Convenient quick order UX on mobile and desktop
Sum up
Above are the top 10 Quick order extensions in Magento 2 we would like to introduce to you. Hope you guys can find the most suitable choice to boost your wholesales business. Check our comparison blog posts to get more articles like this . Feel free to leave us some comments on the section below.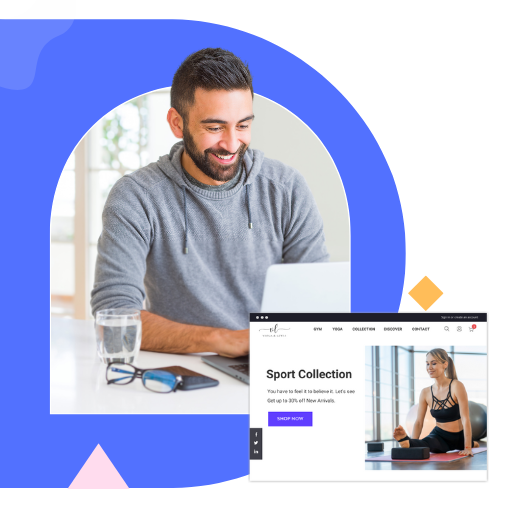 Optimize Your Magento Store With Powerful Extensions
Looking for fast, efficient and well-coded extensions to build or optimize your Magento stores for sales boosting? Then visit Magezon website and grab necessary add-ons for yours today!