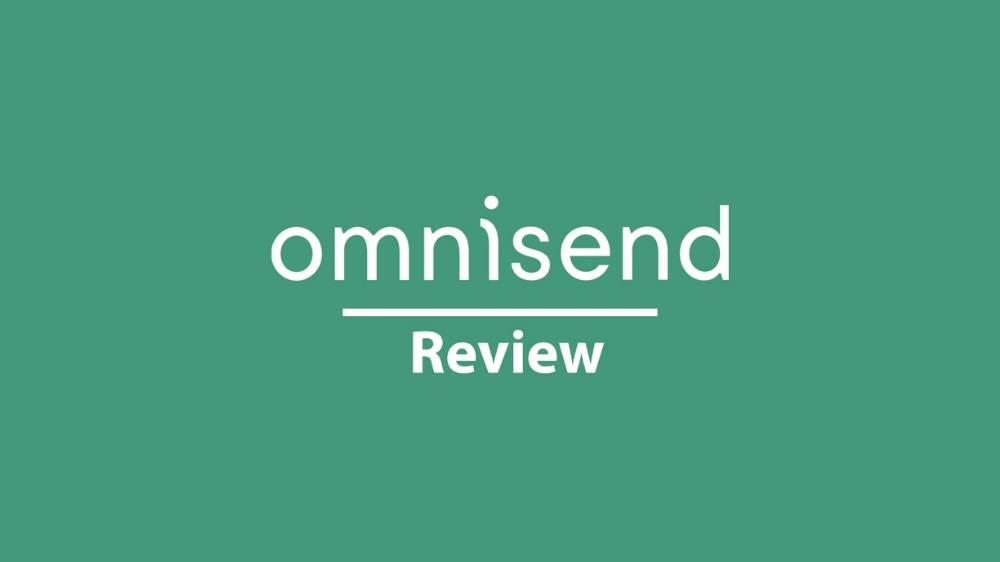 A lot of people seem to be doing business today. It's not that easy to keep up with the ever-changing market. Most marketing automation tools simply do not have the capabilities needed in today's dynamic and competitive world.
On the other hand, Omnisend email automation, a name known for its simplicity and effectiveness, is a one-stop shop that allows sales teams to gain control over multiple email campaigns in a single dashboard.
If you're missing out on people's interest in your products or services, let Omnisend help you get them back. Take advantage of Omnisend's expertise to run and manage email campaigns that deliver relevant content at the right time, so your customers never miss out on what they need or want.
Below, we review Omnisend email marketing in terms of Omnisend pricing and pros & cons, so you can get an idea of what it's about. We also shed light on the Omnisend features that distinguish it from other marketing automation solutions.
What Is Omnisend?
Omnisend Overview
Omnisend is a marketing automation platform that offers advanced email capabilities such as email marketing and integrated campaign management. Its goal is to help companies deliver relevant content to their prospects and nurture existing customers, thereby increasing sales.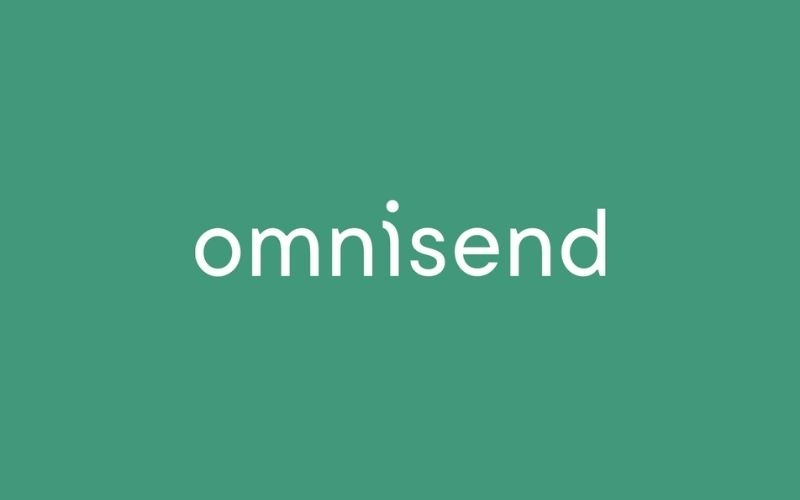 Like most marketing automation tools, Omnisend runs inbound email campaigns and is powered by intelligent algorithms that keep the platform on top of your campaign data.
It helps you send personalized emails, likely to increase the open rates. This marketing automation tool also captures customer information before they leave your website, so you can have the correct information when it's time to inform them about the next campaign or foster customer relationships.
To give its customers a competitive edge in today's online market, Omnisend has made it easy to create gorgeous email templates that make individual communications stand out. These templates allow you to send messages relevant to each product or service category without breaking the bank.
Omnisend Pricing
What's more, Omnisend marketing automation is scalable and affordable compared to other brands' services. To boost its popularity even further, Omnisend pricing offers three plans: Free, Standard, and Pro.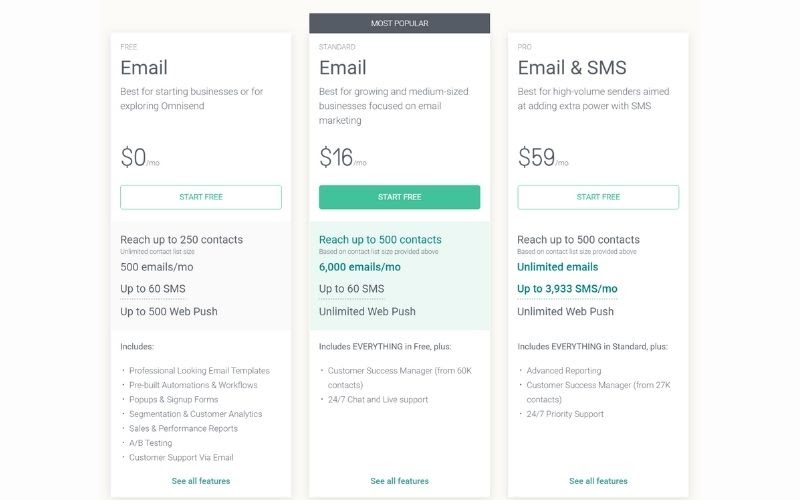 The Free option is the most basic and provides only basic email capabilities. The Standard plan ($16/month) is ideal for businesses that don't yet want to invest a lot of money in email marketing but still want to improve their conversion rates and sales. Meanwhile, the Pro plan ($59/month) is perfect for enterprise-level organizations that want a flexible platform with centralized campaign management.
Hope this review of Omnisend pricing helps you make the wisest decision on what option to choose!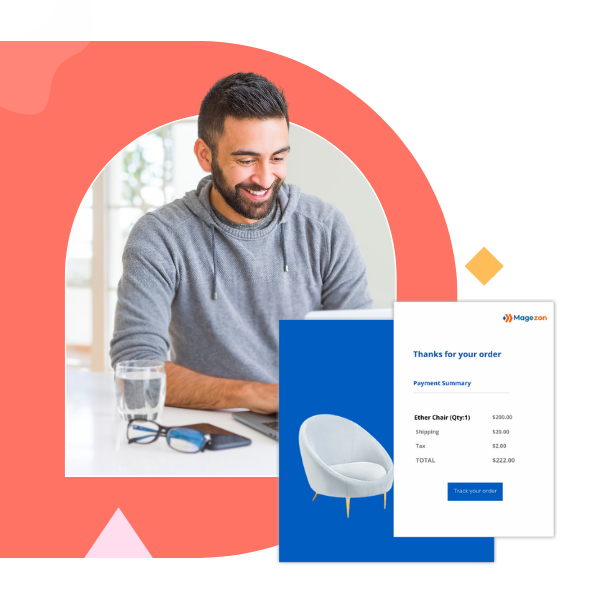 Try FREE Email Builder demo today
Looking for a Magento 2 email editor that helps you create Magento transactional emails with no coding required? 
Magento 2 Email Builder can help!
Omnisend Details
Typical customers
Platforms supported
Support options
Contact Details
Omnisend provides advanced marketing automation tools beyond the capabilities of generic email marketing platforms for individuals and groups working in the eCommerce industry, such as freelancers, small businesses, mid-size businesses, and large enterprises.
Omnisend implements eCommerce solutions on all eCommerce platforms, including Shopify, BigCommerce, Magento, WooCommerce, and many more.
Email: Customers can access the Omnisend website 24/7 chat and email support via the customer login portal.
Phone: There is no phone support at this time.
Training: A webinar-based onboarding course is available, as well as a knowledge base with blog posts, articles, and whitepapers.
Tickets: Support ticketing is not available yet.
Located in the United Kingdom
Founded in 2014
Key Omnisend Features
Omnisend email marketing has exciting features that ensure its users' success and make it stand out from the competition. We highlight some of them below:
1. Powerful Integrations
It offers robust integrations with platforms including Magento, 29Next, AfterShip, BigCommerce, Shopify, and more. This means you can connect your customer service platform with your email marketing tool to get all your customer data in one place. Omnisend automation also allows you to integrate with various tools and apps right from its dashboard to send messages through various other platforms.
2. Campaign Booster
This is one of the highlighted Omnisend features designed to improve your email campaign's open rates and click-through rate (CTR). With the Campaign Booster, you can create a separate email string for every email you send and send them sequentially. This way, interested prospects can get an initial series of emails, followed by confirmation or reminder, and then another series if suggested.
3. Forms
The platform includes an easy-to-use contact form to collect feedback, ideas, and stories from your customers. This is useful not only for building your brand but also for collecting valuable data.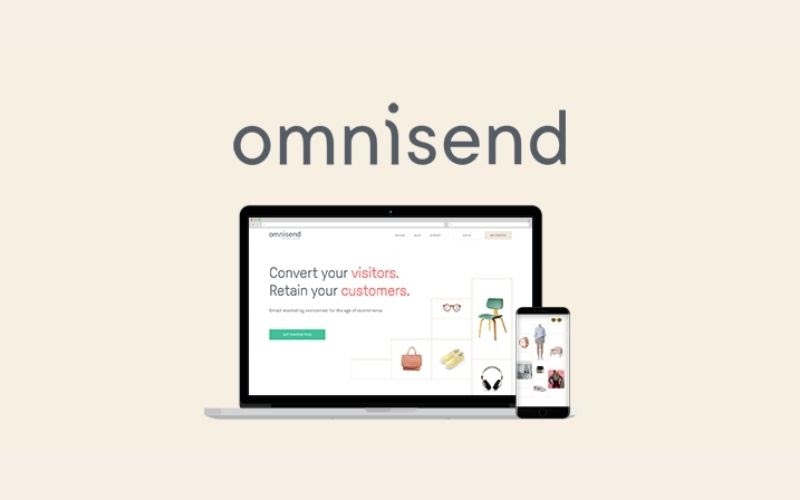 4. Email Template
For those unfamiliar with email marketing, the email template feature can help you create custom templates for any campaign or email you want. Building your own message templates means using your logic to create relevant messages and capture your customers' interests.
5. A/B Testing
This Omnisend feature maximizes users' marketing efficiency by sending two distinct sender names or two subject lines to a minority of recipients to find out which one works best. After that, the one with the highest CTR is sent automatically to the rest of the recipients.
6. Audience Segmentation
As a marketer, you better send emails based on these audience segments instead of sending them all at once. The audience segmentation feature makes it easy to refine the demographics of individual subscribers. You can record their age, gender, or interests to create specific lists for sending transactional emails to that specific group.
7. Abandoned Cart
Users can utilize the software's Abandoned Cart feature to send follow-up emails to customers who have left their shopping carts unfilled. It accomplishes this by displaying abandoned carts at various points in the shopping process, such as when a customer enters their email address or when cookies in their browser are used.
By running an email series to the abandoned items, you can better let them know that you have something good in store for them.
8. Push Notifications
For sales teams and marketers, the mobile push notification feature of Omnisend ensures they keep their potential customers engaged through instant notifications. With this feature, you can send special deals that tie in with a pop-up message on their mobile device to keep them interested and re-engaging with your business.
Once you've understood all key Omnisend features, let's consider the benefits and downsides of using this email automation platform.
Pros and Cons of Using Omnisend
By and large, Omnisend automation is a well-designed email marketing platform that is trusted by many businesses. It has all the tools required to automate your marketer's emails and nurture customer relationships. However, before you sign up, it's essential to consider the pros and cons of using this platform to boost your customer engagement:
Pros
1. Easy to Use
Omnisend does not require any programming skills to use. It comes with a drag-and-drop email builder designed to help users easily create high-performing emails. Moreover, it has an excellent interface that empowers users to design better responsive emails, even without previous experience in email marketing.
2. Product Picker
It also helps you create email campaigns with different content based on the products that your customers buy on your website. Therefore, you can save time by designing an email template for every product or service you sell.
With this benefit from Omnisend email marketing, you can embed a product into your email and bring your customers to that product. This can help you convert more from the first interaction with your customers.
3. One Centralized Platform
Omnisend platform allows you to manage all your marketing emails from one place. This includes managing contacts, campaign options, segmentation, and templates. If you want a single platform to manage all your marketing emails, then Omnisend email marketing is the right one.
4. Excellent Customer Support
You can reach their support team via email or even through live chat. They have a dedicated support team ready to help you with issues using this software. On top of that, there are also training videos and guides to help users with the platform and make it easier for you to create automated campaigns.
5. Free Version
If you are a small business with a limited budget, you can use the accessible version of Omnisend to get started. This way, you can test the platform and see if it's right for your business before making any commitments. If you are unsure that Omnisend is right for you, then its free version is a great option to test the platform.
6. Click Map
Omnisend helps you keep track of all the clicks on your website so that you have an overall gist of how effective your campaigns are at getting customers interested in your items and services. With this click map, you can also see which types of content have been viewed and which haven't and thus make changes to improve the performance of your email marketing campaigns.
7. Customer Feedback Tools
It has a few customer feedback tools that can send surveys to your customers and get their opinion about your products and services. This way, you can understand why they're not buying from you and then take steps.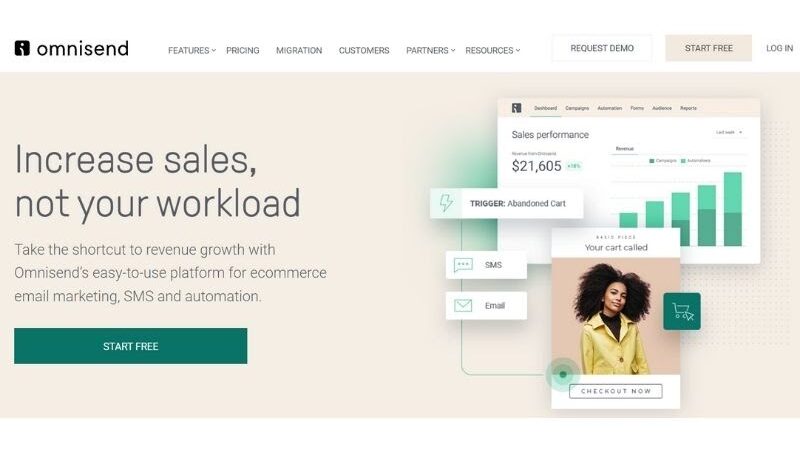 8. SMS Messages
Omnisend also allows you to integrate with SMS software and send personalized text messages to your customers on their mobile devices. This is an excellent way of providing exclusive offers to your customers and improving your email marketing performance.
9. Email Marketing Report
An email marketing report is a great way to keep track of your campaigns and see which ones are performing well or poorly. You can see the number of clicks, opens, and unsubscribes you have received on each campaign.
10. Streamlined Processes
Omnisend email marketing has a streamlined process for sending emails. The platform allows you to create personalized email templates with the same content but with different recipient IDs. This means you can send one email to different customers with updated information and deals based on their purchase history.
11. Customer Loyalty
You can gain customer loyalty by showing them what's new on your website and offering them special offers and discounts. The platform also lets you send personalized messages and keep in touch with customers regularly.
12. Real-Time Updates for Customers
With Omnisend, you will not have to wait for lengthy periods to see the performance of your email campaigns and how they're affecting results on the ground. You can check the effectiveness of your automated emails in real time, which means that you can make changes promptly and get better results on your next campaign.
Cons
1. Limited Email Design Options
Although Omnisend email marketing has a drag-and-drop email builder, it does not have a significant number of templates to choose from. While this is not much of an issue for small businesses, it may be a problem for bigger ones because they will spend more time creating their own templates or working with an outside designer.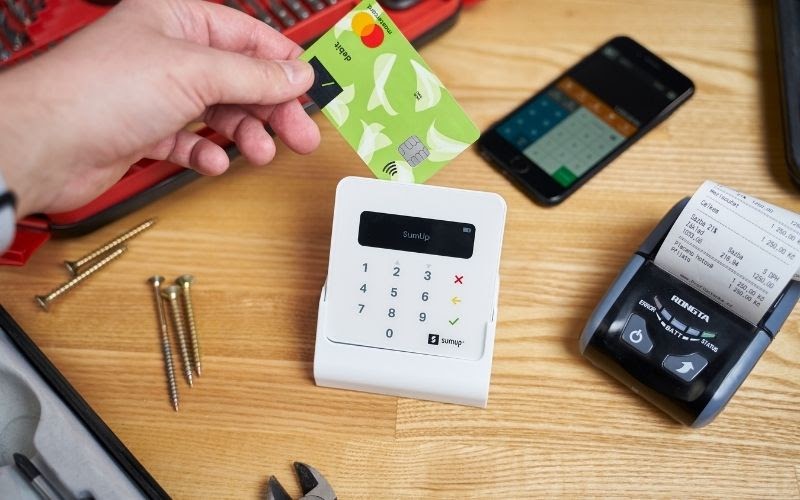 2. Lack of Communication Surrounding Updates
Omnisend email marketing has been pretty effective in delivering updates and new features of its platform. However, there have been a few instances where users have received no communication from the company regarding changes to the platform. This can be a problem for enterprises because they will not be aware of upcoming changes to the platform until they roll out.
3. Significant Price Jump
Although the Standard Omnisend package is quite affordable, you will find that a price jump can occur if you choose the Pro plan. The price increase will vary depending on which feature you want to use and how powerful it is. This means that if your company has significant numbers of clients, this price jump may not be a problem for you. But if your business is small or starting out, you might have difficulty affording this extra cost.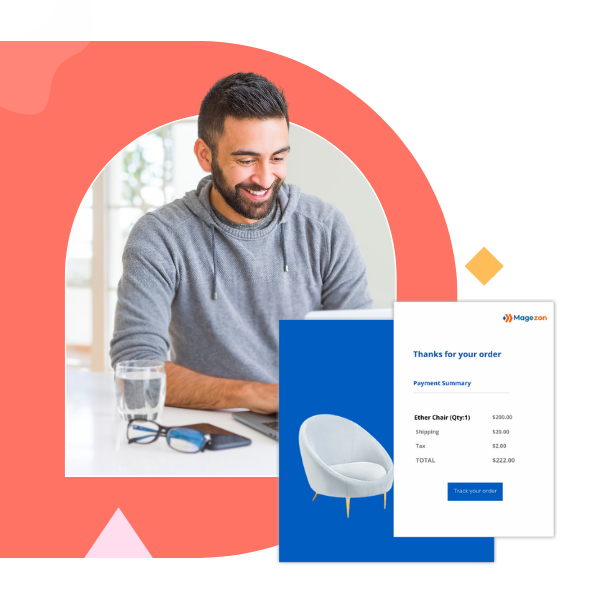 Try FREE Email Builder demo today
Looking for a Magento 2 email editor that helps you create Magento transactional emails with no coding required?
Magento 2 Email Builder can help!
Omnisend Review: Ratings From Customers
No Omnisend review is more reliable than the ones from its customers. On G2 – the world's largest tech marketplace, we found various reviews from people who experienced Omnisend. The majority of the ratings are 5-star and mainly from small companies. Let's look at some helpful Omnisend reviews we collected from G2.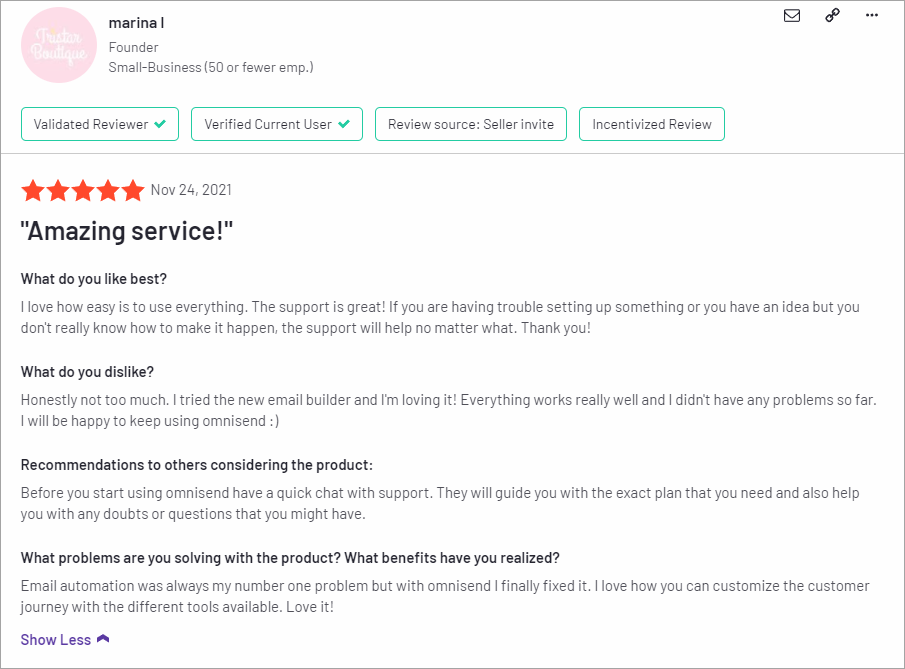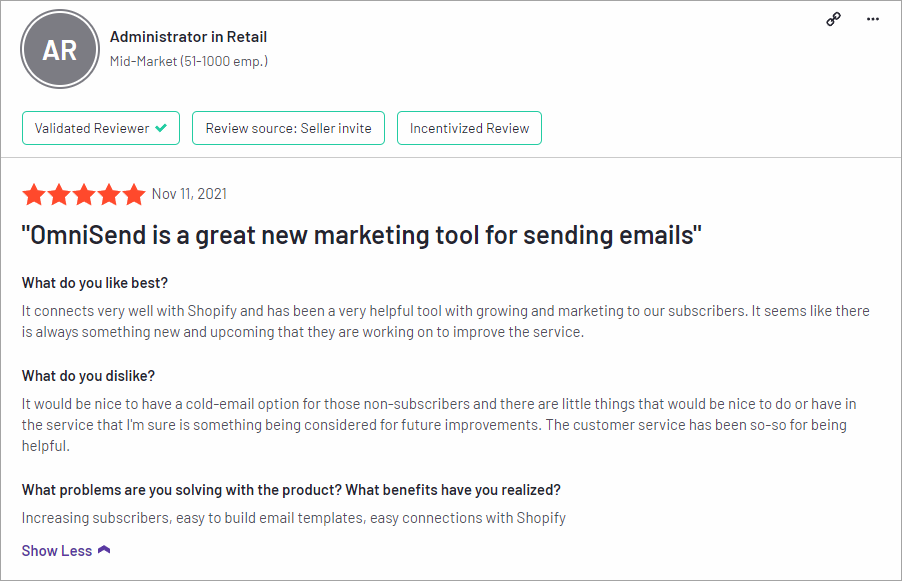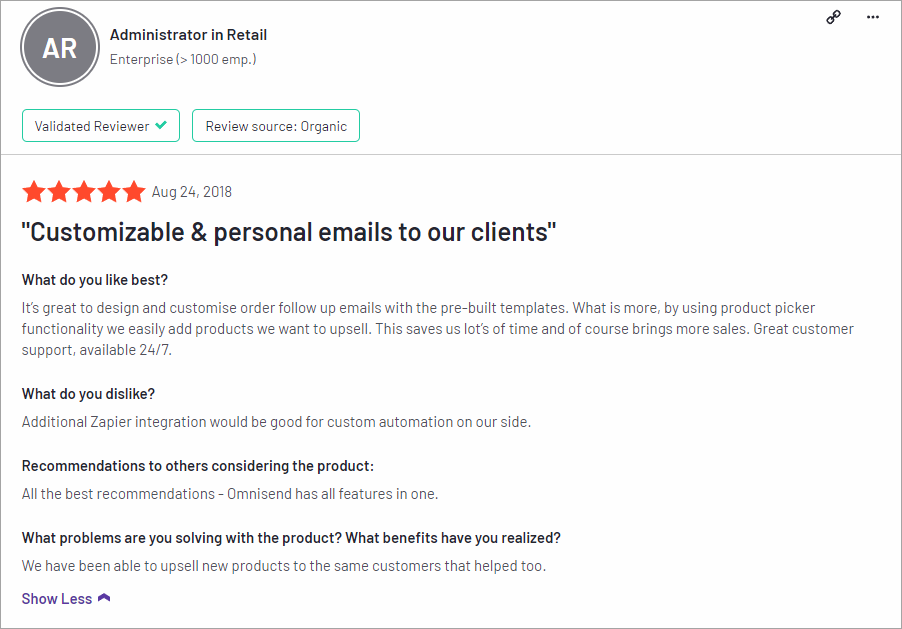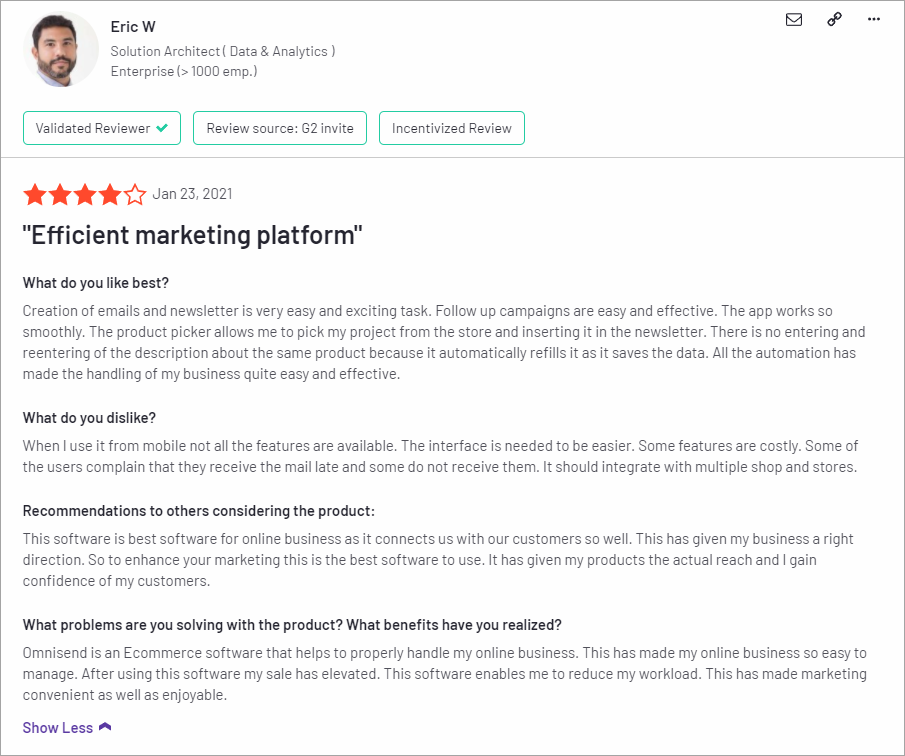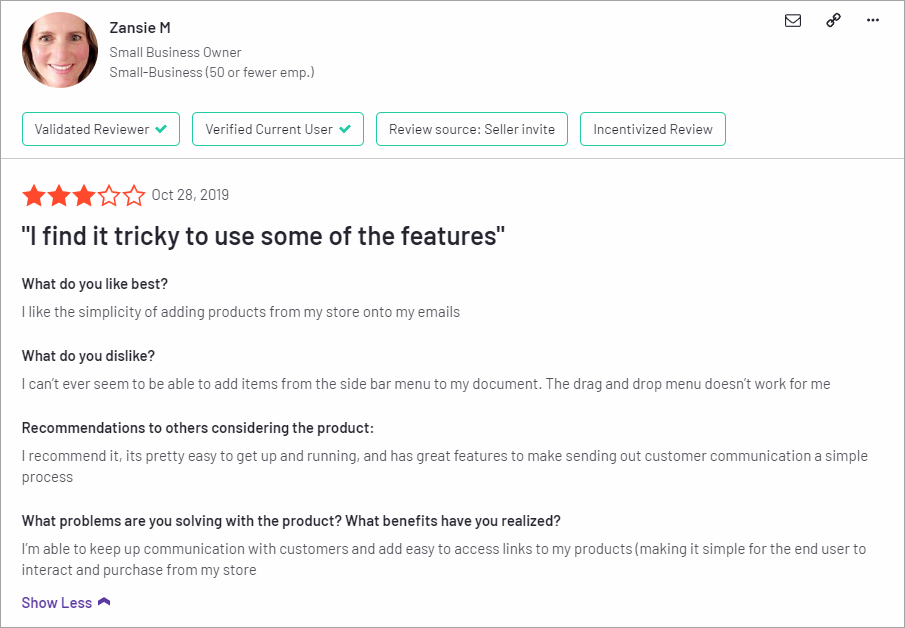 Wrapping Up
Overall, Omnisend email marketing software is a solid platform that lets you create great emails and allows you to build rapport with your customers. It is simple to use and affordable as well.
An essential email marketing software, it is an excellent platform with many powerful features that can help you grow your business. Its free version is also a great starting point that lets you test the software's features before committing to buy it.
If your business is just starting out and you are not yet ready to make significant financial commitments, then Omnisend marketing automation platform can be an excellent fit for your company.
In summary, Omnisend is a great email marketing software if your business is small and you want to optimize your marketing efforts. However, you must be aware of its limitations before using it. Hope this Omnisend review be of great use to you.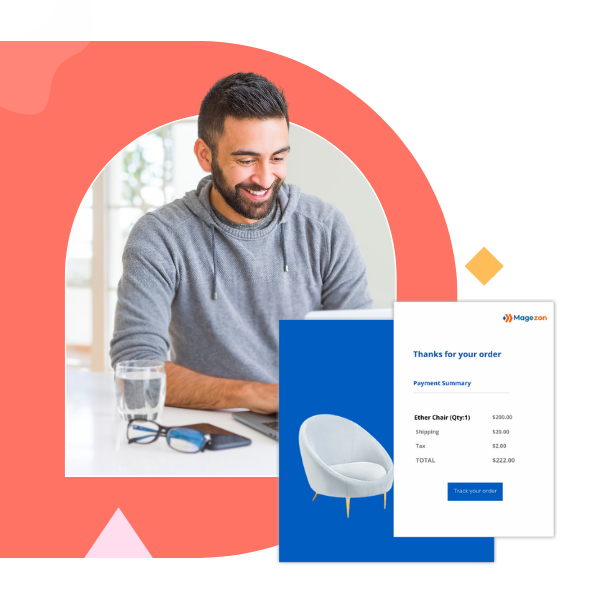 Try FREE Email Builder demo today
Looking for a Magento 2 email editor that helps you create Magento transactional emails with no coding required?
Magento 2 Email Builder can help!