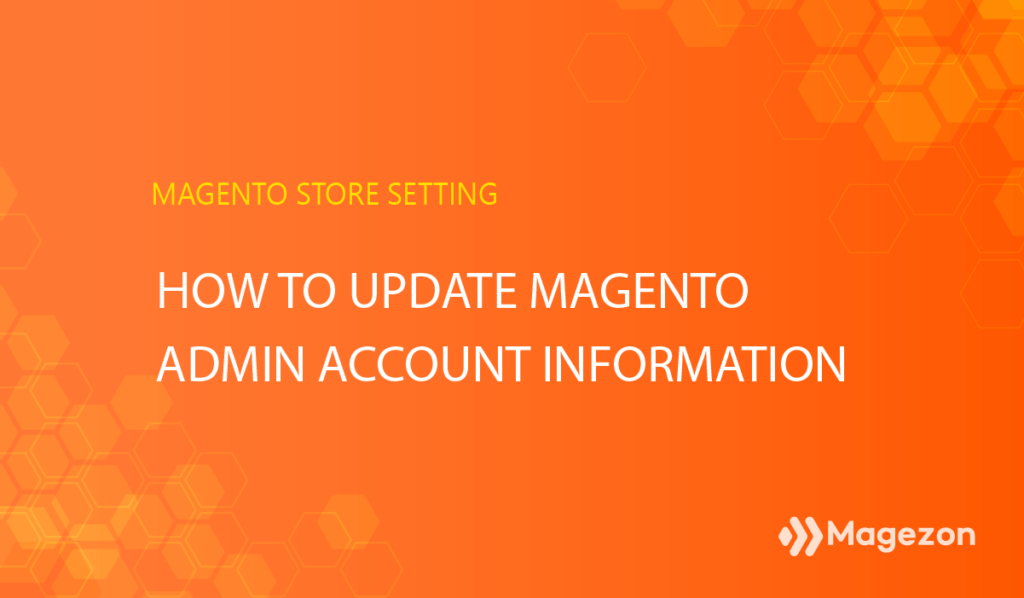 After your first-time sign in to Magento account, you had better update your Magento admin account information. This action may be the last requirement before you get started with everything in Magento.
So why is updating your account information important? How to configure it? This tutorial from Magezon will answer these questions once and for all.
No more further ado, let's get going!
1. Why You Should Update Your Magento Account Information?
You may think this process is not really necessary for your online store. Whatever! Yet updating a piece of account information is more crucial than it seems to be. Instead of procrastinating about the task, you now should roll your sleeve up to jot down something in the Magento user account information section for some reasons as mentioned below.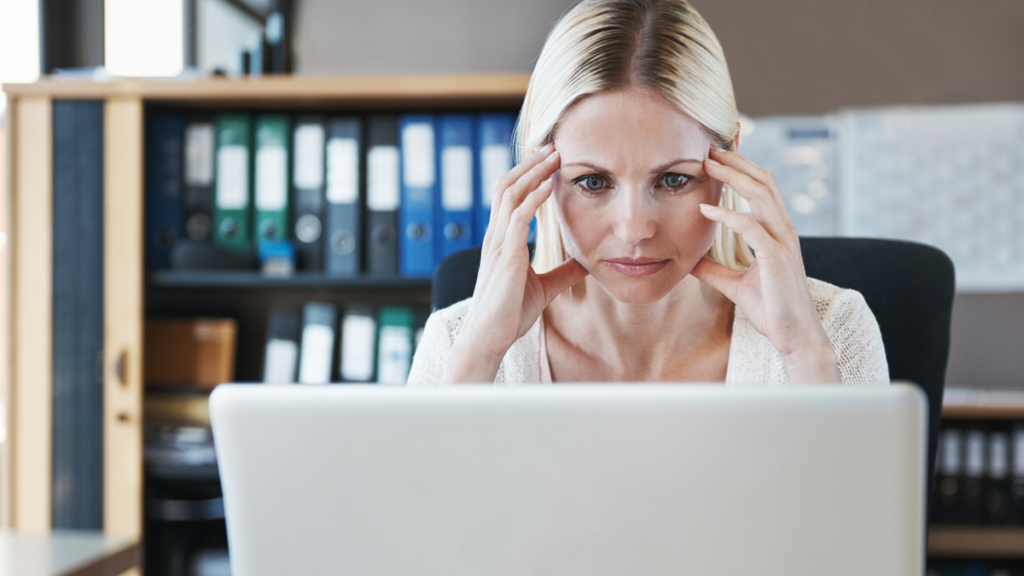 1. Clarify Who is the Owner of This Account
Your account information is paramount to the user identification purpose. By providing your name, user name, email address, and password, etc, you gave the system capability to clarify who is the specific user of this account. And of course, that user must be you, only you and no one but you. Consequently, it helps prevent undesirable access from other people and enhance system security.
2. Avoid Getting Locked Out
Imagine that in a day you temporarily forget your login password? What would you do to take it back? In fact, there are several ways to retrieve the password, but the most streamlined way is to use your email address. You can easily make a request for sending a new password and receive it through an email. So it's important that you get an email address associated with your Magento admin account because this dismisses the fear of being locked out. ( Magento system rules that if the password is unsuccessfully entered more than six times, your account will be locked. This case you must use other more complicated ways to reopen the account.)
3. Emergency Contact
Another reason persuading you to update your Magento admin account information is that it provides the system with a way to contact you in many cases. Just make sure the email address is your current one.
4. Account Management Activities
It's easier for the root account to manage and keep track of other admin performances by authenticating the admin identity. So to some extent, it helps to keep your workflow smooth and effective.
5. A Place to Update Information If You Want to Change
Magento 2 admin account information section is a place for you to do some changes to the setting, for example, the user password. Enter your new password and confirm it, you easily change the current password and therefore, enhance system security anytime you want.
So now are you clear about the importance of filling out these fields? If yes, we'll move on how to set up Magento admin account information right below.
2. How to Set up Magento Admin Account Information
Trust me, the process will take up just a few minutes of your time.
Click the human icon on the top right corner of the admin dashboard, choose Account Setting.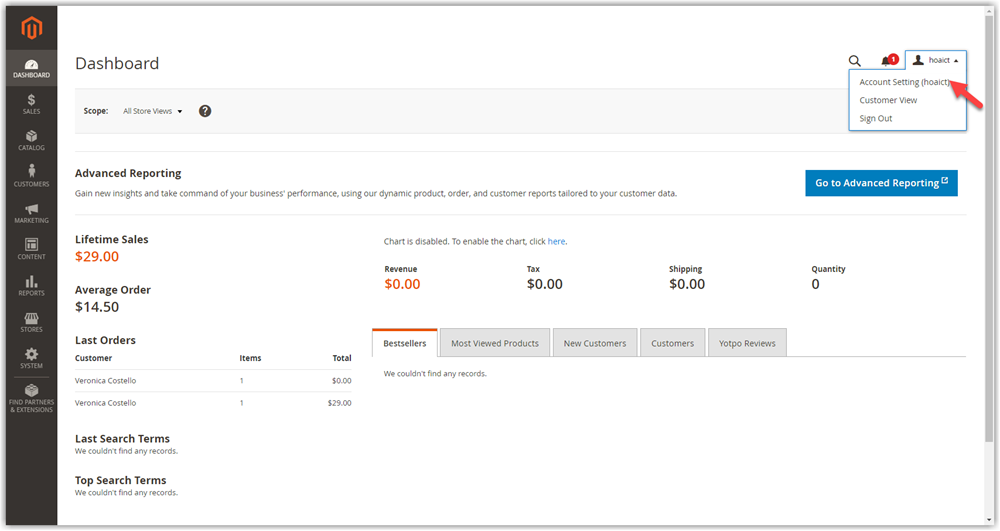 Then you'll navigate to the Magento admin account information section, fill in the below fields: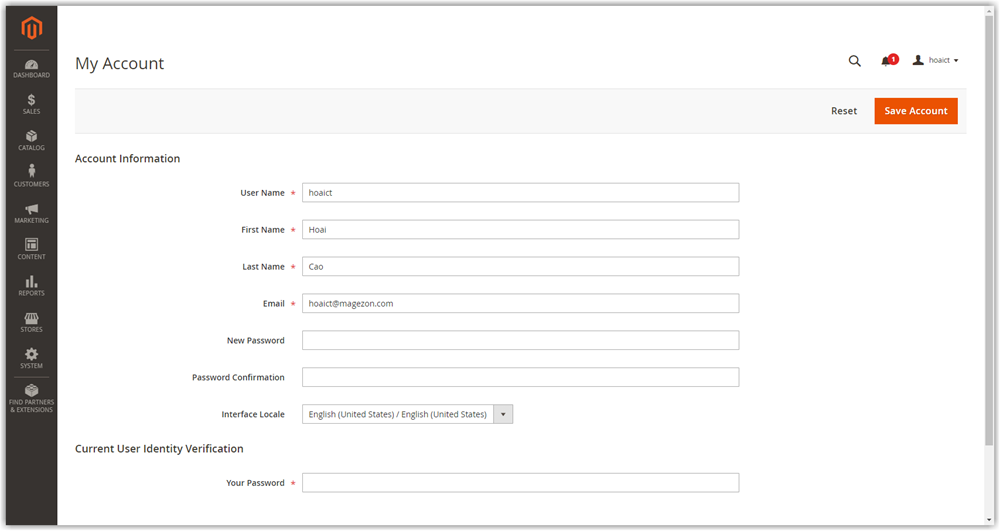 User Name: Enter a name that will be displayed on your dashboard and used to log in. This is a unique value, which means there doesn't exist a user name like that in Magento.
First Name: Enter your first name
Last Name: Enter your last name
As being mentioned above these 2 fields is to enhance your identity as well as the management of your store.
Email: Type your current email address in case you forget your password so that you can take it back. The email address is associated with this Magento account.
New Password: Complete this field if you aim to change your password, the password must be a brand new one that hasn't been used before.
Password Confirmation: Enter your new password one more time for the accuracy checking purpose.
Interface Locale: This is where you choose your admin account language.
Current User Identity Verification: All pieces of information in this section is crucial so to ensure that this system is highly secure, Magento requires users to enter their current password. This action helps prove that the person who is making changes to this section and the account owner is exactly the same one.
Final Words
Magento admin account information is a place that needs high security, and actually, it is. We hope this tutorial has brought you useful information that somehow helps you easily manage your online business. If you like it, subscribe to our newsletter to avoid missing out any parts of the series. Any questions are welcomed in the comments section, so feel free to let us know what's in your mind.
At Magezon, we also provide you with many fast, well-coded yet affordable extensions for your store optimization. Visit our website to opt for necessary ones!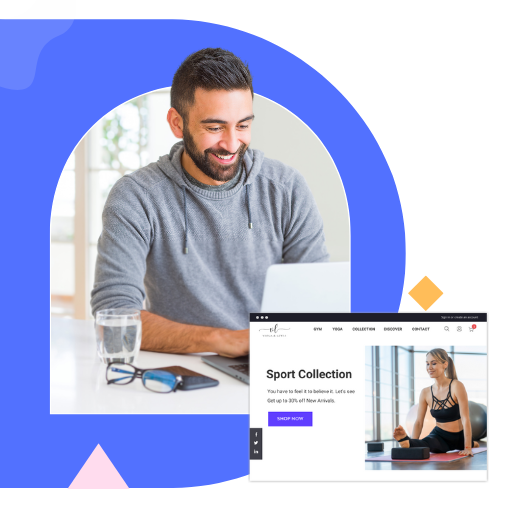 Optimize Your Magento Store With Powerful Extensions
Looking for fast, efficient and well-coded extensions to build or optimize your Magento stores for sales boosting? Then visit Magezon website and grab necessary add-ons for yours today!