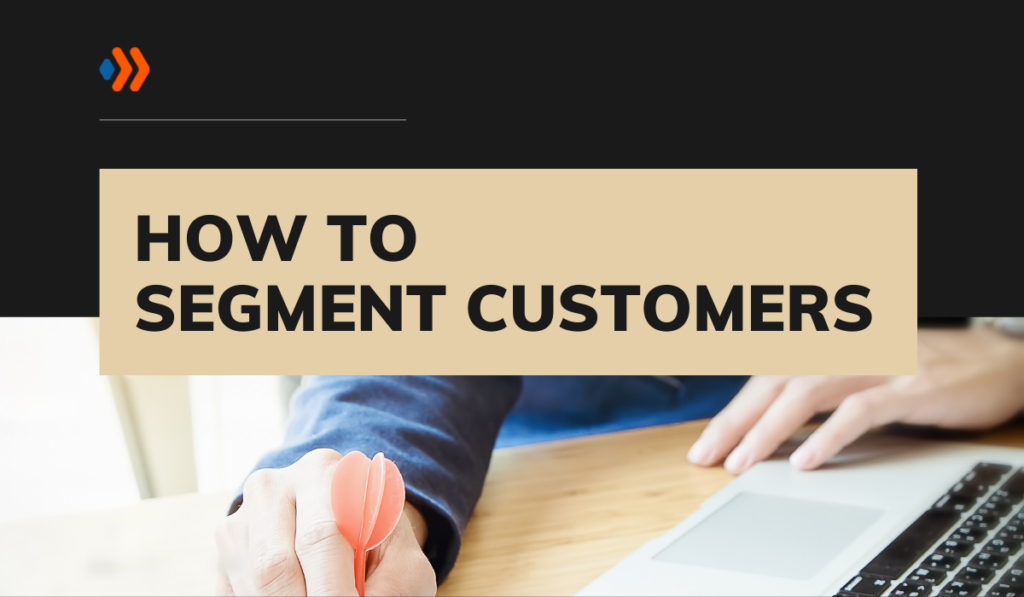 No matter what market you are working on, customers always have different expectations, demands, and affordability. That's why almost all businesses are on the lookout for an appropriate way to enhance their customer's experience.
In that sense, customer segmentation is a super smart choice. It is the process of organizing customers into appropriate groups that share the same characteristics. So marketers can have a deep look at overall their market, conduct grouping audiences, and find opportunities to enter to conquer more customers. Then based on it, they can provide these innovative customer experiences.
This post will come with 2 main subjects. Firstly, it lists 4 main tips to make an effective segmentation plan. Secondly, it guides you through how to segment customers for Magento stores by Magezon's dedicated extension. Now let's discover the first one!
How to Create Customer Segmentation Strategy for Marketing Efficiency
Before segmenting your customers, you need to have a clear plan to better your segments for use. That's why we'll reveal four main steps on how to make a customer segmentation strategy effectively. Let's see what they are!
1. Identify Your Customer Segmentation Goals
Not only for customer segmentation strategy, when you make any plan for a company, defining goals is the first thing you should think about. To identify your customer segmentation goals, you need to learn about your products/services on a deeper level. If you don't understand it, you won't know what problems it can solve for your customers and what message to convey. So, before going to segment your customers, just make sure you have answers to the following questions:
What problems do your products/services solve for customers?
What is a unique selling point of your products/services?
Does your product have any disadvantages?
Which outcomes that you want to achieve when segmenting audiences?
With these above questions answered, you'll easily determine not only your goals but who your target audience is, as well. Hence, you can develop your customer segmentation strategy in a way that will help you achieve your expected outcomes.
2. Segment Customers Based Your Goals
Once you determine what you're looking for, go to specify how you'll segment your customers. This process depends on the goals that you set in the first step. Here are some main factors that almost all businesses use to segment customers:
a. Demographic
This is a fundamental criterion in customer segmentation. In this criterion, age, gender, income, education, and marital status are all factors that you can use to segment audiences. It's beneficial if you want to promote your products/services on social media. The more specific information you have, the more accurate the ad will be. For example, in the cosmetic niche, suppliers tend to segment customers based on age. Because the skin will have significant changes during a person's lifetime, each stage has its demands so that cosmetic brands will develop their products according to their customer's age.
b. Geographic
It's considered the simplest way for customer segmentation. For this factor, you can divide customers into an appropriate group according to their country, state, city, and town. This information will reflect the culture and climate of the locality that customers belong to. So marketers can utilise it to adjust marketing plans. For instance, if your audiences come from a country with a cold and dry climate, you could distribute products like moisturizer creams.
c. Psychographic
This factor allows marketers to gain insight into customer's buying decisions. But it's pretty challenging to do it accurately because psychological data is often affected by emotional value. Thanks to this factor, you can know more about your customer's personality, attitude, values, and interests. But to have this data, you have to do surveys to understand their insight. Let me give you an example. Today, more and more people care about environmental protection. That's why lots of cosmetic suppliers change their products' packaging to be more environmentally friendly.
d. Behavioural
It focuses on how customers interact with the business, such as their tendencies and frequent actions, features or product use, and habits. When segmenting customers based on this factor, you should specify how often customers buy your products, how much they spend on your business, which product types they are most interested in, or without purchase audience, etc.
e. Technographic
It's the last criterion I'd like to mention in this step. You can use one of these factors to segment customers: mobile-use, desktop-use, apps, and software. Thanks to it, you can satisfy both desktop and mobile users. When you optimize your website's interface, it'll help keep customers on it for a long time.
3. Target customer segments
After creating a segment list, it's time to decide how you'll target customer segmentation across your business. You can combine your segments if it's possible to determine what makes the most sense. Moreover, to make sure whether your segment is valuable or not, you can refer to the following criteria:
Is your created segment easy to implement? Can your company solve their problem?
Is it different from other segments yet? What unique characteristics does it have?
Is the segment's scale large enough to aim for?
Can you reach out to and communicate with your segment?
Once you figured out these questions, your business can effectively target customers through their unique characteristics. The marketing team can tailor the plan to approach and meet the expectations of specific customer groups. Therefore, it's easier for you to increase conversions as well as revenue.
4. Adjust strategy based on customer's needs
By analyzing your customer segmentation, you'll have a comprehension of the way you organize your customers. Through this, your business can update and change products/services quality if it's needed.
A company includes lots of departments, so remember to discuss with your marketing, sale, support teams, and more to get their opinions on any changes. You can also gather customer reviews to segment them into relevant groups. In particular, you can organize customers who have the same expectation for updating product features into the same segment.
Last but not least, it's crucial to review the way you segment customers whenever you update your products/services. Because these changes may reflect the effectiveness of your customer segmentation, thanks to it, you can determine which segment you should reorganize.
2. How to Segment Customer by Magento 2 Customer Segmentation
It's time to browse a step-by-step guide on how to segment customers by Magezon Customer Segmentation module. Let's get started!
First, we'll go to create a new segment. Follow this path: Customers >> Segments >> Add New Segment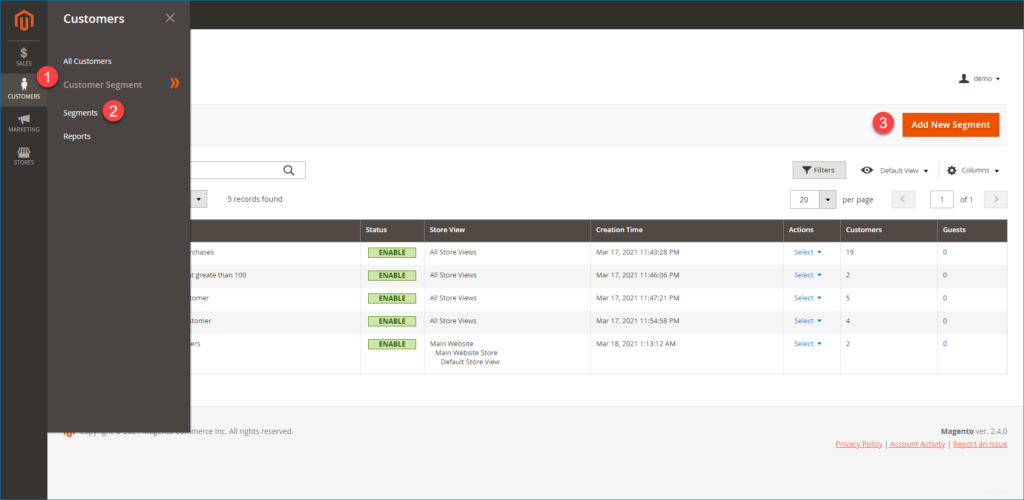 Next, expand the General section and configure general information for the new segment.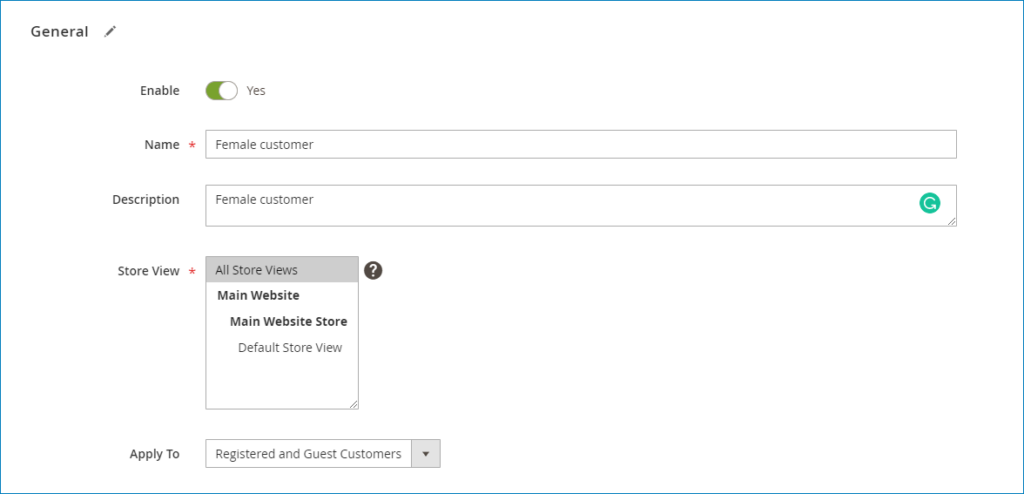 Enable: Turn on the button to enable the segment.
Name: Enter a name for your segment.
Description: Write an explanation for the new segment.
Store View: Choose specific store views that this segment will apply to.
Apply To: The module allows you to segment both Registered and Guest Customers. There are 3 options to apply the segment to:
Registered
Guest Customers
Registered and Guest Customers
Then move to expand the Conditions section to set conditions for the segment.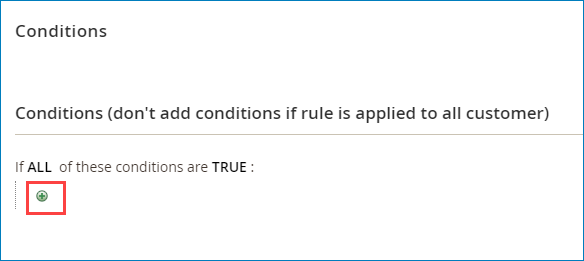 This extension offers a wide range of parameters. All you need to do is click on the plus icon and choose your required parameter.
In this tutorial, we choose 2 parameters named Customer Gender and Customer Create In. In particular, female customers who placed orders in the Default Store View will belong to this segment. Then you can hit the Preview Customers button to preview all customers who meet the conditions. However, it shows Registered Customers only.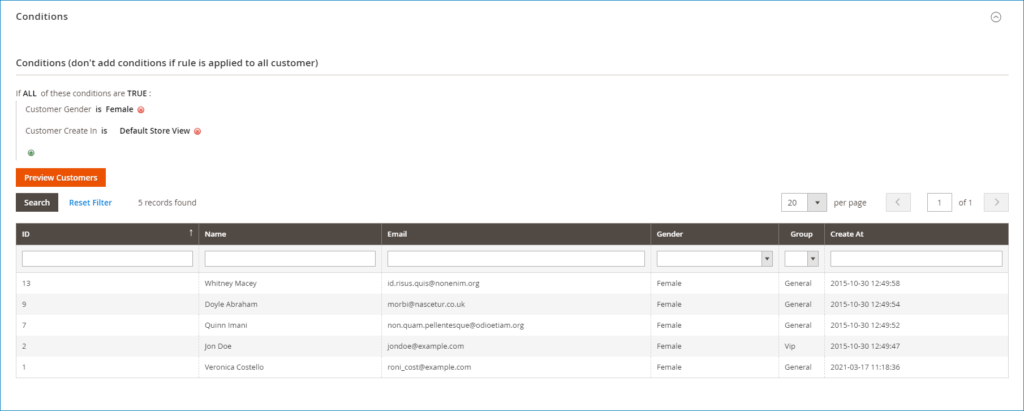 To check both Registered Customers and Guest Customers who belong to this segment, you have to go to the top bar, click on Save and Apply to apply this condition. Then move to open the Matched Customers and Matched Guest sections to see the lists.
Looking at the following images, you can see that 5 Registered Customers belong to this segment, and no Guest Customers meet the condition of this segment.


In Short
Above is the A-Z guide on how to segment customers for Magento 2. We hope that it's helpful for your business. Besides, we publish many e-commerce tips and Magento tutorial posts weekly, you can visit us to learn more about them. Feel free to contact us or leave comments below if you have any questions.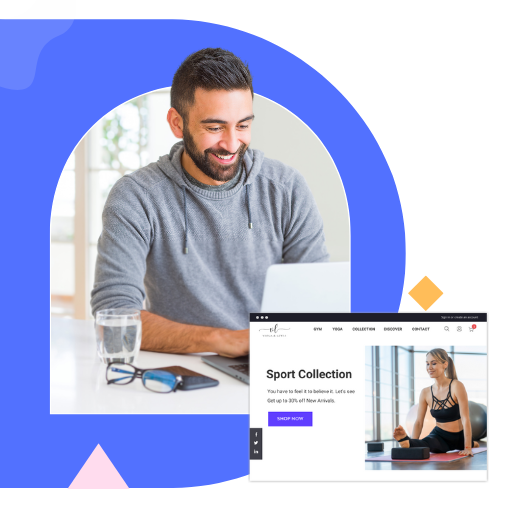 Optimize Your Magento Store With Powerful Extensions
Looking for fast, efficient and well-coded extensions to build or optimize your Magento stores for sales boosting? Then visit Magezon website and grab necessary add-ons for yours today!