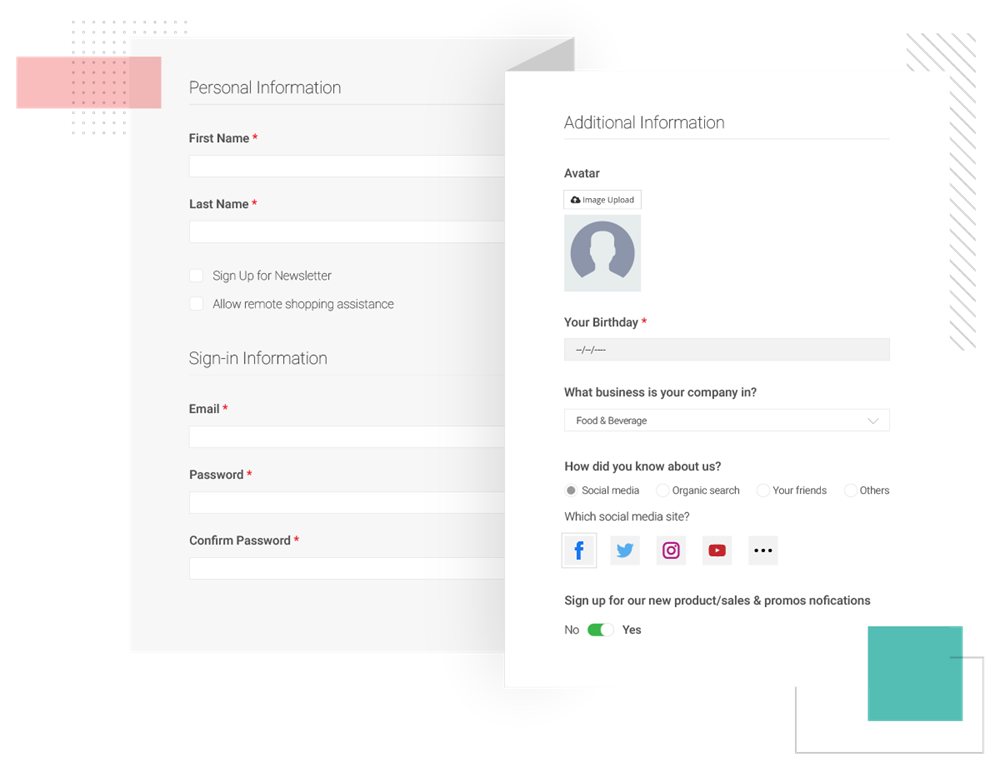 Today, customer demands for online shopping are rapidly changing than ever before, while a number of competitors have popped up like mushrooms. To attract customers and make them not purchase elsewhere, you need to understand exactly what your customers want and then deliver personalized offerings. This helps to create a distinct competitive advantage over others.
Getting insights into the minds of customers is not easy, though. But hard doesn't mean impossible. If you are running a Magento store, you can leverage basic information gathered from the customer registration form.
However, if you need additional customer information, Magento default registration form which has a limit of adding custom fields can't help you out. So the question here is, how can you deal with this? You can choose to add customer attributes programmatically if you know a little about coding. Alternatively, it's highly recommended that you use the Magento 2 Customer Attributes extension from third parties. In this article, we've compiled 6 providers that offer this extensions. Let's check them out!
So, what is a Magento 2 Customer Attributes extension?
Magento 2 Customer Attributes extension is an excellent way to add extra custom fields to the customer registration form in Magento websites. Using these extensions, you can quickly obtain important customer information that serves business purposes on the right track. In other words, you are given the ability to tailor your products, services, and marketing campaigns to your customers' needs based on the information they have provided.
But opting for the best Magento 2 Customer Attributes extension from multiple vendors on the market is a real headache. To help you out, we have shown a list of the top 7 Customer Attributes extensions that you can consider. However, before looking at the extension of each vendor, let's pay attention to why this Magento 2 extension is a must for your Magento store.
Reasons why your store should have a Magento 2 Customer Attributes extension
Owning a Magento 2 Customer Attributes extension can further benefit your business. When you get a clear picture of the customer preferences and demands, you can save tons of time and effort. Think a bit. It is definitely a waste if you have produced marketing content and products that do not suit their needs. Like you work hard, but it doesn't pay off.
What's more, having a better understanding of customers, you will have complete confidence in winning their hearts. You can quickly learn what you should do to create well-tailored products and services that customers will love.
Alternatively, leveraging the detailed data, a wise store owner will come up with ideas that show customers you really care. Let's assume that you add an extra field "Job". And then on their annual job day, you offer them a gift and a message to celebrate. Only a little gift at the right time is enough to make a good impression on your business, resulting in customer trust and loyalty in the long run. Undoubtedly, good conversions and high revenues will come to you.
Okay, let's dive deeper into 5 best Magento 2 Customer Attributes extensions.
Top 6 Magento 2 Customer Attributes extensions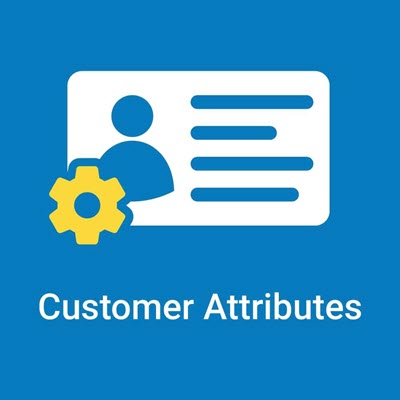 Price: $149
Magento 2 Customer Attributes extension from Magezon gives you the freedom to add custom attributes in Magento registration form with no limitation. Also, you can create extra customer address attributes that are placed on the checkout page. The former helps you understand more about customers and delivers the right offerings. Meanwhile, the latter allows customers to provide extra important information relating to their order, helping streamline the checkout process.
Coming with 12 input types, Magezon's extension lets you display options in the way both you and your customers want. Just think. Rather than a field that they have to fill with text, customers will find it more willing to answer a multi-select field with images.
Using this extension, you can flexibly show or hide the attributes on various front-end and back-end positions. In addition, this Magezon Order Attributes comes with the functionality to enter the translated attribute labels in different stores. Super convenient when you are controlling multiple stores in different languages.
Besides, you can keep track of attributes in the customer grid and sales order grid. Not only that, both admins and customers have the ability to edit the information previously entered.
It's a shortcoming without mentioning the functionality of creating dependencies between customer attribute fields. That means, if a customer selects the answers that match specified parent values, the child attributes will appear afterward. Additionally, Magezon Order Attributes enables you to add as many conditions in case a single conditional rule cannot serve more complex situations (Or/And logic).
Also, Magezon Customer Attributes module has a facility to generate a handy analytics pie chart when input types are the selected ones. That is a visual way to get a clear picture of customer demands.
If you are a regular customer of Magezon and purchased Magento 2 Login & Registration Page or Magento 2 Customer Segmentation extension, you must be happy to hear that the Order Attributes module is fully compatible with these two extensions. With a wide range of features, Magezon's extension is worthy of a choice that you can save on your list.
Key Features:
Create Unlimited Customer/Customer Address Attributes
Easily Manage Attributes On The Backend Grid
Multiple Input Types Supported
Set Any Desired Image Field for Customer Avatar
Manage Attribute Label Per Store View
Create Dependent Customer Attributes
Show or Hide Attributes On Pages/Form As Desired
Display Customer Attributes On The Order Grid
Support Useful Analytics Pie Chart
Include Customer Attributes In Mails
Import/Export Customer Data with Attributes
Set display sort order of attributes
100% Compatible with Login & Registration Page Extension, Customer Segmentation
Other Amazing Features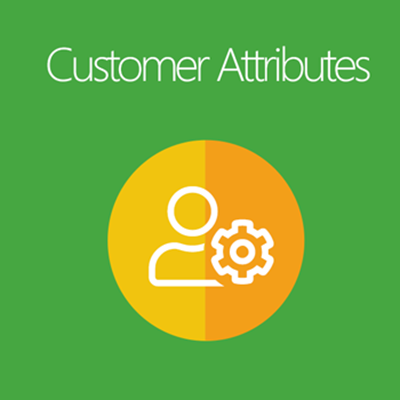 Price: $129
Demo: Backend
This extension can be a good choice if you want to learn a great deal about what your customers like and dislike by adding additional attribute fields to the registration form. Like Magezon's module, Mageplaza Order Attributes offers you the ability to create custom address attributes on the checkout page. You are empowered to view and edit customer attribute data quickly in the customer grid and sales order grid from the admin panel for better management.
With a diversity of input types up to 11, you are free to display and collect the information customers have provided against the attribute fields, depending on your business purposes. Owing to the facility for creating child-parent relationships between attributes, the extension from Mageplaza helps you make the child attributes visible to those who actually care. The difference between this extension and the above provider is that this one enables you to show a specific attribute in the store and the customer group as desired.
What's more, both customers and administrators have the flexibility to edit the information. Last but not least, I can't fail to mention that being 100% compatible with the Mageplaza One Page Checkout extension helps enhance its functionality. So, why not give it a try?
Below are some highlight features of this extension from the provider Mageplaza:
Unlimited customer attributes
11 customer attribute input types
Both-side editing
Input validation for attributes
Manage customer attributes
Attribute data export
Multiple dependent attributes.
Compatible with Mageplaza One Page Checkout extension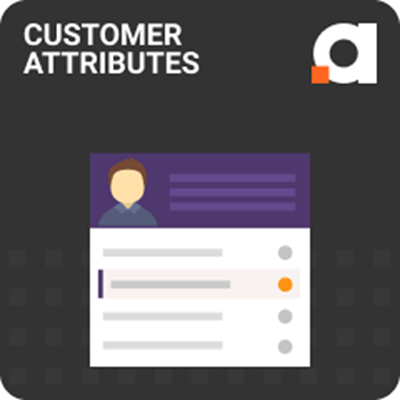 Price: $149
Demo: Backend
The more you know, the better you grow. It's the key to the success of businesses, especially in a fiercely competitive digital age. To help Magento 2 store owners understand their customers and then serve them better, Amasty has designed and provided Magento 2 Customer Attributes modules. This effective tool empowers you to include an unlimited number of attribute fields on the customer registration page so that you can get any information about your customers and tailor your offerings and marketing strategies accordingly.
Amasty Customer Attributes for Magento 2 includes almost all features that the two extensions above have. All attributes are displayed and managed in a well-neated grid where the admin can find any information about a particular attribute such as its input type, sort order, or the positions it is visible in.
Like Mageplaza, the Amasty Customer Attributes extension offers you a list of 11 input types that allow customers to enter data in the registration form more efficiently and interactively. Additionally, you are able to assign the value of the parent attribute, and if a customer selects this attribute value, the child attribute field will be visible later on. What we really like about this functionality is that users can manage and keep track of the relationship between attributes in an organized grid.
For your convenience, Amasty's module offers you a wide range of display options in both frontend and backend. Thanks to it, you are able to show custom attributes where necessary. Like Magezon, one of the outstanding features of the Amasty is to generate useful reports with visual graphs when users employ these input types: drop-downs, checkboxes, radio buttons, and multiple selects. With such a range of advanced functions, the extension by Amasty is highly recommended.
Let's have a closer look at its main features:
11 different input types
Easy to manage customer attributes in customer and sales order grid.
Effectively process collected customer data
Use additional data in email templates
Generate handy attribute usage reports
Various places to display a customer attribute
Make the attribute visible to the customer group and store views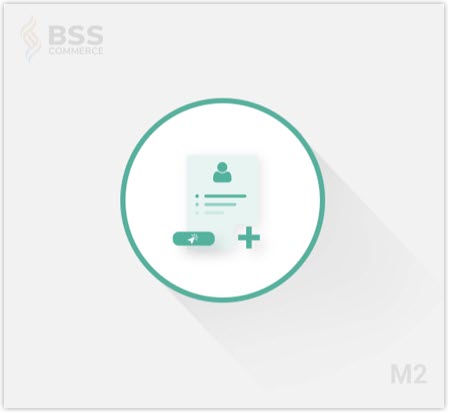 Price: $79
Demo: Backend
The next extension is Magento 2 Customer Attributes by BssCommerce. Designed to help merchants expand their customer database, this module comes to break the limitation of the Magento 2 default customer registration form by letting you display extra customer attribute fields on this form.
BssCommerce's extension supports 9 input types that enables gathering the information in different types such as text, images, date, or selection. In addition, admins and buyers now can freely edit their information on their account page if changes are necessary. Plus, you are empowered to decide whether or not an attribute is displayed in many positions the extension provides.
Like three above extensions, the BssCommerce enables admins to add the attributes to the account & order confirmation emails. This way, customers will be notified about their supplied information and check whether any changes need to be made.
If the truth is told, Magento 2 Customer Attributes from BssCommerce lacks some advanced features compared to the above vendors. Like it doesn't allow creating dependencies among attributes and has a modest number of input types, and no interface customizations. However, with $79, this extension is the right choice if you have a limited budget.
Let's see the key feature list of the extension:
Create unlimited customer/address attributes.
Support 9 input types to add custom attributes.
Place attributes in various positions on both frontend/backend.
Display the added fields in emails & sales documents.
Create new customers with custom attributes in the backend.
Support Restful APIs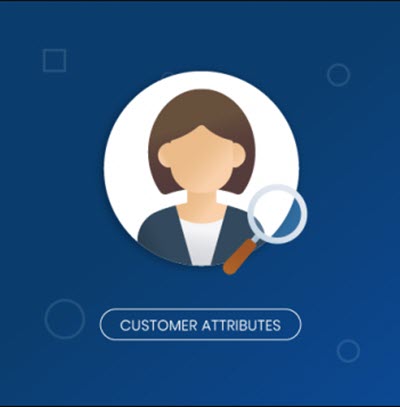 Price: $99
Demo: Backend
The last provider we've picked for the list is Magenest. Its extension owns nearly all needed functions to help online merchants garner additional information from the target customers on different pages: registration page, account page, and checkout page.
Using this module, you are authorized to create and add attributes to the mentioned pages without limit. Also, your e-store will be equipped with nine diverse input types to demonstrate options properly. Magenest Customer Attributes tool enables admins to manage and keep track of the attribute in the customer grid with maximum convenience. Moreover, customers can view and edit additional information from the customer dashboard page. Like the four vendors above, Magenest has developed the feature of managing attribute relations for their module.
If there are things that this extension should be improved, those are:
Increase the number of input types
Enable admins to manage customer attributes in the sales order grid
Provide more positions to manage the attribute settings
Add the functionality of managing labels in different store views
In short, if you are searching for an affordable module with enough needed functionalities, Customer Attributes by Magenest is our recommendation.
Below are some highlight features of this extension:
Create unlimited attributes
Choose specific pages to display customer attributes
Nine input types
Set default value for each attribute.
Arrange the order of attributes to display on the frontend.
Manage customer attributes easily.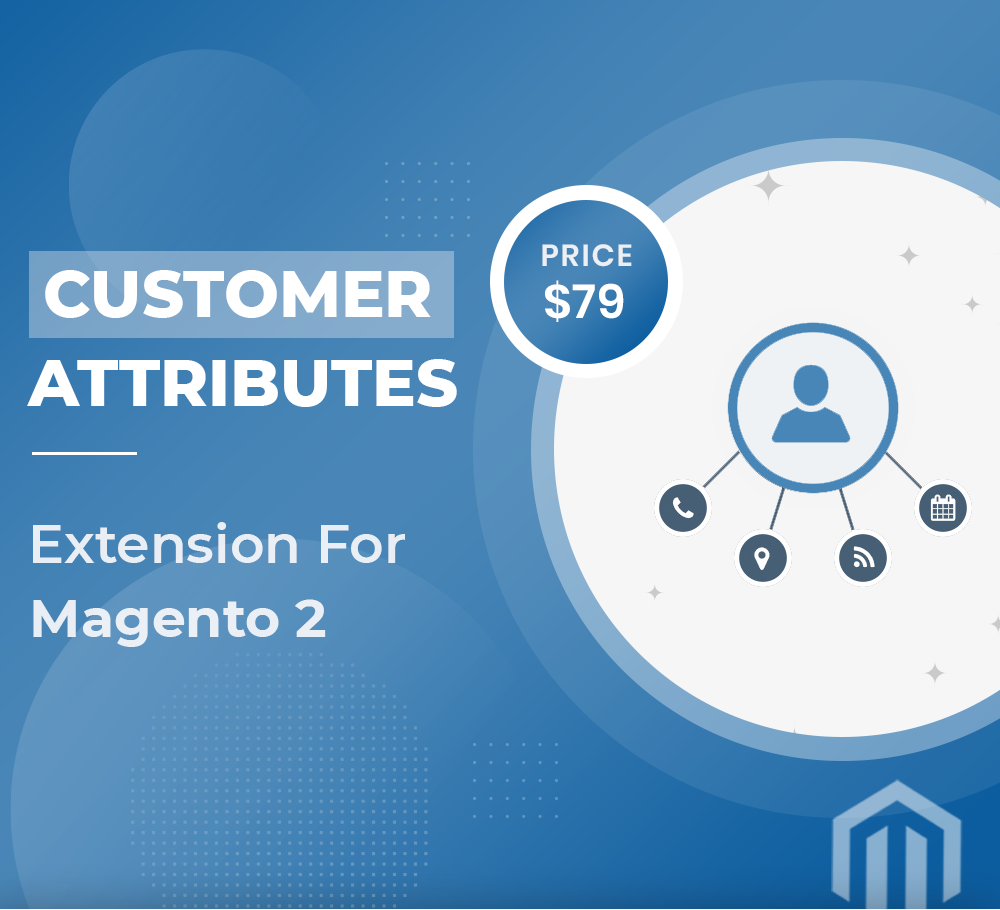 Price: $79
Demo: Backend
A no-hassle way to add custom customer fields to your Magento 2 store. Using the Magento 2 Customer Attributes extension, you can set up the information your customers need to fill in the order form like name, email, billing/shipping addresses, phone number, and much more.
This Magento 2 customer attributes extension aids store owners in managing and adding new customer attributes. Store owners can use the Customer attributes extension to add new fields to the customer account register page, customer account edit page, and customer management page. The goal of using this extension is to collect business-related and personal information from customers that the store owner need.
The Magento 2 Customer Attributes extension is the ideal tool for gaining deeper insights into your clients. The module delivers far more information about your clients for future marketing operations or simply studying your visitors' past behavior.
Here are highlighted features of the extension:
Manage All Customer Attributes
Create Unlimited Additional Fields
Multiple Options For Attribute Display
Set Input Validation For Attributes
Default Value For The Attributes
Attribute Information On The Grid
Wrap it up
This is our roundup of the 5 best Magento 2 Customer Attributes extensions that can help you enrich customer database with little effort. To make a good decision, you must try the demo of each extension thoroughly, then ask yourself what extension has enough functionalities you need. After that, it's recommended that you consider which one fits in your pocket. Another element of no less importance is the vendor's reputation in the market. With all these things, you will be able to select the right extension for your Magento store, we bet.
If you have any idea or need further discussion, feel free to leave a comment right below. To learn more about Magento 2 knowledge and ecommerce, visit our Magezon blog.
Looking for extensions which help boost your sales? Take a quick tour around Magezon.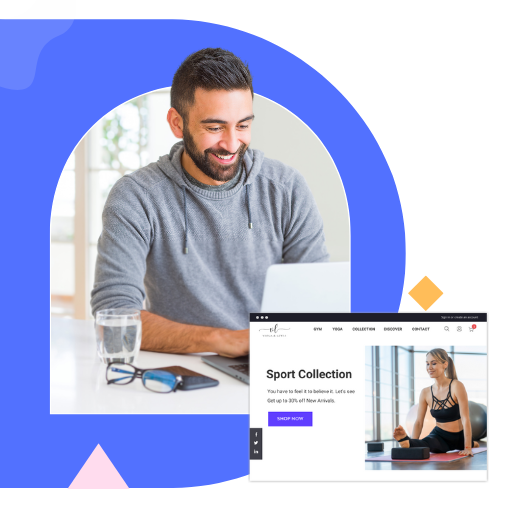 Optimize Your Magento Store With Powerful Extensions
Looking for fast, efficient and well-coded extensions to build or optimize your Magento stores for sales boosting? Then visit Magezon website and grab necessary add-ons for yours today!