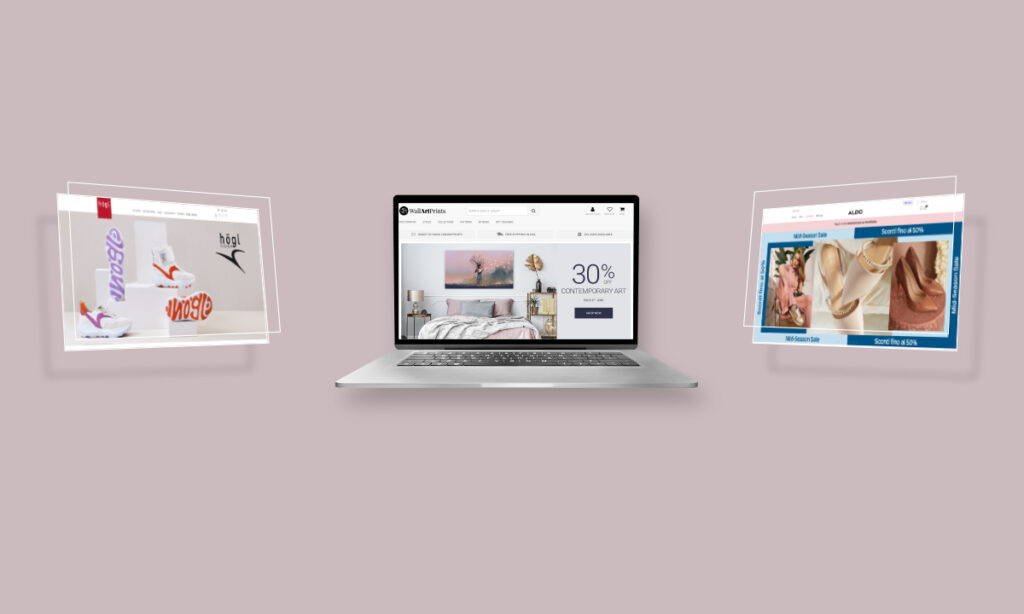 Are you looking for splendid Magento website examples? Then, you are in the right place. This post will introduce the list of 20+ Magento page examples for design ideas that you may adore. So take a tour right now!
Starting with an online store in 2009, Sigma beauty- a cosmetics company based in Minnesota, US, has served thousands of customers worldwide with over 300 retailers.
In 2018, Sigma beauty introduced its eCommerce site built on Magento. This new website helps increase customer experience and reduce bounce rates and page loading time.
Besides, with the Magento store, the company can design its style and grab customers' attention with accurate content, images, offers, and many others. 
An example of a fashion company using Magento is Hogl. Founded in 1935, Hogl is a leading European brand that specializes in producing shoes for women. Started as a craftsman's workshop by Josef Hogl in Upper Austria, Hogl has many international stores with over 3000 retail partners in 40 countries.
According to the Digital Manager of Hogl, Magento helps them have a competitive advantage. Using a Magento site, they can target B2B and B2C customers with exceptional personalized experiences.
As a leader in selling handbags, backpacks, totes, etc., in Belgium since 1987, Kipling has served everyone globally with more than 7500 stores from the East to the West.
Kipling has built their Magento 2 store with modern design and functionalities. Magento software provides many elements and effects to create a splendid display, such as the menu, images, buttons, etc., that improves readability on any device. 
Be a fashionista; obviously, you know about Moschino- a famous fashion brand in Italy that was founded in 1983. Moschino provides various clothing, accessories, jewelry, shoes, cosmetics, and perfume.
This is also one of the eCommerce store examples built on the Magento platform. With the usage of Magento, Moschino's customers can easily see detailed information about the products, purchase items, payments, and many other actions. 
Olympus is another sample eCommerce website that uses the solution of Magento. Founded in 1919, Olympus provides many cameras, lenses, binoculars, and audio products. With a 70% share of the global endoscopy market, in 2011, Olympus earned ¥847,105 million in total revenue.
Besides, with the Magento website, the brand can authorize its cross-selling and easily convert customers' shopping experience from standard to exceptional.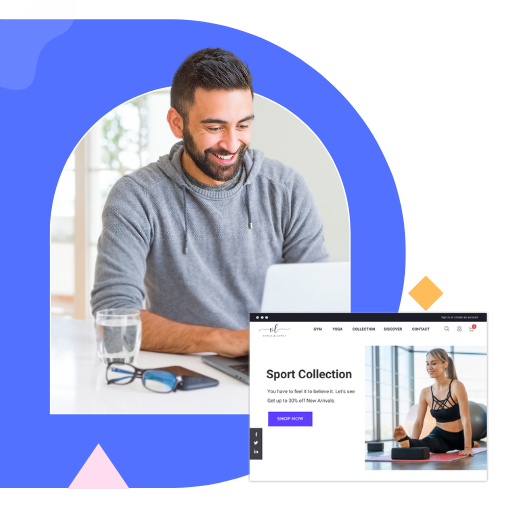 Try FREE Magezon Page Builder demo today
Easily create your engaging, interactive Magento website in any style whenever you want without relying on developers or designers. Just by drag & drop.
Founded in 2014, Lovely Company- a Dutch kid's lifestyle brand-is a delighted example of an online shop. Lovely Company offers various order decoration products for kids' rooms.
This company has achieved an incredible +133% growth by using the Magento eCommerce store. Besides, Lovely Company plans to use the B2B edition of the Magento platform for future growth involves global expansion. 
When mentioning eCommerce website design ideas, Wall Art Prints are on the list. Wall Art Prints is an Australian online store selling paintings with the mission to lighten up the house with more than 20,000 prints from hundreds of artists in various styles.
With Magento eCommerce, this brand has created its style of online shopping. Nowadays, the brand can serve content and products for multiple markets and customers worldwide.
Cabinets.com is the largest online retailer of US-manufactured and assembled cabinets. Born in 2009 with the first name "Kitchen Resource Direct" and changed its name to Cabinets.com in 2014, they now continue the mission to make kitchen dreams a reality.
Cabinets did not have any showroom; they mainly distributed products through online channels. Thus, building a website with full functionality for commerce was their priority. With careful consideration of the eCommerce platform, the company chose Magento 2 for their solution.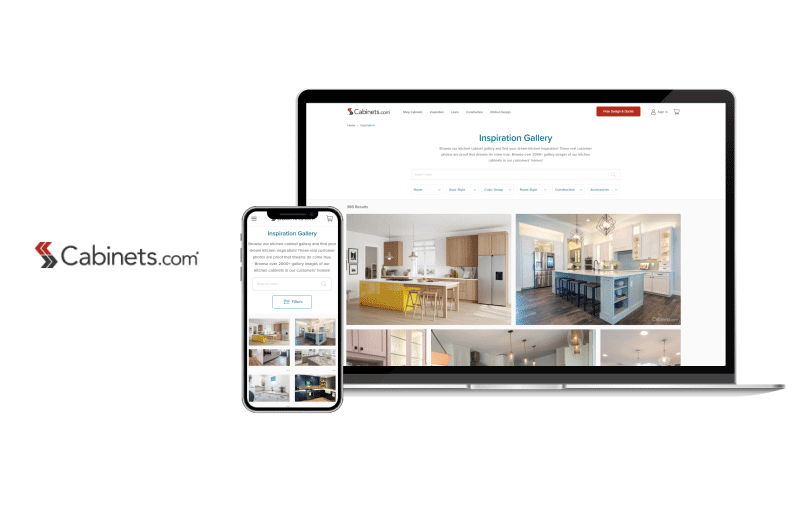 The next website that we wanna tell you about is Soak&Sleep. It began with the name Duvet and Pillow Warehouse. However, the CEO, Charlie Hunt, dreamed of expanding his business globally, so he decided to change the brand's name to Soak&Sleep. For nearly 20 years of development, this company is currently one of the UK's leading bed and bath businesses.
The brand only sells products online to reduce costs to the maximum, which can help customers save up to 70% compared to in-store prices. So obviously, Magento 2 is the best solution with well-built functionality that meet all their requirements. 
For the chocolate lover, an old-line brand from Dunmore, Pennsylvania, since 1936, Gertrude Hawk will make you fall in love with their high-quality products. With their experience, they expanded their business with over 50 retail locations across three states of the US and other wholesales.
During the brand's development, it realized it needed a modern website to support its business strategy. So, in Jan 2020, they launched their Magento Commerce website and succeeded early with a mass of visitors. Besides, the bounce rate on the store also decreases by 97%.
Zadig & Voltaire is one of Magento's most highlighted eCommerce website examples. This is a French brand established in 1997 by Thierry Gillier. Zadig & Voltaire focus on producing young, wild, free, and rock-chic styles, including bold-printed jackets, punchy sweaters, and edgy tees.
The brand plans to expand its business with more than 350 stores. Thus, they are considering improving their website, and Magento is an excellent solution to fasten their plan. After nearly three years, they have been accelerating international growth thanks to the potential of Magento Commerce. 
Based in New York, Catbird is one of the most favorite jewelry companies of celebrities. The brand gets a reputation for fabulous necklaces, rings, and bracelets.
Using the Magento platform helped Catbird optimize customer conversions and improve customer experience. Moreover, they also release mobile commerce that gives customers the best shopping experience on both desktop and mobile. Thanks to Magento Commerce, the revenue for mobile transactions increased by 39%. 
An indispensable name on the list of Magento website examples is Aldo. Founded in 1978 in Montreal, Canada, Aldo started retailing footwear and accessories across 100 countries with over 3000 stores.
To serve customers locally and internationally, Aldo needs a scalable platform that can be integrated with its system (CRM, POS, etc..). Magento 2 Commerce is the most suitable one, according to Vijay Thiruvasagam, IT Manager of Aldo.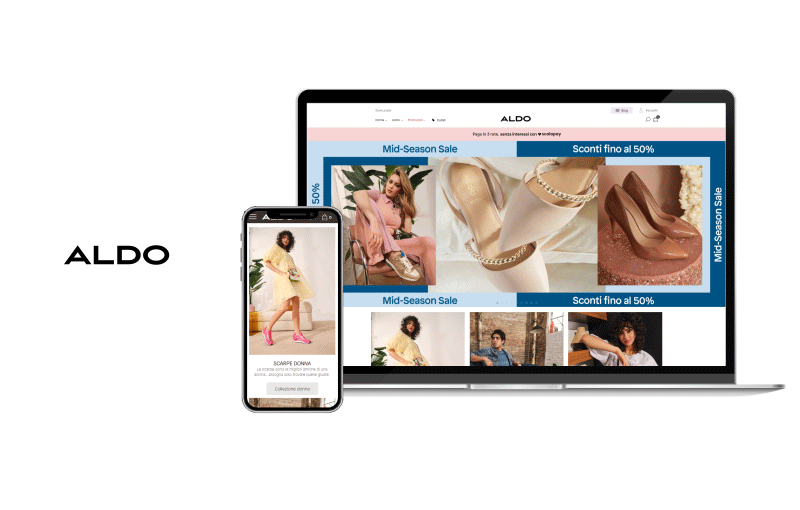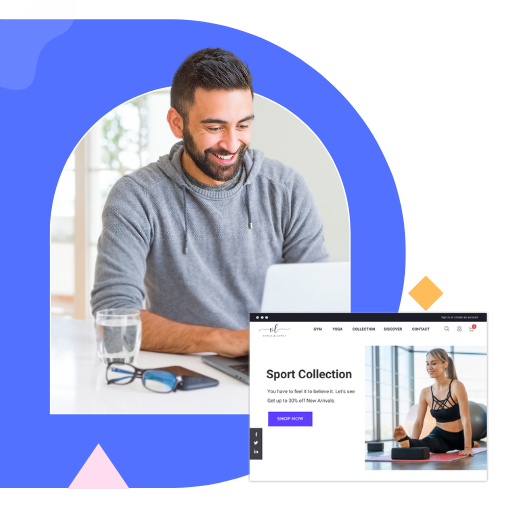 Try FREE Magezon Page Builder demo today
Easily create your engaging, interactive Magento website in any style whenever you want without relying on developers or designers. Just by drag & drop.
Forever New is one of the best Magento websites in the fashion industry. Established in 2006 in Australia, Forever New has provided various items for its customers across the globe. Each collection is designed to elevate customers' styles with a unique blend of seasonal trends that help the customer feel beautiful in every moment.
Carolyn Mackenzie, Managing director of Forever new, shared that Magento provides them with a great function to implement their brand's vision for worldwide enlargement. In addition, many built-in features of Magento Enterprise Edition, such as Order and Inventory Management, contributed to this brand's success.
One of the greatest fashion brands in Pakistan, founded in 1989 by Sana Hashwani, Sana Safinaz has designed and distributed ready-to-wear cloth, Haute Couture, and other accessories.
This brand chooses Magento to scale up its business to process orders in peak seasons. Thus, it can improve the customer experience and get more customers for their business. 
Finding Magento site examples for selling bags? ClearBags will give your ideas. Founded in 1992, they started selling posters with the first four staff. But they realized that clear packaging with artwork was well-loved by many customers and started focusing on developing this type of bag. Since then, they have built their business rapidly and become the leader of the packaging industry. They have become the supplier for thousands of retailers with over 5000 products, from Crystal Clear Bags, Stand Up Pouches, Zip Bags, Safe Food boxes, and Eco-Products, to Custom Packaging.
Another name on this Magento websites list is HP, a technology company based in California. Founded in 1998, HP now has various products, including PCs, laptops, printers, etc. The company runs the business with the vision to create technology that makes life better for everyone, everywhere.
HP in Asia-Pacific has chosen Magento for their business to support multi-store across multiple countries with consistent experiences. Moreover, with many built-in functionalities, the Magento store helps this brand manage the product and access more customers. 
Magezon is a Vietnam technology firm founded in 2017 to develop eCommerce better. For over three years, they have provided Magento extensions and solutions for thousands of customers worldwide, such as in the US, UK, Canada, and Germany.
Building extensions on the Magento platform are famous for many Magento Extensions  Best Sellers, such as Magezon Page Builder, Blue Form Builder, Ninja Menus, Lazy Load, etc. Besides, Magezon provides various stunning Magento website examples for customers to create their online store. 
Founded in 2011 by Jordan England and his wife, Anne. Industry West is a company that specializes in the trading and producing craftsman home furniture.
The brand used Drupal before using Magento for their best eCommerce sites. Magento meets the full functionality expectations, allowing customers to personalize the color palette, choose the project timeline, etc. 
This sample Magento website is for those who want to do business as an online market. The doorstep market is a digital market that is headquartered in Newyork. They sell various products from food & drink, kitchen, home & living, clothing & accessories for local makers to domestic and international customers.
To build and control the business full of functionality, Doorstep Market chooses Magento for its future development. The Magento platform is the most suitable for making their website that shows their products attractively and efficiently for customers to access any selling items.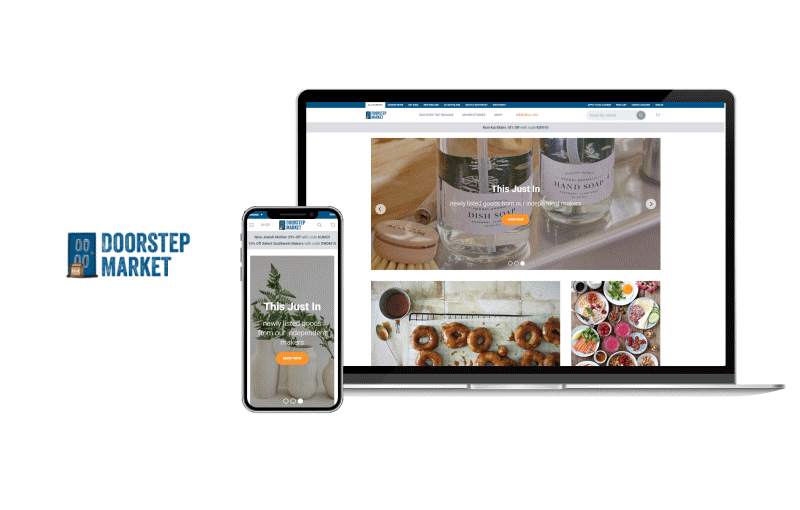 If you are a fan of the Premier League, you definitely know Liverpool Football Club (LFC)- a professional football club in Liverpool, England. Founded in 1892, the LFC team has won many prizes throughout competitions or tournaments.
Every football club also has its website for business activity, and so does LFC. They built their official store with the Magento platform and presented many products designed and made by LFC for their fans. 
In a nutshell
Magento Commerce will help your business grow significantly. Why don't you start right now?
If you're planning to build an impressive and high-converting category page on your own, consider Magezon Page Builder, an Adobe trusted partner. With a user-friendly drag-and-drop interface and diverse powerful features, you can easily design or redesign any style whenever you want without relying on developers or designers.
More Magento extensions are also available to create all necessary pages and elements for your website. Don't worry if you're not that good with coding because these extensions are the solution.