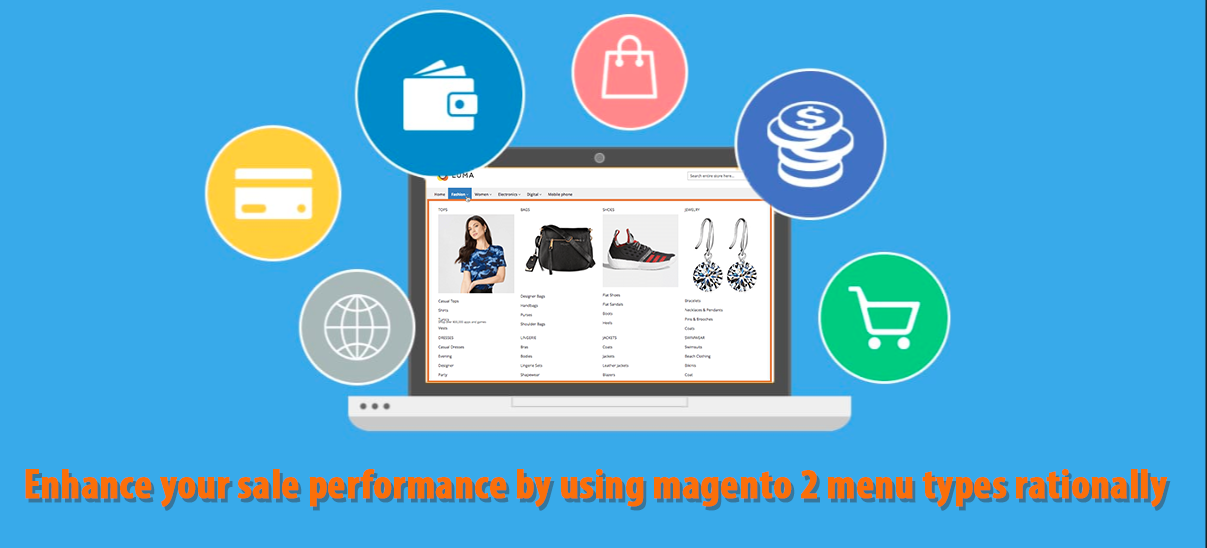 Poor Navigation is one of the main factors making your sales reduced. If you don't get a clear and easy navigation menu bar, your visitors will leave it after some clicks without coming back. We all know this truth from our own surfing experiences. Thus, one way to improve the looks of your site is to make it a pleasure to see by using Magento 2 menu types rationally.
Now we are going to show you five typical menu types supported by Ninja Menus which help boost your sales effectively.
5 Common Menu Types in Ninja Menus
1. Mega Menu
The most popular Magento 2 menu is the Mega menu which is a drop-down interface appearing when users hover over a link, text or defined area. It allows for the inclusion of content, images as well as links. This dropdown usually displays all options and items arranged neatly in one main, as shown in the image below.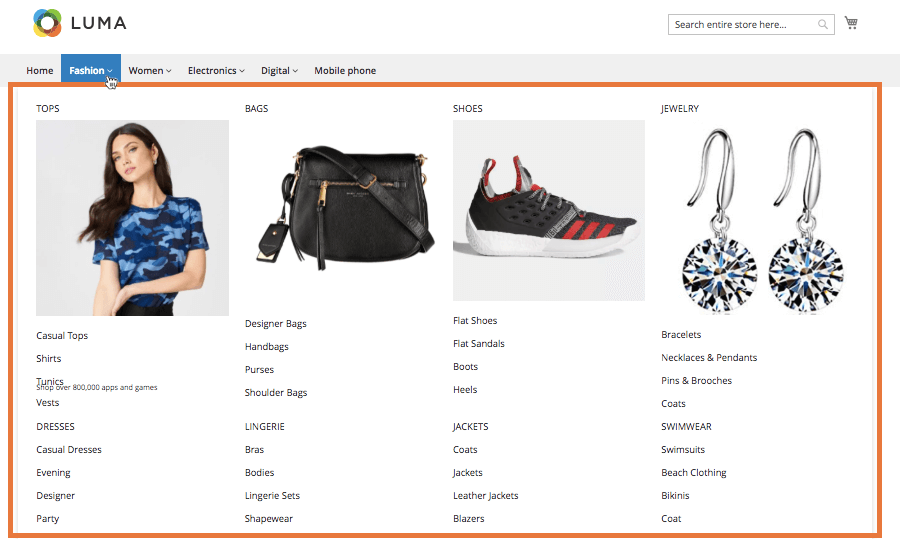 2. Dropdown
A drop-down menu is a list of items that appear whenever a piece of text or a button is clicked. It lets users choose a value from the list presented. A drop-down menu is also known as a pull-down menu, drop-down list or drop-down box. It's the most popular type of multi-level menu. You can easily create your own drop-down menu using our Ninja Menus, and below is the result in our demo storefront.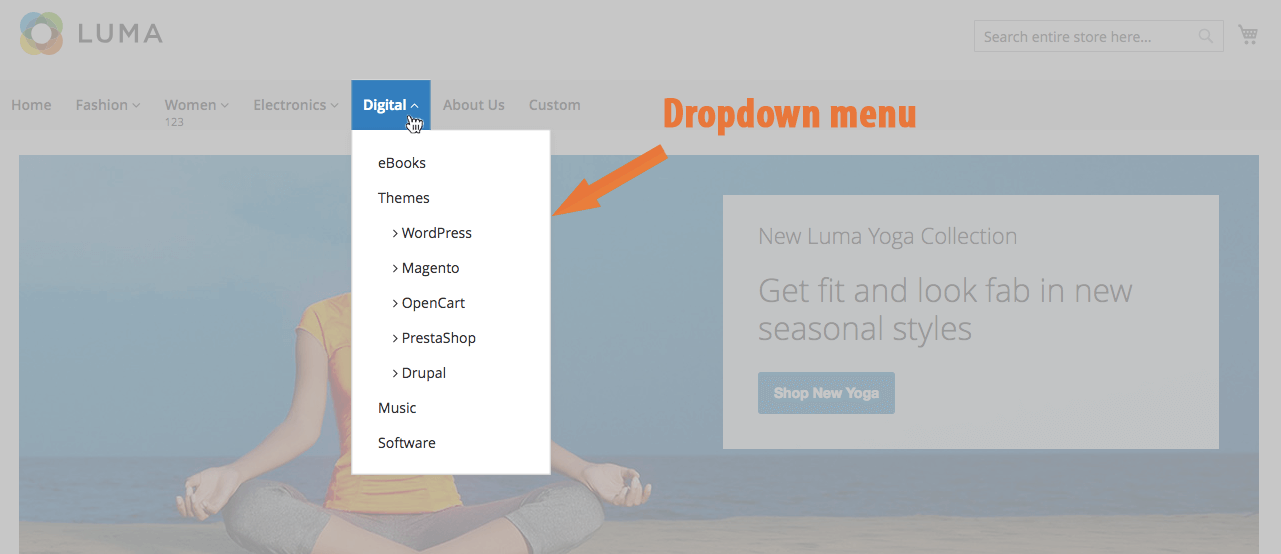 3. Accordion Menus
The accordion is a graphical menu comprising a vertically stacked list of items. Each item can be "expanded" or "stretched" to reveal the associated content. Accordion Menus are similar to vertical menus when clicking the main item to expand the section below. To close the expended section, click the main item again. Sometimes you can see a caret or plus symbol right next to the category name. As our demo below, it is plus.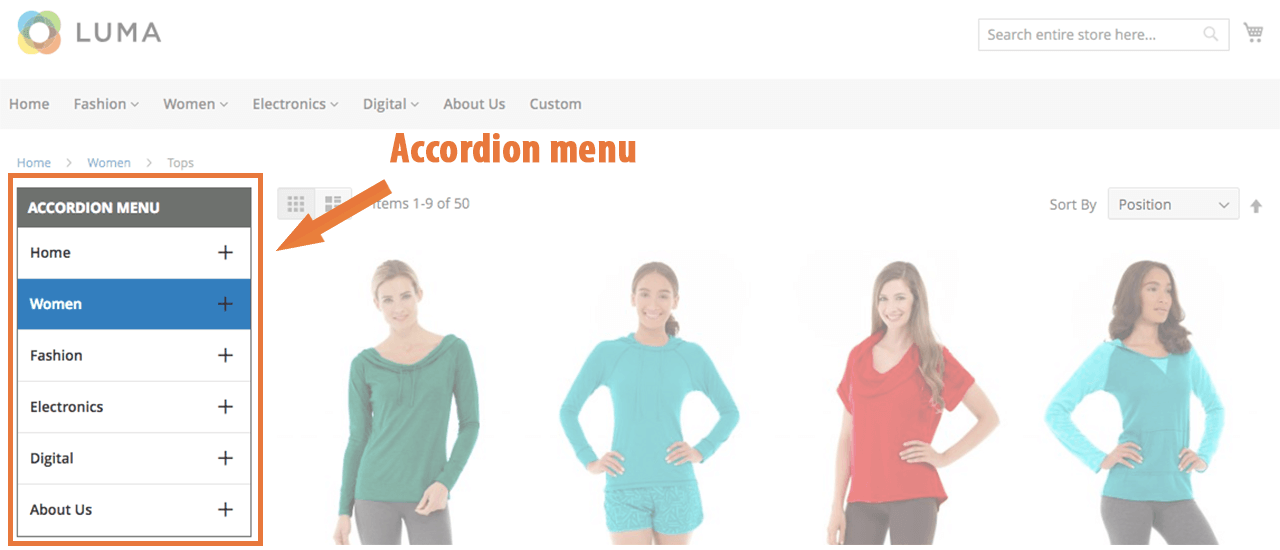 4. Flyout Menus
Another type of menu that we support is flyout menu. Combine horizontal navigation with a sub-menu that flies-out when the users hover over the main menu item. Instead of falling down, the list will be presented horizontally in the right or the left of the parent items. These descriptions are based on the orientation of the menu, not really different types of menus.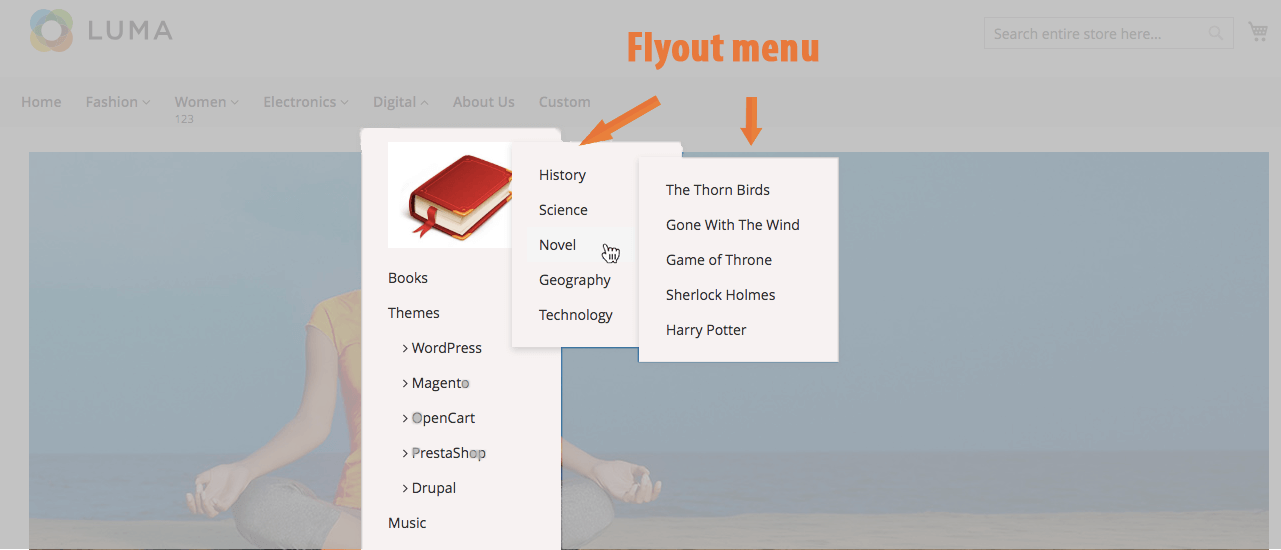 5. Dropline Menus
Dropline is somehow like a smaller version of the mega menu. It asks you to mouse over or click the main menu item. When you do, a line appears below the main menu with additional choices. Bellow, we made our own dropline as an example.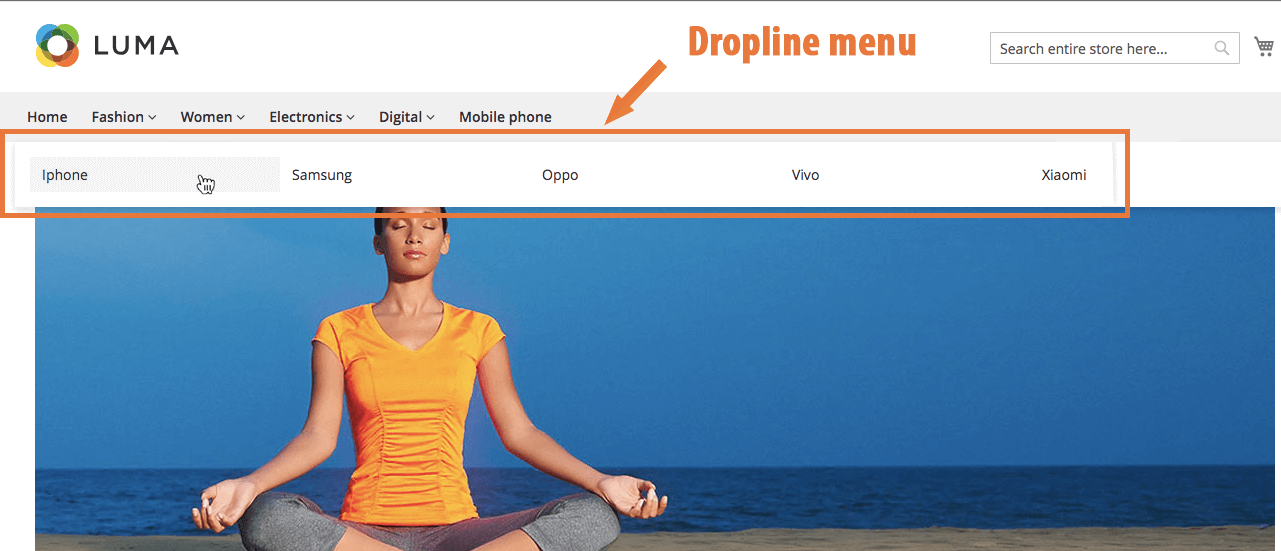 How Can A Good Menus Help Boost Your Sales?
1. Make your site clear and easy on the eyes
Move some of your content out from your sidebars into your top navigation menu bar, reduces the clutter in your sidebars. This gives your site a much cleaner and better look.
2. Give your site good navigation
In order not to be lost in somewhere new, you can not go without a map or a compass. When it comes to websites, menu navigation acts exactly like these devices. If the navigation is clear, visitors will stay and have a good experience, which ultimately leads to more business for you.
3. Make Your Site Look More Professional
The first impressions do count. If your website gets a right extension for good navigation, it can encourage visitors to stick around, explore, click, and buy. Then the change rate from visitors to customers will get higher.
4. Mobile Responsiveness
In today's life, no one likes waiting, especially waiting for shopping. If your site load time is too long for zoom in and out, your visitors will lose their temper and have no mood looking for things anymore. We deeply understand this circumstance, so we support all Magento 2 menu types with mobile responsive. This function will absolutely boost your sales as it brings convenience. Why? It makes up your huge website design to fit the tiny mobile screen. It makes your site easier to see on mobile devices and even easier to shop for things.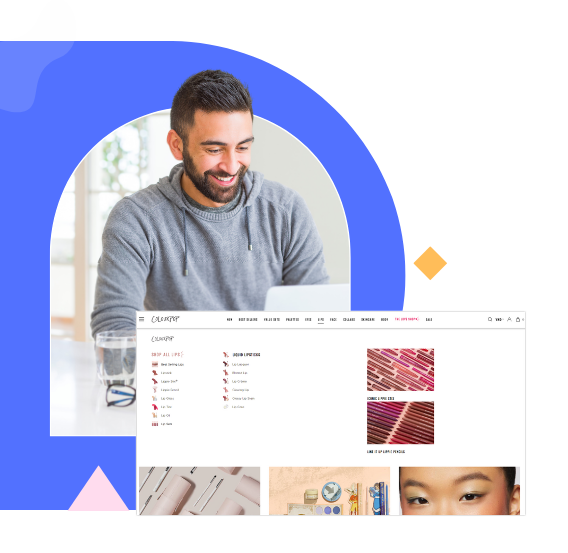 Try Ninja Menus FREE demo today
Quickly create well-designed Magento mega menus like a pro in a short time using intuitive drag-and-drop builder. No coding skills needed required.