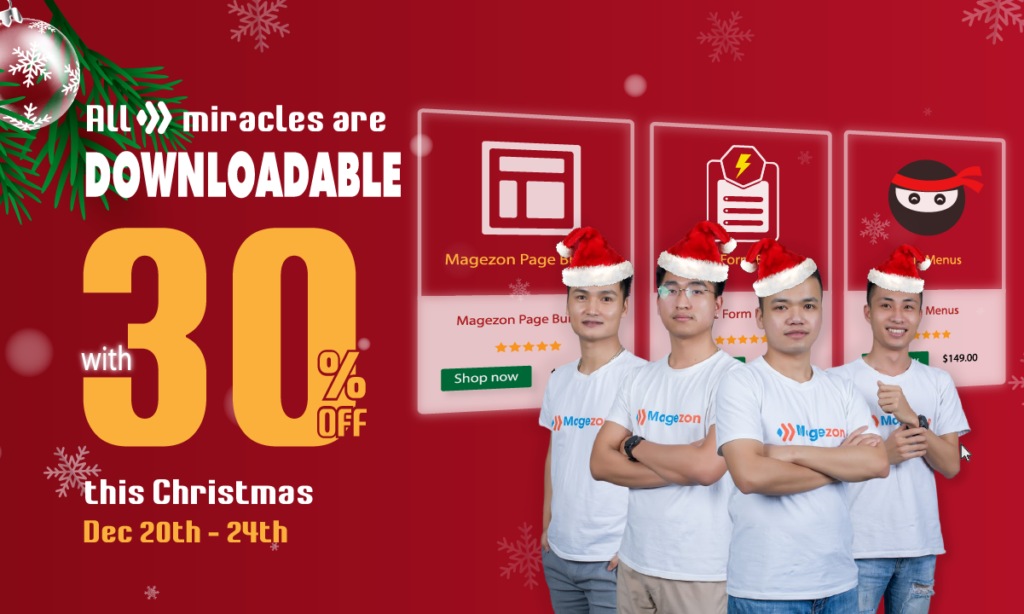 The Christmas atmosphere has already permeated into our homes. Are you hanging your sock by the fireplace to receive presents from someone? Open it and you'll see a special gift from Magezon – a 30% discount on all Magento 2 extensions. Unwrap your gift to see what the deal's like!
About the sale
30% flat off on all Magento 2 extensions.
Starts from December 20th to December 24th
The discount will be auto-applied on check out & cannot be combined with other offers.
Miracles on Magezon's gift box
1. Magezon Builder collection – Our signature products
Builder extensions from Magezon are compared to miracles on Christmas eve, as they can do wonders for the building of your store web pages on Magento 2. Page Builder, Ninja Menus and Blue Form Builder are among our best-selling products of all time. With these top-notch extensions, you can easily build your site and its elements just by drag and drop and without any knowledge of coding.
2. Newly launched extensions
In case you missed some of our product updates, here are our new releases.
– Custom Options: With less than $130, you are able to add customizable options to the original products using different input types. You can save time by assigning templates to products in bulk and controlling the display of custom options with smart dependency.
– Landing Pages: The extension's terrific features are promised to facilitate your building a SEO-friendly landing page for your marketing campaign. Make use of the Christmas discount and get it now!
3. Free extensions
Having a shoestring budget? Or don't want to spend much on your site building? Don't worry, we've got a host of free yet powerful extensions for Magento 2 websites here.
4
. Coming soon
Magezon is expected to release a new version of Page Builder extension in the spring of 2022. See what features and improvements you can expect from this new version here: New Page Builder Sneak Peak.
Besides, we are working on three outstanding Magento 2 extensions, which are Advanced CMS, Social Login, and Product Designer. Join our Facebook community to be informed when these extensions are released!
Benefits of using our extensions
When downloading any extension from Magezon, either with discounts or at regular prices, you'll get:
3 months of free support
30 days of money back
Free lifetime updates