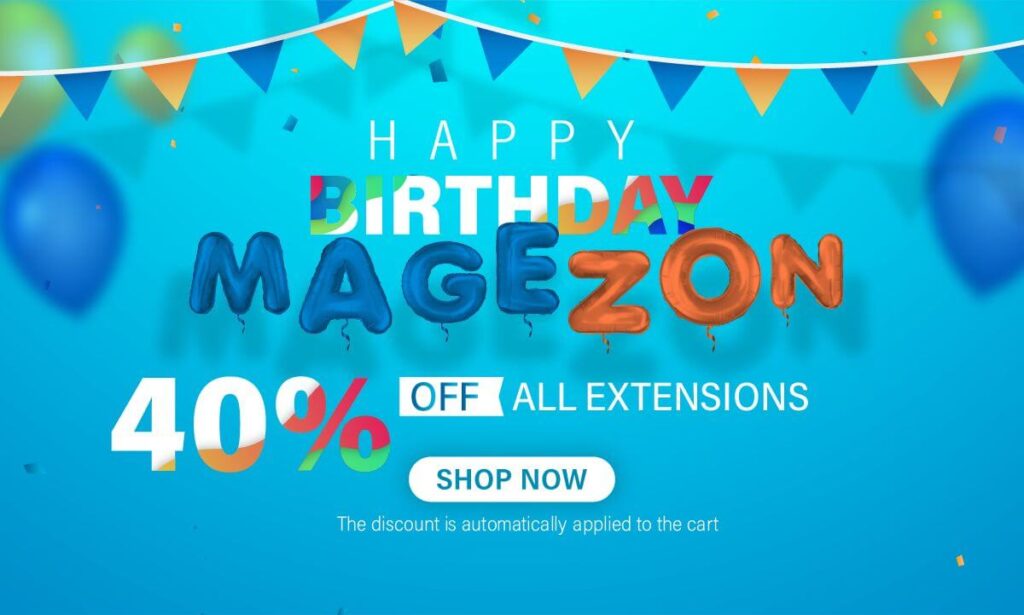 On March 20th, 2018, after a long time of preparation, Michael decided to establish Magezon to pursue his dream of becoming top 1 Magento extension provider. It was really a tough time as he had to build everything from scratch, not to mention the fact that he had to compete with numerous providers who have years of experience in this platform.
However, with the support of reliable companions as well as Michael's great determination and efforts, Magezon has been growing bigger and stronger. Until now, 3 years have passed with full of ups and downs. 3 years mark important milestones on the journey to pursue our dream. And 3 years make us so proud as we are trusted by thousands of customers around the world.
Today, let's look back at our journey over 3 years to see how Magezon has evolved and become successful as we are today.
Look Back at Key Milestones
We started our journey with the release of Lazy Load, our bestselling free extension ever. As most of our customers agree, Lazy Load makes their Magento 2 websites load faster, thus greatly improving user experience. 
In March and July 2020, we released Blue Form Builder and Ninja Menus respectively. These are our first 2 key products that allow building forms and menus with zero coding.  
On March 22nd, 2019, Magezon Page Builder was officially published and has become our bestselling paid products ever. Magezon Page Builder comes with a simple and intuitive drag & drop interface that helps speed up creating any desired pages. And to the expectations of our customers, in April 2020, we released the free version of Page Builder. 
October 2020 marked another important milestone that is our moving to a new office. With modern and comfortable facilities, this new office gives us a perfect environment not only to work but also to relax and do other activities.
Recently, in February 2021, we officially became Adobe Innovate Exchange Partner. We believe that this partnership will open up new opportunities for our business as well as bring more value to our customers, partners and Magento community.
Let's take a look at the below infographic to have an overview of our milestones: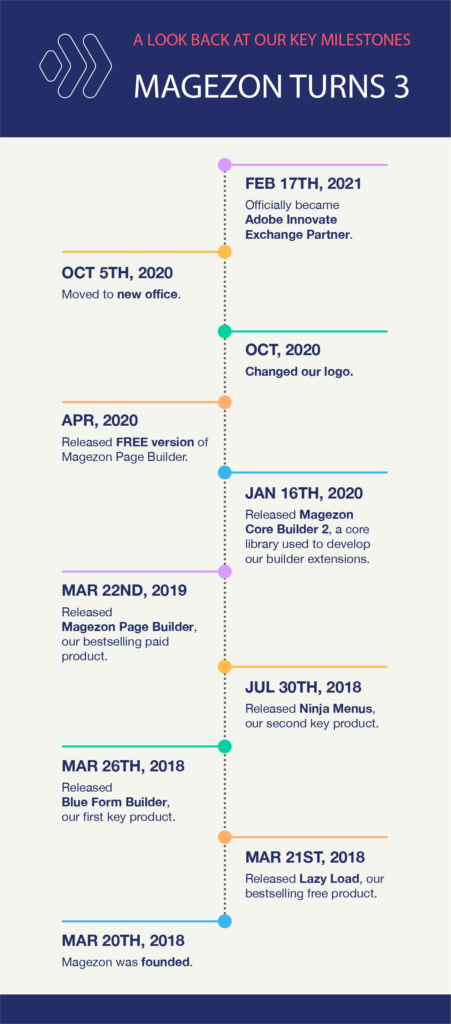 What We Have Achieved
After 3 years, from a team with just 4 members, we grow to 22 members who are all talented and dedicated at work. 55+ products were officially released and trusted by over 3,000 customers around the world. They come to us not only for high quality extensions but also for excellent support.
I am extremely satisfied with the Magezon products. Whenever you try a new extension, plugin, or something similar there is usually a big difference between what was promised and what you actually receive.  With a few other Magento developers, including the big developers like Amasty, we've ended up with something almost completely different from what was promised or something that simply did not work.  Our experience with Magezon products has been the complete opposite.  We got so much more than what we had expected.

Bo Well, IT Manager
Compared with other vendors, what we achieved after 3 years may seem modest. However, we are really proud because these achievements are the results of our relentless efforts. They will be a motivation for us to keep innovating in the future. 
40% Off All Extensions
To celebrate our 3rd birthday, we would like to offer you 40% off all extensions from Mar 19 to Mar 23. Don't miss this offer to get your desired extensions with a special deal.
Note:
– The discount will be automatically applied to your cart.
– The discount is not applied simultaneously with other discounts.
Final Thoughts
On this occasion, we would like to give a big thank you to all of our team members, partners and customers. It is your great support that contributes to our success today. We really hope that we will continue to receive your support in the future. Thank you very much!
HAPPY BIRTHDAY TO MAGEZON!