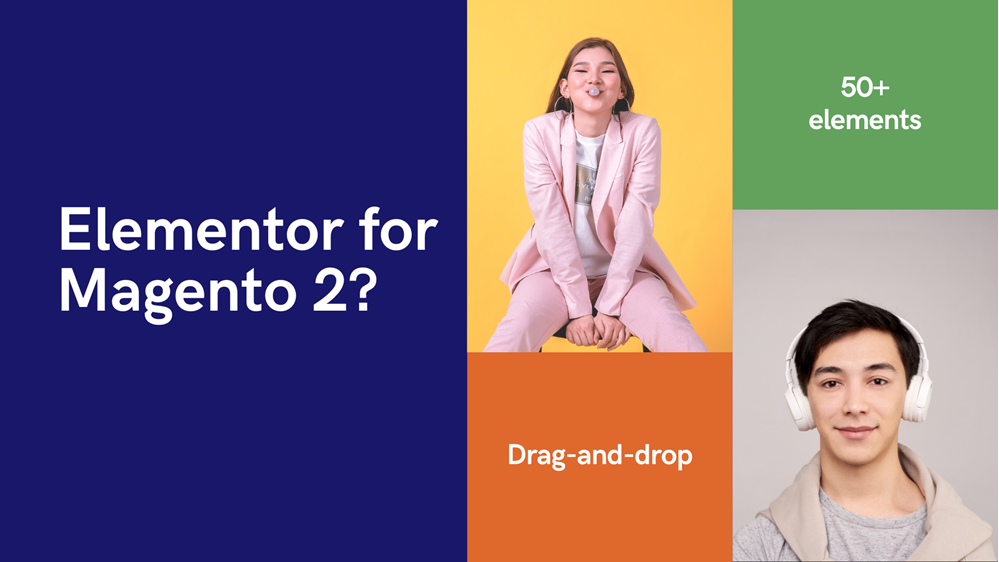 Magento was first released in 2008. During more than a decade of constant development, the e-commerce platform has proven its popularity among worldwide users and quickly outgrown other competitors.
Along with its undoubted capabilities, one of its recurring criticism gotten from users is its "basic" editorial content tool. People need something advanced and intuitive, like Elementor for Magento 2.
But this is no longer a problem thanks to the Magento Page Builder extension, a result of the open-source community. The extension market witnesses a vast array of Page Builder products, varied from multiple different aspects.
In this post, we will provide you with everything you need to know about our Magezon Page Builder, a powerful tool for Magento users to manage their page in the most simple and intuitive way, without the critical technical skills of a coder or programmer.
What is Magezon Page Builder?
1. What is Magento Page Builder?
Firstly, we'd like to show you the general understanding of Magento Page Builder. So what exactly is this extension and how important it is for Magento users?

Simply put, Page Builder is a module designed to help users generate content in a more easy and effective way by its drag-and-drop interface. It was inevitably branched out with the evolution of the Magento platform itself.

Back in the early days of Magento, users can only build their website with a very simple tool. It provides necessary options for content creators such as Text, Images, Video, Links, … However, a big issue admitted by the majority of users is the difficulty and consequently, time-consuming nature of it.
Page Builder is the key to the problem. It helps to reduce an enormous amount of time in creating a landing page for merchants. The most salient feature of Page Builder is the drag-and-drop interface, which is very much like Elementor or Visual Composer of WordPress. This real game-changer makes the content creation process much easier and even more fun.
And above all, this module brings Magento to many users because even an average person with little experience with coding can have full control over how their sites works and the aesthetic of any landing pages.
2. What is Magezon Page Builder?
Magezon Page Builder is a Page Builder product developed by Magezon. Like others, it also has a drag-and-drop interface for users.
Magezon devised Page Builder based on a core system called Core Builder. This Core Builder is also responsible for other Magezon builder extensions such as:
Magezon Page Builder assists any website designers with 50+ powerful elements. These elements are easily one of the most important features for anyone to choose Page Builder product. They help users to build content blocks within a second. They are versatile and can meet the need of a relatively demanding content creator by introducing from common elements such as Images, Text, … to highly advanced ones like Google Maps, … We will work out the details below.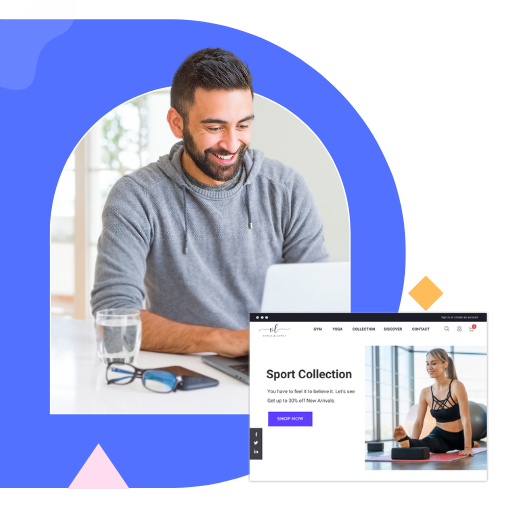 Try FREE Magezon Page Builder demo today
Easily create beautiful, engaging Magento website in any style whenever you want without relying on developers or designers. Just by drag & drop.
What are Magezon Page Builder Features?
Our Magento CMS Page Builder is a rich feature extensions. On our product page these features are already listed. In this posts, we would like to dive in a more technical way to help curious readers get another view into the concept behind it. We try to write this as easy to understand as possible, for many you glancing through this could be a merchants without in-dept knowledge of technical skills.
1. Fully Responsive
We understand that one of the pet peeves of Magento users is when you spend a tremendous amount of time crafting your landing page just to realize it doesn't work well on different screens. With Magezon Page Builder, you don't need to fret about it because our Page Builder is fully responsive to all devices out there. The extension creates Columns that automatically adjust based on the screen ratio. Even if you want to change the way a Column look on a specific device, Magezon Page Builder can give you that option. You can check your site's appearance on multiple devices accurately within the backend.
Learn more: Responsive controls in Magezon Page Builder

2. Compatibles With all Magento Themes
Another feature that makes Magezon Page Builder incredibly for users is that it works smoothly with all Magento themes. We guarantee this compatibility across all the themes you possibly encounter. Keep your concern at bay for the first time using our drag and drop editor. Later on, feel free to change themes as you wish because that will not affect your current content.
3. Ready to Use Pre-Designed Templates
Magezon Page Builder's online Template Library grants you access to many pre-designed templates and lets you save your own personal templates for later use. Feel free to take these templates for reference of your new layout or apply them directly to your pages. This option is perfect for web designers that are willing to give little time and effort into making content but still require a high quality result. Check out our tutorial about how to create and manage templates.
4. Drag-and-Drop Page Builder
This core feature is what makes Magento Page Builder in general and Magento Page Builder worth having. Along with the continually improvement of the Magento platform, drag-and-drop Page Builder were born to create better CMS Page and CMS Block.
This new feature turned Magento into a friendly platform for especially for SMEs merchants. You can drag-and-drop any Row, Column or from one of 50+ Elements, move them to anywhere you want just by a single click. The WYSIWYG editor allows you to see the front-end result right from the back-end.
5. 50+ Elements
Beside the drag and drop feature, we believe Elements are the core value of any Page Builder extensions. More than 50 elements should meet the various demands of content creators. Furthermore, it should also provide a quality options and smooth experience for any merchant. To fully understand, we think you should put your hand on our Magezon Page Builder so you get the full process of creating websites.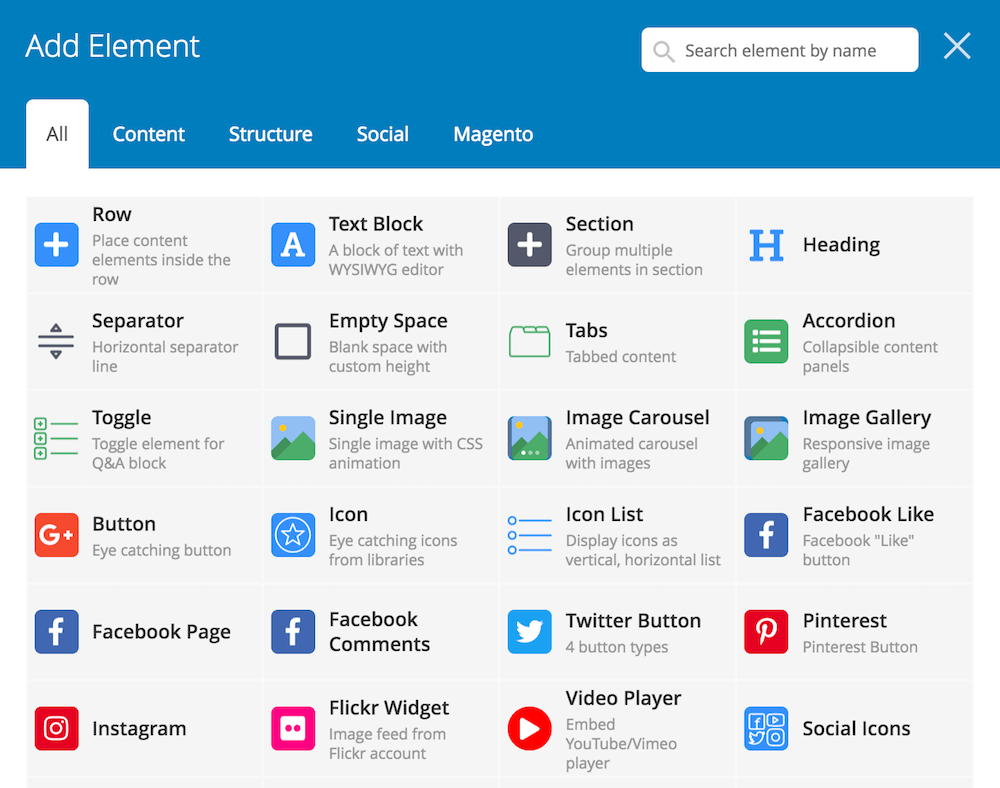 6. Various Customization Options
Each Element has its own customization options that enable users to adjust according to their own purposes. However, all of them share the same Design Option Tabs with below options:
Device Type
Simplify Control
Alignment
Border Color
Minimum Height
Float
Background Type
Background Color
Background Image
Parallax Type
7. Magento WYSIWYG Integration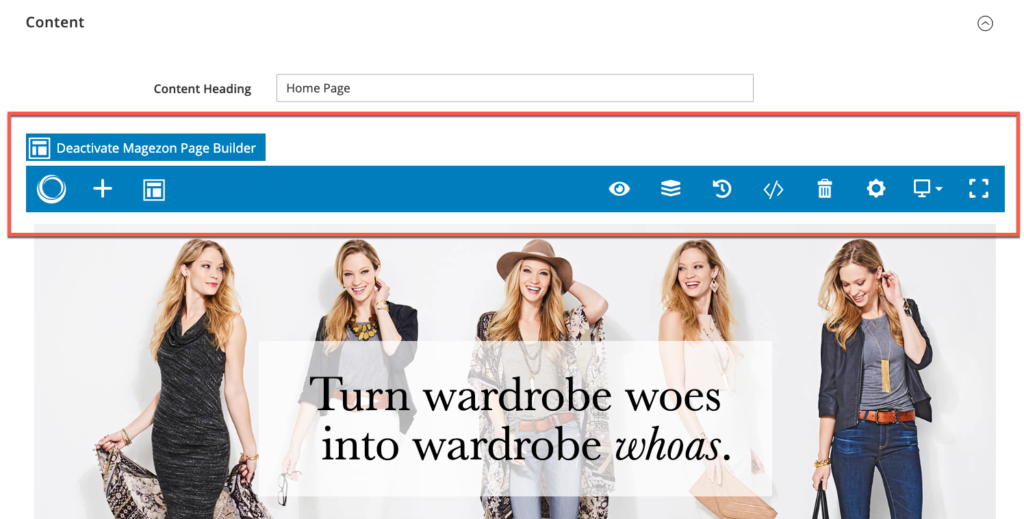 Activating Magezon Page Builder will transform your Magento WYSIWYG editor into the new drag-and-drop interface. After that, you can utilize the tool for CMS Page, Static Block, Category description, Product attribute and 3rd-party extensions having WYSIWYG editor.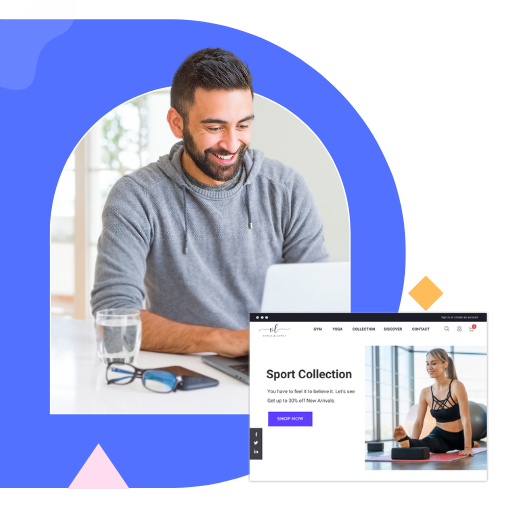 Try FREE Magezon Page Builder demo today
Easily create beautiful, engaging Magento website in any style whenever you want without relying on developers or designers. Just by drag & drop.
How to Create a Web Page with Magezon Page Builder
1. How to Install Magezon Page Builder
Magezon Page Builder is compatible with:
Community Edition: 2.1.x, 2.2.x, 2.3.x, 2.4.x
Enterprise Edition: 2.1.x, 2.2.x, 2.3.x, 2.4.x. To install the extension, please follow this Installation Guide
2. Structure Explained
We will help you get used to Magezon Page Builder by showing instructions followed by the way the builder is structured. We build the websites by blocks. When you hover the mouse onto the upper left on each block, 3 main tabs will appear as shown in the picture below. They are Row, Column and Name of Element. Column is the smaller unit of Row. Element is the smaller unit of Column. This means every time you want to build a block, the Row needs to be added first, and then Column, and lastly, Element is added.
Row, Column and Element share the same option in the drop down list. They are Edit, Design Options, Duplicate, Remove, Navigator and Short Code. Use these shortcut to adjust what you want.
Row and Element also have options to Insert Before and Insert After. That's another tips to move the Row and Element instead of dragging and dropping directly from the interface.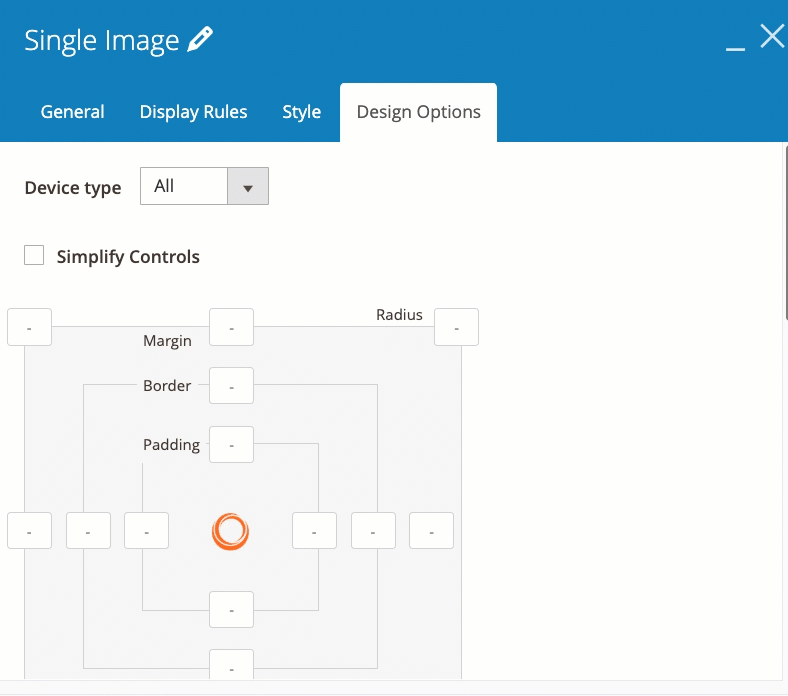 3. 50+ Elements Explained
To check out the Element list, please refer to the Demo page.
4. Plugins for Magezon Page Builder
Magezon Page Builder offers you with a bunch of plugins. The Page Builder itself is relatively satisfied with the basic need of merchants. But if you want to set your sites apart from others, or simply give it a more aesthetic style, we have some plugins to help you achieve what you want.

We have developed totally 5 plugins for Page Builder, and soon will update more in the near future. They are Clipboard Plugin, Display Rules Plugin, TypeIt Plugin, Shape Divider Plugin, Shape Divider Plugin. Please note that these plugins are only used for Page Builder, which means you need to install our Magezon Page Builder first, in order to use these plugins.

In this post, we will show you briefly what these plugins can do for your business sites. If you want to have further understanding of them, please click through the link to see detailed information.
Compatibility (With Other Magezon Extensions)
Built on the same foundation as Core Builder, Magezon Page Builder process the compatibility with other extensions. These are our strongest products. They seamlessly go with each other and support each other very well.
What interesting about these compatibility is that when you install Magezon Page Builder after one of these below extensions, the original extensions can inherit Magezon Page Builder's element. This transition can greatly enhance your experience with our extensions and help you build better content for sure.
After finishing this post, we hope you already acquire a fairly adequate knowledge about our Magezon Page Builder. We encourage you to share your thoughts, ideas, concerns over this extension and we would appreciate that very much.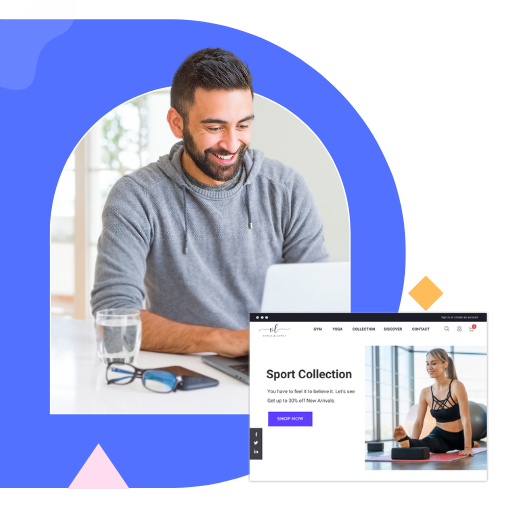 Try FREE Magezon Page Builder demo today
Easily create beautiful, engaging Magento website in any style whenever you want without relying on developers or designers. Just by drag & drop.