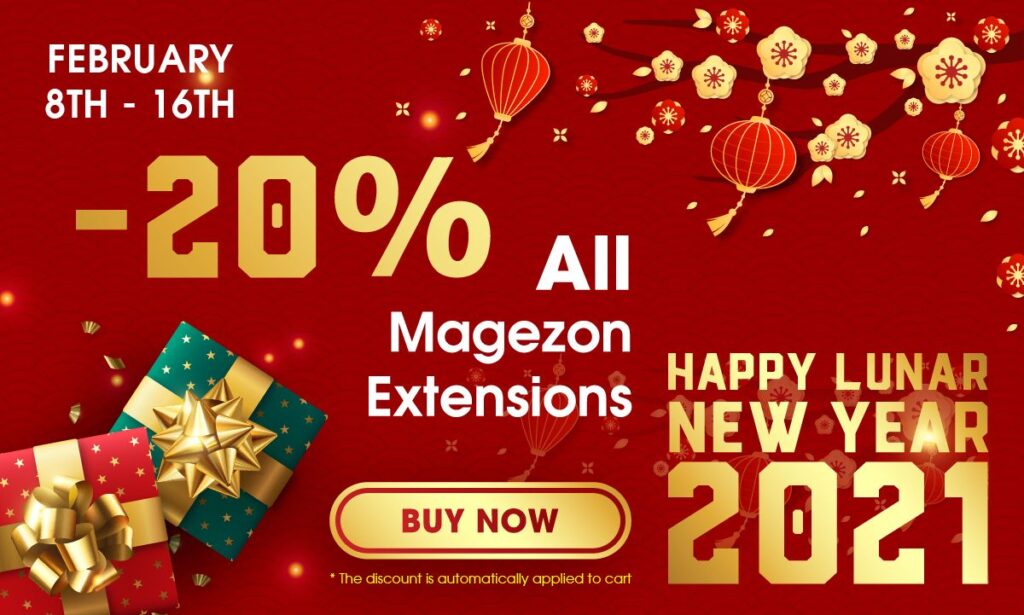 Dear customers and business partners!
Hope you had a productive working week!
Time flies and another lunar year is arriving at our doorstep. Like the majority of Asian countries, we are living in the atmosphere of preparing for the Lunar New Year celebration. This is a chance for us to look back at what we've done, and offer you a big sale campaign as a thank you for your support after all this time.
1. Discount 20% ALL best-in-class Magento 2 extensions
We would like to give you a small lucky red envelope with all goods wishes for a more fruitful year to come!
Discount: 20% ALL extensions
Time: 8th-16th February 2021 (GMT +7 time zone)
Note: The discount is automatically applied to your cart and can not be combined with other offers.
Be sure to equip our free extensions that help you eliminate the real headache of your online store!
2. Out-of-office message
Magezon will be out of the office starting 8th through 16th February 2021. We'll get back to work fully on 17th February 2021 (GMT +7 time zone).
Note:
In the meantime, all transactions and purchasing activities still work as usual.
If your request is urgent during our absence, please submit a ticket as our other support channels are unavailable.
With the hope of a bright scenario that our government is able to reduce the pace of the Corona virus's spread, the off-schedule will not be modified.
We are terribly sorry for any inconvenience this may cause to your business.
Once again, there is no word in the world that can adequately express our gratitude to you throughout 2020.
Happy Lunar New Year, wishing you good health, good luck, and much happiness!
Warm regards,
Magezon team